Remember back awhile ago I was debating on whether or not to change my green sofa to some other color with a slipcover?
Here is the new and improved
RED SOFA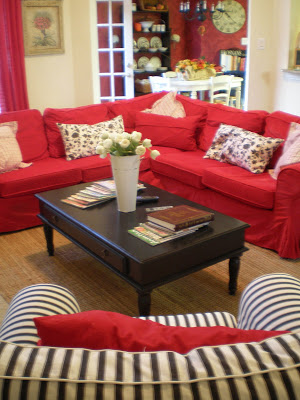 I bought a new slipcover for the sofa. (It is an Ikea sofa so they always have new fun slipcovers for it…pretty inexpensive too).
This is the before picture with the green slipcover on it.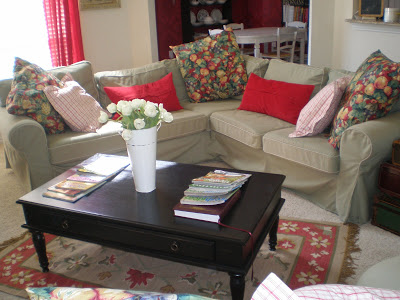 I really really wanted to do a white slipcover but with my brown Labrador I would have to be washing it constantly…so that was out! (But I still dream of a beautiful white slipcover…… someday…) So….I decided to buy a dark denim slipcover and thought I would get lots of big white pillows to put on it. Well I got it home and hated it immediately….I took it back (which is a pain in the rear with Ikea) and exchanged it with a red corduroy slipcover and I LOVE IT! I also decided to add a black and white striped slipcover to the club chair to break it up a bit.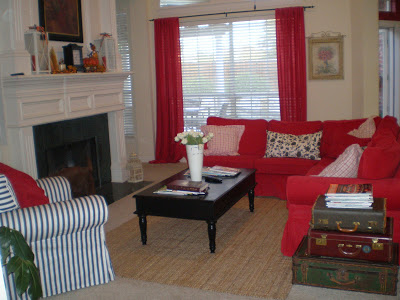 I really did not think I would like it…I thought it would be too much red….. but I just love it and it does not show the dirt or hair from the dog. My house will definitely be ready for Christmas with all the red in the family room, and the plaid red, green and yellow in my living room and dining room.
All those colors really do make me happy.