Today I am sharing 7 favorite blue and white rugs for a lake cottage or should I say Kottage 🙂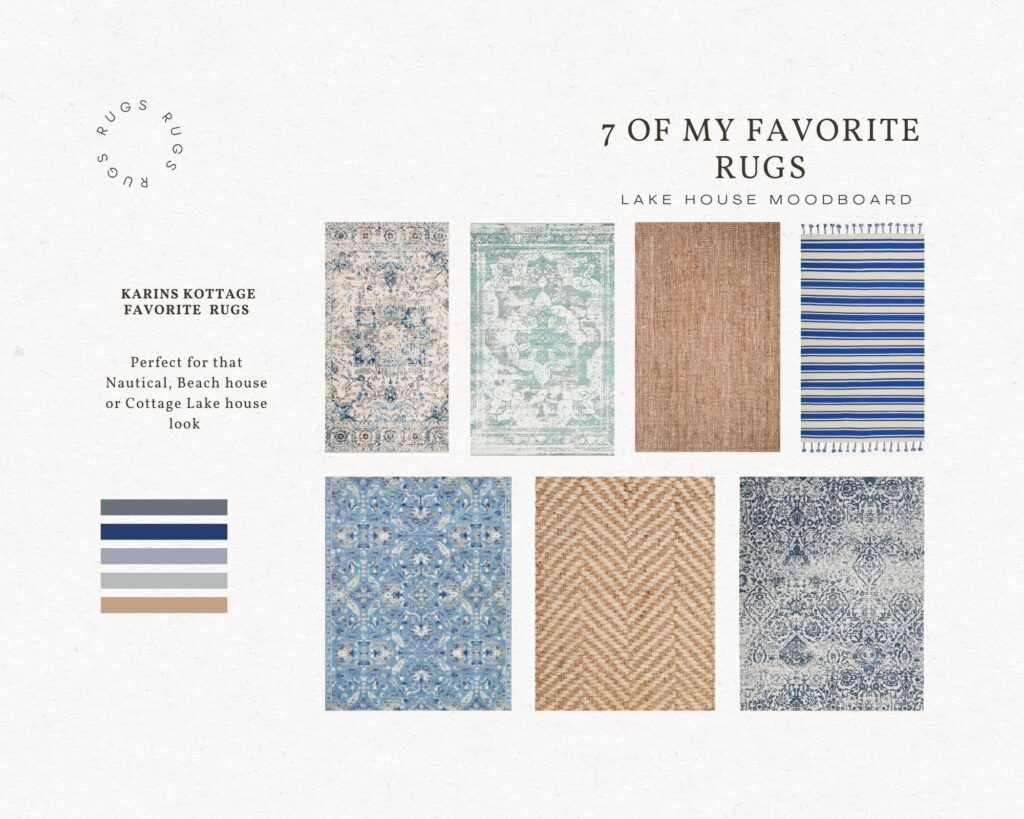 My hubby thinks I belong to the rug of the month club haha!
Well ….yes he may be right but for the last few years I have not changed any of them out!
I have changed out rugs in our house many many times. It just takes time until you find the right one?
Doesn't it?
Let's head down rug memory lane
When we first moved into our lake Kottage 10 years ago, we had just moved from our Texas home. In that house I was into red and a lot of it.
You can see my Red Sofa post from over 10 years ago here. Oh and you can see the red wall paper in the kitchen nook too. It was already there when we moved in.
For our new Lake Kottage house I was still liking some red so I bought a bold floral rug.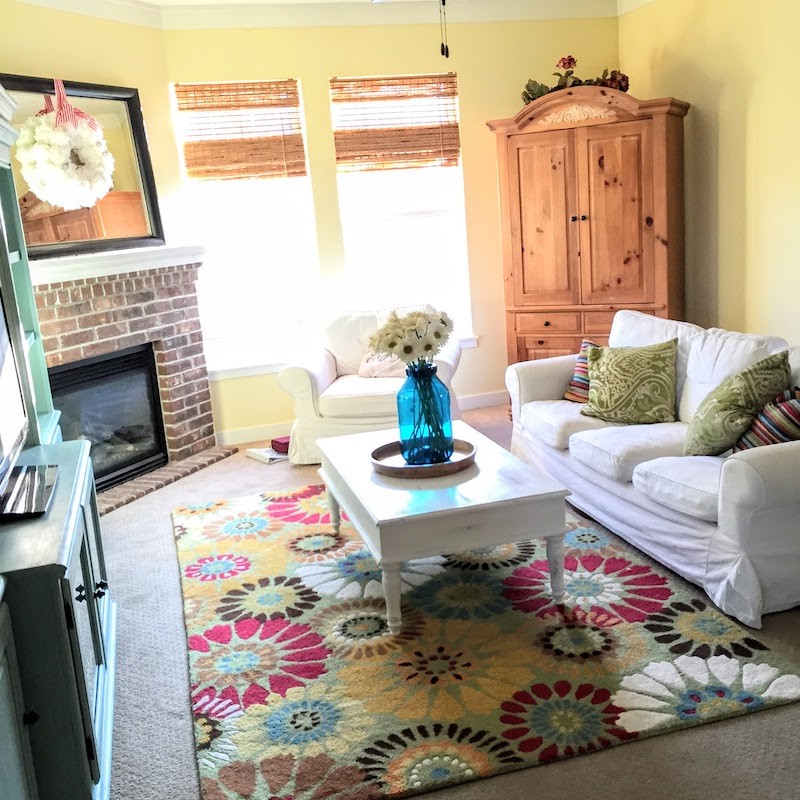 I really liked it and it looked good in here but I think our dog at the time chewed one of the corners off and pooped on it if I remember correctly 🙁
Notice the fireplace in the photo above? I have since painted the brick white and added shiplap above it.
You can see the post and how I did it here.
Lime Green and blue striped rug
Next up on the rug tour I decided to try a striped rug in lime green, light blue and navy for a fun new look.
This rug was a bit too small so I moved it to the patio.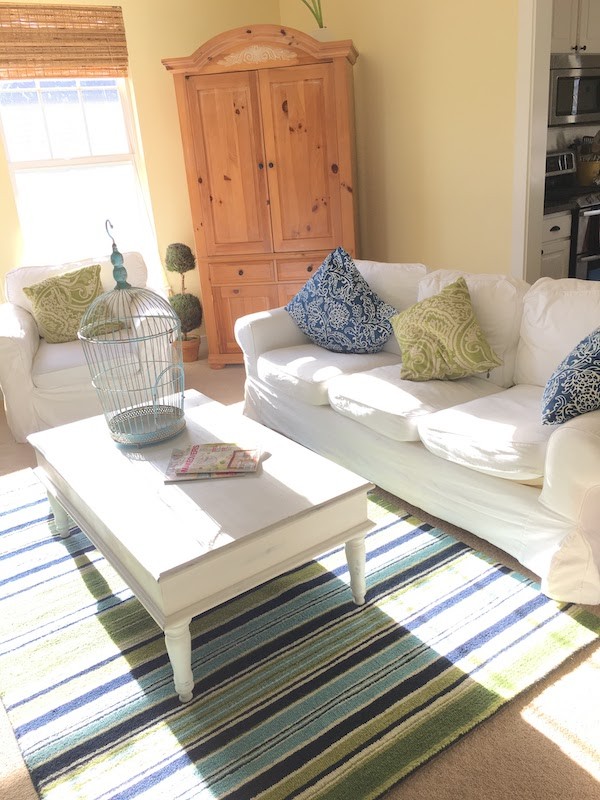 How about a large beachy floral rug
Next I thought what I really wanted was a large rug and something beachy with coral, peach, blue and green.
At Lowe's I found this big bold rug at Home Depot but ended up not keeping it.
It was a little bit too bold for this small family room.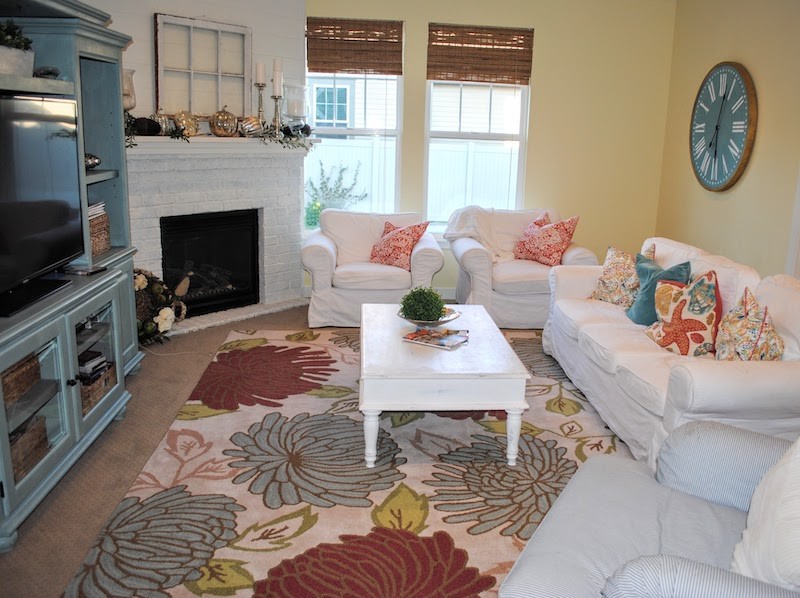 Let's try a thrifted oval rug
My sister and I were thrifting and came across this huge oval rag rug.
I thought sweet! It is only $20 let's give it a shot. (By the way this rug weighed a ton. It took 3 of us to move it into the house)
Nahhhh too country looking and it was coming apart in some areas.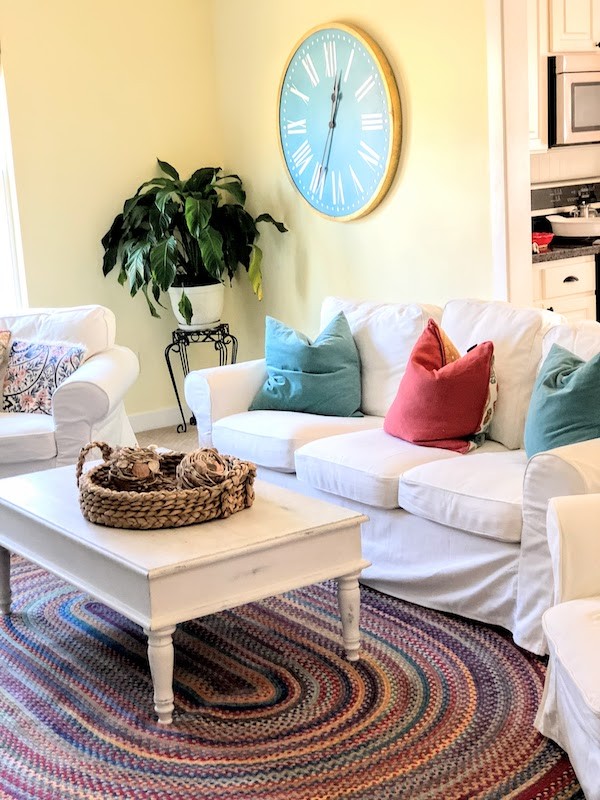 Are you still with me?
I know this is crazy isn't it?
Natural sisal rug- aka hairy rug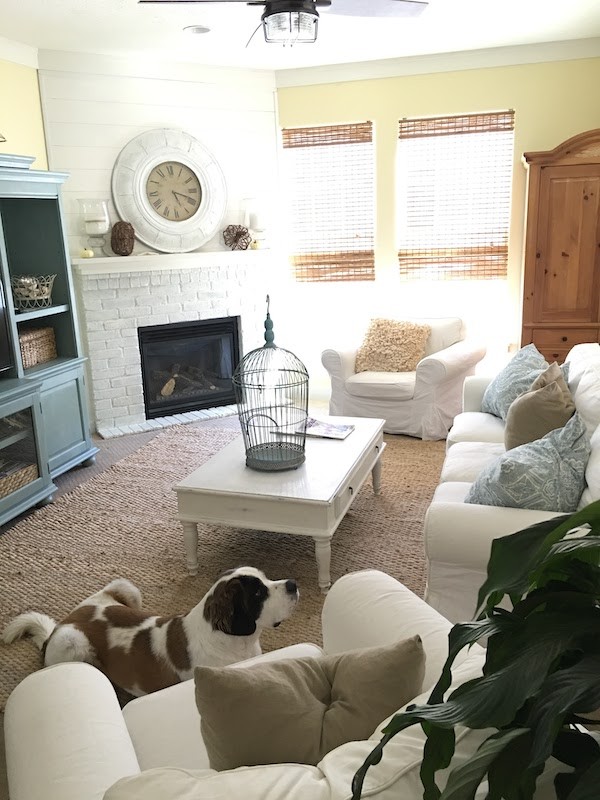 This rug was great! It brought in the beachy/lake Kottage feeling into the room perfectly!
My daughter, her hubby and especially their two dogs that were living with us at the time loved it even more. haha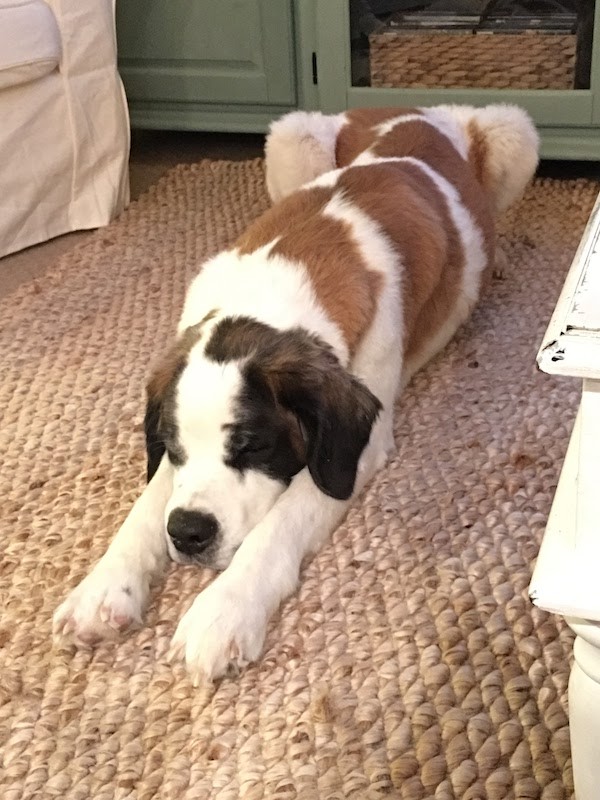 The only thing about this rug we didn't like was that it shed. When you laid on it, you ended up covered all over with sisal remnants. Even our socks were hairy! BOO!
So I moved the natural fiber rug from the family room into my dining room!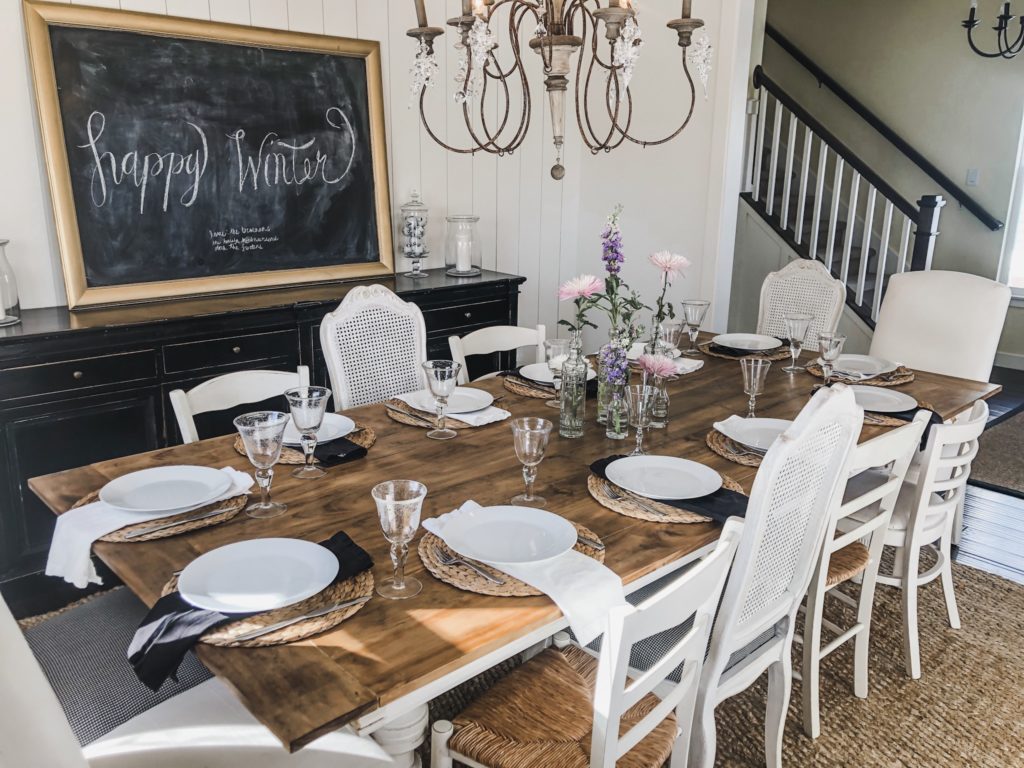 It looks so good under my newly planked top table that my hubby and son in law did for me.
I really love it in here!
It has held up to many many large family dinners in here.
I love that it does not show the dirt at all! No one lays on it so the fibers do not get all over us. WIN!
Finally the perfect rug for our Lake Kottage
Finally I found the perfect rug! It is huge 9×12 and I love all the colors in it. Blues, Lime Greens, sand color.
It matches my Entertainment center that my hubby and I chalk painted.
It doesn't show dirt at all!
P.S. This is the same sofa as the red one I talked about when we lived in Texas. It just has a white slip cover on it now.
This rug has held up to many family dance parties 🙂
It has held up to Baby showers and Bridal showers with lots of guests, Christmas Parties, dog visits, Super Bowl parties, you name it this rug has withstood the test of time for me!
I LOVE IT! and It only took me 10 years to find it 🙂 It is not available any more but I found some similar ones below.
Here are 7 Favorite Blue Green and White Rugs for Lake Cottage
I put together this collage of 7 of my favorite blue, green white and natural rugs for a beachy or lake cottage look. They are really well priced.
Some are on sale now!
So if you are looking for a blue and white rug or a natural fiber rug check these out!
If you decide to purchase any of these rugs I will make a small commission at no extra charge to you.
Which helps me keep this blog going 🙂

Pin To Shop Later