Here is a fun Christmas with the Kranks Ugly Sweater party idea for you! We started a Sugar plum Fairy party about 8 years ago for our two little grandkids. Since then our grandkids have grown in number to 5 with the 6th on her way.
Plus now our daughters and their hubby's wanted to be included and this year we even had a niece and nephew join our annual sugar plum fairy party!
This time we turned it into a Christmas with the Kranks ugly sweater party.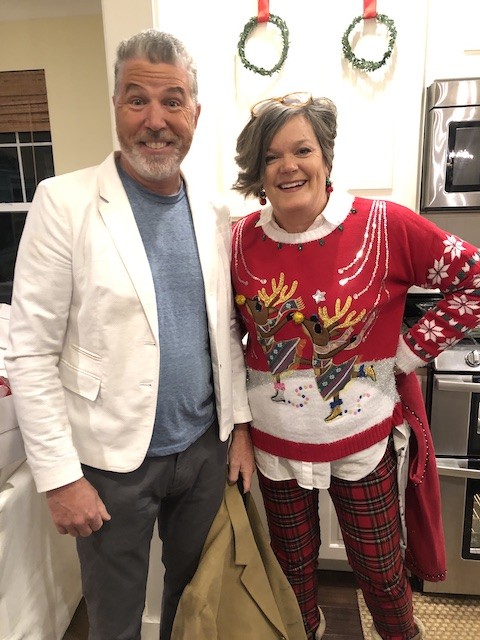 My hubby and I decided to dress up as Luther and Nora Krank (Christmas with the Kranks movie). Oh my gosh it was hysterical!
I couldn't find a Christmas vest but I found an ugly Christmas sweater at Walmart and I wore my fun tartan plaid pants with it.
Mike wore a blue t-shirt with my white jacket (it was tight and short but it was so funny!)
I highlighted his eyebrows to make him look more like Tim Allen in the movie after he had some botox injections! Haha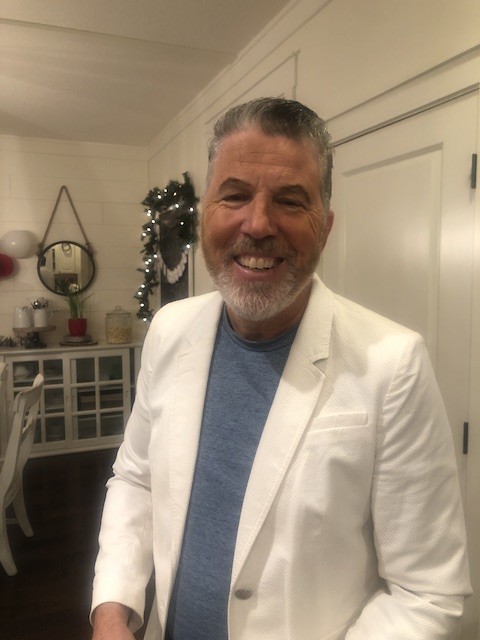 Frosty the Snowman
We also bought a blow up Frosty the snowman. If you remember in the movie…The Kranks decided they were going to skip Christmas and not put Frosty the snowman on the roof like all of their neighbors.
The kids in the neighborhood keep coming to their house and yelling Free Frosty!
I tried to get my hubby to put our Frosty on the roof but there was too much snow and it was slippery.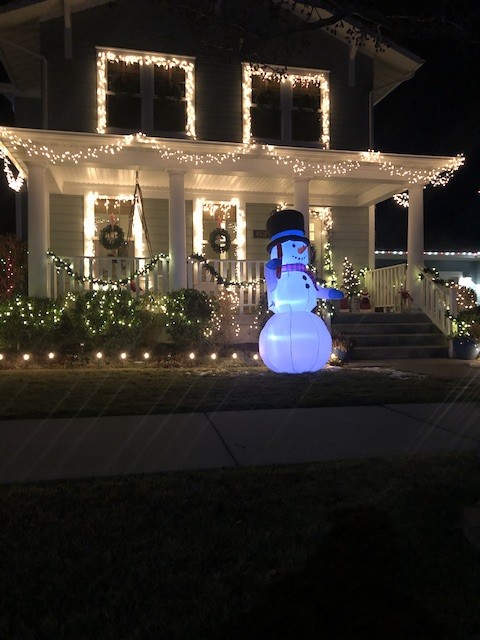 Well you would not believe this but our oldest daughter must have had osmosis going on because for a joke she went to thrift stores and looked for the outfits from the movie for us!
SHE DID NOT KNOW we were doing this funny dress up this year!
So when she got to our house and saw Frosty plus Mike and I dressed up she was blown away!
Unbeknown to us she had the outfits wrapped up for us!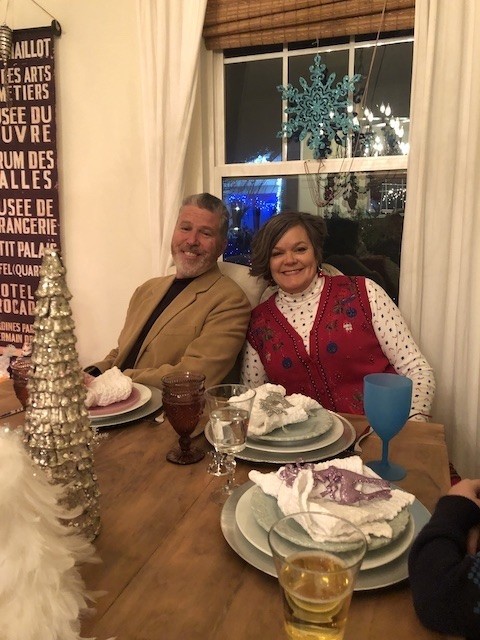 You can see we had a little wardrobe change!
Madeline bought the Nora Krank vest and the turtle neck, a black turtle neck for Mike along with the tan sport coat almost entirely from a thrift store!!
How crazy is that!
German Pancake
I always serve breakfast for dinner during our Sugar Plum Fairy party and it is one of the kids favorite meals.
My Puffy German pancake served with fresh fruit, syrup and whipped cream.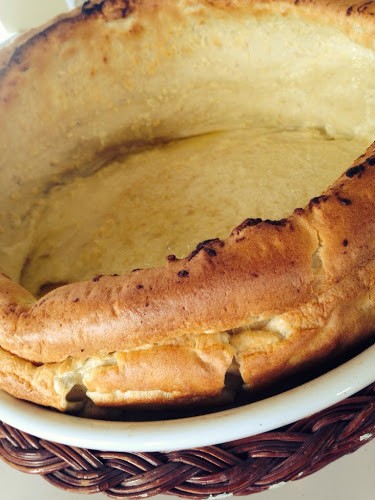 We brought in a couple of extra chair so that we could all sit around my dining table ready to eat the yummy breakfast for dinner 🙂
This is the dining table that my son in law and hubby added a new planked top to you can see the tutorial here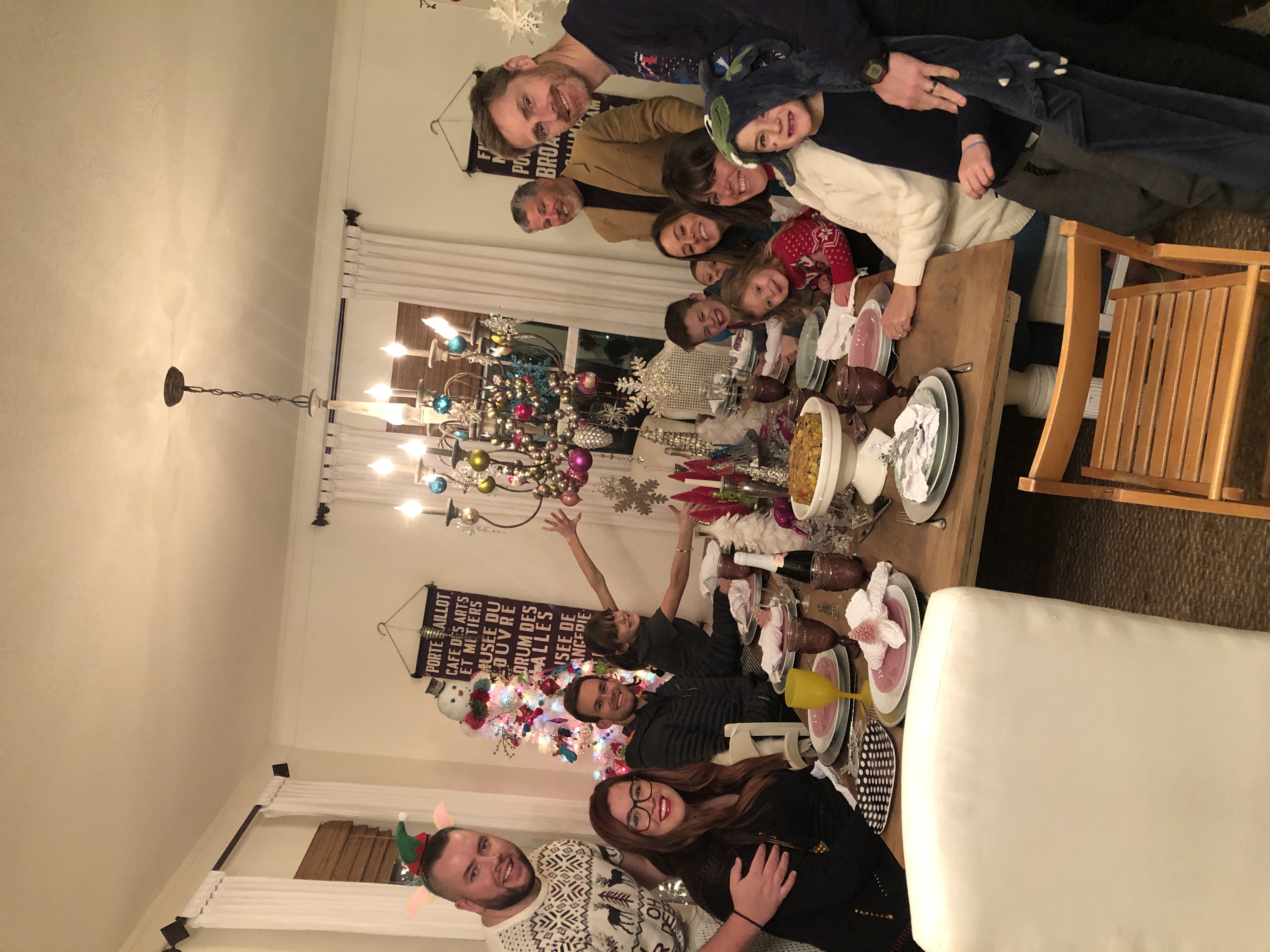 If you want to see how I decorate my Christmas chandelier the tutorial is here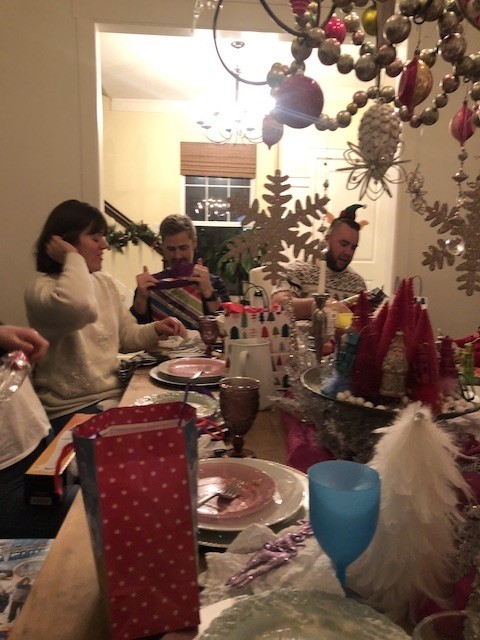 We give everyone a little gift to open.
The little boys got snowball maker or launchers, oldest granddaughter got film for her polaroid camera and chapstick, one of our daughters got a candle and the other some new dish towels.
I found these funny T-shirts for my two son in laws! "I never dreamed I'd end up being a son-in-law to a freakin awesome Mother in law but here I am living the dream" hahaha I had to get them!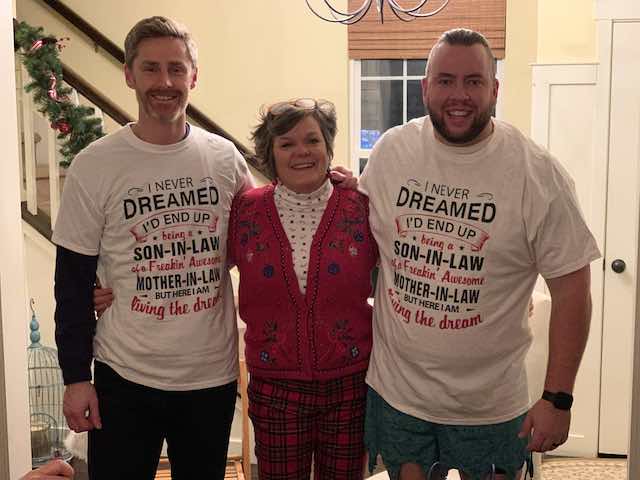 Making gingerbread houses
For one of our activities we have our annual gingerbread house making contest.
The kids love this and are so creative!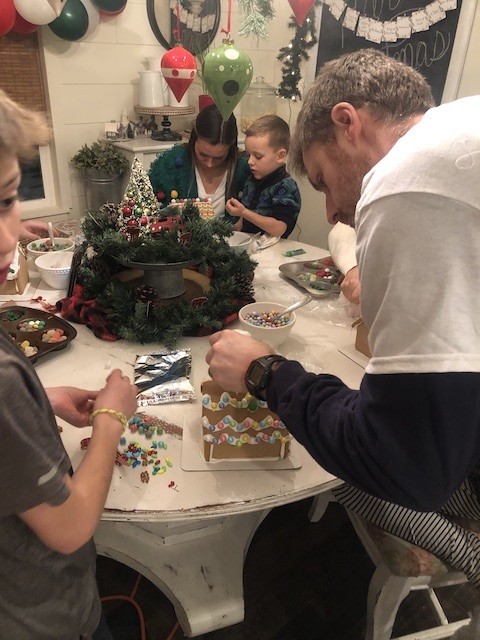 The big Elf aka Kevin, one of my son in law's dresses up as a big green elf and awards the winner!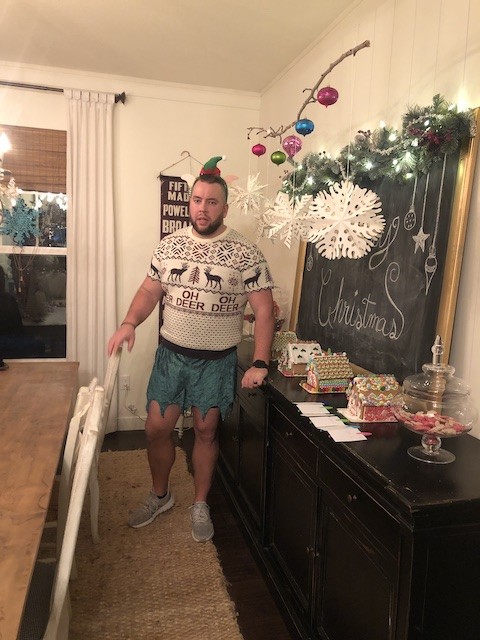 Here is the whole gang! It was so fun to be together and just laugh and make memories.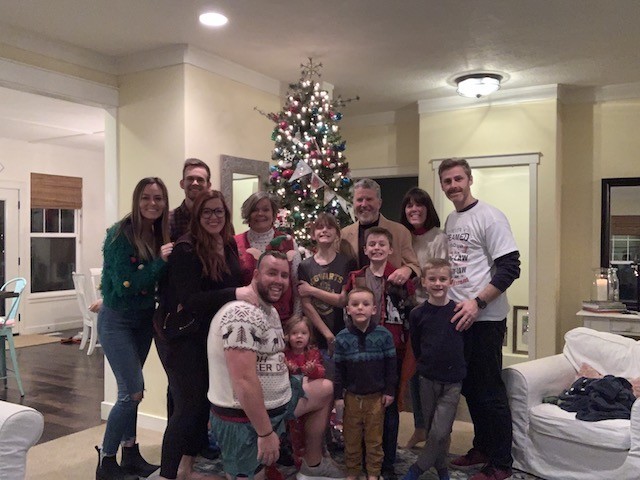 Our youngest grandson and our niece were the grand prize winners!
Kevin AKA the elf made the wooden gold house as the trophy.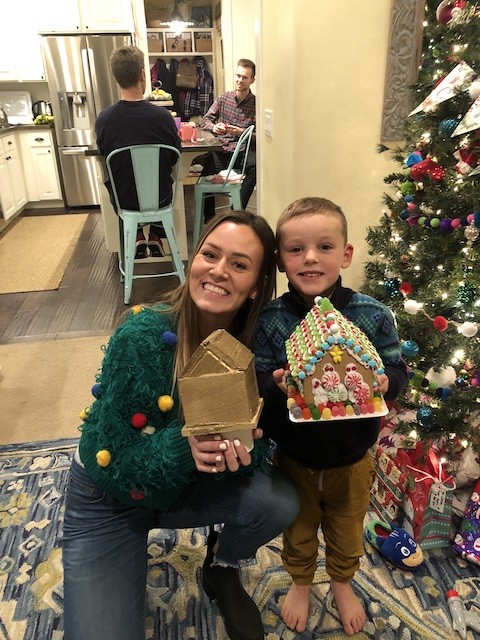 The Next Morning
All the grandkids had a sleepover here at the Kottage and after breakfast we went for a walk down to the frozen lake.
Even though it was super cold they loved it.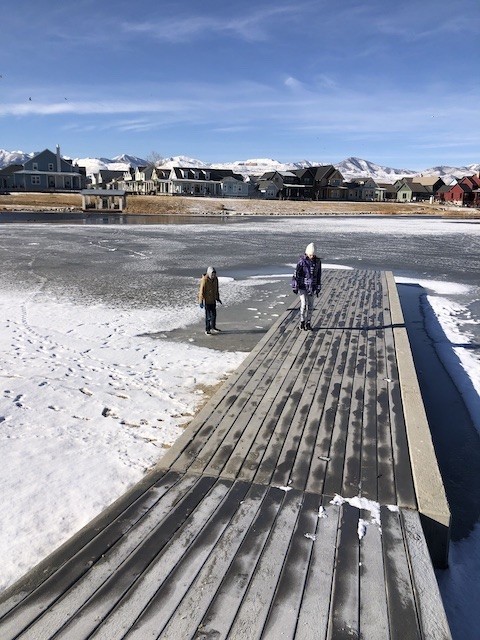 After our walk we tied a few blankets to drop off at our local homeless shelter.
The boys are such good sports and are really good at tying! I love this time of year and being able to spend it with my grandkids.
They all got COVID right after Thanksgiving so they were in quarantine and actually so were we because of exposure.
Mike and I and my other daughter and her family never got it.
Miracles.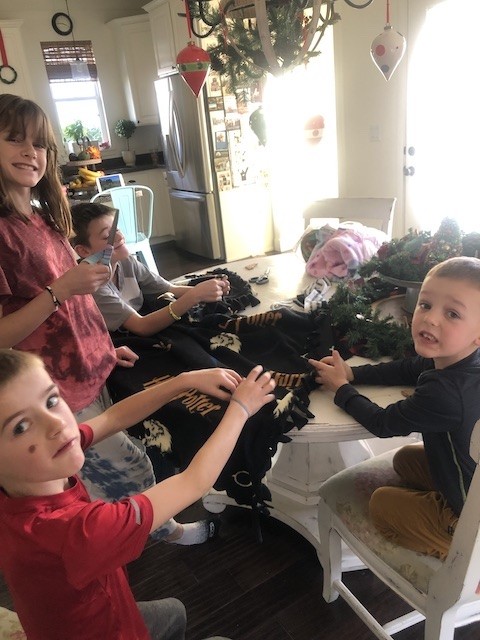 Wishing you and yours a very Merry Christmas!!
Shop Christmas with the Kranks party items