Last year I wanted to do easy to make super bowl party football food. I did not want to be running around the kitchen for hours before family arrived.
I still wanted to have lots of yummy football foods to choose from but I just did not want to be in the kitchen prepping for a long time.
So here is what I did.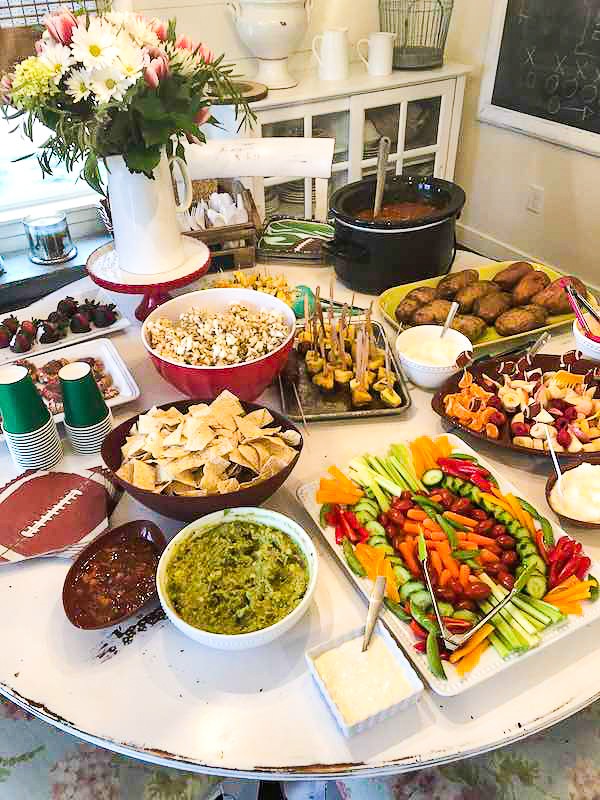 Easy Super Bowl party football food menu
I came up with baking ahead of time using my oven and crockpot, cutting up veggies and fruit to create cute platters of food, enlisting the help of my daughters and niece.
Bam! Instant easy Super Bowl Party food!
I know it looks like a ton of work but it was easy to put together.
Baked potato and chili bar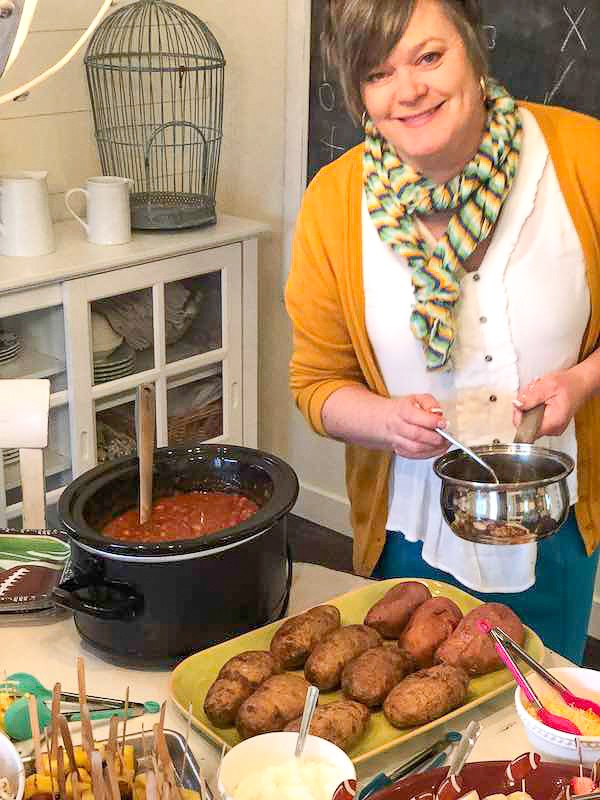 Baked potatoes- Wash, poke with fork, rub with oil and salt pop in the oven bake at 400 for 1 hour or until outsides are crisp and potato is soft when you squeeze. (russet and yam)
Crock pot chili- Make a simple chili by using Hormel canned chili but adding in sauteed onions, green peppers and a can of stewed tomatoes. Add any favorite spices to kick it up a notch. Plop it all in the crockpot in the morning and it's ready when the fam arrives.
If you don't like chili here is an awesome acorn squash with sausage soup that is too die for good!
If you have some big meat eaters here is a great recipe on how to grill a 7 lb pork loin roast!
Fruit and veggie platters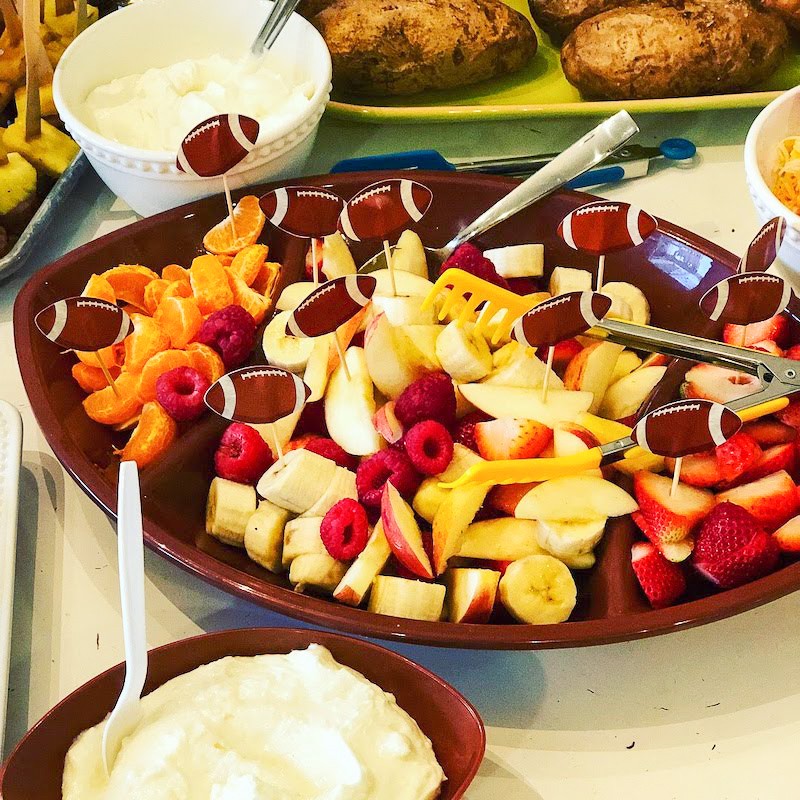 Fruit platter with dip- I had my niece cup up the fruit and put in a cute football platter and added football toothpicks. For the dip we used a premade yogurt dip easy peasy!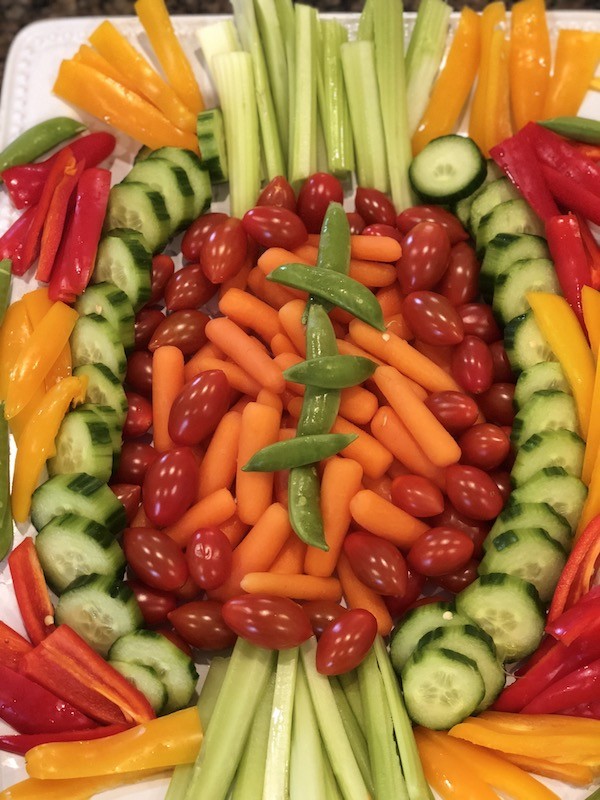 Veggie platter with ranch dip- Bought baby carrots, mini tomatoes and sugar snap peas, cut up cucumbers and orange and peppers and poured ranch dressing into small bowl from the bottle. We displayed the veggies in the shape of a football on platter.
If you like the idea of lots of veggies you might like to do a taco bar. I did this for my daughters baby shower but it would be perfect for a Super Bowl party too!
Skewered chicken teriyaki meatballs and pineapple.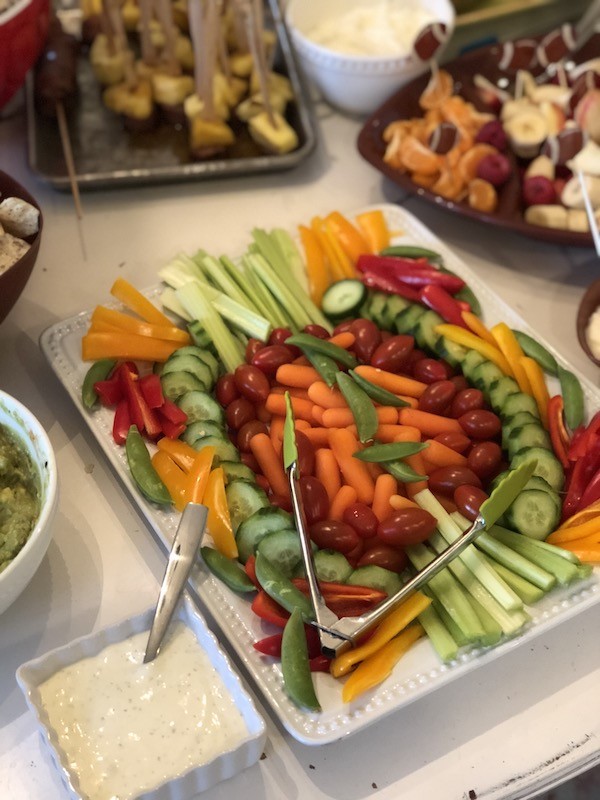 Meatballs with chunks of pineapple- Buy Aidells chicken teriyaki & pineapple meatballs, place on a cookie sheet add cut up fresh pineapple to the top of each meatball with a skewer. Drizzle with your favorite teriyaki sauce over the top. Bake at 350 for 8-10 min or until heated through. (Pictured in the back of this photo)
Here is another yummy quick meal using Aidells chicken sausage that you could whip up if you are having a small gathering.
Chips with guacamole and salsa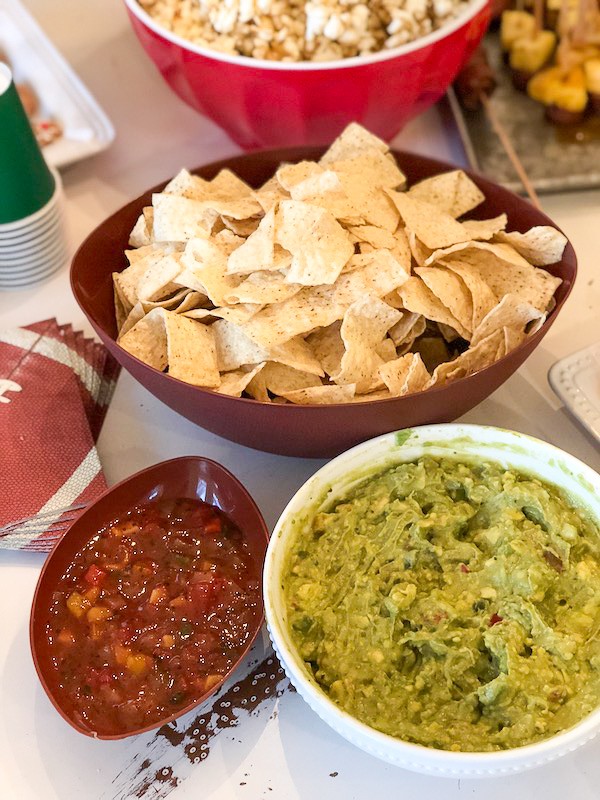 One of my son in laws makes the best chunky guacamole! Slice open 4-5 avocados, cut into chunks, add in 1/4 C of your favorite salsa, 1/2 tsp garlic powder, 1/4 to 1/2 tsp salt and a squeeze of lime and mix it up. We like it chunky so no need to make it smooth.
Pour a can of your favorite salsa into a bowl
Place corn chips in a football bowl.
Football cake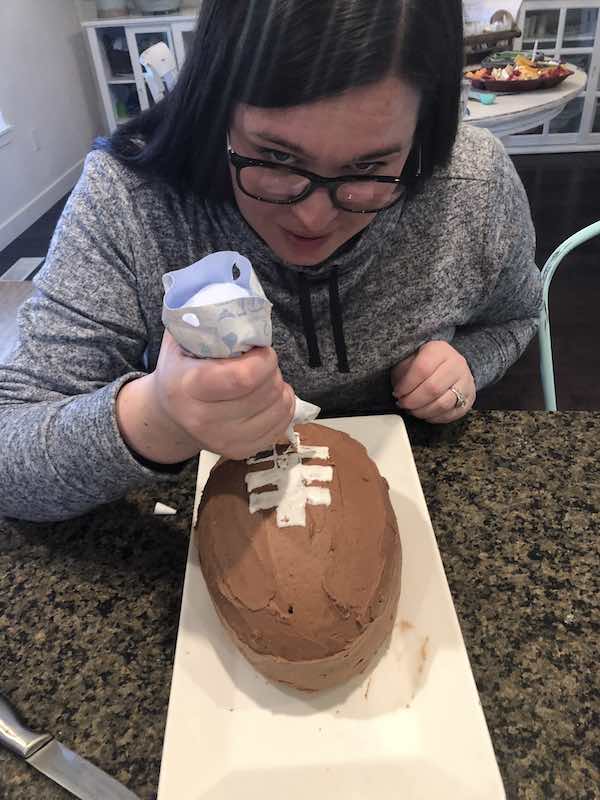 Yellow football shaped cake with Nutella frosting- My daughter Emily, made the cake using a Wilton egg shaped cake pan. Recipe below. If you don't have a football shaped cake pan, you can just make it in a regular cake pan and draw the outline shape of the football and laces on the cake.

Chocolate dipped strawberry footballs
These Strawberry footballs are a must every year!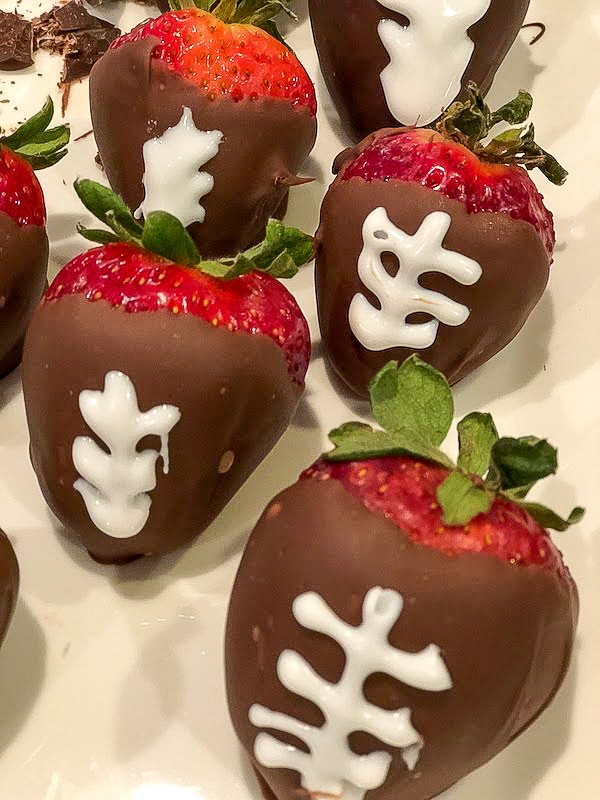 These cute little strawberry footballs are so simple to make and can be made ahead of time. You can see my tutorial here where I made them to top some cupcakes for a different Super bowl party.
Other easy super bowl nibbles
Kettle corn popcorn- pour into a bowl for snacking
Bowls of nuts- Place pistachios, cashews or any other favorite nuts in a small bowl
Ask family to make some of the super bowl party food
One of best ways to make it easier on yourself is to ask for help. Luckily my daughters and niece were totally up for helping with the food. There is something special about being the kitchen with your family making fun food. Laughing and making memories.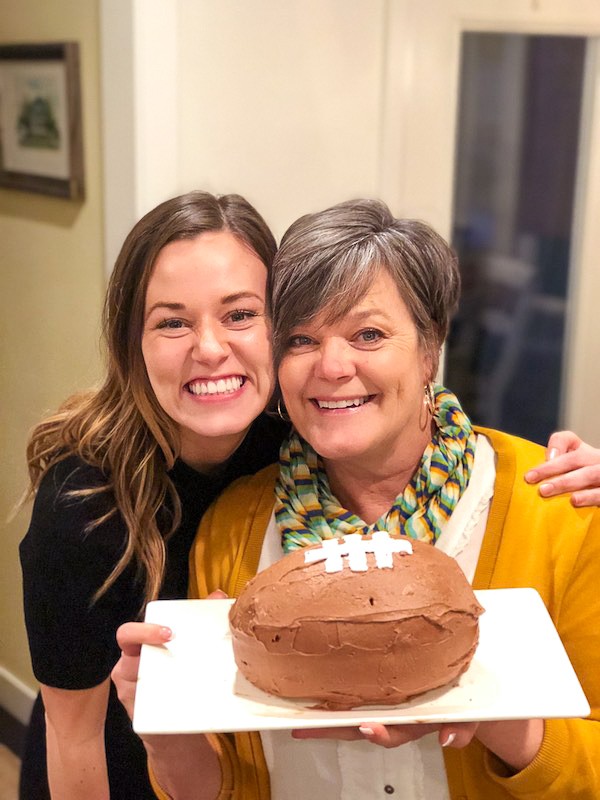 Recipe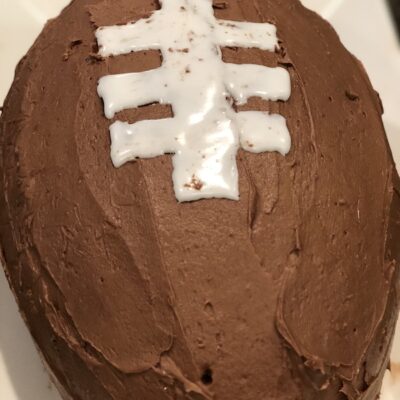 Football cake with Nutella frosting
This is such a fun cake to make using a Wilton egg shape cake pan. Yellow cake with Nutella frosting is to die for!
Equipment
Football cake pan

Mixer

oven
Ingredients
Cake
1

box

Pillsbury yellow cake mix

Or any other flavor of choice

1

box

Jello vanilla pudding mix

or other flavor of choice

4

eggs

1

Cup

Sour cream

1/2

Cup

oil

1/2

Cup

water
Nutella Frosting
3

Cups

Powdered sugar

1/2

Cup

Softened Butter

1

tsp

Vanilla

pinch

kosher salt

1/4

Cup

Milk or cream

1/2

Cup

Nutella
Football laces
1

tube

Wilton's white icing
Instructions
To make the cake
Preheat oven to 350 degrees and spray football cake pans with non stick spray

In a kitchen aid mixing bowl add in cake mix, pudding, eggs, oil, sour cream and water.

Mix on low until combined and then mix on medium speed until mixed well.

Pour cake batter into each side of the football cake pans and place in oven.

Bake for 30 minutes or until toothpick poked in the middle comes out clean.
Nutella Frosting instructions
In kitchen aid mixer bowl add softened butter and Nutella beat for 1-2 minutes.

Add in powdered sugar, salt and vanilla

Turn mixer on very low and begin to mix. Add in the milk or cream.

NOTE: The powdered sugar can fluff out of bowl so go SLOW. I turn the mixer on and off a few times to incorporate the powdered sugar slowly and that helps.

Once powdered sugar is mixed in beat the frosting until light and fluffy.

Play with the ingredients to get the consistency you like. Add more powdered sugar if it is too runny. Add more Nutella if you want more flavor. Add more cream to make it runnier. Just add 1/8 to 1/4 cup at a time to make adjustments.
Putting the cake together
After cake is done let cake cool for about 15 min.

Flip cakes upside down onto a cooling rack.

Trim cakes so that they have a flat side. It make it easier to stay together when you place them on top of each other.

For the base of the cake slice a small piece off so the cake won't rock and roll. Place cake on serving platter or cake stand.

Frost bottom half and top of bottom half of cake. Place top piece on the bottom layer. Continue to frost entire cake.
Laces on football
Use a squeeze packet of Wilton's white icing to create the laces. You can use a toothpick to make an outline in the frosting and fill it in.
Shop this post

Pin for later