This easy savory puffy pancake recipe is one you will make over and over.
It fluffs up in the oven and tastes so good.
Then top it with some sauteed vegetables and a little bacaon and you have one delicious meal for brunch or dinner.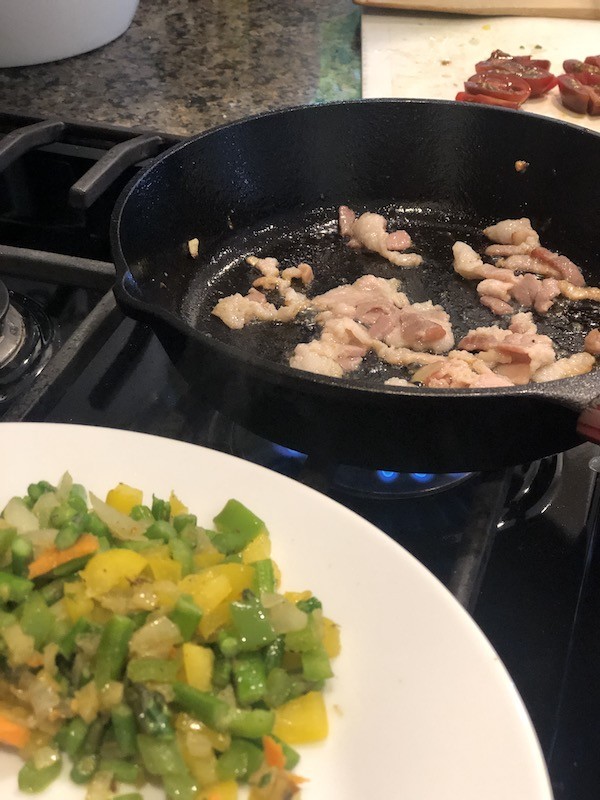 Use up leftover vegetables
I love a recipe that allows me to use up leftover vegetables I have in the fridge.
A little leftover asparagus, green onion and peppers are always good for the topping.
Plus I seem to always have a random yam left in the cupboard too. We love yams here at the Kottage.
Here are a couple of other yam dishes that are easy to make for a week night meal.
Turkey taco stuffed yams and Quick Thai turkey yams both are super delicious!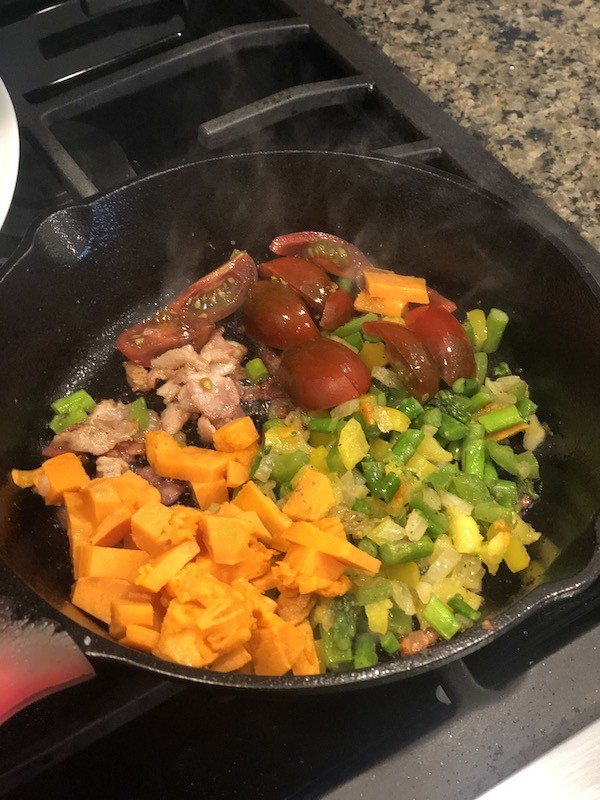 Savory Puffy Pancake batter
Puffy pancakes are just about the easiest thing to make. They are also known as dutch babies or German pancakes.
These turn out great when baked in a cast iron pan but if you don't have one just use a 13″ x 9″ rectangle pan or any other large round or square baking pan.
P.S. Best oven mitt ever! I love that it covers up my arm a bit. Link to purchase here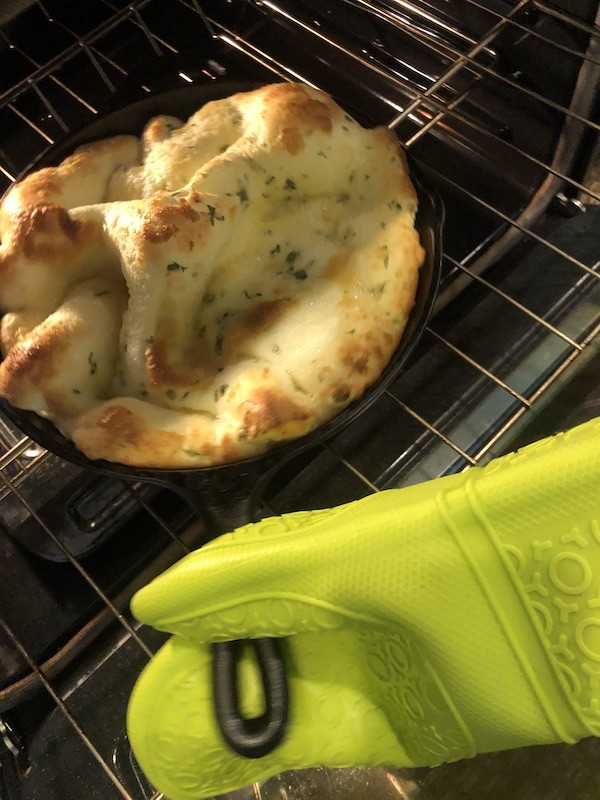 The batter is so simple and I just whirl it up in the blender and pour it into a hot pan with melted butter!
It is 1 c flour, 1 cup warm milk, 6 eggs room temp, 5 Tbsp butter, favorite seasonings I used some fresh chopped basil but you could use parsley, a combination of rosemary, thyme and basil.
If you don't have fresh herbs you can use dried.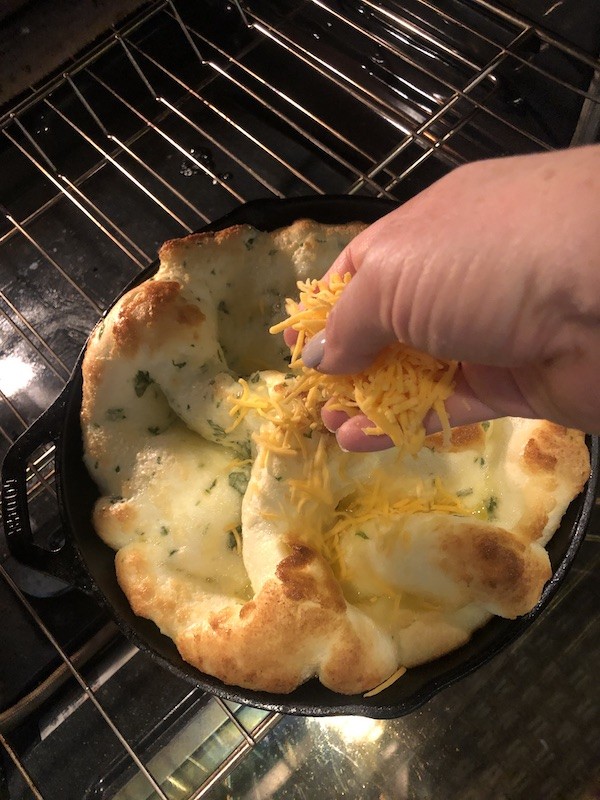 Baking the Savory Puffy Pancake
Once you have made the batter and your pan is hot in the oven with the butter melted. Pour the batter into the pan.
It only bakes for about 22 minutes. During the last few minutes sprinkle on some cheddar cheese so it melts.
OOH is your mouth watering yet? Mine is! I think I might make the beautiful savory puffy pancake for Easter brunch!
It is so great to make for your guests because it looks so stunning right when you take it out of oven! Don't worry if you see your masterpiece deflate a bit after you take it out of the oven. It does that.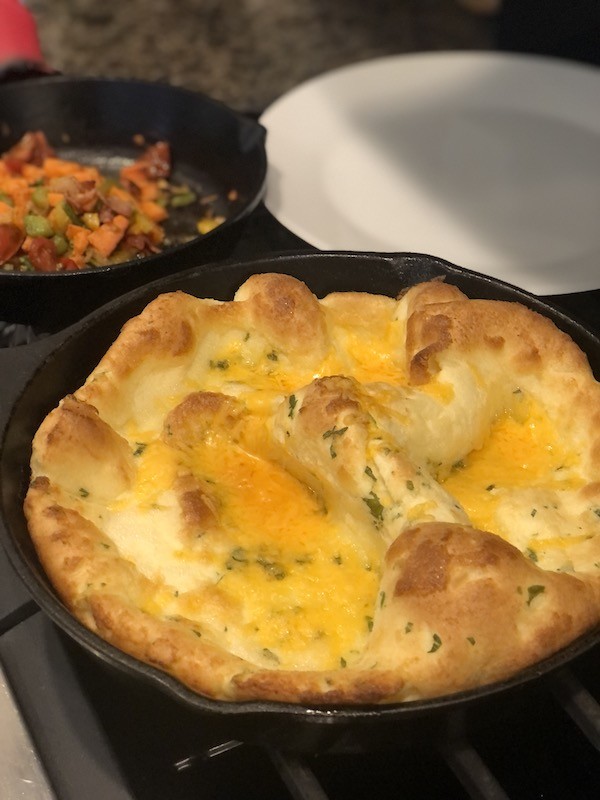 Vegetable topping
All your delicious bacon and sauteed vegetables can now be added to the puffy pancake.
This puffy pancake is kind of like a pizza only not. haha The "crust" of this puffy pancake is like a Soufflé. Light, airy, eggy an oh so satisfying!
I can almost smell this goodness as I write this!
It is sooo good!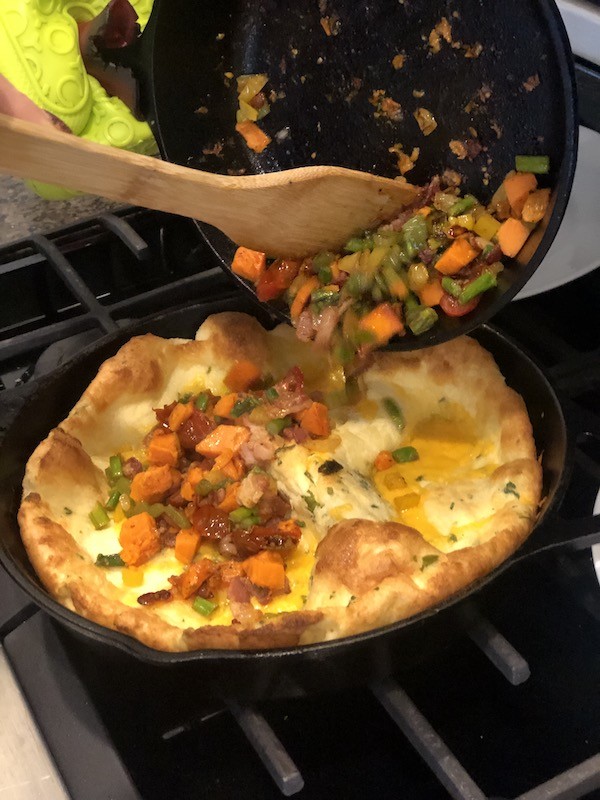 Truly it looks like a masterpiece doesn't it?
So simple, made with fresh vegetables and eggs.
What's not to love?
Here is a link to the awesome pre seasoned black skillet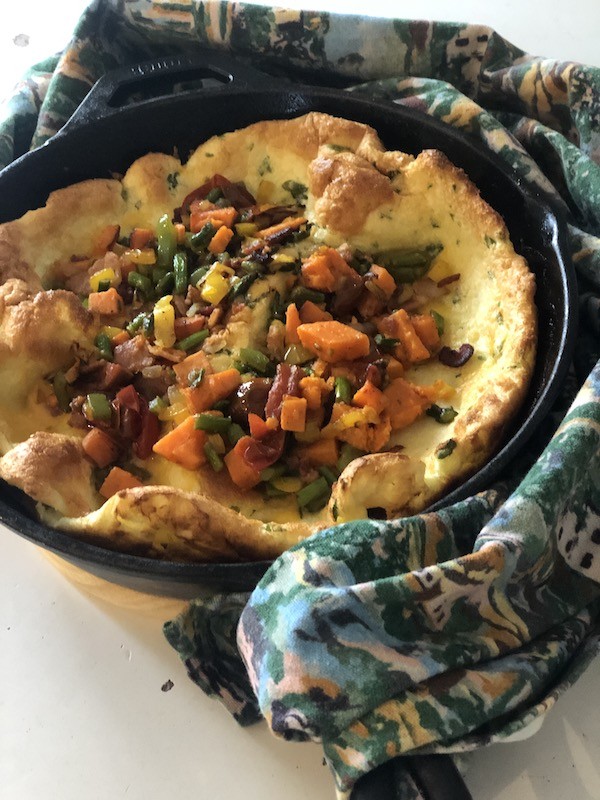 You can make this puffy pancake sweet too. We also make this as a sweet German puffy pancake in a round baking dish and it turns out gorgeous as well.
For that particular sweet puffy pancake I top it with lots of fresh fruit and whipped cream. YUM!
Pin For Later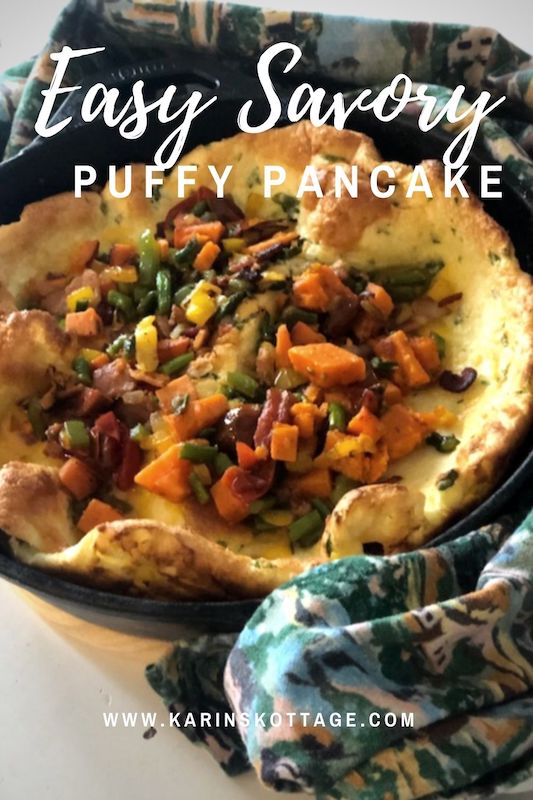 Shop Cooking Supplies

Recipe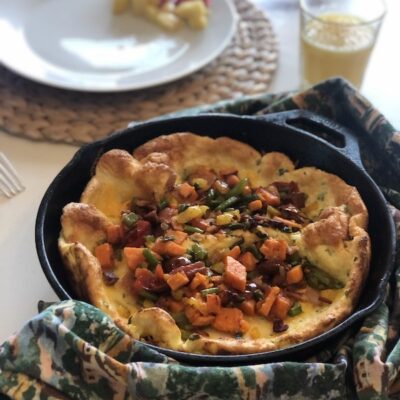 Easy Savory Puffy Pancake
Delicious savory puffy pancake topped with bacon and sauteed vegetables that makes for a great brunch or dinner meal.
Equipment
cutting board

knife

cast iron skillet or baking dish

oven
Ingredients
Savory puffy pancake batter
1

c

flour

1

c

milk

warmed

6

eggs

room temp

1

Tbsp

fresh basil or other fresh herbs (or use dried but use less)

chopped

1

dash

Kosher salt

1/4

c

shredded cheese

Sprinkled on puffy pancake last few minutes

5

Tbsp

butter

To be melted in the baking dish
Bacon and Vegetable Topping
4-6

strips

Bacon

1

tsp

Webers Beer Can chicken Seasonings

1/2

Yam

chopped in small pieces

3

spears

Asparagus

Cut into small bite sized pieces

2

green onions

chopped

1

small

Yellow pepper

Chopped

8

baby tomatoes (optional)

Sliced

1

Kosher salt to taste
Instructions
Heat baking dish or skillet
Place butter in baking dish or skillet and place in preheated 425 degree oven
To make the batter
While baking pan and butter are heating, Add flour, eggs, milk, basil, salt into blender and blend until smooth

Once blended pour into hot skillet or baking dish make sure butter has melted.

Bake for 20-24 minutes or until golden color and it has puffed up. (during the last few minutes sprinkle cheese on top so it melts)
Prepare Bacon vegetable topping
Cut bacon slices into small pieces and saute´ in frying pan.

Chop all your vegetables.

(You can use any kind that you like but chop into small bite sized pieces)

If using small tomatoes set aside.

Remove cooked bacon and add vegetables and seasonings to the pan.

Saute` the vegetables until cooked but not mushy.

Add in the cooked bacon and sliced tomatoes and heat a few minutes.

Top the savory puffy pancake with your bacon and vegetables and serve immediately.

The pancake will deflate a bit.