This is "nacho" average baby shower 🙂 I am amazed that I just realized that I never posted about my daughters baby shower that we had two years ago!
I was working back then and my posting ability was very limited to almost nothing.
So here are all the fun details of this beautiful Fiesta baby shower and taco salad bar!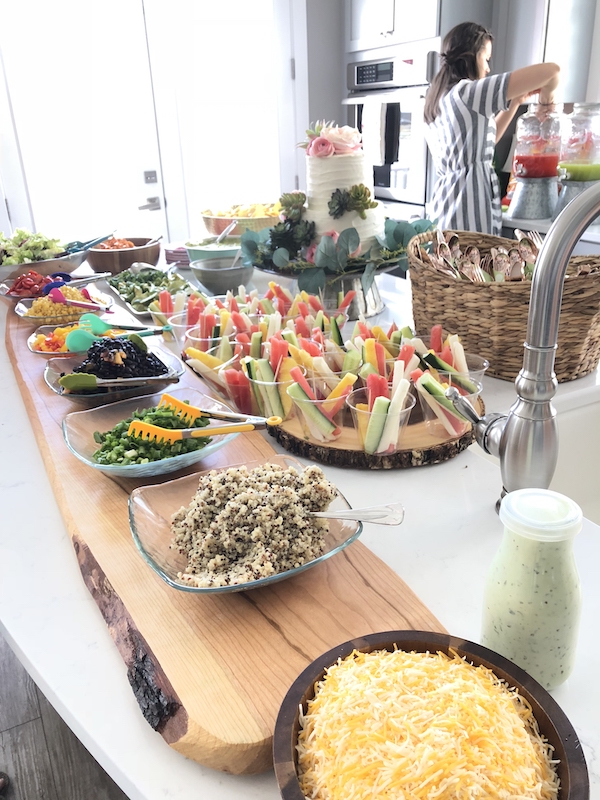 Taco Salad Bar
My precious friend Maria held this baby shower in her home for my daughter Emily. Her kitchen island was the perfect place to set up the taco salad bar.
Another friend offered her large wooden serving platter (and I am talking HUGE) to serve all our fixings on it. I used wavy glass bowls and served all kinds of taco fillings.
Serving bright colored food like corn, rice, beans, tomatoes, cheese, green onions and peppers look so nice in pretty bowls all lined up on the big wooden serving board.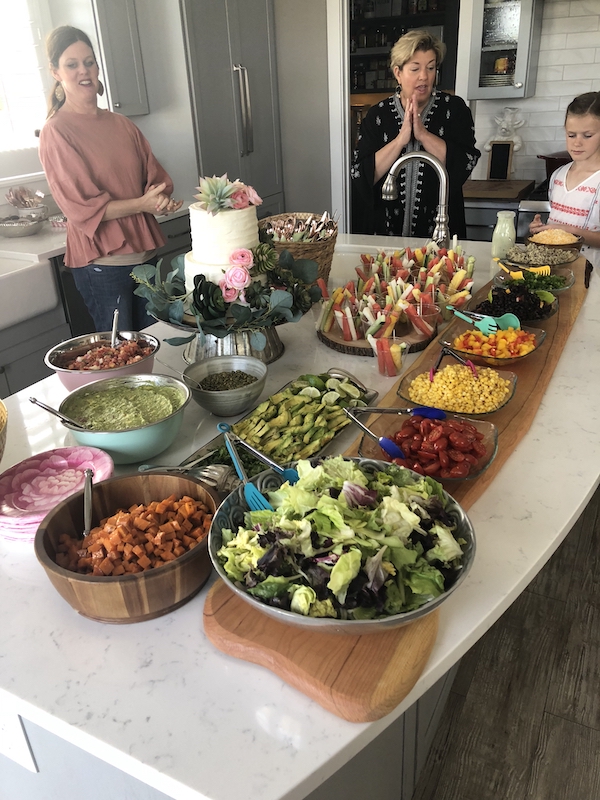 On another large silver platter we served up sliced avocados, chopped cilantro and sliced limes. For some added crunch and flavor we had a bowl of pepitas (pumpkin seeds).
I could not have done this taco bar without all the help of my daughter Madeline and my sister Tiffany!
What would I do without my family!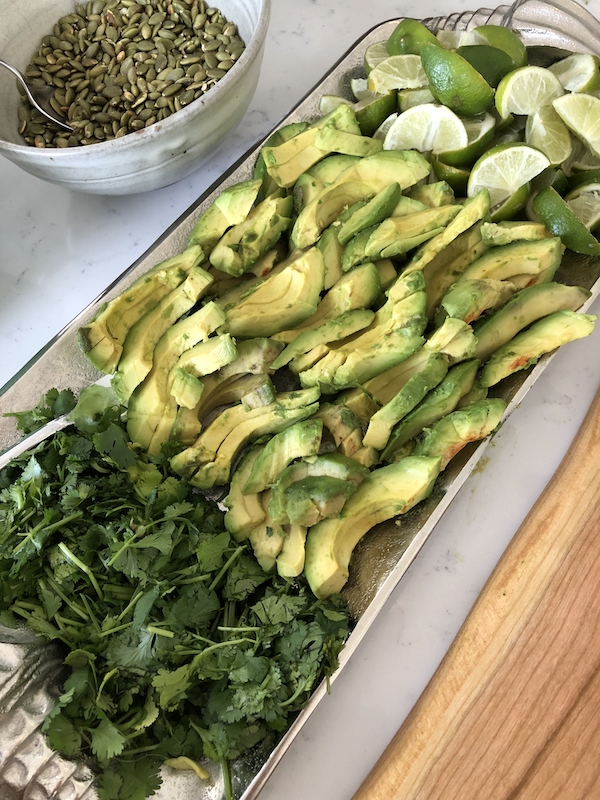 Of course what is a salad bar without a large bowl of fresh greens!
So crisp and yummy for the base part of our taco salads.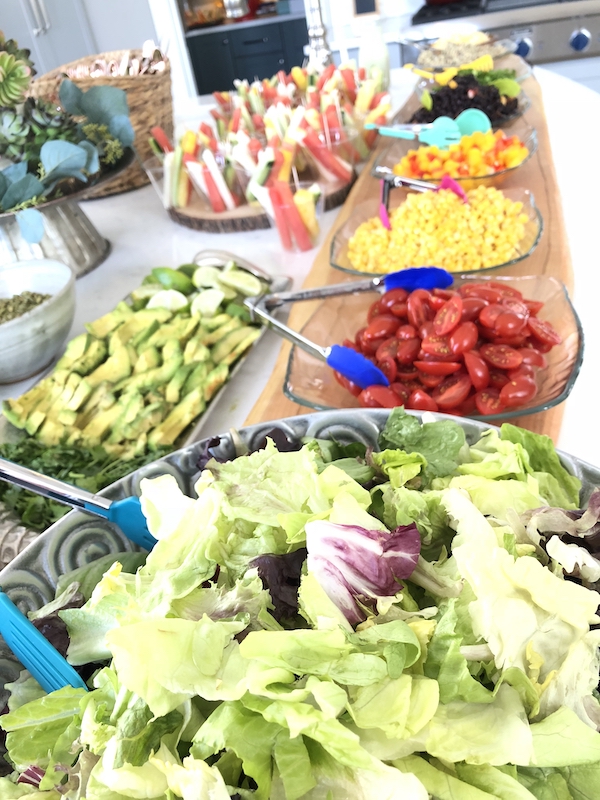 We also served little veggie/fruit cups filled with thick sliced cucumbers, jicama, watermelon and pineapple. So crisp and refreshing.
We served them on wooden slab platters for more of an earthy feel.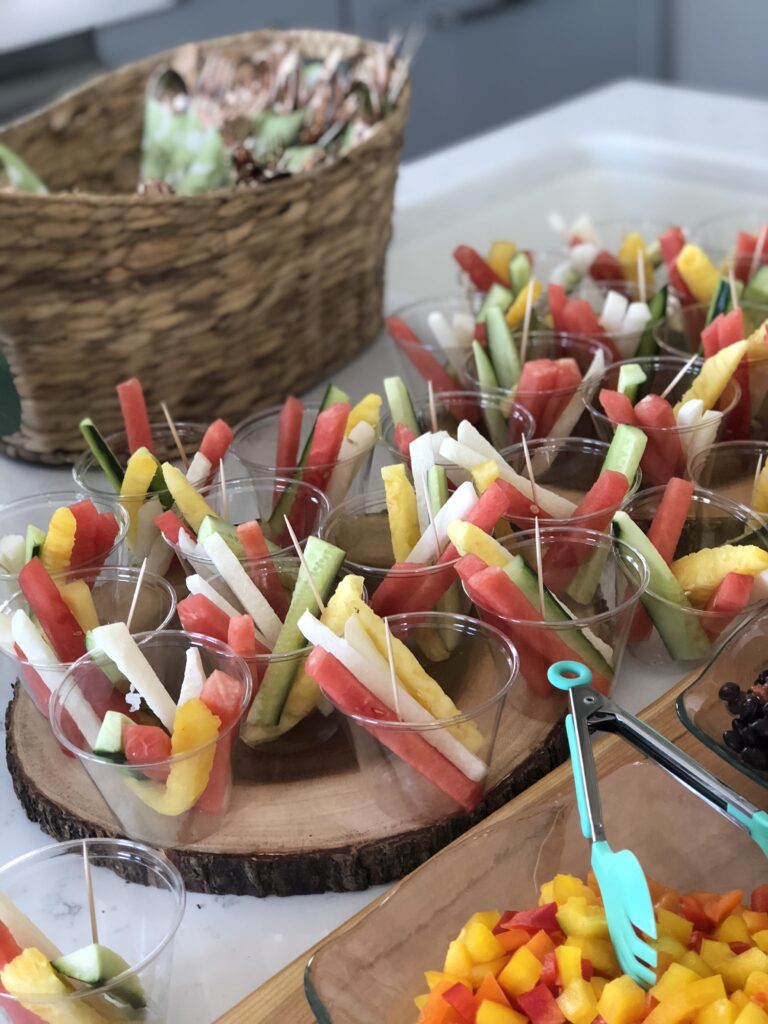 Just look at how cute this plastic rose gold silverware looks all tied up in a napkin with baby's breath that my sweet friend Maria did!
It's the little details like this that really make things look so beautiful!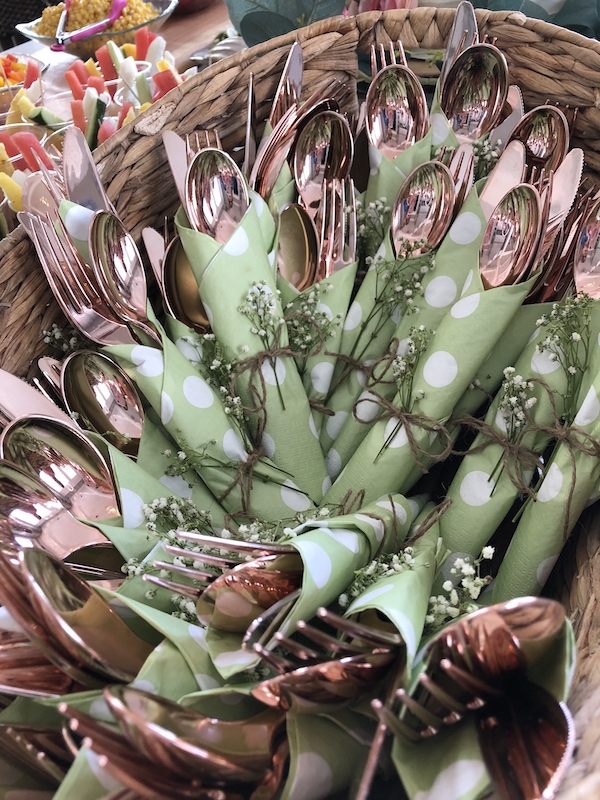 Fiesta Baby Shower Cake with Succulents
Are you dying over this cake or what! We had one of Emily's friend make this cake for her.
You may remember that she also made her spectacular wedding cake with flowers.
We wanted this cake to be just simple with butter cream frosting and it was truly amazing!
Tucking in all the faux succulents and faux pink flowers on and around the cake made it look amazing when we were done!
Placing it on this rustic metal cake stand really made it stand out as the focal point of our taco salad bar.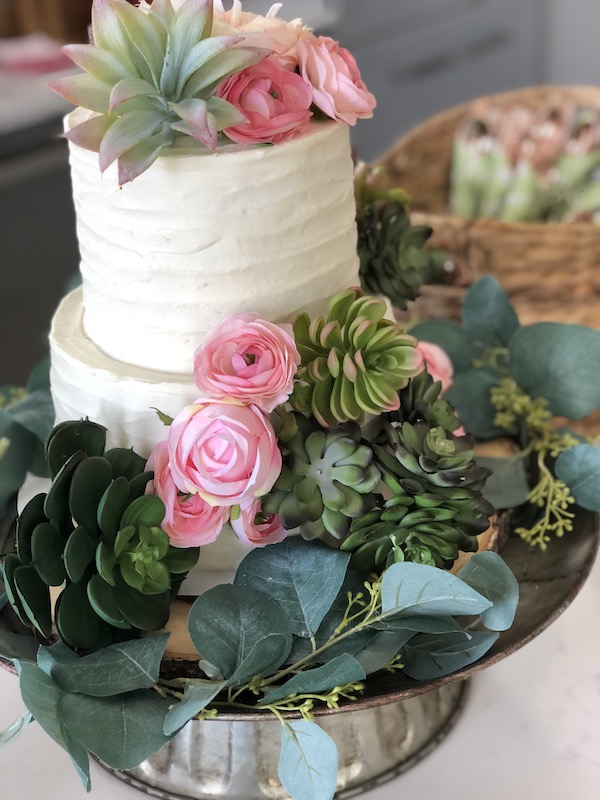 Fiesta Baby Shower Decor
Cute Maria decorated her kitchen and table with pink paper garlands, white Mexican paper garlands, little terra cotta pots with succulents and mini glass vases filled with mini red carnations.
Everything looked so perfect!
Here is a super fun Easy taco bout Fiesta party that my daughter put together a few years ago. Lots of fun decor ideas to use!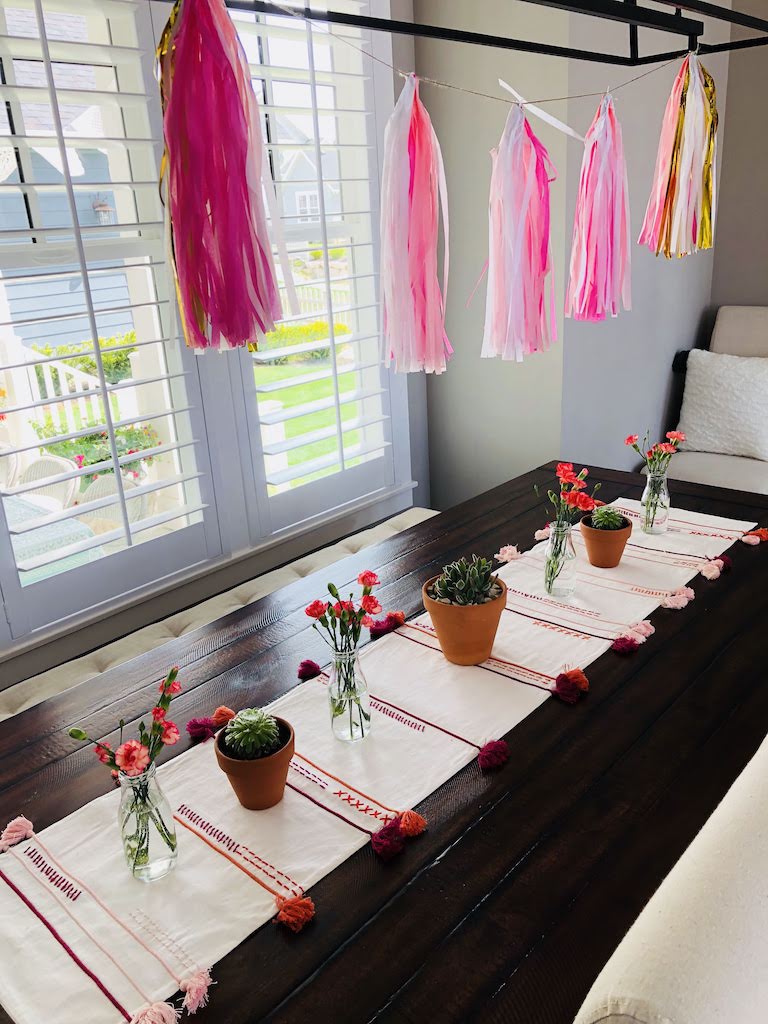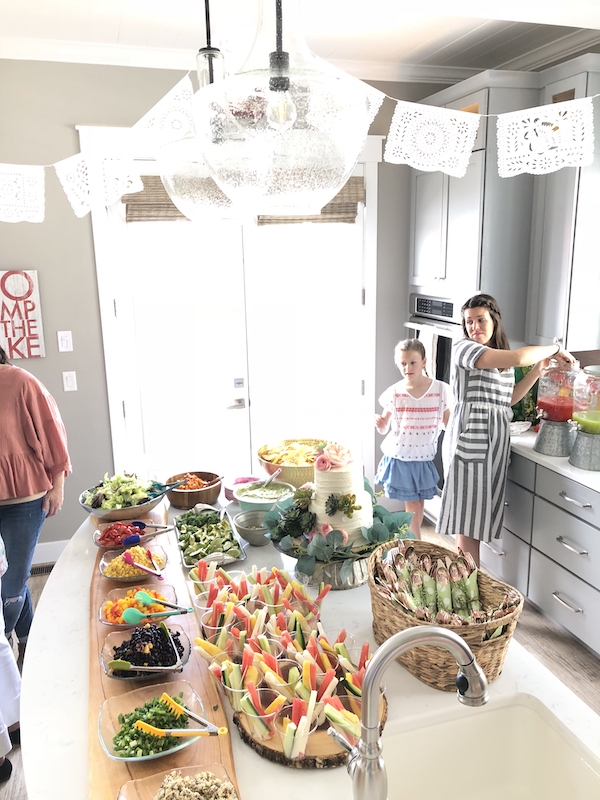 Everyone Enjoyed the Fiesta Baby Shower
Ella my oldest granddaughter was loving being able to be at the shower and was so excited to finally be getting a girl cousin!
I love putting together baby showers for friends and family to gather.
I did an Indian tribal themed shower here and a Hot air ballon themed shower here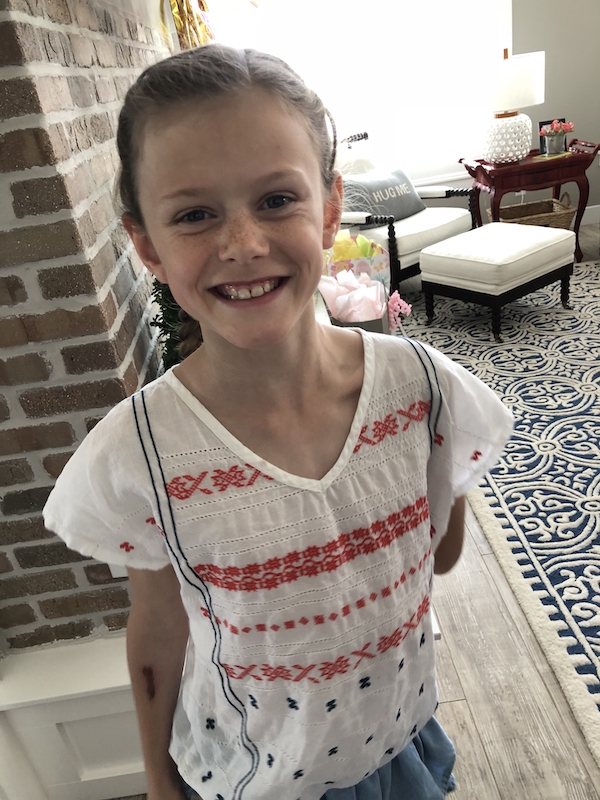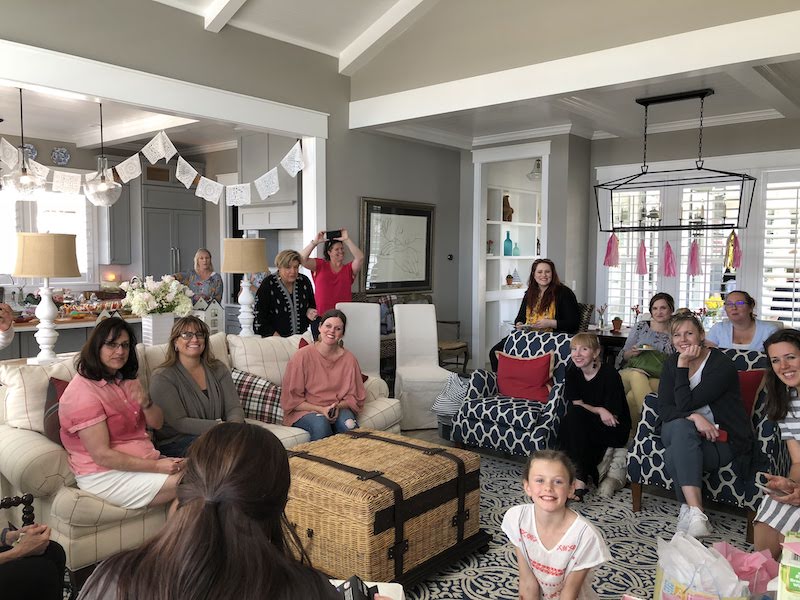 The very best part of this Fiesta Baby shower was the beautiful momma to be! Emily absolutely loved it all and felt so special!
So many sweet friends and family came and supported her.
We could not have asked for anything more it was perfect in every way.
A few years before this we did a pink peach and gold bridal shower for Emily and it was also beautiful you can check it out here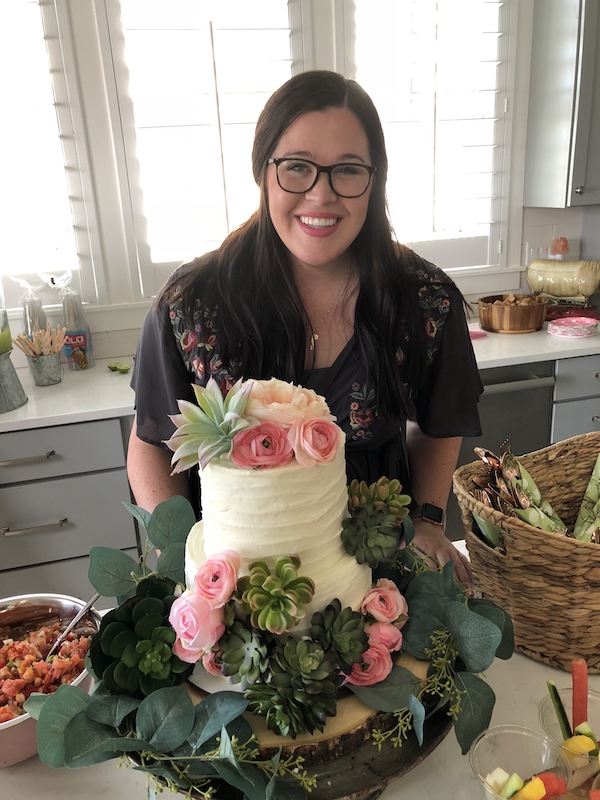 We were inspired by the gorgeous colors, look and feel of this Girly California baby shower on Style Me Pretty.
Don't you just love soft pinks and greens together?
I can't wait to host another shower soon….I hope 🙂
Other Baby Shower Posts
Wait until you see this Indian Tribal baby shower that I put together including Tee Pee sandwiches and Tom Tom drum marshmallows plus lots of fun inexpensive decor ideas.
This is another fun idea a hot air balloon baby shower. I show how to make the darling hot air balloons that the soon to be mother can use in her nursery.
My daughter hosted a Dr. Seuss "oh the places you will go" themed baby shower that turned out soooo adorable!
Shop This Post