Making BBQ French bread pizza for a football party is a quick and easy way to feed a crowd. All you need is a few simple ingredients and a little bit of time to put it all together. Here's a step-by-step guide on how to make this delicious appetizer or dinner for your next football gathering.
This makes a perfect appetizer! You can make each side of the French bread pizza with different flavors. Then your guests can have individual servings and try them all. Why not make a Hawaiian bbq chicken side using some pineapple. I served this BBQ french bread pizza as an appetizer by slicing the bread into 3″ pieces. One side had red onions and olives and the other was just the bbq chicken and cheese Everyone loved both of them and it was so filling.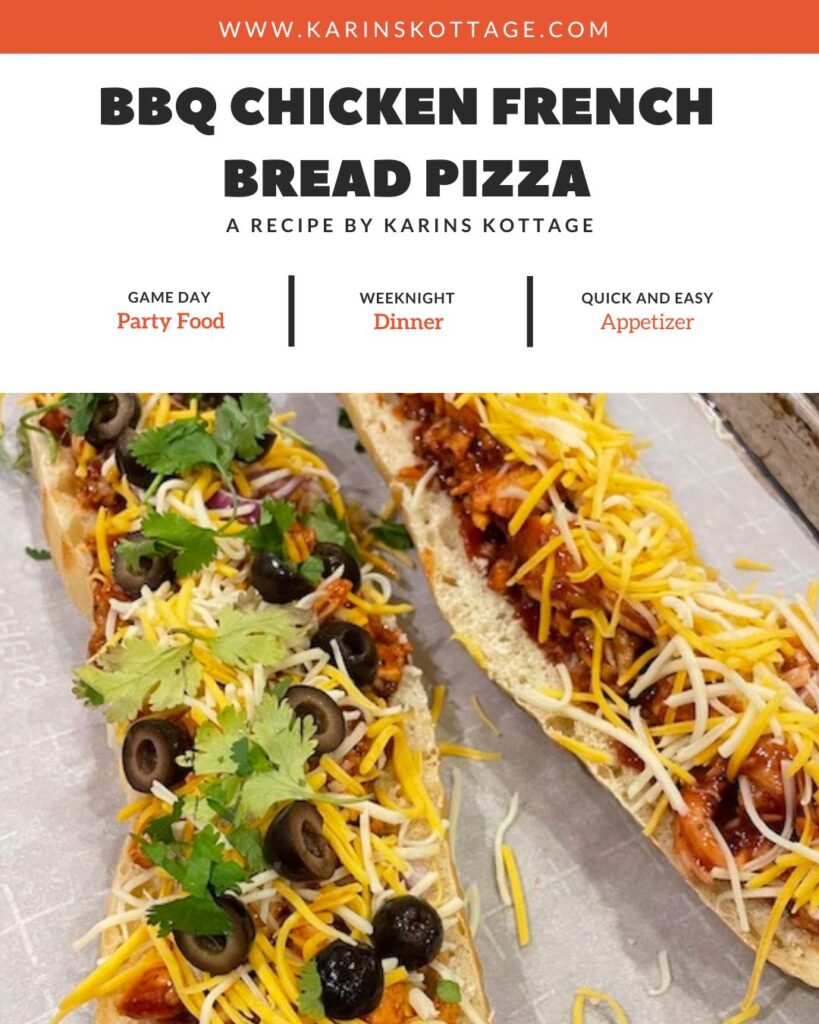 Ingredients-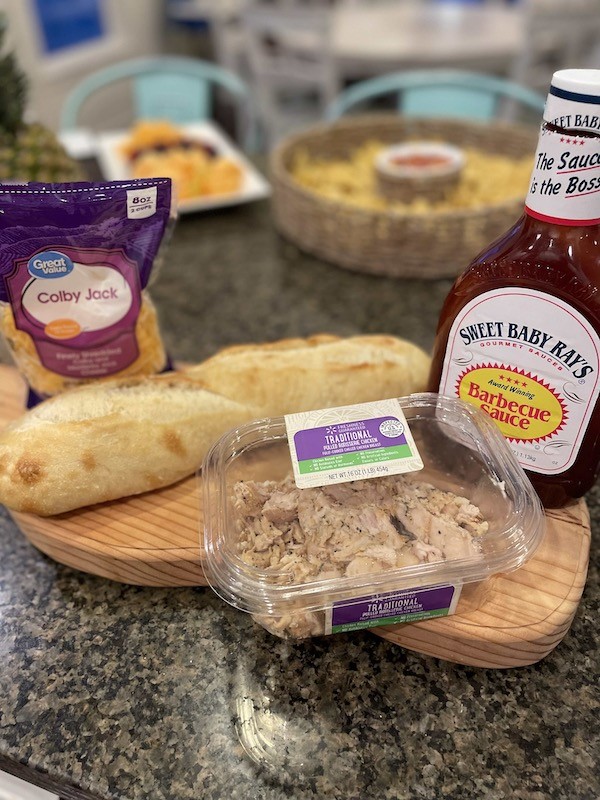 1 loaf of French bread
Sweet Baby Ray BBQ sauce
Shredded Mozzarella cheese
Chopped red onion (optional)
Olives (optional)
Cilantro (optional)
Rotisserie chicken
How to make BBQ Chicken the easy way
First, preheat your oven to 375 degrees Fahrenheit. While the oven is heating up, grab your loaf of French bread and slice it in half lengthwise.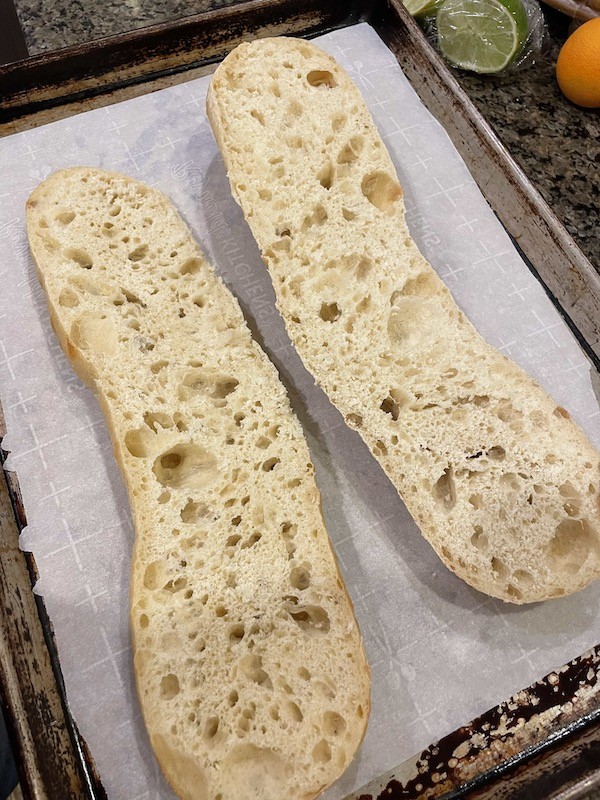 Then, spread your favorite BBQ sauce on each half of the bread, making sure to cover the entire surface.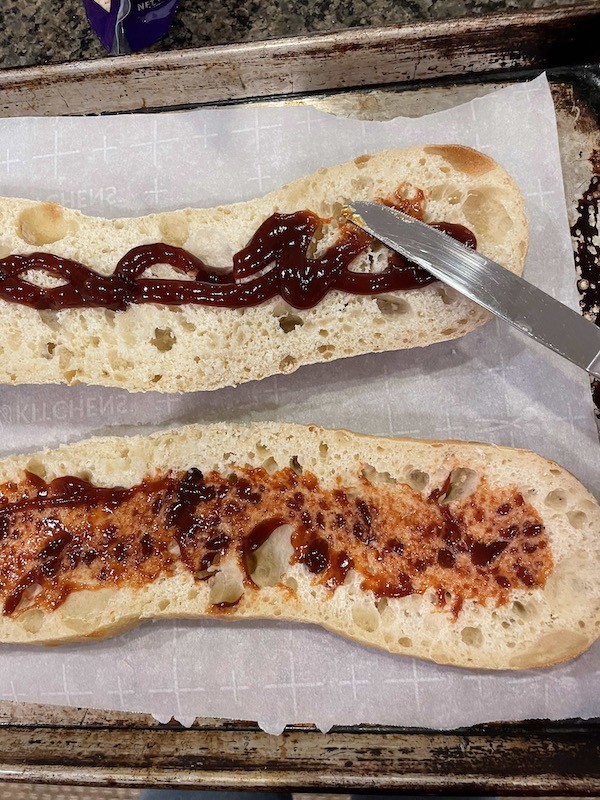 Place your rotisserie chicken in a small pot and add sweet baby ray's BBQ sauce until well coated. Heat on medium-high heat until heated through.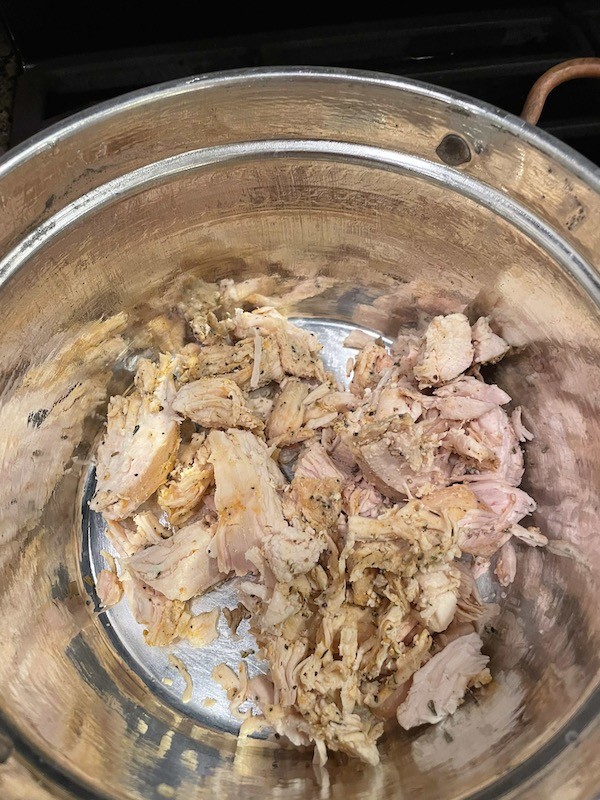 Break apart any large pieces of chicken so that it will sit on the bread easily.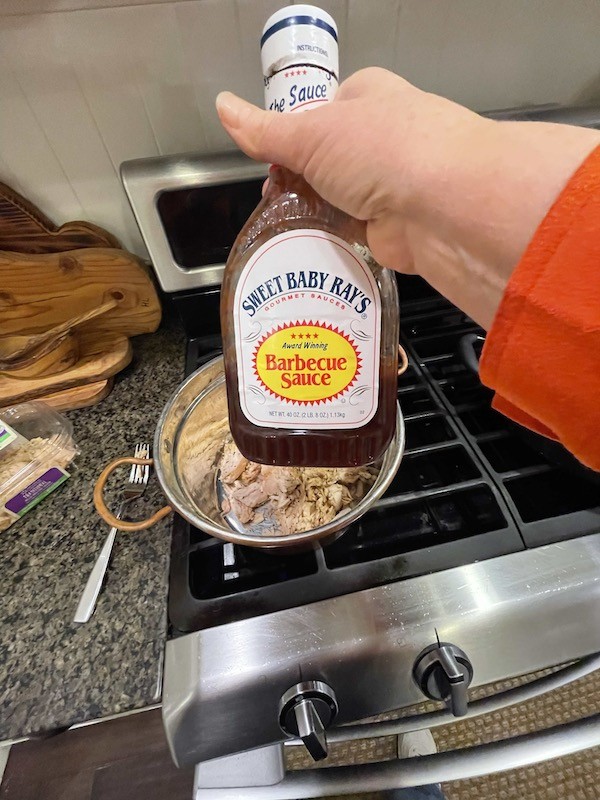 It does not get any easier than this! Pre-cooked chicken already cooked with tons of flavor covered in BBQ sauce and topped on a delicious French baguette.
Make your BBQ French Bread pizzas
Place your BBQ sauced pieces of chicken all across each piece of bread. The rotisserie chicken coated in BBQ sauce has such a great flavor so you don't really need anything else but toppings make it even better.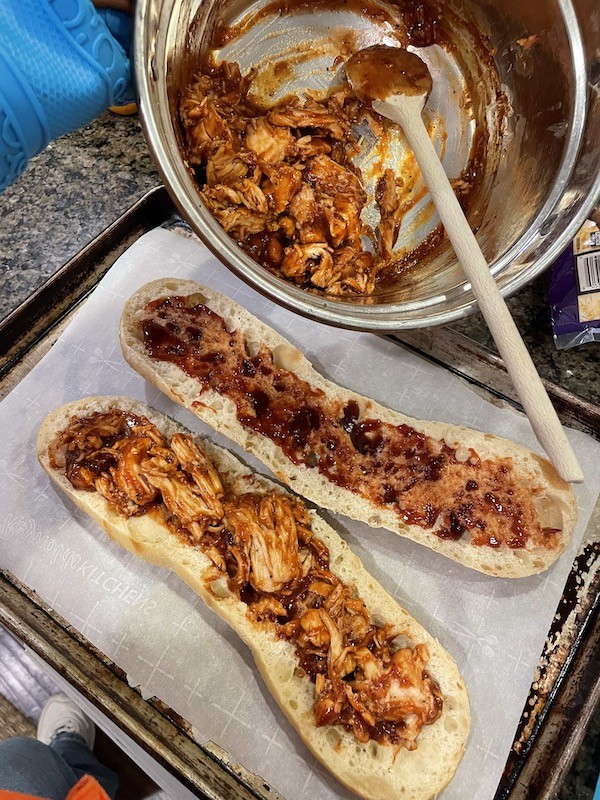 Add your desired favorite toppings. Some classic choices include chopped red onions, diced bell peppers, olives and sliced mushrooms. Of course you need to add cheese, such as mozzarella or colby jack on top of the toppings.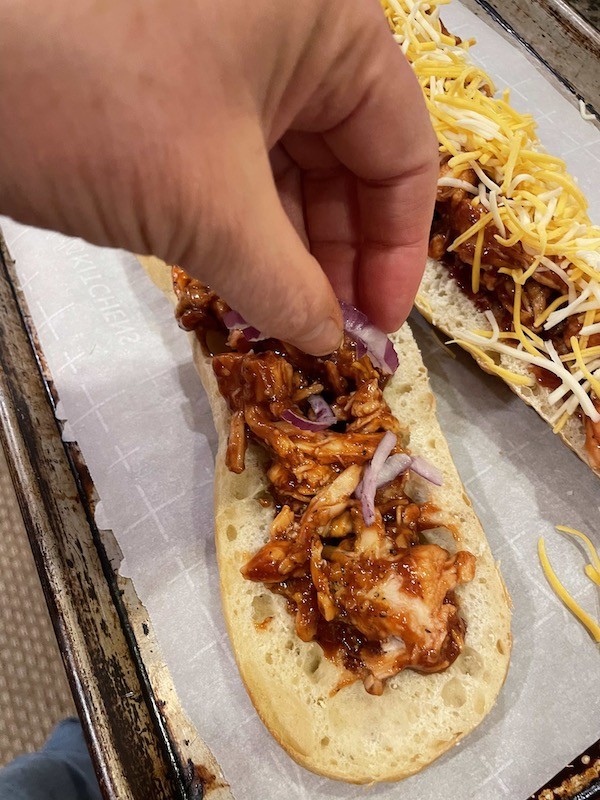 Once your toppings are in place, place bread on a large baking sheet covered with parchment paper and put it in the oven. Bake for about 5-10minutes, or until the cheese is melted and the bread is crispy. After I baked them, I broiled them for a couple of minutes so that the cheese turned golden brown.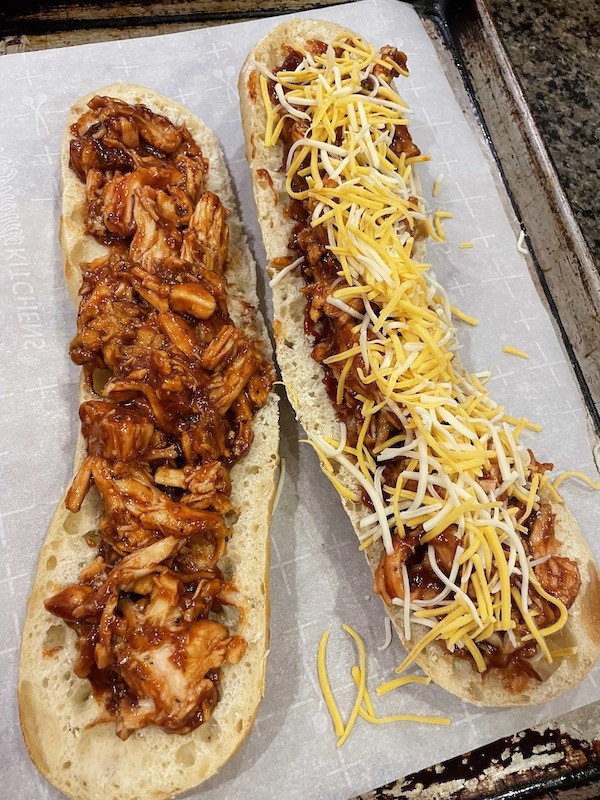 If you want to add an extra touch of flavor, you can sprinkle a few herbs or spices on top of the pizzas before baking. Some options include dried basil, oregano, or even a pinch of red pepper flakes for a little extra kick. I used fresh cilantro on ours.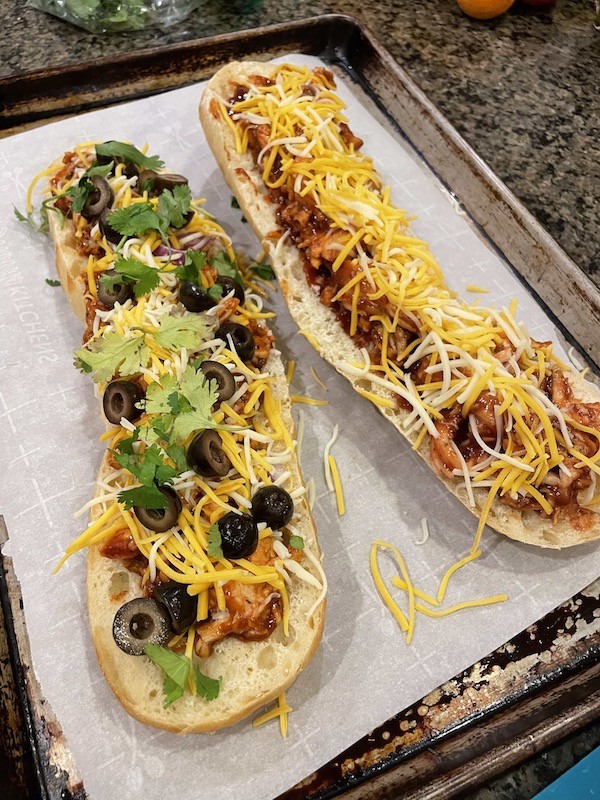 When the pizzas are done, remove them from the oven and let them cool for a few minutes before slicing them into individual pieces.
Serve them hot and enjoy!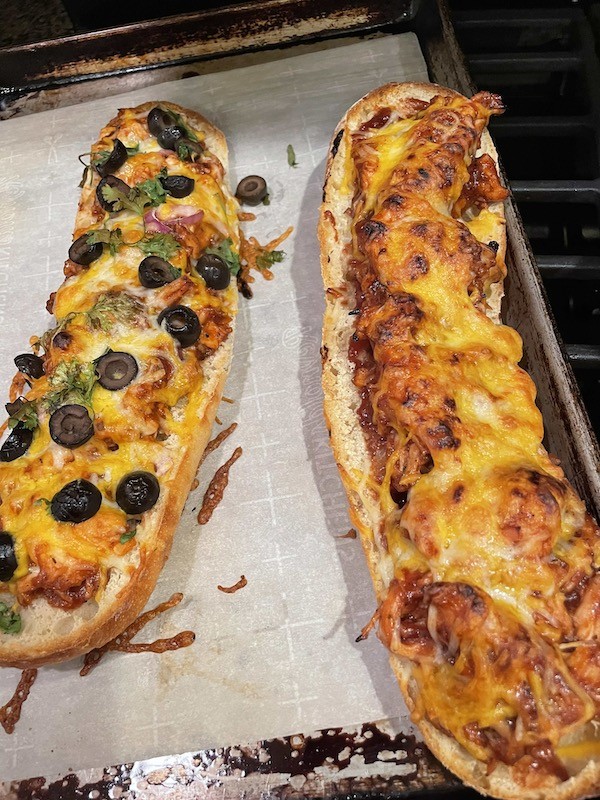 What to serve with BBQ Chicken French bread pizzas
While the pizzas are baking, you can prepare any additional sides or dips to serve alongside. Some ideas include a ranch or blue cheese dressing for dipping, or a simple salad with a variety of veggies. This is such an easy meal for a Friday night and one to have on hand during football season. Super bowl is coming and we love to have lots of fun football food to eat.
Check out this post for more of my easy Super bowl food ideas.
Another variation on this recipe is to use a grocery store-bought pizza crust or make your own from scratch. Then top with your own homemade bbq sauce. This can add a unique and personalized touch to your pizzas, and allows you to control the level of sweetness or spiciness.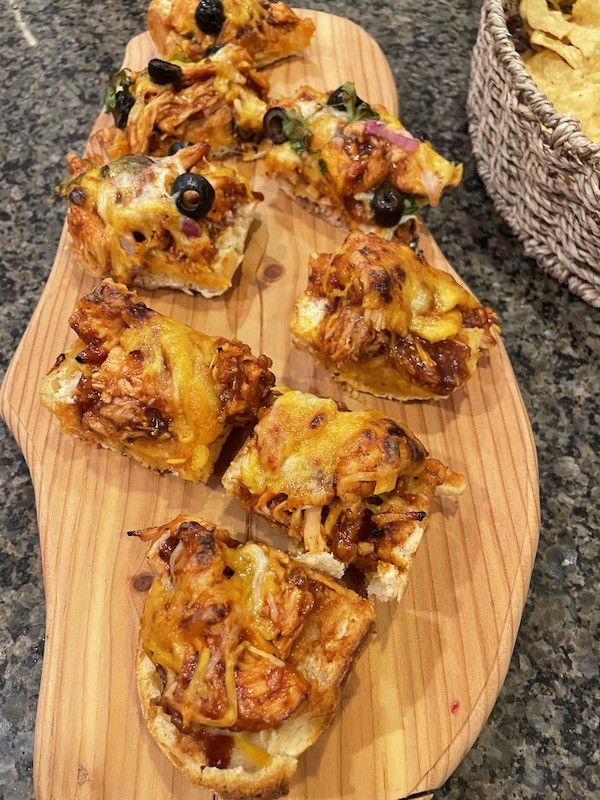 Overall, making this easy bbq chicken French bread pizza for a football party, an easy weeknight meals or as a snack is a simple and delicious way to feed a crowd. With a few simple ingredients and a little bit of time, you can have a tasty snack that everyone will love.
So next time you're hosting a the big game, give this recipe a try and watch as it becomes a new fan favorite.
More Football food posts
Chocolate dipped strawberry football cupcakes
Super Bowl crockpot boneless ribs for a crowd
Potato corn crockpot chowder for the big game
Shop kitchen supplies