I am so excited to show you how I created a puzzle piece Valentine heart!
Creatively Beth blog showed this idea on her blog and I knew this would be so perfect for a cheap decoration for a Valentine's dance for some youth at my church.
Repurposing old puzzle pieces into a beautiful easy DIY Valentine craft brings me so much satisfaction!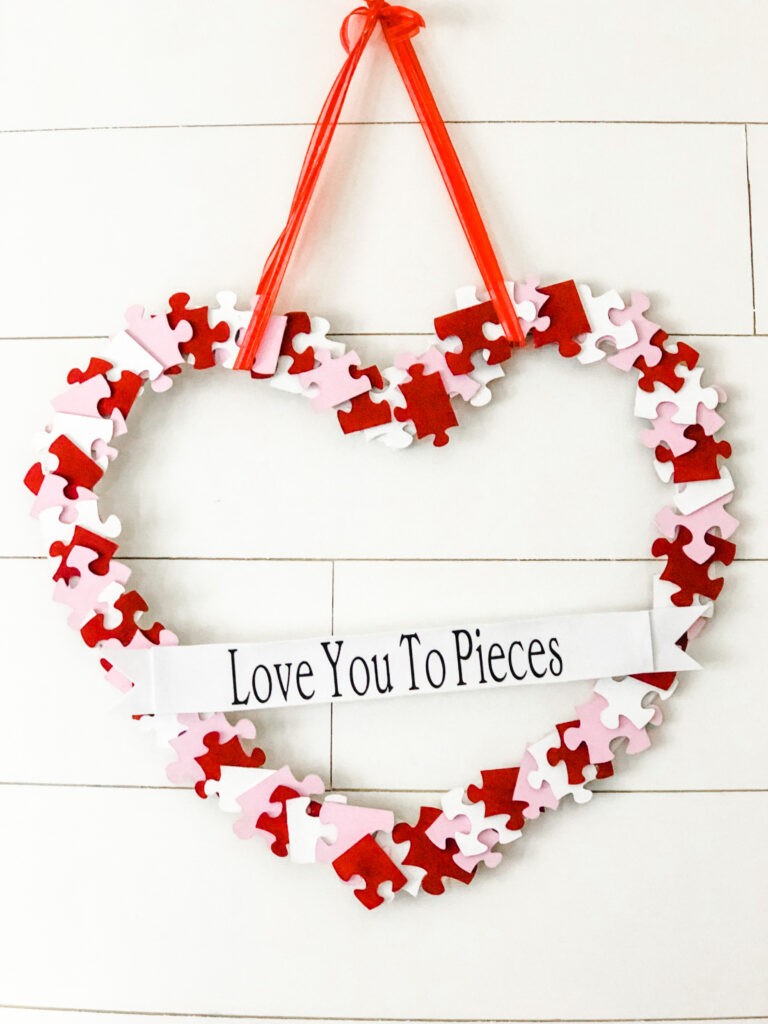 I serve as the president of our Young Women 12-18 church group. In February if all goes well with Covid, we are going to have a Valentine's Ball for our older girls and the oldest boys in our ward at the church gym.
It is tough decorating a large gym to make it look good and not spend a lot of money. But I have come up with a few ideas that I think will make it look cute.
This puzzle piece Valentine heart wreath project will be perfect!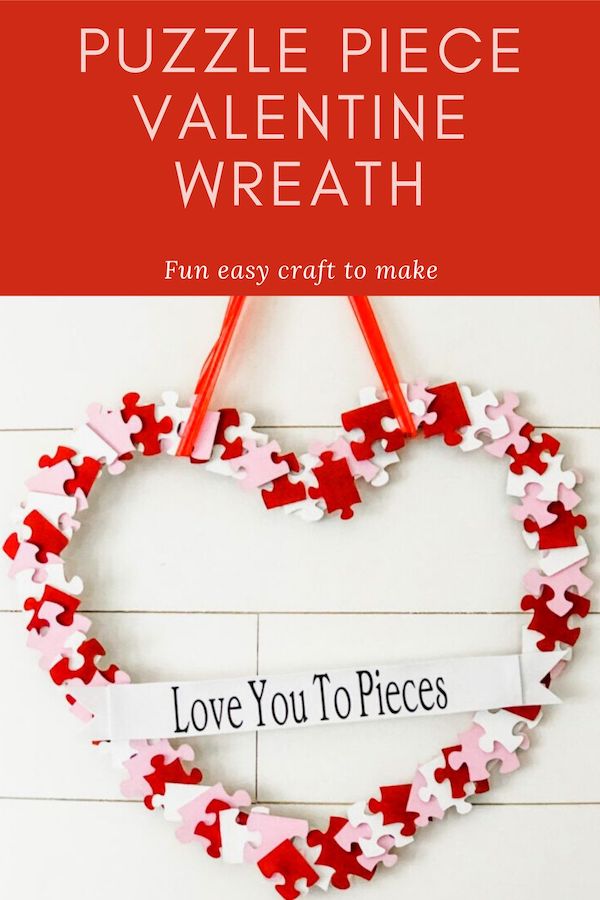 Supplies Needed
Thrift store large puzzle pieces (about 60 pieces) or you can purchase these
Iron on vinyl (optional)
Cricut machine (optional),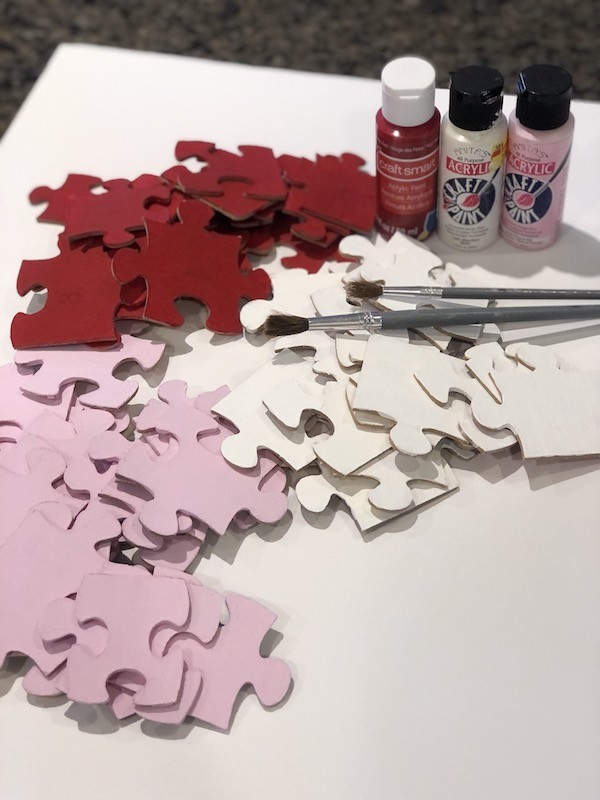 Painting puzzle pieces
I needed the Valentine Heart to be large in size so I went to the thrift store and luckily found some larger puzzle pieces that would make a big statement.
Laying them out into a heart shape helped me decide how many pieces I needed.
I used 60 puzzle pieces.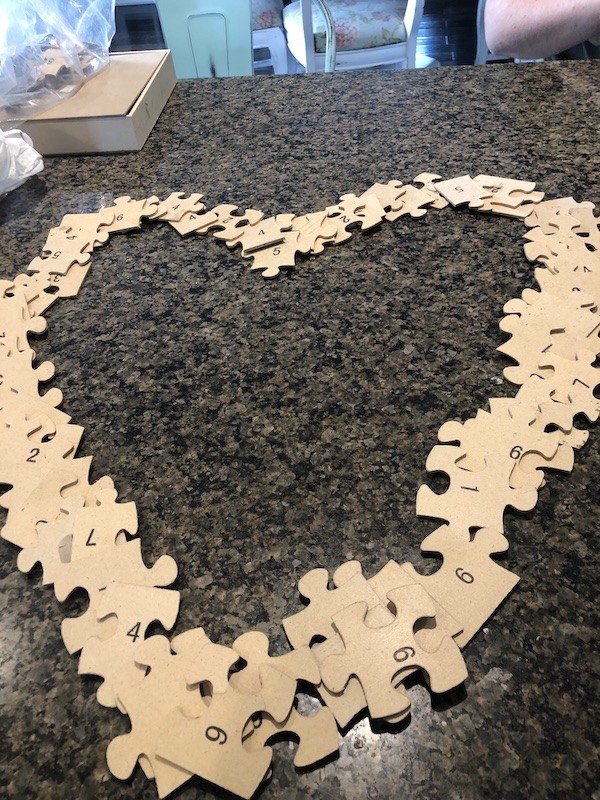 Then we painted the pieces using pink, white and red paints that I had in my craft room. I enlisted the help of my daughter and my youngest granddaughter Harper, who is 2 1/2.
Harper called our activity "crap-ting" with Ree Ree (my grandma nickname) hahah OH my gosh she is hysterical!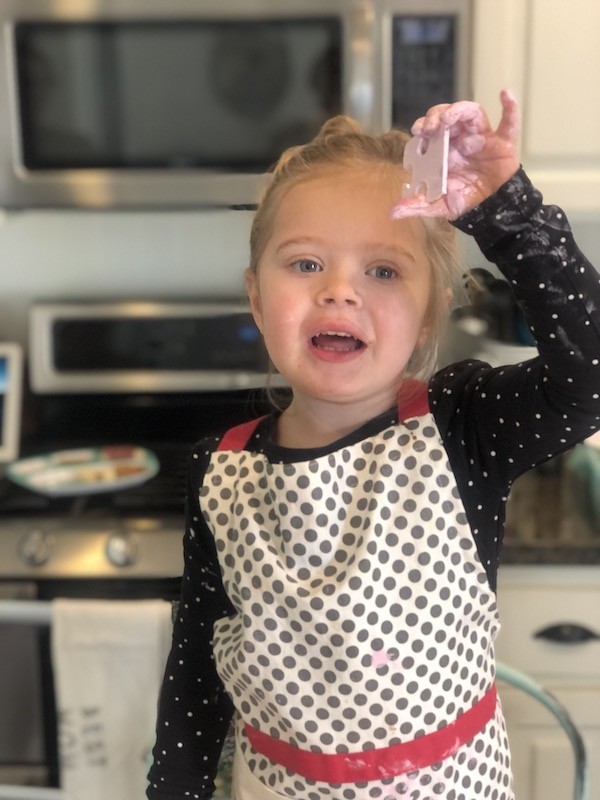 Harper did an amazing job! I could not believe a 2 year old could actually paint the puzzle pieces so well? She put a lot of paint the brush and just pushed the paint all around and completely covered the pieces we gave her to paint.
We only had to go back over them lightly just to make sure the paint was evenly on the puzzle pieces.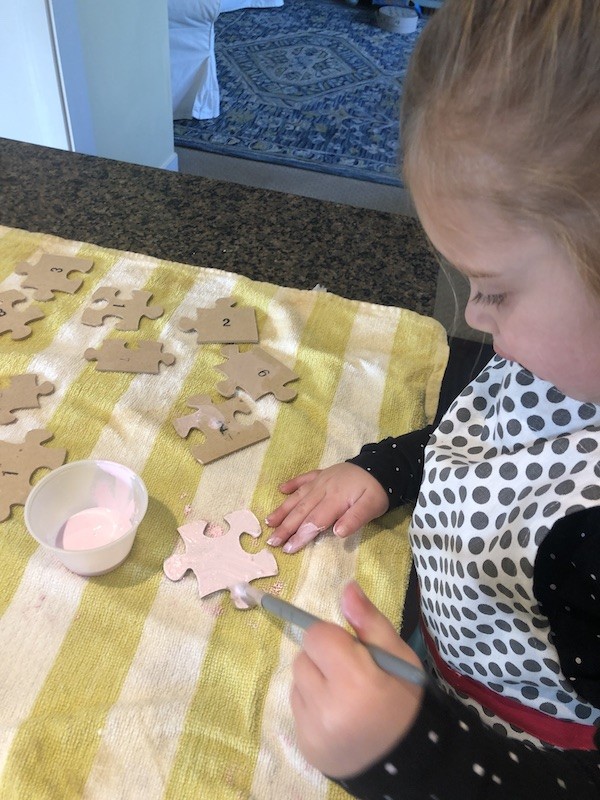 It was such a fun afternoon with them.
Tip- Paint the backside of the puzzle pieces not the shiny sides. The paint adheres better to the back side.

Cut out heart shape base
For the base of the frame I used a large piece of foam core board. I knew it would hold the weight of bigger puzzle pieces.
First I laid out all the pieces onto the foam board to get an idea of how big I wanted to make the base for puzzle pieces heart wreath.
Speaking of heart wreaths I made a very easy burlap wreath that is super cute.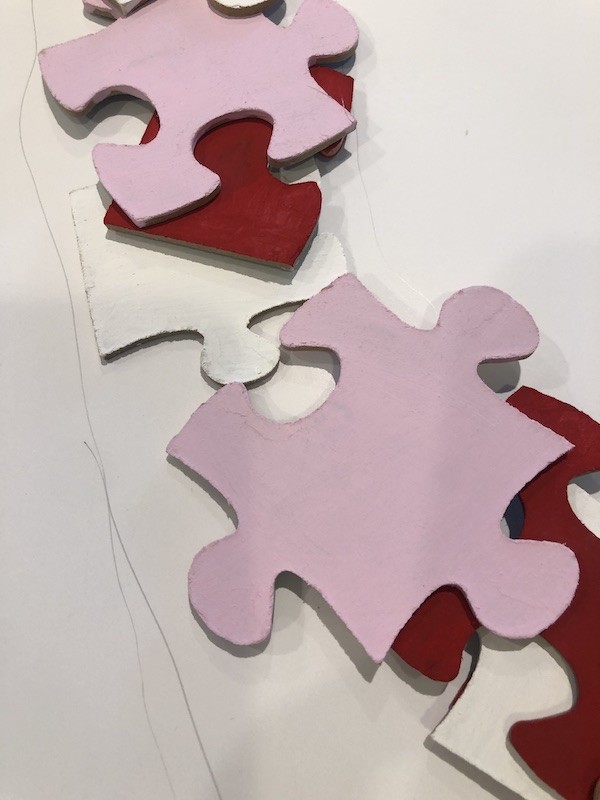 Then I took a pencil and drew around each side of the puzzle pieces so I would know where to cut with my exacto knife.
I decided to cut it smaller than the width of the puzzle pieces so that you would not see the base.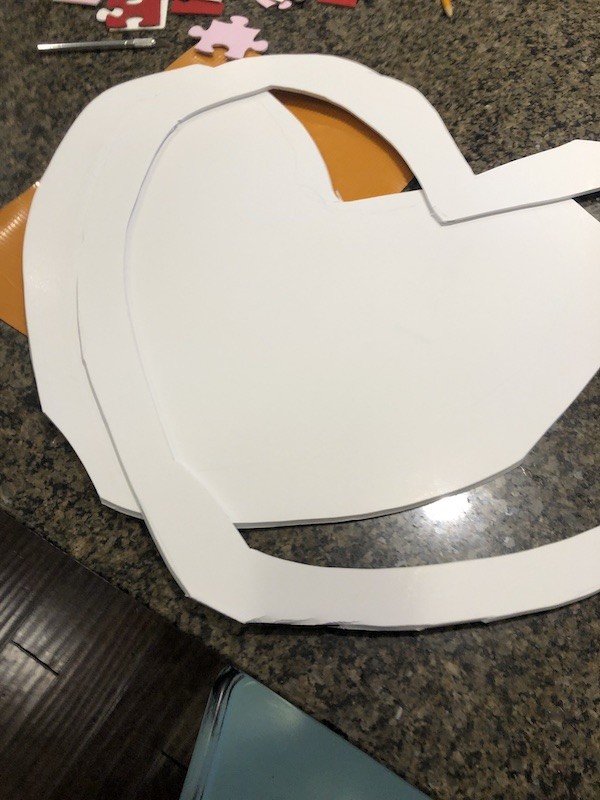 Attaching the puzzle pieces
Next I laid out all the pieces to see how many I would need per side.
It took close to 30 pieces per side.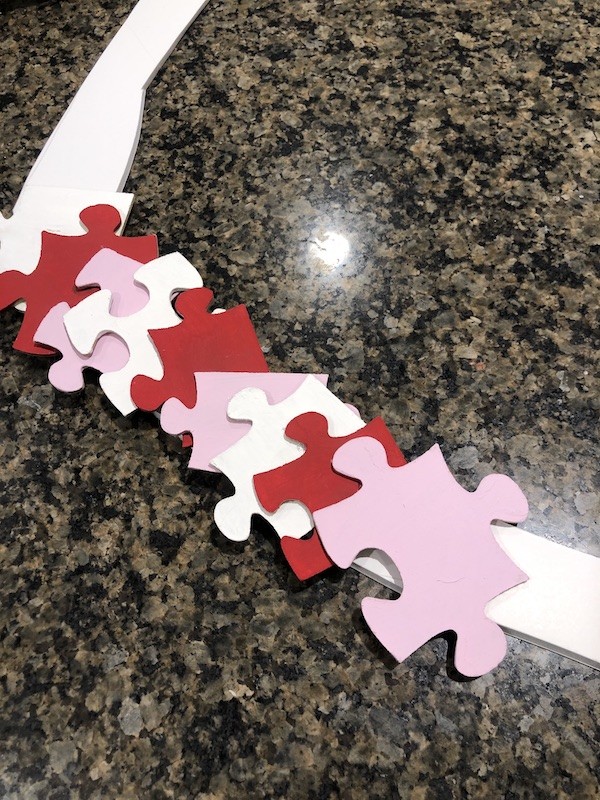 Then I just simply hot glued them all on to the foam board base overlapping as I went around the heart shape.
I made sure to get some glue on the piece that it was connecting to as well as a dap of hot glue from the puzzle piece to the base.
How to make banner
I used a 12″ x 18″ white foam sheet to create a banner on the Valentine puzzle heart wreath.
I cut a long piece 18″ long x 3″ wide that would fit the width of the opening of the heart.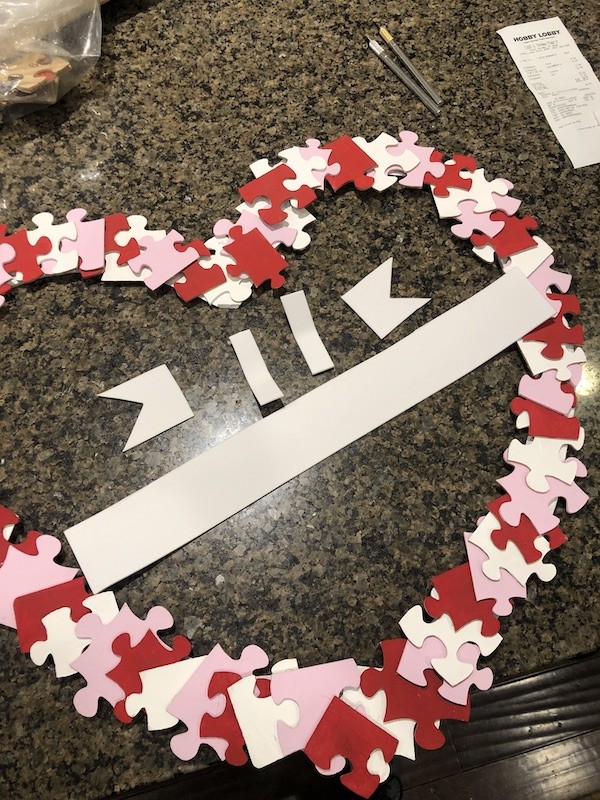 To create the little ends of the banner I cut 2″ square pieces. On one side of each square I cut a "V" shape.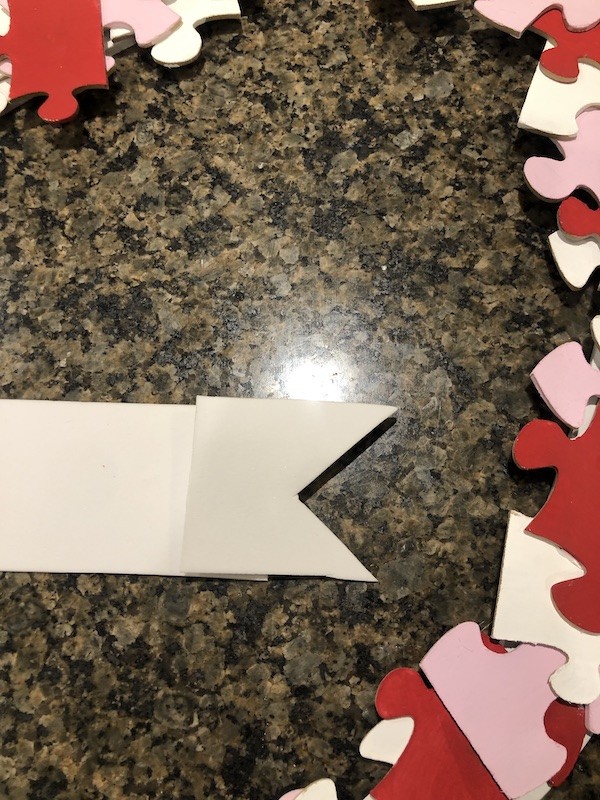 To make it stand up a little I added a skinny folded piece of the foam sheet and hot glued it all together.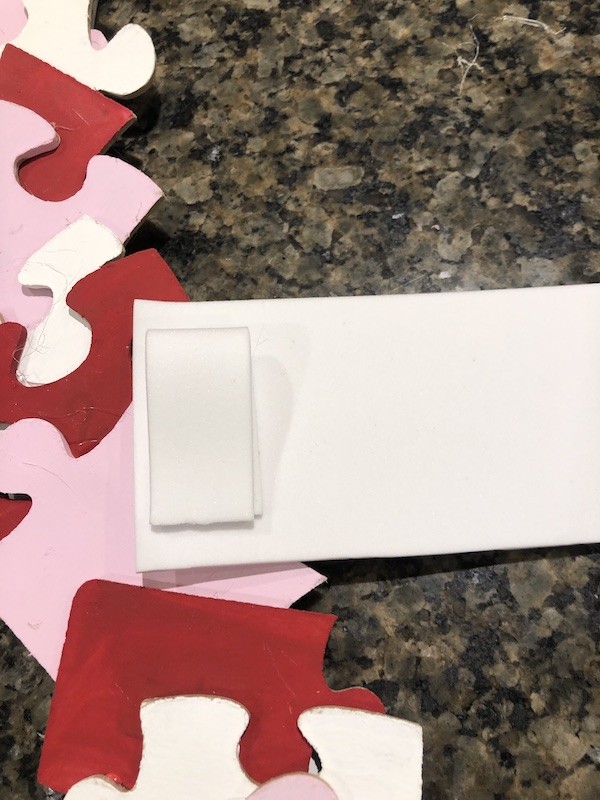 Add vinyl lettering
I used my Cricut machine to cut out vinyl letters to be iron onto the foam sheet but you could just use a permanent marker to write the words. "Love you to pieces"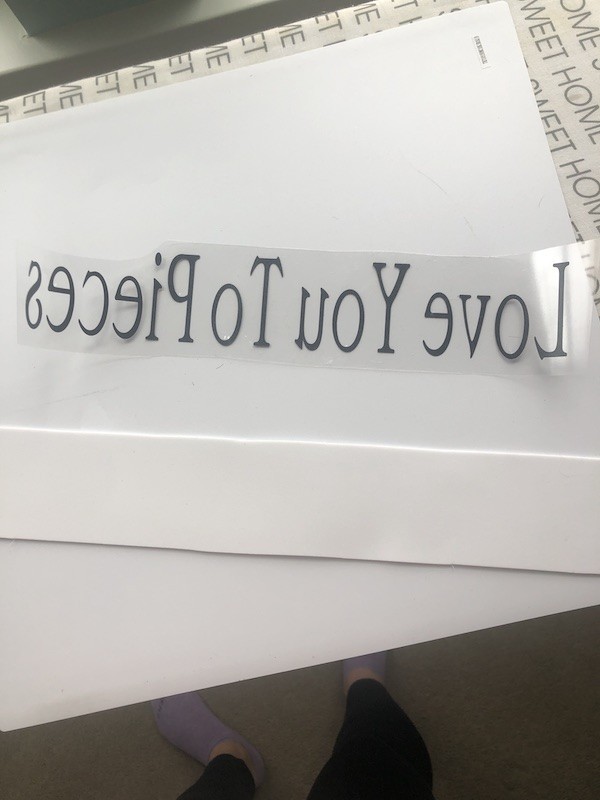 I ironed on the black vinyl to the white foam sheet banner. Using a cloth to iron over the plastic backing.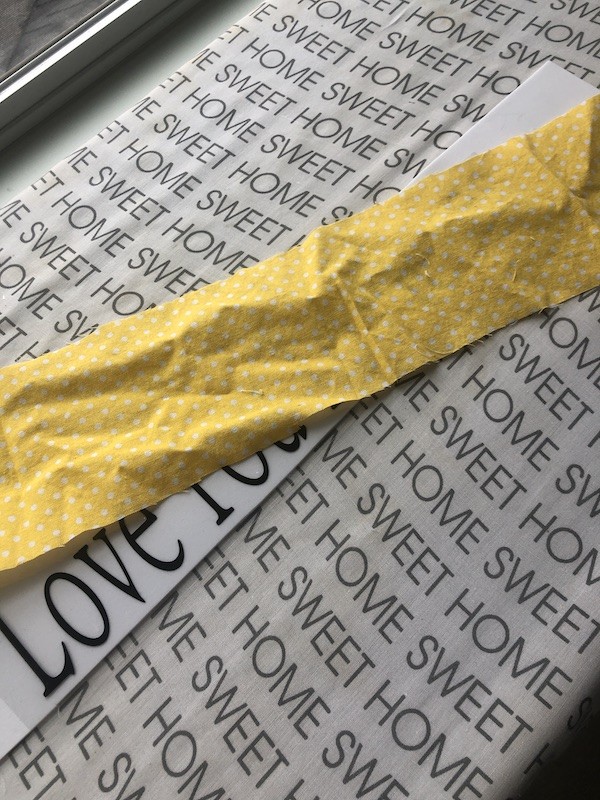 As I pulled the backing off of the ironed on vinyl some of the little edges started to pull off.
I used my iron to barely touch up any loose areas. It looked awesome when I was done.
Using my Cricut machine allows me to make things that look so professional. Making all the cake toppers and garland for this 1st birthday party.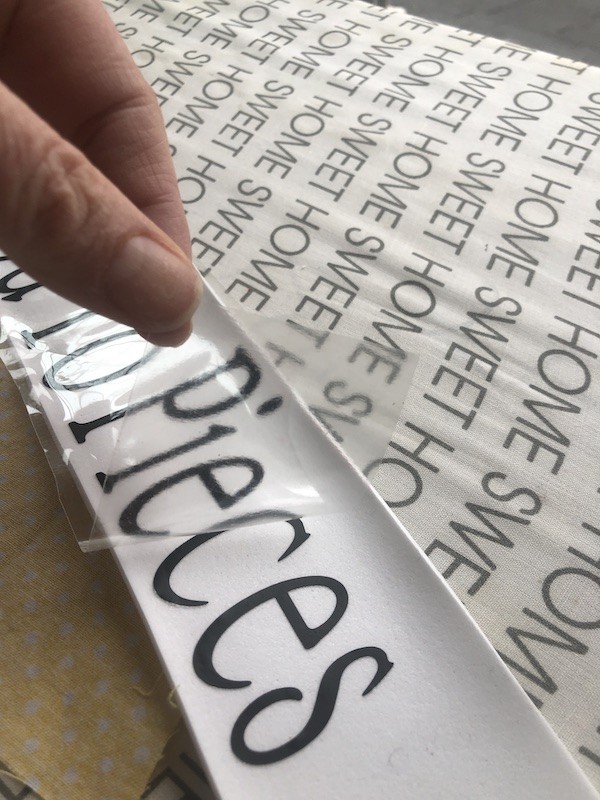 I just love how this Valentine pink red and white puzzle piece wreath turned out. I can't wait to see it at the Valentines Ball for our Young Women. You can view my other Valentine crafts and ideas here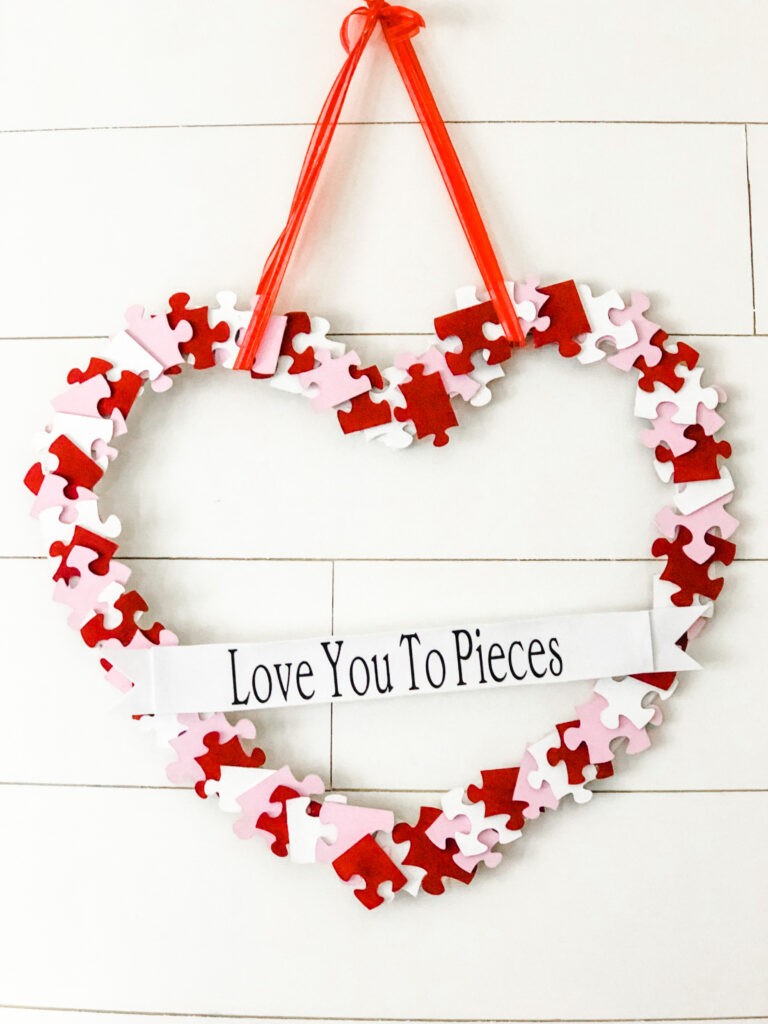 More Valentine Posts
I have put together some really cute and easy Valentine ideas.
Crafts, Tablescape and Recipes! Click here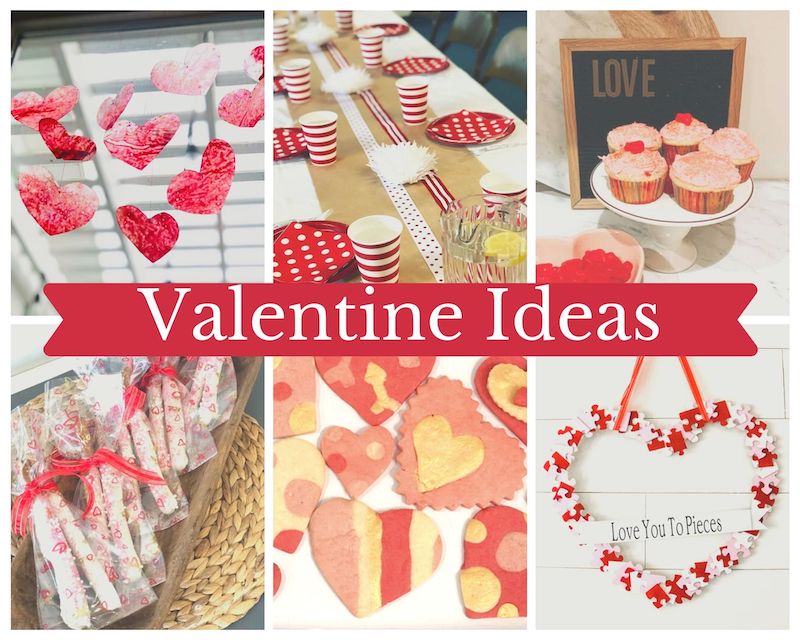 Shop This Post