I love to set a table in fun ways. Today I am sharing how to set a red Polka dot and striped Valentine table.
It is super cheap!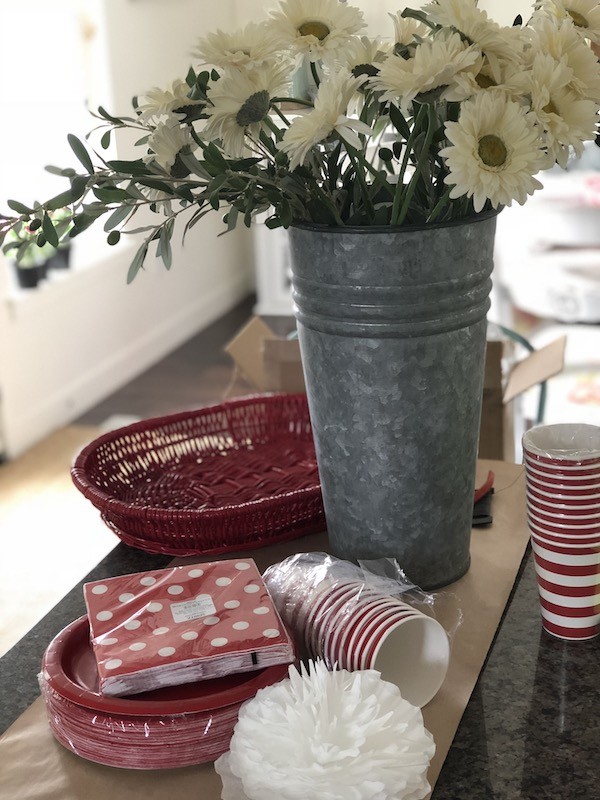 Super easy and fun!
I started with plain red paper plates, red and white striped paper cups and red and white polka dot napkins.
Cheaters Valentine table runner
Cheater Valentine runner? Yes because what I used for this long table runner that I set for a ladies lunch might surprise you.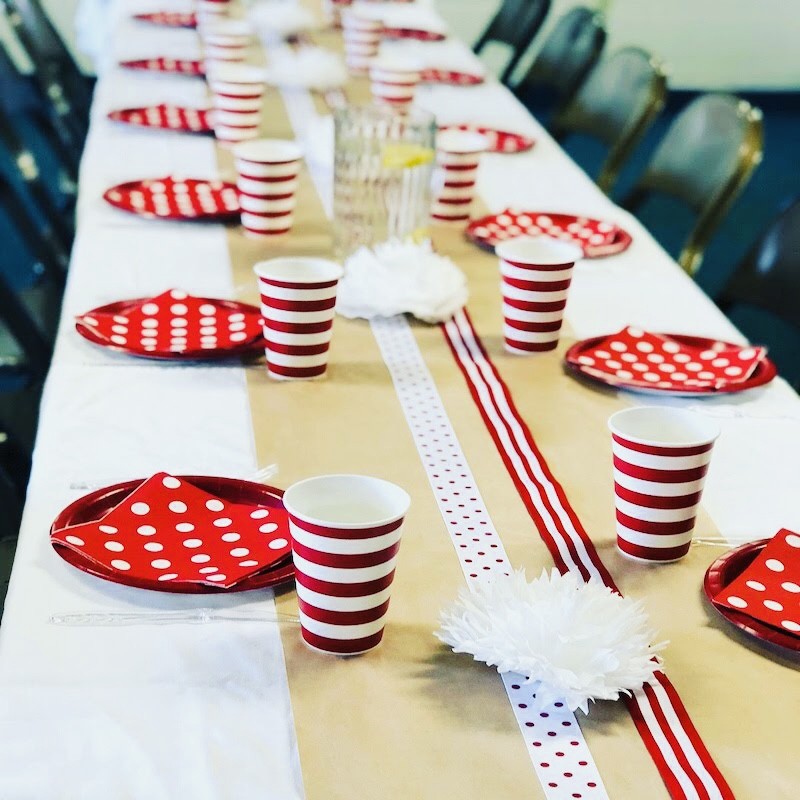 For the white tablecloths I had some white cloth tablecloths which worked nicely. I just overlapped 3 of them to create one very long tablecloth.
Then I topped it off with brown builders painters paper! Say what??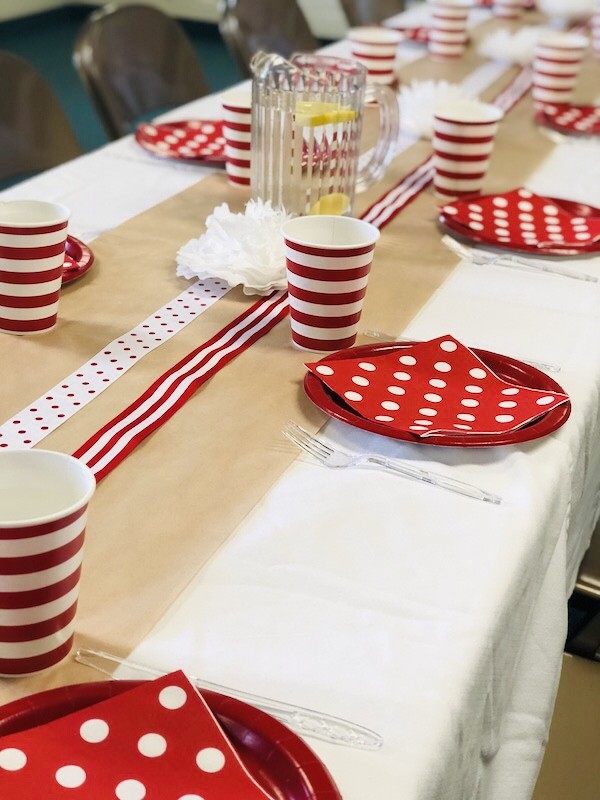 This is my go to cheapest thing I use for long tables to create a table runner! It comes in brown, green and sometimes a pinky color. Super Cheap!!
I have a link at the end of the post for you.
Red Polka dot and striped Valentine ribbon
Once the white tablecloths and brown paper runner were on the table it looked quite plain. To bring in the color and Valentine's feel I added ribbon.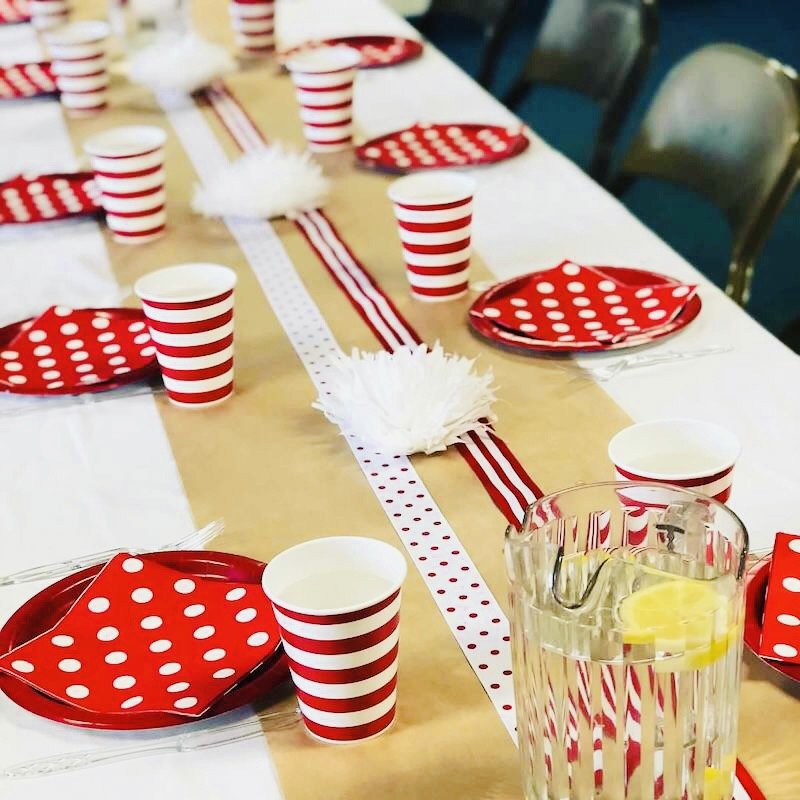 I found this darling red and white striped and red and white polka dot ribbon and laid it down the center of the table. It does not get any easier than that!

White coffee filter flowers
To bring in a little feminine touch on my polka dot and striped Valentine table, I made some coffee filter flowers to go down the center of the table. Don't they look so cute?
They are super fluffy.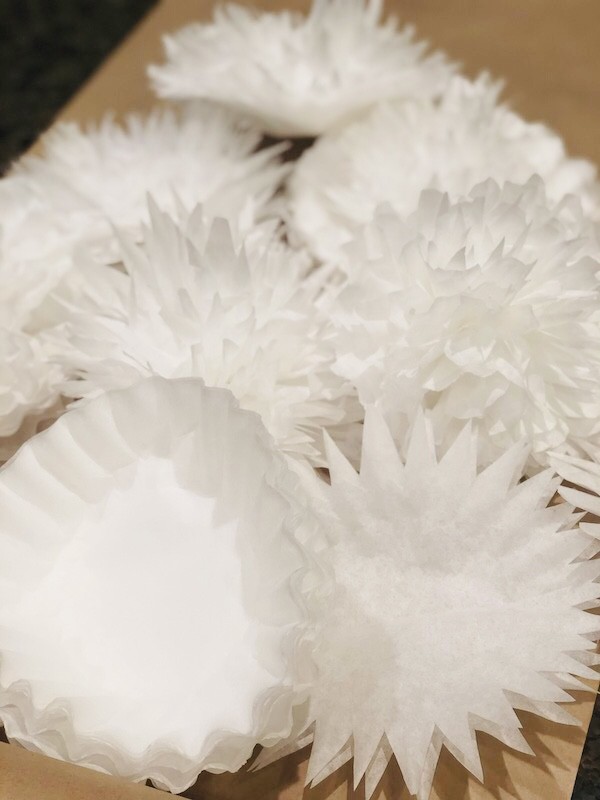 They are so cheap to make! You only need 6 filters per flower. You basically lay 6 filters on top of each other.
Fold into quarters, staple.
Cut the edges either pointy or rounded.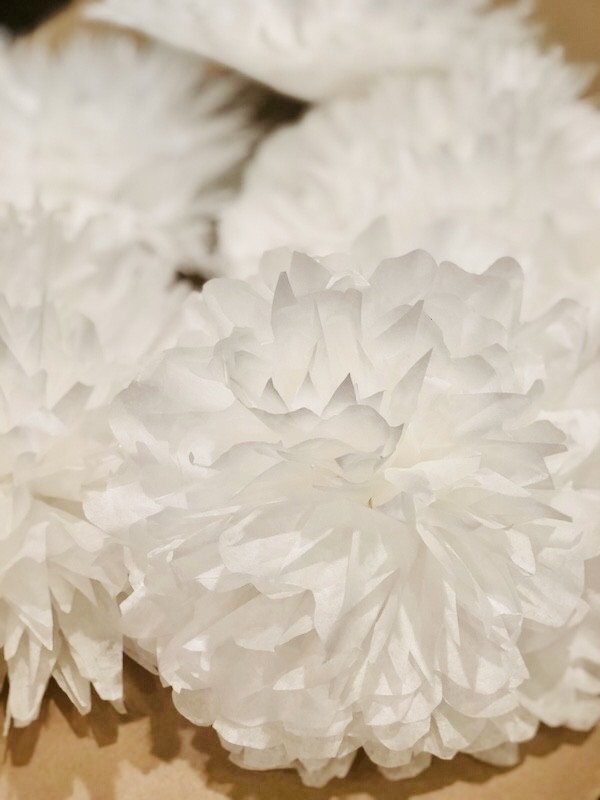 Staple and fluff!
I can post a tutorial if anyone is interested.
They remind me of making when I made pink paper flowers for my granddaughters pink birthday party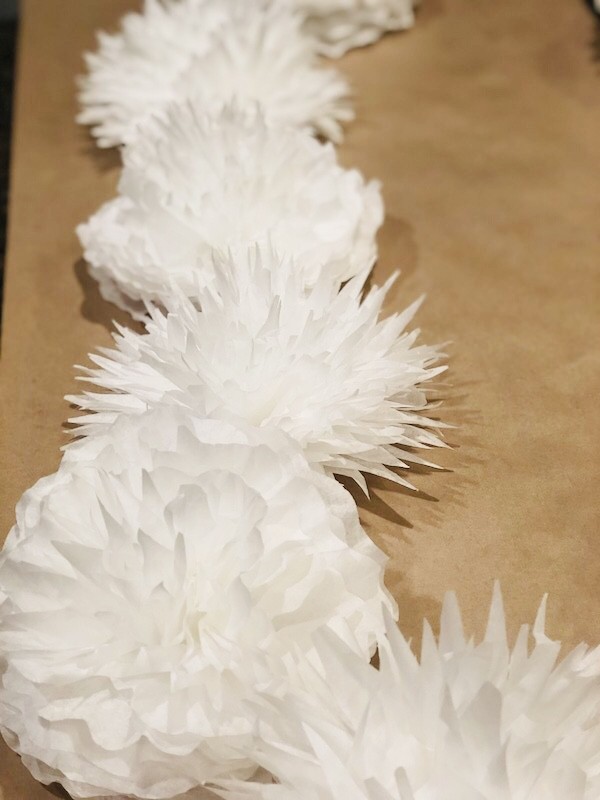 Menu for Valentine Lunch
I guess we could have called this a Galentine lunch since we were all gals attending the luncheon.
For the centerpiece on the food table I bought grocery store daisies and tulips. Plopped them in my big white pitcher and elevated the flowers by placing them on my red (Christmas) cake stand!
I covered the Christmas tree on the red cake stand with a white doily. I love it when I can use a seasonal item in more ways than one. You can see this same cake stand and how I used it for the 4th of July.
I kept the same polka dot and stripe Valentine theme on this food table as well.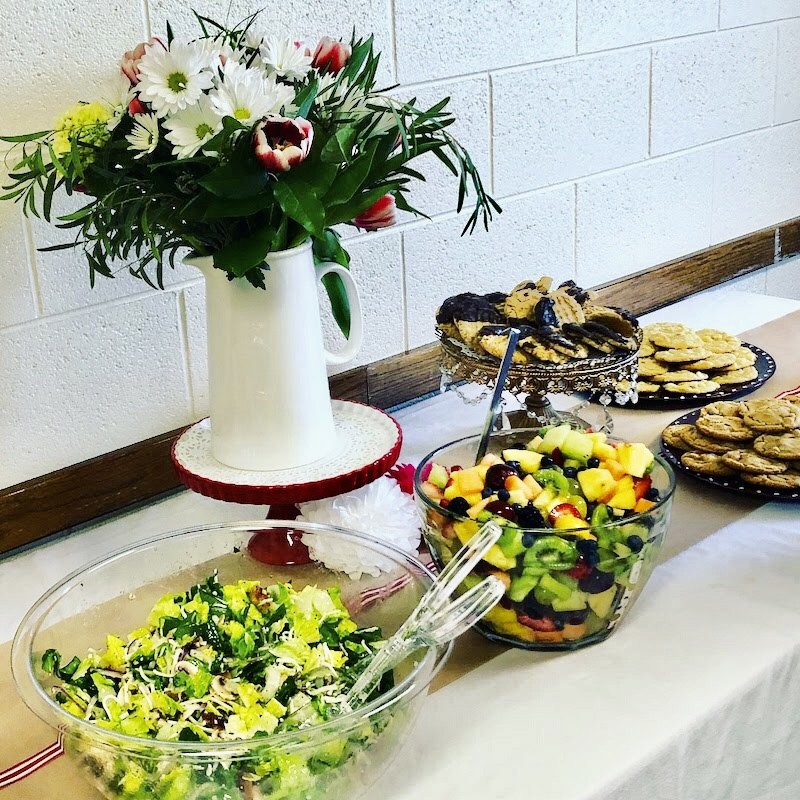 We served a couple of different green salads, fruit salad, homemade rolls and 3 or 4 different kinds of cookies.
One of my all time favorite spinach bowtie chicken Chinese salad recipes is this one. Trust me you will love it too!
Serving the cookies on my cake stands made them feel fancier.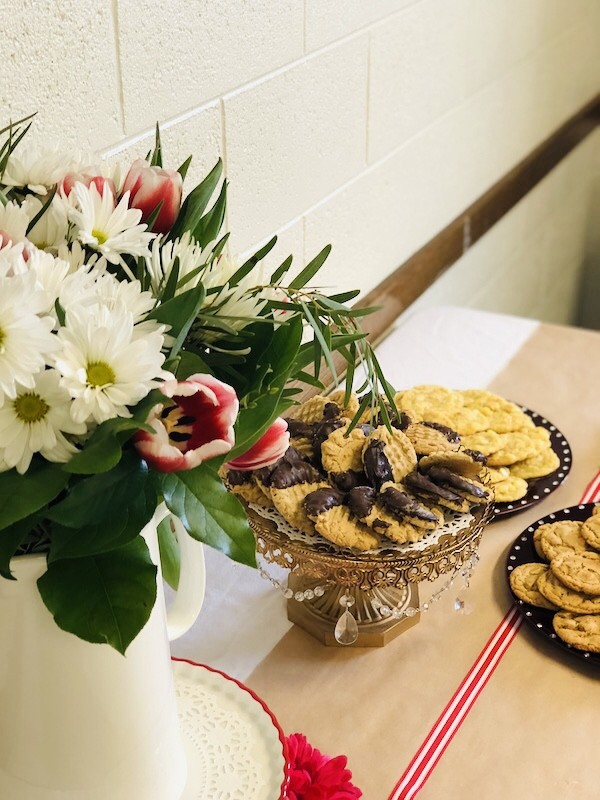 It was nummy!
Does anyone use that word anymore?
I do! 🙂
Our Galentine luncheon with my red polka dot and red and white stripes was a hit!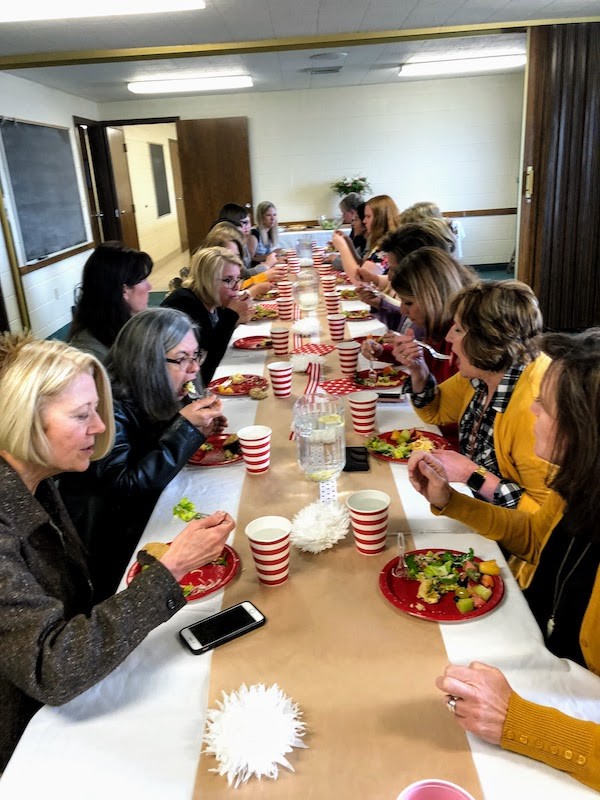 Other Valentine Posts
Recycled Puzzle Piece Valentine heart
Valentine Breakfast Brunch Tablescape
Melted crayon Valentine stained glass heart craft
Pin for later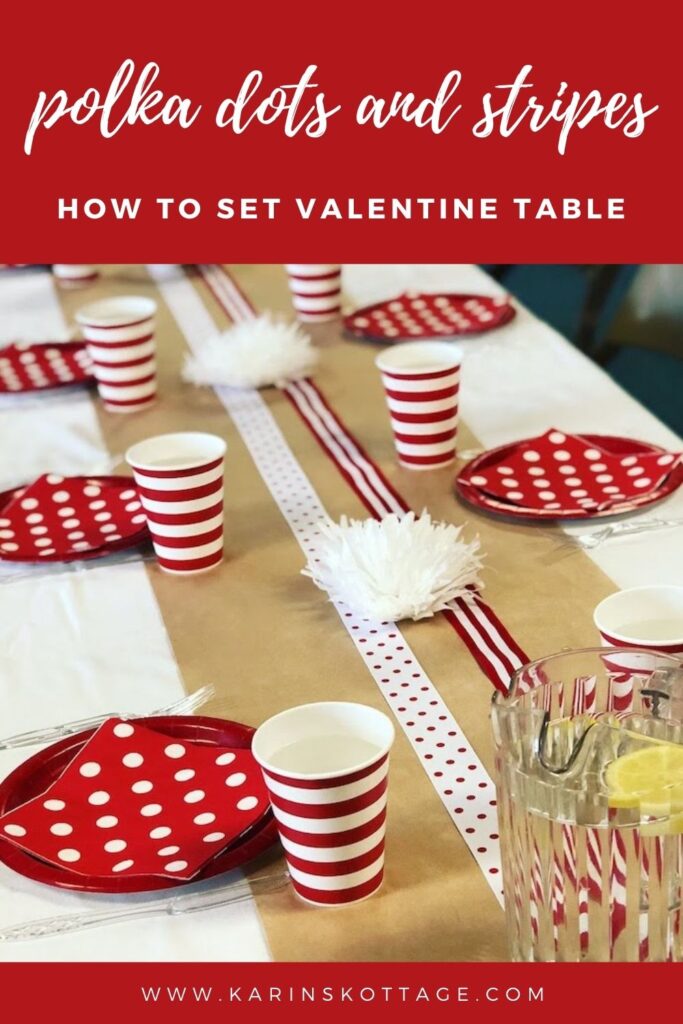 Join my new Facebook group
I started a new facebook group called seasonal tablescapes. Join in the fun!