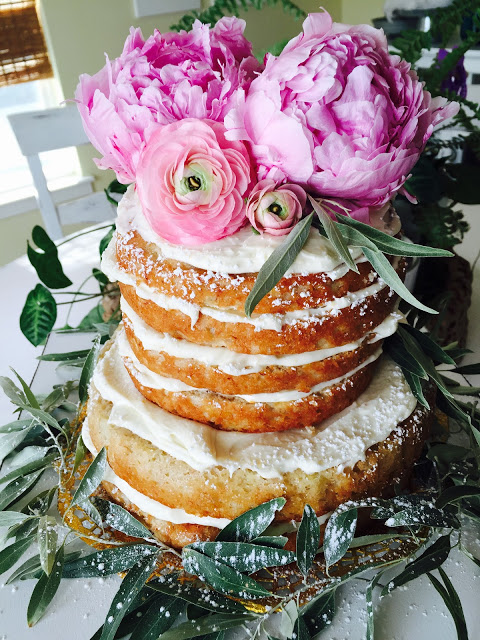 Naked Banana Cake with Fresh Flowers!
This is a show stopper of a cake when made in layers and topped with fresh or faux flowers. You just can't go wrong with a super moist banana cake recipe!
I thought I had taken photos when I made this pretty cake but apparently I did not!
I am a Bad blogger! LOL 
I will list out the steps and post the recipe below.
Other Fun Cakes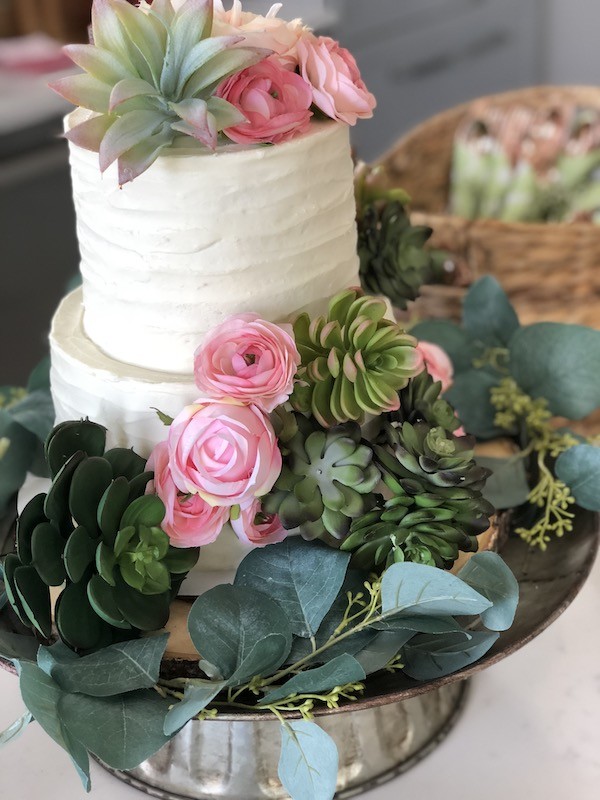 Make sure you check out this cake with succulents that we did for my daughters fiesta baby shower.
If you don't want to bake cake you could get a grocery store cake and just add fresh flowers like I did for this small wedding in our backyard.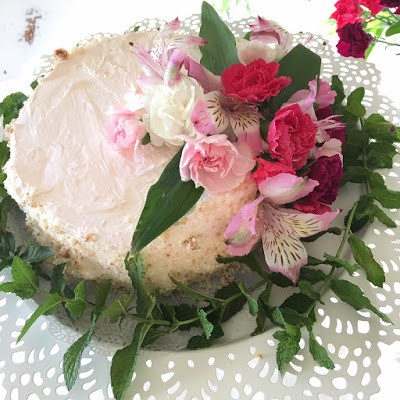 My most recent cake is this simple little naked cake with a little orange zest in the cream cheese frosting.
It is so good and so moist!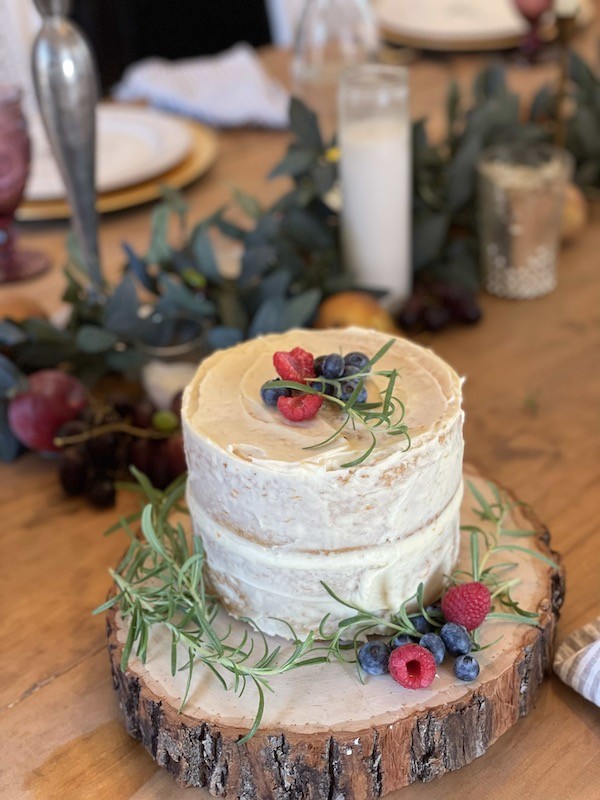 Steps to make naked banana cake
Step 1- Decide how big you want your cake. I made two recipes of this cake so I could get it tall. I used two 6″ round cake pans and two 8″ round cake pans (actually I just used one twice)
Step 2- Make and bake the cake (recipe below)
Step 3- After cakes have cooled cut the two smaller cakes in half to make four layers. I left the two 8″ cakes whole.
Step 4- Make the " to die for" cream cheese frosting (recipe below)
Step 5- Let the stacking begin! Lay one of the 8″ cakes on a pretty cake plate and cover just the top with frosting pushing some of the frosting to the edges so that it will squish out a little when the next cake layer is laid on top. Stack the next 8″ layer on. Cover the top with frosting.
Step 6- Place one of the 6″ layers in the center of the 8″ cake, add frosting in between each layer ending with a smooth cake layer on top . Frost with more frosting leaving a little of the edge of the cake exposed.
Step 7- Cut off stems of blooms and position the flowers in a pleasing way. We used to pretty peonies and a few ranuculas at the base of the flowers. The green leaves were cut from trees around our neighborhood..some sort of light green olive tree. My daughter placed some at the base of the cake and for the final touch we sprinkled powdered sugar all on the edges of the cake and on the leaves. It turned out so pretty!
I used this Banana Bar recipe from Taste of Home only I replaced the sour cream with greek yogurt.
Taste of Home
Banana Bars with Cream Cheese Frosting
Ingredients
1/2 cup butter, softened
1-1/2 cups sugar
2 eggs
1 cup (8 ounces) sour cream (I used plain greek yogurt)
1 teaspoon vanilla extract
2 cups all-purpose flour
1 teaspoon baking soda
1/4 teaspoon salt
2 medium ripe bananas, mashed (about 1 cup)
FROSTING:
1 package (8 ounces) cream cheese, softened
1/2 cup butter, softened
2 teaspoons vanilla extract
3-3/4 to 4 cups confectioners' sugar
Directions
1. Preheat oven to 350°/ In a large bowl, cream butter and sugar until light and fluffy. Add eggs, sour cream and vanilla. Combine flour, baking soda and salt; gradually add to creamed mixture. Stir in bananas.
2. Spread into a greased 15x10x1-in. baking pan. Bake 20-25 minutes or until a toothpick inserted near the center comes out clean (do not overbake). Cool.
3. For frosting, in a large bowl, beat cream cheese, butter and vanilla until fluffy. Gradually beat in enough confectioners' sugar to achieve desired consistency. Frost bars. Store in the refrigerator. Yield: 3-4 dozen.
Shop Pretty Cake Stands