Our cute friend Michelle wanted an Indian Tribal baby shower for her baby boy. After looking on Pinterest we found some cute ideas from Kara's Party Little Brave Man baby shower. We used a few of the ideas mixed with some of our own. You find printables from this Etsy shop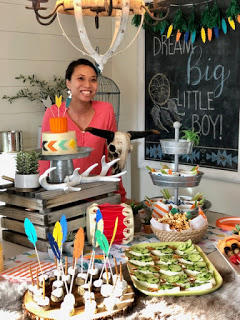 Cake
A family friend made the cake and we added some green leaves around the base of our little cake. We cut out arrows using my Cricut machine and hot glued them onto wooden skewers. We then propped the cake up on wooden crate and placed these white spray painted antlers in front.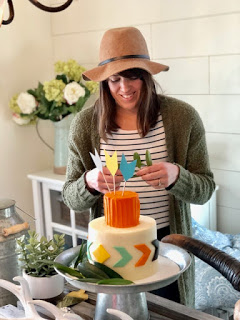 Food
Mini "Tom Tom drums" are marshmallows dipped in melted chocolate chips and then dipped in crushed graham crackers. Skinny wooden skewers are perfect to hot glue feathers onu that you cut out using a Cricut machine. Click for the SVG file. I placed the little tom tom's on a wooden slab that I bought on Amazon for that rustic feel.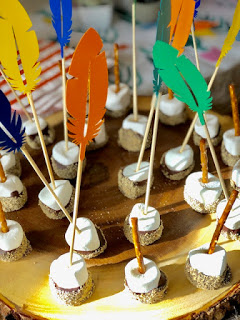 Lining a basket with a bright colored striped paper napkin holds caramel popcorn. Napkin is from Target.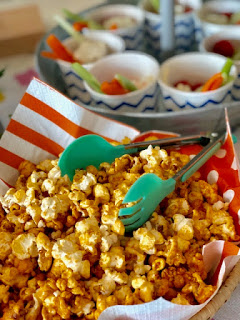 Blue and white zig zag paper cups filled with a few fresh veggies and ranch dip and placed them on my 3 Tier metal serving stand for easy grabbing.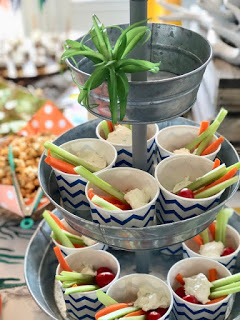 Tee Pee sandwiches are easy to make! First, cut bread into the shape of a triangle. Next, spread each side with cream cheese, sprinkle with chopped fresh herbs, finally top each one with 3 sliced cucumbers. For the top of tee pee sandwich, add small pieces of pretzels sticks poking out at angles. Everyone gobbled them up!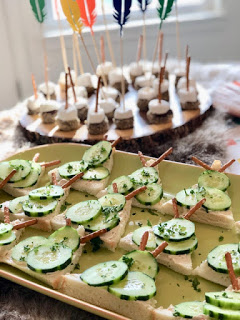 Skewer fruit onto wooden skewers in random order. Hot glue paper arrow points to the tip of each skewer to make them look like a large arrow.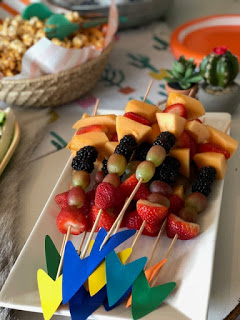 Shop your house to find things you might have to carry out the Indian Tribal theme. We found a toy drum, mini cactus plants and a skull head on a stick for our tablescape.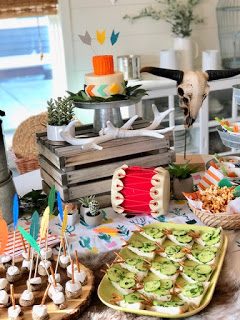 Our cute Mommy to be, loved everything! We loved all the ideas we found from Kara's Party.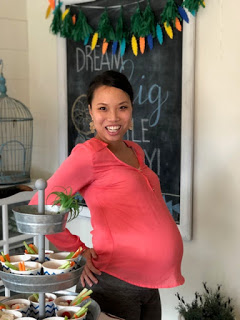 Shop this Indian Tribal Shower