Today I am sharing Easy taco 'bout Cinco De Mayo Party decorations!
You are going to love how simple and colorful they are and how inexpensive they are too!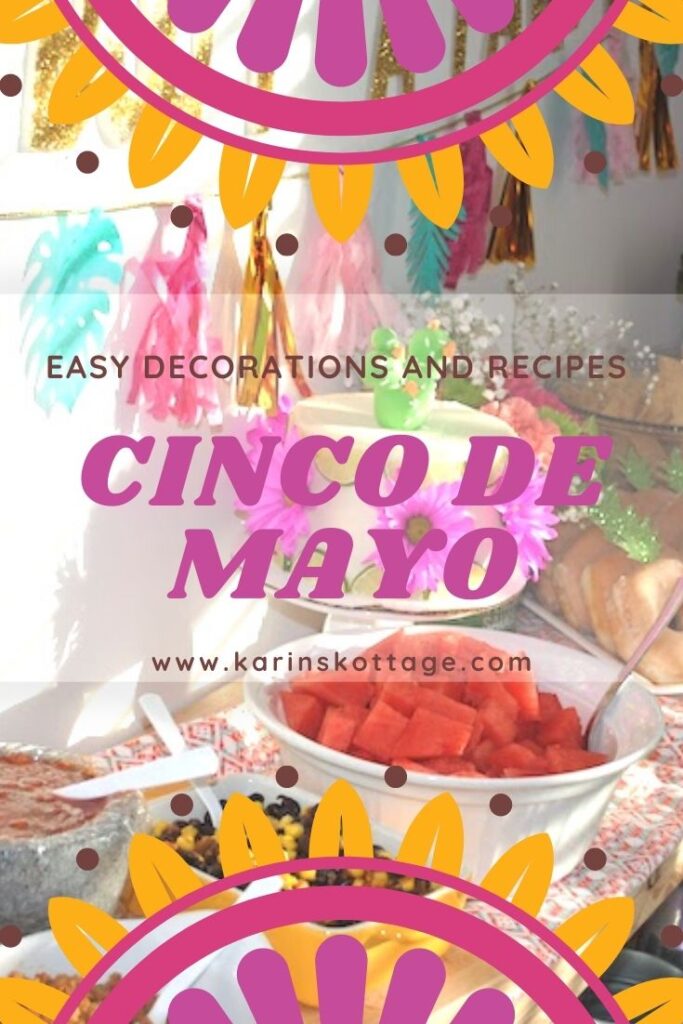 Taco 'bout party paper garlands
Firstly I want to talk about the garlands because they add such a fun flair to any party.
You could make these yourself by using a Cricut machine to cut out letters or trace them and cut them out by hand from gold glitter paper.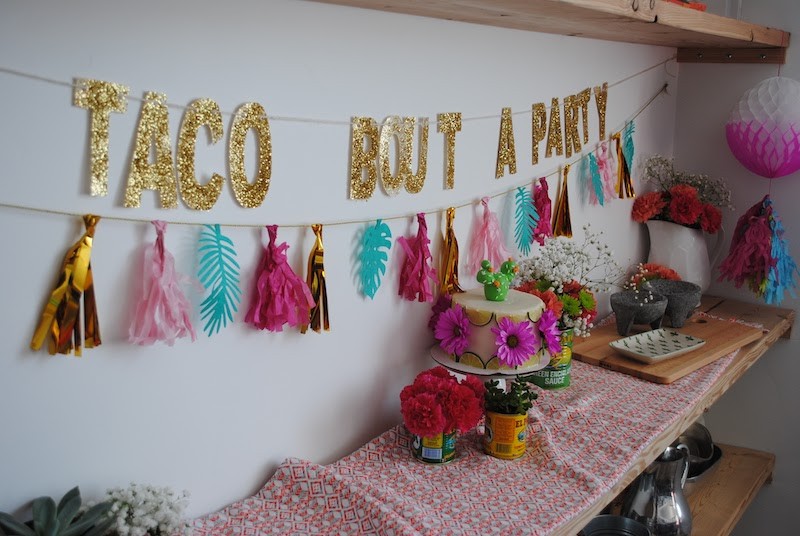 Then simply attach them onto a piece of twine.
Super cheap and easy to make Or buy one all ready made here. Remember when I made a gold "As sweet as honey" garland for my granddaughter's 1st birthday it really turned out so cute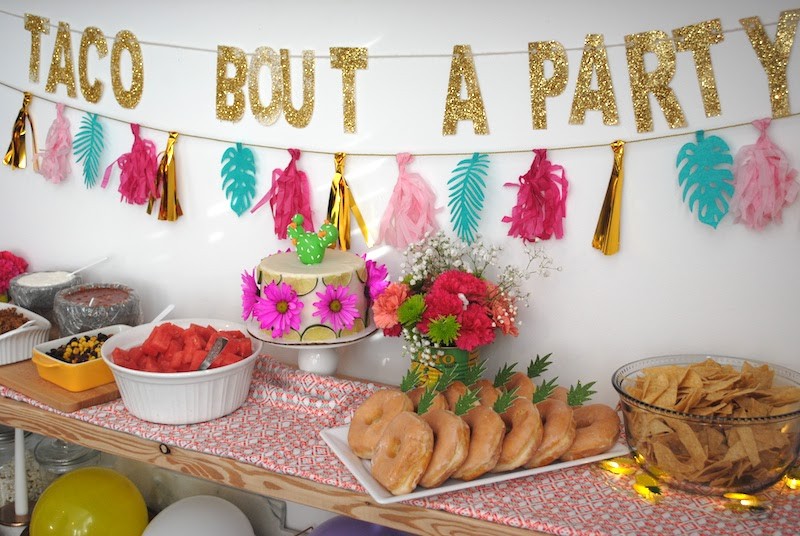 For the Mexican Fiesta tassel garland you could make one using napkins like this tutorial or buy one already made.
Enchilada tin cans as planters and vases
I absolutely love this idea of recycling enchilada sauce tin cans as vases.
The bright colors of El Pato enchilada tin cans are perfect for this!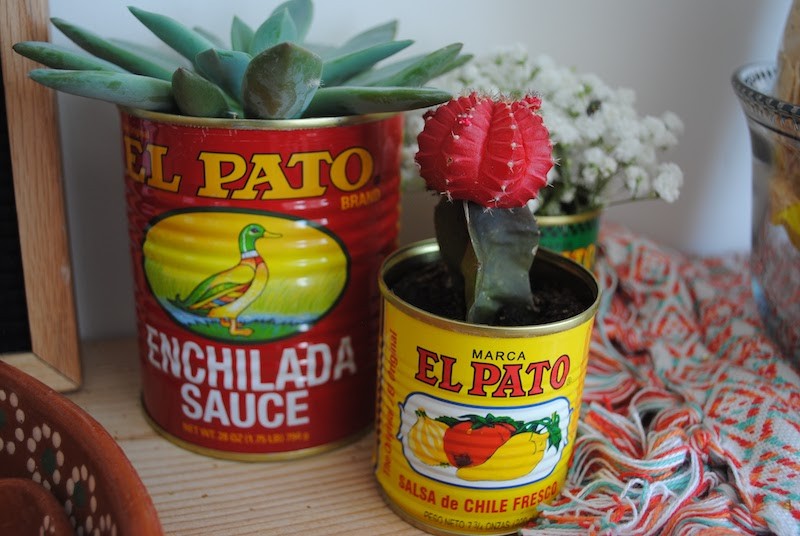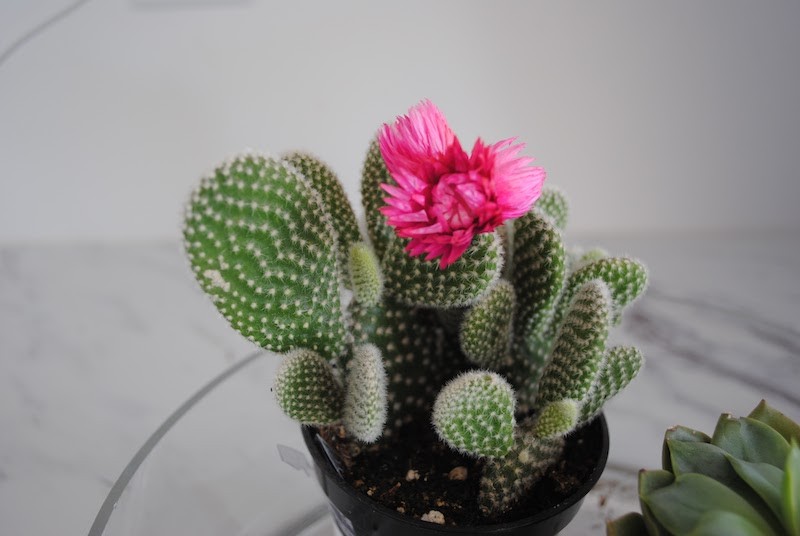 Planting them with succulents or filling them with bright colored flowers is so festive!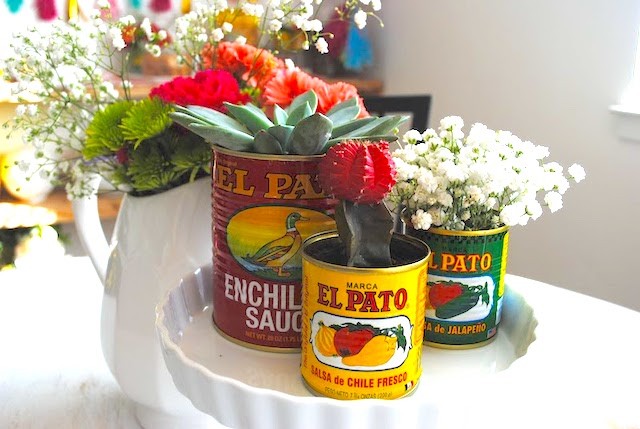 Easy Taco bout a Cinco De Mayo Party Cake
Look how cute this Mexican Fiesta cake is! A friend of my daughters actually made this for her party.
To recreate it easily, purchase a smooth frosted cake from the bakery. This will become the centerpiece of the taco bout cinco de mayo party!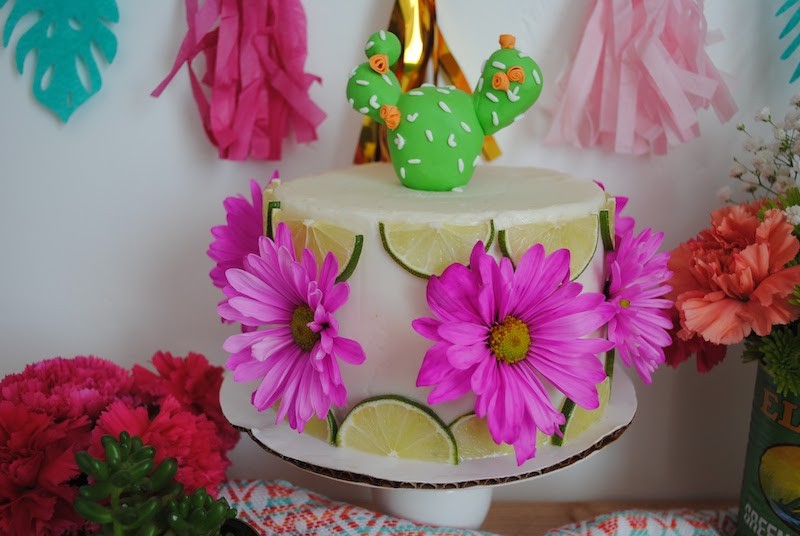 Add sliced limes all around the top and bottom edges.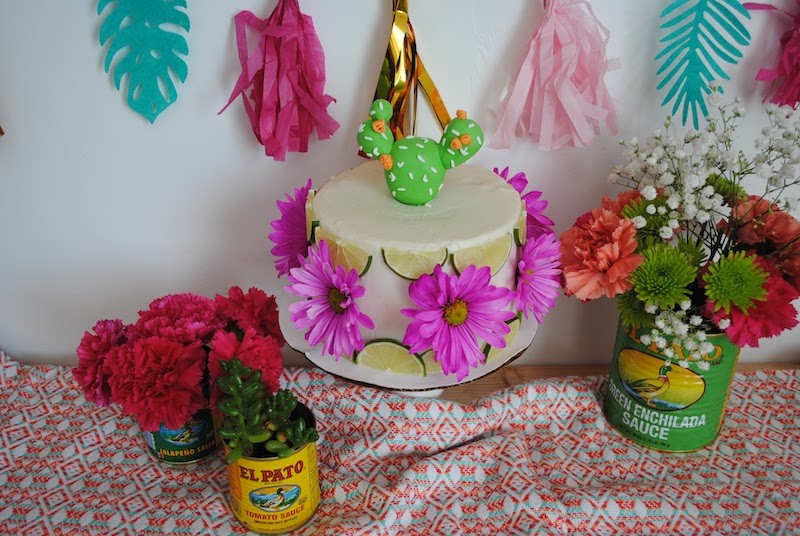 Add in bright pink daisey's all around the cake.
For the topper you could place a faux cactus in the middle.
This one is made from fondant.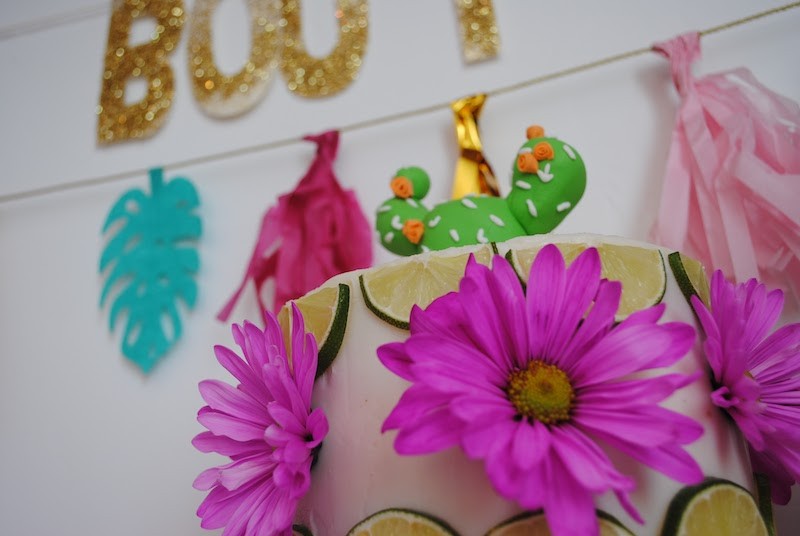 It is so cute isn't it!
Setting up the Taco Bar
For the taco bar Emily served grilled chicken tacos with all the fixings. Here is my favorite easy grilled chicken recipe.
Guacamole, salsa, sour cream, cheese, sliced limes, olives, beans, corn and corn chips.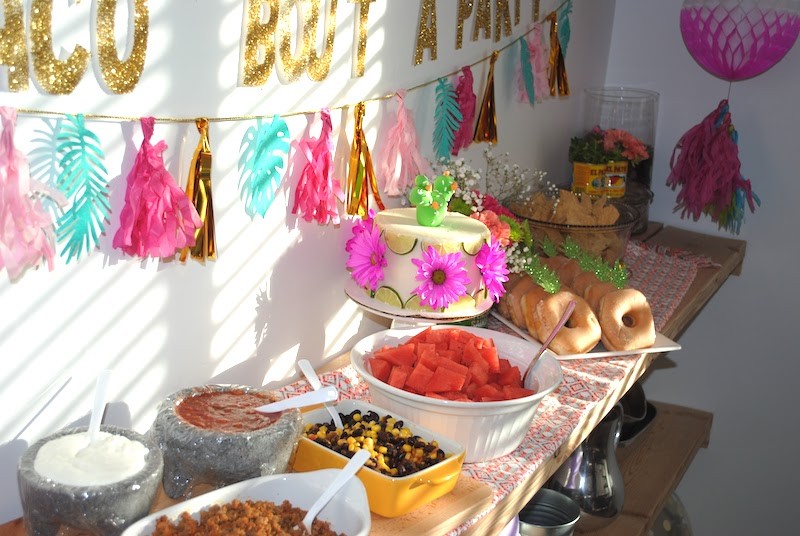 Using a cute letterboard you can make a cute sign like Emily did here. "Surround yourself with tacos not negativity"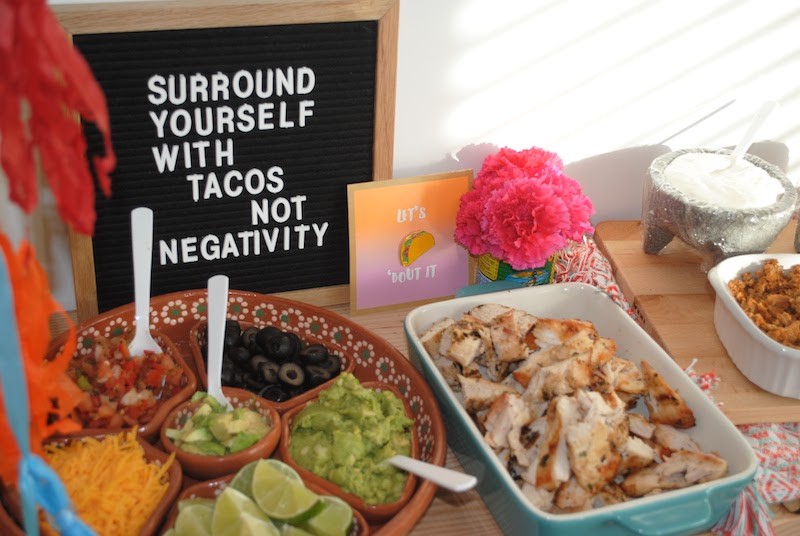 Fresh cut up watermelon is perfect to serve because it is so refreshing. When we did Emily's Fiesta themed baby shower we served little cups with watermelon, pineapple and Jicama sticks.
You can see all the details here
Adding pineapple toppers to glazed donuts makes them look like pineapples for a fun little treat.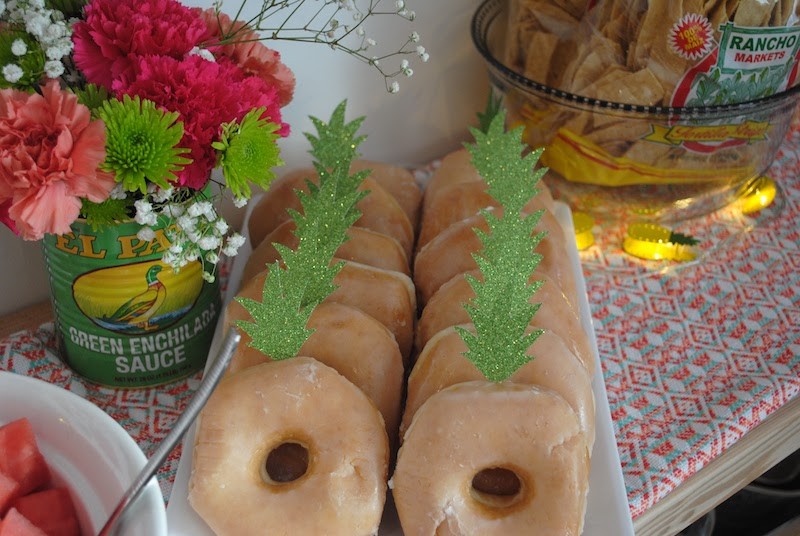 Em and Kev had a great time with friends and celebrating their new home.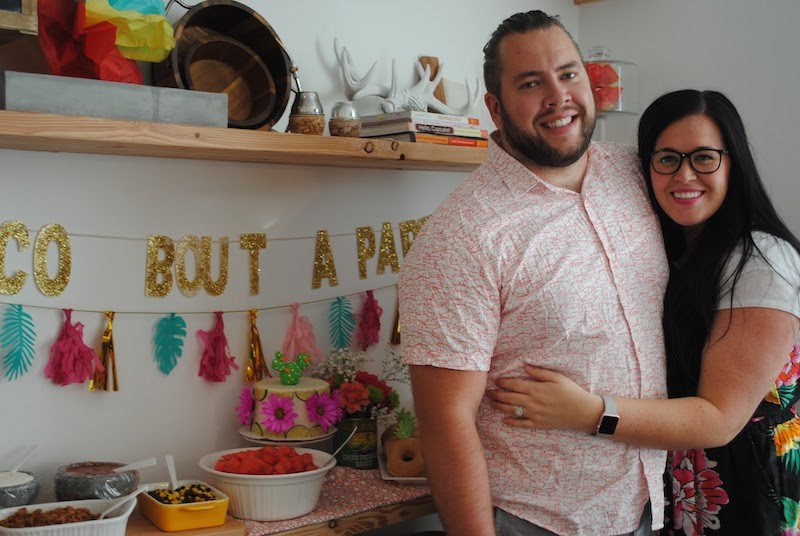 Shop This Party

Pin for later