Valentine's day brings back such sweet memories of being a kid and receiving paper Valentine's from friends at school. Today I am sharing my pink and red Valentine's day table for kids. I put this fun and easy tablescape together for my 6 grandkids.
Instead of buying new Valentine dinner plates I have incorporated my basic white dinner plates and some darling pink and red and white Valentine paper plates. Shopping my house and using what I had makes for a really fun Valentine's day tablescape for kids. I am participating in a fun Valentine tablescape blog hop so make sure to visit my friends at the bottom of my post!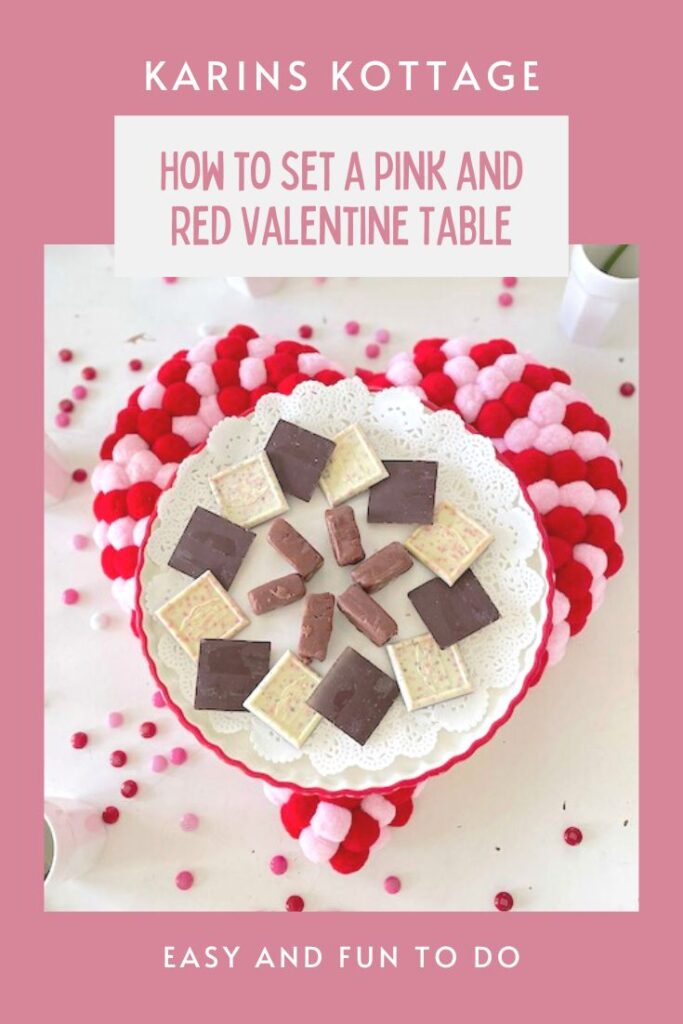 What I used to create pink and red Valentine's day table centerpiece
While shopping the other day, I found this adorable pink and red pom pom heart shaped wreath. This cute wreath was the inspiration for the entire tablescape. I just love the colors and the fluffy look of it.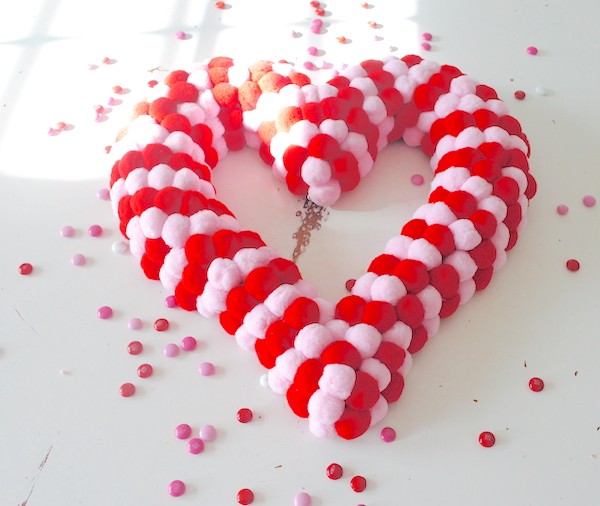 By placing it in the middle of the table it became the star of the table! I remembered I had a red Christmas cake plate so I put that in the middle. No one will know it is really a Christmas cake plate because I covered the Christmas tree motive with a doily and chocolates. I have even used this cake plate for the 4th of July you can see here.
Here is a red cake stand that looks super similar to mine! Plus it comes in lots of different colors too!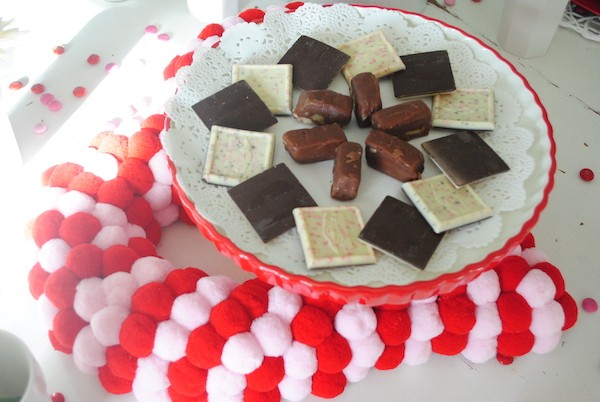 What is a Valentine table without some chocolates! You just have to have some delicious chocolates 🙂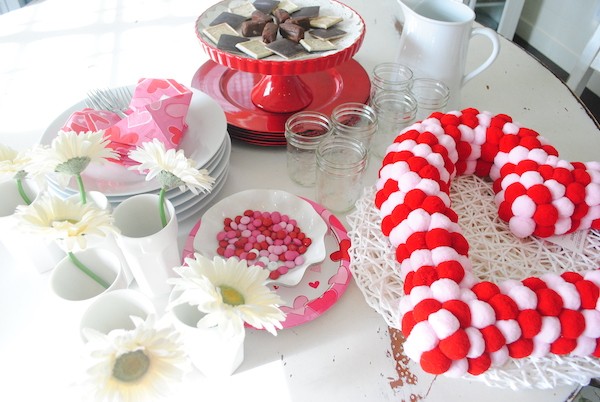 To bring some fun color to my pink and red Valentine tablescape, I added some pink and red M & M candies. Adding those tiny bits of colors just added a little bit of fun to the table. Remember when I added jelly beans to my bright colored Easter table? You can see it here. Of course the grandkids love to eat those tiny morsels.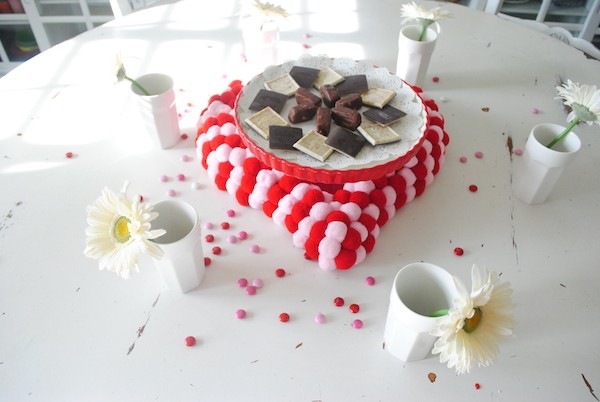 White cups with one white faux Gerbera daisy in each one of them completed my centerpiece.
Place settings for pink and red Valentine table
Next I got out my lacy looking white placemats. You might remember how I used them in my coastal grandma tablescape here. Here is a link to some similar placemats.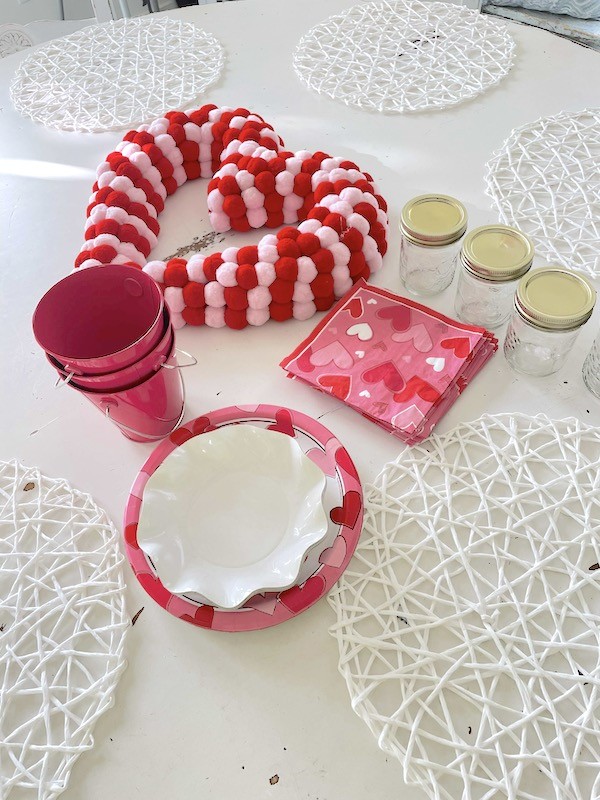 Then I got out my red chargers and started to set the table. These red chargers have come in handy for many holidays. I used them in this lime green and red Christmas tablecape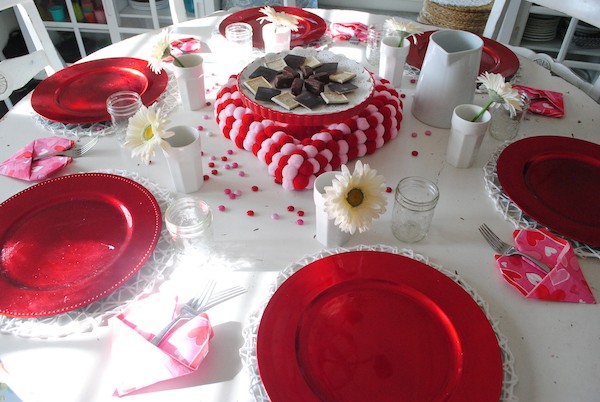 I got out my regular everyday white dinner plates and began layering the dishes.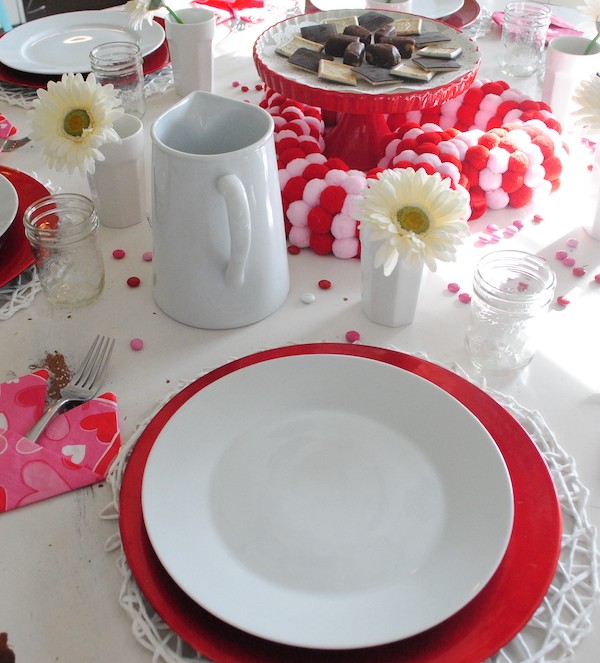 Looking through my stash of leftover paper plates from other Valentin'e parties gone by, I found 6 pink and red heart paper plates and some matching napkins plus some smaller white ruffled plates.
Is it just me or do you always end up with some left over paper plates in your cupboard?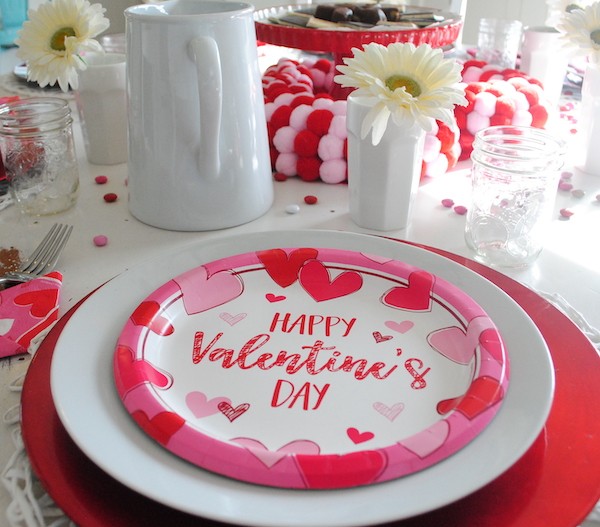 Layering the white dinner plate with the pink and red heart paper plates and topping each place setting with the white ruffled paper plates made it look so cute!
Here is a link to some similar ruffled paper plates.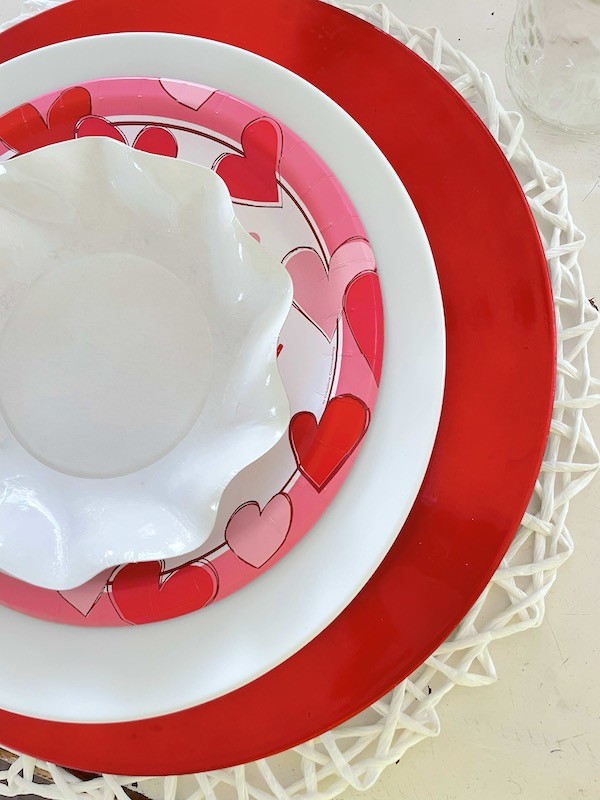 Glassware and flatware and napkins for Valentine's day table
I went very simplistic with the glassware by using small mason jars. The grandkids love to drink out those and they are so sturdy and hard to break.
At least one of my grandkids will ask for a fun straw. I'm sure I will have to go through my stash and find some pink and white or red and white striped straws for them.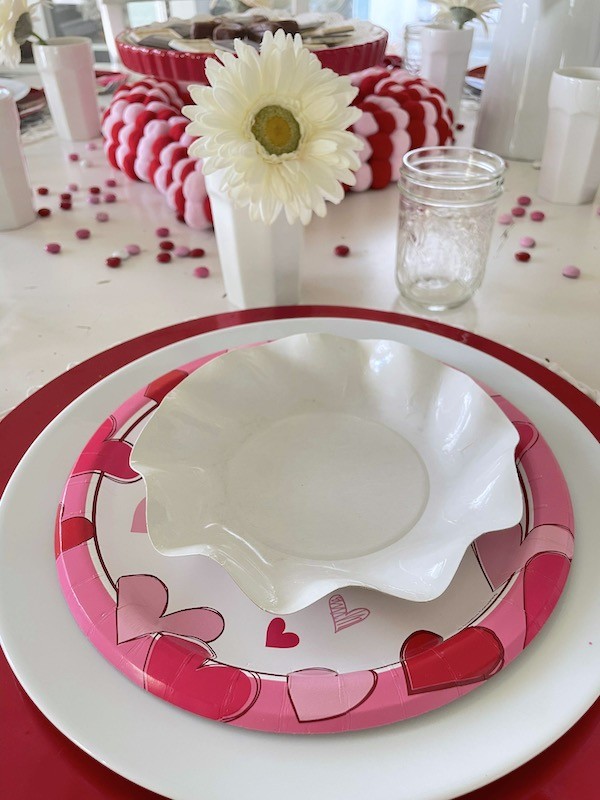 For the flatware I am only using a silver fork but I am highlighting it in a fun way. Taking the paper napkin and folding it into a heart shape with a pocket to hold the fork.
It is really easy to fold it this way. Here is the quick tutorial for you. It's the little details that make the table feel special.
Valentine treat bags
I made some yummy pink Valentine spritz cookies for the grandkids. To serve the cookies in a cute way I made some Valentine treat bags out of waxed papers.
These were leftovers from my youngest daughters wedding reception 5 years ago! They have some french writing on them and thought they would be perfect for Valentine's day.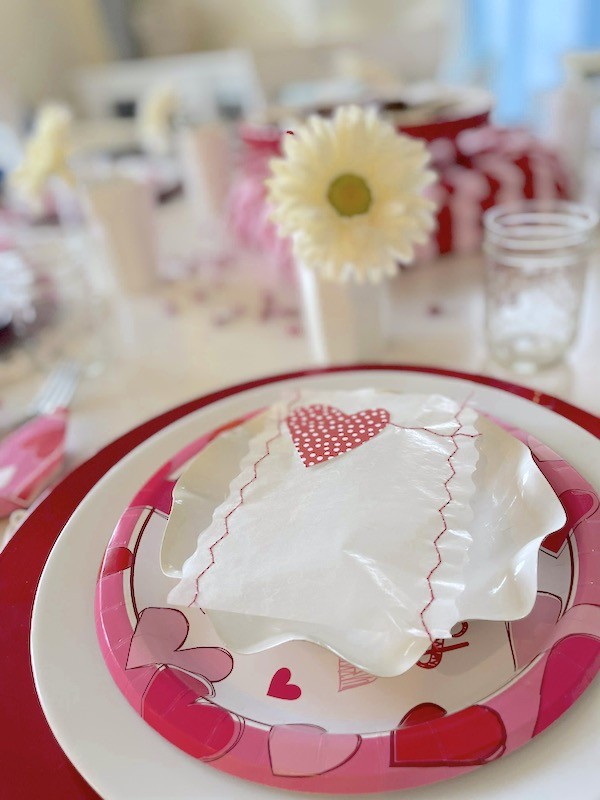 Here is the recipe on how to make the pink Valentine spritz cookies. This recipe can be used for Christmas cookies too.
They are pretty easy to make using little bits of scrapbook paper and a sewing machine. Don't worry it is just a few simple straight lines using a zigzag stitch. Tutorial on how to make them is here.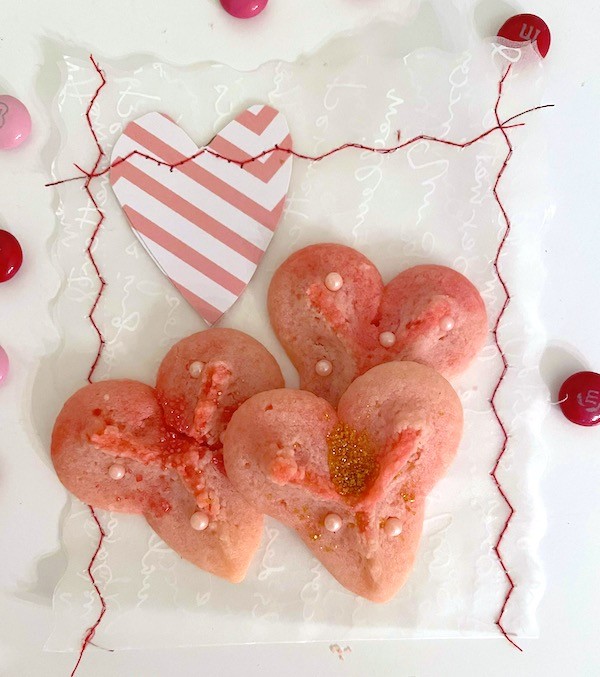 The complete pink and red Valentine table for kids
I love the bright pink and red colors on my white table. I know the grandkids are going love love this tablescape.
Now I just need to figure out some fun Valentine's day food ideas.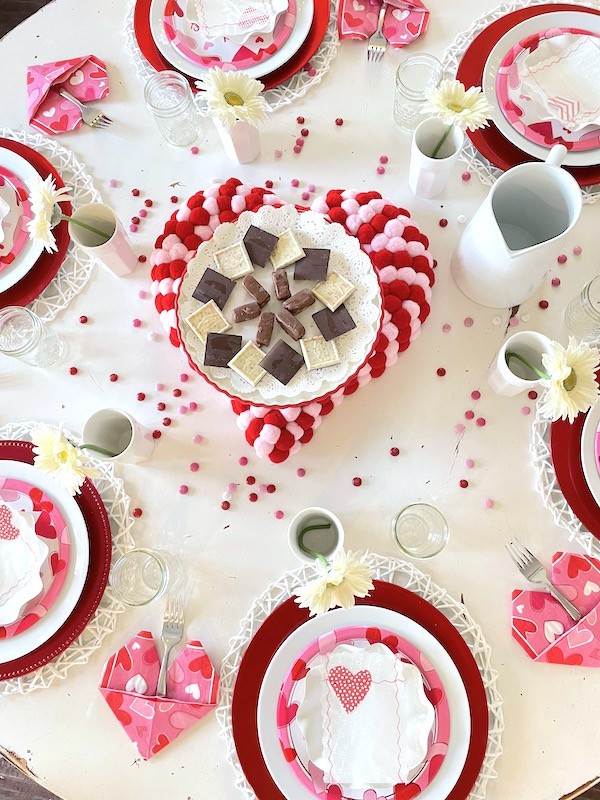 Hanging some icicle lights at the back of the room just makes the room glow!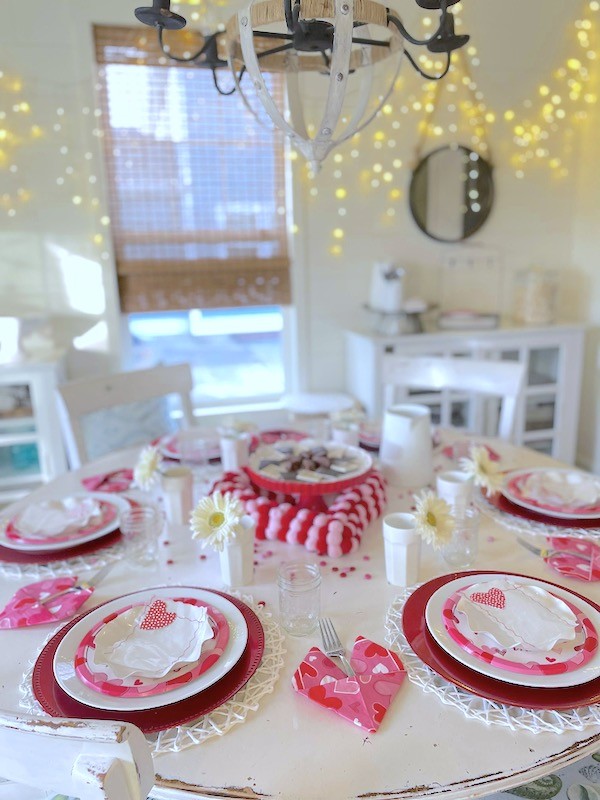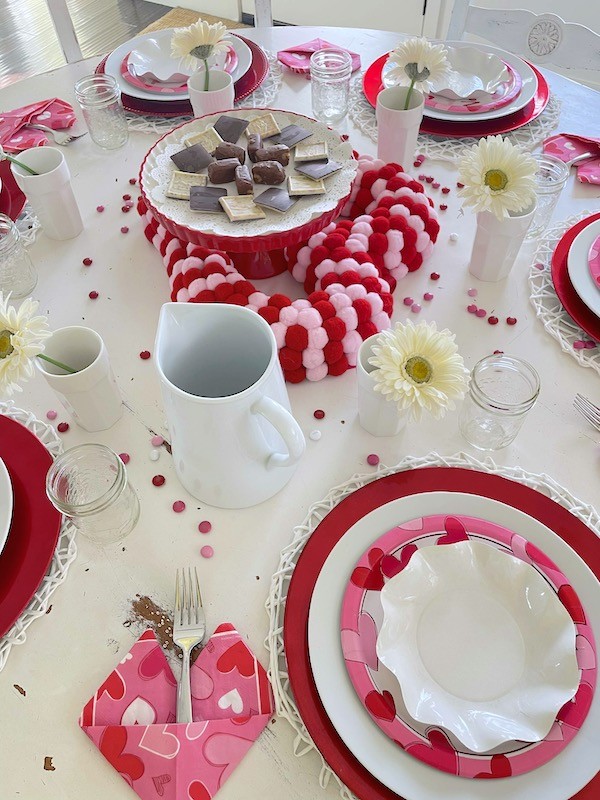 Shop Valentine Table decor

More Valentine Posts
Valentine Tablescape Blog Hop
Today I am joining a fun group of tablescapers who are all sharing their Valentine tablescapes! Our host is Rita over at Panopoly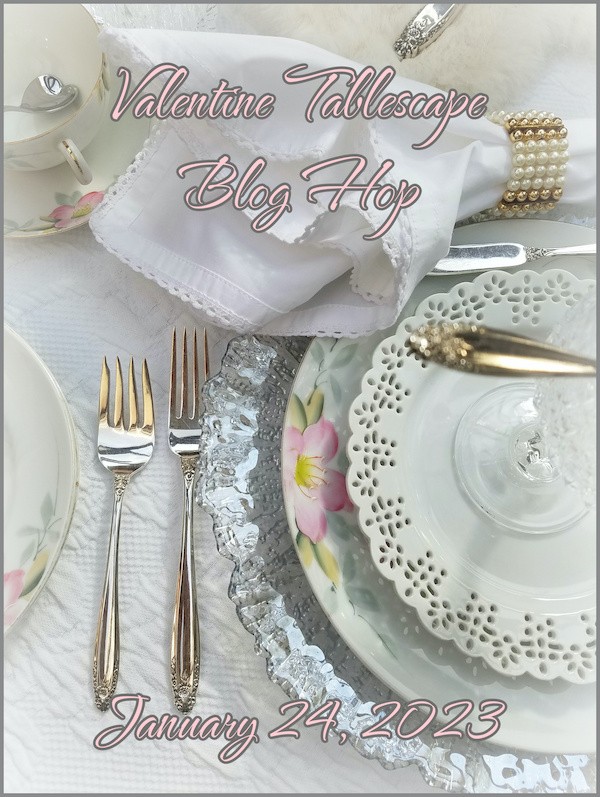 Panoply – Valentine Tablescape for 'Just You and Me'
Home is Where the Boat Is – Love Birds' Bed & Breakfast
My Hubbard Home – Vintage Inspired Rose and Gold Valentine's Table
Life and Linda – Sealed With a Kiss Tablescape
The Bookish Dilettante – Valentine's Day Tablescape Blog Hop: Paris Is Always a Good Idea
Everyday Living – Colors of Love
thecatswhiskerz – A Frosty Galentine's Day Tablescape
Pandora's Box – A Galentine's Table
Living With Thanksgiving – Let Me Call You Sweetheart
The Little Yellow Corner Store – A Glamorous Winter Snowman for Valentine's Day
Karins Kottage – Pink and Red Valentine's Table for Kids
The Painted Apron – Hearts and Flowers
My Thrift Store Addiction – Cupid's Valentine Dessert Buffet
Celebrate and Decorate – A Romantic Valentine's Tablescape for Two
Belle Bleu Interiors – A Day for Love
Dinner at Eight – Valentine's Day – A Table Set for Tea
Red Cottage Chronicles – Fire and Ice Valentine's Tablescape
Hyacinths for the Soul – Where You Go, My Heart Follows
Thrifting Wonderland – Start With Flowers Tablescape
Corner of Plaid and Paisley – Sweet Valentine Tablescape