Back in 2001 I put together a fun Chinese New year birthday party celebration for one of my grandsons who was turning 8. The reason why we chose the Chinese theme is because most of our grandkids are in Chinese immersion at school. They love all things Chinese. Louis is our number 3 grandkid and his birthday is in February so a Chinese themed party was perfect!
I had a balloon arch leftover from a church Valentines party that I did. You can see it here. So with my hubby's help we converted it into a Chinese dragon! I love when I can reuse a balloon arch multiple times. In fact after we had this party then we also used the balloon arch for my granddaughters French birthday party. I took out the pink and black and added in yellow!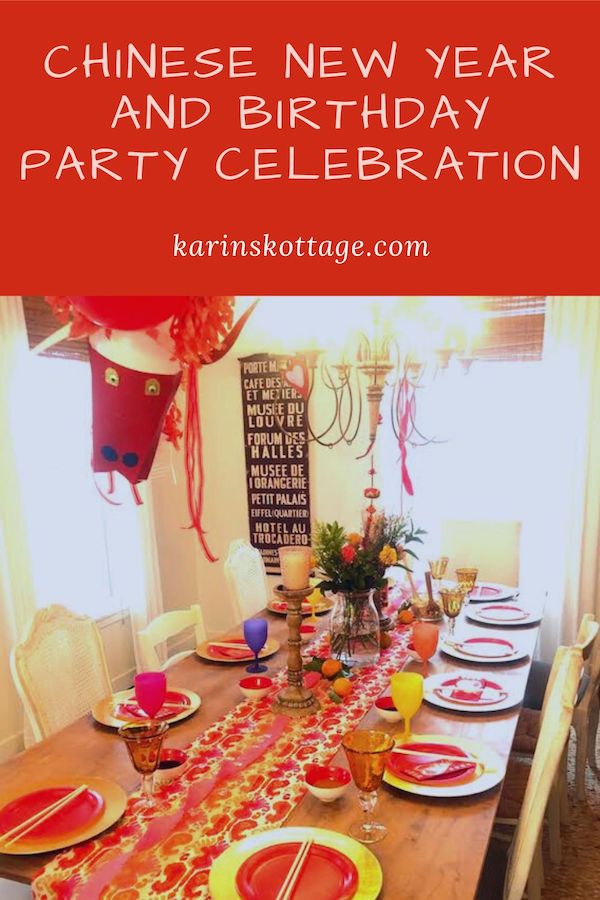 Creating The Chinese New Year Birthday Party Dragon Balloon Arch
Since the balloon arch was already complete we just had to figure out how to turn it into a dragon. I am always trying to figure out a way to use something more than once especially balloon arches. They stay inflated for a long time! Remember my granddaughters tea for two birthday party? We reused a friends ballon arch from her baby shower!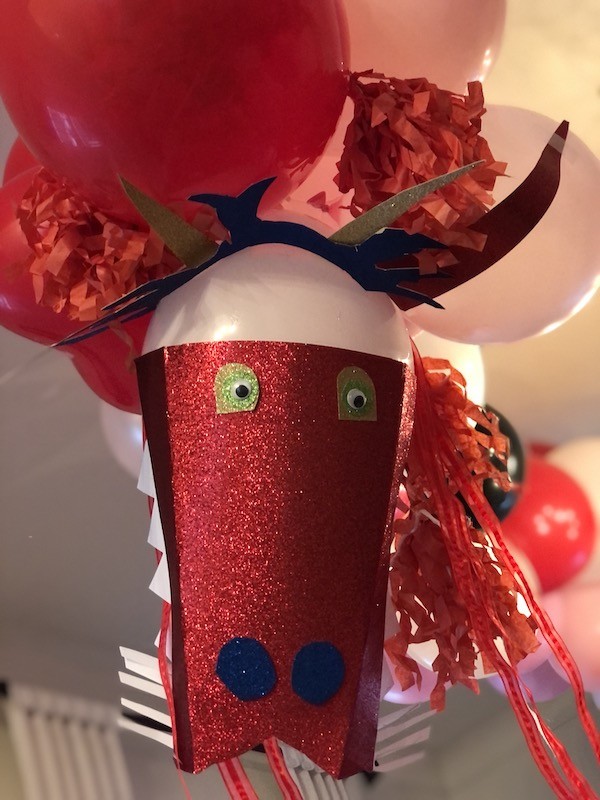 To create the Chinese dragon face, my husband drew the outline of the head and the antennas on a piece of paper and we traced the design on the back of some sparkly scrapbook paper. My hubby has traveled all over Asia for many years so he was very familiar with Chinese dragons and did a great job drawing the face.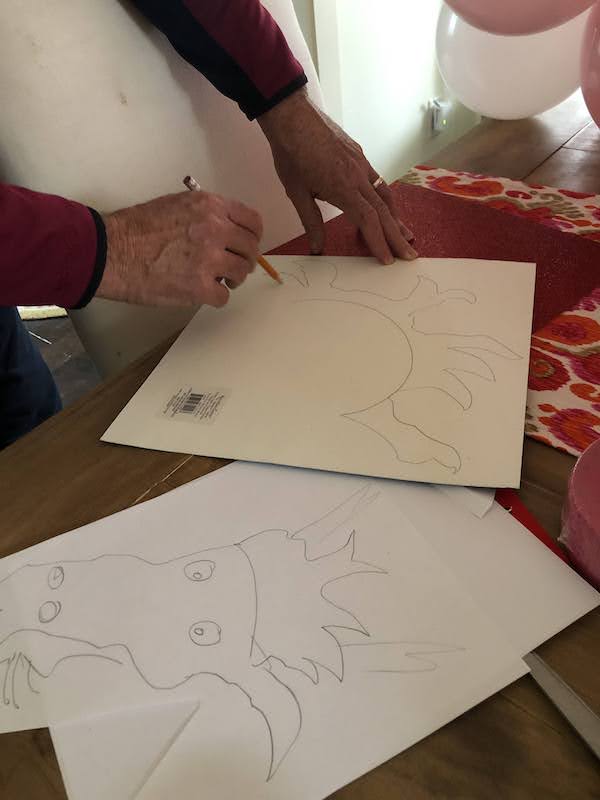 The pink black and red are not typical for a Chinese dragon. Usually they are bright yellow and red but I just used what I had to work with.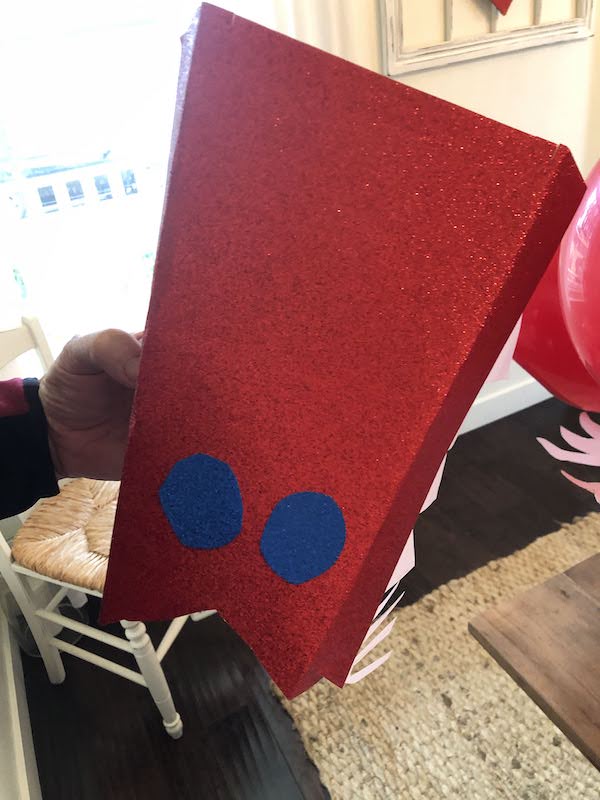 After we cut out the snout, eyes and antennas, we attached them with lots of tape.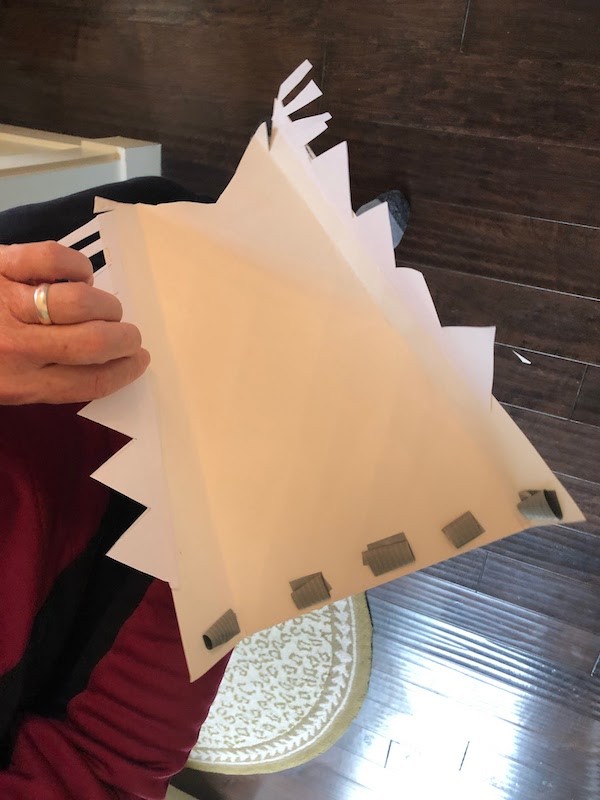 We had to bend the sides of the long snout so that it would wrap around the balloon and stay anchored with the tape.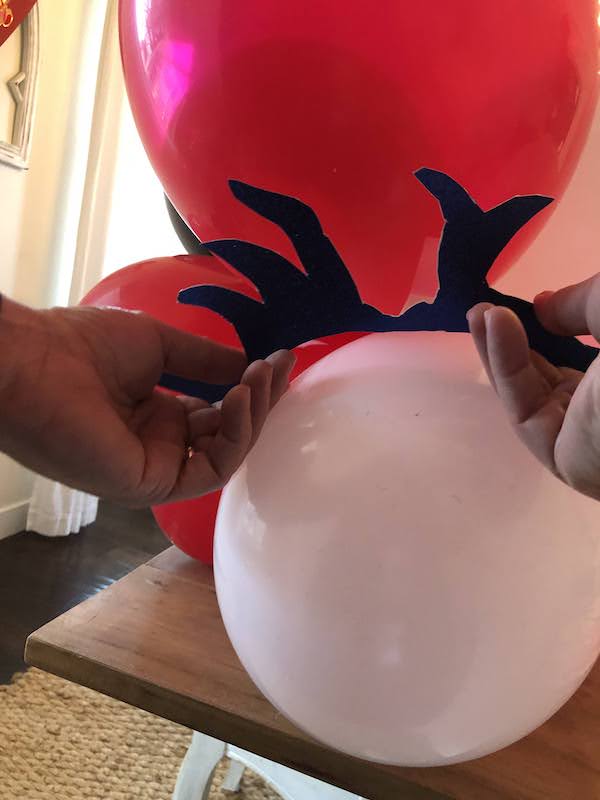 It really looked so cute!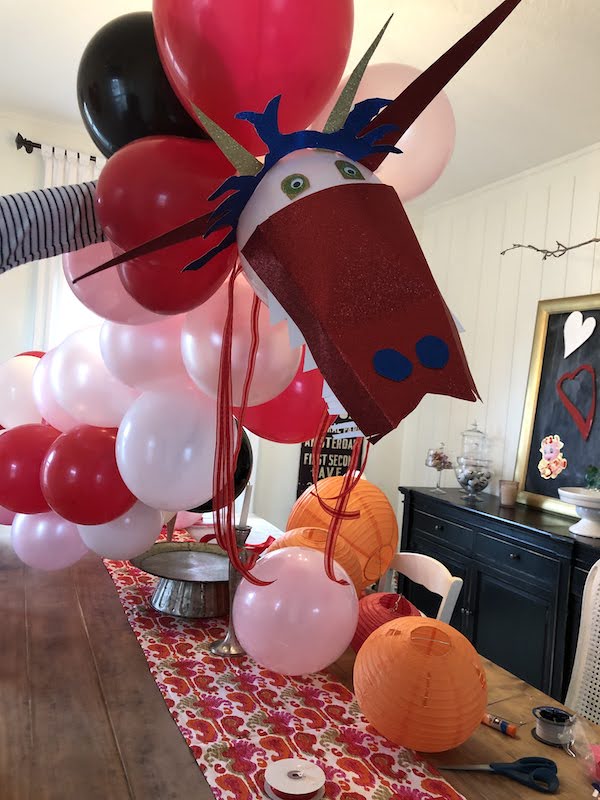 Hanging The Dragon Balloon Arch
To make a huge impact in the room we decided to hang the ballon arch from the ceiling.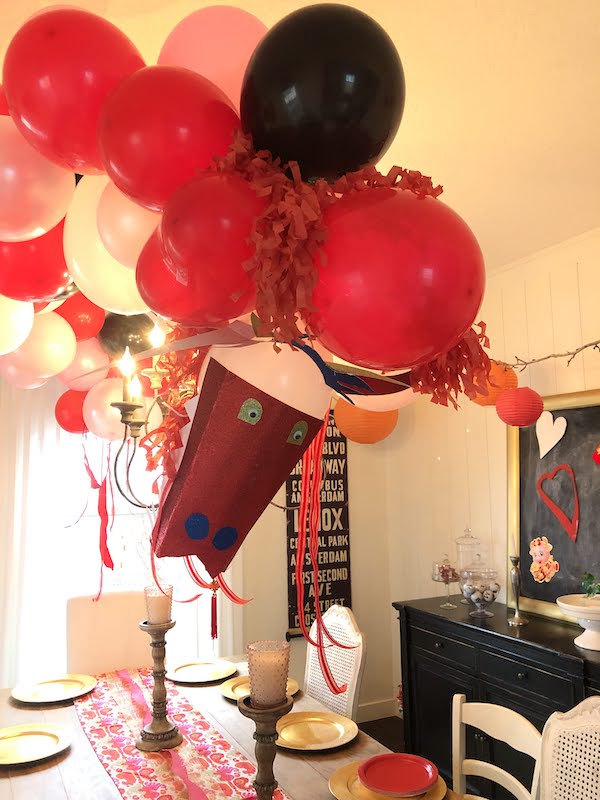 Because the balloons are so light we hung it from ceiling using thumb tacks and fishing line. We did our best at trying to hang it at an angle to make it look like it was coming down to the front of the table. You can play with the fishing line to make it look like it is moving up and down.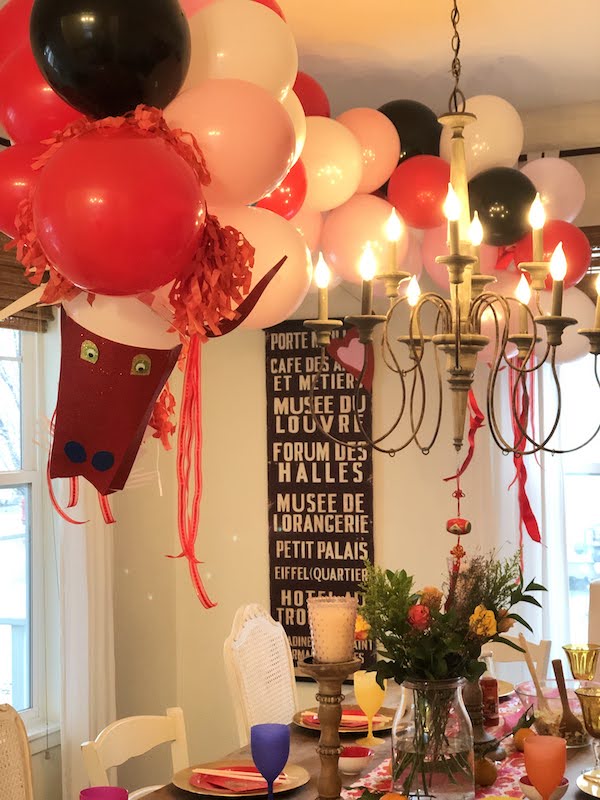 I had a red paper garland that I wrapped around the neck of the dragon to add some fluff. Then I added in some long strings of red ribbon here and there from the front and back of the balloon arch. It looked amazing!
Other Chinese New Year Decorations
Tying the colors of the ballon arch to the other decorations was pretty easy. Red is the symbol of good fortune so I used as much of the color in the dining room as I could.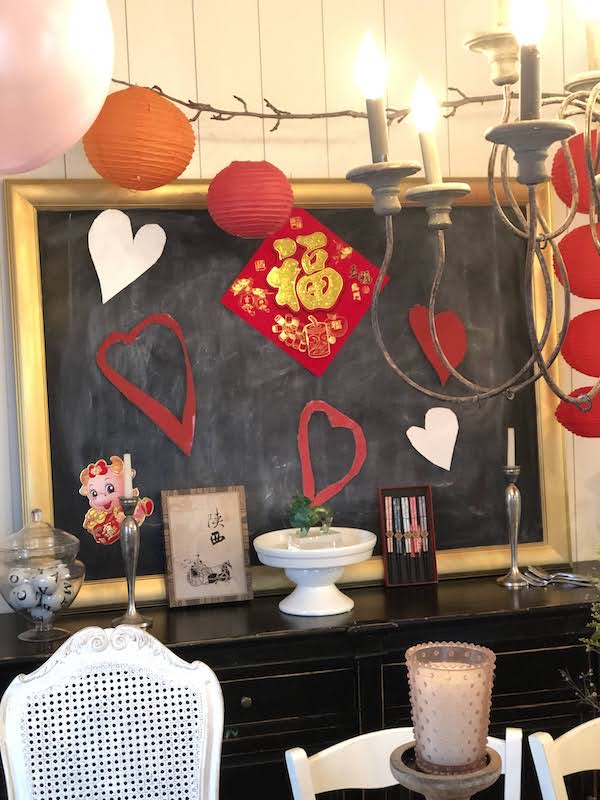 On the chalkboard I hung painted red hearts cut out from cardboard that were used from my Valentine's party at the church that the youth made. Plus some other Chinese decor and leaning up against the chalkboard we displayed some chopstick and other Chinese artwork.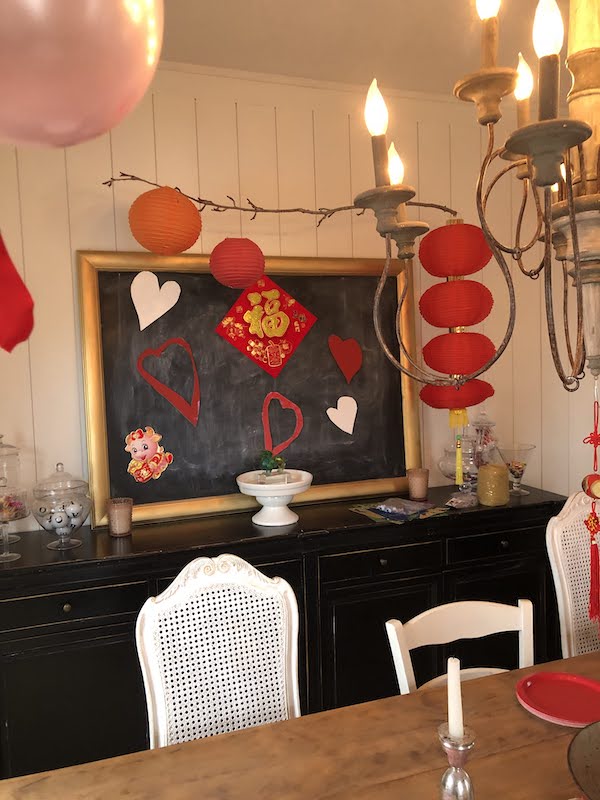 Above the chalkboard I hung a stick with fishing line and hung a few red and orange paper lanterns.
On the opposite wall I taped a large painted red heart with some typical Chinese cut outs. It was the year of the ox.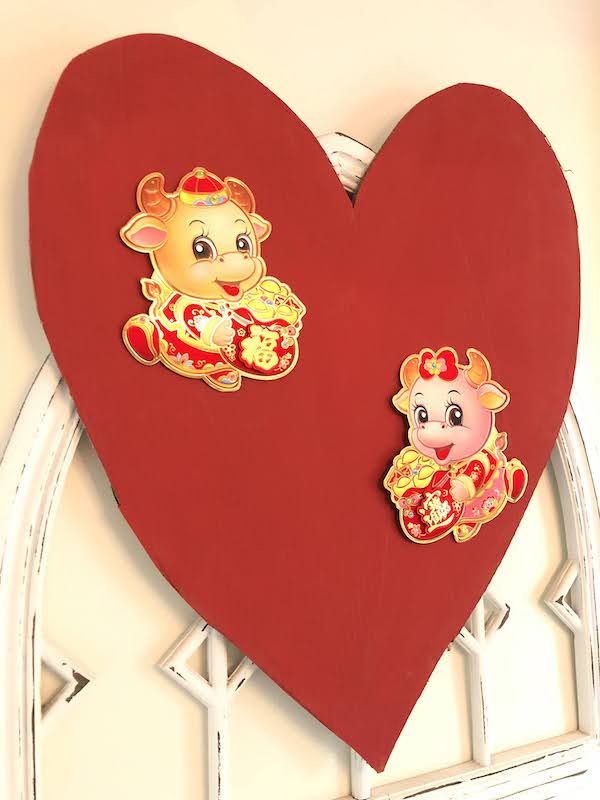 Chinese New Year Birthday Party Tablescape
To mix in the pink with the red and pink I used my pink orange and red table runner that I put down the middle of the table. For the centerpiece I used some red and yellow roses and greens for the centerpiece. Oranges are a symbol of good luck so I placed a few down the center of the table.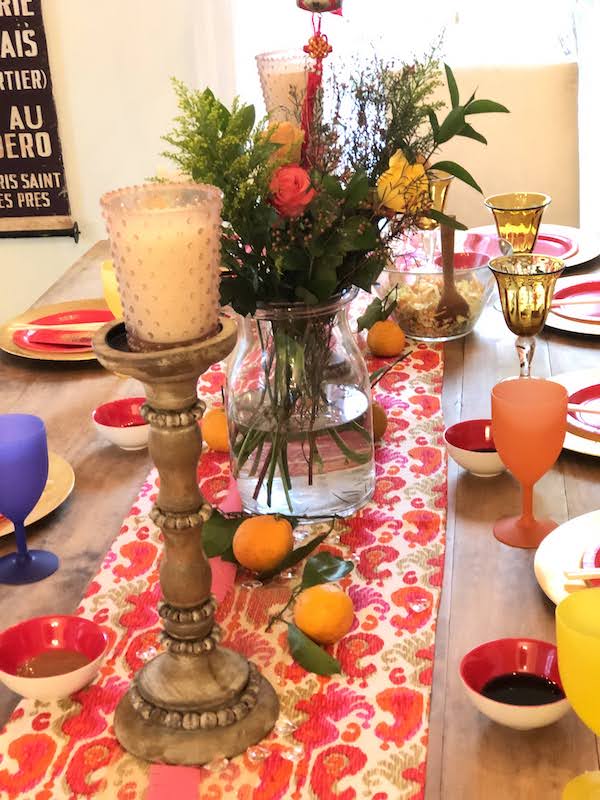 Place settings were made up of gold chargers with plastic red plates. Of course we had to have some chopsticks to eat our dinner with. Gold goblets for the adult and bright colored plastic goblets for the kids.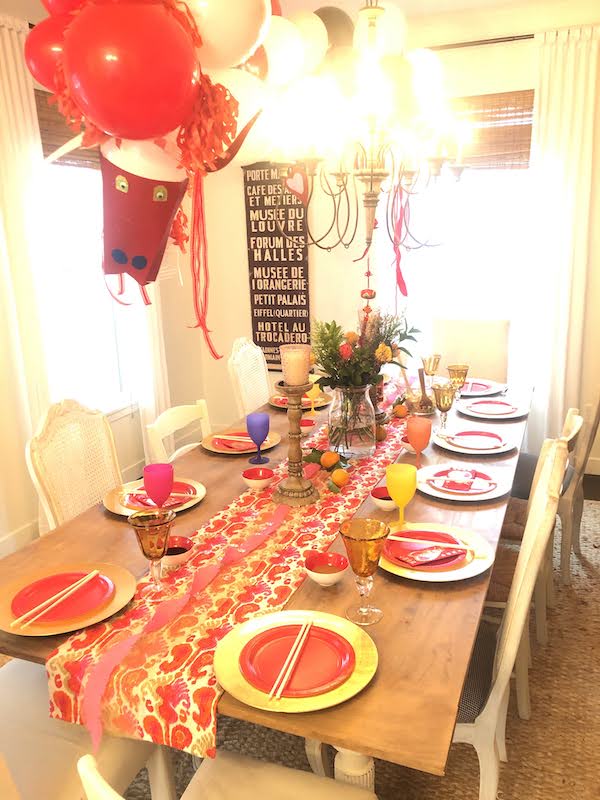 I've been to China once with my husband and we went to Hong Kong and Macau. It was an amazing trip!
My husband traveled there for many years so he was very familiar with Chinese New Years traditions. Things like the little red pockets which are Chinese envelopes filled with a small amount of money. This is traditional New Years gift giving in China.
We made sure each person got one 🙂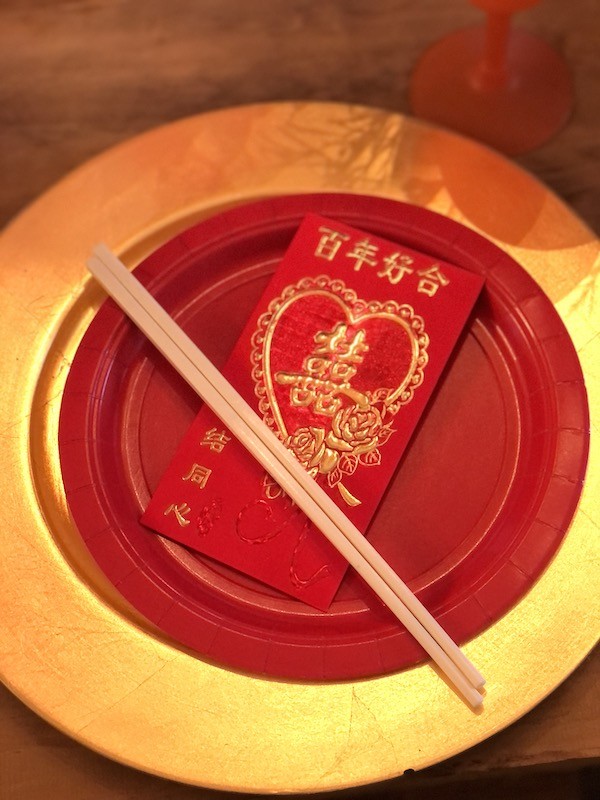 The dinner and birthday boy
Everyone had so much fun at our party. We had fried potstickers, noodles and vegetables and egg rolls.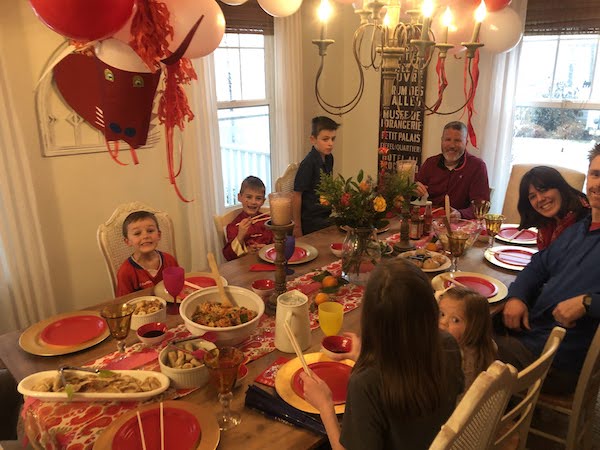 This cute birthday boy loved it all! For dessert he requested a brownie topped with ice cream. Not your typical Chineses dessert by any stretch of the imagination but he was in heaven!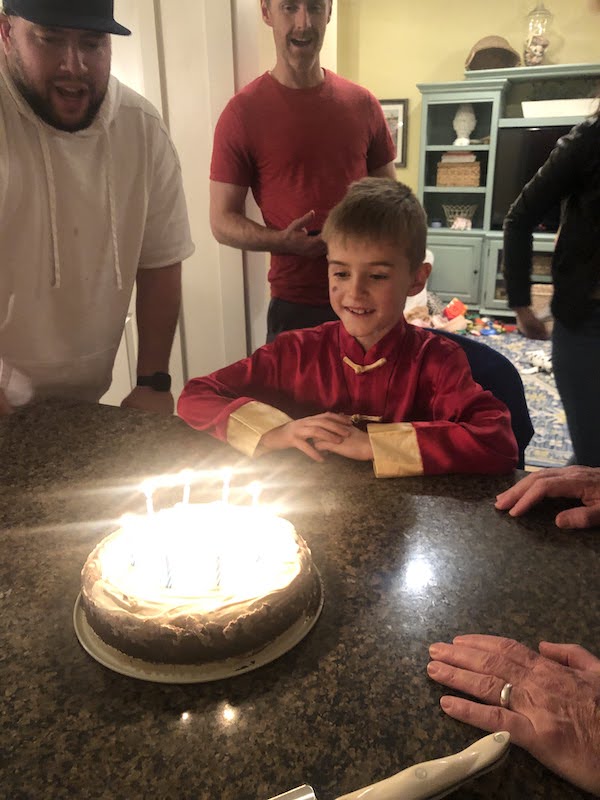 More Chinese celebrations
Chinese New year 2013
Chinese New Year with two chicken satay recipes
Shop