This year I decided to create a children's Easter table in bright colors for my grandkids.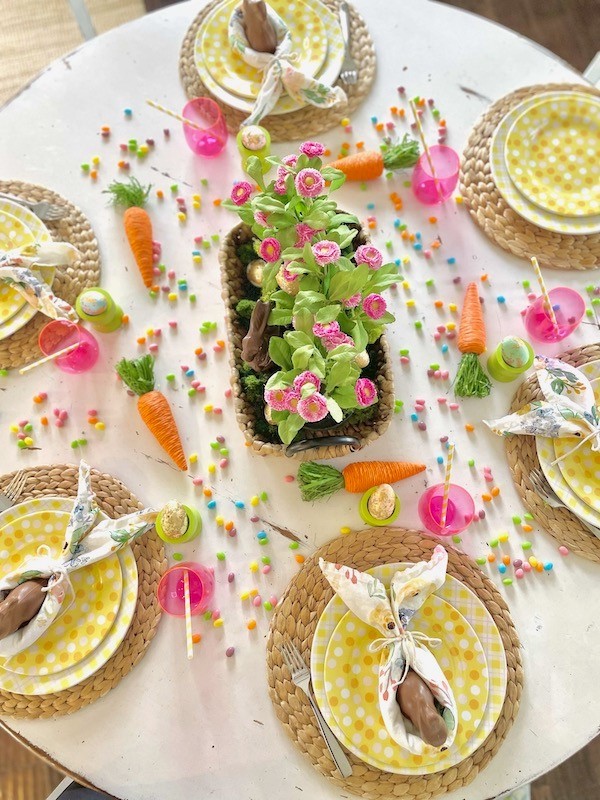 Filled with chocolate bunnies, bright colored jelly beans and other fun things. Imagine Peter Rabbit meets Alice in Wonderland story book type theme.
Inspiration for Children's Easter table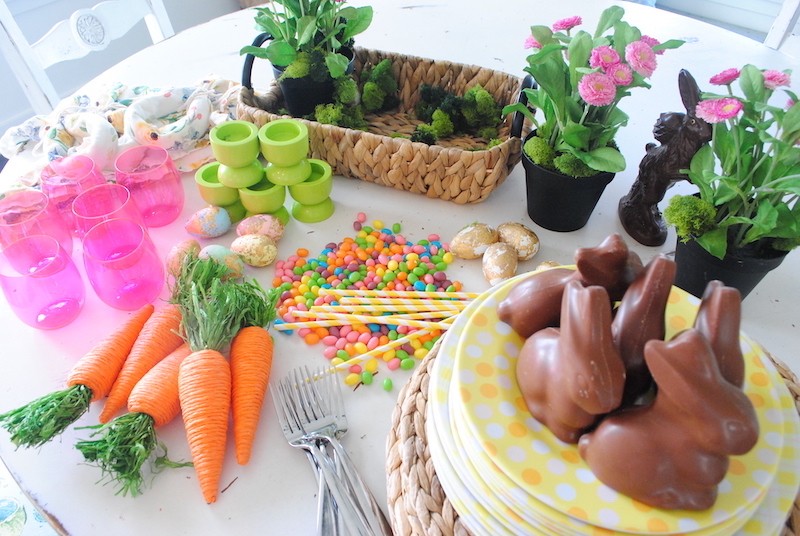 To create this whimsical look I started with pink plastic glasses, bright orange faux carrots mixed with my yellow and pink plaid and polka dot melamine plates. Bright colored jelly beans and Lindt chocolate bunnies bring in the whimsy.
A fun idea I came up with is to use candle holders to hold my gold leaf eggs.
They could even hold hard boiled eggs.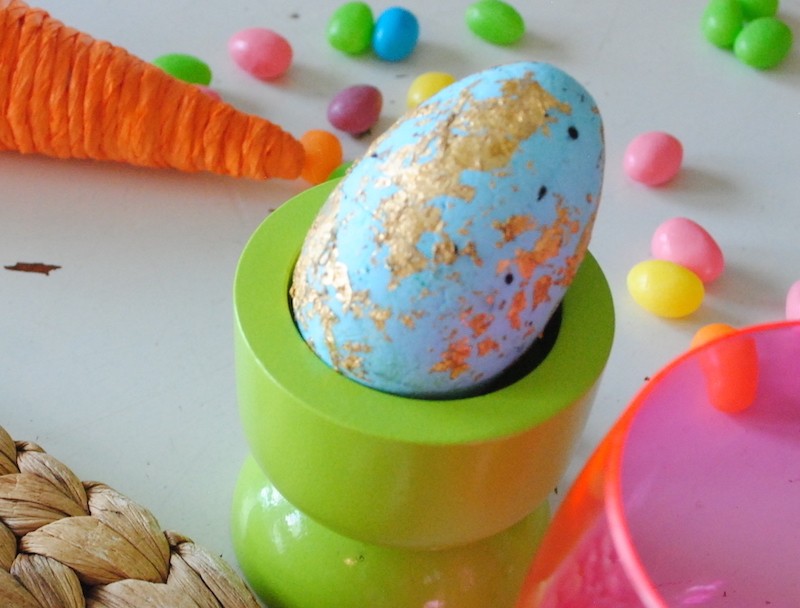 I found these bright green candle holders at Ikea on clearance for .25!
I only wish I would've bought more!
Children's Easter table centerpiece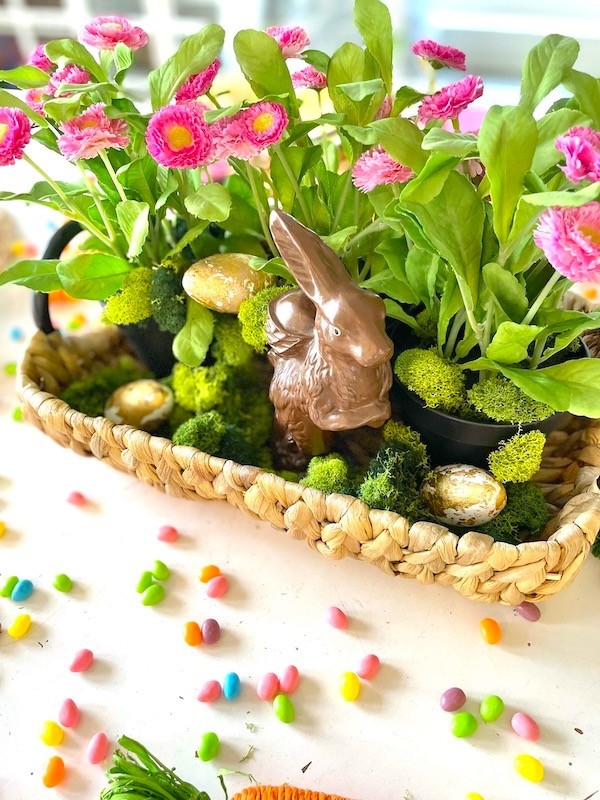 For the centerpiece I grabbed a basket from my stash and some of my pink faux flower pots (also from Ikea years ago) and a little moss.
Then I hid in a few of my gold leaf eggs here and there. I think the kids will love looking at this Easter centerpiece and finding a few hidden eggs in there.
Children's Easter table place settings
To bring in a little natural look I used my favorite bamboo woven place mats.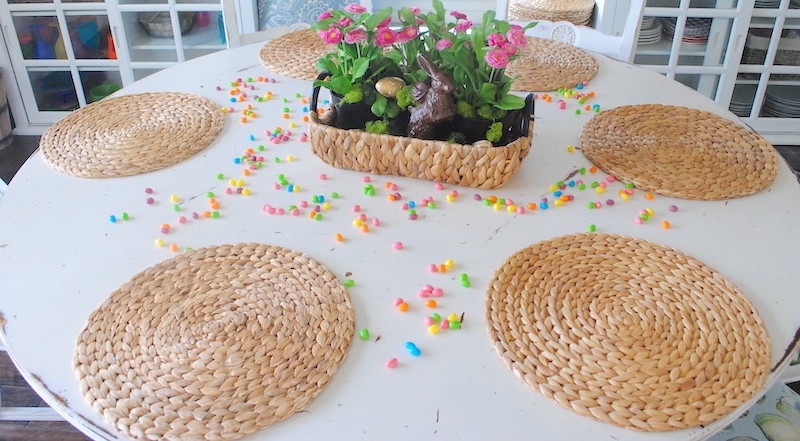 Melamine yellow, pink, white and orange plaid and polka dot plates are perfect for Easter.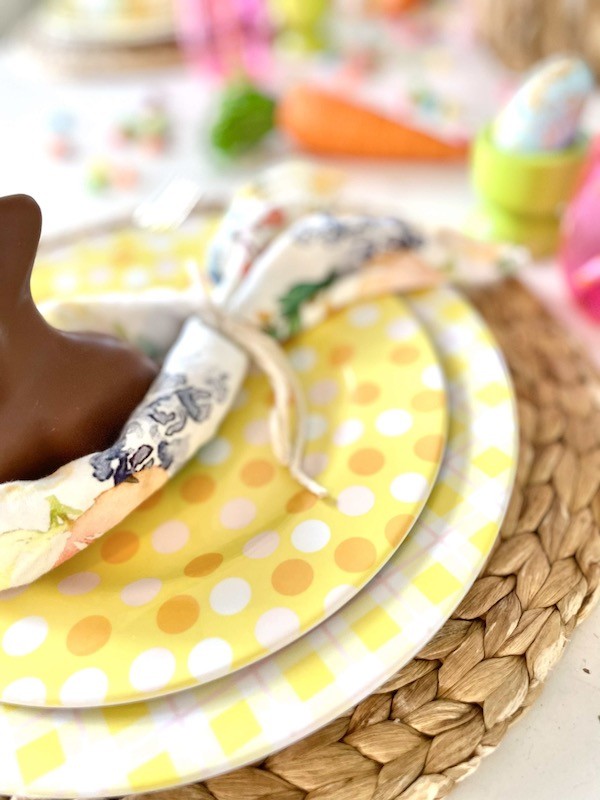 They are the best to use with kids because they won't break!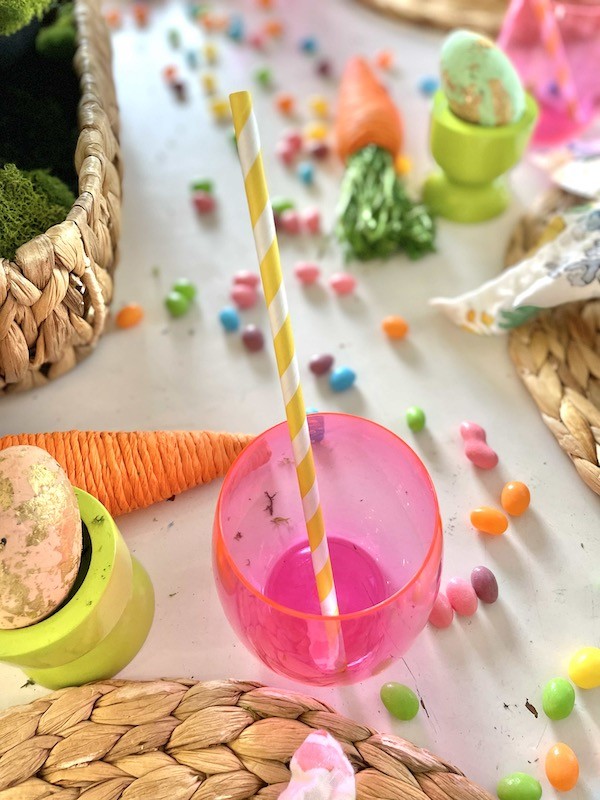 The pink plastic cups I bought last year at Michael's for maybe $4!
They look fancy for my grandkids and they too won't break.
Children's name cards
I was going to use the faux carrots that I bought at the grocery store as name cards.
Unfortunately I didn't get a chance to print their names and attach them to the carrots before I left for Italy.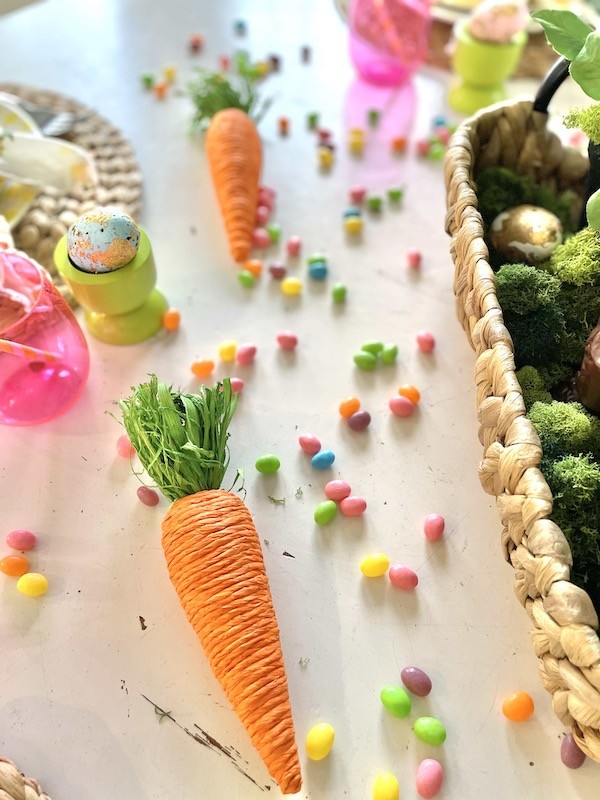 I will do that when I get home.
My Cricut can cut out vinyl letters and then I can attach them to the carrots.
Bunny ear napkin fold
For a cute look I folded my napkins into bunny ears. The openings are perfect little nests to hold my Lindt chocolate bunnies.
I created a quick video showing how to fold them.
To fold the napkins into bunny ears is super simple.
Start with a square napkin, fold into a triangle. Next starting at the tip of the triangle roll into a fairly tight tube. Fold in half and tie closed with twine or ribbon.
Leaving enough out for the bunny ears.
They can be tall or floppy depending on the look you want.
Bright colored jelly beans
To bring in some fun and whimsy and sweet treats, I sprinkled bright colored jelly beans all over the table.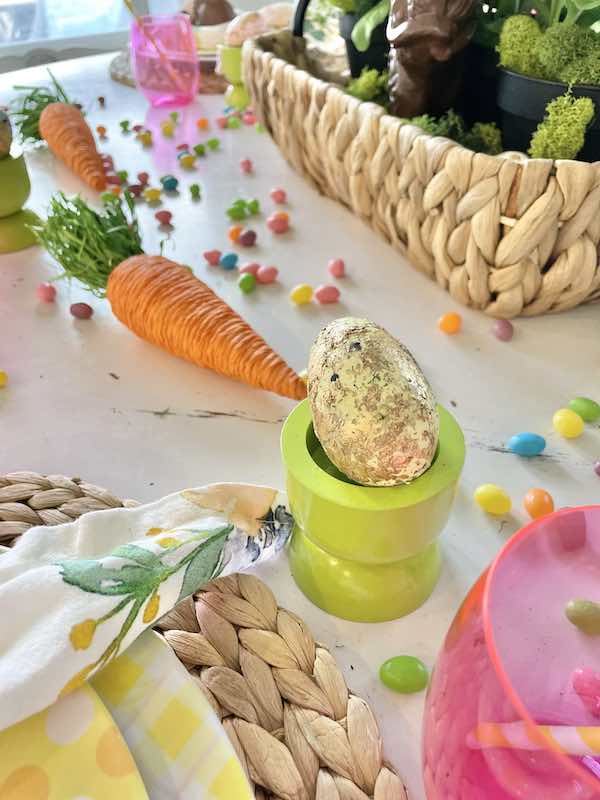 The grandkids are going to LOVE that don't you agree?
The completed kids table for Easter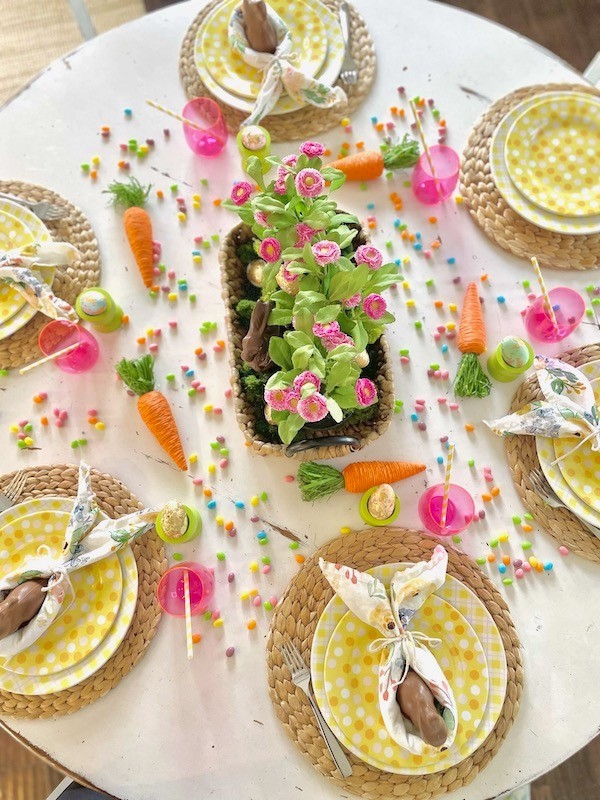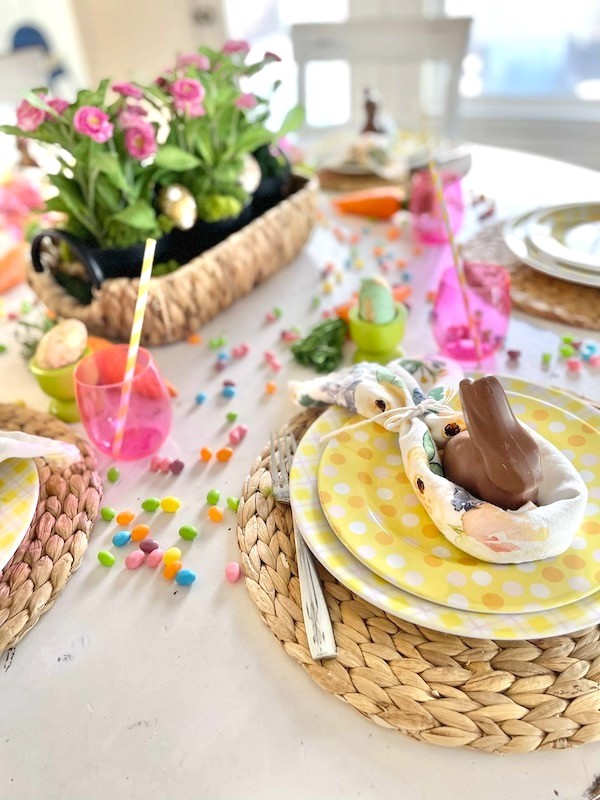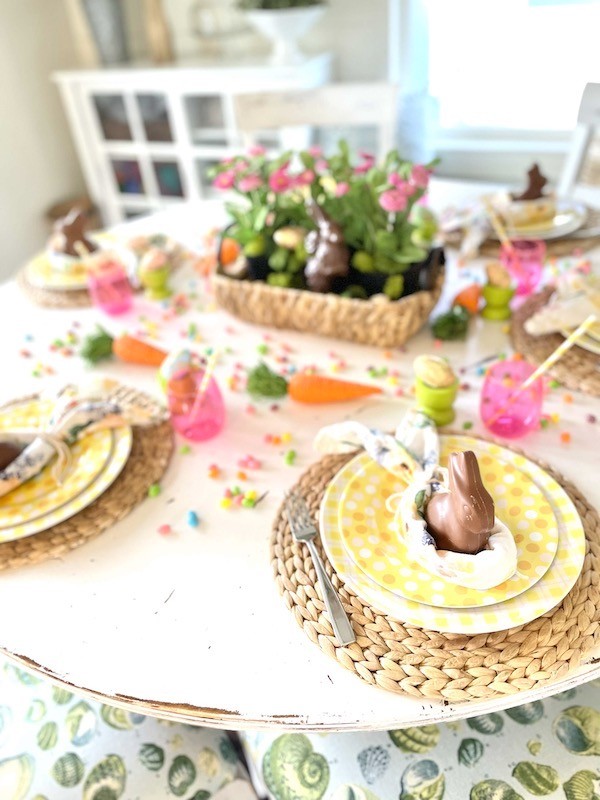 Here are a couple of other Easter tablescapes that I created that you might like.
Easter Egg tablescape with large Easter Egg boxes
Vintage Easter table using tea cups planted with flowers
Pin for Later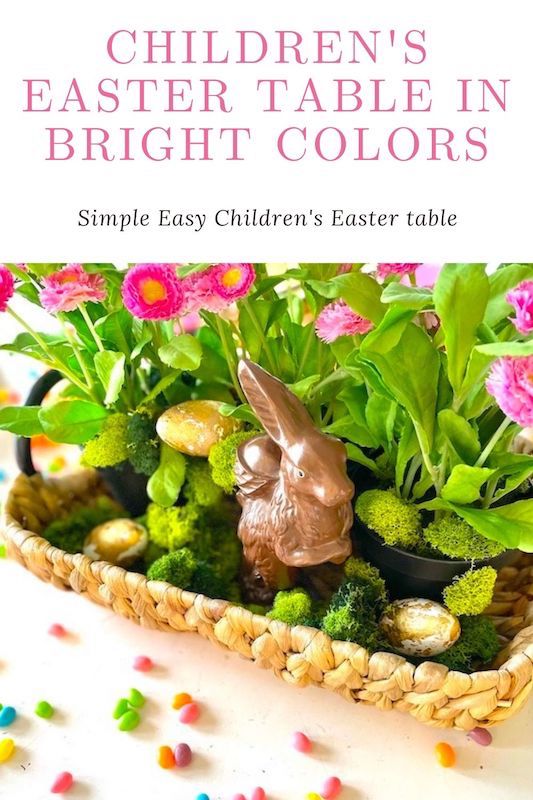 I am participating in a Spring and Easter Tablescape blog hop hosted by Rita over at Panoply so make sure you "hop" around to see all my other friends ideas.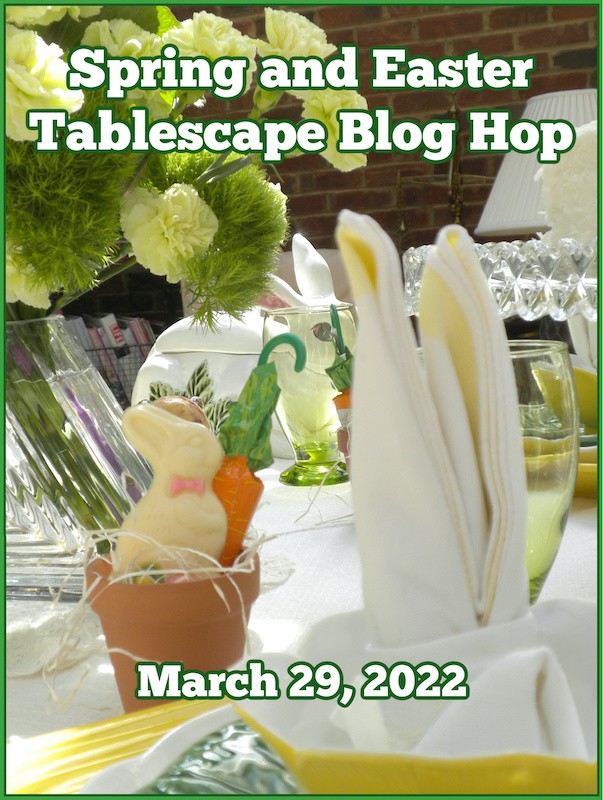 Everyday Living – The Joys of Easter
The Little Yellow Corner Store – Funny Bunny Fern and Her Breakfast Tablescape
Me and My Captain – Spring Is In the Air
Red Cottage Chronicles – Fruit and Flowers Spring Tablescape
Living with Thanksgiving – The Joy of Spring
Life and Linda – Bunnies Pedaling Toward Easter
Hyacinths for the Soul – Garden Party on the Terrace
Home Is Where the Boat Is – Hop To It
Panoply – Blissful Signs of Spring / Easter Tablescape
My Hubbard Home – Busy Bunny Easter Table
My Thrift Store Addiction – Rabbits and Roses Garden Tea for Two
Thrifting Wonderland – Easter Table in Black and White
Karins Kottage – Children's Easter Table in Bright Colors
The Painted Apron – Spring Piggy Party!
Corner of Plaid and Paisley – Bunnies in the Garden
Dinner at Eight – A Field of Tulips on a Spring Table
The Bookish Dilettante – Casual Easter Tablescape
Pandora's Box – Here Comes Peter Cottontail
I am also linking up to Between Naps on the Porch tablescape Thursday