I have had this pair of pink velvet cropped ankle pants for a few years now and I love them! You maybe asking yourself these questions- What tops can you wear with pink velvet pants? What goes with velvet pants? Aren't velvet pants too fancy to wear everyday? What shoes can you wear with cropped ankle pink velvet pants? I have lots of answers for you today!
Did you know velvet pants were super popular back in the 1970's? The Bee Gees wore them! That's when people started thinking they were hip. Italy was actually the first European country to create an a velvet industry for itself between the 12th and 18th century. Who knew?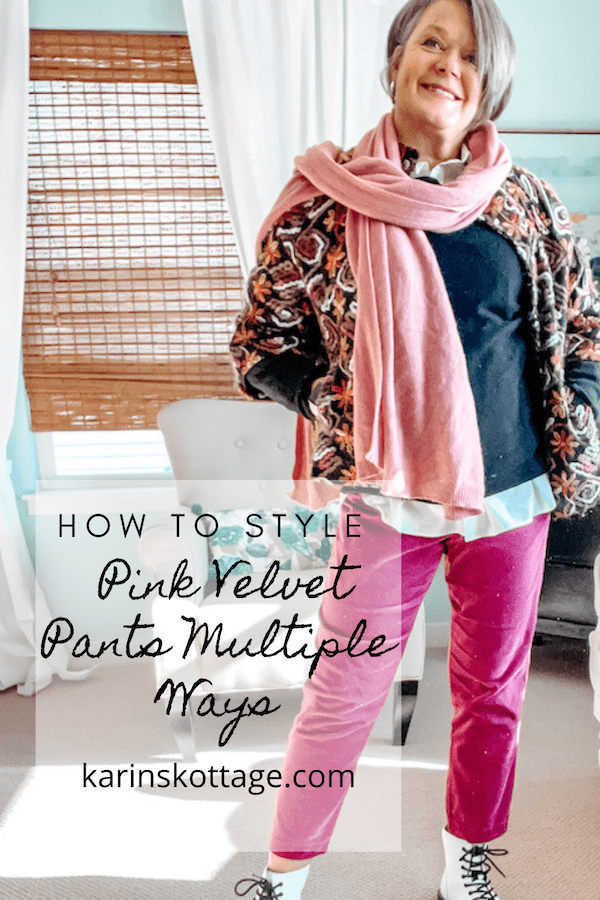 How to style pink velvet pants
Pink velvet pants are a bold and trendy fashion statement that can be dressed up or down depending on the occasion. I bought these from Jcrew a few years ago and they have a little stretch to them which makes them super comfortable. They are the cropped ankle style. At first I thought they were a bit too short but I have worn them with ankle boots, sneakers, heels and flats to create a chic outfit. In this blog post, I'll show you how to style pink soft velvet pants in multiple ways to suit any occasion. Also check out Style at a certain age and how she styled her pink pants. I love her tweed fringed jacket!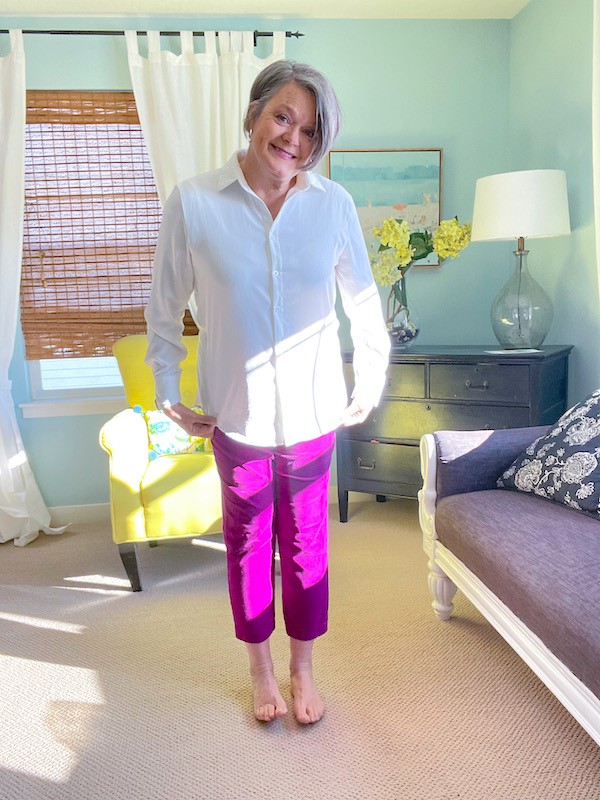 Style pink velvet pants with denim jacket
For casual everyday looks and yet a stylish look, pair your pink velvet pants with a simple top like a white blouse. Top with your favorite denim jacket or even a leather jacket. I love the look of layers and it helps camouflage my thicker waistline when I wear the blouse untucked.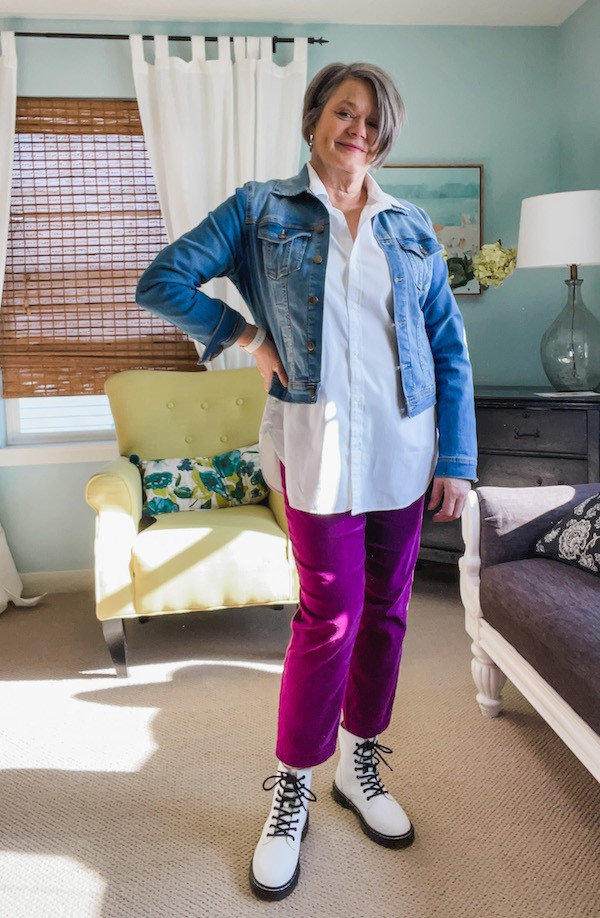 A lime green knitted scarf adds an unexpected pop of color to the outfit.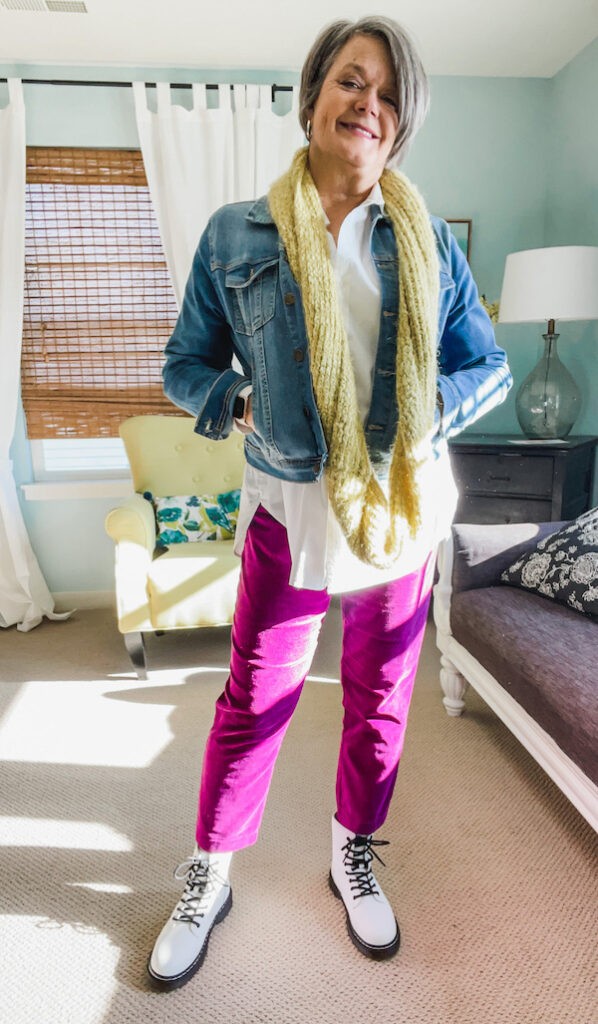 Because we continue to have cold weather I opted to wear my white combat boots! If it were a bit warmer I would wear a pair of white sneakers or ballet flats and finish with a crossbody bag for a comfortable, yet put-together look.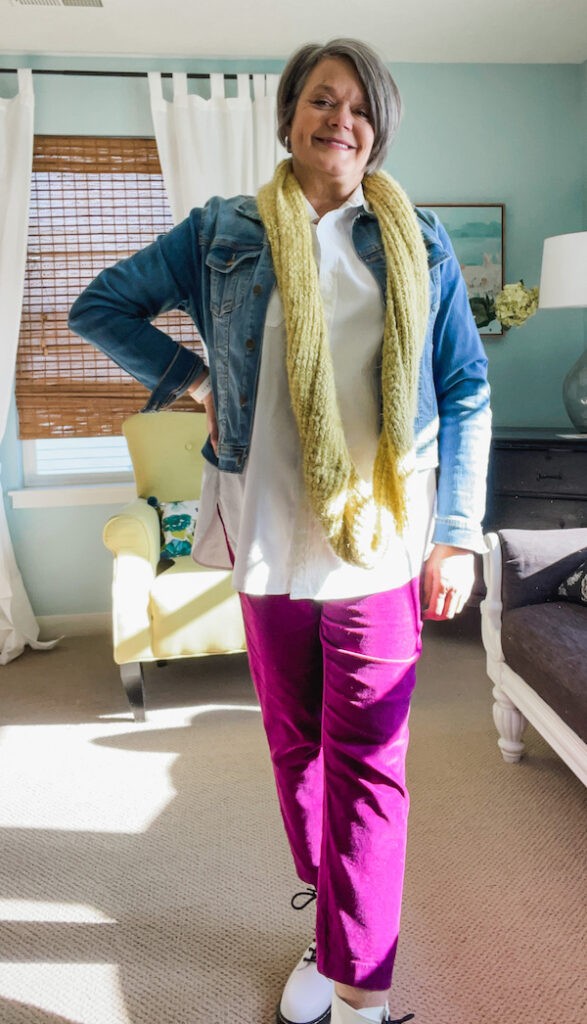 Pink velvet pants for Office attire
I work from home so I don't really have a need for office attire per se but I do have occasions for a more professional look, For this OOTD combination I paired my pink velvet pants with the white blouse again only this time I added a black blazer and a pair of heels. This helped to elevate the look.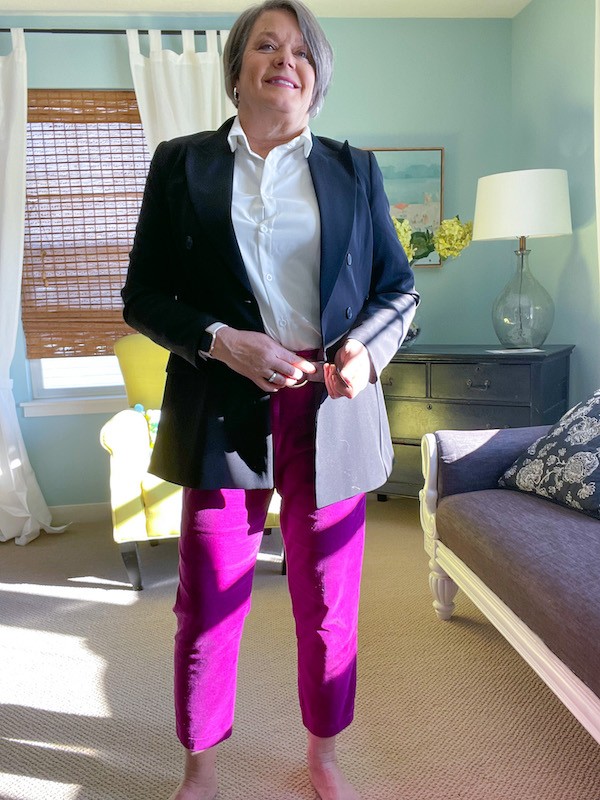 A long simple necklace helps to draw the eye down which is great if you are short waisted.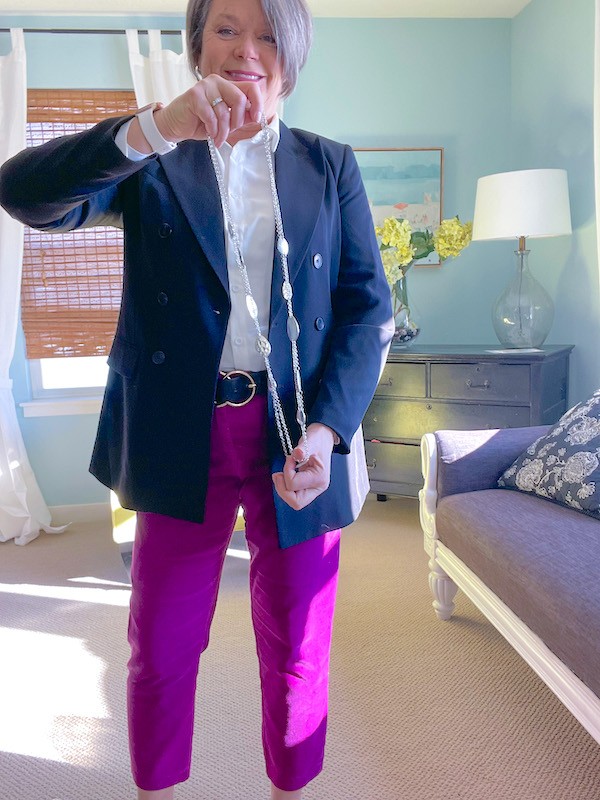 A black belt with a nice buckle adds interest. Simple earrings will add a touch of elegance to the outfit.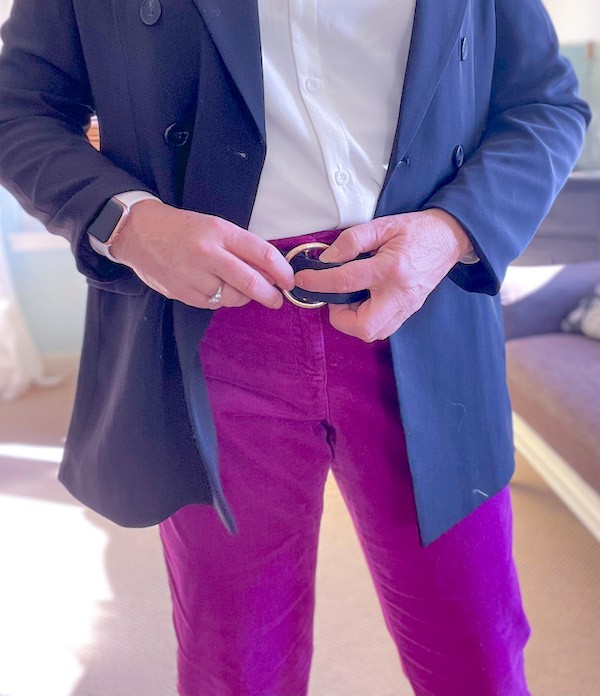 To bring in a pop of color and warmth I added a bright colored red pink and navy plaid scarf! I think it is fun to wear a bright colored scarf this time of year.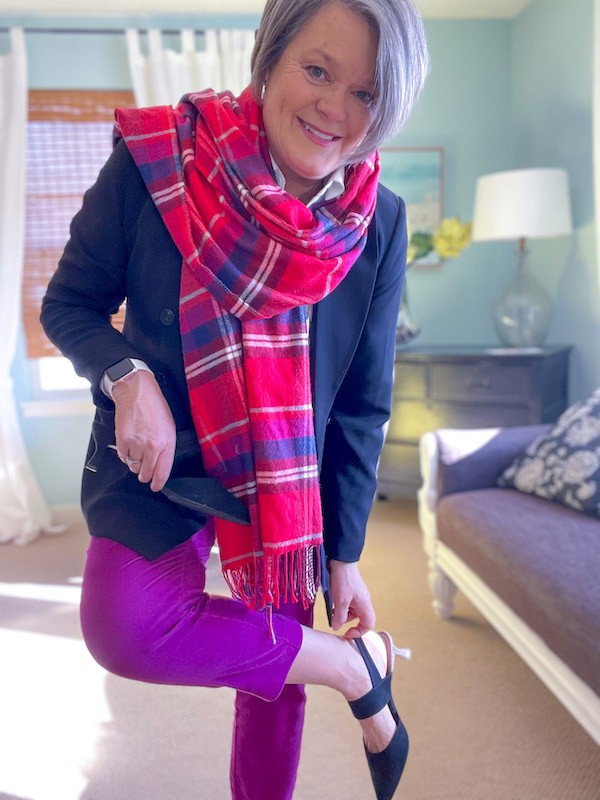 Date Night outfit idea
For a night out with friends or for a date, pair your pink velvet pants with a silky blouse topped with a swing jacket and a pair of black pumps. A swing jacket is a great option to wear over straight cropped ankle velvet pants.
The swing tweed jacket style reminds me of what Audrey Hepburn might have worn. I bought this embroidered swing jacket with beautiful jewel tones when we were in Italy about 2 years ago. It is really unique with 3/4 sleeve length and the perfect addition to my winter wardrobe. I have worn it through the holiday season with skirts or pants.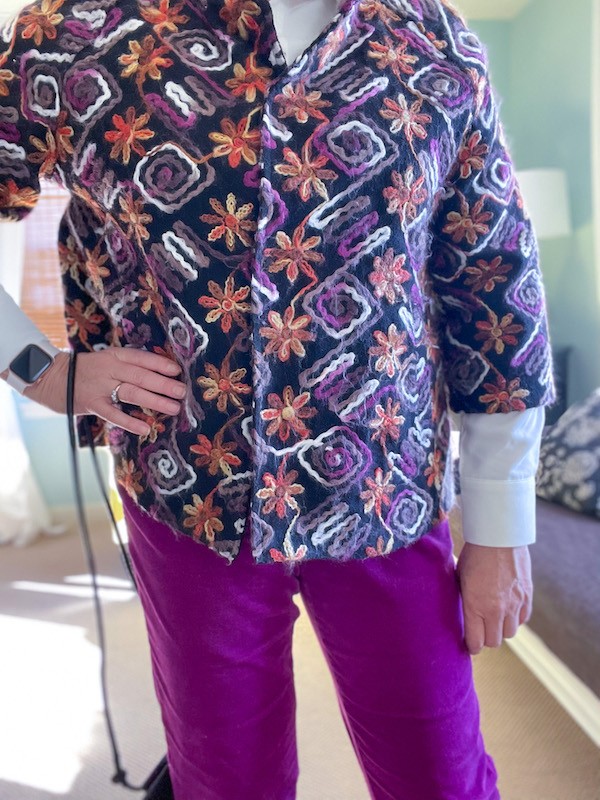 Adding a cute clutch purse would complete the look.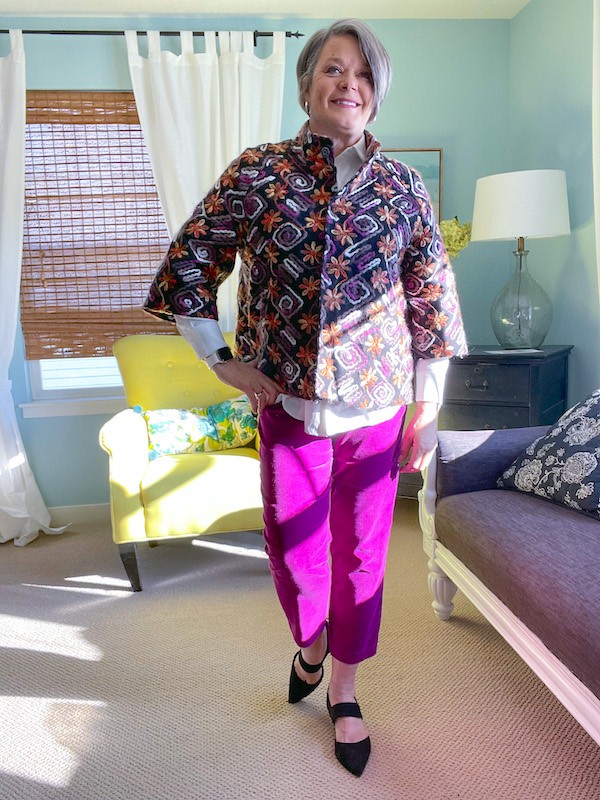 One other idea is to layer this outfit with a black pullover sweater and a soft pink scarf and switching the heels out for white combat boots.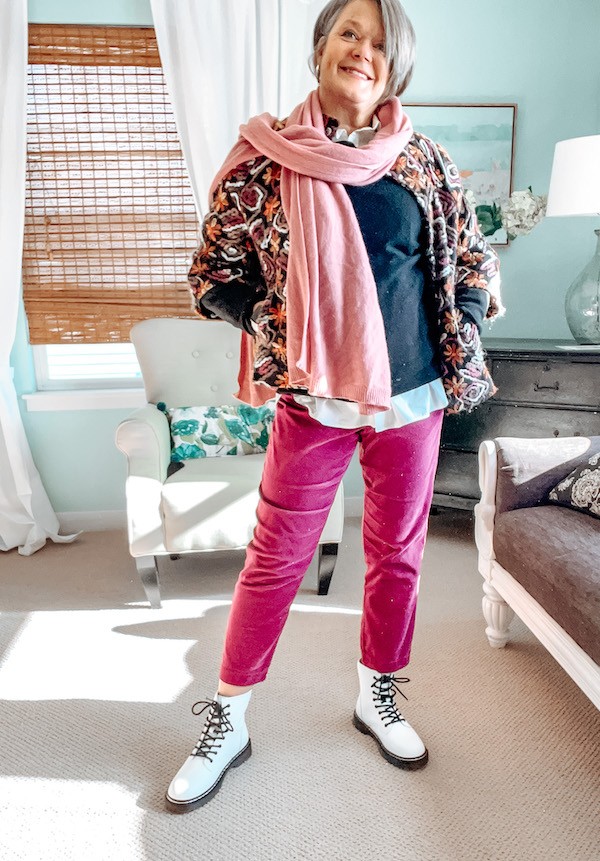 Winter Wonderland pink velvet pant outfit idea
For a cozy winter look, pair your pink velvet pants with a chunky sweater and a pair of black combat boots. The easiest way to add some boldness to the outfit is to once again add a scarf!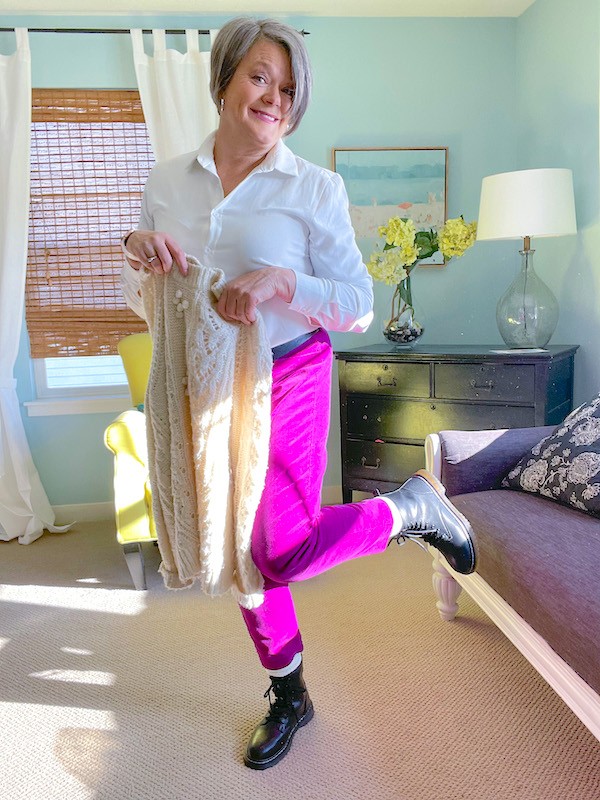 A black and white checked scarf works well with my black combat boots. It is a great layering piece and makes a stylish impact.
You could even add a beanie for extra warmth.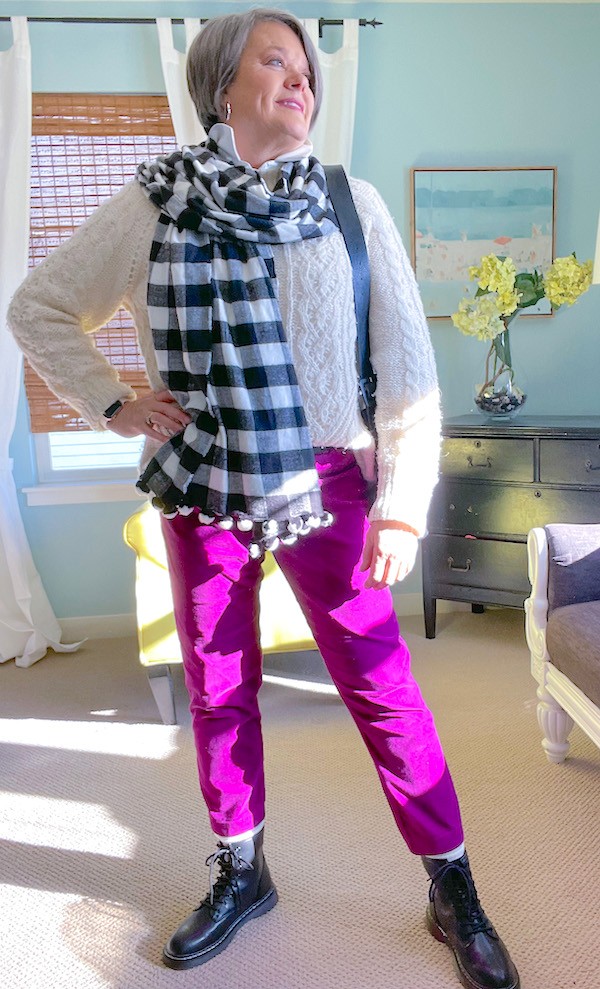 This look is perfect for a day out with friends or a casual weekend outing. Switch out the chunky sweater for a black pullover and pop on a pink coat for extra warmth and a very chic look!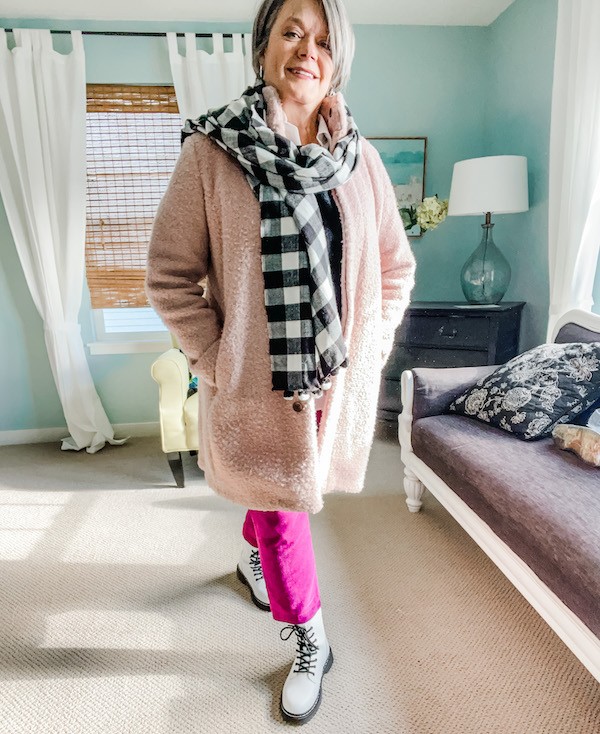 Lime Green Sweater with pink velvet pants
Hopefully you are loving all these outfit ideas! This bold combination is one of my favorites! These velvet pants are like a favorite pair of jeans because they are so versatile and fun to wear!
For this casual outfit I am wearing a lime green v-neck sweater over my white loose blouse. Such a fun combination.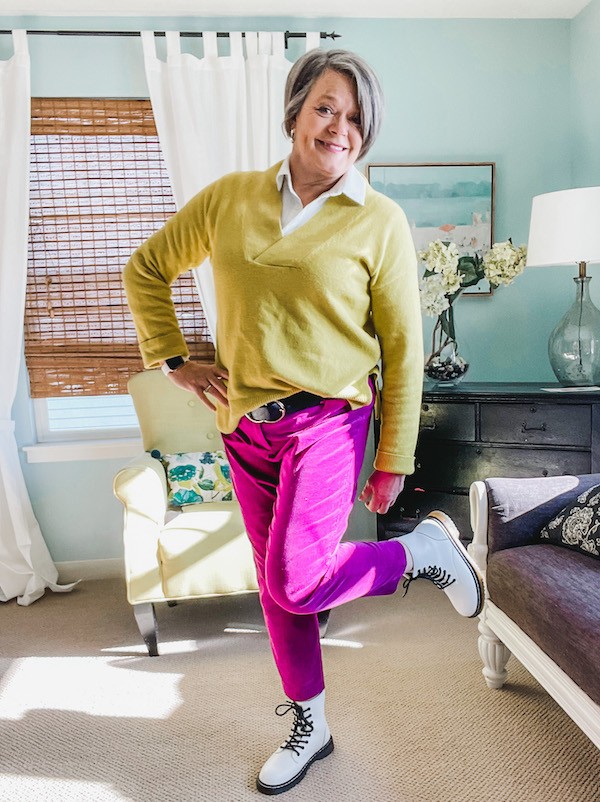 Then I added a lime green scarf and instead of wearing black combat boots I switched them out for white combat boots.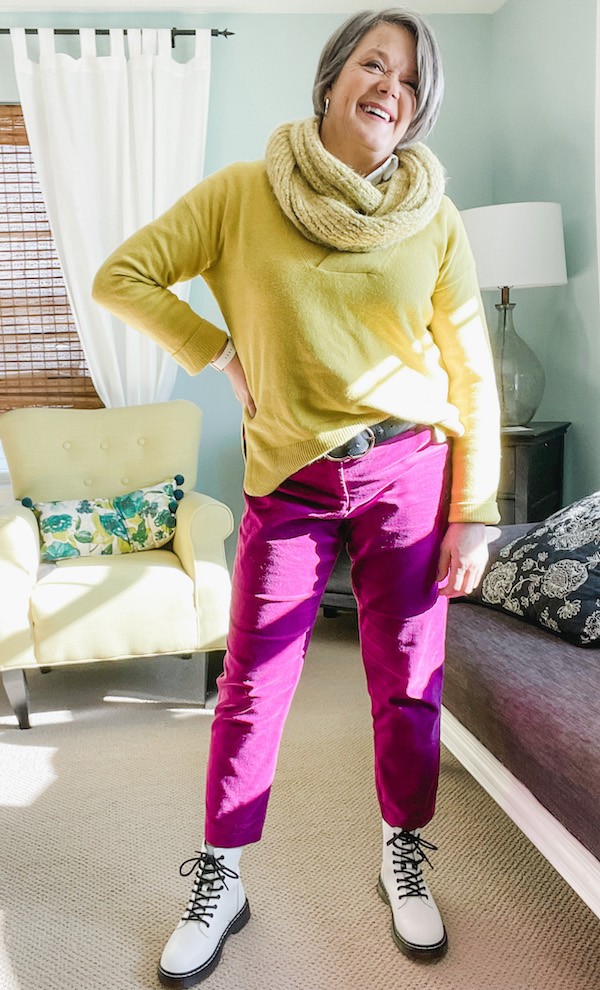 For a sleek look and a great way to stay warm this winter, I topped this outfit with a long black coat.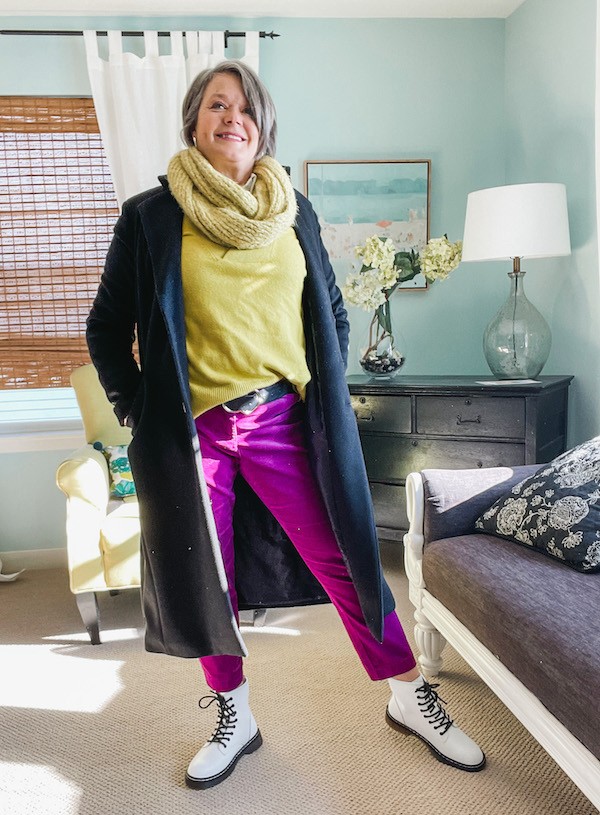 Pink on pink velvet pants outfit
For my last pink velvet pants outfit I am sharing not a formal look but a really casual look. This goes to show that this pair of velvet pants is so versatile going from office attire to date night, casual winter and now super casual.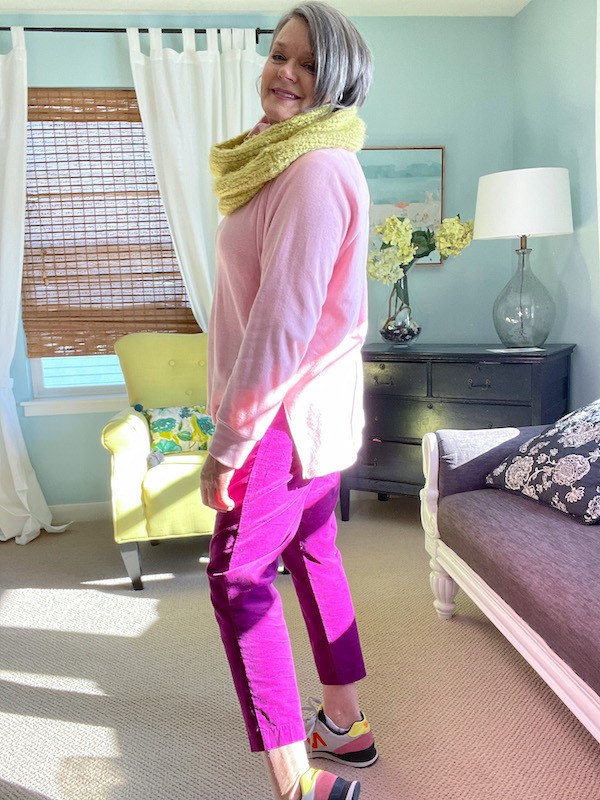 I am wearing a light pink sweatshirt over my white blouse with the lime green knitted scarf with sneakers! I am really into pink these days. Here are a couple of other pink outfits you might like. Pink tunic turtle neck outfit, Brighten your winter blues with a pink coat, Pink florals and button fly jeans.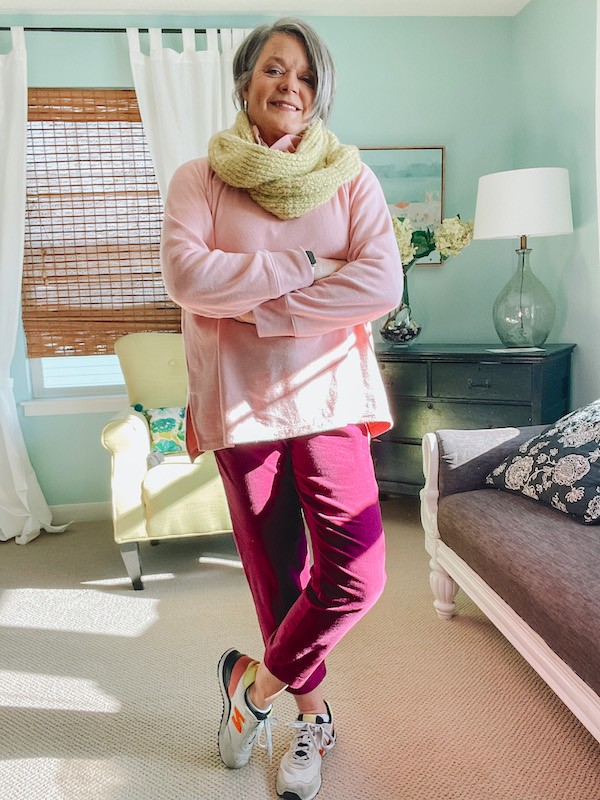 In conclusion, pink velvet pants whether they are straight pants, skinny velvet jeans or high waisted wide leg velvet pants are a versatile and stylish wardrobe staple. They can be dressed up for a holiday party with a sequin top that seems to be popular right now. Or dressed down with a t-shirt and sneakers depending on the occasion.
Whether you're looking for a casual, professional, or festive look, there is a way to style pink velvet pants to suit your needs. Experiment with different tops, shoes, and accessories to find the perfect look for you.
More Karins Kottage Fashion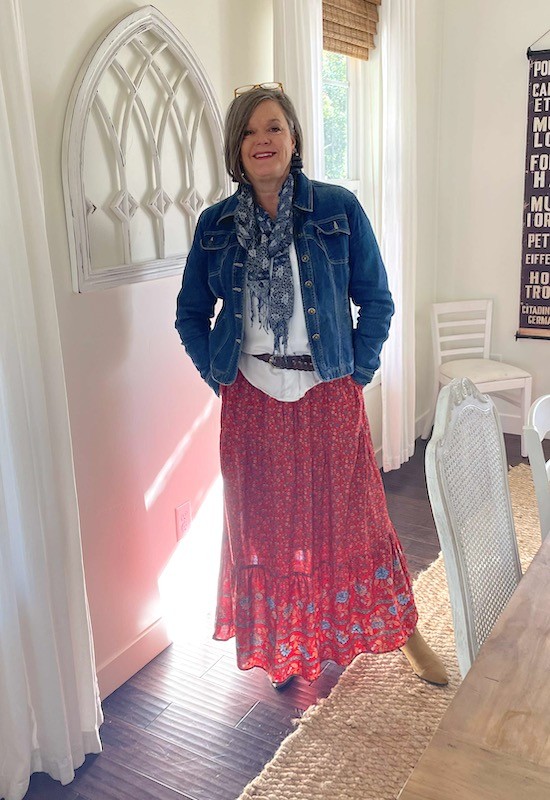 Shop Similar Fashion
These are affiliate links and I make a small commission at no extra cost to you. This helps me continue to bring you free ideas and inspiration on this blog. I really appreciate it too 🙂