Winter is here and that means it's time to get cozy and stay warm with some of the best winter clothing pieces. Women over 50 are having fun with winter fashion right now! Why not add a winter bouclé coat in pink to your closet! Bouclé is a French word for looped yarn, which gives the fabric a distinct texture and look. It's perfect for this time of year, as it is both stylish and cozy. Today I am sharing my pink winter coat casual outfit that is easy to pull together. You might be asking yourself these questions- Can you wear pink in winter? How do you style a pink coat? Is a pink coat versatile? Today I will happily answer all these questions and more!
My favorite pink winter coat is my dusty pink winter bouclé coat from Old Navy. It is not a real bouclé fabric but it looks very similar. Sadly they do not offer it any more. I have found a bunch of different women's coat options for you. Just look in my Shop Similar Fashion area at the bottom of this post. Make sure to check it out. These are affiliate links so I do make a small commission at no extra cost to you. This helps me run my blog and I appreciate it so much!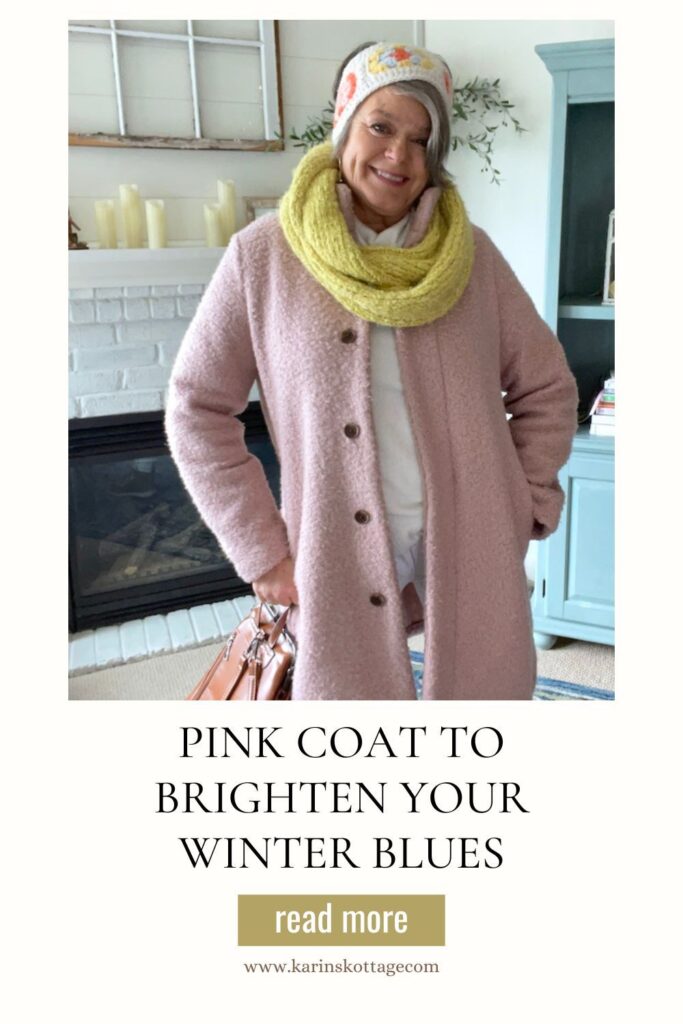 Can you wear pink in winter?
The answer is absolutely yes! Pink is such a flattering color on most everyone. I love putting together cold season outfits using my pink coat. It is not only fashionable but also incredibly warm and cozy. With a mid-length and beautiful boucle texture, it is perfect for the cold winter days.
My Old Navy pink winter coat is not lined and it makes for a light weight coat. It is perfect layered over a nice warm sweater. Whether I am heading to a meeting, running errands, or just out for a walk, this type of coat keeps me warm and stylish.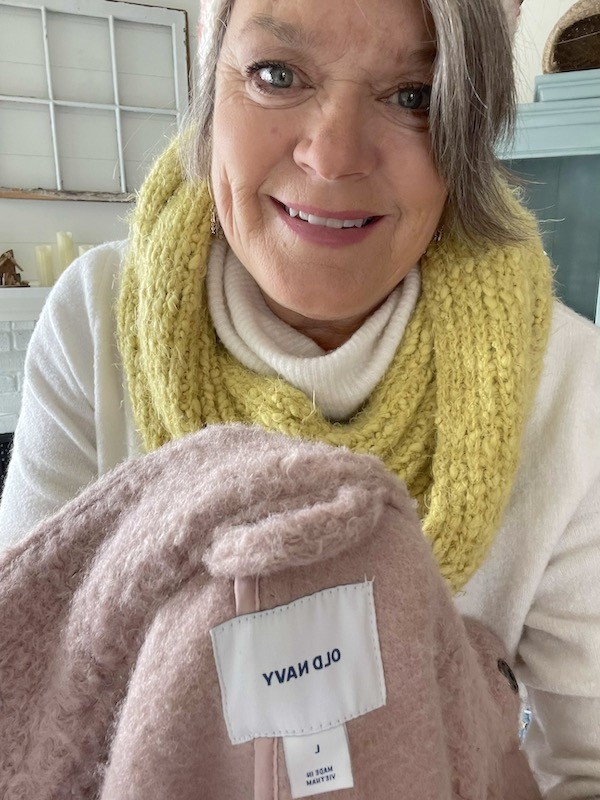 I have found wool coats are little bit on the heavy side. Which is great when it is super cold outside. My personal preference is a lighter weight coat that I can layer underneath during cold temperatures. I go in and out of stores or buildings and I seem to always take off the coat, I just get too hot. I don't want to have to lug around a heavy coat. The lighter weight coat works better for me on most days.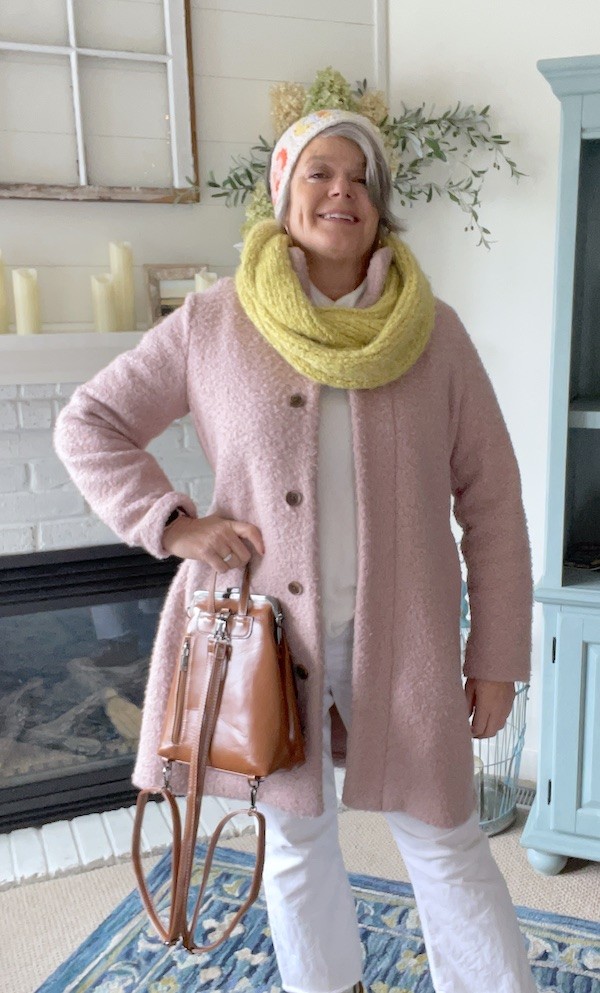 The great thing about pink winter bouclé coats is that they come in a variety of styles, from classic to modern. Whether you are looking for a long-length coat or prefer a shorter silhouette, there is a style to suit everyone. The range of colors available means you can find the perfect shade of pink to match your style.
You might remember my pink puffer jacket that I wore all the time on our walks or snow shoeing around the lake. It was great for being in the outdoors for a long time. I have a pink quilted coat, a soft pink denim jacket and a bright pink silky blouse. I like pink!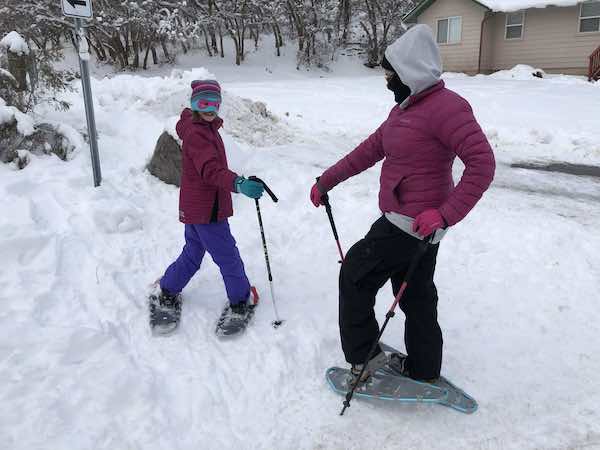 Is a pink coat versatile?
Not only is this type of coat warm and cozy, but it is also extremely versatile.
Whether you're looking to dress up or dress down, a pink winter coat is perfect for any occasion. Pair this coat with a pair of blue or black jeans and a sweater for an array of casual outfits or dress it up with a pleated skirt and silky blouse for a more formal look.
The outfit and colour combinations you can do with pink are endless!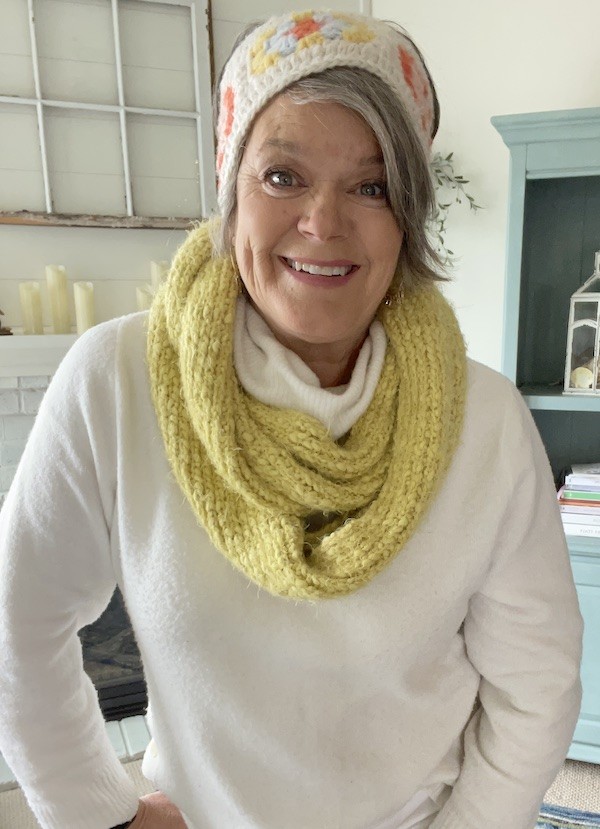 Today I went for a monochromatic look of white on white topped with the pink coat. I am wearing a white turtle neck over white cropped straight jeans.
In years past I would not even think about wearing white in winter but currently I am loving the look.
The pink coat is the perfect piece to top off this casual but fun look.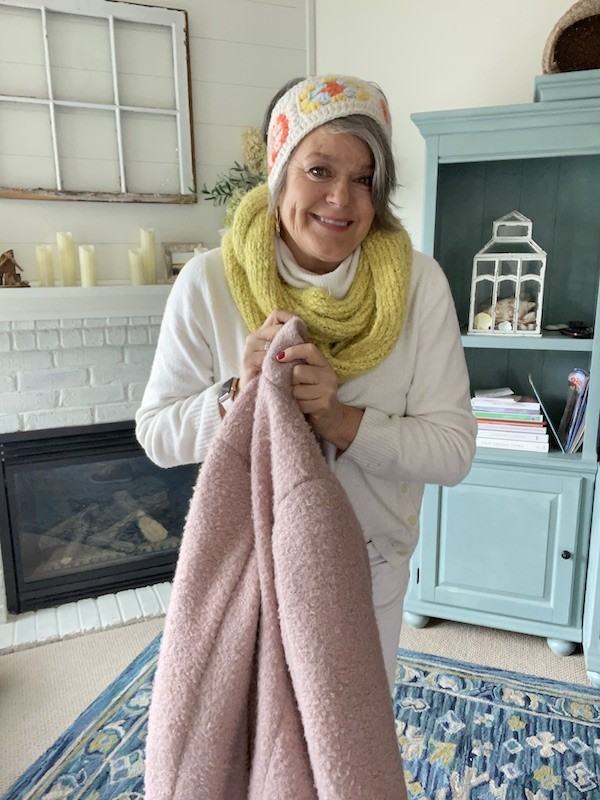 Accessories to wear with a pink winter coat
To take your look to the next level, pair a pink coat with a lime knitted green scarf! Not only will the colors complement each other, but the scarf will also keep you extra warm.
I really love the soft lime green color of the knitted scarf mixed with the light pink coat.
When it comes to accessories, the possibilities are endless. Choose a pair of stylish gloves, a winter hat or headband and a matching scarf to complete your look.
My colorful knitted headband of creams, yellow, pink and oranges that I bought last year seems to flow nicely with my outfit. It is not a perfect match but it works! Plus it keeps me super warm and it great for bad hair days!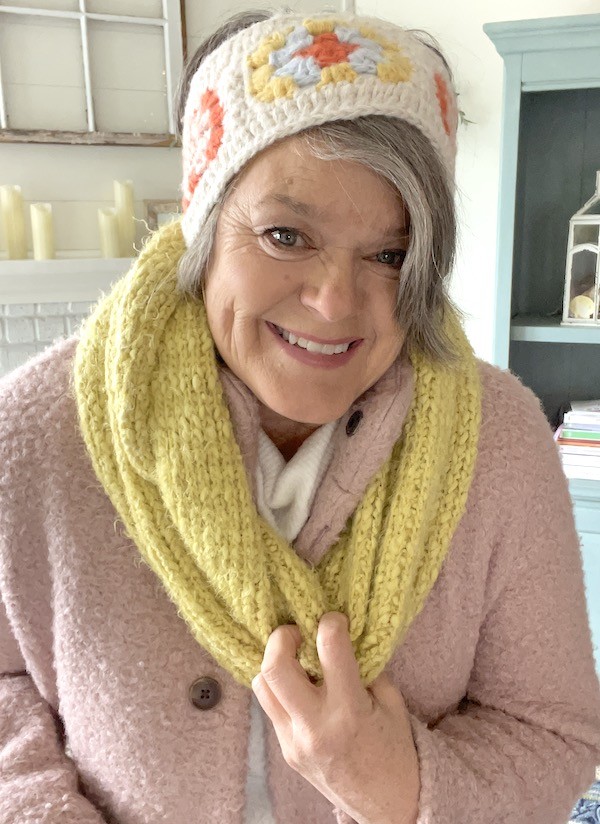 On a bright sunny day don't forget to add a pair of sunglasses, the glare from the sun shinning off the snow is sometimes blinding!
Some statement jewelry would also really make your outfit pop especially if you want a more formal look.
Boots with your coat
Simply by adding a pair of classic Ugg boots creates a perfect winter outfit. These are my go to stylish and super warm winter boots.
For other winter outfits I might wear black booties, or black flats depending on the rest of the outfit.
If I am out and about on an early morning I might wear the Ugg boots until the temperatures rise then I would change into my black flats or booties.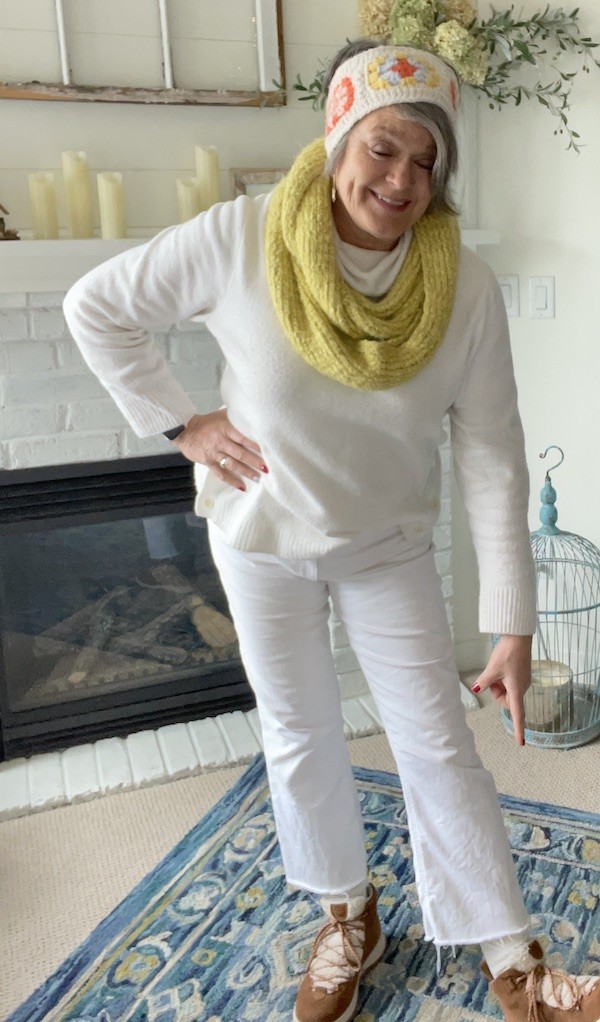 Another fun boot option to wear with a pink coat is a holiday sweater boot or maybe even a muk luk like these.
If I lived back east with all the snow that they are experiencing, I would wear these muk luks every day! Like a cozy sweater for your feet only with rubber soles and memory foam insoles.
Yes please!!
Fashion editors love pink coats
As I have been looking on the internet I have found most fashion editors are all about the pink coat this year! Moto jackets, trench coats and faux fur to fleece pink coats, the best winter coats this season are showing up in the softest and sweetest of pinks.
Women over 50 are no strangers to fashion, and this pink coat trend is really one that can be embraced by everyone, no matter their age.
Winter is the perfect time to experiment with fashion and a pink winter coat is the perfect way to do it. Not only is it warm, cozy, and versatile, but it also looks fashionable and stylish.
So, if you're looking for a way to stay warm and look good this winter season, this is the coat for you!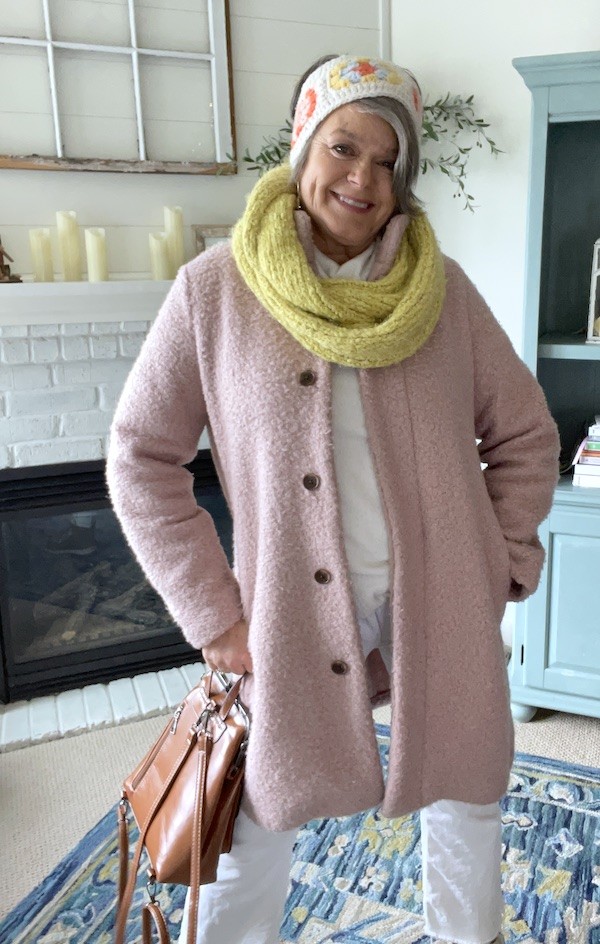 More Fashion posts
Shop Similar Styles
Thank you for your support in shopping through these links 🙂