I am so excited to share some how to style 5 women's winter coats in different colors. A warm winter coat can totally make an outfit don't you think? There are so many different types and colors of coats. Wool coats, puffer jackets, fleece jackets, quilted coats and coats made from synthetic fabrics and I love them all!
Today I will share 5 different winter coats and how I styled them for cold weather. They are different colored coats and most of them are fairly long coats. A great option is a long coat because it helps keep me warm and I feel put together even when wearing jeans.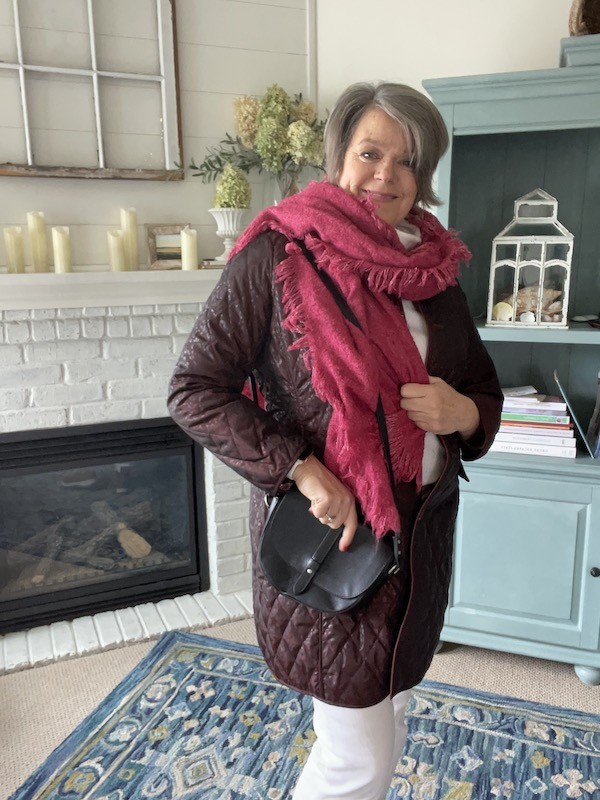 How to style Chico's quilted coat
I bought this coat about month ago on serious clearance at Chico's outlet. I bought it for rainy days while traveling in europe. The coat was such a steal at only $48 dollars! This beautiful women's coat has a waterproof exterior too! It has classic tailoring down the back of the coat that creates longer lines that help to create a waist line. Two pockets on the front and pretty buttons down the front and on the sleeves add to the pretty look of the coat.
I know trench coats are all the rage but when I tried on a couple they seemed too bulky on me. They have a lot of detailing all across the shoulder area and for a gal with broad shoulders that was too much for me.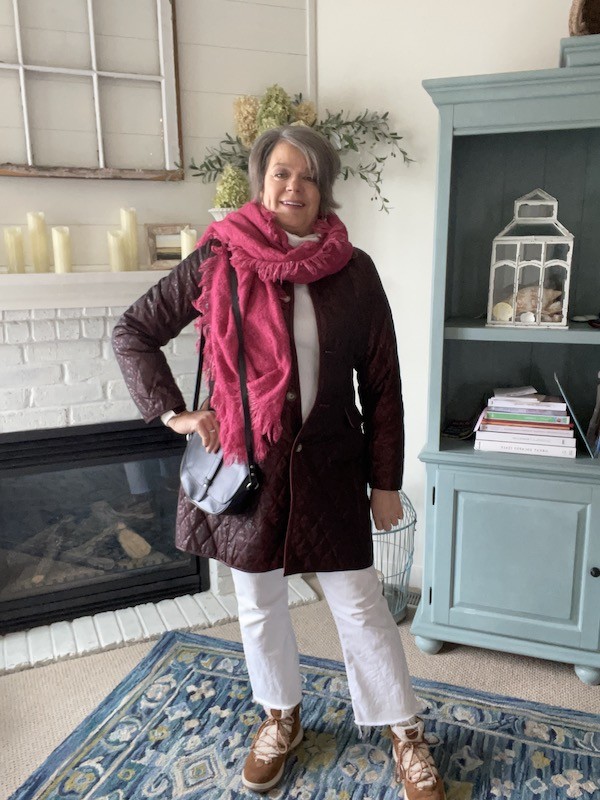 Even though it is quilted it is not a heavy coat. I really like the simple but elegant look this coat gives. Lots of details like the buttons on the sleeves, a front upper collar and a diamond shaped quilt pattern all through out.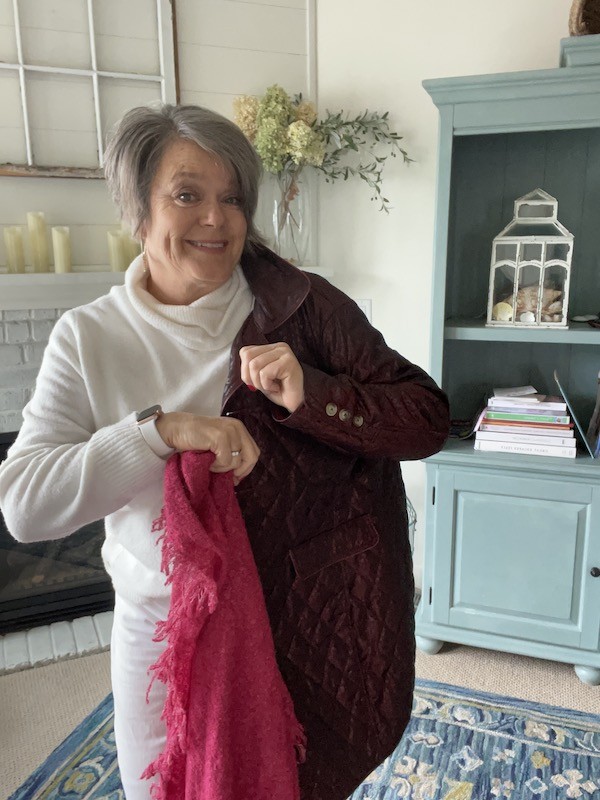 I really like the fact that I can add extra layers underneath it without it feeling bulky. It really pulls my white on white fairly causal jean and turtleneck outfit all together so nicely. This coat is perfect in wet weather and great with extra layers of warmth underneath.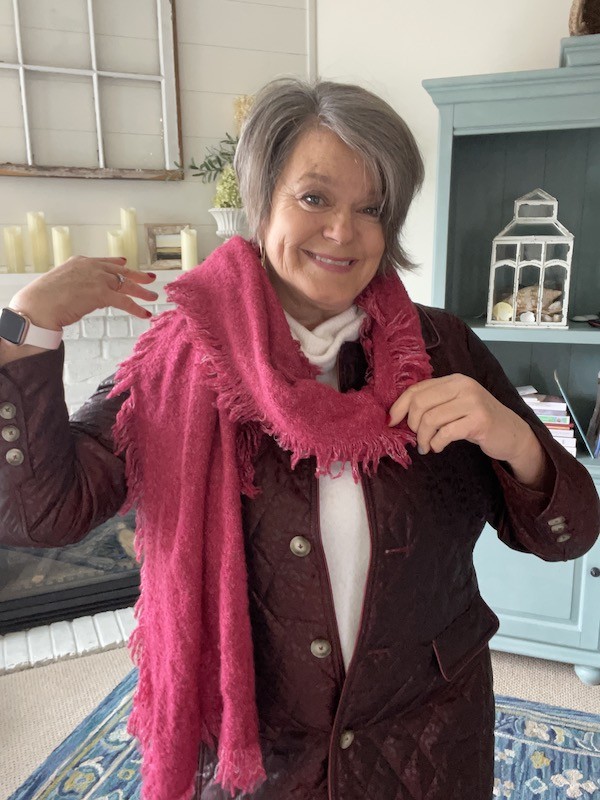 The color of the fabric is so elegant and perfect for a night on the town. Chico's has a couple of other similar coats you should check out here and here. The length of this coat looks so nice with ankle pants and boots.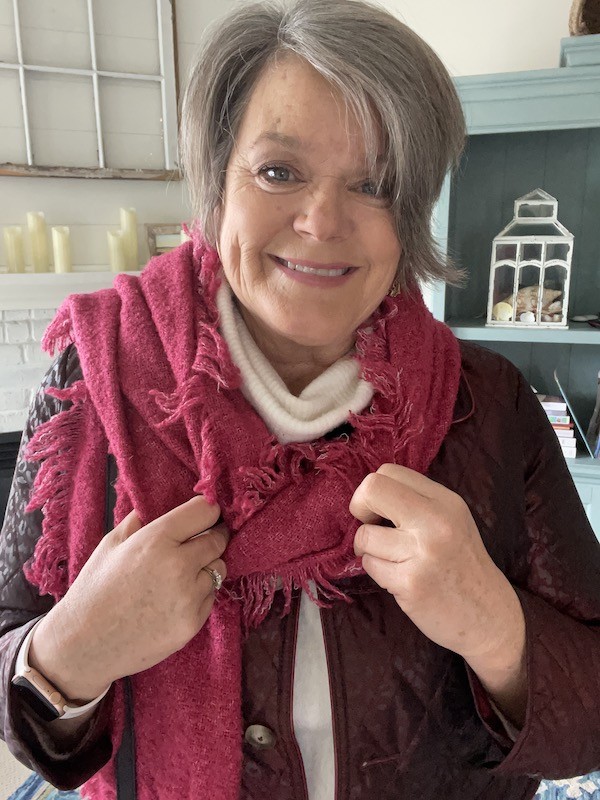 The raspberry fringed scarf looks so nice and is the perfect option to keep the cold air off my neck.
Pink coat with lime green scarf
This adorable fuzzy pink coat is another favorite of mine. It has a relaxed fit and was very reasonably priced. I bought this coat from Old Navy a few years ago. The color is so soft, pretty and feminine. The outer layer reminds me of mohair and is right on with the latest trends.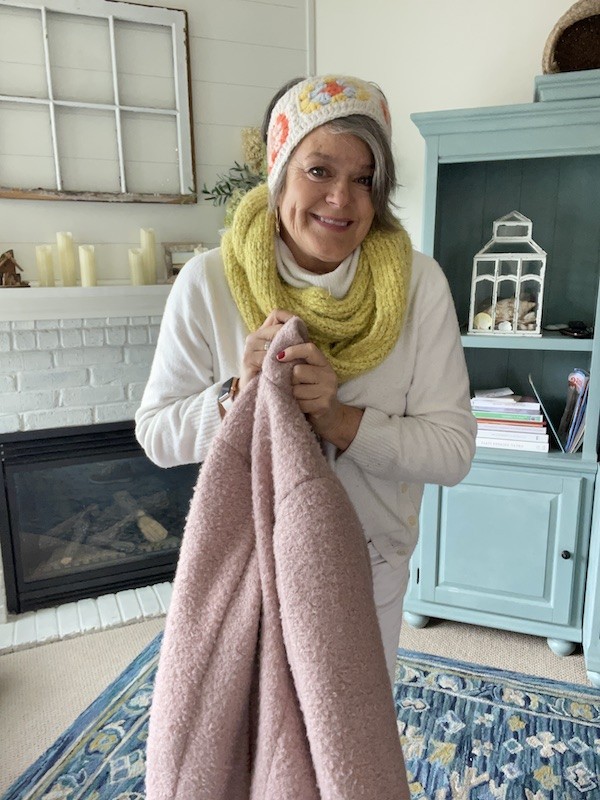 My pink fuzzy coat is lightweight and great for layering underneath without looking like the abominable snowman haha. This pink color is so flattering and really goes with everything. I could wear this coat dressed up over a dress with heels or flats. A fun casual look would be with jeans and sneakers or boots.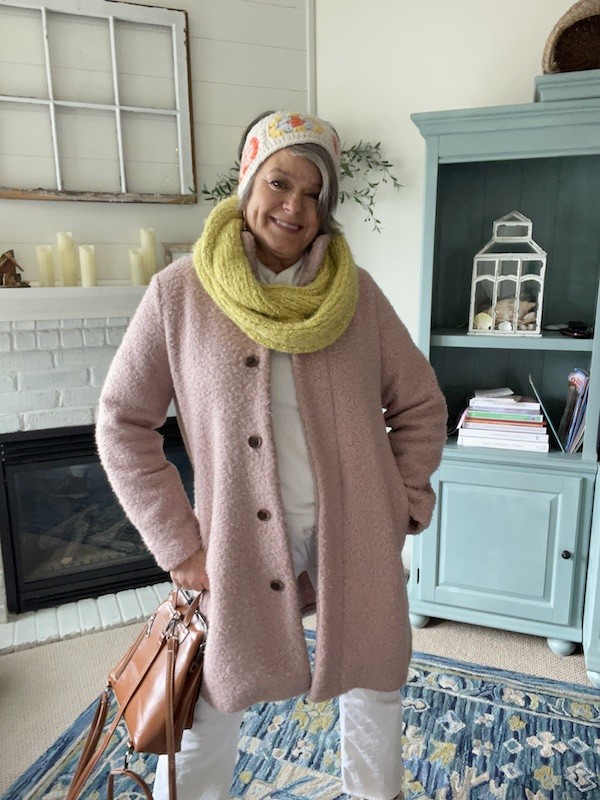 The length is great and hits me around the top of my knees. Not too long or short but just perfect especially for the winter months.
Here is a really cute bright pink coat from JCrew Factory on sale for $129.00 Coats can really make a fun fashion statement as well as keeping you warm and toasty.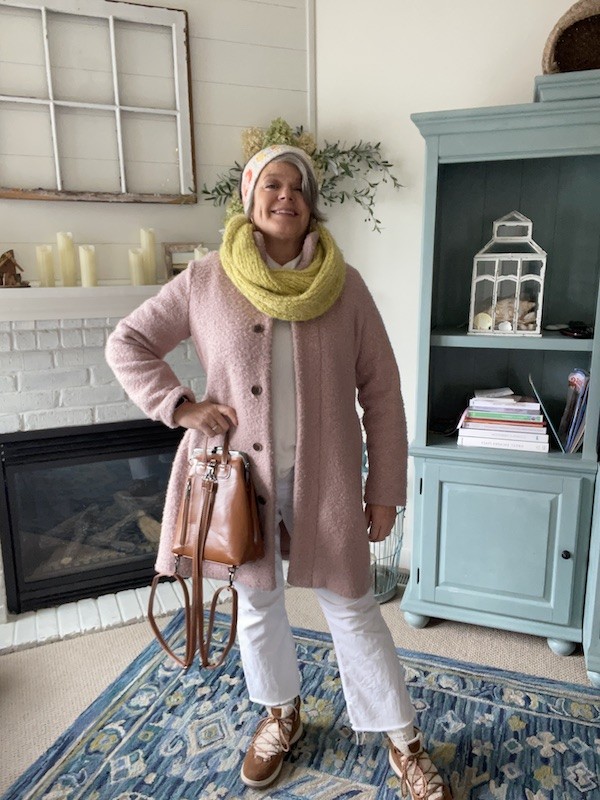 To brighten up the the pink coat I added a fun lime green scarf. Also from Old Navy a few years back. The colors seem to be on the same tone even though they are opposites of each other. I think it gives the outfit a little pop.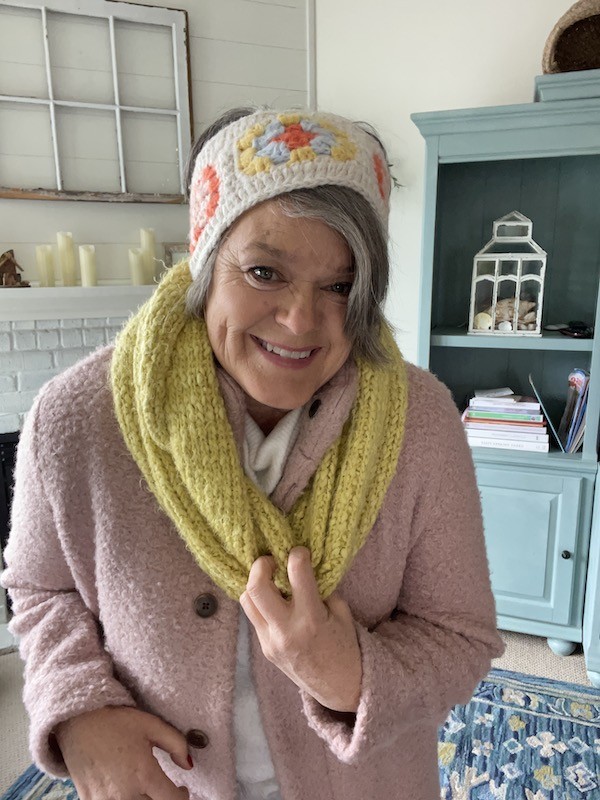 My knitted headband is so cute and fun to wear. I bought this last year at Target on a whim before heading to Paris The different yarn colors match my outfit nicely. Wearing a knitted head band is great when you are having a bad hair day!
Do you wear hand bands or scarves on your head?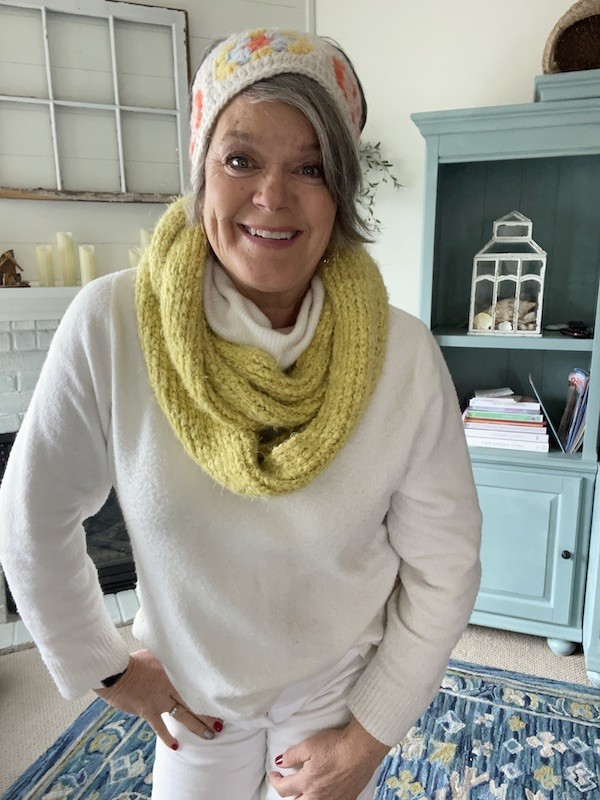 Shorter tan hooded coat
Number 3 in how to style 5 winter coats is this tan hooded coat. It is made of viscosa olietire fabric that feels kind of like a rubbery sweatshirt, if that makes sense. Very comfortable with plenty of room. This style of coat is shorter and more casual looking.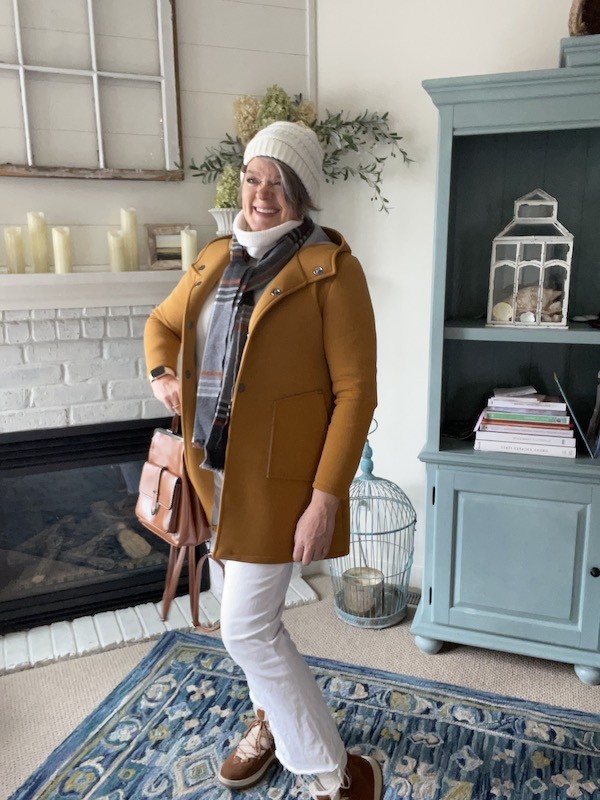 The good news is that this coat does not wrinkle and has some stretch to it so it makes for a great packable jacket. I bought this coat while in Italy a couple of years ago at a little shop in the town of Vasto.
Here is a similar looking tan coat from Old Navy at a very reasonable price of $69.00!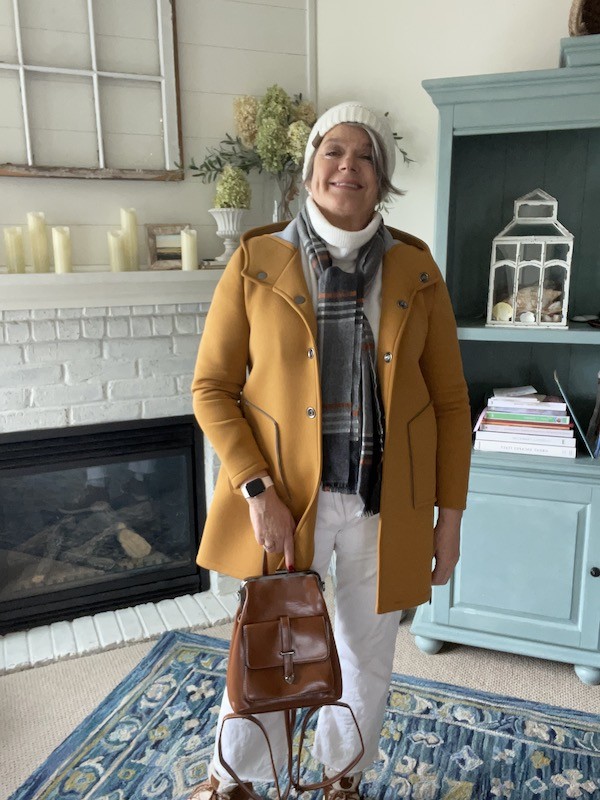 It keeps me warm and looks stylish in the shorter length. The coat is perfect for mild winters but you can layer it underneath with a warm sweater and then it works great in colder winter weather.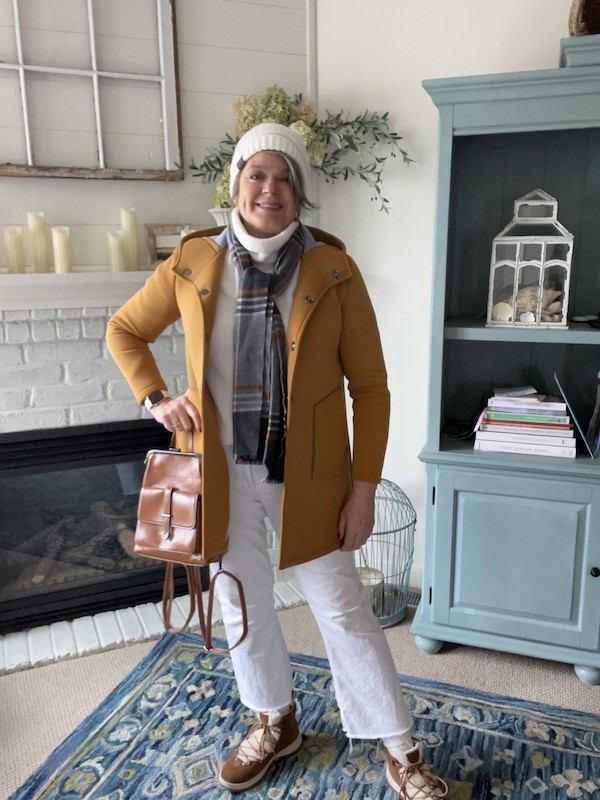 The coat has 4 large silver metal snaps down the front and two hand pockets.
To style this coat over my white on white outfit I stole my hubby's wool plaid scarf! The colors of his scarf worked perfectly with the color of the coat.
Stealing things from your hubby's closet is always a good idea.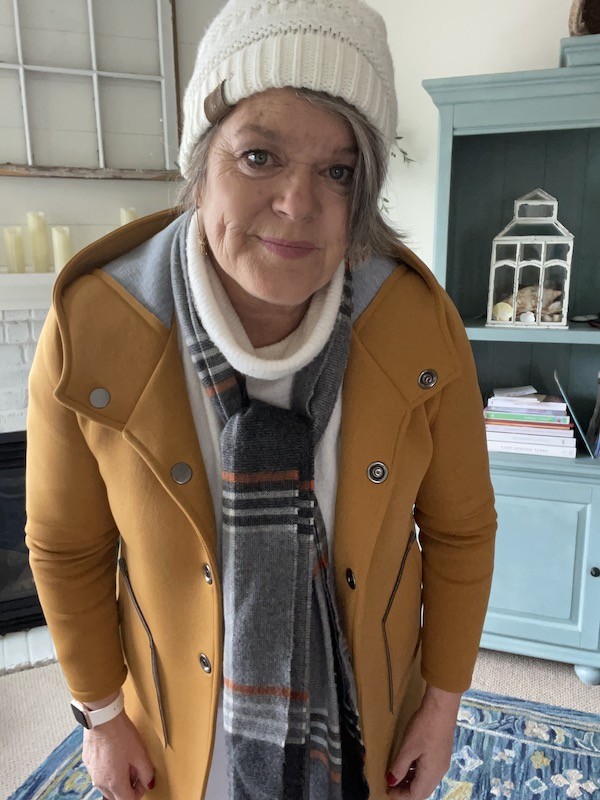 I added a creamy white knitted hat to bring in some texture and match it to my turtleneck. A cute wooly knitted hat is a must if you live in a cold climate like Utah. Plus they just look so cute don't they and they come in so many different colors and styles.
You can find them at all different price points too. Here is a super cute Faux Fur Pom Print Beret in black and white from Chico's on sale now.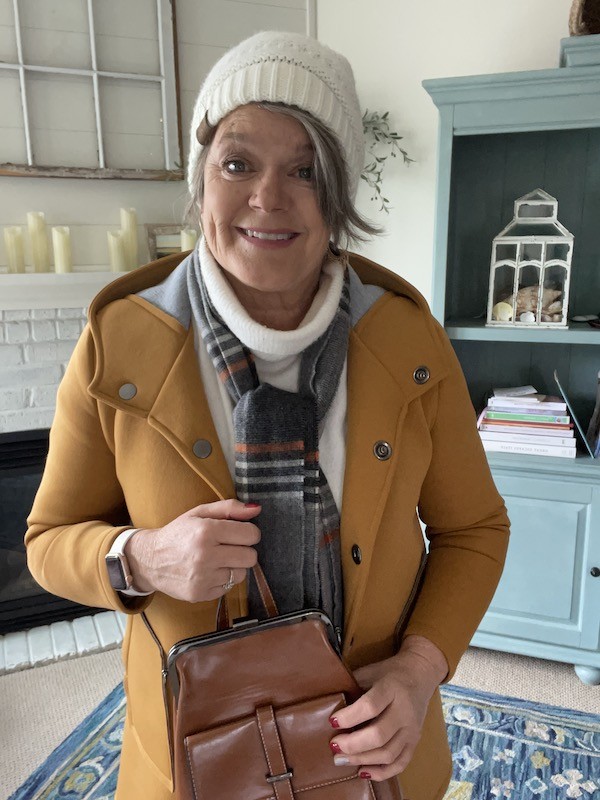 Ugg snow boots
My UGG winter boots are so comfortable and look amazing with this coat. They are suede and lined with sherpa that gives much warmth for your feet. These UGG boots also come in black.
I even do my daily walks in them around the lake with snow on the ground!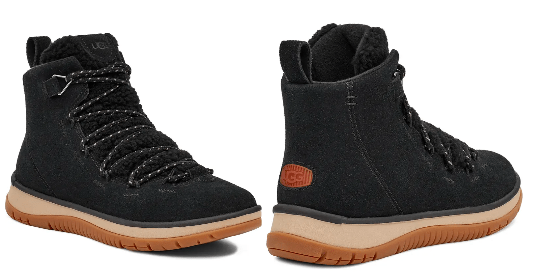 A small backpack completes the look and i am ready for Christmas shopping or touring around city streets in Italy hands free!
Bright blue winter coat
This is one of my best winter coats! I love the bright blue color and it makes me feel so happy during the long winter months.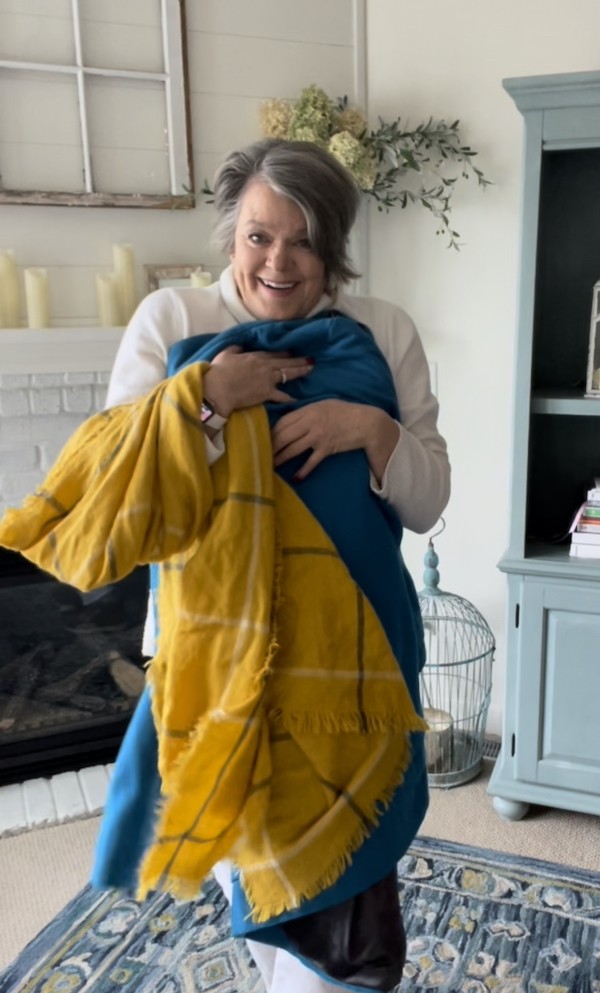 One of the best ways to wear this coat is with a bright yellow plaid scarf! Bright colors on a cold winter day is always an excellent choice for me.
I just love how it looks over my winter white jeans and turtleneck.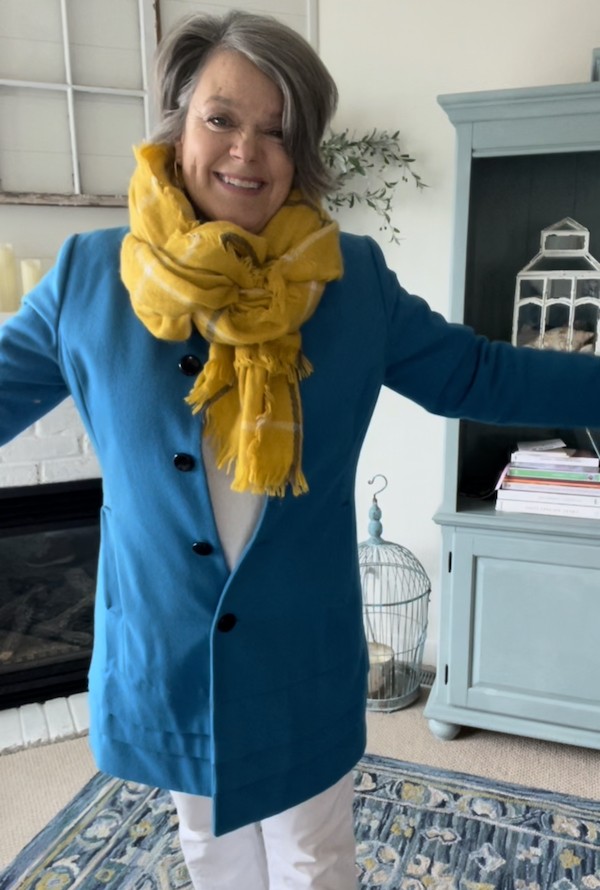 The longer length is perfect for cold climates and makes it one of my warmest winter coats.
Even though it is not water resistant I can use some water proofing spray over it.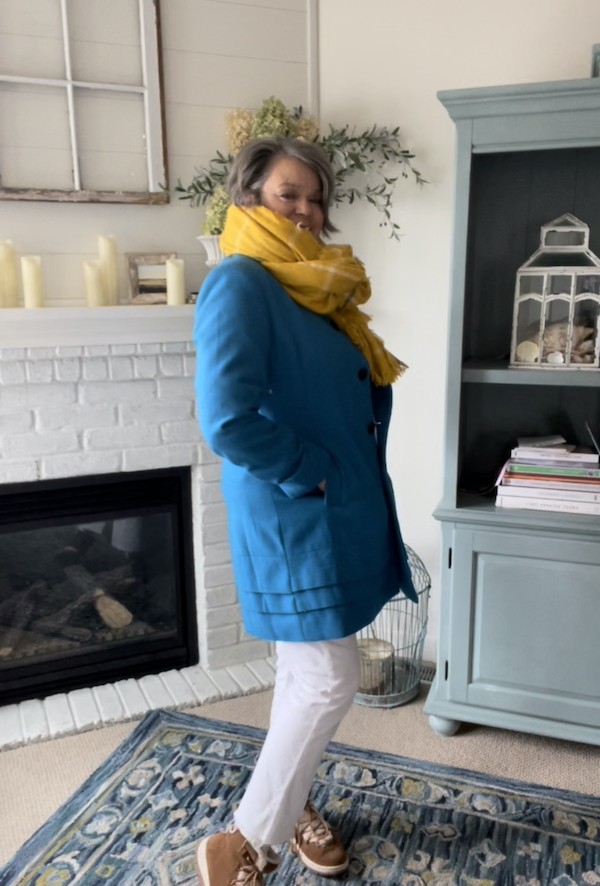 I love the detailing of this Old Navy coat at the bottom of it that makes it feel more high end. It looks like an expensive tailored wool coat even though it is polyester. Even thought it looks a little higher quality I can still get everyday use out of it. I found a similar long blue coat that you might like here.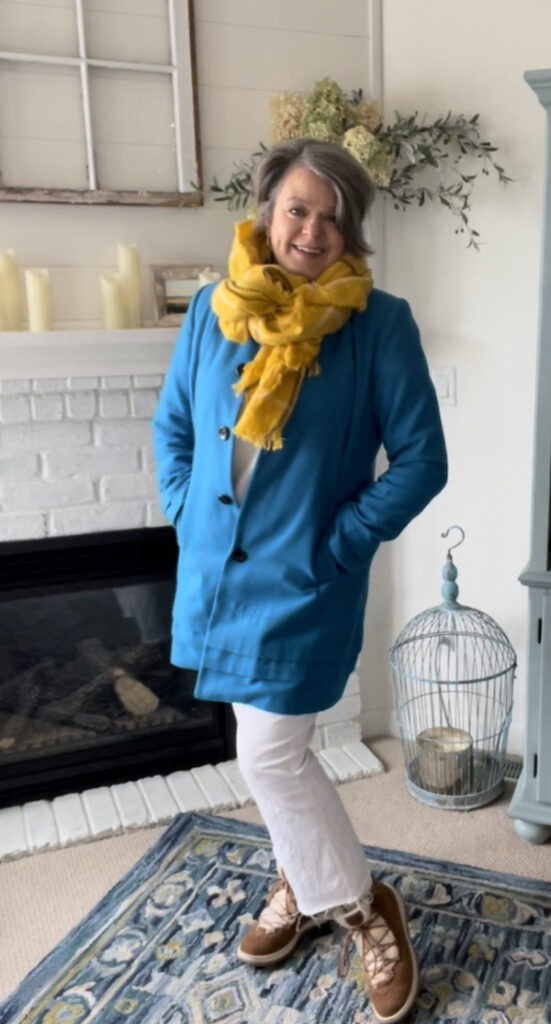 Long black wool coat
Of course what is a winter wardrobe without a classic long black wool coat? This is a staple in any winter closet. It is perfect in all kinds of cold weather. Even when it is snowing or windy and bitter cold outside it will always keep you warm in cold temperatures.
When we travel all around Europe I see most women in long black coats even when the weather is not super cold. It is just a stylish way to pull your outfit together.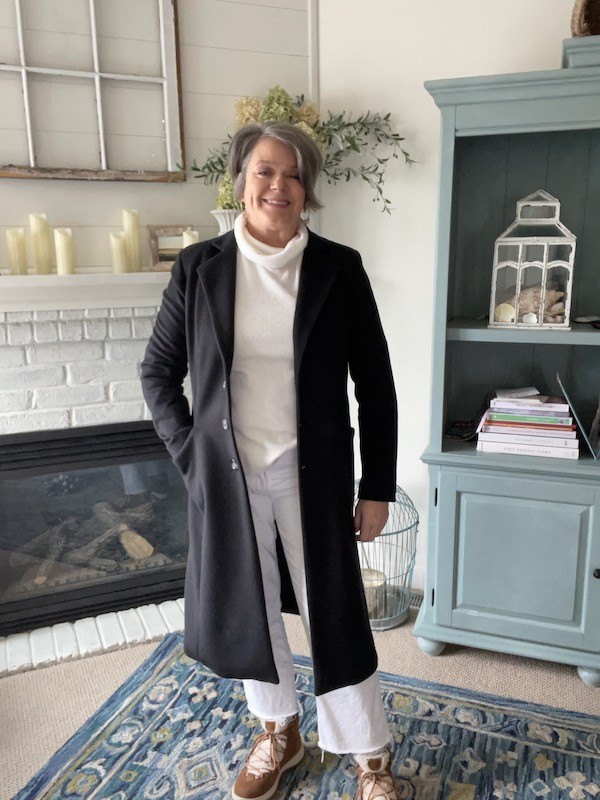 I am sure you have seen this type of coat with black leggings, sneakers and a tan turtleneck? Today I am showing it with white jeans, a white turtleneck and my UGG snow boots. I feel put together and cute. Even when I take the coat off I still have my black and white checked scarf to bring in some contrast.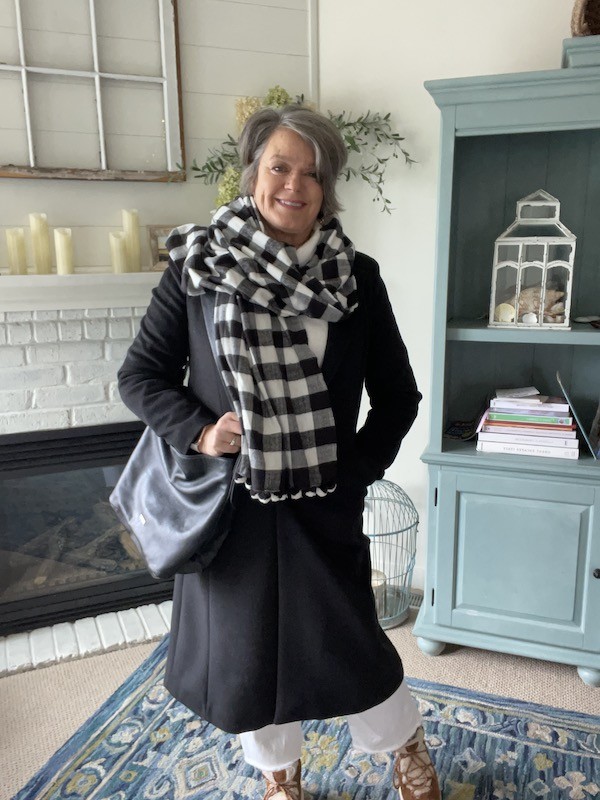 My black and white plaid fleece scarf with pom poms is such a cute way to brighten up an all black coat. I really could even use any one of the scarves that I have shown with all 5 ways I have styled these winter coats.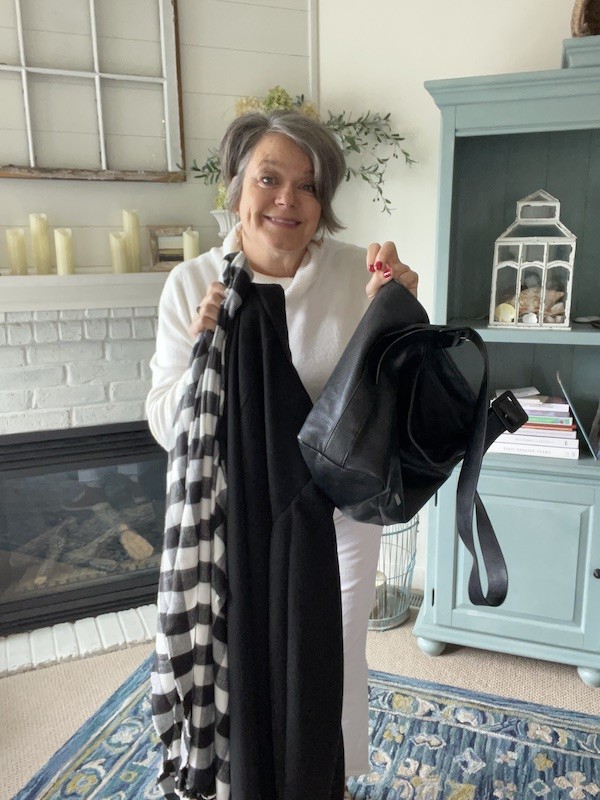 The black leather purse is from Aldo and adds a nice finished look to the outfit.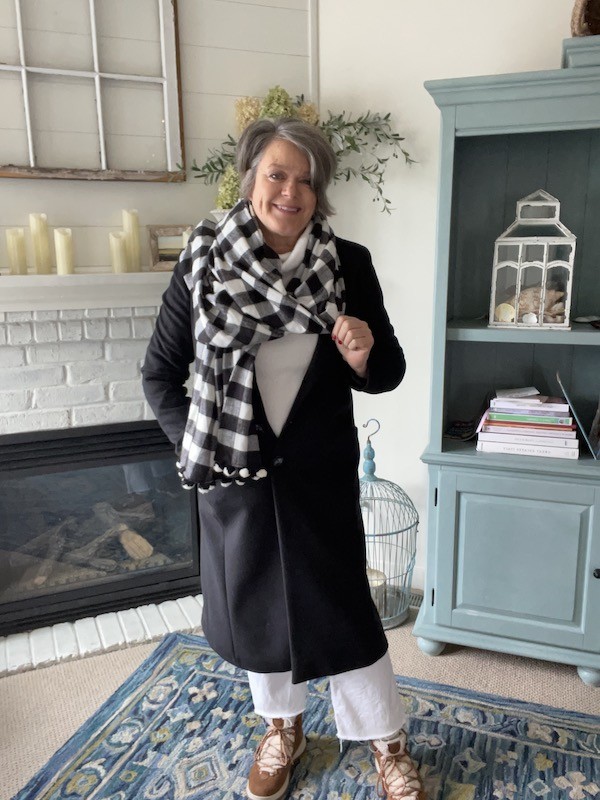 I hope my how to style 5 winter coats. post helps you decide on different winter coats to try this year 🙂 Leave me a comment and tell me which ones are your favorites. I hope my how to style 5 winter coats post helps you decide on different winter coats to try this year 🙂
Leave me a comment and tell me which ones are your favorites.
Shop Similar Coats