For Christmas this year I wanted to try a few new recipes. Especially some vegan recipes. My oldest daughter and her family are vegan. It has been tricky finding recipes that all of the family will love. I found this vegan white bean toast appetizer recipe from The clever meal. I made just a few changes and everyone gobbled them up! One of the changes I made is using fresh herbs. I love using them as much as possible in my recipes.
The great thing about this easy recipe is that everything is available at your local grocery store. Perfect for a cold winter day using plain simple ingredients mostly from your pantry staples. Plus you don't need any special equipment like a food processor to make this delicious appetizer. Easy simple quick and perfect for a plant-based diet. I myself am not vegan but I am finding that I am liking more and more vegan recipes.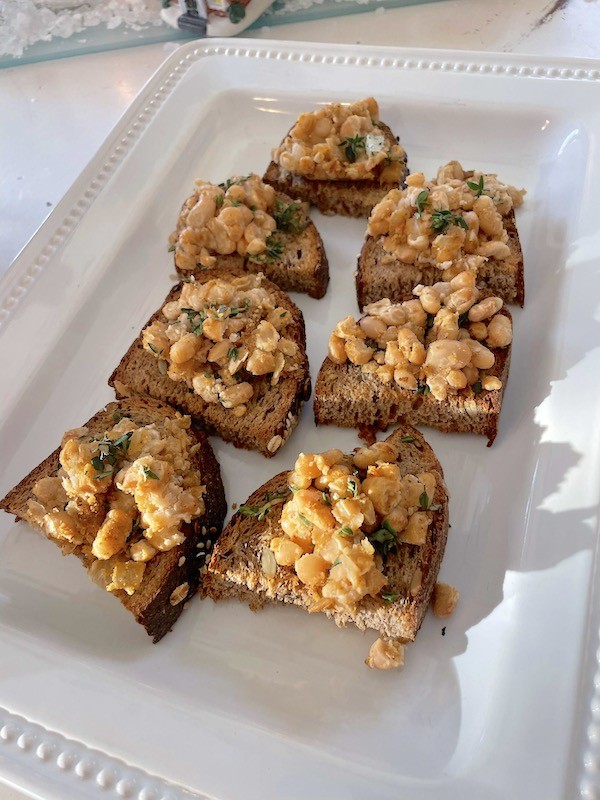 Ingredients: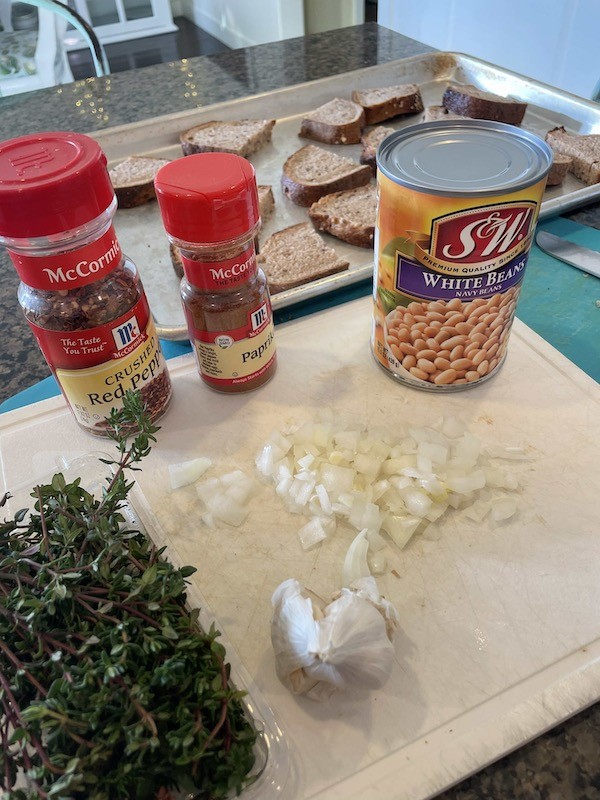 1 can of Cannellini white beans or navy beans drained and rinsed
2 Tbsp extra virgin olive oil
2 Tbsp onion chopped
2 cloves minced fresh garlic
1 tsp chopped fresh thyme
1/2 tsp dried paprika
Balsamic vinegar glaze (optional)
Pinch of red pepper flakes (optional)
kosher Salt and black pepper to taste
6 slices whole grain bread cut in half
Instructions:
This appetizer could really be called white bean bruschetta or white bean crostini if you want to be fancy. Who knew white bean toasts could be so amazing! It is so easy to make and really delicious and really filling. In fact you could make this for a light lunch by using a whole piece of toast combined with a fresh green salad. YUM! You could make this on a moments notice when friends come to visit. Just keep a can of beans in the panty and bread in the freezer and voila instant fancy appetizers. This recipe kind of reminds of making avocado toast because the beans become a creamy texture when you cook and mash part of them.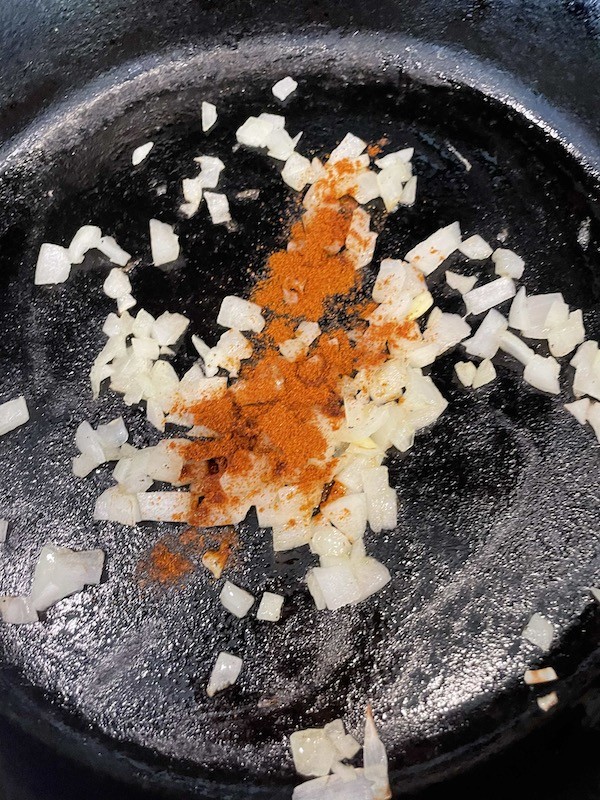 Everyone in our family loves beans so this was a great way to please vegan and non vegan family members alike. The bean mixture gets pretty thick so at the last minute I added a drizzle of balsamic glaze over the top of each piece of toast at the end.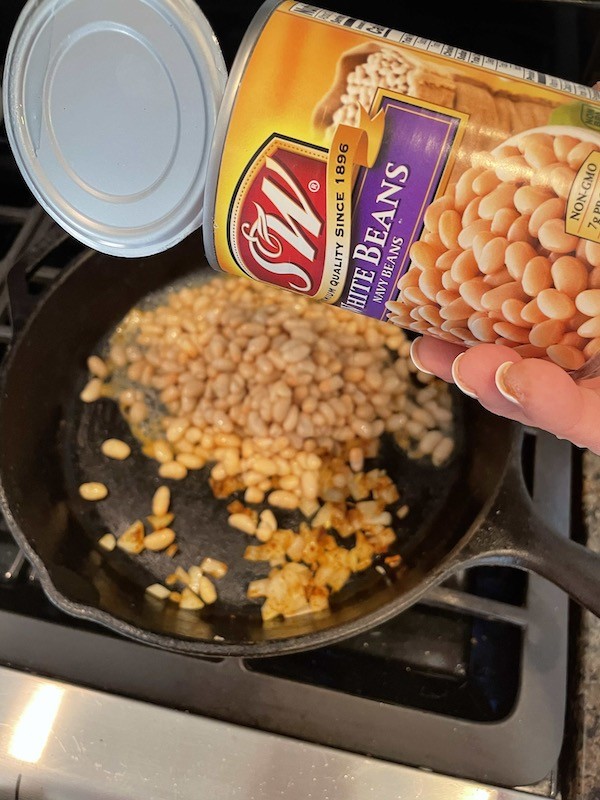 Preheat oven to 400F (175C).
In a small frying pan heat olive oil on medium heat, add onions and paprika. Sautè the onions just until they are translucent about 3 minutes.
Add beans and fresh thyme to the frying pan and sautè. Cook until heated through. Mash half the mixture together with a fork until it forms a thick paste. Leaving the other half of the beans whole. Set aside.
Cut bread slices in half and drizzle olive oil over each piece. Toast in the oven about 4-5 minute.
Slice garlic cloves in half and rub across each slice of toast.
Spread the white bean mixture onto the slices of little toasts. Sprinkle a few red pepper flakes if desired on each slice.
Drizzle balsamic glaze over the top of each white bean toast if desired
Sprinkle with chopped fresh thyme
Serve warm or at room temperature Enjoy!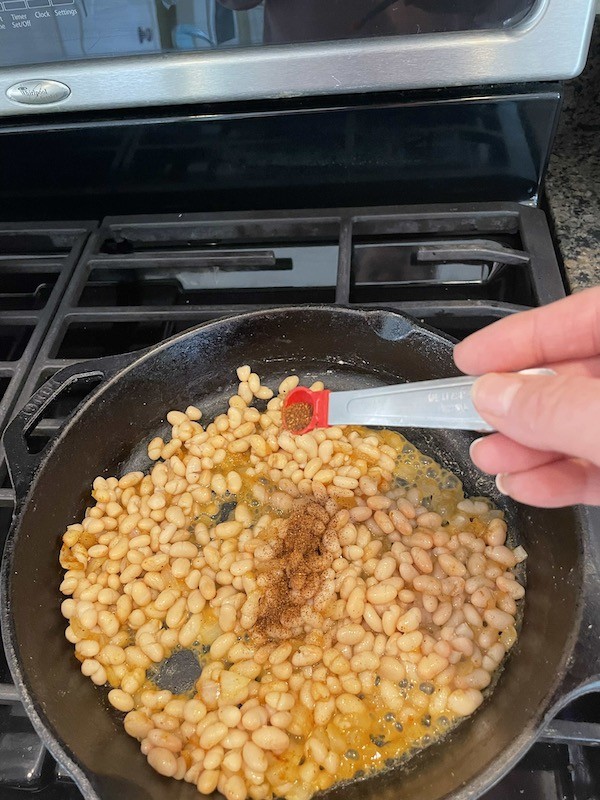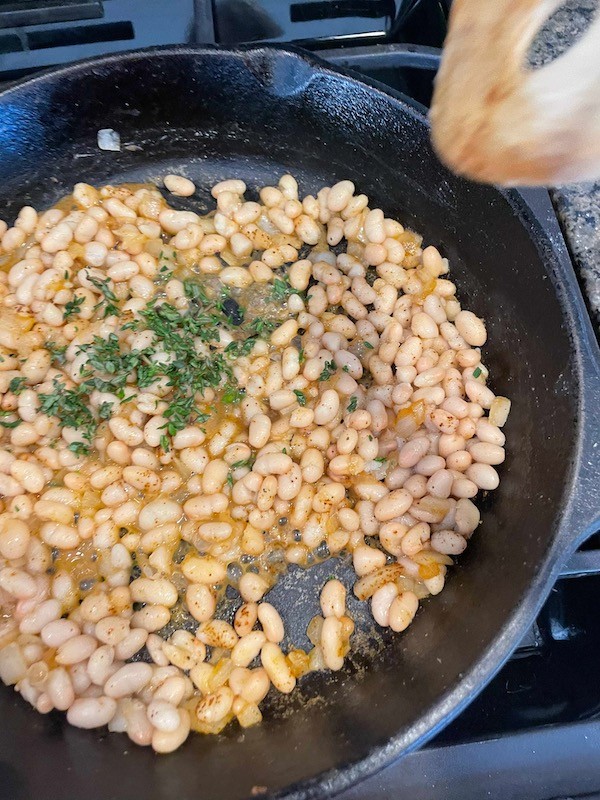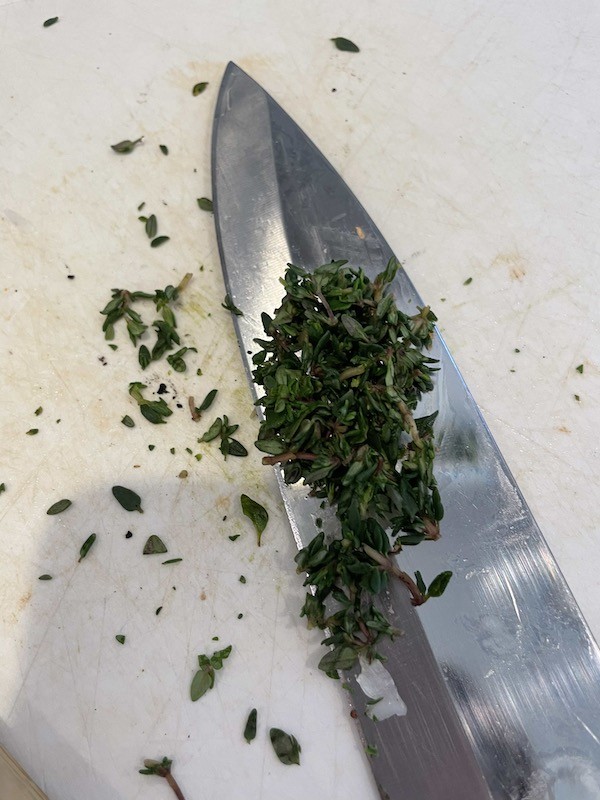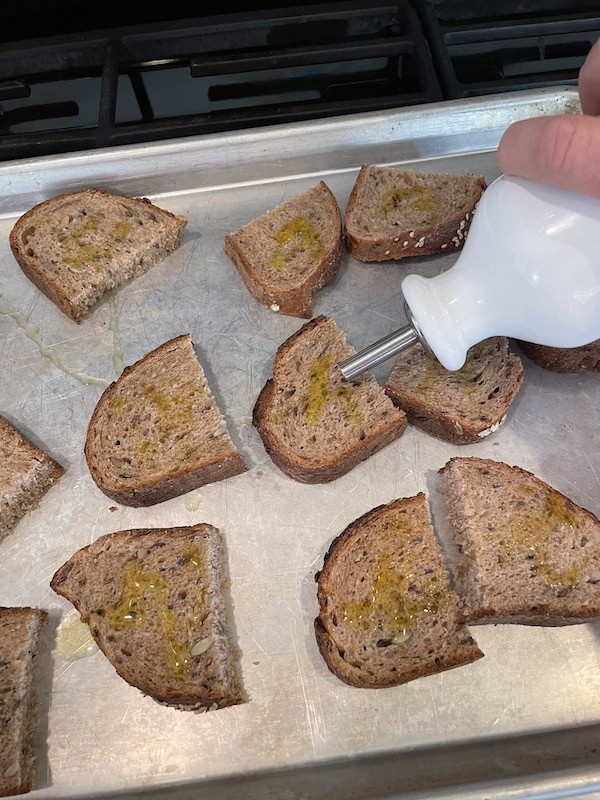 Serving
I served my vegan white bean toast appetizer on a white platter. White always makes the food pop off the plate! I saved some of the fresh chopped thyme and sprinkled that over each slice to make for a pretty presentation and such a great appetizer for vegan and non vegans to sink their teeth into.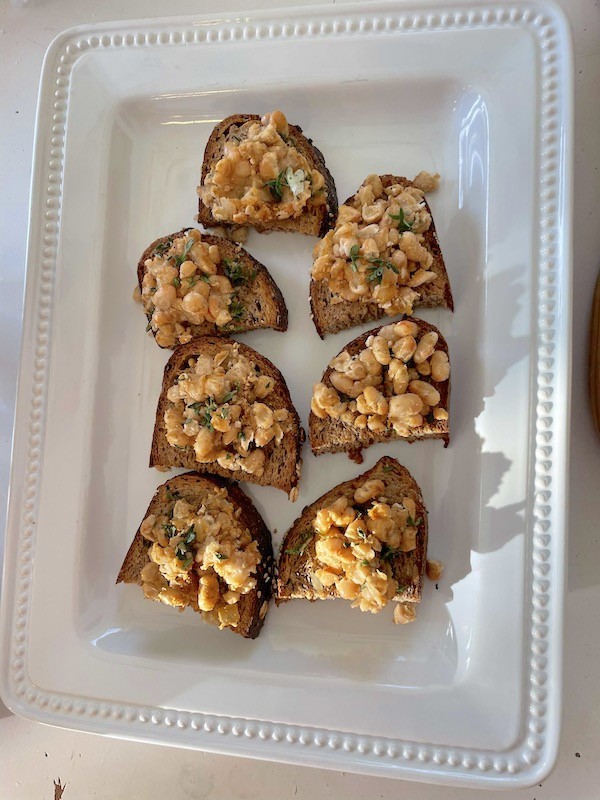 Another option for serving this bean mixture is to call it a vegan bean dip or rather white bean hummus and serve it with raw veggies or pita chips. Personally I really liked the toasted crusty bread the best. The mixture of creamy beans served over the toast because the bread added a nice nutty flavor. I hope you will try this perfect appetizer white bean vegan bruschetta recipe and let me know how you like it. Be sure to pop over to The clever meal for loads of vegan recipes.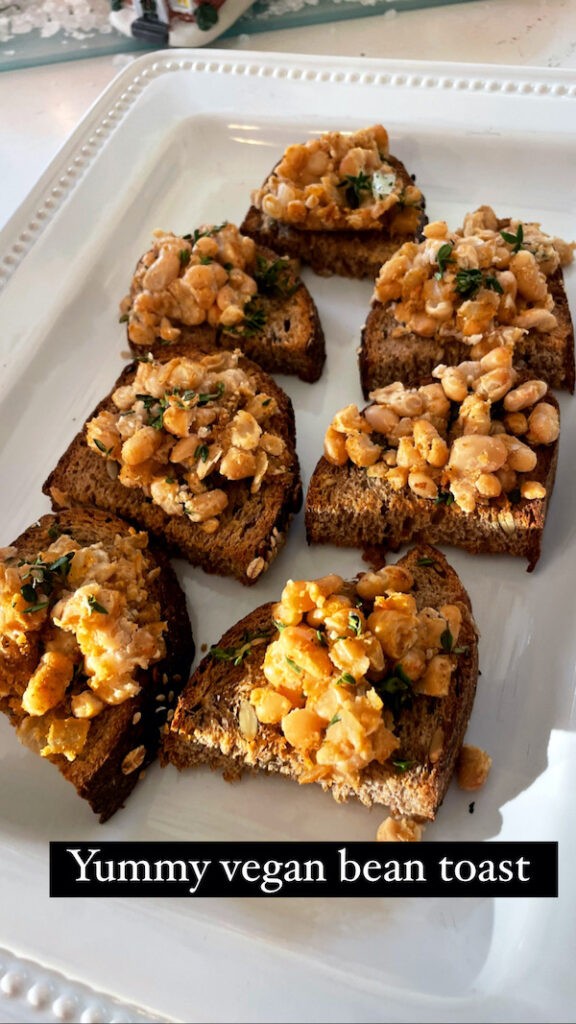 Pin for Later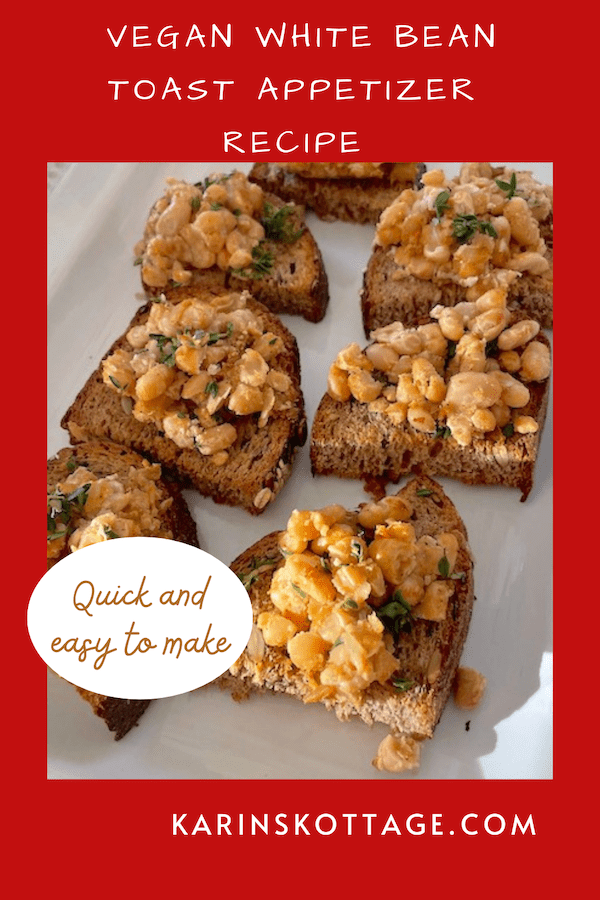 More recipes
Here are a few other bruschetta recipes and other vegetable dishes you might like.
Tomato bruschetta that is easy to make
Shop
These affiliate links allow me to make a small commission at no extra cost to you. This allows me to keep my blog going and I really appreciate it so much!