Affiliate links in this post allow me to make a small commission at no extra cost to you but helps me to keep this blog going.
My sister just moved into a brand new house and needed some curtains for her dining room and living room ASAP! DIY drop cloth curtains to the rescue! When you move into a new house with no curtains it's like living in a fish bowl! Everyone can see right into every room in your house. There was no time to get out the sewing machine and sew up some curtains. Tiffany went over to Walmart and bought up a bunch of canvas drop cloths in different sizes to make some quick fast fold over DIY drop cloth curtains. We love using painter's drop cloth for projects. You may remember my mom used drop cloths to make these fabulous napkins for me.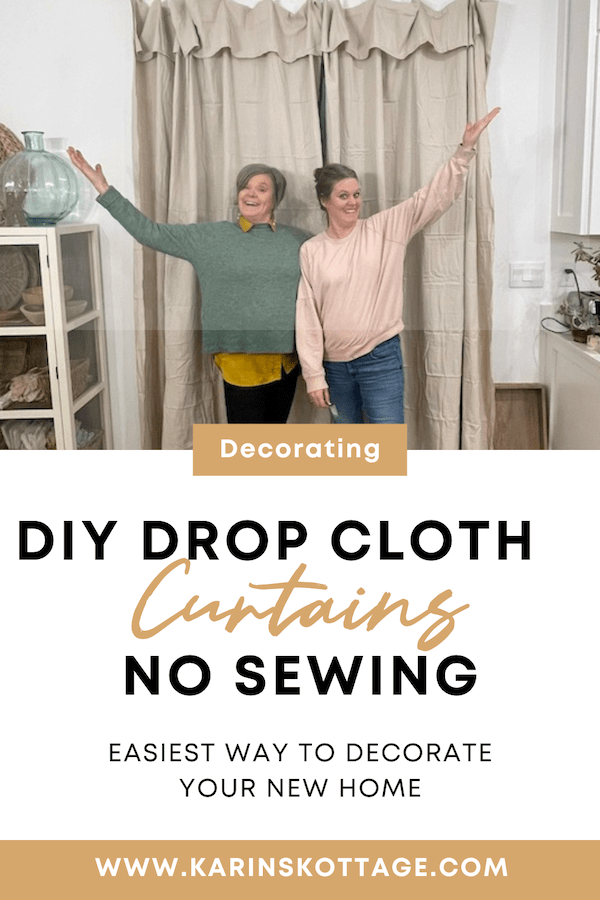 I gotta say these window treatments look stunning even with lots of wrinkles in them. The natural look of the drop cloth works so well against her white wall color. Her home has lots of large windows and these are the perfect curtains to use.
Begin with a curtain rod
Tiffany wanted to use gold curtain rods in both the dining and living rooms. Her house is an open concept house with views into the kitchen, dining and living room all at once. Her kitchen has gold cabinet handles and drawer pulls as well as gold light fixtures that dictated the color of the curtain rod. Tiffany found the perfect ones online here. Simple and yet elegant.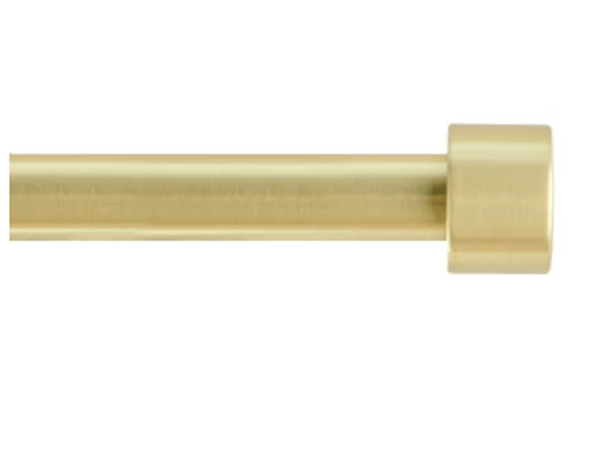 Our husbands and my sisters son were wonderful at installing the curtains rods for us! The hardest step of the whole process is deciding where to hang the rods.
How high do you hang a curtain rod? How far out from the window do you install the bracket? Will the weight of the canvas drop cloth curtain panels cause a need for extra bracket? We were able to answer all these questions with just a few simple steps.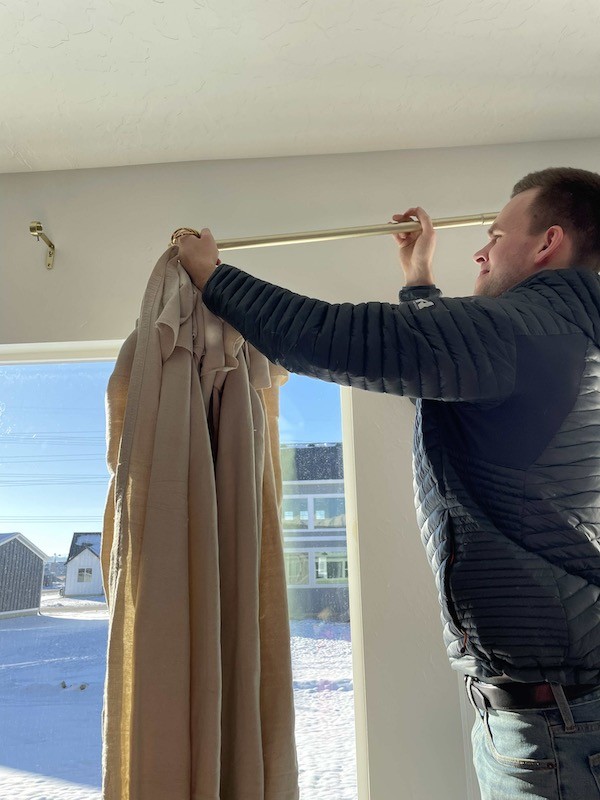 For the first step I watched a video from Pottery Barn to see what they suggested. 2-3 inches away from each side of the window for installing a bracket. 4 inches above the window unless you want to add more height. We opted for 8 inches above the window to add height to each room. On most of the windows we did add a third bracket as the curtain rods were very long for the large windows.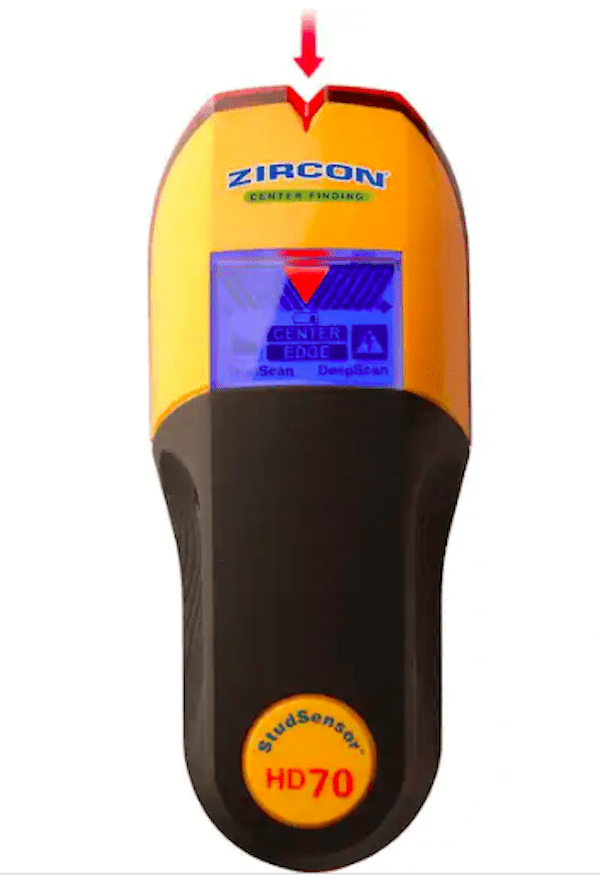 The guys used a stud finder to make sure the brackets would be installed correctly. There were a few areas where there was not a stud so they used plastic anchors to hold the screws in place.
Gold curtain rings
Once the brackets were installed the curtain rods are ready for some clip rings or curtain clips or whatever you want to call them. Tiffany had a hard time finding these gold drapery rings. Apparently they are quite popular because everyone was out of them. A great idea for anyone looking for curtain clips in the right color is to spray paint them to match your rods. We actually did not need to spray paint anything. Ikea happened to have 6 bags of gold curtain clips just the amount we needed at a great price! #forthewin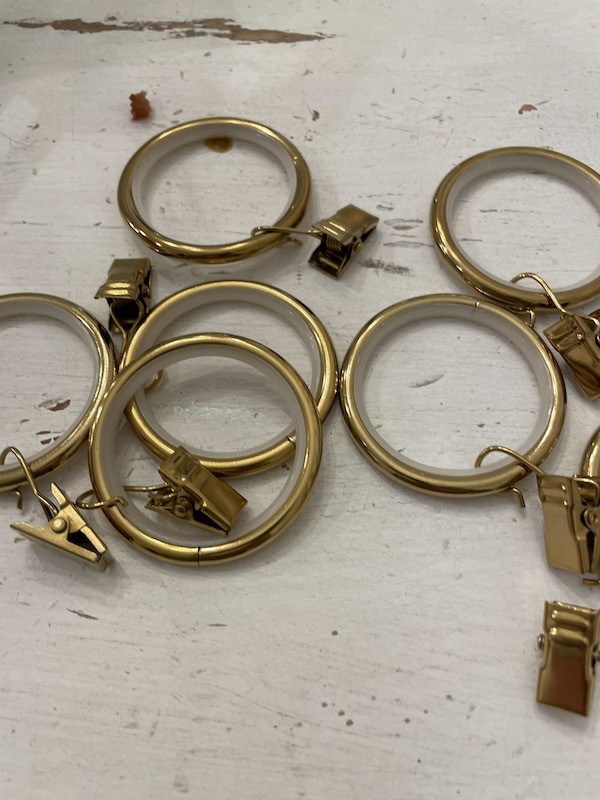 In full disclosure the gold drapery clips, curtain rods and the drawer pulls do not match perfectly and yet they really look amazing mixed together!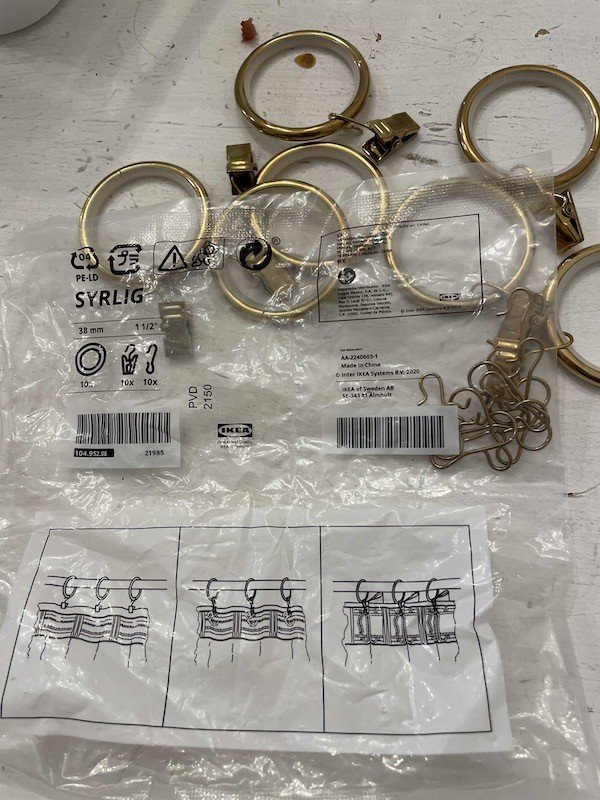 This is seriously one of the easiest DIY drop cloth curtains idea ever! These curtain clips that attach to the top of the curtain are like magic in creating a beautiful window treatment that are super cheap but look like expensive curtains.
DIY drop cloth curtains panel
Moving right before Christmas with family arriving in 5 days was crazy. We opted for easy DIY projects to get her house up and running as fast as possible. If we had had more time we would have given all the drop cloth panels a good washing in the washing machine. Washing and drying the drop cloths will help to soften them up and remove any odors that come from the manufacturing process. One of the great things about these DIY drop cloth curtains is that they look great even wrinkled. Kind of that casual comfy beach look.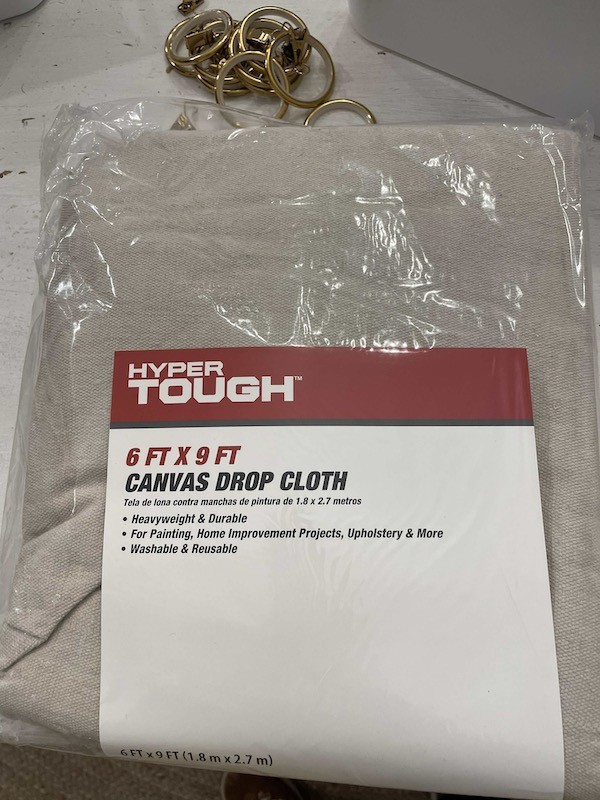 For the dining room curtains we used 6′ X 9′ canvas drop cloths. The larger windows in the living room needed a bit more width to create a fuller look so we used 12′ X 9′ drop cloths. These panels come with bottom hems and top hems which saves us so much time not sewing anything!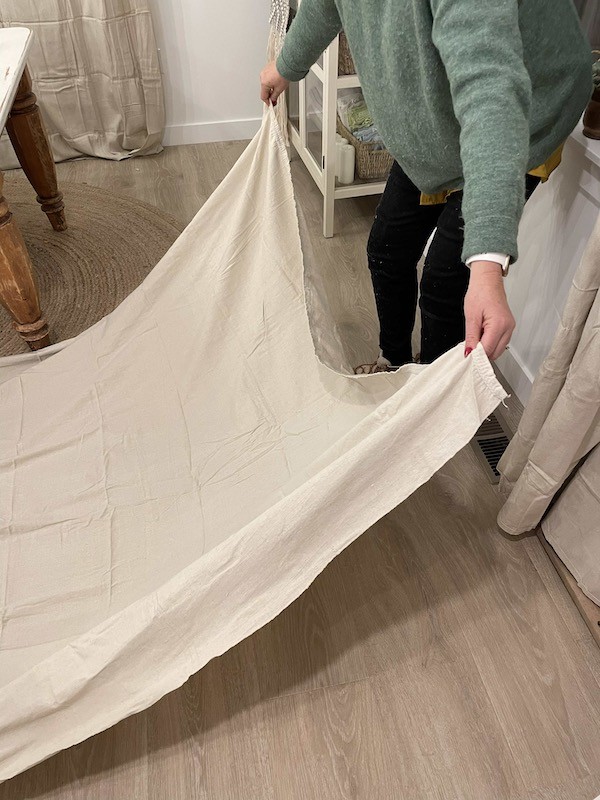 They are perfect because even the side seams are finished off! No hem tape is needed, no hot glue gun needed either. One thing to note is the larger size has a center seam in it. Not super great but because they are kept open most of the time I don't think it will bother my sister.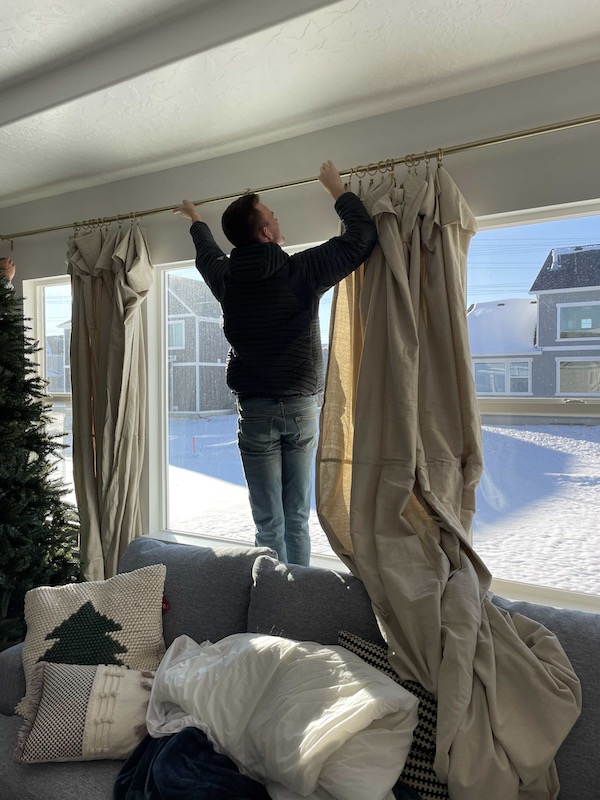 It gives it more of a casual beachy farmhouse look.
Hanging the panels of drop cloth curtains
So here is how you hang them- Lay out your drop cloths on the floor or any large space for this much fabric. Fold over the top portion of the curtain panels about 6 – 8 inches depending on how long you want them to hang. Tiffany wanted them to puddle just a little bit when they hit the floor.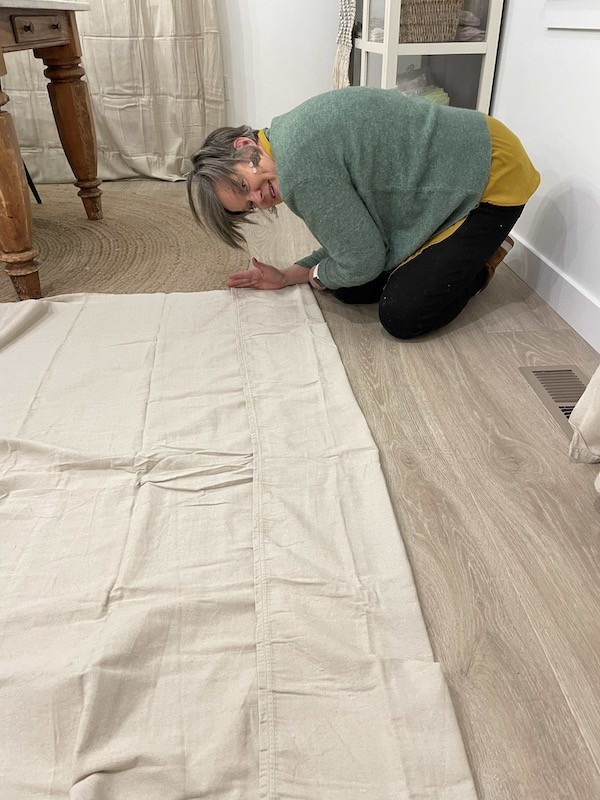 The nice thing about this fold over method is that it is not permanent. You can adjust them to any curtain length you need. Then with a tape measure decide how to evenly space the curtain clips. We started on the ends of each panel about an inch in. Then we actually eye balled all rest. We used 7 curtain clips on each of the smaller curtains and 11 on each of the larger curtain panels.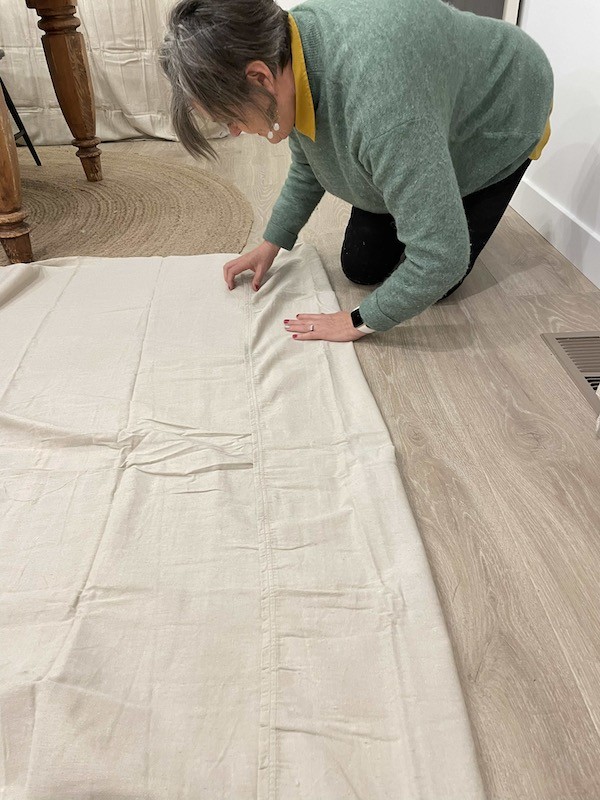 Even my youngest granddaughter got involved "helping" me figure out the spacing of the clips. Did she take some and run away…why yes she did! Hahah. The little stinker.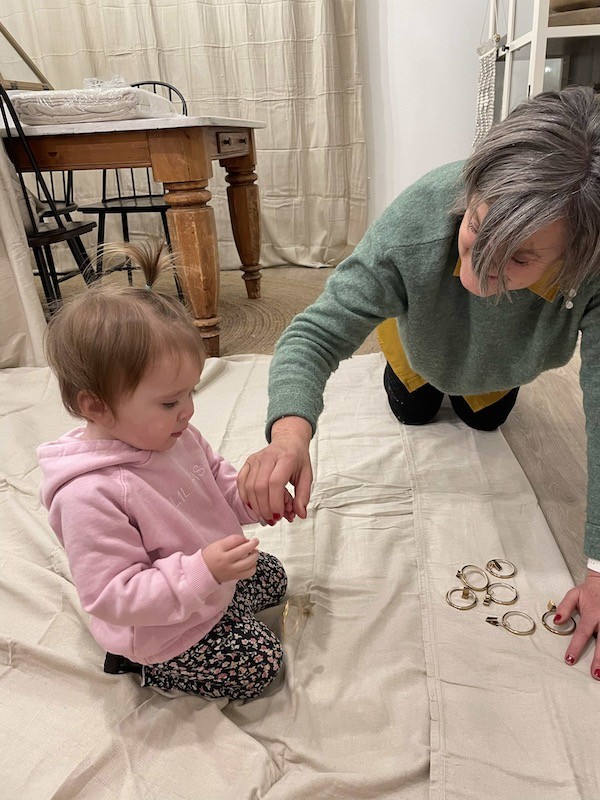 Clip them on and squeeze the clip to really grab the fabric.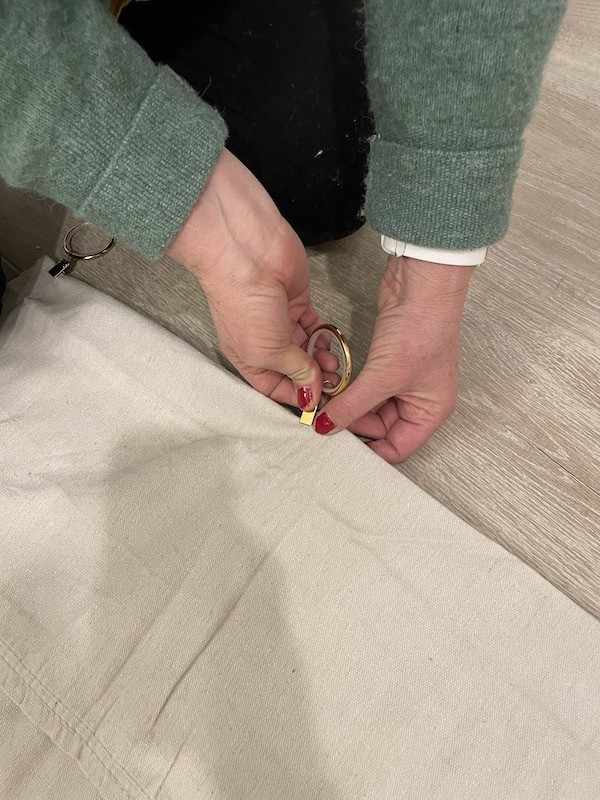 The next step is gathering up all the rings that are attached to the drop cloth curtain fabric and sliding them onto the curtain rods.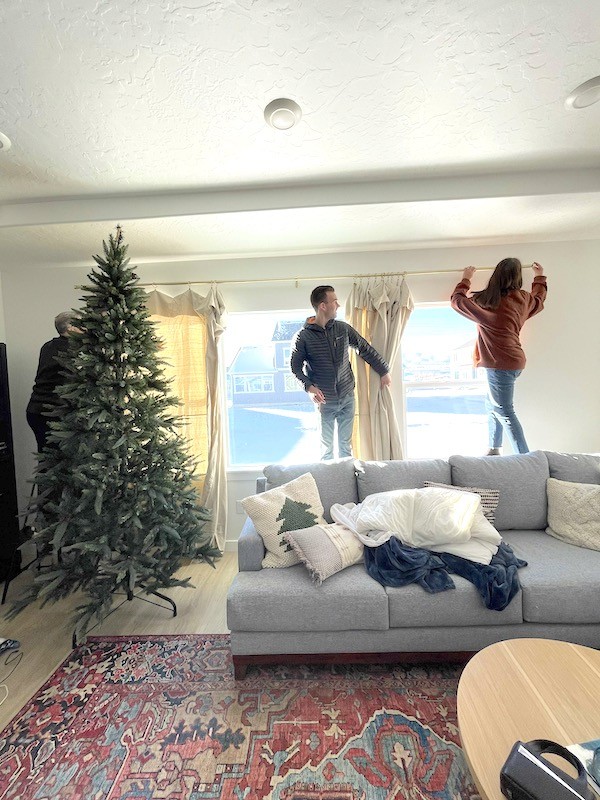 This is definitely a two or three person job when using really long rods and lots of fabric. It gets a little squirrelly to hold everything on your own.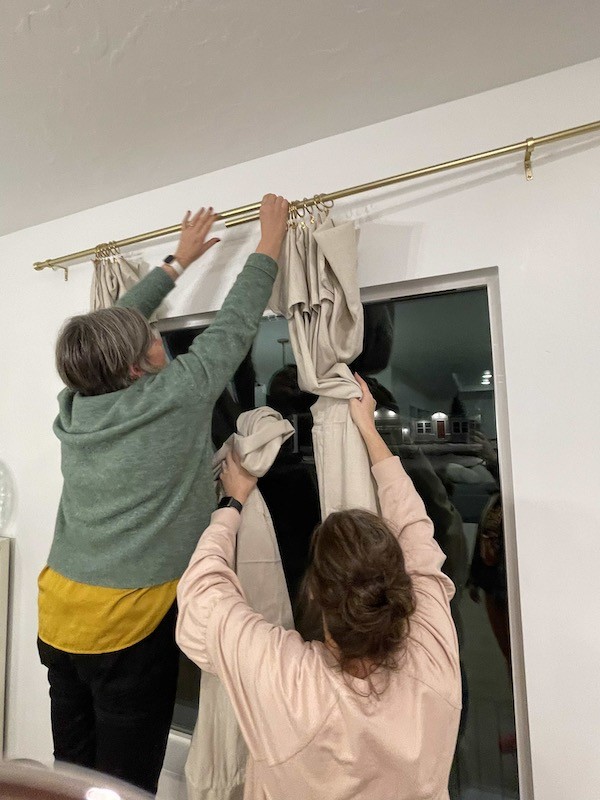 You can decide which way to hang them either before each bracket or after each bracket. We hung them before the bracket so that the end of the rod would show off more.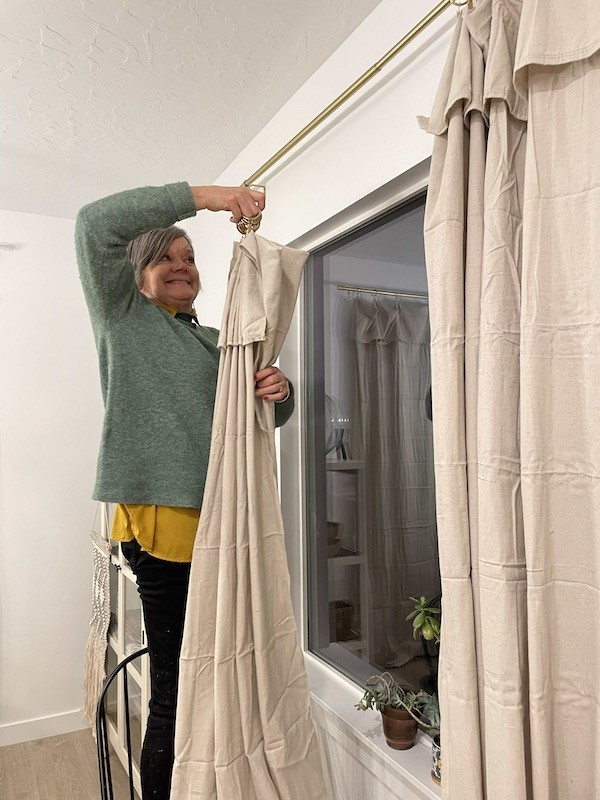 Step back and enjoy your amazing curtains
I am really so impressed with how these new curtains look in my sisters new house. Even the men in our family love them! If you are needing a quick fix or even just a permanent neutral color curtain go get yourself some canvas drop cloth and whip some up in a matter of minutes. This is such a great DIY especially is you are moving into a new house or sprucing things up for the holidays.
After I took this picture we re-adjusted the right side so that it would puddle like the left side.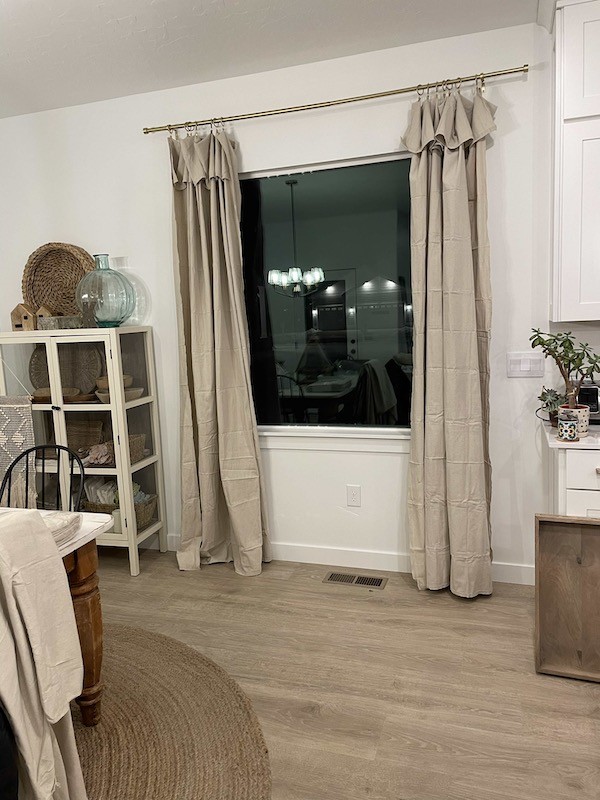 KariAnne from Thistlewood farms has a great post all about drop cloth curtains and has made them in different ways from adding ruffles, smocking them to plenty of no sew options. KariAnne is all about the drop cloth curtain!
Shop

More DIY Projects You Will Love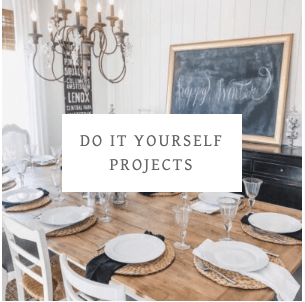 Adding a planked top to existing table
Burlap and painter's drop cloth heart shaped wreath
Photo back drop made using painters drop cloth and broadcloth