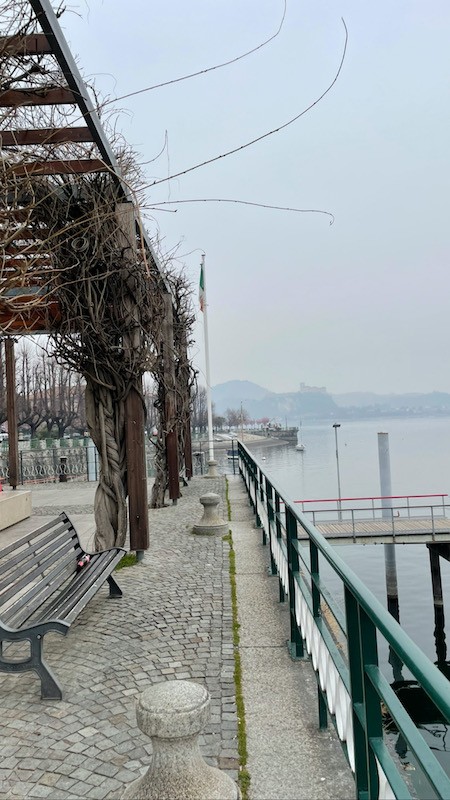 Even though we are traveling in northern Italy for business it has still been magical. I know I say that about every area of Italy but it is true. This time we flew into Milan and headed towards a beautiful region known as Piedmont. We drove along the lake front of Lago Maggiore which is a sister lake to Lake Como. This region of Northern Italy is the heart of the Italian alps and on the border of Switzerland and spectacular.
Lake town of Stera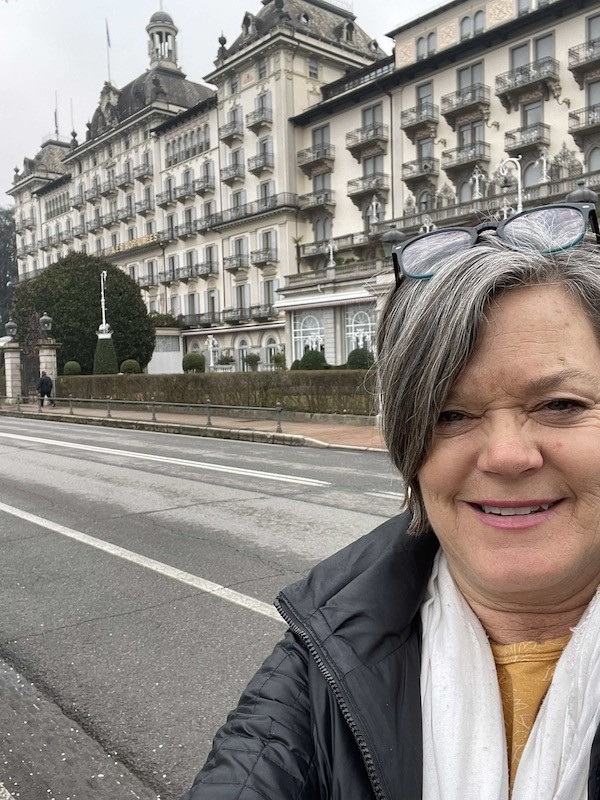 We drove through the beautiful town called Stera. This town has lots of character and historic super luxury hotels. If we had more time we would have toured around the area. I wish the sun had been shining so I could have taken stunning photos of the lake and the small islands that you could see out there.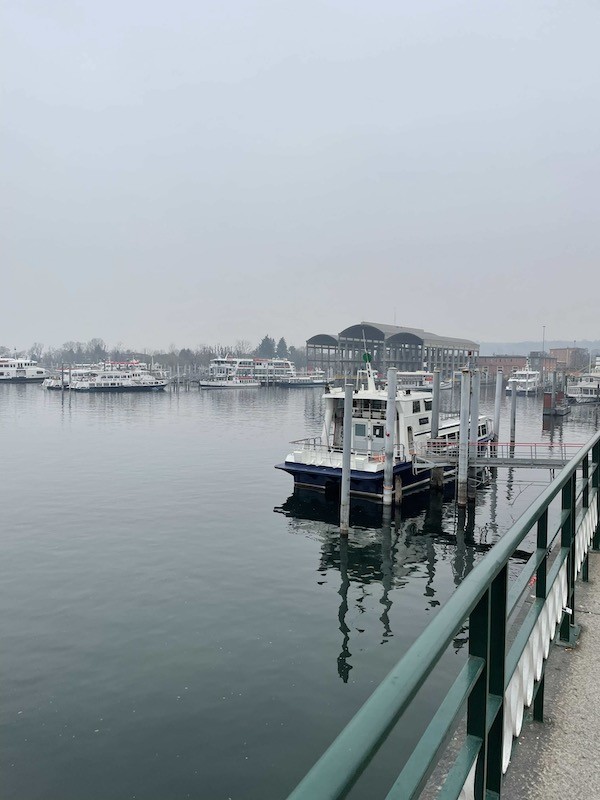 Traveling to enchanted northern town of Masera Italy
Immediately upon entering Masera you are drawn to the spectacular views of the Italian alps! The mountains are huge and are on all sides of this valley. Everywhere you look are huge old Villas in many colors. Some have been empty for years.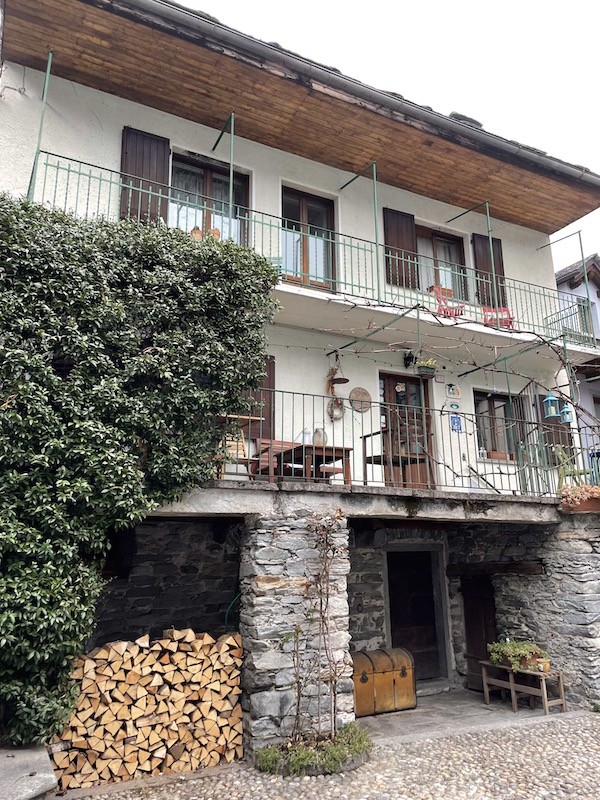 We stayed with our new found friends at their B&B Casa Toma. It is such a unique and charming place. This old house has been in the family for multiple generations.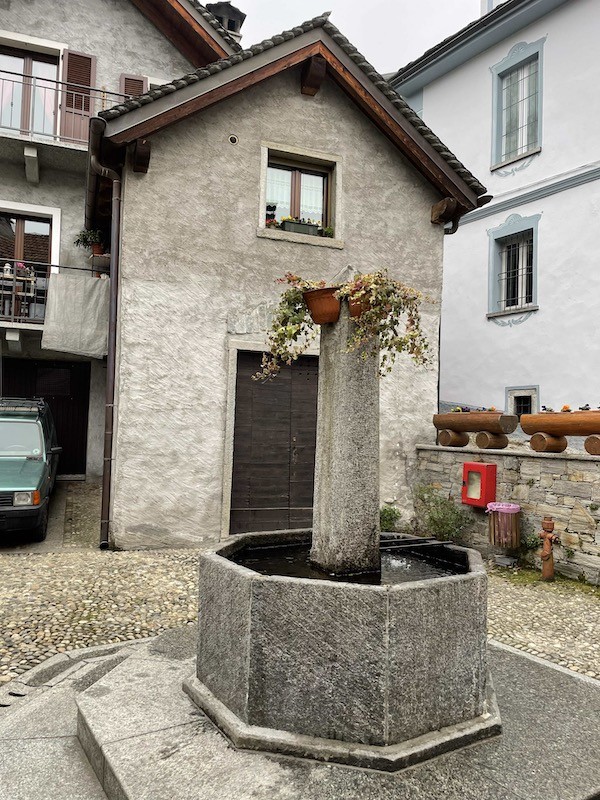 Cozy, homey and family friendly best describes it. The lovely and fun Ariana and her brother Matea were our hosts. Their great grandparents were some of the first to live in the house.
Casa Toma bedroom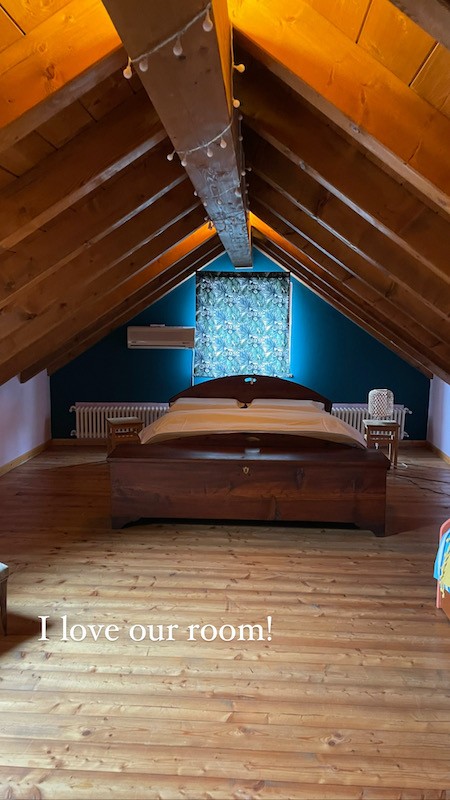 Our room was spacious with a rustic cabin feel.
A pitched wood beamed ceiling with three beds as well as an old cafe style door that led into the very large bathroom. Everything about the room made it feel like we were living in a fairy tale.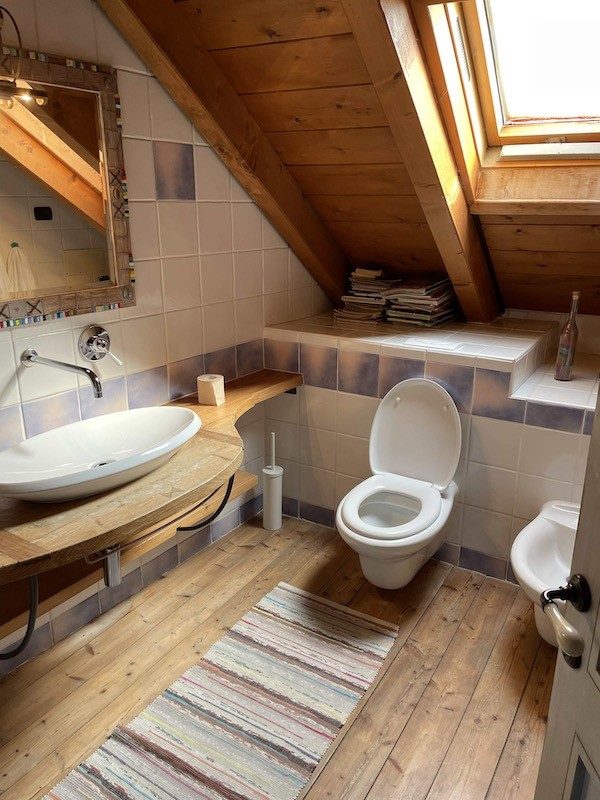 There is even a sweet little patio off our room that overlooks the mountains.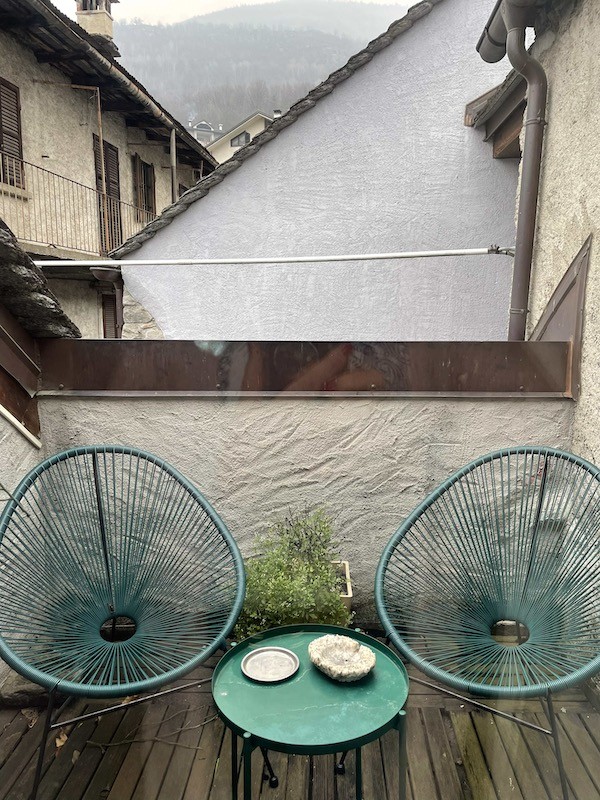 Hiking around the town Masera Italy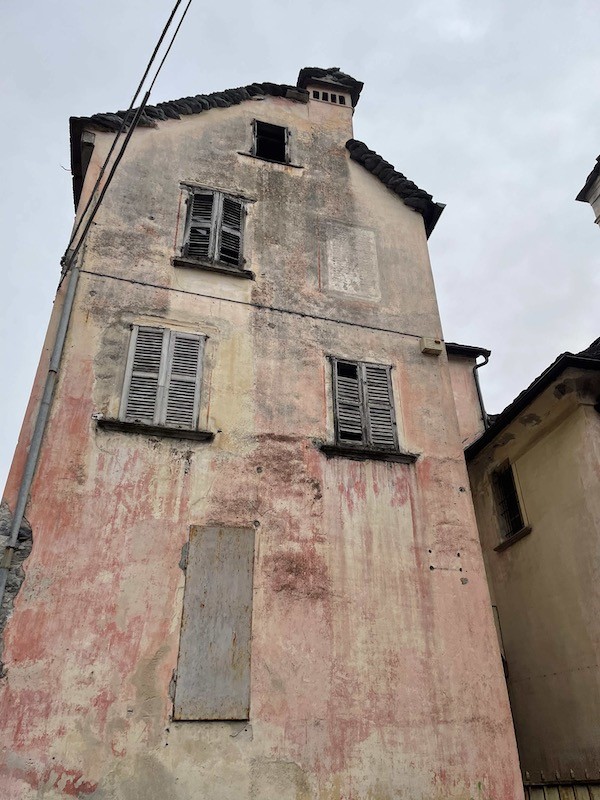 Our sweet hosts took us on a little hike (straight up hill by the way). We were able to see a few abandoned large villas.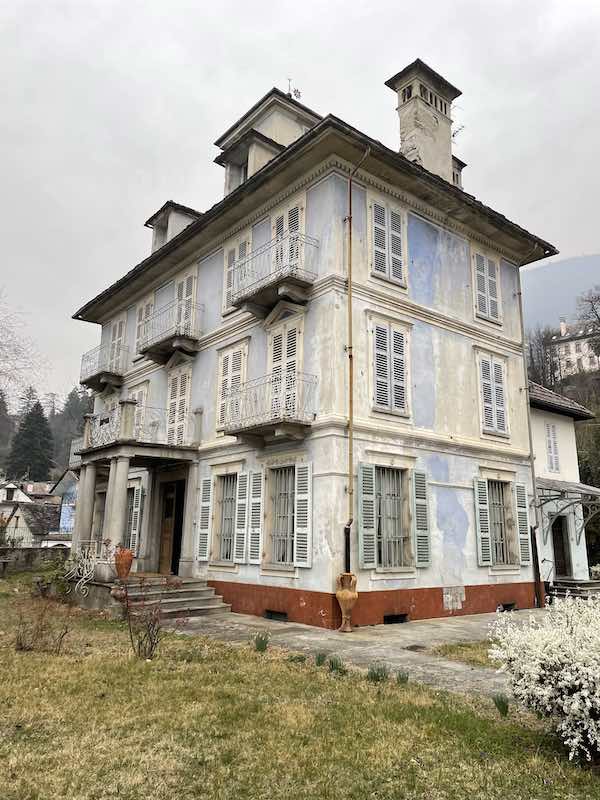 I love the old shutters.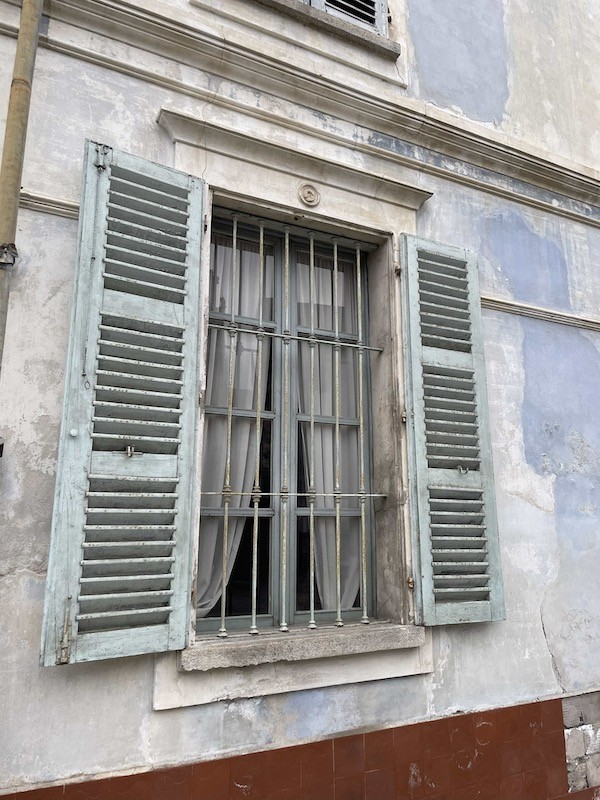 The colors of these villas are so unique.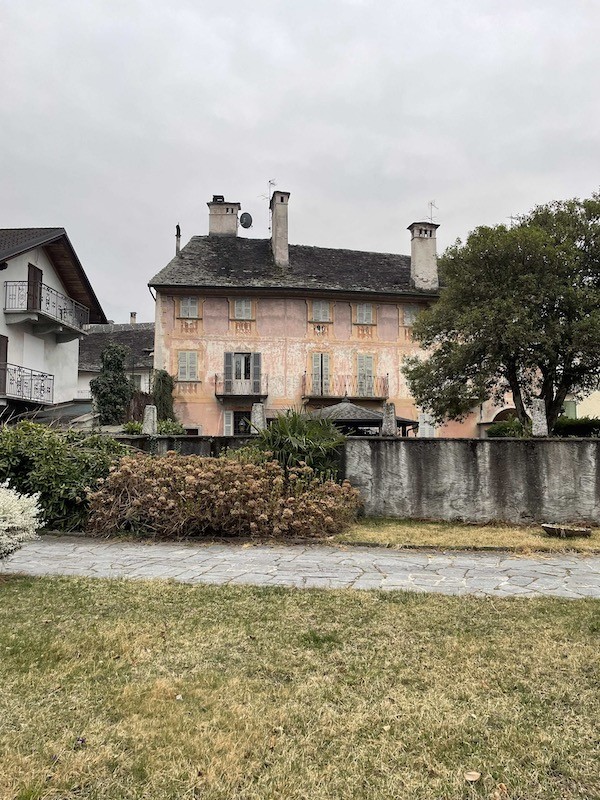 The Peachy pink buildings were my favorite.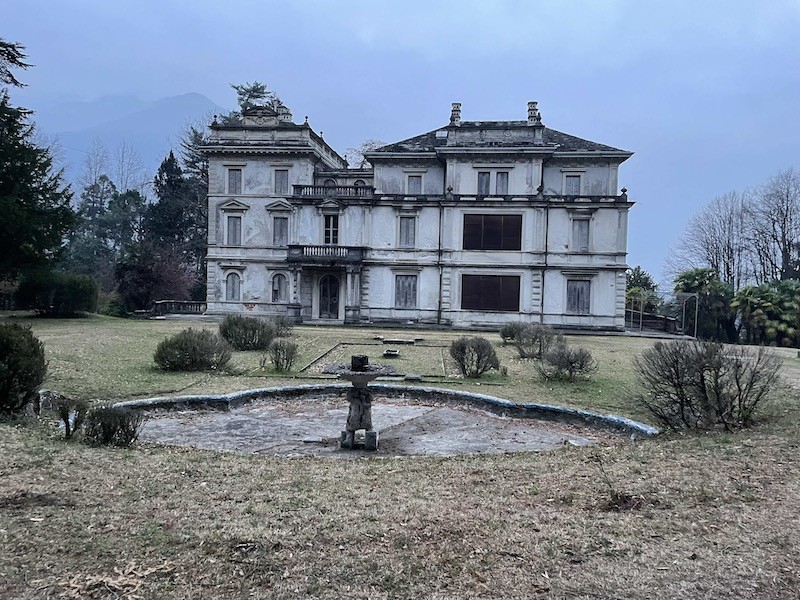 Take a look at this massive French castle called Castle Caselli.
I could not believe the size of the building as well as the grounds it sits on. Not only was there this castle but also 6 other buildings on the property. All have been unoccupied for many many years.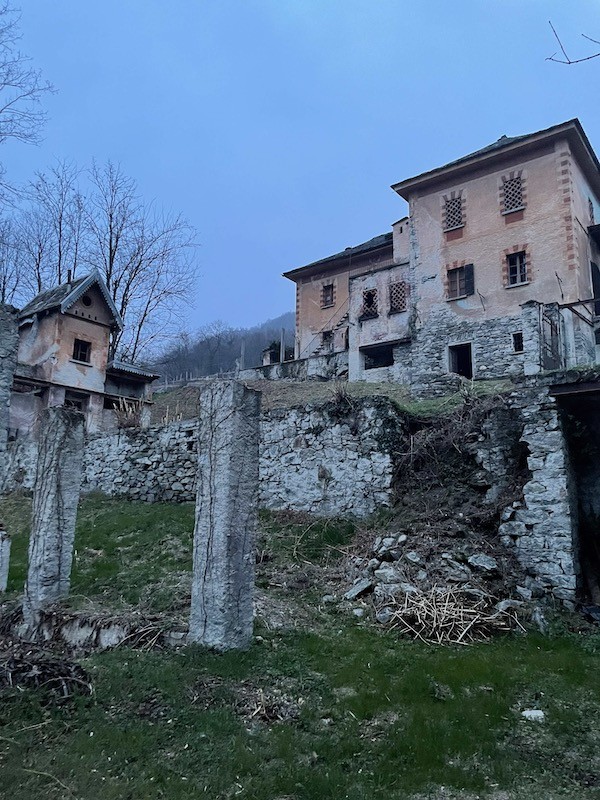 I wish we could have gone inside to see the entire place.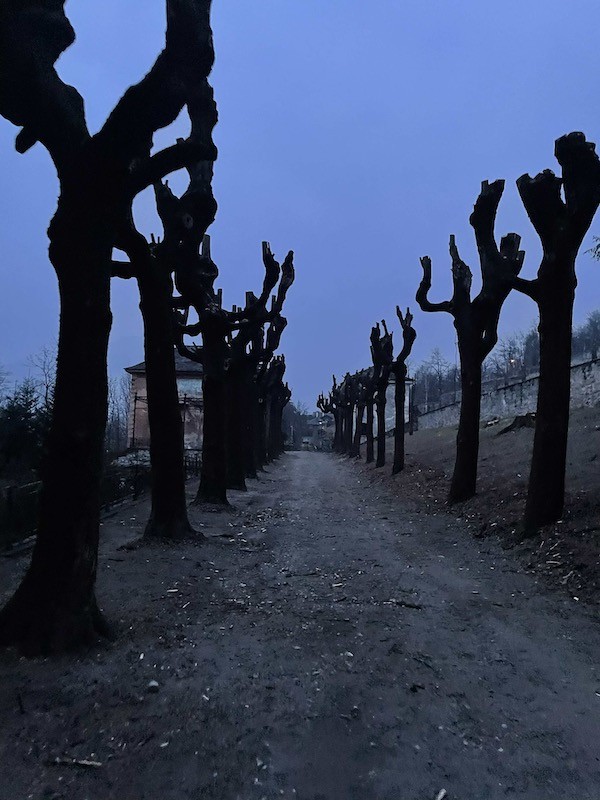 Train ride to Santa Maria Maggiore
One morning after a yummy croissant breakfast and yogurt we took a train ride up the mountains.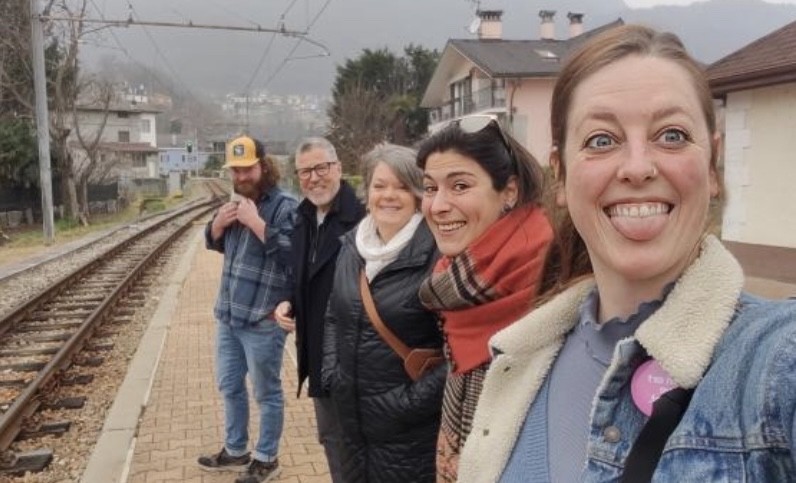 One of the unique towns we stopped in is called Santa Maria Maggiore near the Swiss border. It holds the annual chimney sweep festival every year. I never knew anything like that existed.
The ride is very scenic and our friends told us in the fall it is spectacular.
Painters valley is the nickname of the area because so many artists come to paint the beautiful vistas.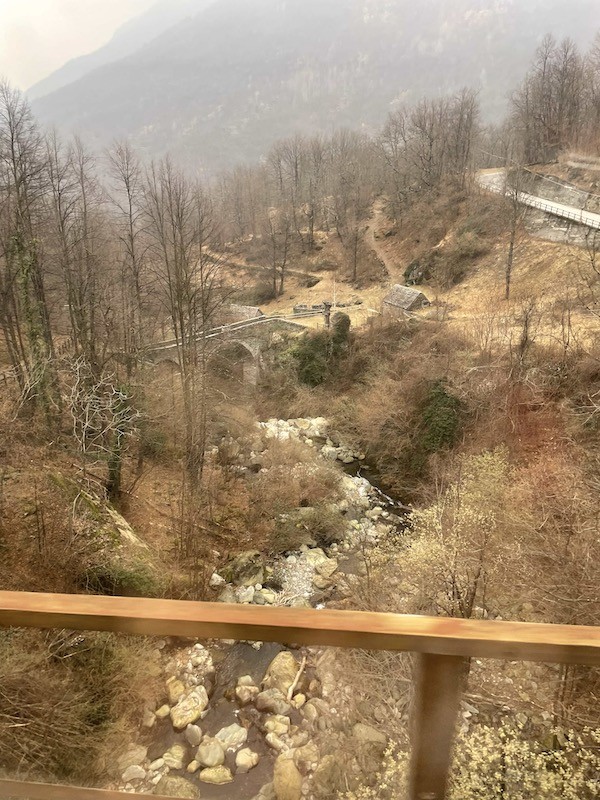 We got off at one particular stop. It didn't seem like it was anything special at first. I asked Matea what the name of the town was and he said Re…which means king.
There was nothing remotely royal about it until we got up to the top and saw this enormous domed basilica.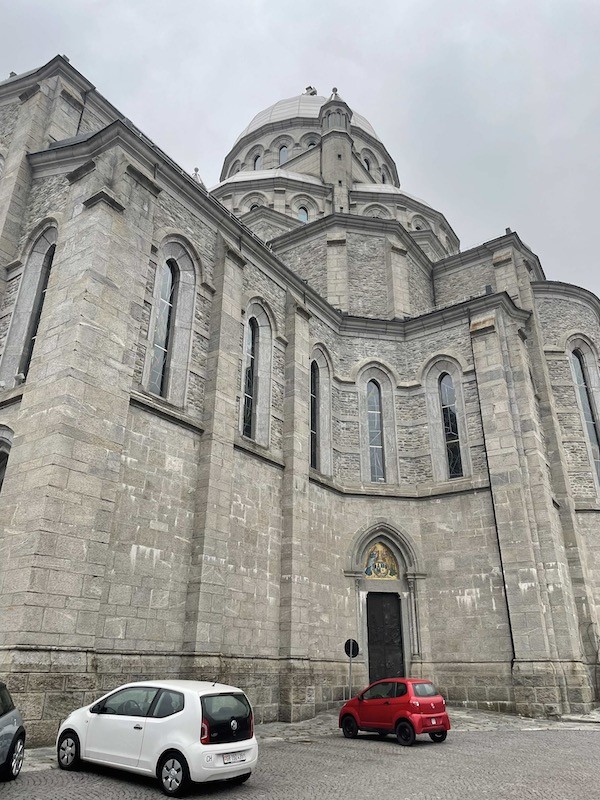 It is massive and seems like it takes over the town.
The basilica is very ornate and was built in the 12th century! So unusual for a teeny town like this.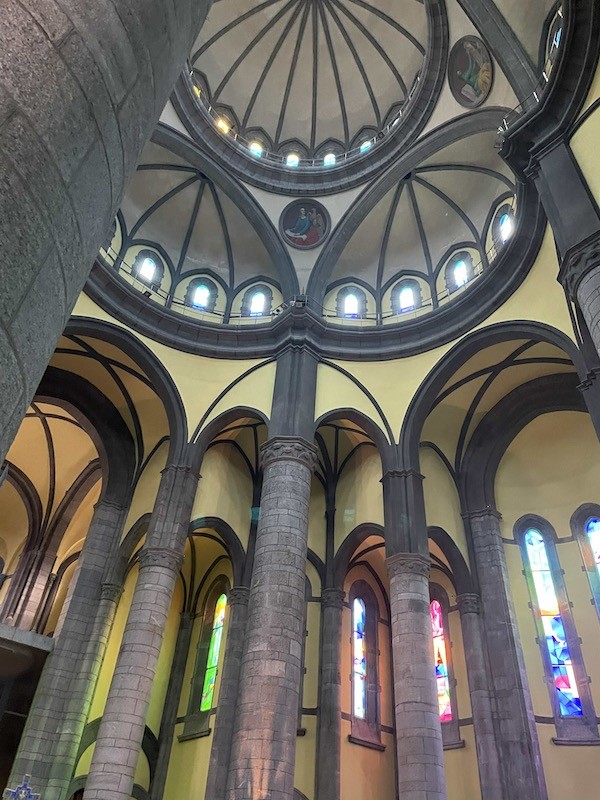 Hike to Unesco Site
Sacred mount of Calvary is a Unesco world heritage site representing the stations of the cross.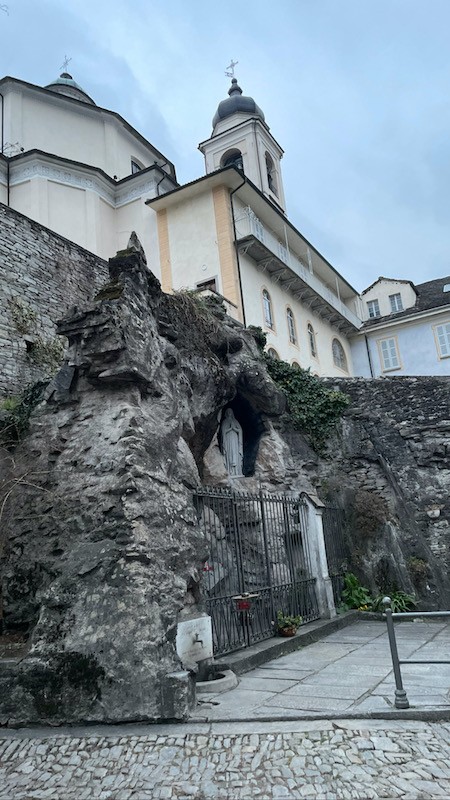 A steep hike on cobblestone has individual small chapels that house statures representing the sacred moments leading up to Chris's crucifixion.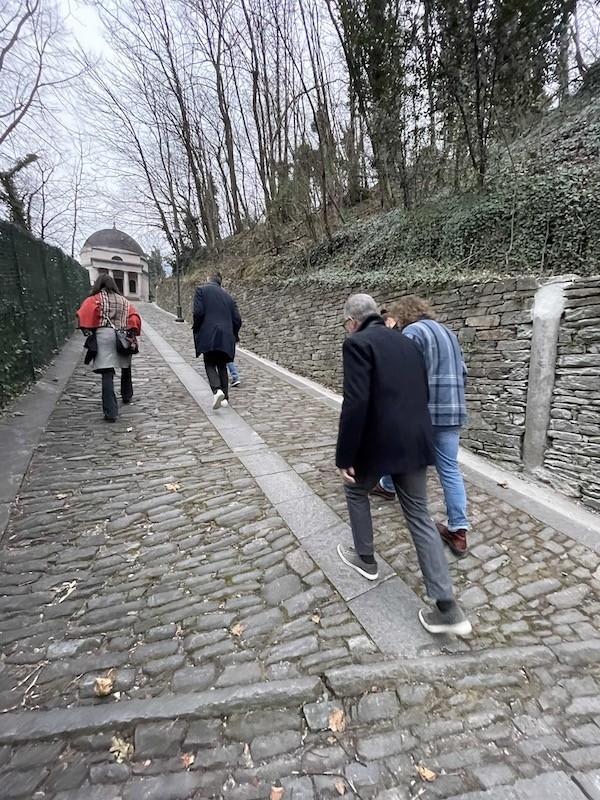 A look back at just one of the steep hills we climbed!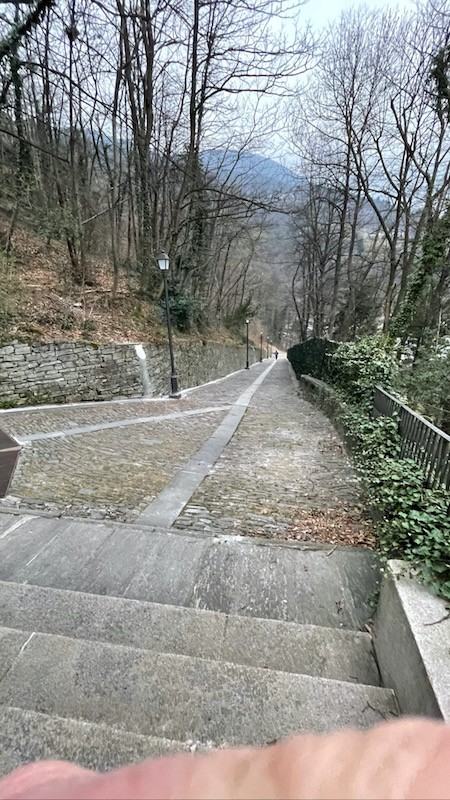 These beautiful chapels were all built in the early fifteen hundreds and have many statutes of Christ and the scenes leading up to his crucifixion.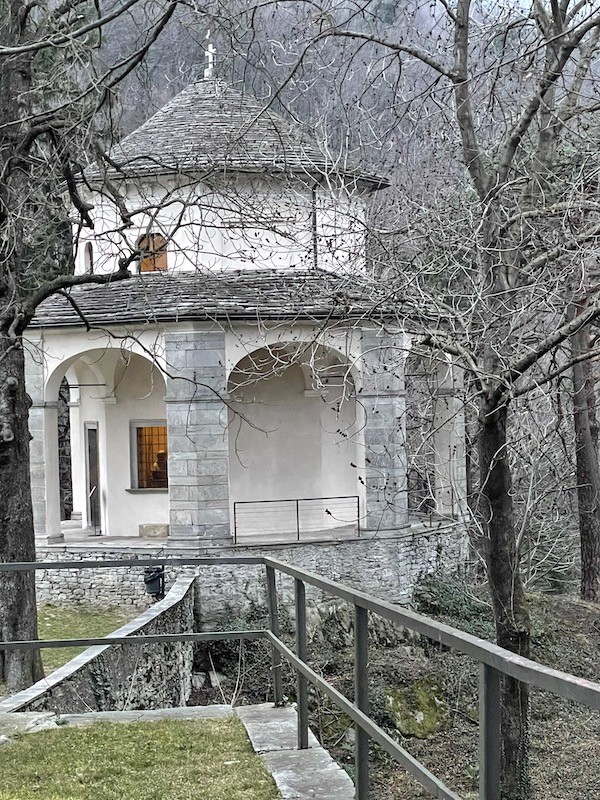 Restaurants traveling in Northern Italy in town called Masera
Oh my gosh the food was absolutely amazing in every way. We ate a place called Divin Porcello which means divine pig haha.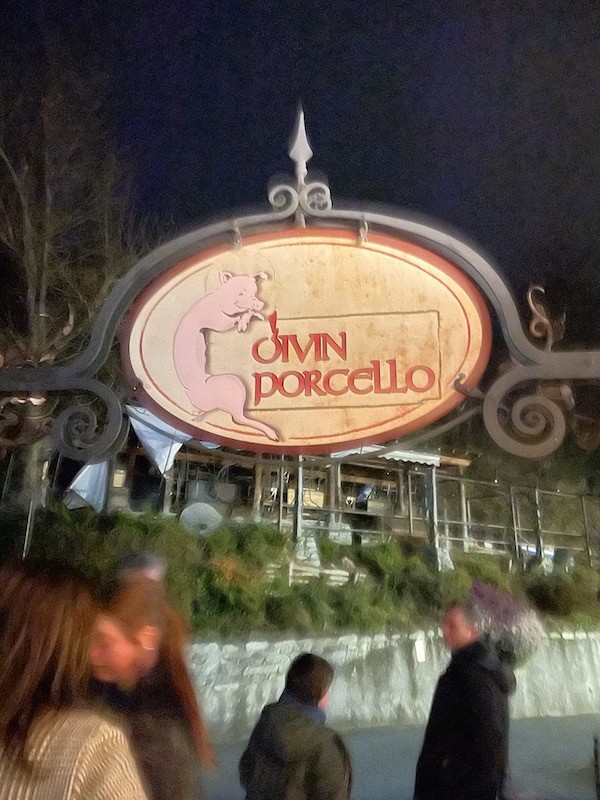 It was so cool because they serve the food in a unique way. They serve you raw meat that you cook on a hot stone at your place setting.
The flavors were delicious and it was so fun to cook my own food!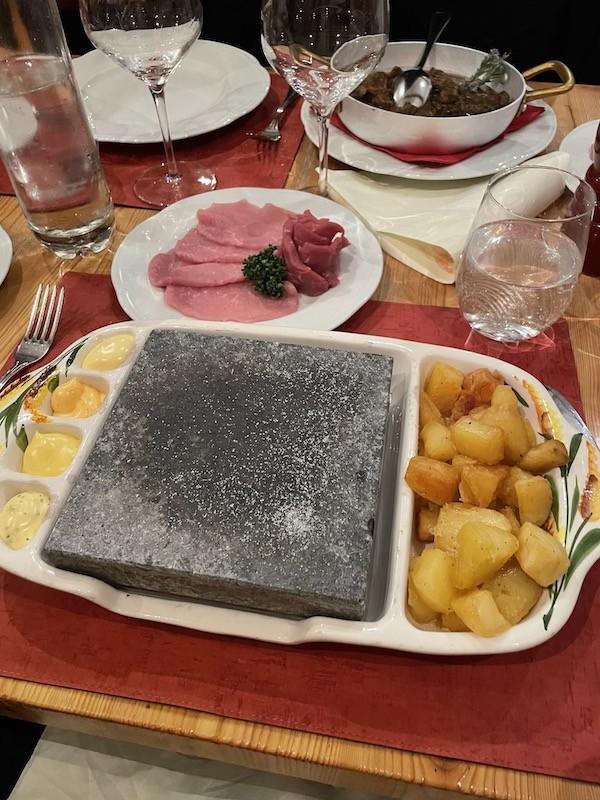 The next night we ate a Trattoria Vigezzina a very well known restaurant. People come from Switzerland to eat there. We ate in this very old world wine cellar. We had the entire room to ourselves.
In Italy is always so funny to see everyones faces when we tell them we don't drink alcohol or coffee. They just can't believe it. These are staples of Italian society.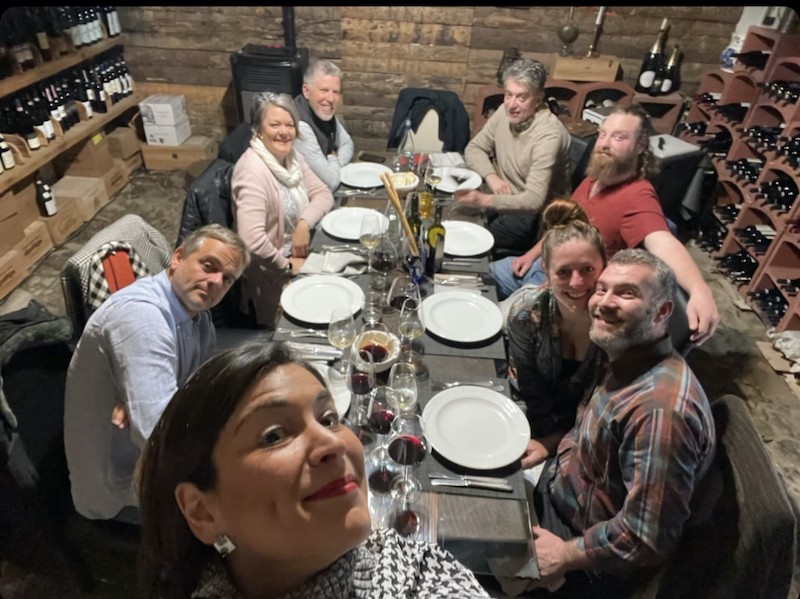 If you like risotto this is the best ever! They use a cheese called bettelmatt famous from the area. Look at the edible gold leaf on the creamy risotto!
It just melts in your mouth!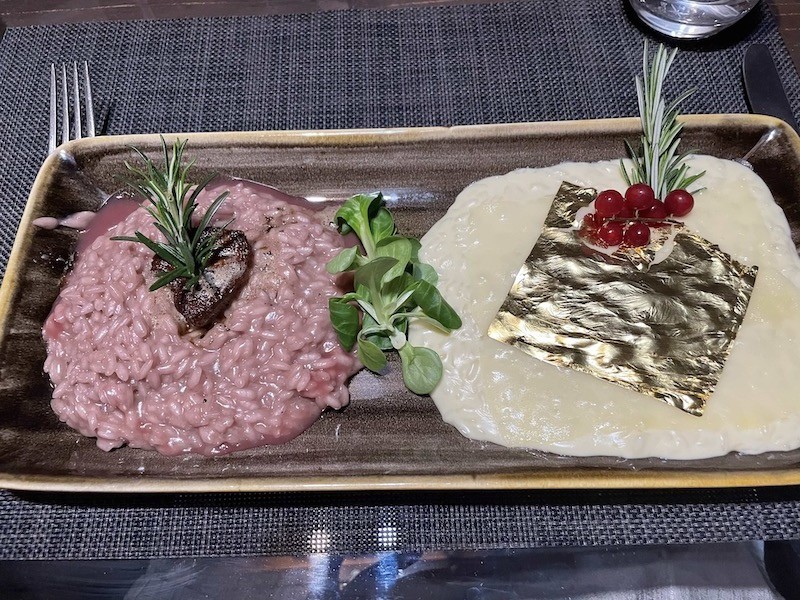 I could go on and on about the food we ate including some escargot and raw deer meat.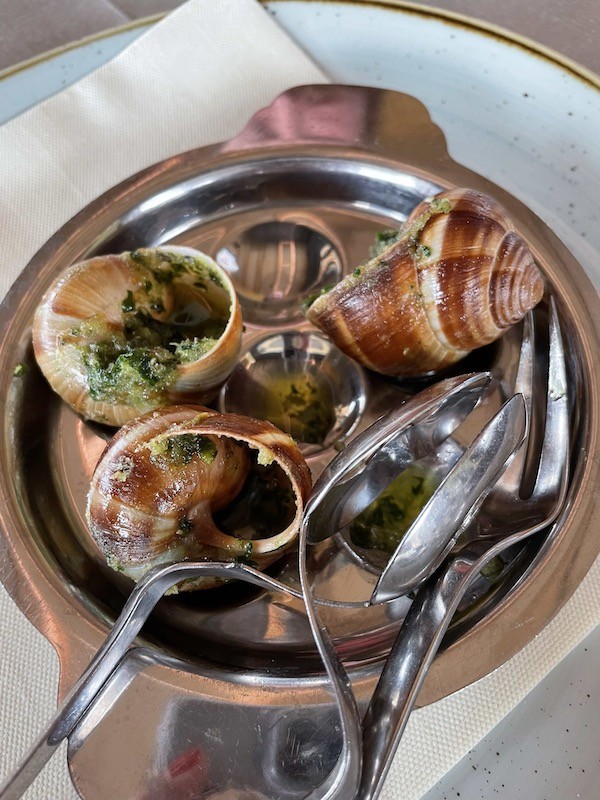 A little funky but flavorful.
Italians love their meat and chesses!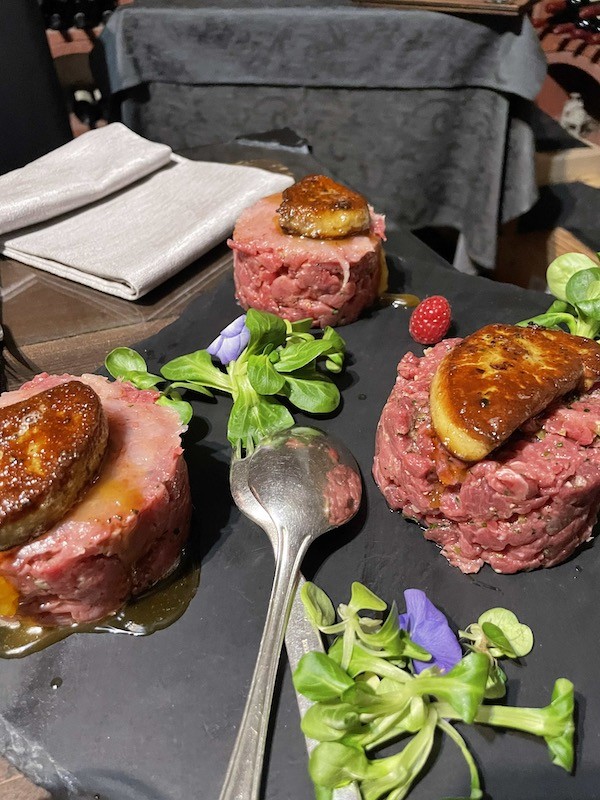 More Italian travels to come!
If you have missed any of my other Italian travel posts click here