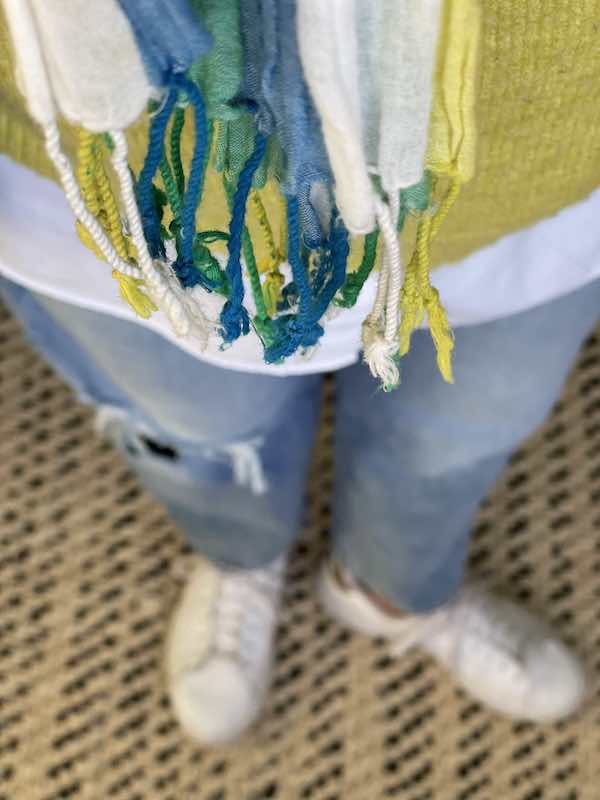 I love layers in winter but how to layer clothes and not look bulky is the question of the day! Because I have broad shoulders and a short waist I try to to be selective in how I layer my clothes. Avoiding heavy sweaters and mixing textures and colors seem to work the best for me.
How to start layering your outfit
I usually start with a button up long blouse followed by a sweater but not a bulky one. That is a big no no for a short waisted broad shoulder gal.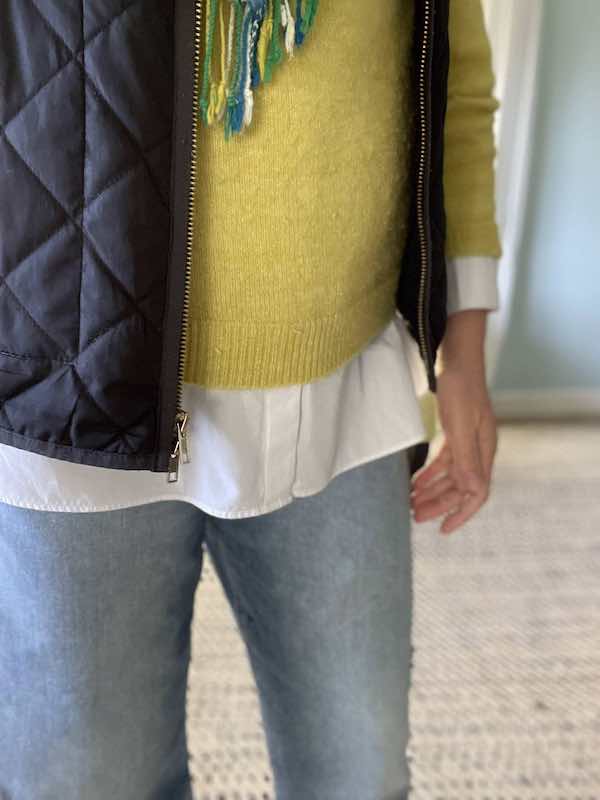 I really like the longer blouses because the can peek out at the bottom of the next layer. It gives a little dimension and your eye flows rather than stopping right at the waist.
Distressed jeans
For my pants I am choosing to wear some straight jeans with some distress in them.
If someone had told me years ago that I would be wearing jeans with purposeful holes in them I would have said they were crazy. Yet here I am!
I think the same thing about cropped jeans.
When I was a kid no one wore too short of pants ever! We called them floods…so not cool.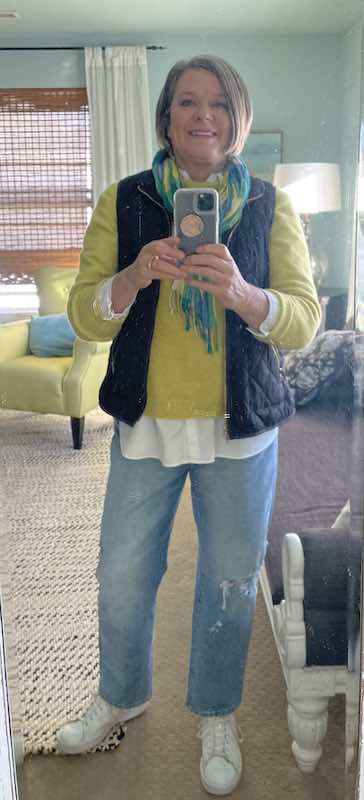 I am actually quite surprised at how comfortable these jeans are. Who knew? haha
Layering with a sweater
Next layer to go on is a sweater. No bulky sweaters for me, otherwise I would end up looking like a linebacker! Or maybe the stay puff marshmallow man. haha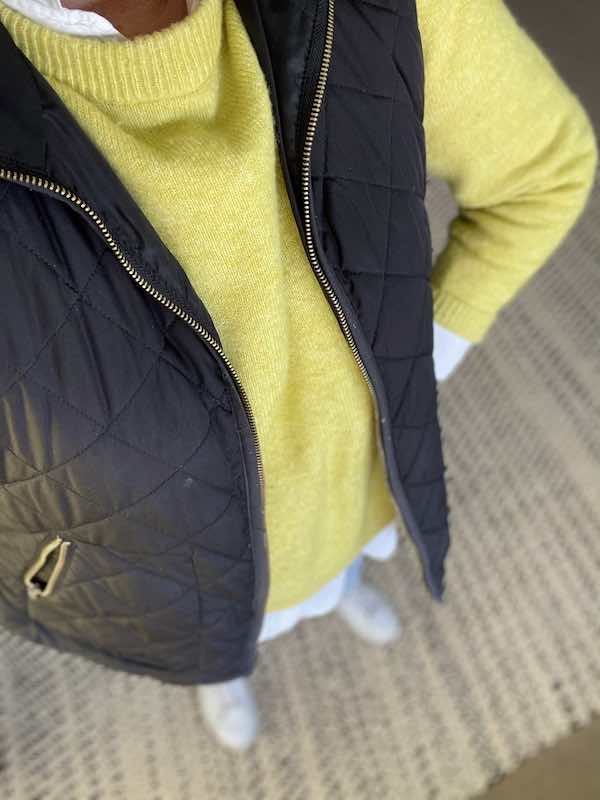 Thin sweaters or even a long sleeved t-shirt over the blouse is a great addition. I really like the different textures from the blouse to the jeans to the sweater. The bright color is also a definite favorite too!
See how the blouse hangs out underneath? I just love that look and it is slimming too!
Bright colored scarf
To bring color around my face and to stay warm I tie a scarf around my neck. This is such a bright colored fun plaid scarf that brings in the blue and yellow together. Here is a similar one here.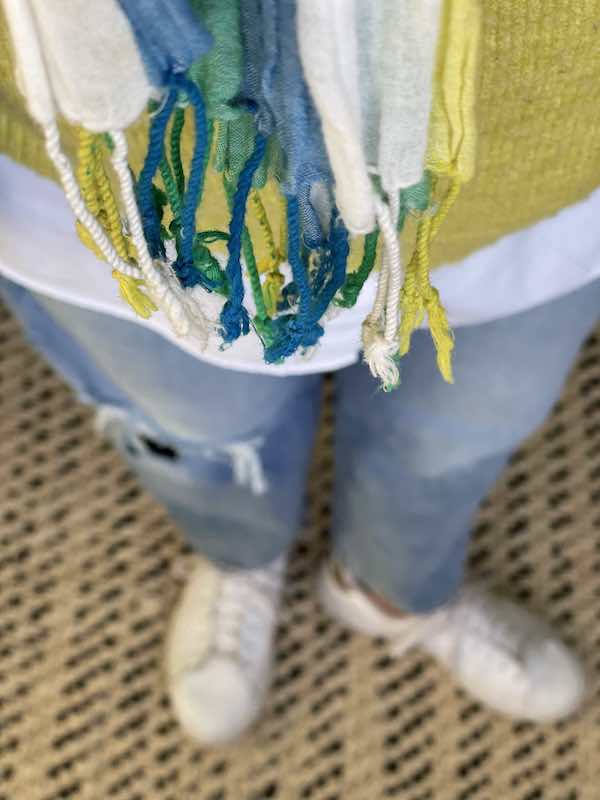 The fringe of the scarf is my favorite, it just adds more texture and interest to the outfit. This scarf is from Old Navy from a few years ago.
Layer on a vest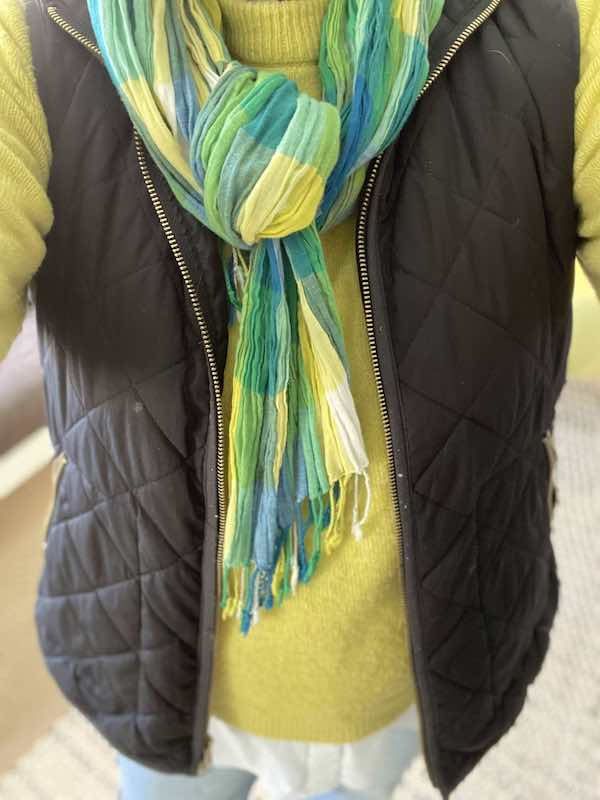 To create length in my upper torso I am adding a thin black vest. The detailing of the gold zipper helps draw the eye downward.
This think quilted vest keeps me warm but does not add a bulky look. The key is don't go for a big puffer vest unless you are tiny through your midriff.
Last item in my layered outfit
The last item in my layered outfit is my shoes. White adidas sneakers are my go to!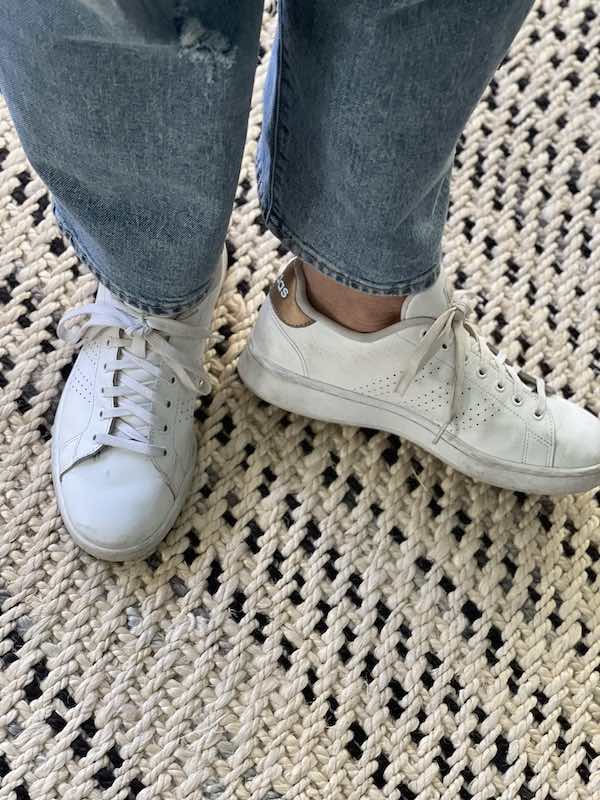 Adidas white leather sneakers with copper edging is a classic sneaker I wear these all the time!
They look great with so many outfits even skirts!
Jewelry and Glasses
I am wearing some drop earrings made from glass beads in the same colors of my outfit. These are old and I have had them for many years! I just love wearing a fun colored earring.
My reader glasses are from Peepers. They have such fun shapes and color combinations.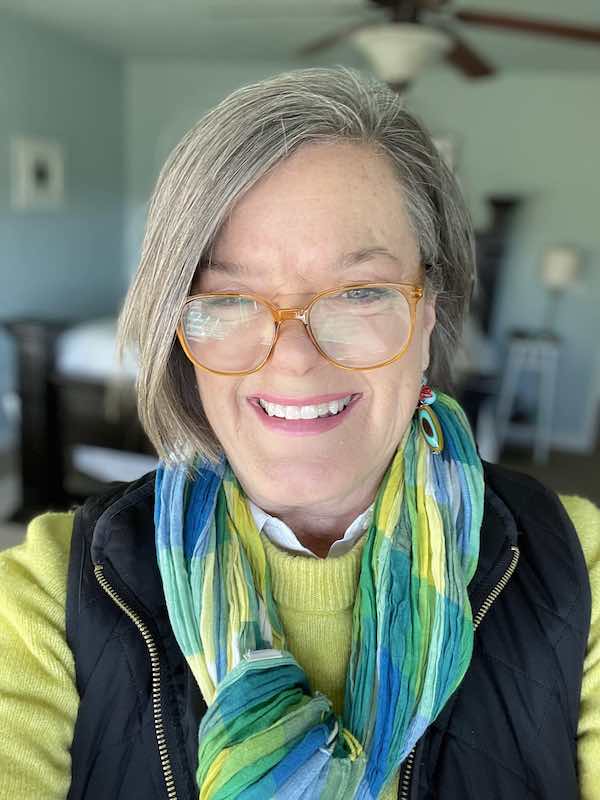 More Fashion Posts
Girlfriend jeans with long cardigan sweater
Shop Similar Items