I HOPE YOU ENJOY THIS BEAUTIFUL TABLESCAPE BUFFET THAT MY DAUGHTER MADELINE AND I CREATED! MADELINE IS ALSO THE AMAZING PHOTOGRAPHERWHO TOOK ALL THE PICTURES!
For my centerpiece I found this gorgeous weathered looking cloche at Home Goods in St. George Utah…ahhh it just speaks to me (and to my mom…we each wanted it but she let me have it…isn't she so sweet). I knew I wanted to fill it with something white and fluffy…I did not have any fresh flowers around so I filled it with white silk flowers to make it look soft and romantic.
This candelabra my mom found at a garage sale for $7.00! She gave it to me and I just love it!!
This tablescape is set up in my kitchen nook….I love this room…the walls are painted yellow and our big round table and six chairs that we found at a thrift store in Durrango Colorado (that my hubby
refinsished for me HERE)
fits perfectly in here. We also found this amazing crystal chandelier at a thrift store here in Salt Lake and it just sparkles in here!! This is a picture before we put all the food on the table.
Here are a few fun tricks to use for your next buffet…stack the plates ontop of a footed bowl turned upside down! I placed a white plate on top of the upside down bowl and placed my new favorite blue salad plates from Tai Pan on top. It elevates them and makes them a focal point on the table. We placed the napkins in a tall glass vase to bring some more color up high. The silverware caddy is white glasses in a silver holder from Nieman Marcus…odd I know ..from Nieman Marcus??…. it was a gift.
Aren't these mini Martini glasses adorable sitting in mini ramekins….Wait until you see what we filled them with!!
We filled them with a delicious spinach fruit salad drizzled with poppy seed dressing…we call them Spinach Salad-tini's. Madeline also whipped up some homemade cheese crisps…recipes will be posted on Friday!
The colors of the fruit and green spinach are spectacular! We placed nuts in the ramekins for those who wanted to add them to their salads.
Madeline came up with a fun way to serve raw vegetables….. in mini shot glasses under the glass dome and a fabulous new appetizer made from left over chicken and apple slices and a special sauce…recipes will posted on Friday!
This is a close-up of the mini crudite shot glasses…we used julienned red and yellow peppers, cucumbers, sugar snap peas, mini yellow tomatoes and a sprig of cilantro for a festive look.
These little crudite shot glasses are sitting atop of a glass cake plate that I covered with green moss with a large glass dome over the top. Notice the unique serving spoon…. These are going to be available here on my blog soon!
I bought some marinated olives and cheese at the grocery store and placed them in this unique glass dish…where I got it from I truly don't remember. Notice the fun curved serving fork and spoon? I will be selling these on my blog soon! So fun and unique!
These little bite sized appetizers are packed with flavor… Using leftover chicken, cream cheese, apples and a special sauce! Recipes will be posted on Friday.
Once again we always stack and lift our food and plates…it just makes it fun!
We decided we needed to have some cheese, crackers and fruit on the table so we placed some in a tall glass footed dish set on top of a glass cake plate that I covered with some sheet moss ….set on top of some stacked white dinner plates. This sounds like a Dr. Suess book…on top of this on top of that…ha ha
Last but not least…Dessert!! I posted the recipe of this delcious so incredibly
simple dessert HERE
Take a look at my fun serving spoon!! Soon it will be available on my blog for purchase!
Here is the buffet in all its glory…enjoy the eye candy!
I hope you all enjoyed the Buffet and got some new fun ideas for serving food!
Please link up your Centerpiece Wednesday posts below and link back to me if you would…you can add my Centerpiece Wednesday Link to your blog or post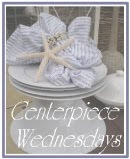 I am excited to see all your fun ideas!!
                document.write(");
Reader Interactions