If you want to experience a boat tour at sunset in a little wooden boat, the only place to do this is in Italy!
I can't even begin to express how magical this turned out to be!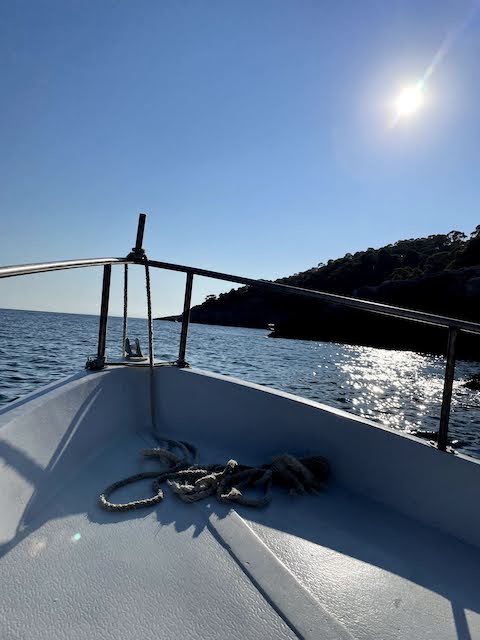 I constantly say this everywhere we go in Italy- "It feels like I am on a movie set because it is so incredible!"
Private sunset boat tour in a little wooden boat
What can you do while staying on Tremiti islands in Italy?
Why take a boat ride of course!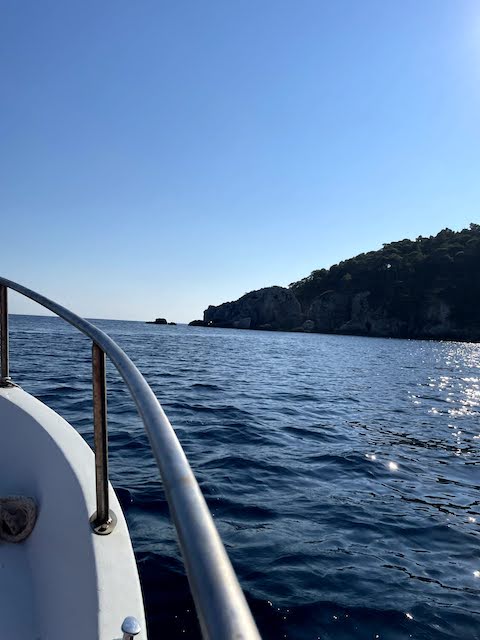 We decided to rent a private boat ride and had originally planned to go on a speed boat in the morning but when we went to rent the boat they were all booked. The hotel manager then called someone else and found a wood boat in the late afternoon until sunset.
Are you ok with that? We said sure!
Thinking for the price it would be a pretty nice boat. 
The wooden boat
When we arrived at the port, a young women crew member approached us and asked us if we were the ones who had rented the wooden boat. We said yes and she directed us to where we needed to go.
She said it is the blue boat and pointed in a direction towards a boat.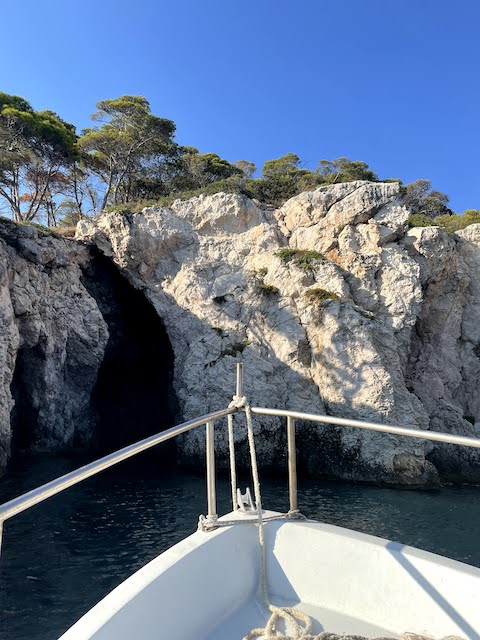 We saw a big beautiful blue boat and thought could that possibly be the boat we are taking because for two people it was quite large. As we approached the big boat just beside it was a teeny wooden boat.
The boat owner and his wife were on the boat and waving at us.
Our first thoughts were…does that boat even float? Haha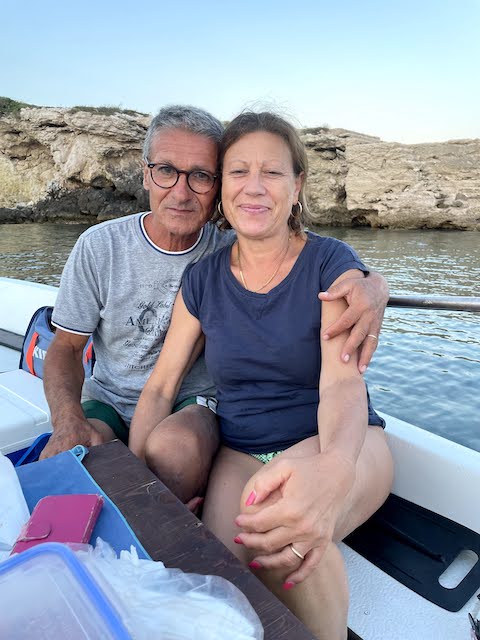 They helped us on to their little boat and started the engine.
With a puff of smoke the engine rattled and shook us like one of those old vibrating belt machines.
Have I mentioned this cute older couple in their early 60's didn't speak any English?
At first I thought oh man this is going to be rough! 
The sights of Tremiti Islands
Once we got out of the harbor we immediately were enchanted by the scenery and crystal blue water. This caused us to forget all about our little shaking wooden boat.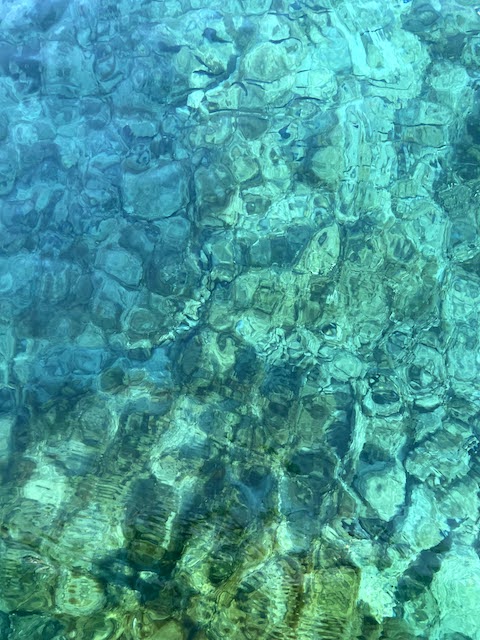 We chugged along at a nice pace and our captain and his wife attempted to explain things to us in Italian. To our surprise we were able to pick up little bits and pieces.
They pointed out a rock shaped like an Elephant that was so cool!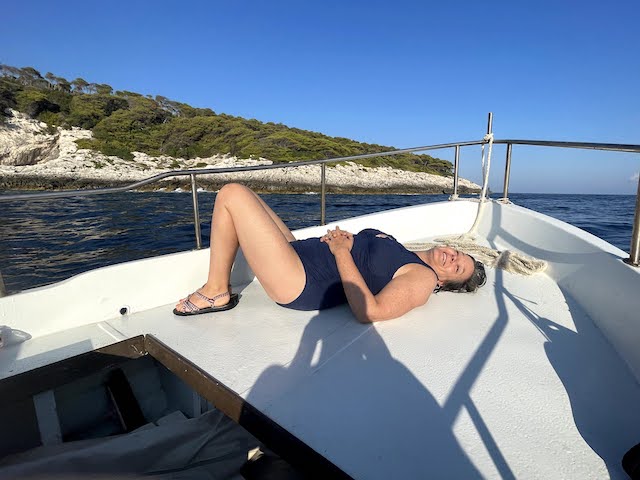 They stopped the boat at one point and dropped anchor so we could get out in the water and swim around. I wasn't too sure I wanted to jump out of the boat but I did and the water was the perfect temperature. So clear you didn't even need a mask.
My hubby borrowed a well used mask and snorkel from our captain and he was able to go deeper into the water and see multitudes of fish including an eel.
We were able to swim into an open cave and explore the beautiful rock formations. 
Continuing boat ride around the island
When we got back into the boat we continued around the island. We came upon a natural tunnel and the boat was able to go through into a secluded cove.
The views of the rocks above and below the water were spectacular. The water is what Italian dreams are made of, crystal clear aqua blue in color. In some places you could see orange spots of color on the jagged edges of the rocks under the water. 
On our boat tour we were able to see lighthouses, more beautiful coastal areas with pine trees hanging off cliffs and a castle perched on another island in the chain.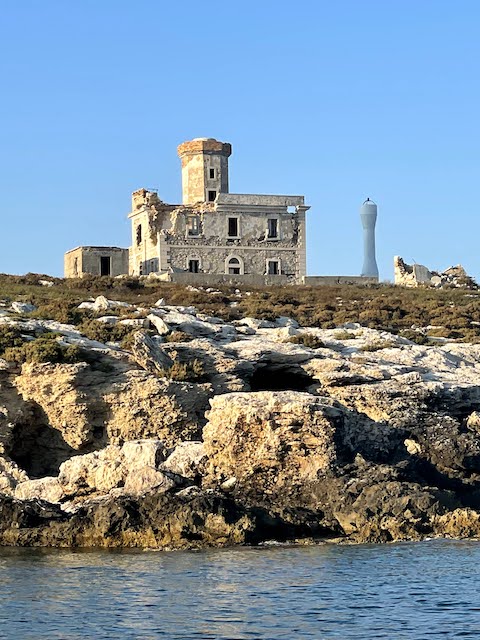 Truly an unimaginable experience but it only gets better!
At one point we stopped again and my hubby hopped in the water to see a famous statue of a saint with his arms stretched out 40 feet below the water. He tried to dive down to it but could only get half way.
I did not join him as it was getting a little chilly. 
Private boat ride sunset dinner
What could be better than a boat ride at sunset with local Italians feeding you their homemade bruschetta! I tell you nothing is better than this.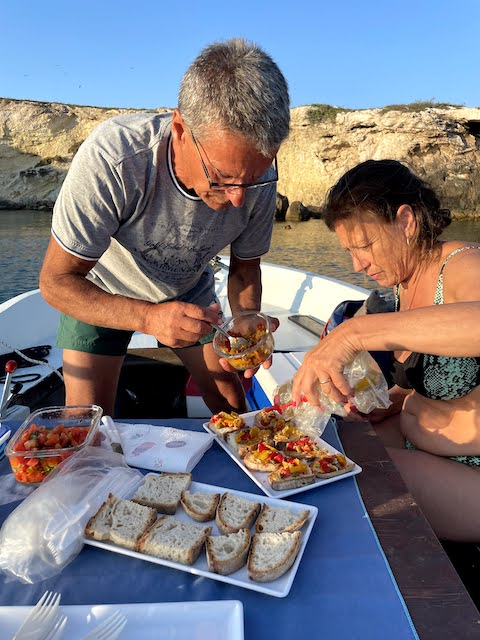 We stopped in a little cove and our captain and his wife started pulling out a tablecloth, and some white plates and filled with them with tomato bruschetta, pepper bruschetta a bowl of these large white beans and some giant green olive that were so delicious!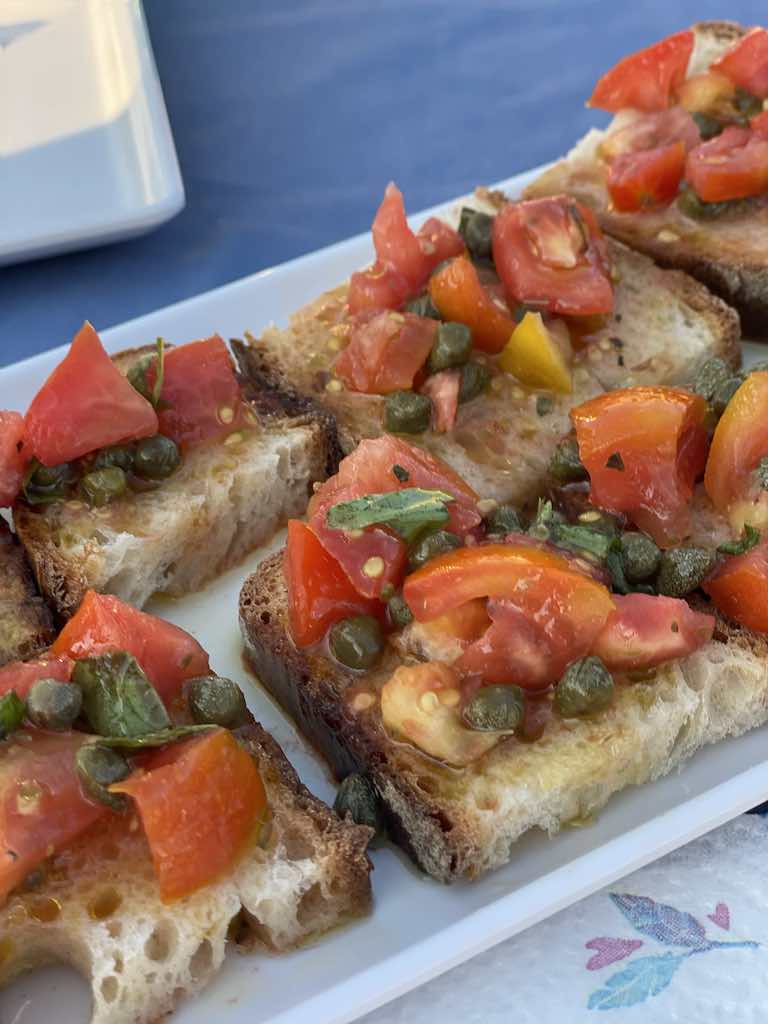 They even offered us some champagne but we don't drink so we had sparkling water.
To end our little light sunset dinner our hostess brought out some amazing butter cookies that had fennel seeds that she baked herself.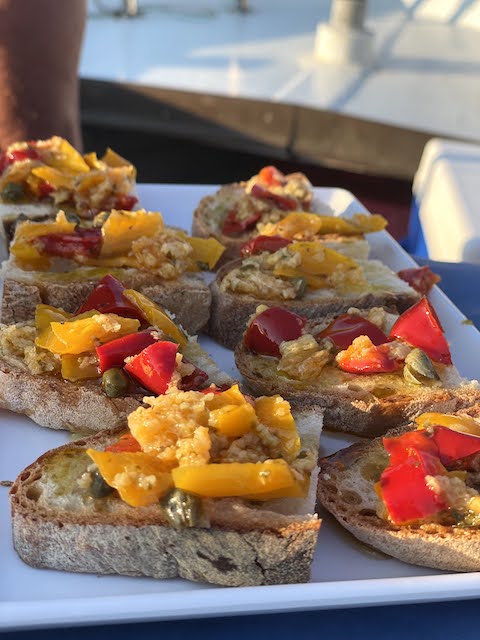 Most of the food was from their own garden and the bread and cookies she baked herself. Even the olive oil was pressed from their own olives. 
Ending our beautiful sunset boat tour
We were able to share pictures of our families and communicate enough to get to know each other. They were the sweetest and most gracious people that love their simple life of living on the Tremiti Islands.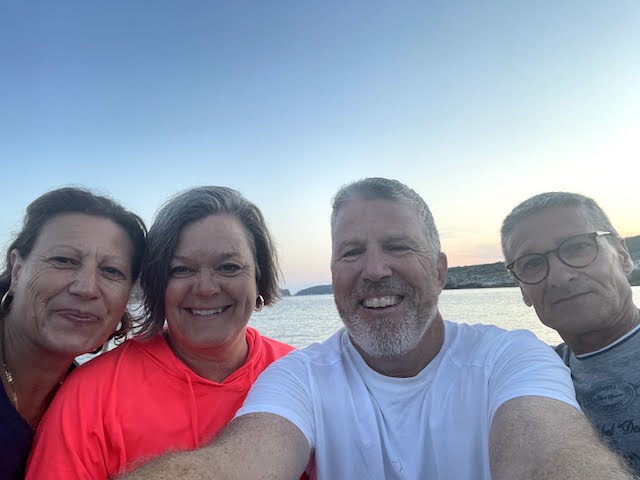 We ended the boat ride sailing into the sunset and back to the harbor.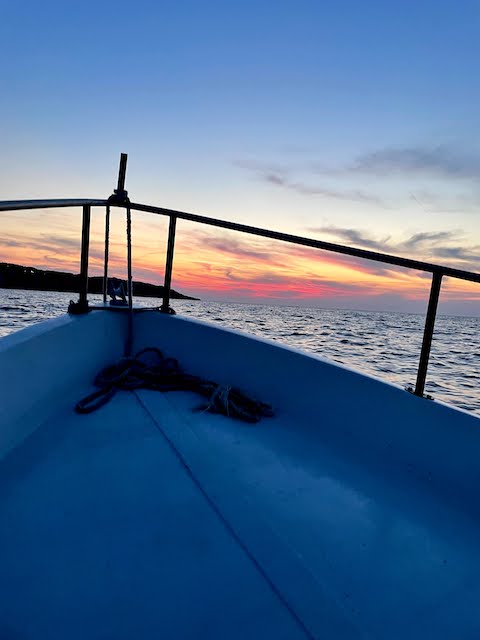 They even drove us back to our hotel.
Hugs and kisses on the cheeks and we said goodbye, we love making new friends.  
Follow along for more of our Italian adventures!
Traveling to Italy during COVID