This is one of our families favorite breakfasts…Homemade German Puffy Pancake batter recipe! We like to serve it with fresh fruit and a dollop or two of whipped cream! We make this all the time when the grandkids sleep over, for Christmas or Easter Breakfast really any time is great time to have the Delicious Homemade German Puffy pancake! 
German pancake served with fruit
What to bake your puffy pancake in
You can make this in a round pan or a rectangle pan. It is magic when it bakes! I made this one in a round pan and it looks magnificent when it comes out of the oven…you will say: "IT'S SO FLUFFY I'M GONNA DIE"! like the little girl from Despicable Me LOL
Karins Kottage German pancake
Fruit for your German Puffy Pancake
We use any kind of fresh fruit..strawberries, bananas, raspberries and a drizzle of your favorite syrup and of course fresh whipped cream! or you can serve it the original way with a squeeze of fresh lemon sour cream and sprinkled with powdered sugar…either way it is so delicious! 
After it comes out of the oven and as it sits it will start to deflate. To show off your gorgeous puffy pancake make sure everyone is around the table ready to eat! They will all oooh and ahhh when you bring this big ol fluffy pancake to the table.
I love pancakes and here is another favorite pancake recipe Lemon blueberry Cottage cheese pancakes
Breakfast is always favorite meal at our house! This Puffy pancake is pure heaven I tell ya! There is something about gathering together as a family for a meal don't you agree? 
I love setting a pretty tablescape for any meal and this is one of my favorite ones peach and black Halloween brunch tablescape. 
German pancake with fresh fruit
Homemade German Puffy Pancake batter recipe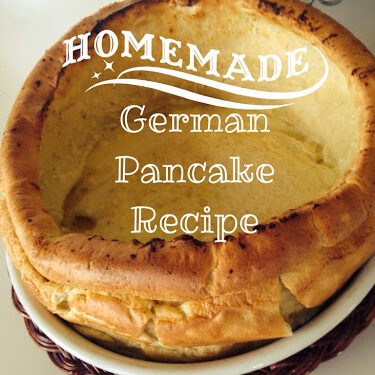 Homemade German Puffy Pancake Batter Recipe
A fluffy eggy pancake topped with fresh fruit and whipped cream.
Equipment
Blender

9 x 13 pan or round pan or 10" skillet
Ingredients
1

Cup

Flour

6

Eggs

Room Temperature

1

Cup

Warm milk

1/4

tsp

vanilla

5

tbsp

butter

1/4

tsp

Cinnamon

1

zest of orange

1

banana

sliced

1/2

Cup

Raspberries

1/2

Cup

Blueberries

1/2

Cup

Sliced strawberries

1

Lemon sliced (Optional)

1

Cup

Whipped cream mixed with 1 tsp vanilla 1/4 C Sugar

Maple Syrup
Instructions
 Preheat oven to 450° F. Note: it is very important that you preheat your oven. Place oven rack on the middle rack of your oven. Place a large, heavy cast iron (usually 10″) in the oven until hot or 9 X 13 baking pan or round pan with the butter in it.

While pan is heating and butter is melting, prepare your batter.

In a large bowl or blender, beat the eggs until light and frothy; add milk, flour, vanilla extract, cinnamon and orange zest; beat for 5 minutes more.

The batter will be thin, but very smooth and creamy.

Pour the prepared batter into the hot skillet, all at once, and immediately return the skillet to the oven.

Bake approximately 20 – 25 minutes or until puffed and golden brown (bake until the pancake puffs up around the edges) – it may puff irregularly in the center. The timing will also depend on the size of your pan or skillet.

Carefully remove the pancake from the oven and serve immediately. Once out of the oven, the pancake will begin to deflate.

Serve with sliced lemons and powdered sugar for traditional style. Or serve with all kinds of fresh fruit, whipped cream and maple syrup.