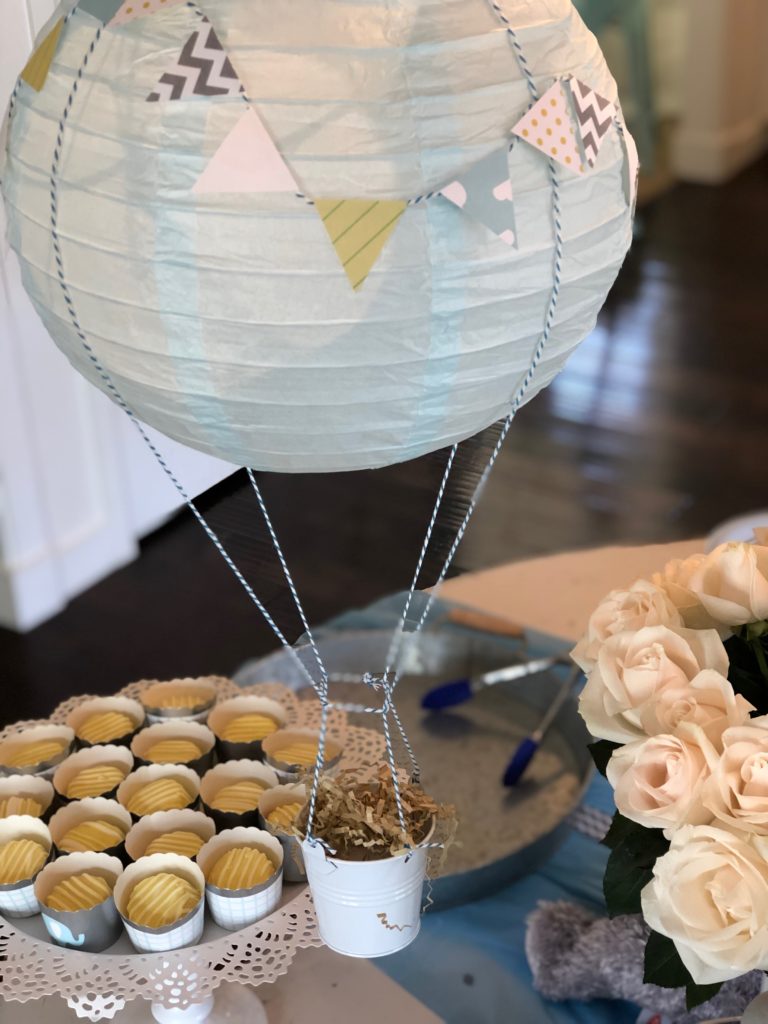 This is such an easy Hot Air Balloon decoration tutorial that you will love! You may remember another hot air balloon tutorial that I shared awhile ago but this one is easier.
Items needed for your hot air balloon decoration
Paper lanterns, Scrapbook paper, Bakers Twine, Mini Metal tin buckets, scissors, Hot glue gun and a Hole punch.
Step 1
I purchased light blue paper lanterns for a baby boy shower for one of my nieces that I hosted a few days ago. Once the lantern is opened up, measure out two long pieces of bakers twine and attach them to the top of the lantern around the metal hook area so that the strings hang down on 4 sides and long enough to attach the small metal buckets to. Dab a little bit of hot glue to the 4 top edges of the lantern to keep each piece of twine in place. You can also dab a little bit more of hot glue half way down the lantern to keep the string from moving around.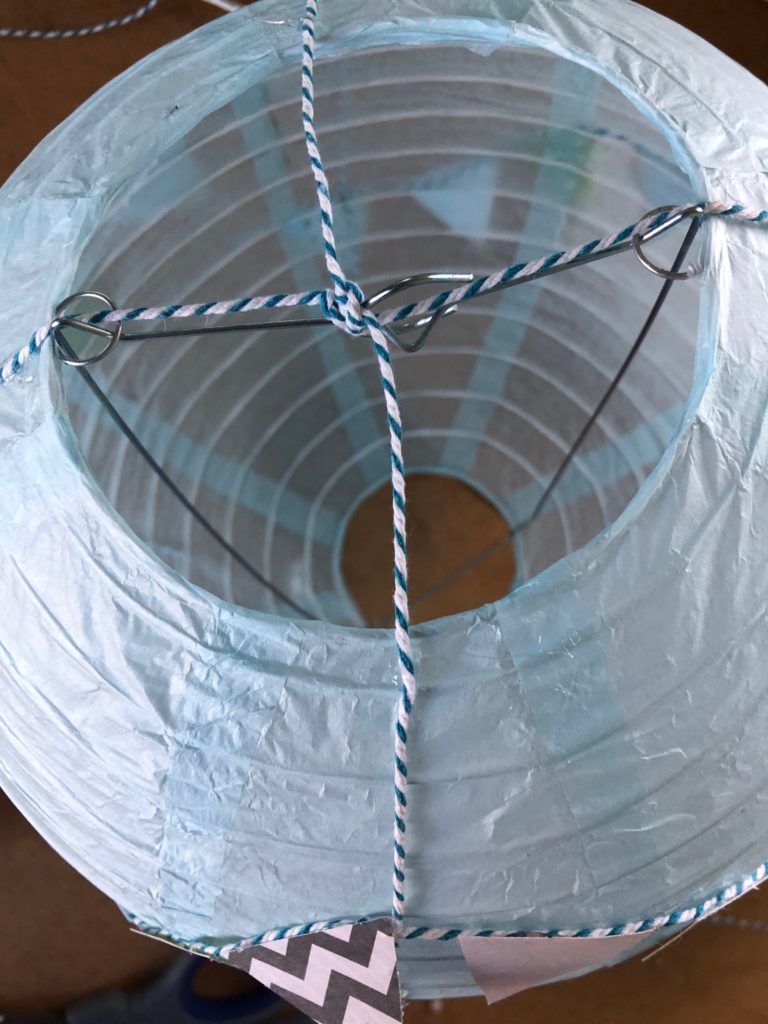 Step 2
Decide what colors and patterns of scrapbook paper you want to use as flags on your hot air balloon. Cut out about 20 to 25 triangles per lantern depending on the size of your paper lantern. My triangles measured about 1″ to 1 1/2″ in length and height.
Tip: I used my circuit machine to cut out all of the triangles which saved me a lot of time. I used yellow, grey, blue and white patterned paper to bring in a little wow factor. These hot air balloon decorations are perfect for a neutral baby's nursery!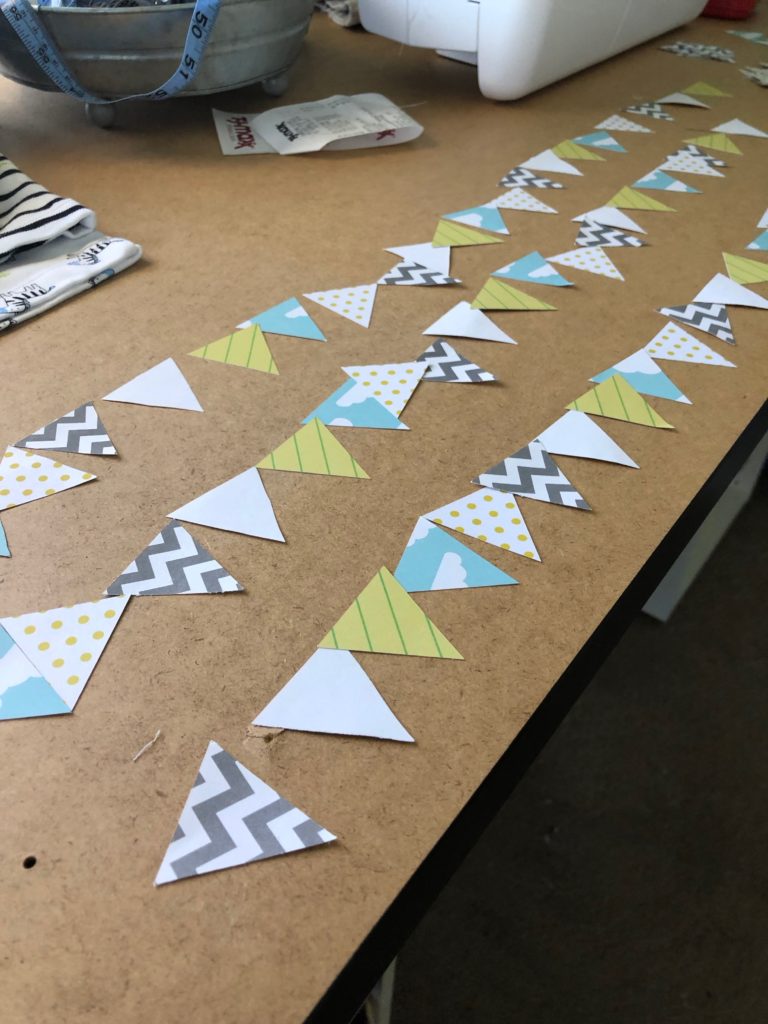 Step 3
Cut pieces of bakers twine long enough to wrap all around each lantern. Make sure the strings are long enough to dip up and down around the lantern. Start at the top of one side and use hot glue to secure. Move the string down for the next section and add a dab of hot glue to secure it and repeat this up and down method until you have reached all around the lantern to the start area. You don't need to connect the strings unless you want to, I ended with one up high and one down low. Once the string is in place, start attaching the triangles all along the string with hot glue, leaving a small space in between each triangle.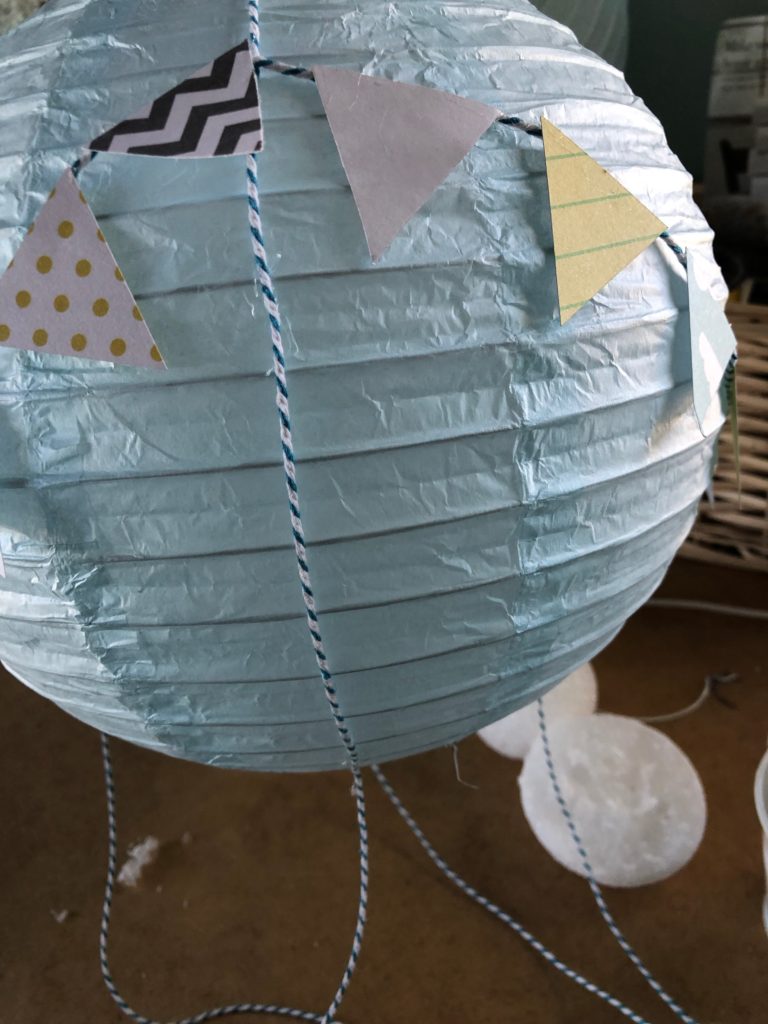 Step 4
I took off the handles of the white metal buckets. Using a regular hole punch to punch I added two extra holes. I had to bend a little piece of metal to the inside as it did not punch a perfect hole. You will then have four holes to attach your twine through.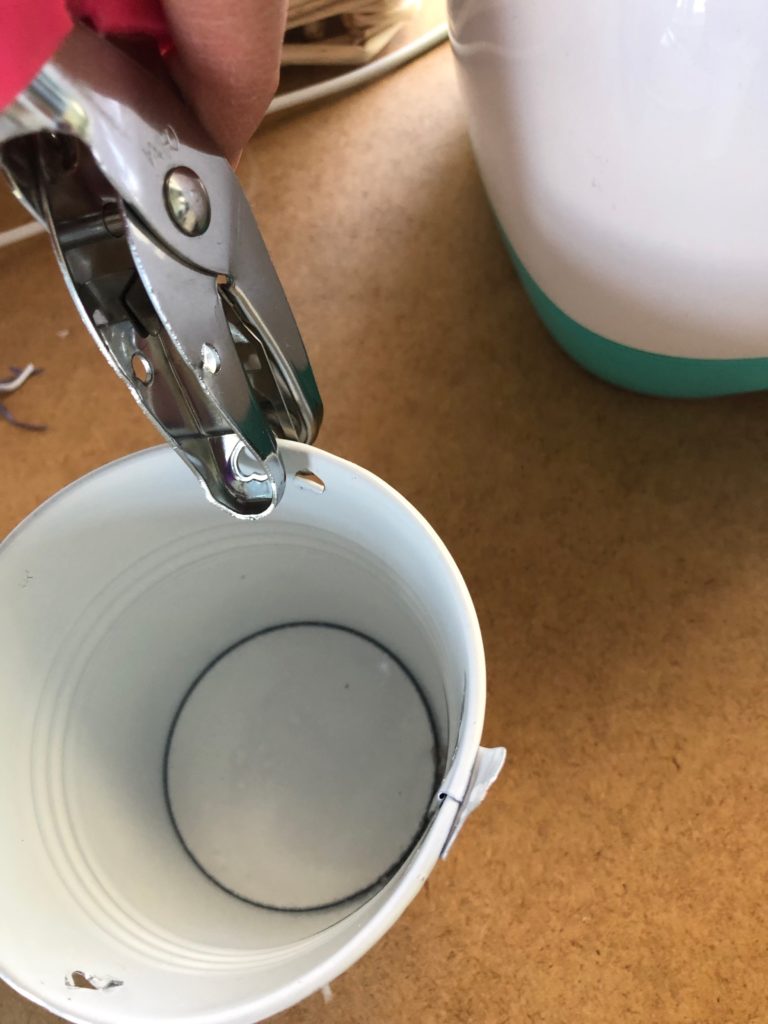 Thread the bakers twine that you let hang down from step 1 into each one of the holes. Make sure that they are even so the basket hangs straight and not crooked. The best way to do this is to hang the lantern by the metal hook somewhere and let the twine hang down, then start with one side and thread the twine through one hole but don't knot it until all 4 are threaded through. Once the basket is hanging evenly then tie each one with a knot. You are almost done creating your Hot air ballon decoration!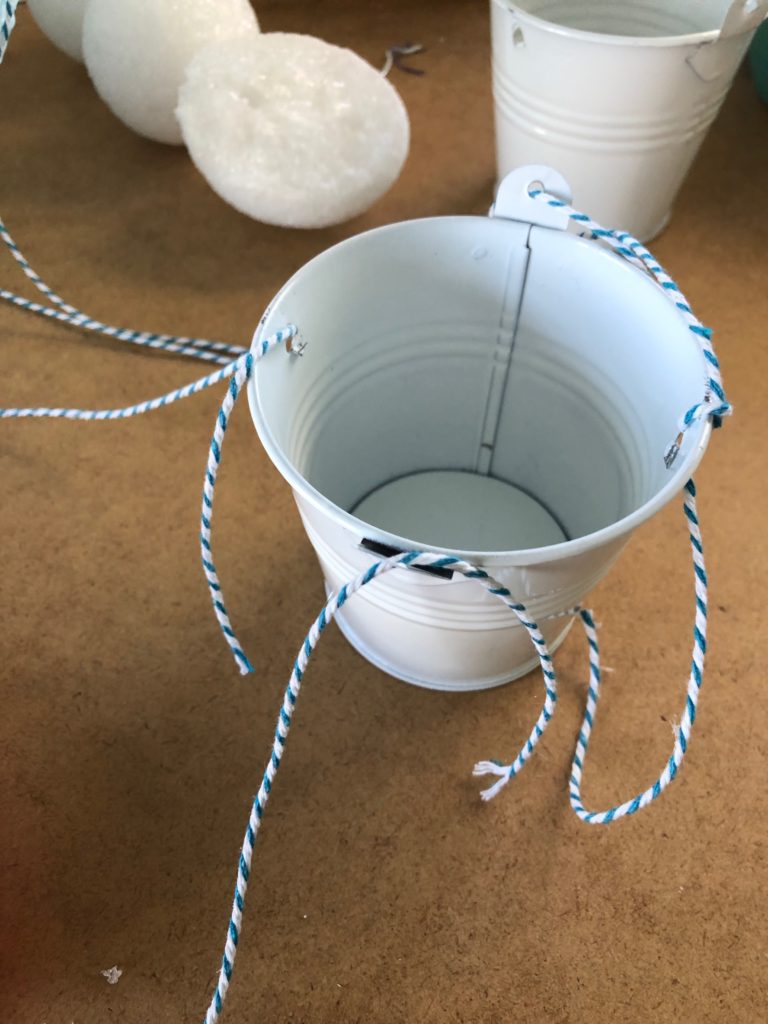 Step 5
Take a small piece of twine and tie it around all four pieces of twine. It gives it more of the look of a hot air balloon and bam! You are done!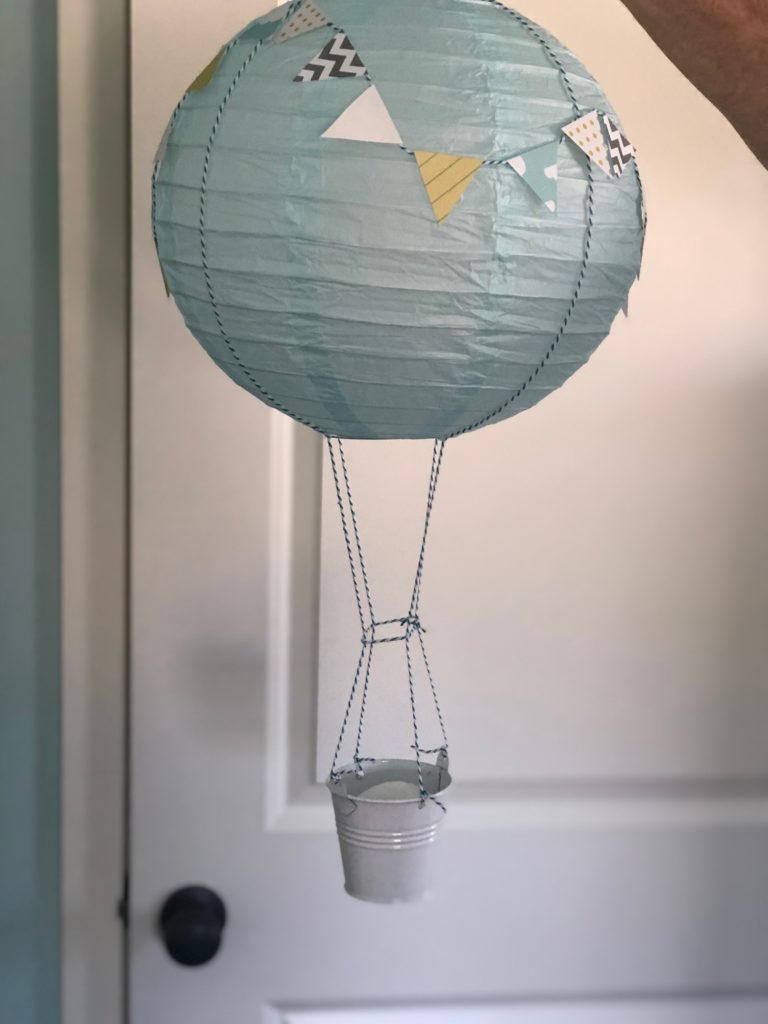 How to hang hot air balloon decorations
I hung the 3 hot air balloons from fishing line and used a push pin in the ceiling for the baby shower. It looked adorable. These made a nice gift for my niece. She used the hot air balloons decorations for the baby's nursery. I hope you enjoyed my how to make a hot air balloon decoration tutorial.
Here is the link to my post about the entire Hot air balloon baby shower that turned out so adorable! I love to host baby showers. I did one with an Indian Tribal Baby shower with lots of fabulous food ideas! For my daughters baby shower, we did a Fiesta Baby shower with an incredible taco bar. We also served a layered cake with succulents!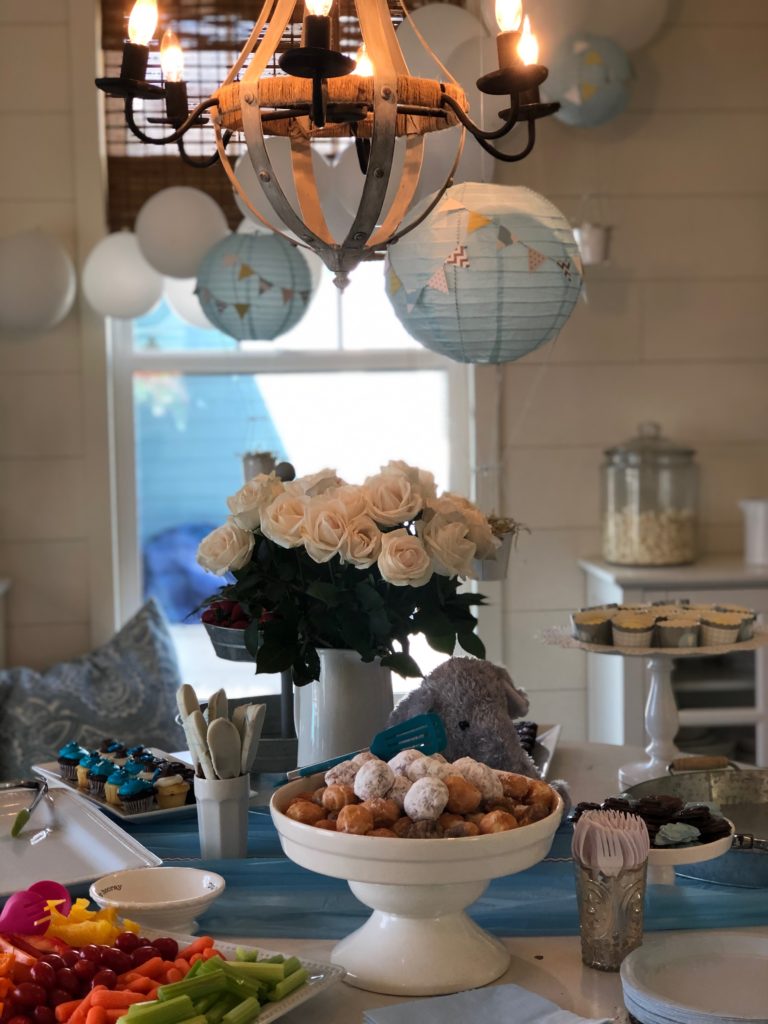 Shop This Post

Pin for later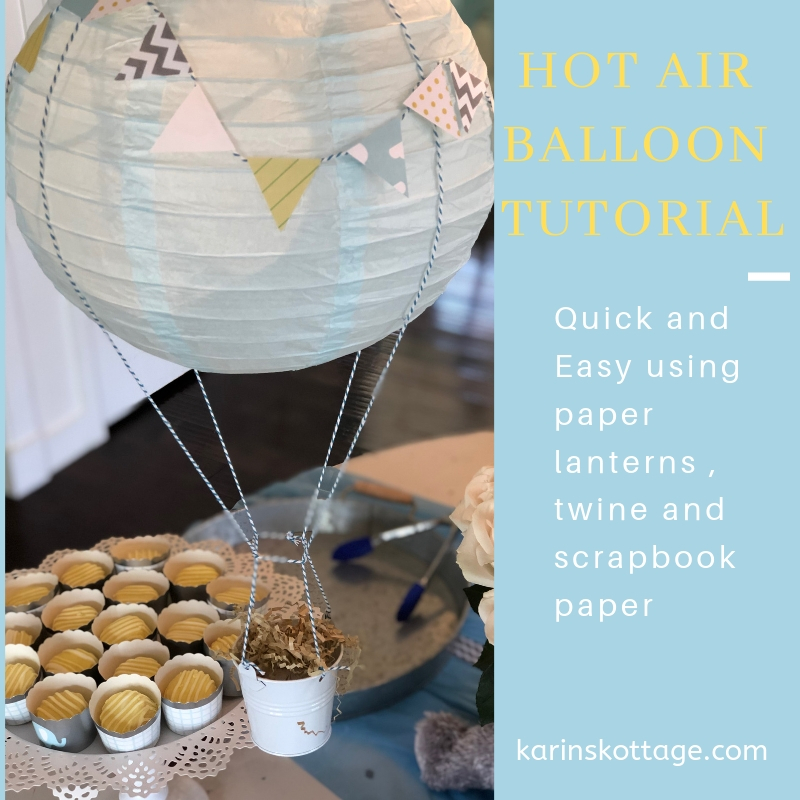 I as highlighted on JodieFitz Readers Tip Tuesday party!