How to make a fancy Nancy birthday tea party in your backyard. I whipped together a darling tea party for my granddaughters 3rd birthday.
It was last minute and we invited one guest. Her 5 year old cousin, my youngest grandson 🙂 He was so precious and really got into it for her.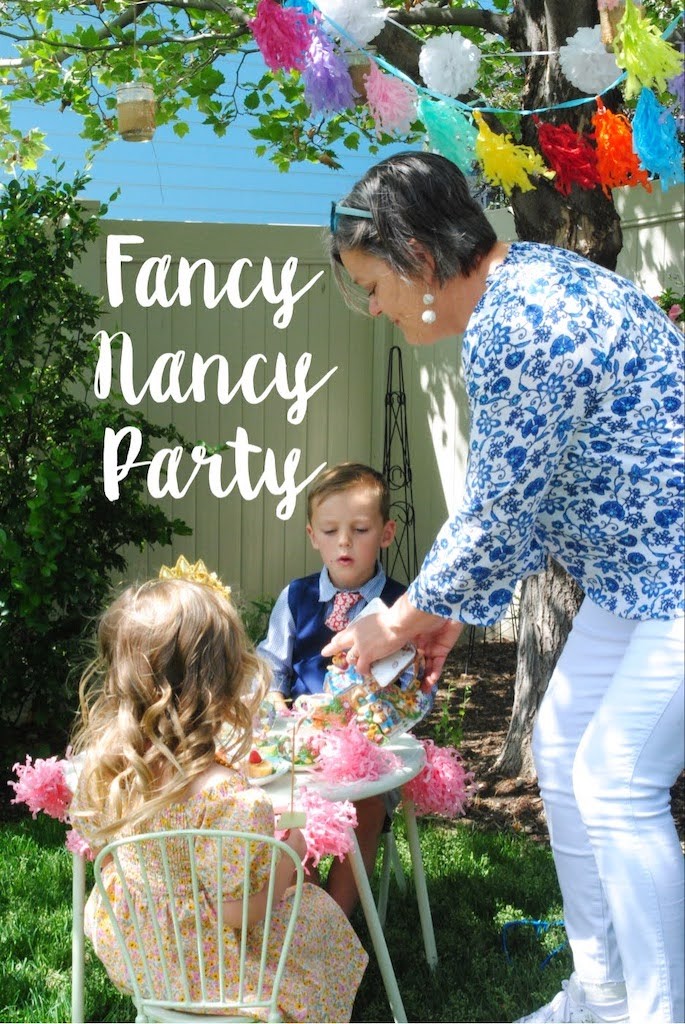 He totally dressed up wearing a vest, shirt and tie. The fake mustache and captains hat totally completed his outfit.
Does that just melt your heart or what!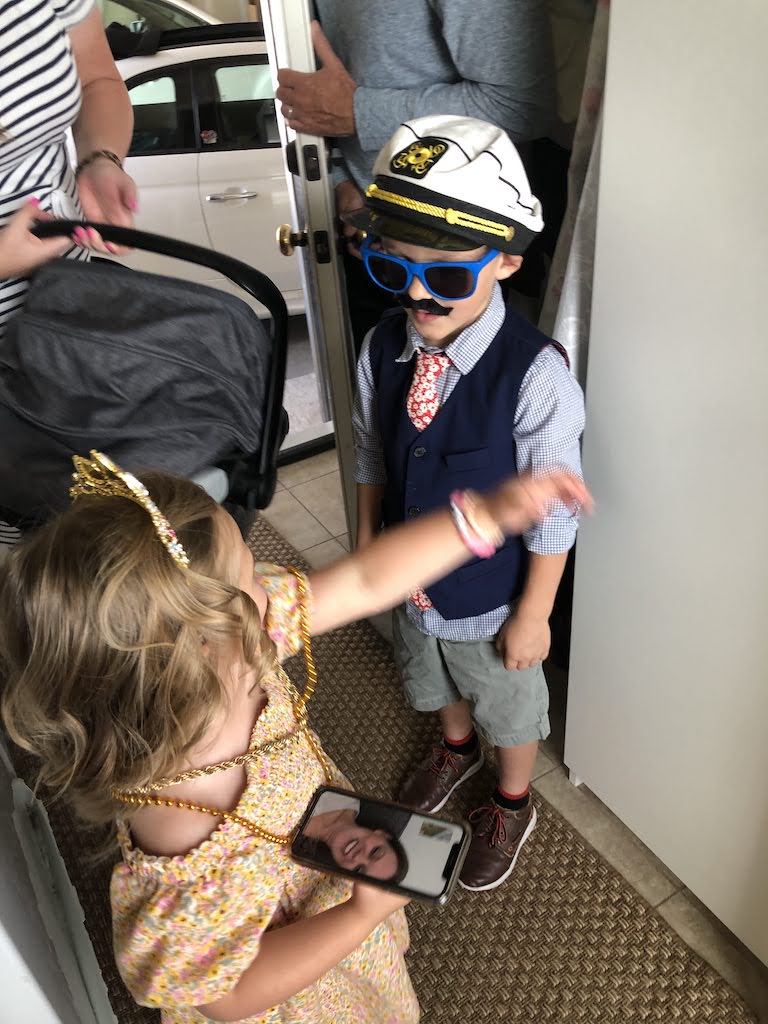 Fancy Nancy Birthday party decor
Since this was last minute, I dug around in my party stash and came up with some fun decor. I have lots of leftover paper banners from prior parties.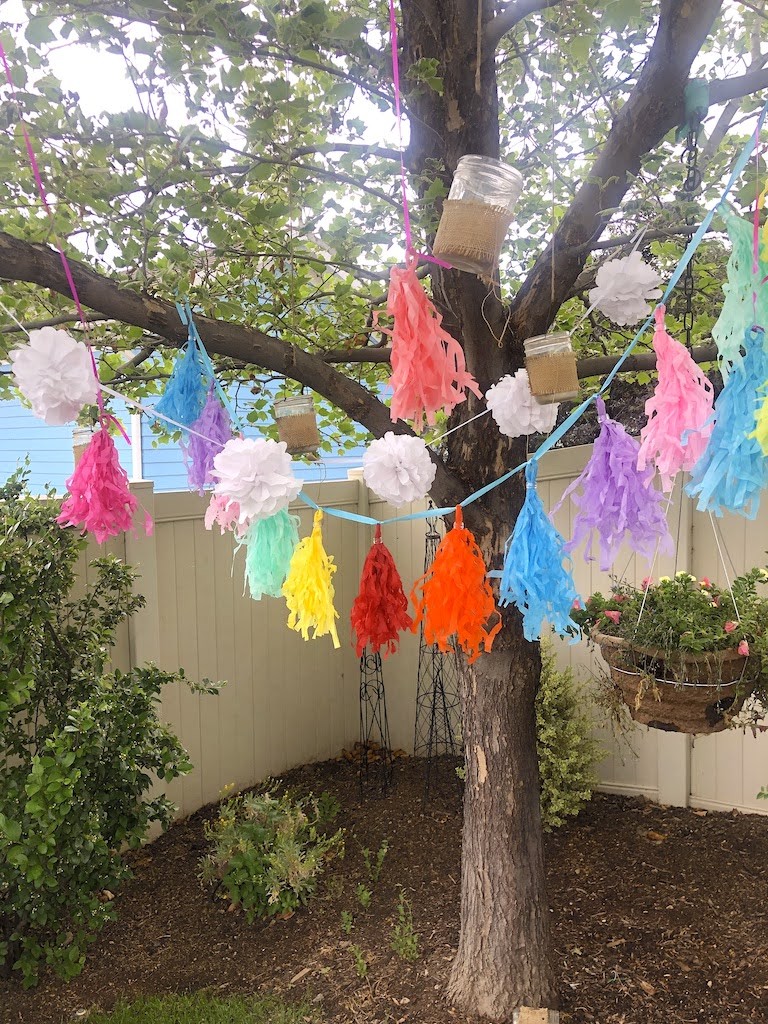 You may recognize some of them from this Tiki party I did for my grandkids last summer. I strung 3 garlands in our backyard tree.
Some of the tassels were loose so I strung them up separately with ribbon.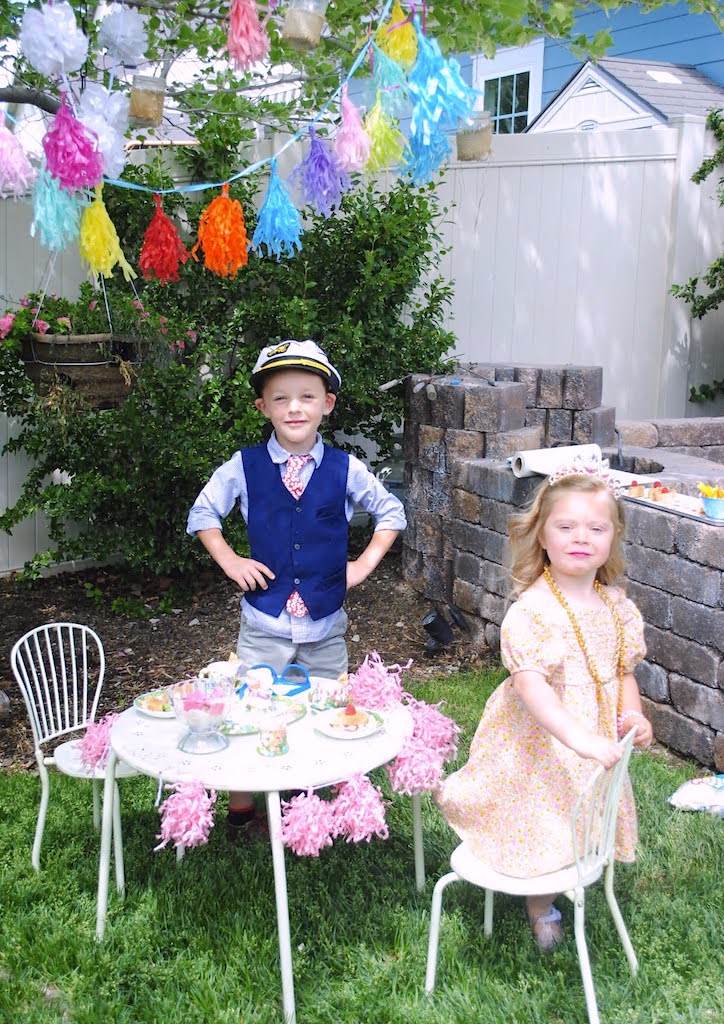 These two! They look like little British royalty don't they? haha
Of course what is birthday tea party with a tea set? My mom bought this set from Costco many many years ago for my daughters.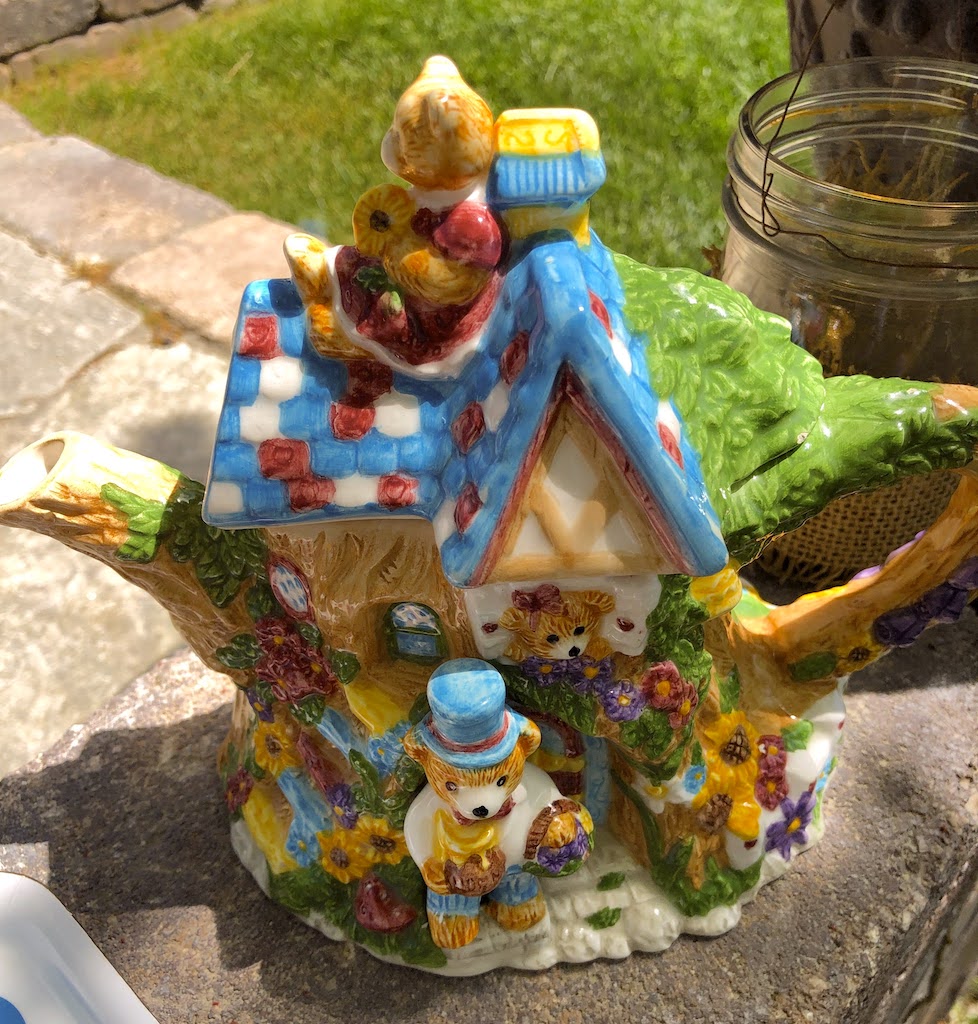 It is the cutest set. 4 tea cups and sauces, 4 plates, 4 napkin rings, salt and pepper shakers, a creamer and a sugar bowl with lid plus the tea pot! My daughters loved this set and now so do my grandkids.
Our little Fancy Nancy tea party princess pouring some "tea" aka chocolate milk.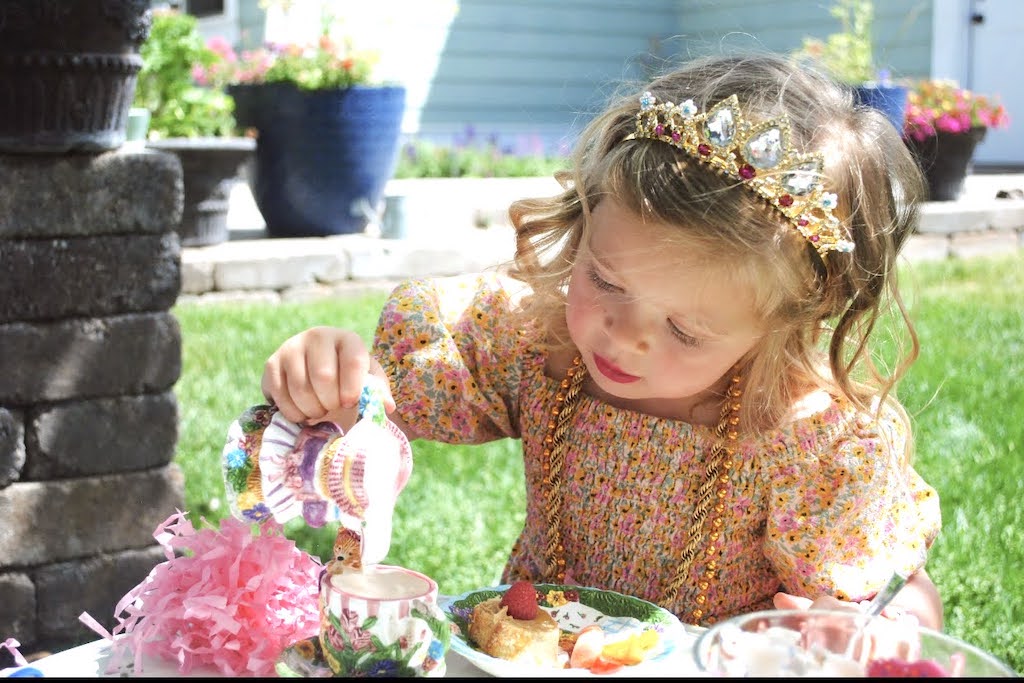 Plus it was free!
Fancy Nancy Tea party table and chairs
The darling metal table and chairs are from Ikea. I bought this set a long time ago for our oldest granddaughter who is now 12.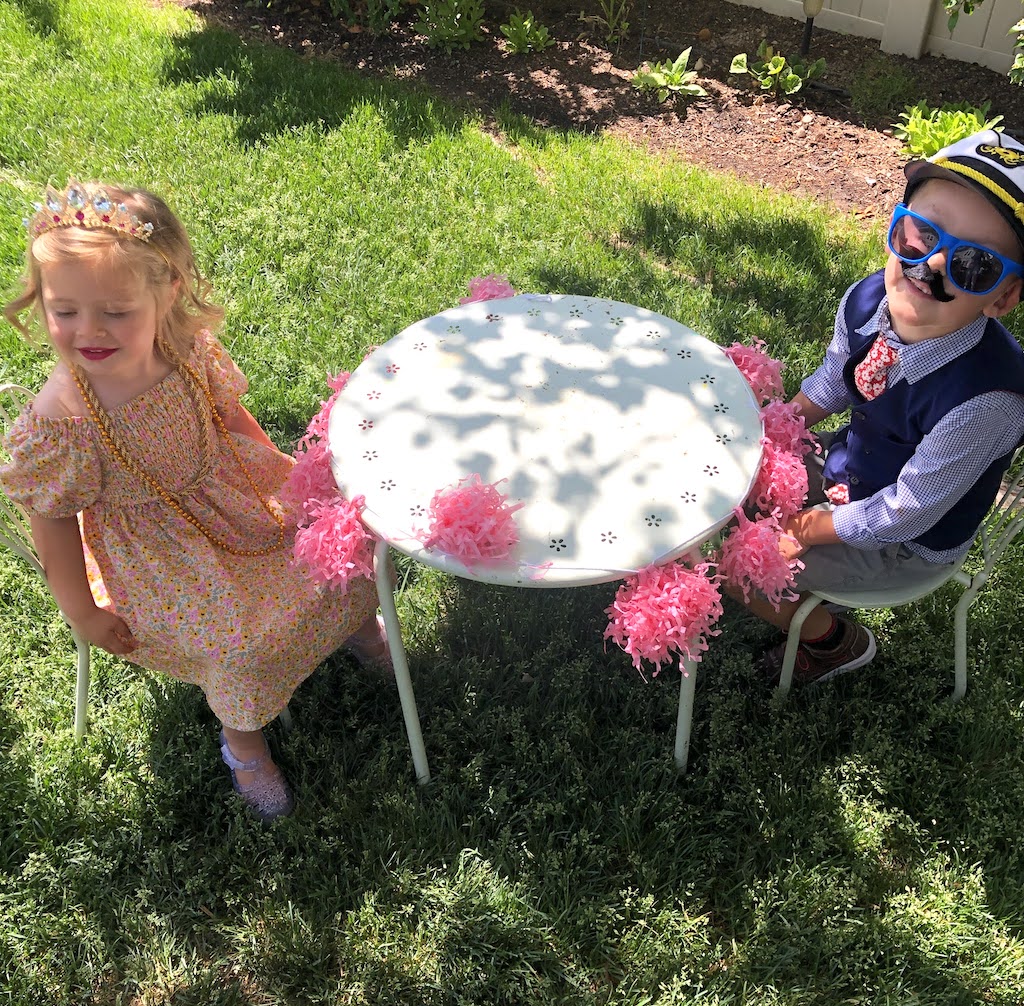 The table has seen some wear and tear over the years but it has stood the test of time.
I wish Ikea still made this set.
I will be spray painting it soon.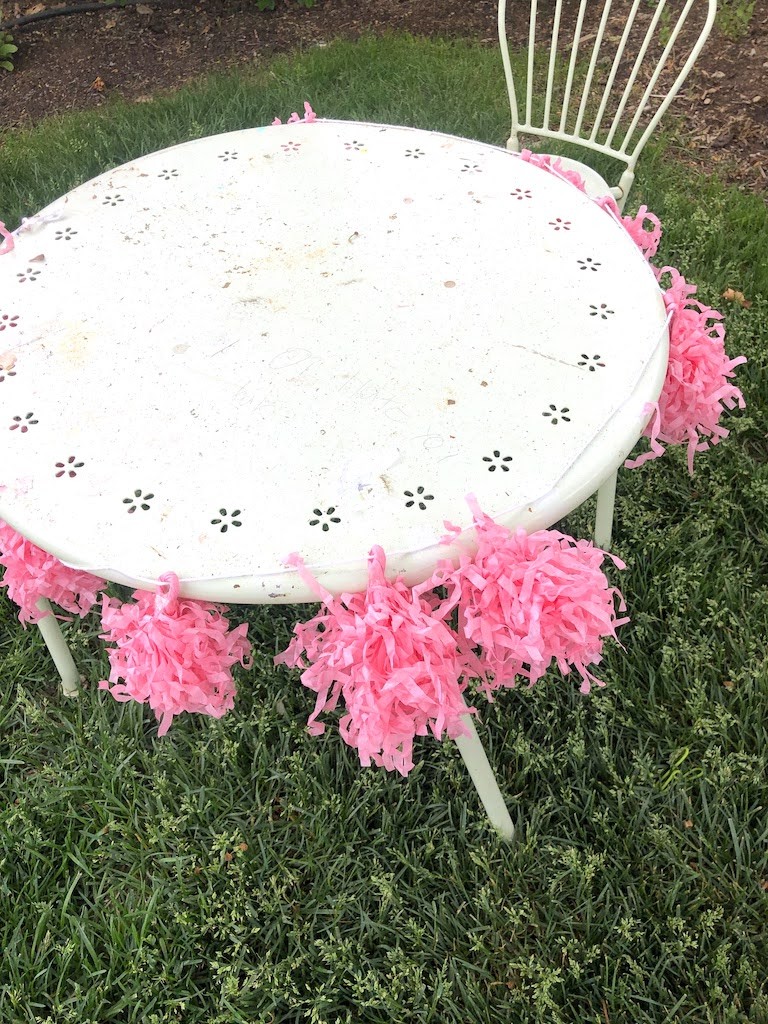 To bring in a little "Fancy Nancy" I used another one of my paper tassel garlands and taped it around the edge of the table.
Tea Party Food
I had some grapes, cantaloupe, blueberries and pineapple in the fridge so I skewered some on wooden skewers.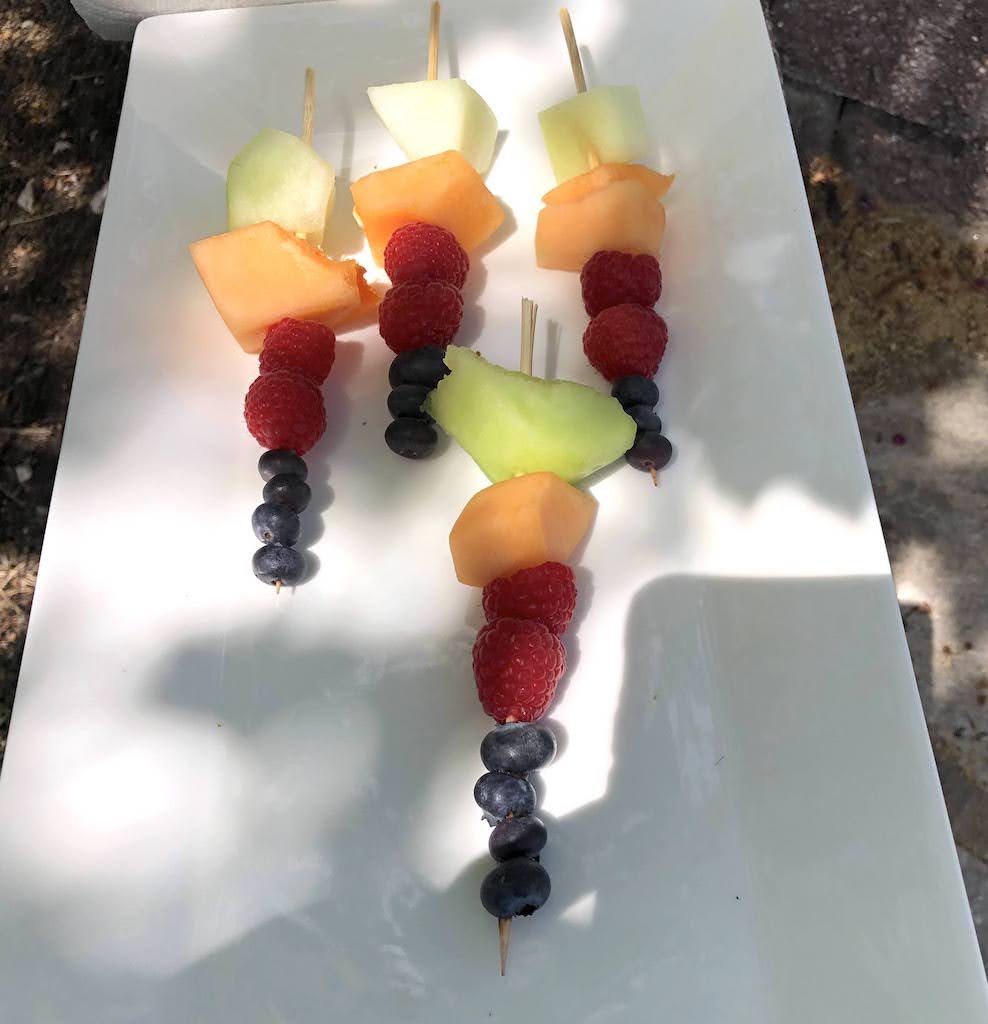 For little finger sandwiches, I sliced a French baguette and spread peanut butter and squiggle of honey on each slice.
I topped each finger sandwich with one raspberry to make it fancy.
These two love crunchy vegetables. I filled a small bowl with carrots, peppers and sliced cucumbers.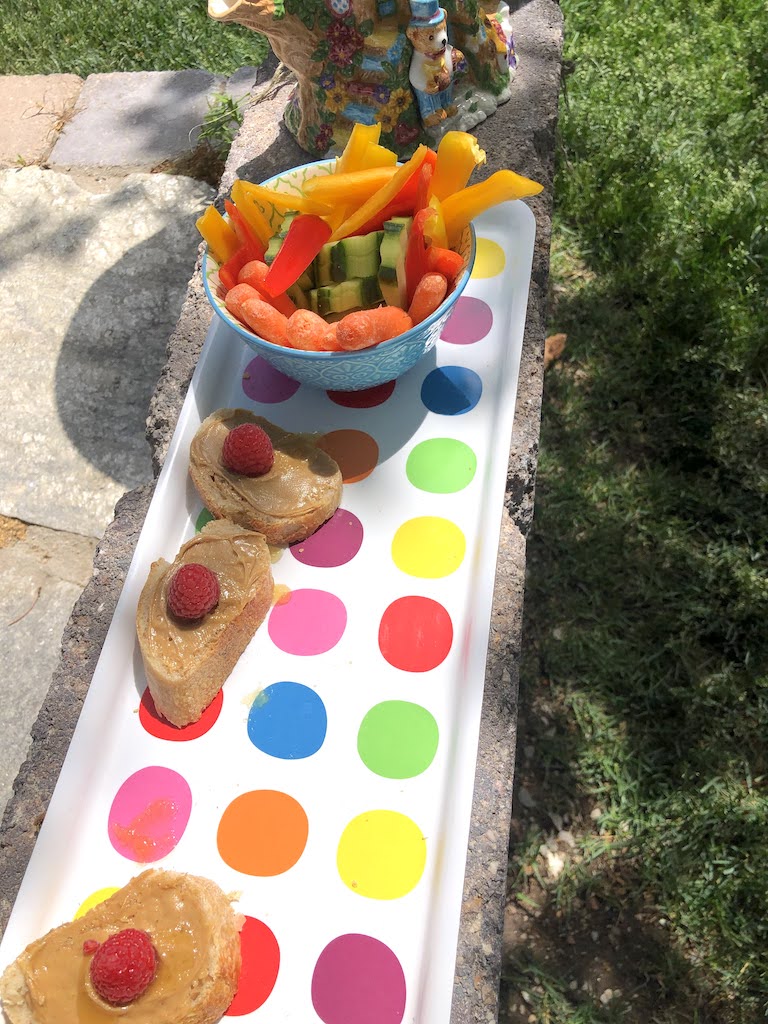 Pink and white animal cookies and sprinkles are a must for this tea party birthday party!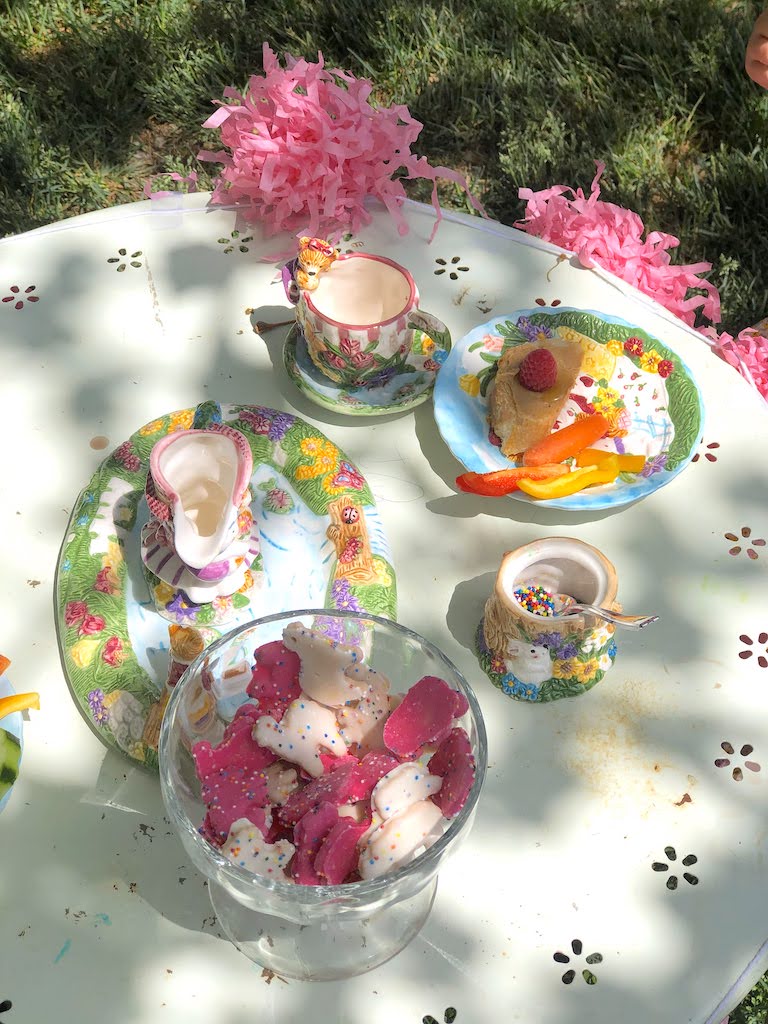 Fancy Nancy Cake
I bought a small white cake at the grocery store. It had red blue and yellow balloons piped on it 🙁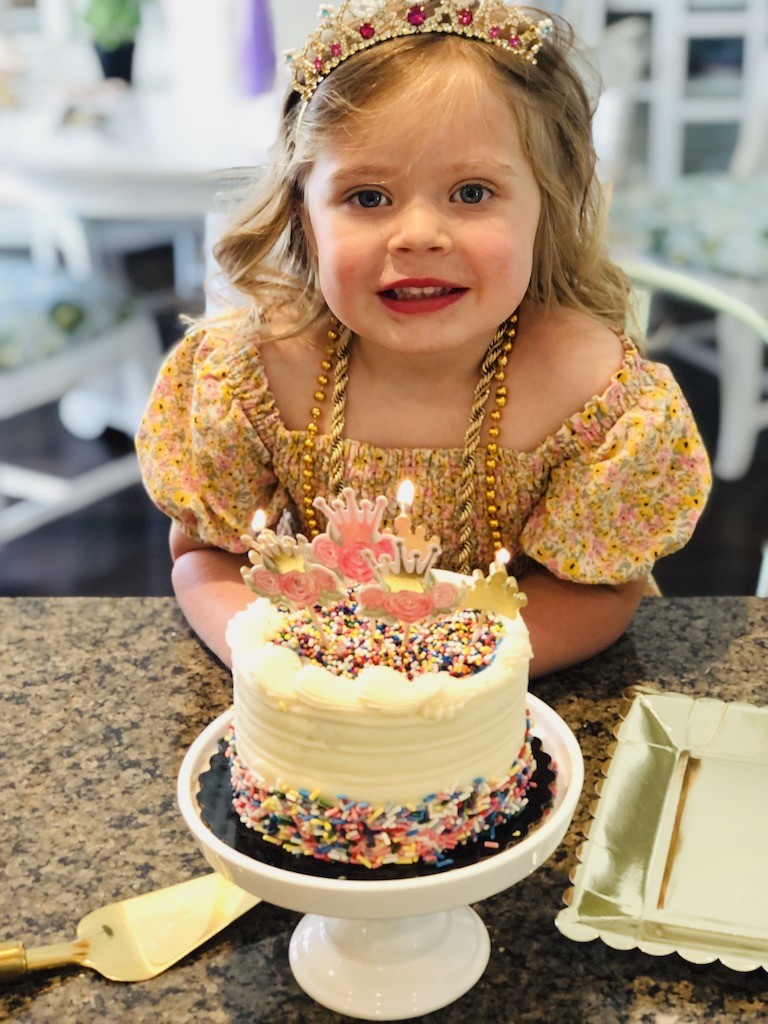 Because this was supposed to be a fancy cake, I scraped off the balloons, spread the leftover frosting and covered the top with sprinkles.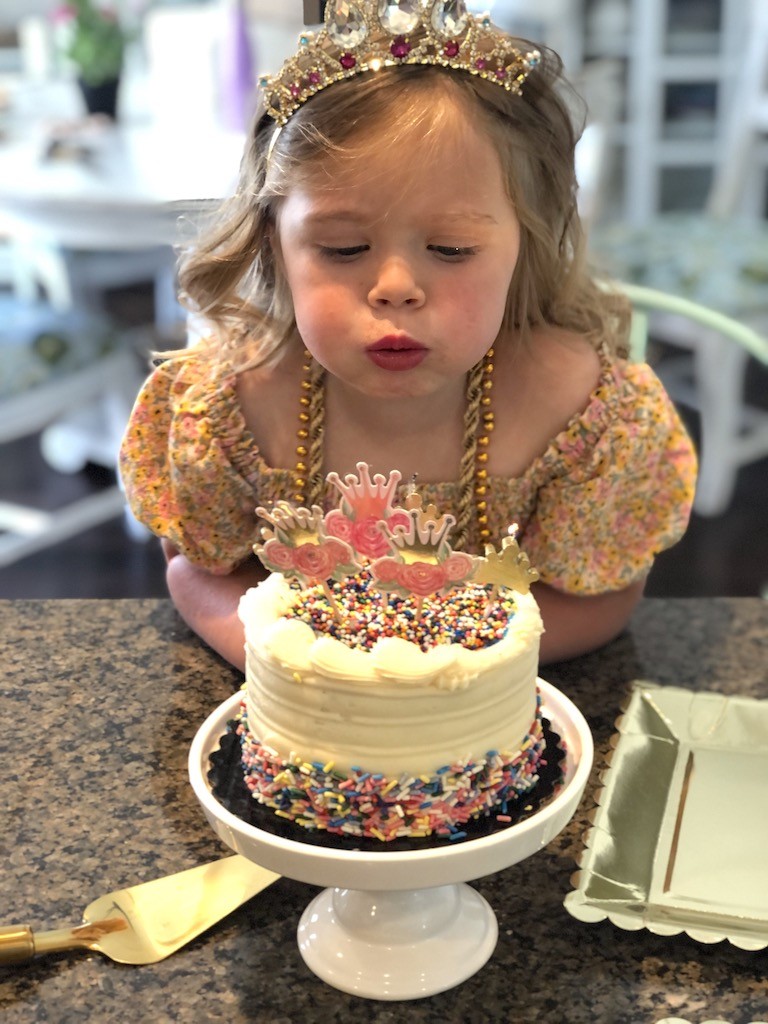 Popped in some mini gold crown candles and pink paper crown toothpicks and it was perfect!
Party activities
First we did finger painting with pudding colored with food coloring because who doesn't want to eat what you paint?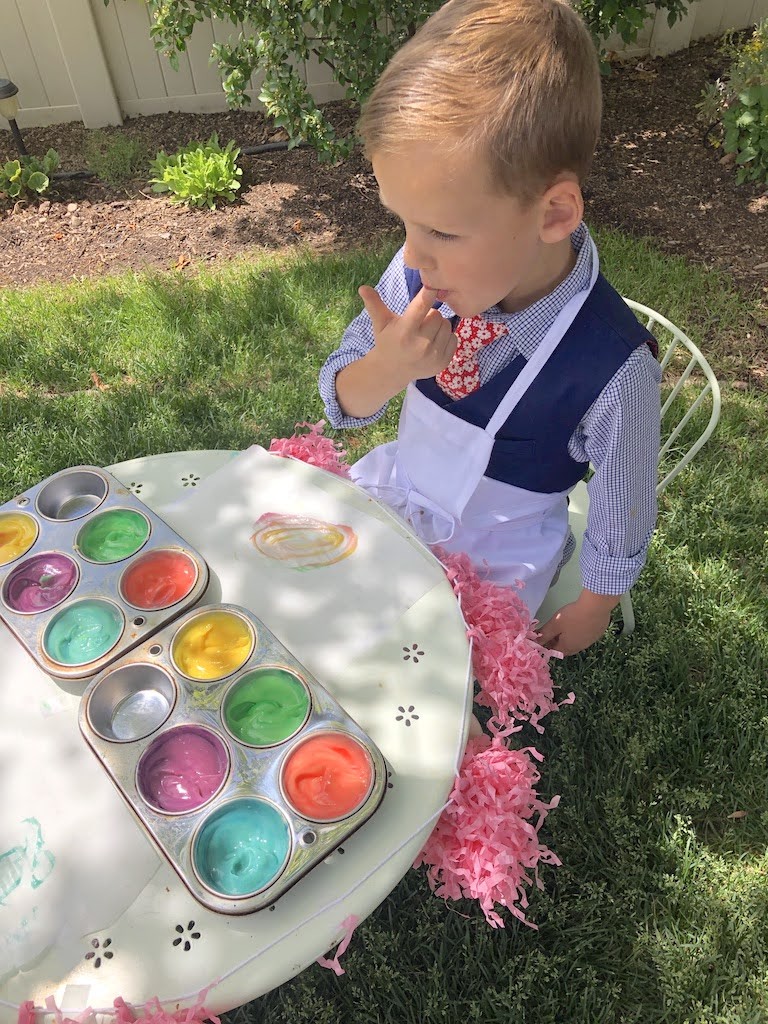 I made 1 box of vanilla pudding.
Placing spoonfuls of pudding in muffin tins and then dyeing them different colors with food coloring is just plain fun!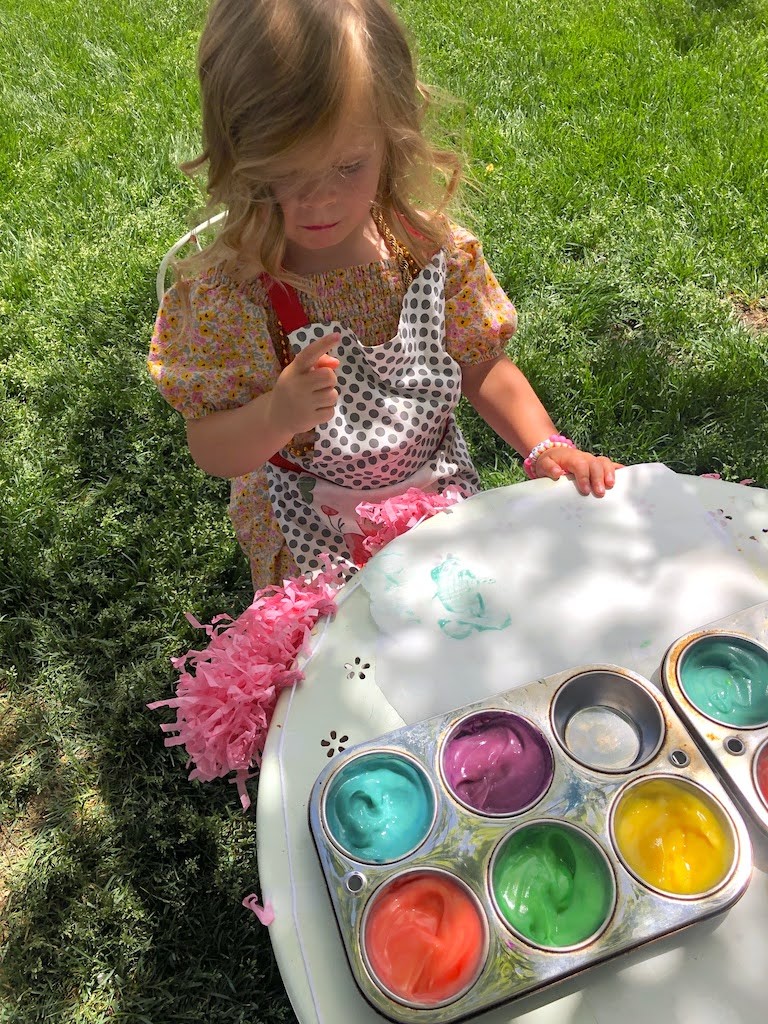 Second activity was a mini treasure hunt. I bought random little toys like mini binoculars, swim toys and some candy and placed them in a cardboard box.
Taped up the box and hid it in the backyard.
Then I told them to go search for a treasure box. They loved it!
Just having fun
These littles just loved being together outside under the tree having a tea party.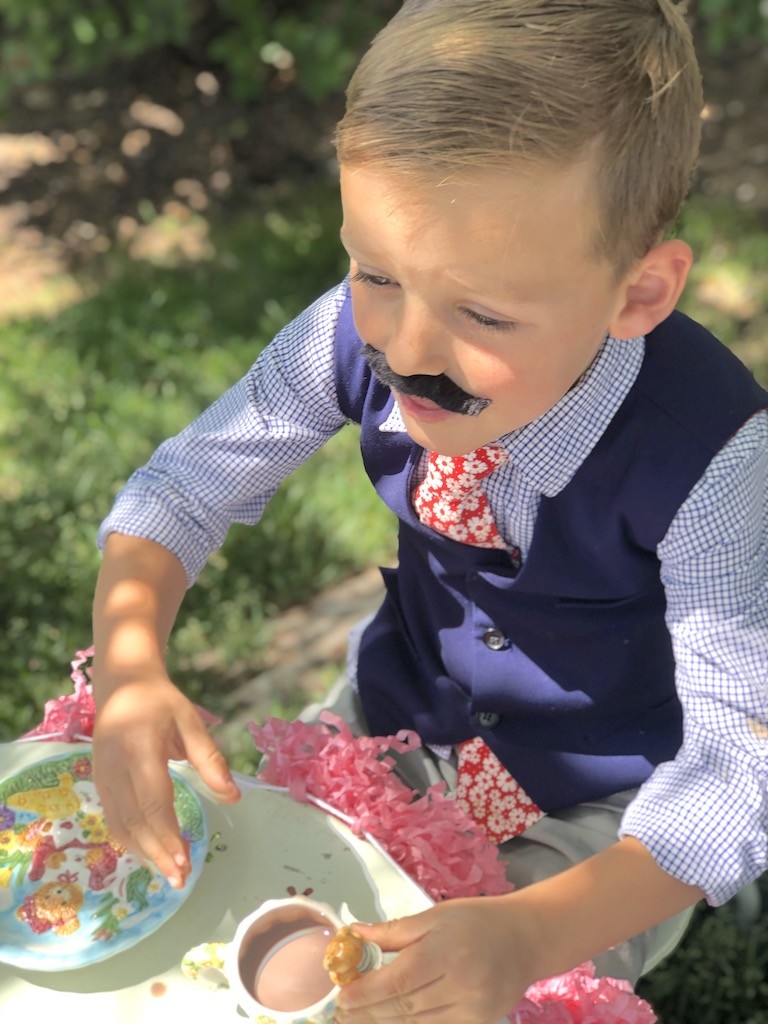 I wish these days could last forever with my little grandkids 🙂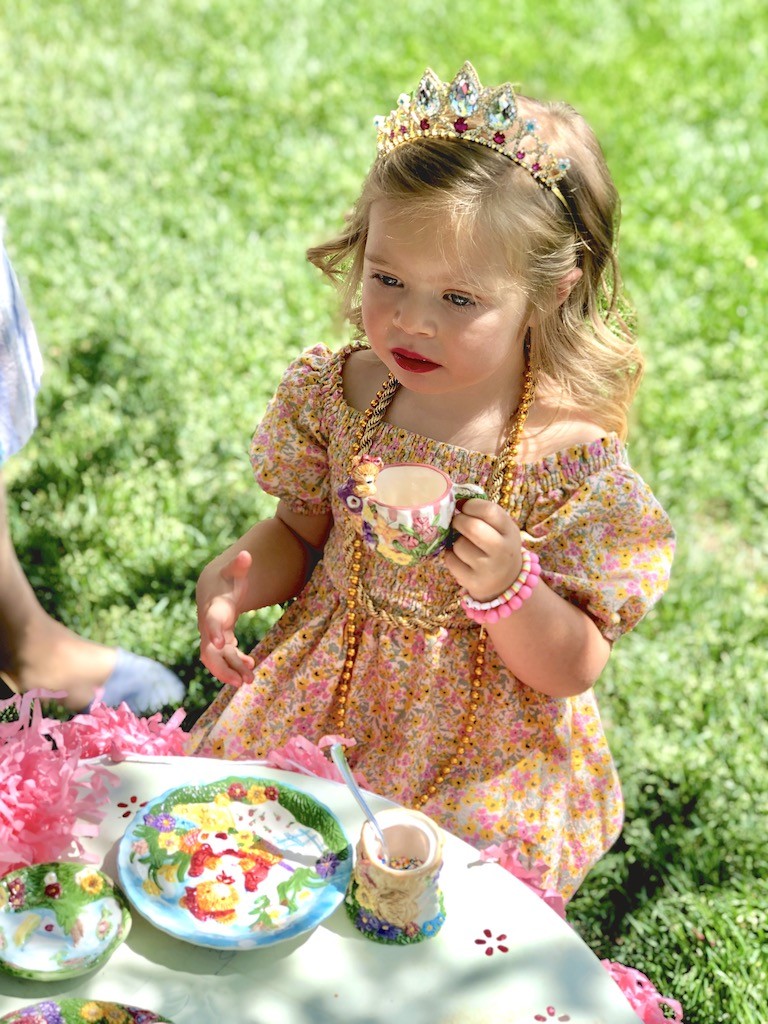 This cracks me up with the "thumbs up" from the birthday princess haha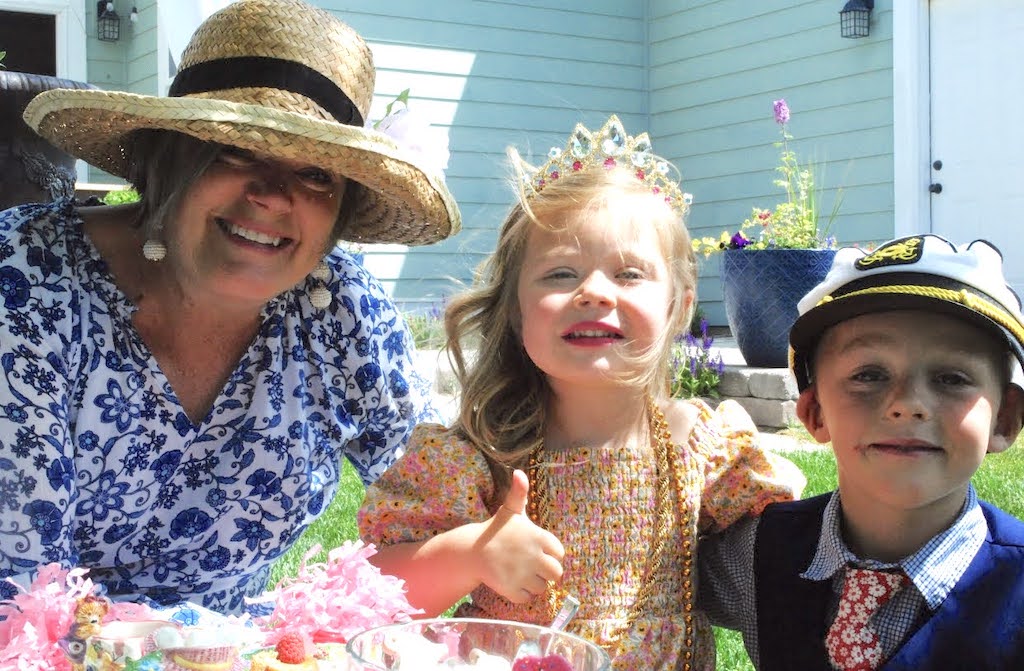 Shop this post

Pin for Later