My daughter has been busy putting together a cute nursery for our new grand baby girl due in just a couple of weeks!
We are so excited to welcome another little girl into our family!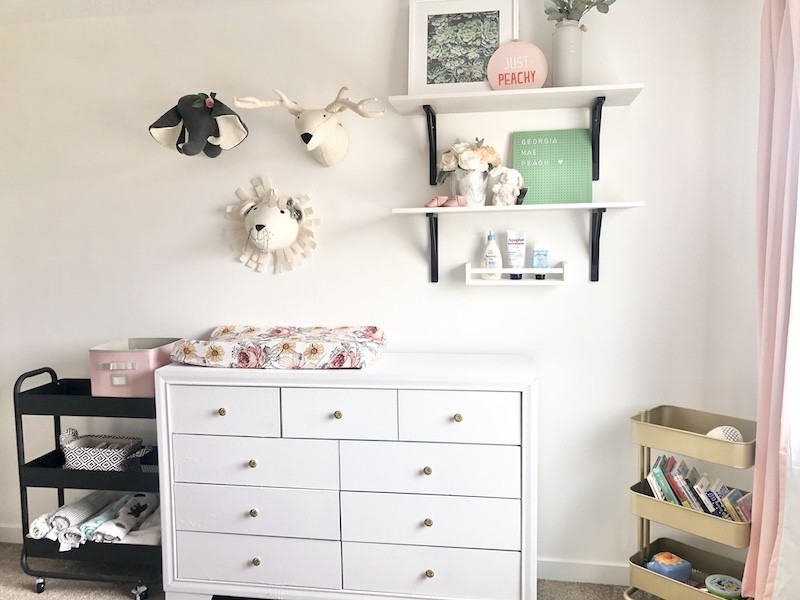 Her name will be Georgia Mae! I absolutely love the name they have chosen for her.
Adding Shiplap to One Wall in Nursery
To get ready, Emily and her hubby have been so busy getting this DIY nursery ready as well as their basement before their second daughter arrives!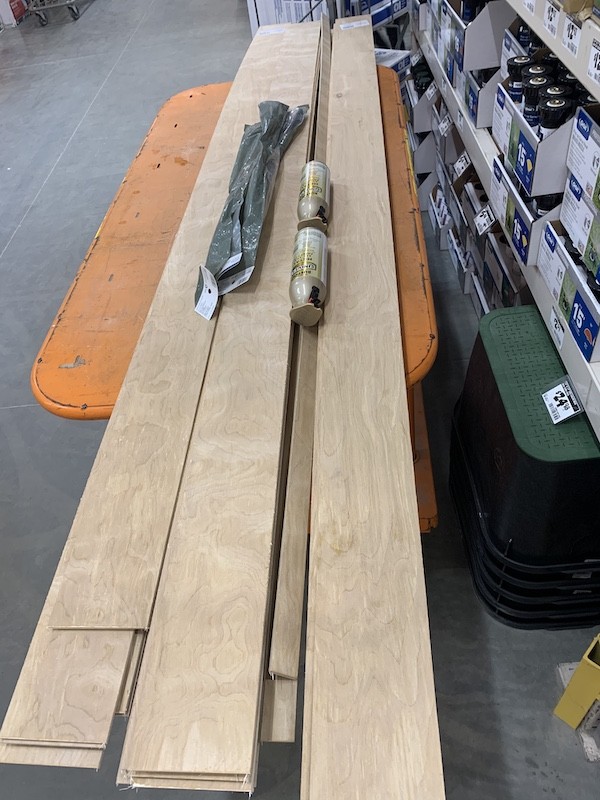 To create the shiplap wall where the crib will sit they used hardwood plywood underlayment boards.
They bought the 4 X 8 foot boards and had each piece ripped to get 7″ wide by 8 feet long boards. It took 3 boards for this wall but they had a little left over.
Kevin started in the left corner and staggered them on the wall attaching them with a nail gun.
This reminded me of when we added shiplap to our walls in the basement only we did it vertically and painted them white.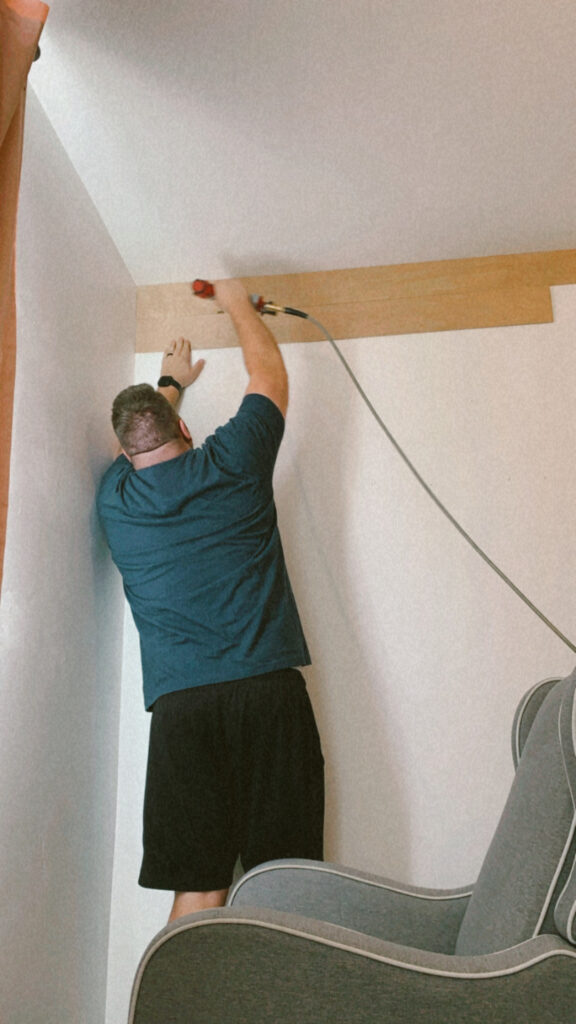 Kevin works so hard on their house and loves doing Do It Yourself projects. Remember when he helped my hubby create a planked top table to our existing dining table? I love DIY projects!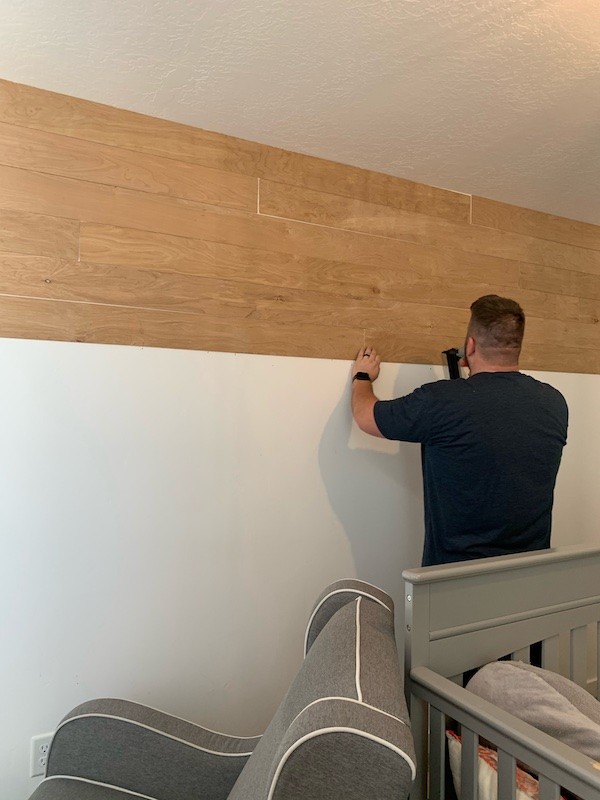 They were going to paint the shiplap wall white but decided to keep it natural wood.
It looks so good!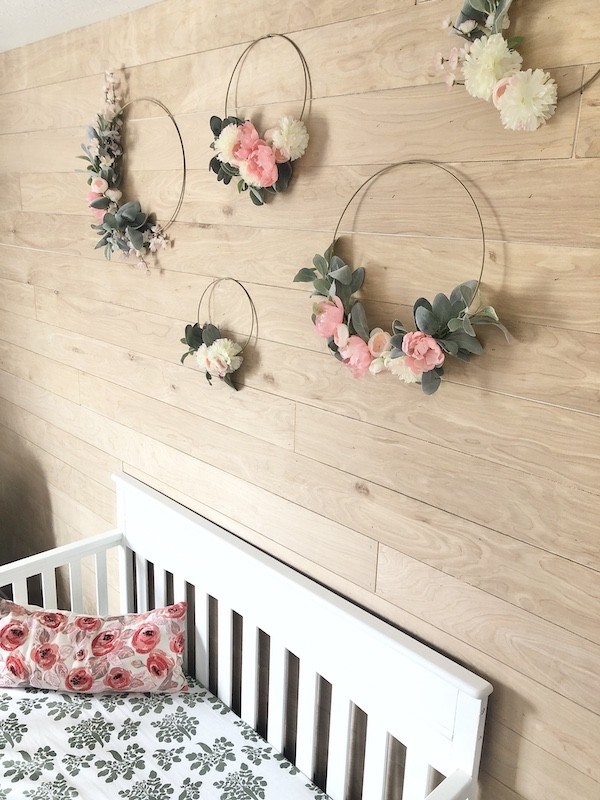 It brings in warmth to this cute nursery room.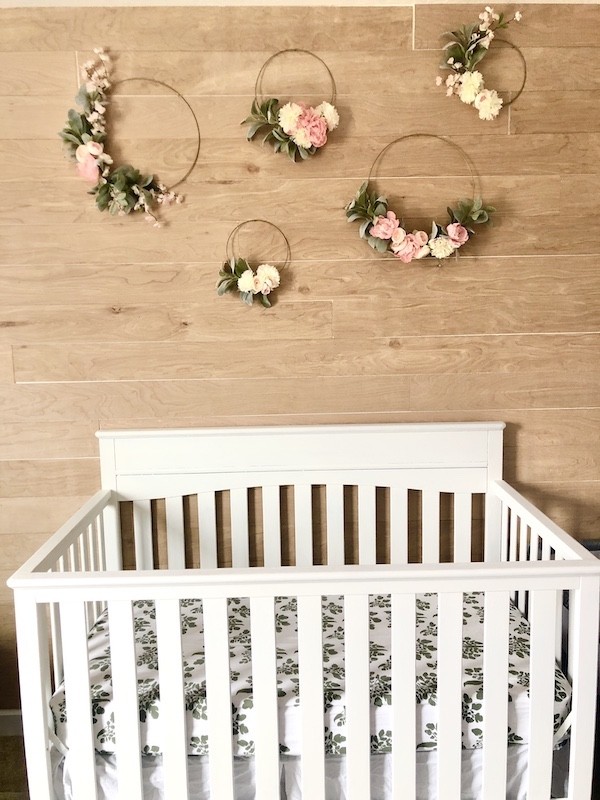 Floral wreaths
Recently my daughter and I made the wire hoop floral wreaths that are hanging above the crib 🙂
Tutorial for the wire hoop wreaths is here.
They turned out so pretty and feminine and were so easy to make!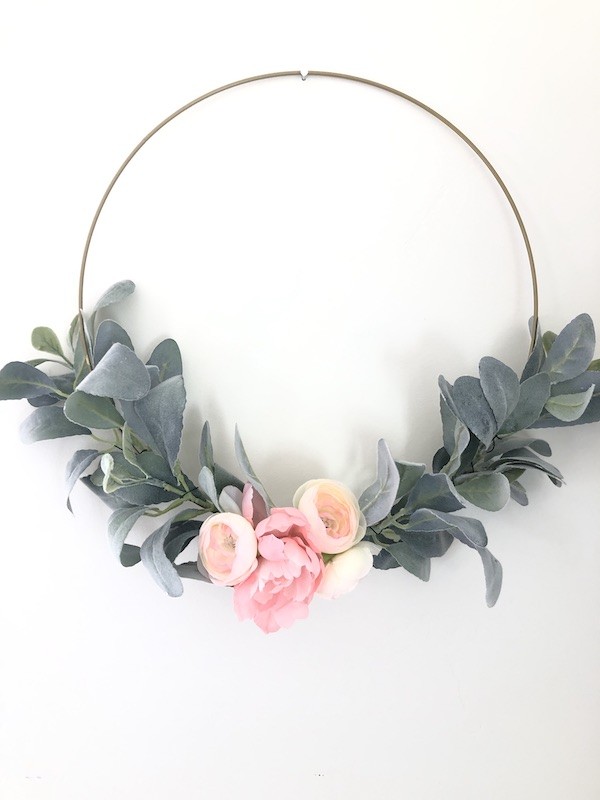 Making over the crib for the nursery
The darling wood crib is from Target Emily used it for Harper's room when it was grey.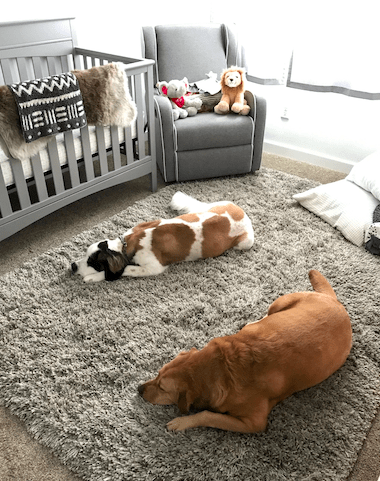 Harper's room was mostly grey and pink with a big fluffy grey rug...you can see who loved the rug the most haha.
Emily also created this big green wreath to hang on the wall as well as the darling floral ring that hangs from the ceiling.
I love seeing how my daughters decorate their kids rooms. Remember this cute pottery barn land of nod knock off bedroom for our oldest granddaughter's room.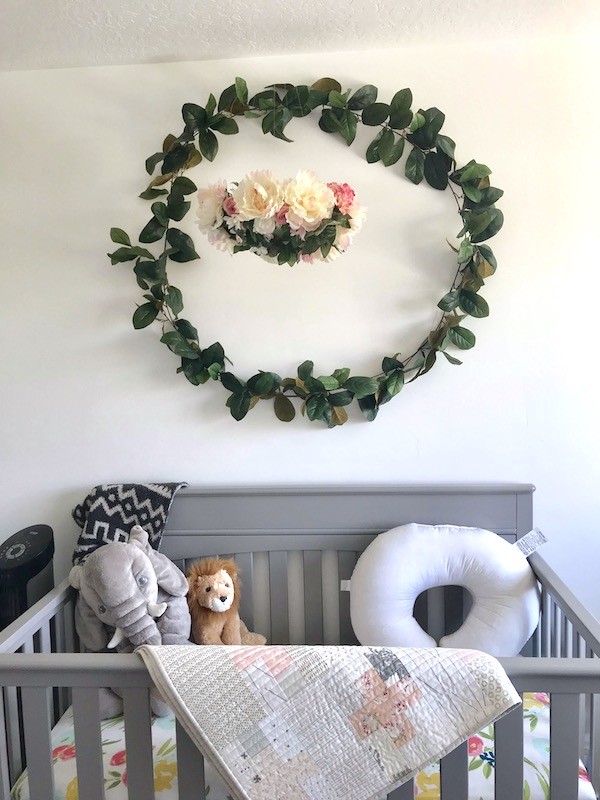 After Kevin and Emily planked the wall for the new nursery, they decided to paint the crib white and it really looks amazing against the natural wood shiplapped wall.
You can see big sister is "helping" us while we try to take photos by throwing the blanket on the floor haha
Don't you love the rug! Grey, pinks and soft yellow so perfect in this nursery.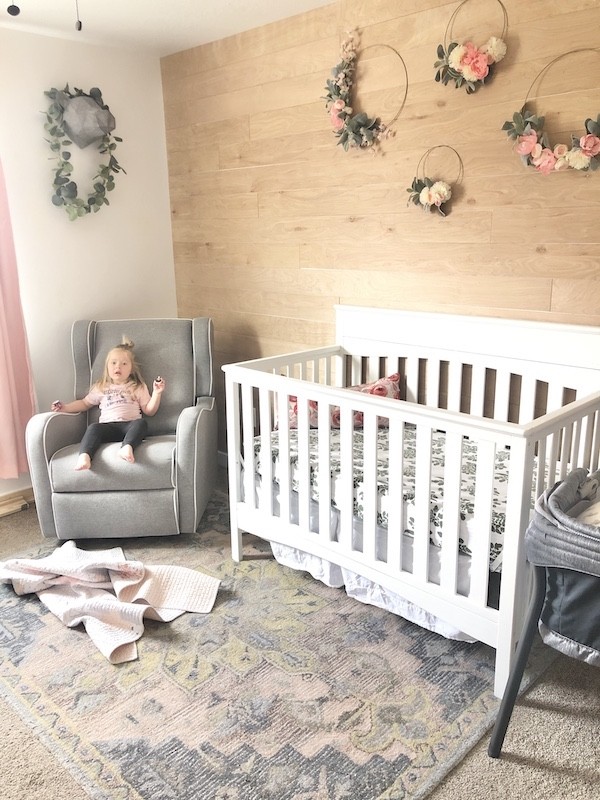 Dresser as a changing table
On the other side of the room is a large white dresser that they found on Facebook Market place and painted it white and added new gold knobs.
Emily bought the gold utility cart that sits to the right of the dresser to store little books and toys for the baby.
So dang cute!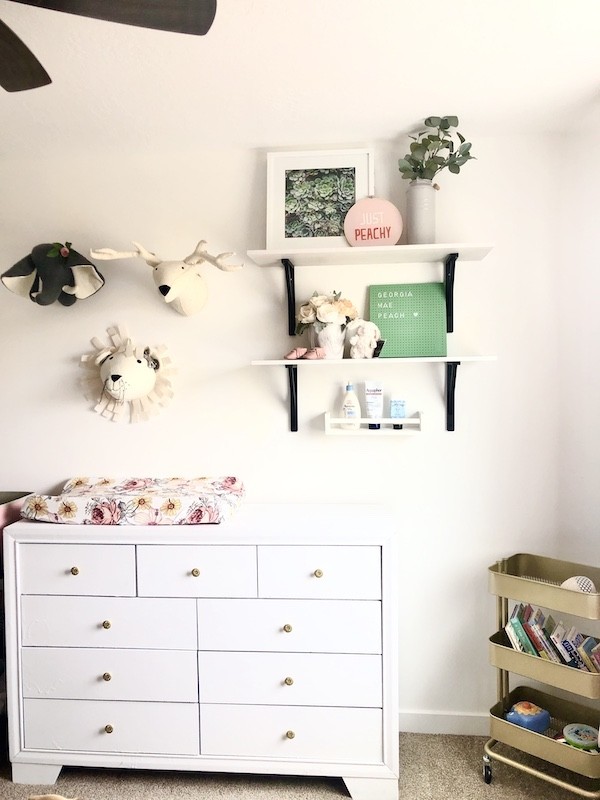 Emily is also using the dresser as a changing table for Georgia. So smart!
She bought a changing pad and covered it in this super cute and sooo soft floral changing pad from Amazon!
It comes in a pack of two different patterns!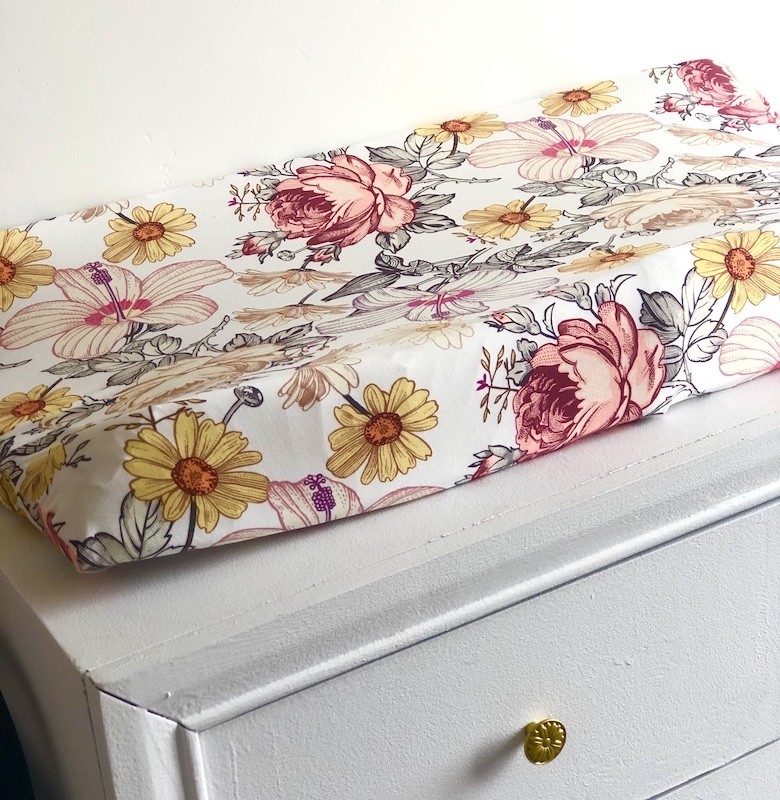 Why didn't they have cute fabrics like this when my girls were little?
Cute shelves for the nursery
Above the dresser is a menagerie of animal heads hanging on the wall. These stuffed animal heads are so fun! An elephant, lion and deer head.
Emily bought them 3 years ago so I don't where you can find the exact ones but here is a link to some cute ones.
I love the simplicity and color combination for this nursery in peaches and greens.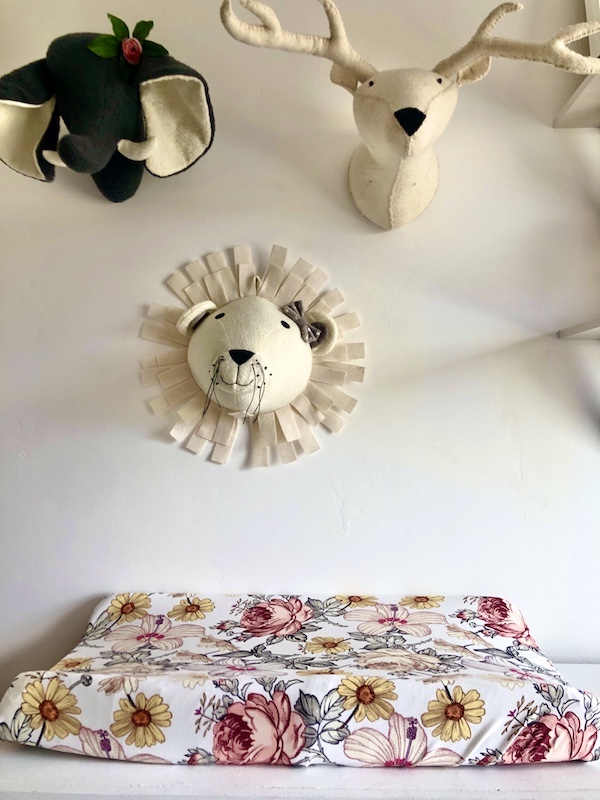 Kevin made the shelving using wood and brackets from Home Depot.
Emily decorated the shelves with a fun photo of green succulents, a "just peachy" sign because we have already nicknamed this baby girl Georgia Peach 🙂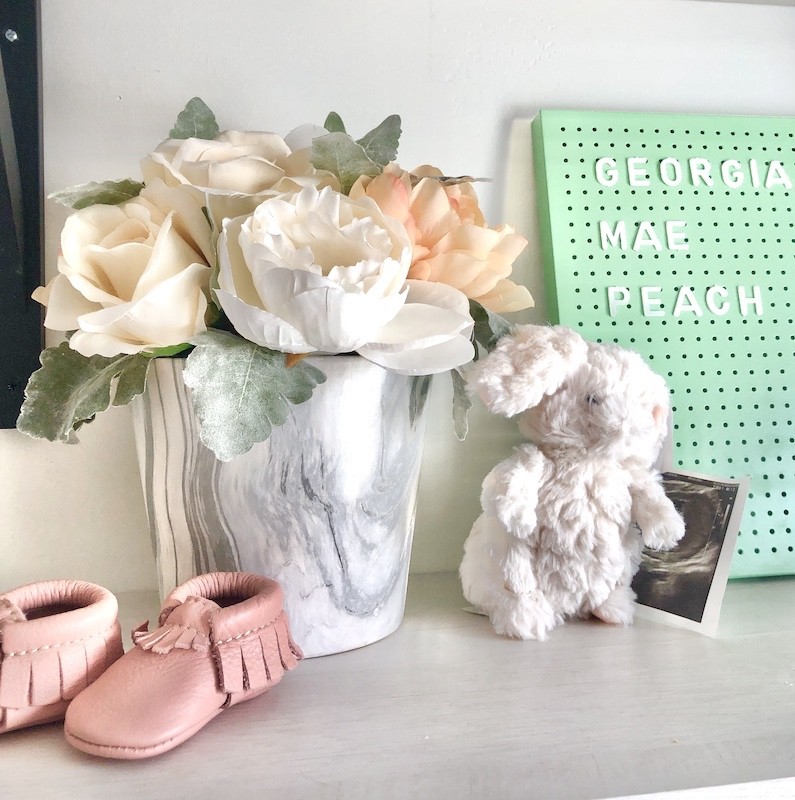 A green letter board, florals in a pretty vase and some teeny tiny pink leather moccasins from Freshly Picked complete the look.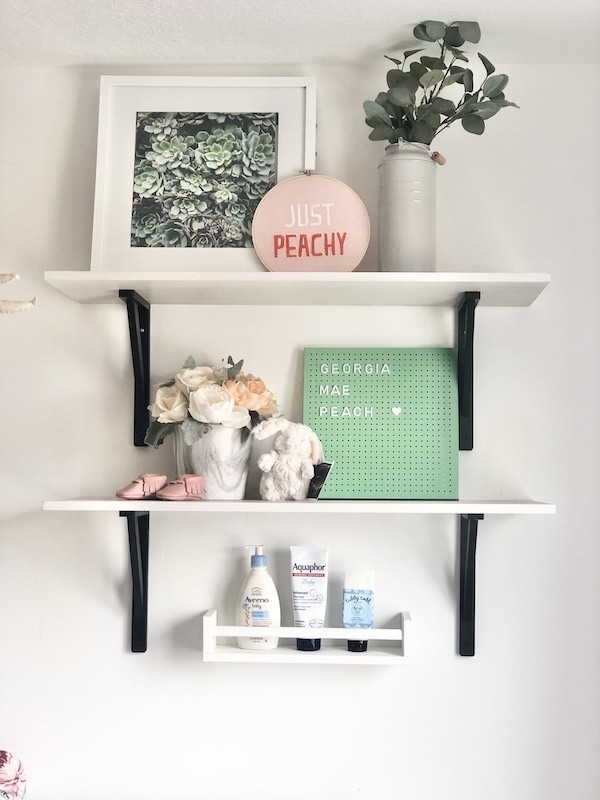 Baby Bow Organizer
Of course this room would not be complete without this adorable headband and bow organizer that Emily put together.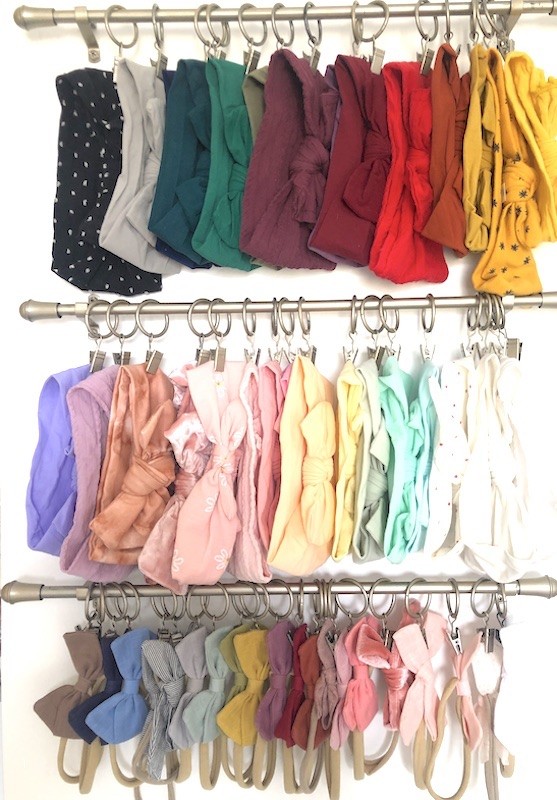 The rods are from Home Depot and she spray painted them in a soft silver color. The little circle clips that hold the bows are from Amazon.
Emily found a serious deal on these headbands and bows. They are sooo soft too! Here is a link to the headbands.
Finished Cute Nursery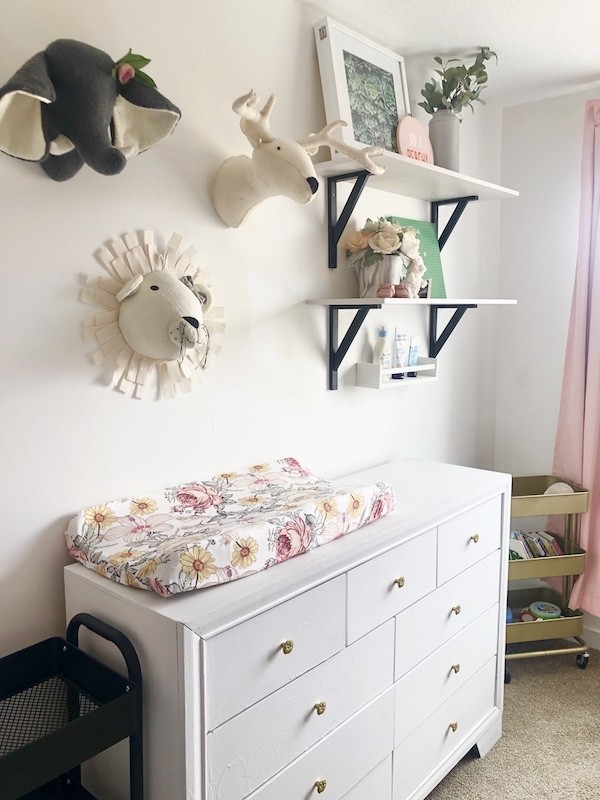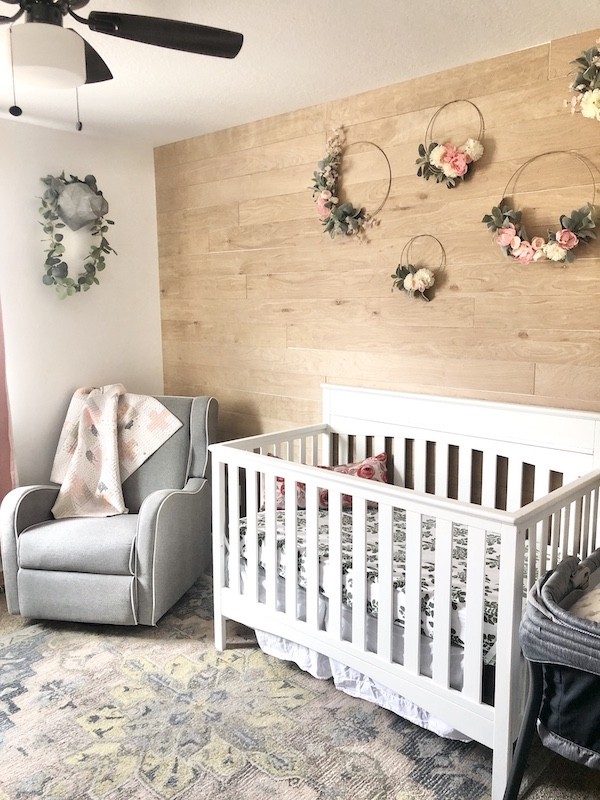 Now all we need is baby Georgia to get here :).
Isn't this the cutest idea to take a photo of the changing table with an outfit all ready for the baby to arrive!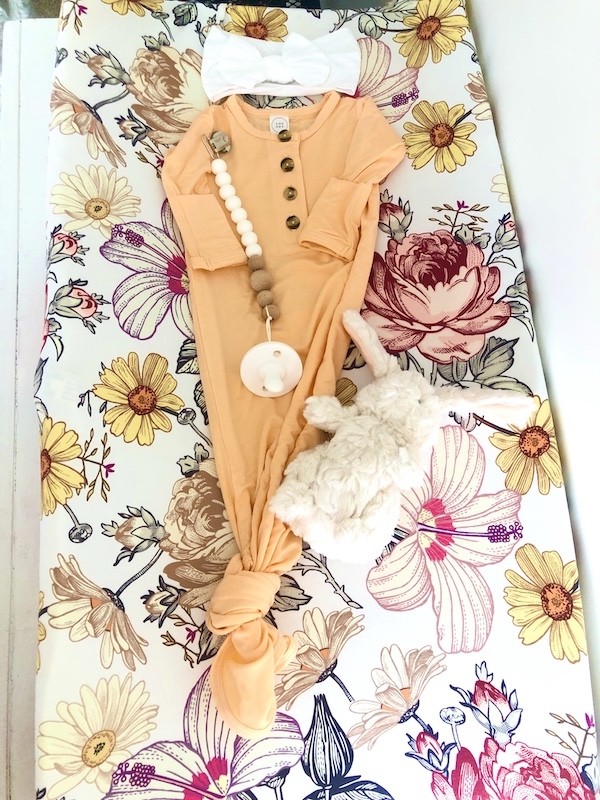 Big sister Harper can hardly wait!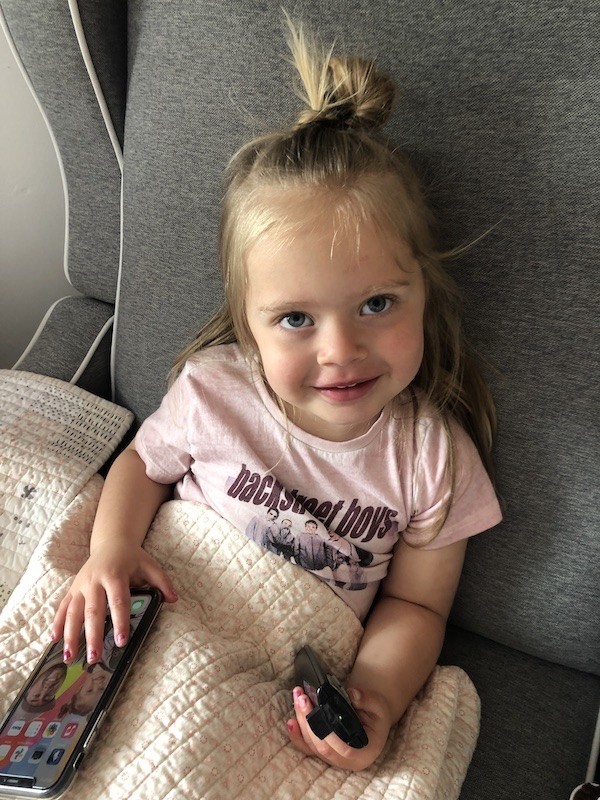 Shop this post

Pin to Pinterest for later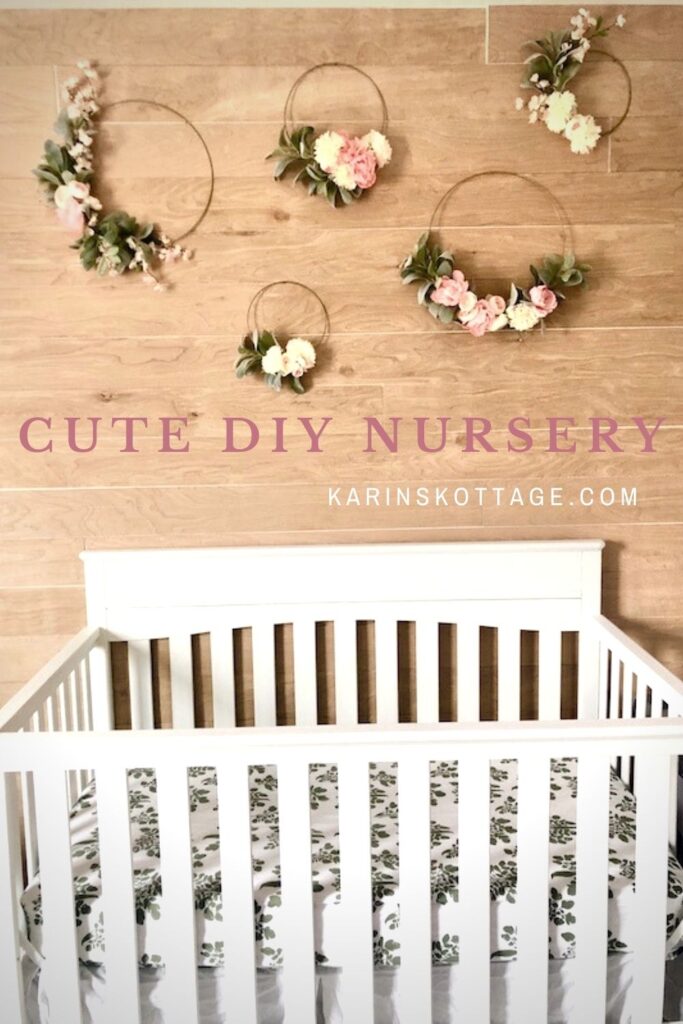 I gave you two options to pin 🙂