This is such an amazing transformation of a countertop quick fix with chalk paint.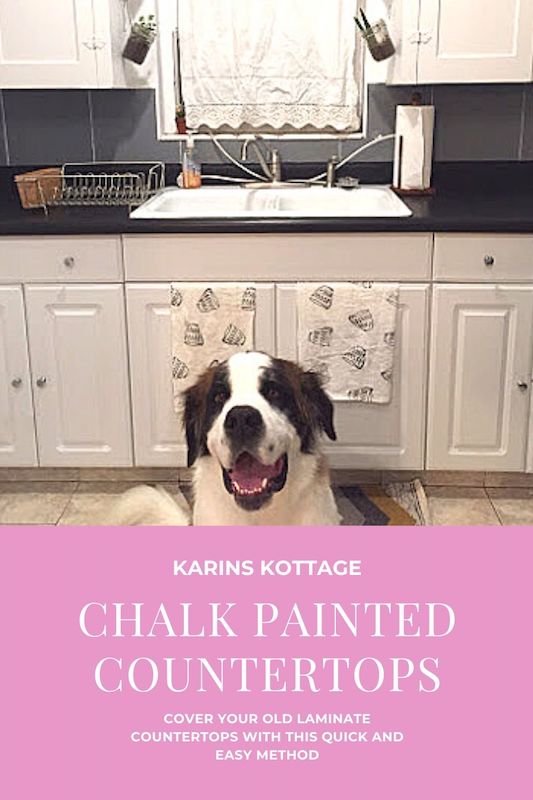 Our newlyweds Emily and Kevin have been fixing up their cute love nest!
First Emily started by painting this small master bedroom room grey. I was like no…don't paint the small room grey it will make it feel even smaller but I was wrong!
It looks amazing!
Fixing the countertops with chalk paint
Emily needed a quick fix for her kitchen countertops because she did not like the current laminate countertops. Nor did she like the color of the back splash. With very little money she decided to paint the countertops with black chalkpaint.
Then to complete the look she painted the backsplash tiles with grey paint.
It is amazing to see the difference! Here are are the Laminate countertops after quick fix with chalk paint.
Don't you love the idea of countertop quick fix?
I wish I would have known about this years ago when we had a house with laminate countertops.
The combination of black countertops and white cabinets is just beautiful.
Years ago I had a kitchen that had dark wood and black cabinets. I painted some of the cabinets white and it looked amazing!
You can see a closeup of the backsplash tiles that used to be beige and now are painted grey. Such a inexpensive way to update an older kitchen with just paint!
The black chalkboard painted countertops just make the white cabinets pop!
The countertops now really look like soapstone! 
How to quick fix counter tops with chalk paint
Here is what she used- Rustoleum chalkboard paint with a roller brush.
Paint 3 coats and let dry In between coats.
Then she waxed and buffed to protect the paint finish.  
Emily used Minwax finishing paste and then buffed the counters with Ryobi orbital buffer. 
This is such a cute old fashioned kitchen. Emily bought some hanging baskets to store things above the little oven and cabinets.
We love quick fixes with chalk paint in our family!
I have used chalk paint on my master bathroom vanity, chalk painted a black entertainment center duck egg blue and chalk painted my mom's bedroom furniture a pretty soft grey for a French look! 
Emily says she loves them and are holding up great! Yeah for countertop quick fix chalk paint!
She makes sure to use a cutting board so as not to scratch the paint with sharp knives.
I love how it looks!!
Pin for later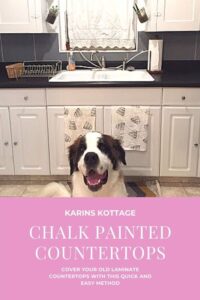 Shop Similar items