Hey there, lovely readers of Karinskottage.com! Today, I am diving into the world of an elegant velvet wide leg pants look. I've got something truly special to share with you. Whether you're planning a romantic dinner at a classy restaurant or heading to the theater for an evening of culture, this elegant velvet outfit inspiration is bound to leave you feeling confident and stylish.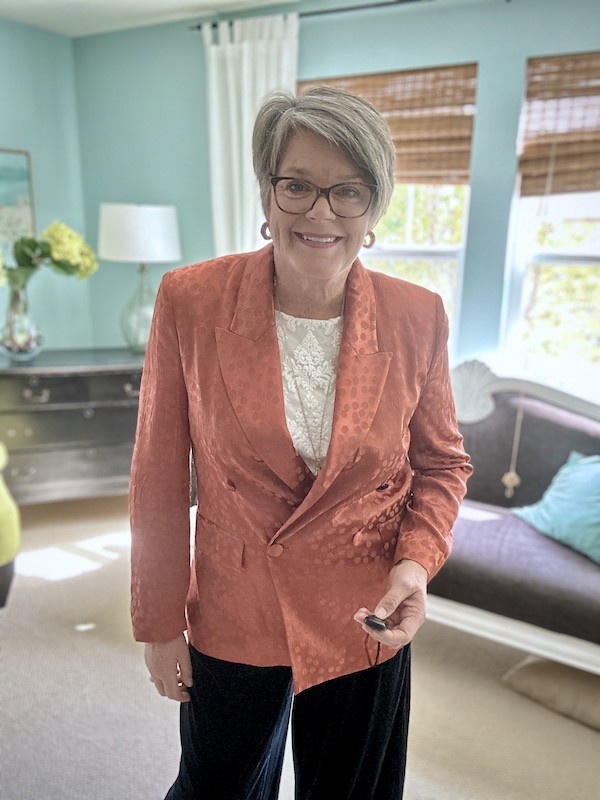 Velvet Wide Leg Pants: The Classic Fall Piece
If there's one fashion item that screams fall sophistication, it's velvet wide leg pants. The luxurious texture and flowy silhouette make them a must-have addition to your wardrobe. But the best part? They're incredibly versatile! I've previously shown you how to rock them in a more casual look with an animal print sweatshirt and sneakers. Today, we're taking them to a whole new level of elegance.
The Elegant Ensemble
1. Wine-Colored Double-Breasted Silk Blazer
Let's start with the centerpiece of this outfit – the wine-colored double-breasted silk blazer. This rich, deep hue exudes elegance and pairs beautifully with the luxurious velvet. The double-breasted design adds a touch of sophistication that's perfect for your special night out.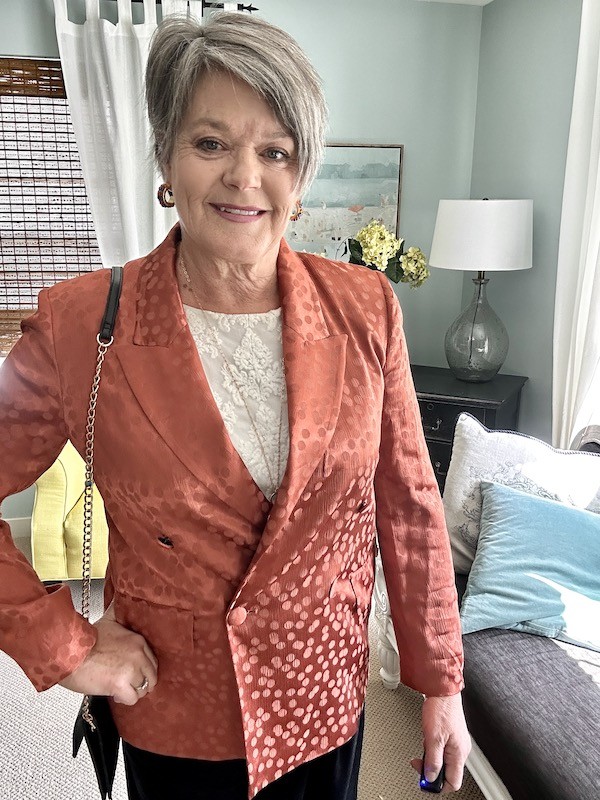 2. Cream-Colored Lacy Tank Top
Beneath that stunning blazer, opt for a cream-colored lacy tank top. This delicate piece adds a touch of femininity and contrasts beautifully with the boldness of the blazer and elegant velvet wide leg pants. It's the perfect balance of sophistication and charm.
I wore this creamy lace tank top with my polka dot wide leg palazzo pants and a peach colored linen jacket. This top is super versatile too!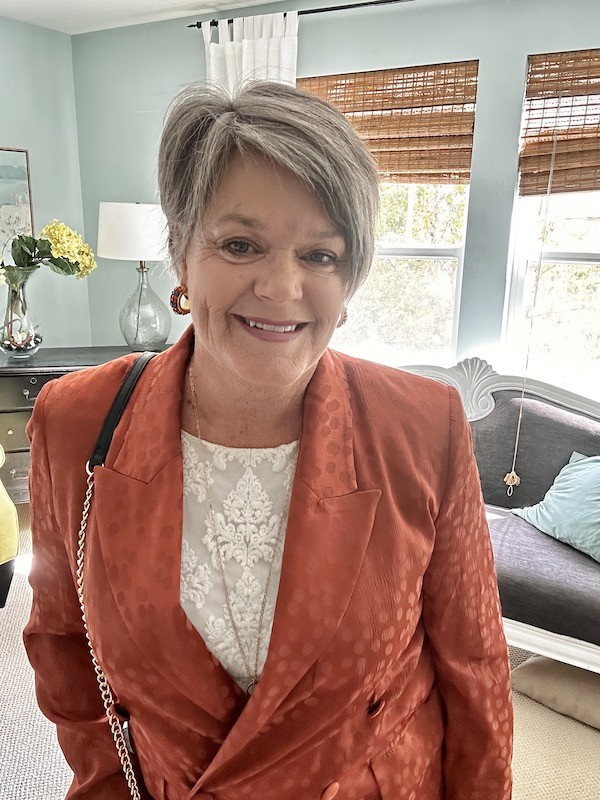 3. Long Gold Necklace
Accessorizing is key to elevating any outfit. Add a long gold necklace to this ensemble to draw attention to your neckline. The gold complements the wine-colored blazer and adds a touch of glamour to your look.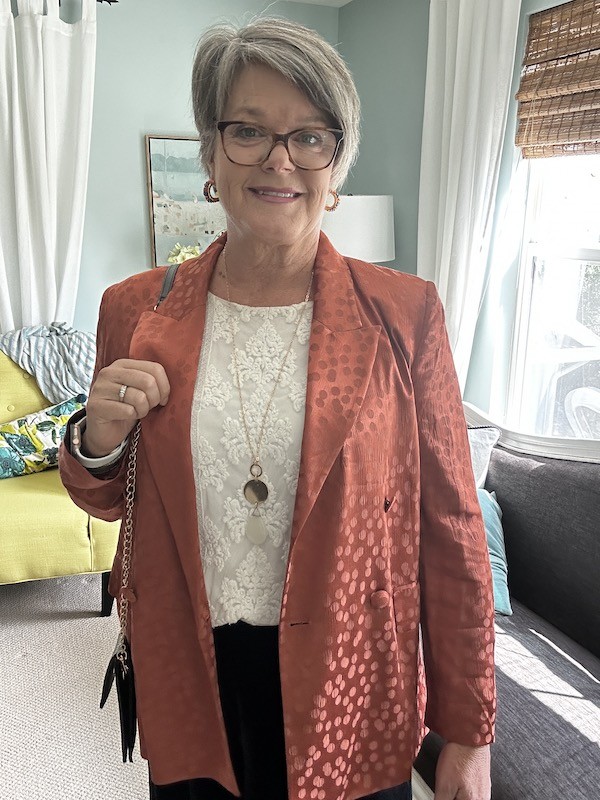 4. Elegant Black Purse with Gold Chain and colorful earrings
Carry your essentials in an elegant black purse with a gold chain. This accessory not only ties in with the black velvet pants but also adds a touch of luxury to your overall look. It's both stylish and functional.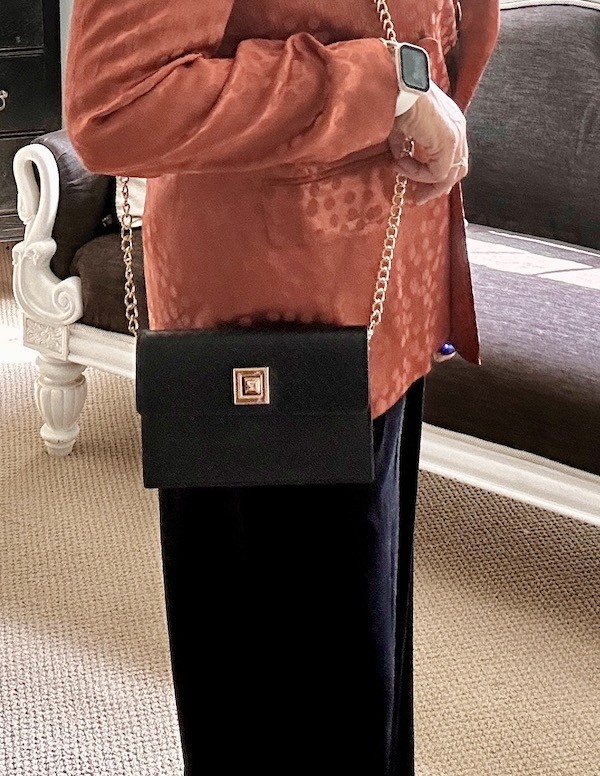 I bought these colorful earrings when I was in Italy and they match the color of my jacket perfectly! They are gold with blue and wine colored jewels in them. Simple but elegant.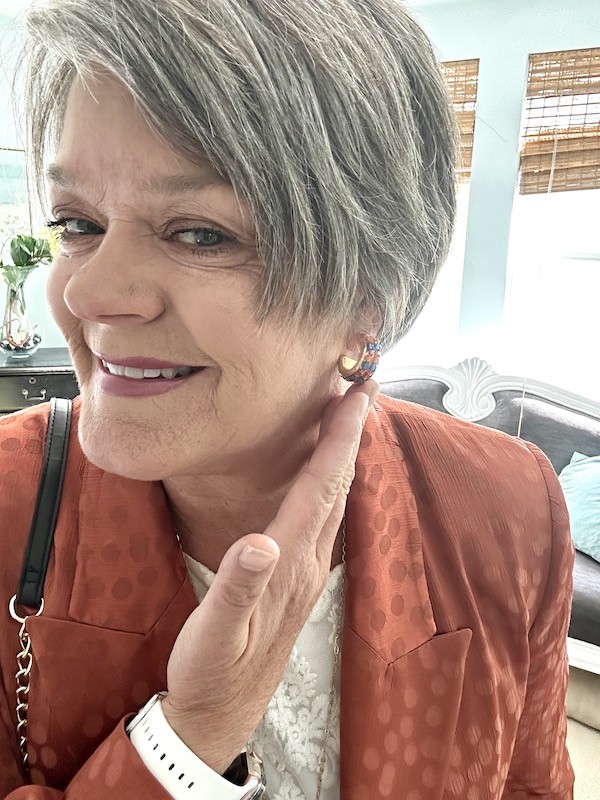 5. Black Low-Heeled Strappy Pumps
Finish off your outfit with a pair of black low-heeled strappy pumps. These shoes are comfortable for a night out and add a touch of sophistication to your look. Plus, they elongate your legs, making those wide-leg pants look even more fabulous.
This type of low-heel strappy pumps are perfect for us 50 and older fashion lovers! Don't you agree?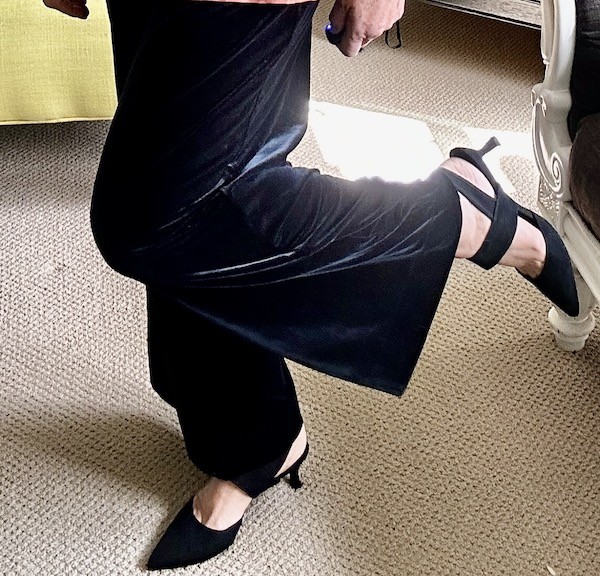 Elegant Velvet Wide Leg Pants for Date Nights
This outfit is a showstopper, and it's perfect for a memorable date night at a nice restaurant or an evening at the theater. You'll feel confident, comfortable, and ready to enjoy your special occasion in style.
Check out 50 is not Old blog where she is sharing a fun post about luxury lounge pants that will make you swoon!
Comfy tip- Elastic waist is the most comfortable thing to wear when you will be sitting for awhile at the theatre or at dinner.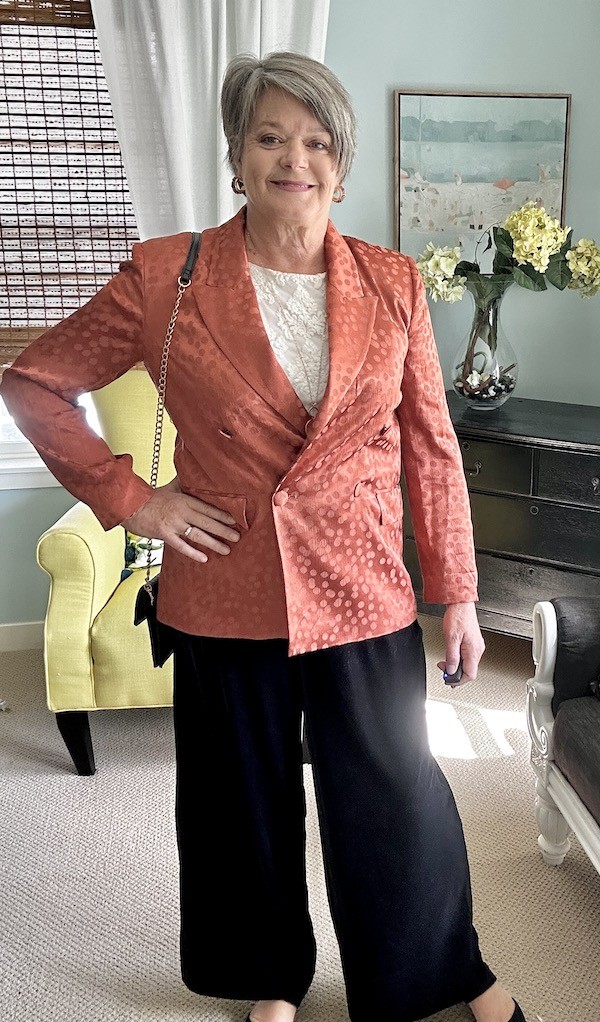 So, there you have it, my dear readers – a fabulous way to style velvet wide leg pants for an elegant night out. A timeless fashion style for us 50+ mature gals that want to get dressed up and enjoy an evening out.
Don't forget to check out more fashion posts below that I think you will love!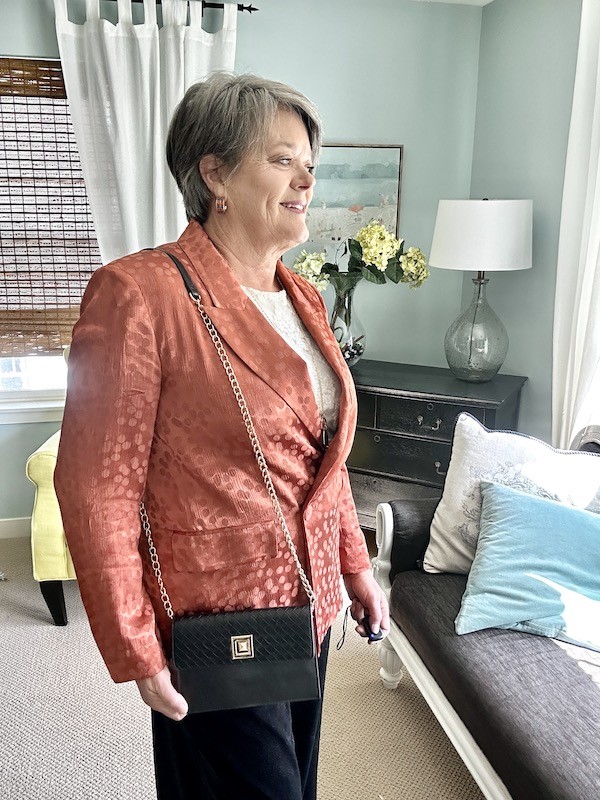 Get ready to turn heads and make a statement with this sophisticated ensemble. Remember, fashion is all about expressing yourself and feeling great while doing it. Cheers to creating memorable moments in style!
Until next time, Karin 🙂
More Karins Kottage Fashion Posts
Shop This Post