Hey there, my fabulous friends of Karinskottage! As the leaves turn shades of gold and the air gets that delightful nip, it's time to dive into fall fashion with a twist. And what better way to do it than with my latest obsession – black velvet wide leg pants with the oh-so-comfy elastic waist!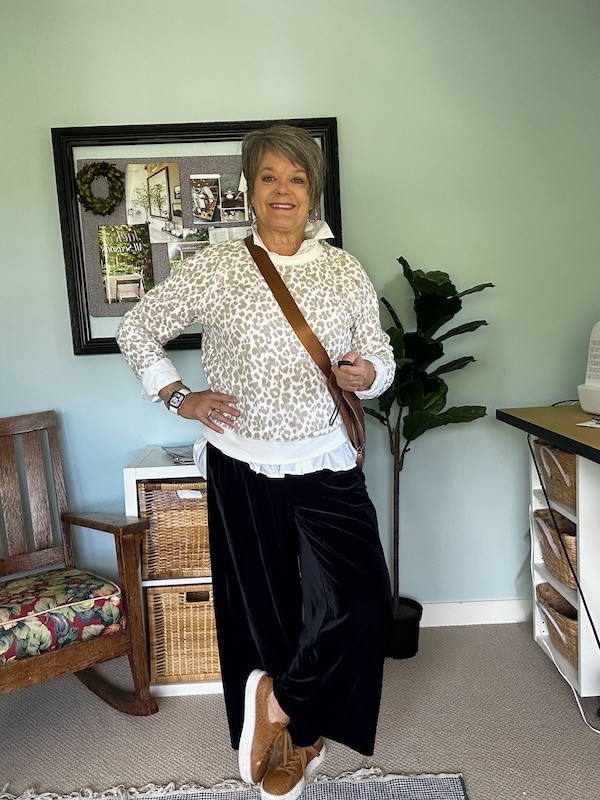 Now, let's break down this chic over 50 fall outfit, and I'll spill the beans on why these pants have become my go-to for virtually any fall adventure, from errand-running to jet-setting and sightseeing. Plus, stay tuned because next week, I'm gonna show you how to take these beauties from day to night with some snazzy jackets and heels. They're so versatile!
The Lowdown on My Outfit: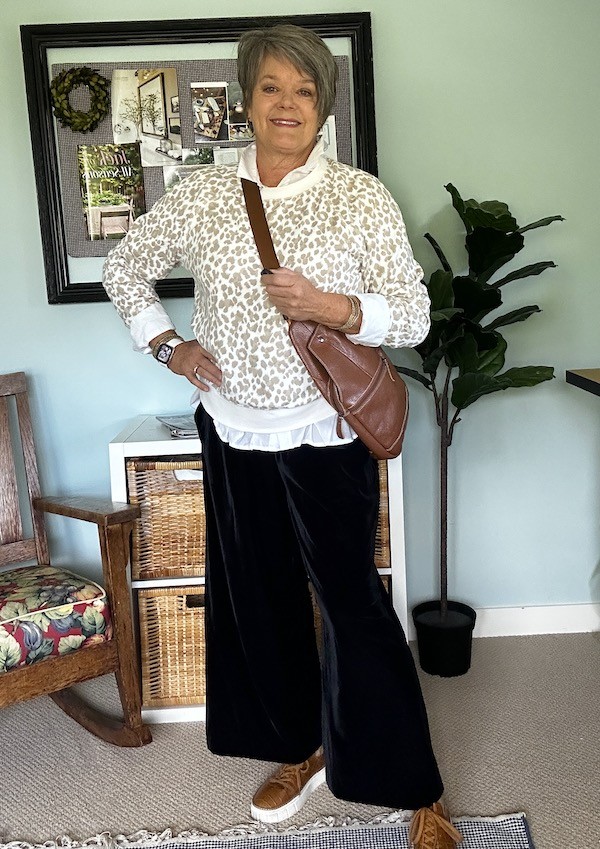 Bottoms: Stylish Black Velvet Wide Leg Pants with Elastic Waist
Topping it Off: A Long White Button-Up Blouse
And the Cherry on Top: A Light-Colored Crew Neck Leopard Sweatshirt
Accessorize with Flair: Leather Sneakers, Leather Crossbody Bag, and Don't Forget the Gold Hoop Earrings
Easy-Breezy Fall Velvet Pants Outfit
Now, let's talk about these pants! I have to share my secret…I bought these pants for $5.00! I know amazing huh! They were from a store that was closing on super duper clearance! #score!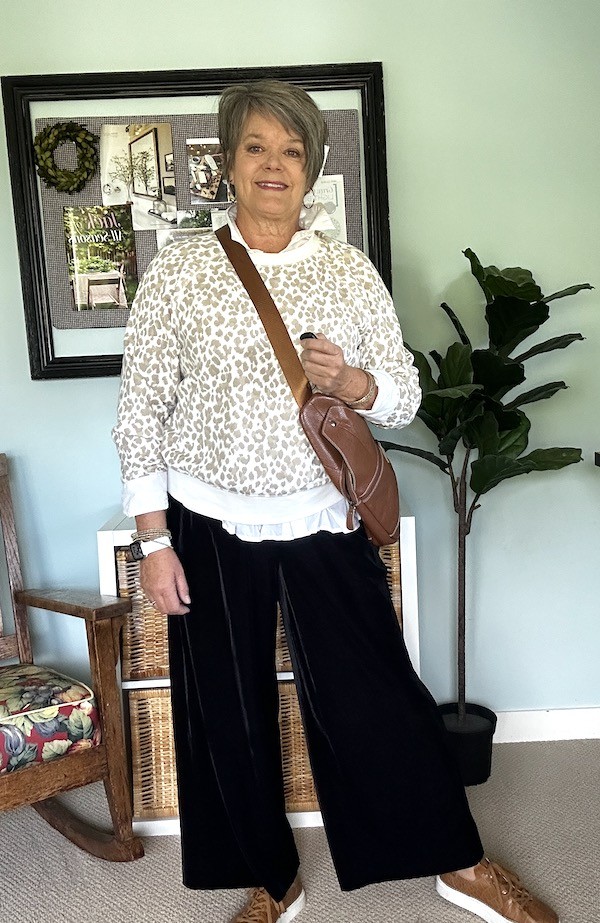 They're like a fashion secret weapon – comfy, chic, and oh-so-versatile. I believe they will be your fall wardrobe essential for women over 50. Really, they are classic for any age!
Whether I'm out running errands, hopping on a plane for a getaway, or simply exploring the autumn beauty around me, these velvet wide leg pants keep me feeling like a million bucks. I love these comfy velvet bottoms, it is almost like I am wearing pajamas only so much more chic!
Classic White blouse
The long white button-up blouse is my secret weapon for an extra dose of elegance. What would we do without our white blouse? It goes with everything! I prefer a little bit oversized white blouse that is longer in the back.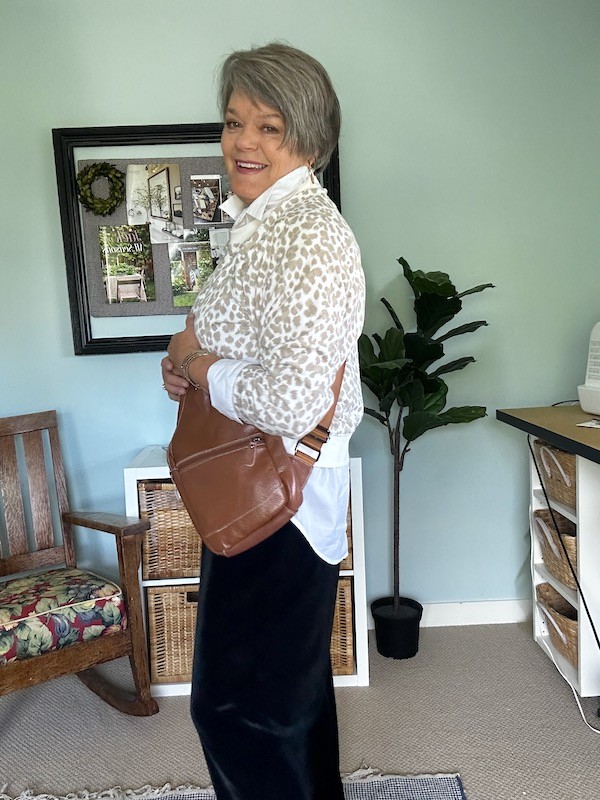 I really like letting the white blouse peek out underneath a sweatshirt or sweater. It brings in some flair to my black velvet wide leg pants outfit. I have linked some beautiful white blouses below under shop.
Crewneck Leopard Sweatshirt
Layered over my white blouse is the light-colored crew neck leopard sweatshirt, injecting a playful and trendy element into the mix. A look that's both relaxed and refined, perfect for those moments when you want to feel effortlessly put-together.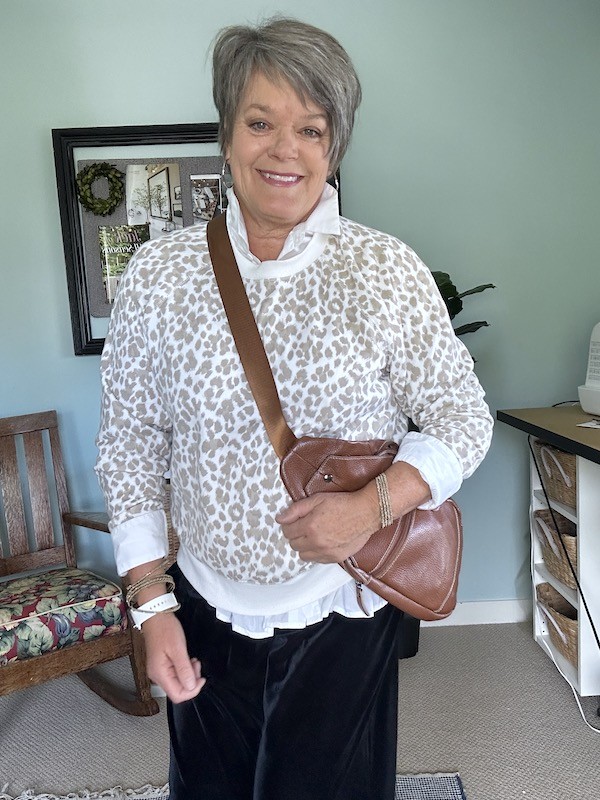 The result? You can be relaxed and ready for anything, no matter where the fall breeze takes you. I found a few options that look similar to my Old Navy sweatshirt. In fact I found the exact one listed on PoshMark (used clothing) that you will see below in my shop my outfit section.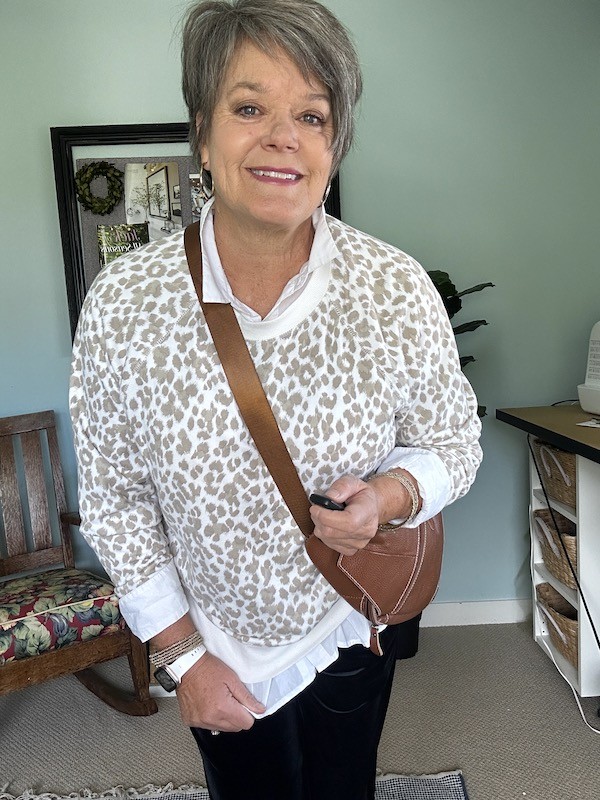 Shoes and Accessories for Black Velvet Pant Outfit
I must have comfortable shoes when I am out and about especially while traveling to Italy so often, We do a lot of walking! These cute leather sneakers are perfect for fall outdoor activities. I have linked some similar looking ones below.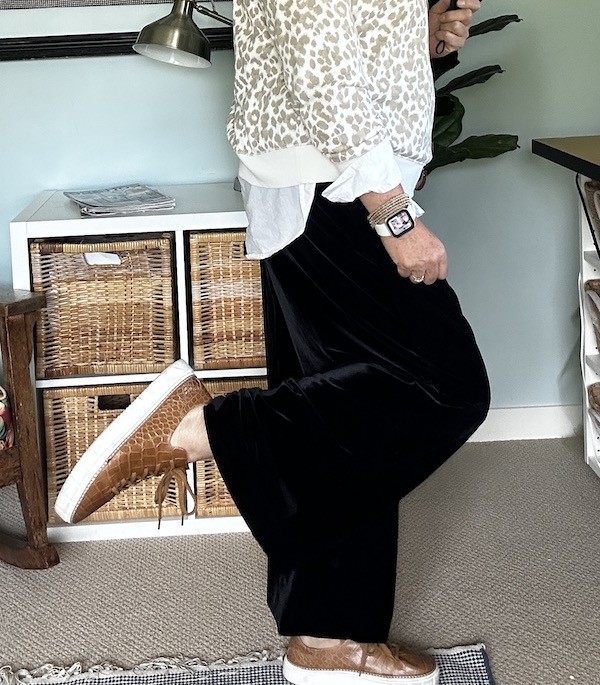 When we are traveling I always take along a leather crossbody bag. It holds all the things I need while keeping my hands free to shop of course haha. There are all kinds of zippered pockets inside and on the outside. I especially love the back zipper to keep important things in that no one can get into easily.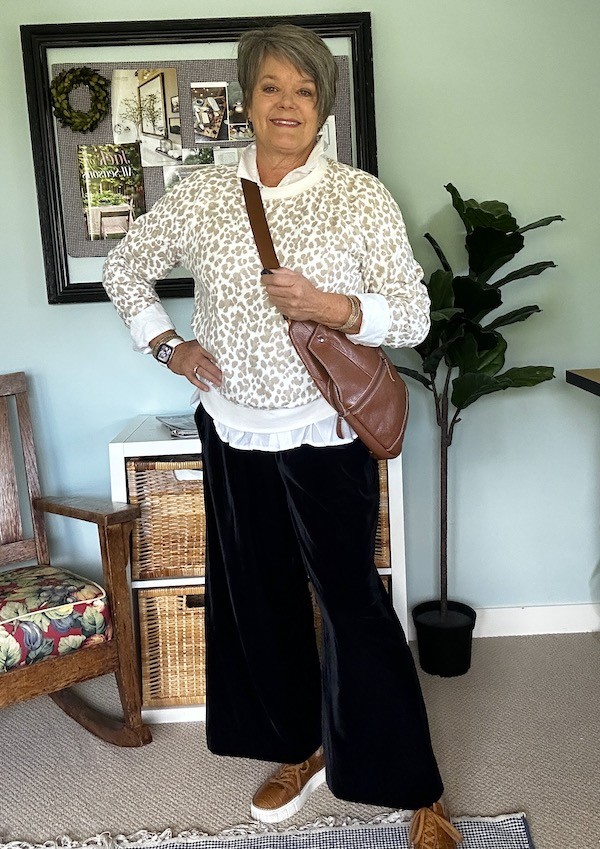 To finish off my outfit I am wearing gold hoop earrings. I love the warm color of gold with this autumn outfit.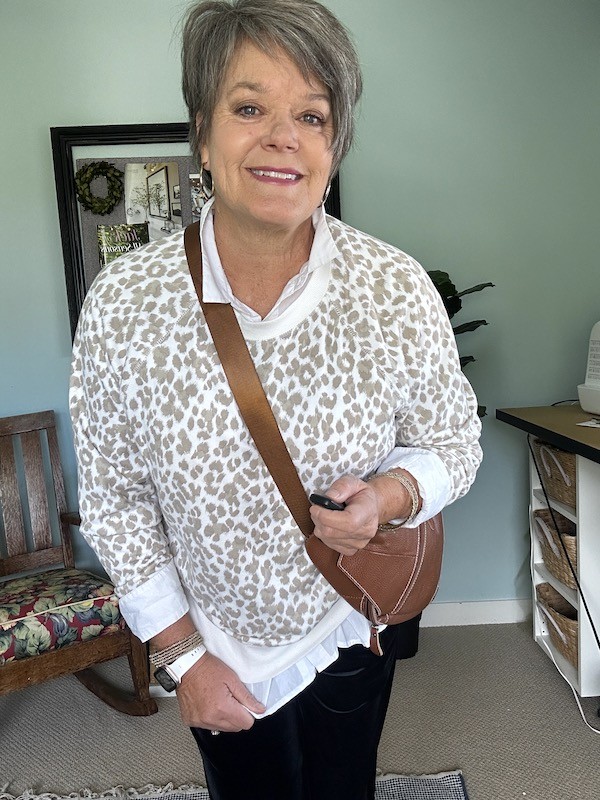 Stay Tuned for More Fabulous Fall Fashion Adventures
But wait, there's more fun to come! Next week, I've got a date night edition in store for you. I'm taking these versatile pants and giving them a dash of evening glam with not one, but two different jacket styles. Get ready to dazzle on your next night out.
While we're talking about timeless fashion, let's not forget to check out what our fellow fashion bloggers have to say:
Nancy from 50 Is Not Old: She's got some fantastic insights on how to wear velvet for the holidays and beyond. Trust me; it's a must-read!
Cindy from Cindy Hattersley Design: If you're a fan of animal prints, Cindy has some stellar tips on how to style them when you're over 50. Animal print lovers, unite!
Don't Miss My Previous Styling Adventures:
How to Style a Vintage Leopard Crew Neck Sweatshirt 3 Ways – If you're wild about leopard prints like me, check out three ways to rock this timeless classic.
How to Style Black Jeans and White Blouse – Dive into the endless possibilities of a white blouse. It's a fashion chameleon that transforms your look in a snap.
3 Ways to Style Cheetah Dress– You know I can just never wear something one way. Styling this cheetah dress in 3 ways from casual to dressy is my thing!
Now, let's keep the style party going! Share your thoughts and style tips below, and let's have a blast inspiring each other on what your Autumn wardrobe essentials are. Stay fabulous!
Shop My Outfit
I have found similar clothing options in different price points for you to shop. Think of me as your personal shopper 🙂 I make a small commission from these items at no extra cost to you. Those commissions help me keep this blog going. I really appreciate it so much too!