Halloween is just around the corner, and it's time to get our spooky crafting game on. Today, I've got a super easy and eerie project that will add a ghoulish glow to your Halloween decor – the Spooky Illuminating Tissue Paper Halloween Candle sleeve! Well actually there it should be called the scrapbook tissue paper candle cover. The tissue is the glowing part. Let me start with what you need to get this easy Halloween craft going!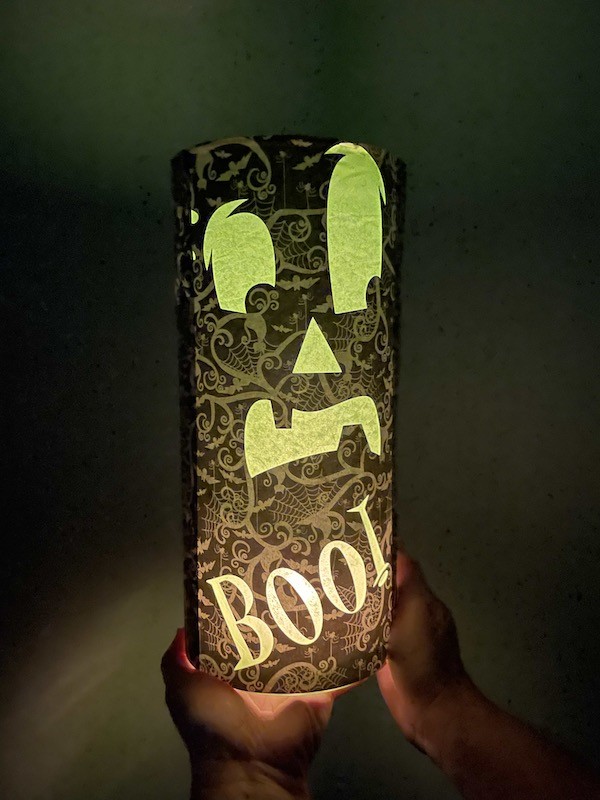 What You'll Need: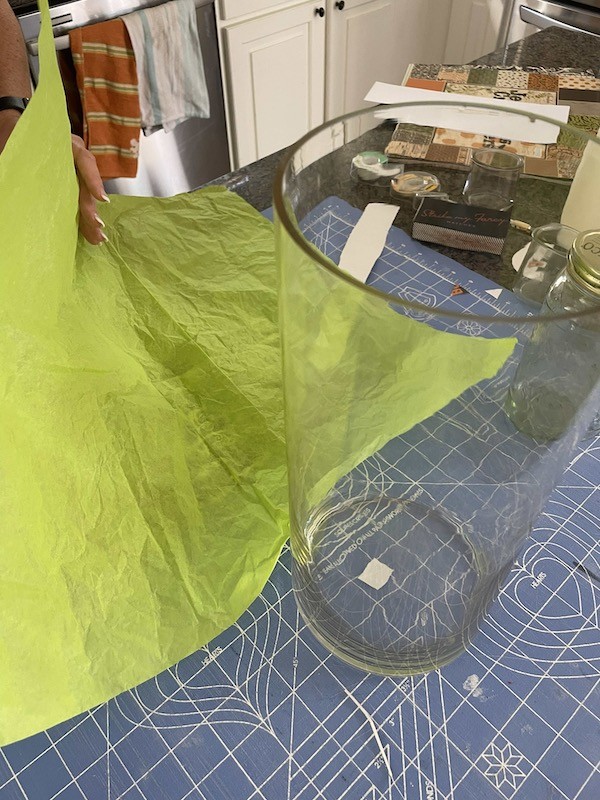 A glass cylinder vase (I got mine from the thrift store)
Halloween scrapbook paper (the spookier, the better!)
Tissue paper in eerie colors that will glow (Yellow, orange, or even eerie green)
A Cricut machine to create your spooky face (or you can cut it out by hand)
Tape to secure your papers
Votive candles (for that spine-chilling glow)
Step-by-Step Guide:
Select Your Papers: First things first, pick out your creepy scrapbook paper. Go for designs that scream Halloween – witches, pumpkins, ghosts, you name it! If your vase is larger, tape two pieces of scrapbook paper together to ensure it fits snugly around the cylinder.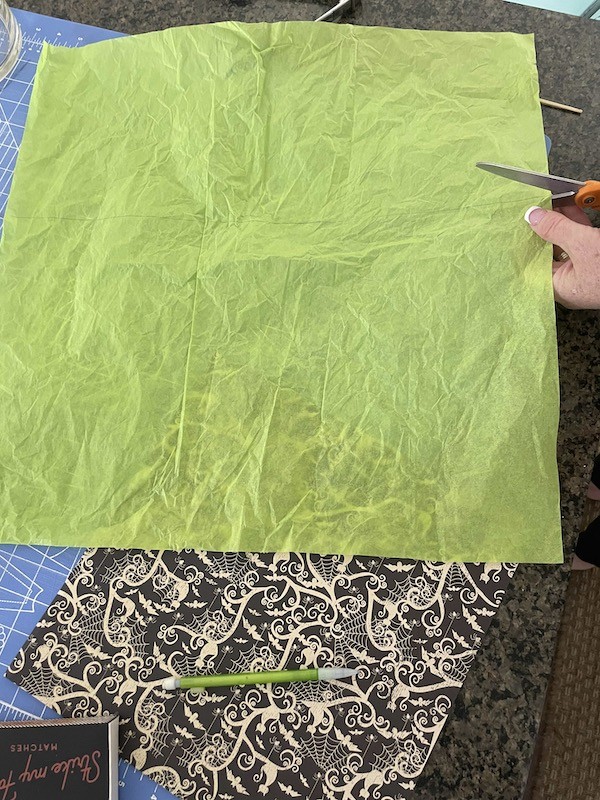 Cut out a spooky face
Design Your Spooky Face: Now, let's get creative! If you have a Cricut machine, you can design and cut out a spooky face for your vase. Think menacing eyes, a wicked grin, or even a ghastly ghostly figure. If you don't have a Cricut, don't fret – you can sketch and cut one out by hand. Cut it out with an x-acto knife.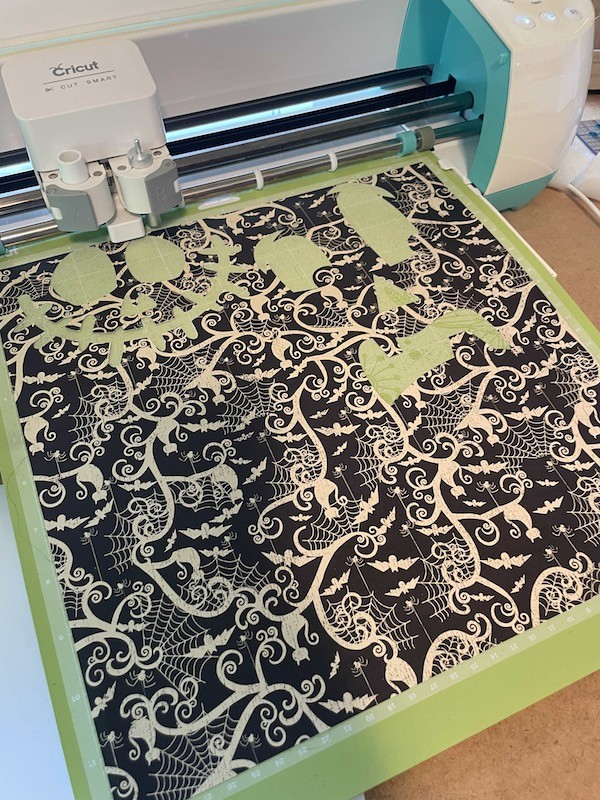 Tissue Paper Magic: Now, grab your tissue paper. Cut it to fit the cylinder and lay it on the outside the vase. Tape it together. This will create a translucent effect that will shine through the cut outs of the scrapbook paper when you light the candle inside.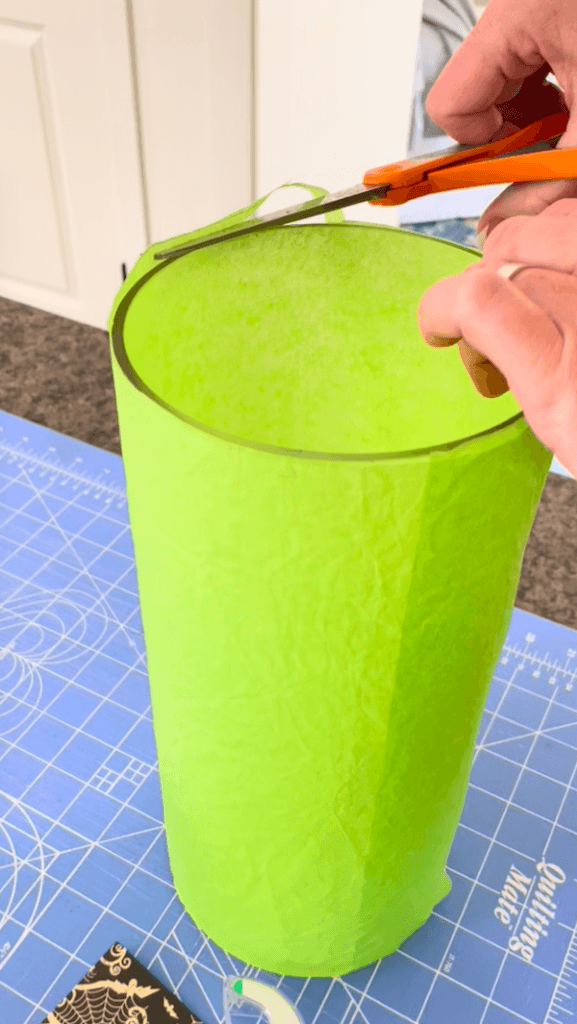 Wrap it up
Wrap your cut out face of scrapbook paper over the tissue paper. Make sure your spooky face is front and center.
Use tape to secure the paper in place. The tighter, the better – we want those Halloween vibes to shine!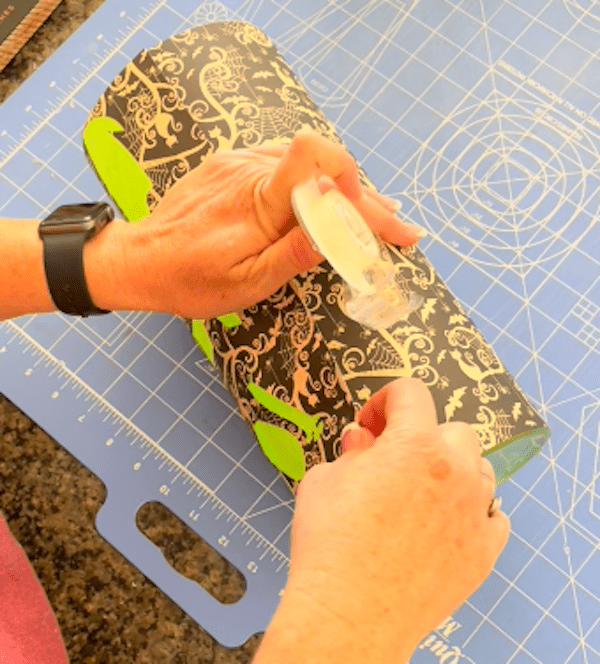 Illuminate the Night with your Spooky Candle Sleeve
Finally, it's time to set the stage for some spine-tingling ambiance. Place a votive candle inside your newly transformed Halloween vase.
As you light it, watch in delight as the spooky face comes to life. I need to make a bunch to put on my steps to my front door.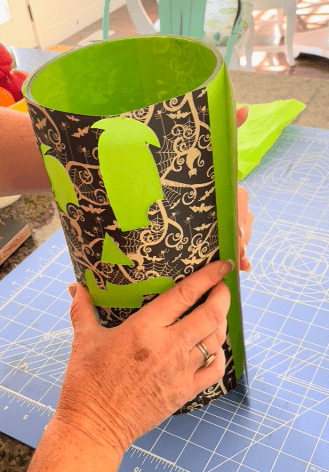 Just think you could make Jack-o'-Lantern Candle Sleeves, Skeleton candle wraps, Witchie, Vampire even mummy candle sleeves Your creativity is limitless when crafting these Halloween candle covers!
Inside or Outside Decor
Voila! You've just conjured up a fantastic Halloween decoration that's both fun and easy to make. This DIY Tissue Paper Halloween candle sleeve is perfect for setting the mood at your Halloween party or adding a touch of eerie elegance to your home. You can use them inside on your mantle or outside to light the way for Trick or Treaters!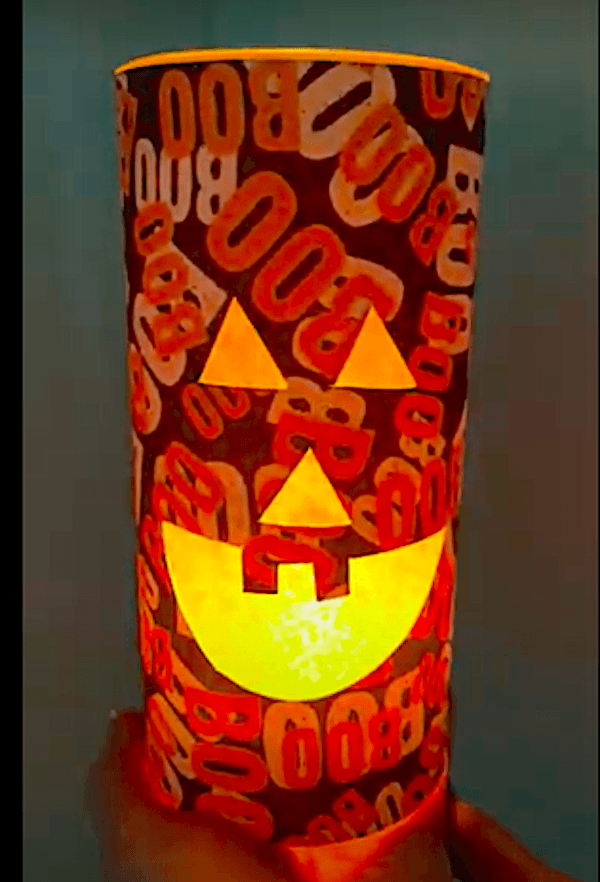 So, gather your crafting supplies, embrace your inner Halloween spirit, and let your creativity flow. Your guests will be spellbound by this hauntingly beautiful DIY creation. Happy Halloween, and remember – the spookier, the better! 🎃🕯️👻
More Karins Kottage Halloween Crafting
I have linked more crafty and entertaining Halloween ideas below that are right here on Karinskottage.com! And if you're a fellow DIY enthusiast, I'd love to hear your thoughts and see your creations. Let's keep the crafting community alive and thriving!
Shop Supplies