It is another cold snowy day again so today I am sharing my winter outfits with cozy coats, scarf and hats. I kinda feel like I am in the movie Groundhogs day movie! Everyday it is the same weather! Cold grey and snowy or no snow and just grey. When I go outside I want to feel warm and joyful so today I am here to show you how I am going about it.
I actually don't mind the snow or the cold but the grey skies are something different. It is just blah, no color anywhere outside. The trees are bare, the bushes are brown so I have to infuse some color in my outfits when I am out and about.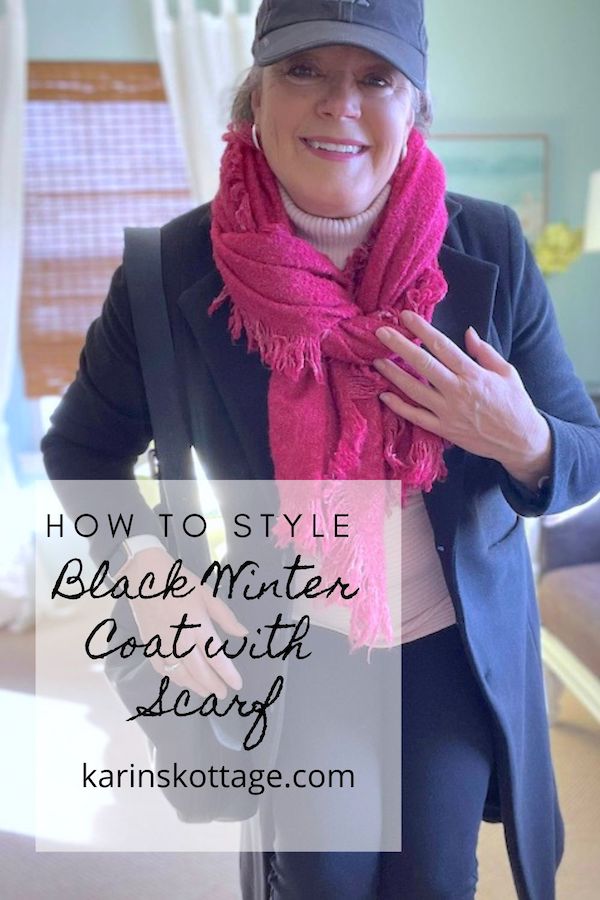 Pulling together my winter outfit
I start my winter outfit with black leggings. They are the best invention! Leggings are super comfortable and stretchy! They can be worn to workout in or dressed up to go out on a date. Find a pair of black of leggings that stay up and if you carry your phone on you make sure they have pockets. Try this pair or this pair.
Today I am wearing leggings in my winter outfit with a hat, scarf and coat to run errands.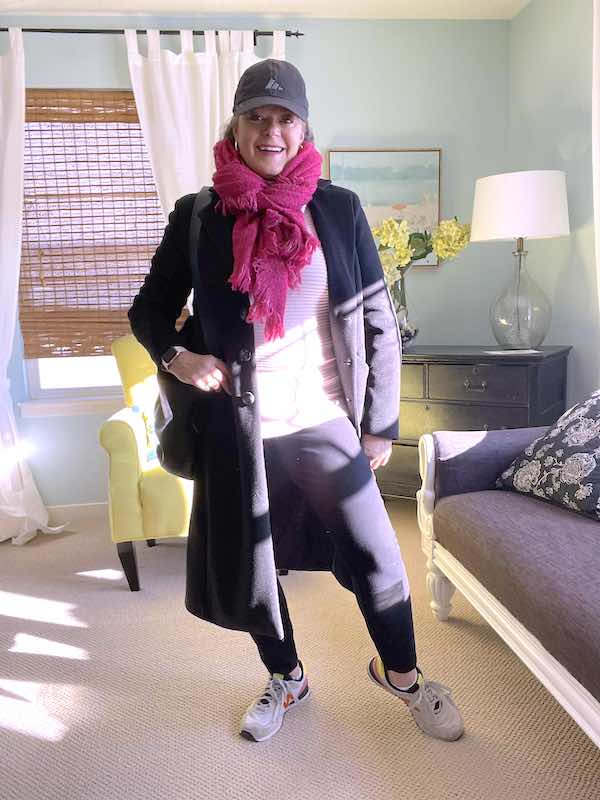 A pretty pink long tunic turtleneck brings in some color. I really like to wear long tunic shirts with leggings so my bum is covered when I am running around town. When we walk around the lake in the spring I usually wear a long tunic sweatshirt.
When I go to the gym I usually wear a workout shirt and sweatshirt not tunic length.
My sneakers are New balance in a fun color combo of pink, orange, black and grey.
Adding a pink scarf
To add even more warmth and color I am wearing this raspberry colored scarf. I feel it is my duty to spread color and sunshine on grey days 😉 hee hee
I have always loved this raspberry color as long as I can remember. My lipstick even matches! I am wearing two different colors from Loreal.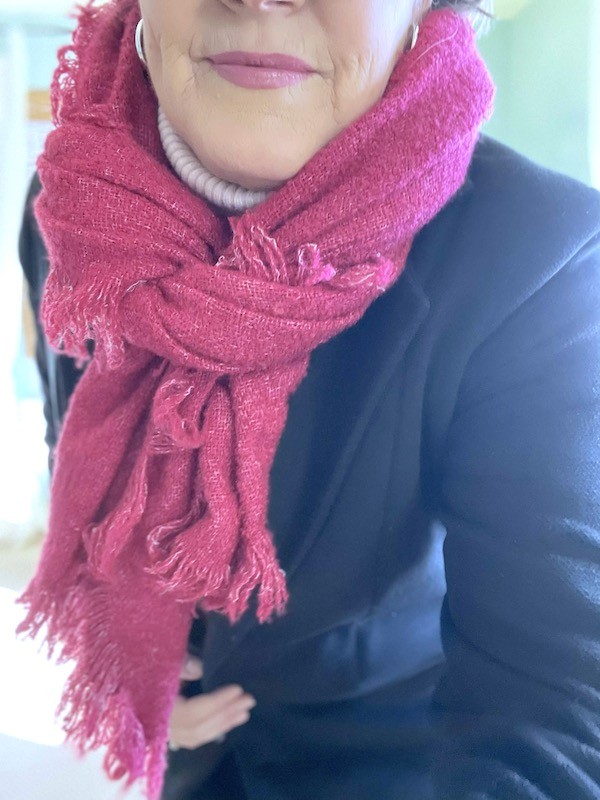 Classic baseball hat and black bag
To top off my errand running outfit I stole my hubby's black Adidas baseball cap. Perfect to cover up a bad hair day and to keep me warm.
A simple black bag pulls it al together.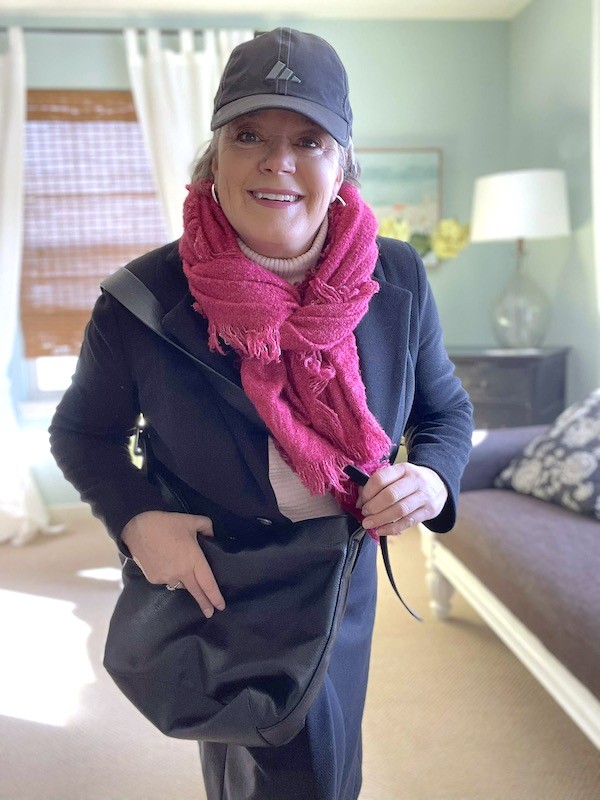 Winter outfit pink oversized shirt and pink coat
Speaking of stealing my husbands things, I stole this pink button down shirt. Actually I stole it from one of my son-in-laws who doesn't wear it any more. It is very oversized but wait until you see the whole outfit put together.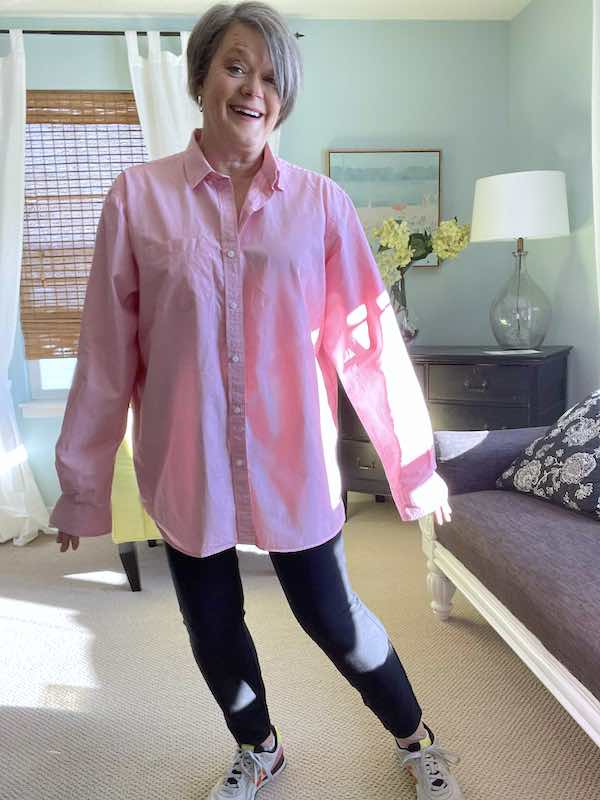 Layer with black turtle neck
Now I am going to add a black turtleneck over the top of the oversized pink shirt. It is fun to find things from either my hubby's closet or in giveaway piles from son-in-laws!
Who knew I could put together outfits from men's things?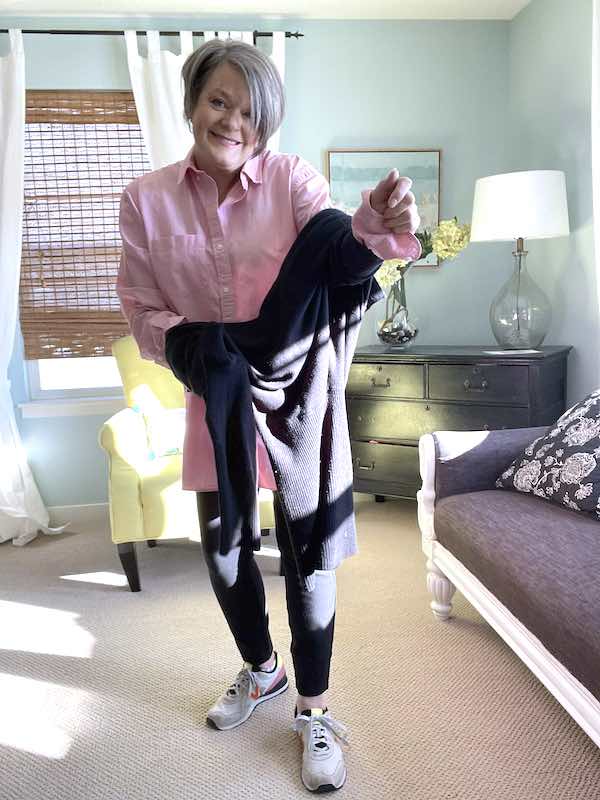 Pull the pink collar out of the top of the turtleneck to let some of the color peek out.
The sleeves are long so I pulled the cuffs out and then I folded them back after I took this picture. Letting the color peek out, breaks up all the black.
Winter outfit with snow hat
What is a winter outfit without a snow hat? This is such a cute hat from Turtle Fur. I love the pink pom pom on top and the way it goes from pink to black.
As a kid living in New Jersey I loved snow hats with pom poms! I had a baby blue hat with a pom pom and matching mittens that I probably wore everyday!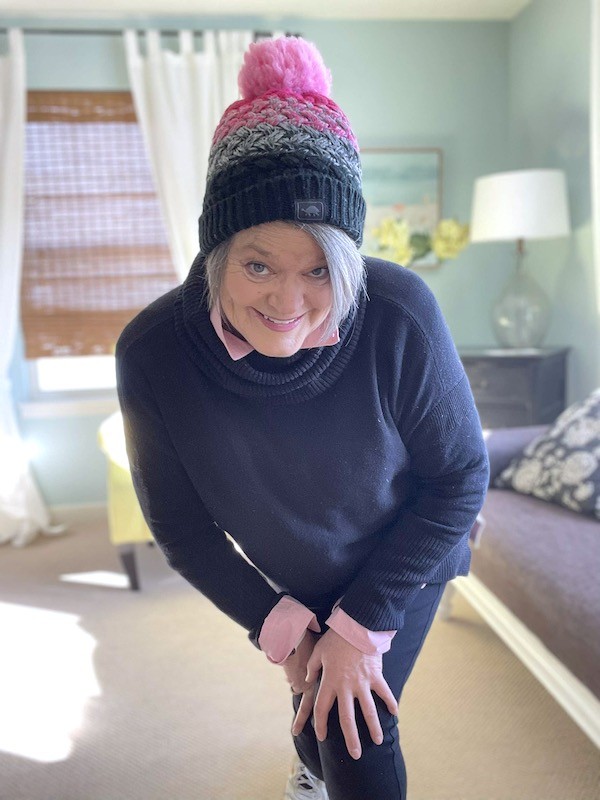 Topping off winter outfit with pink coat
Here is the outfit all pulled together. Large over sized pink shirt, black turtleneck, snow hat, pink coat with black leggings with a pink fuzzy coat. Remember how I styled the pink coat in this outfit to brighten your winter blues?
It is a snuggy warm outfit don't you think?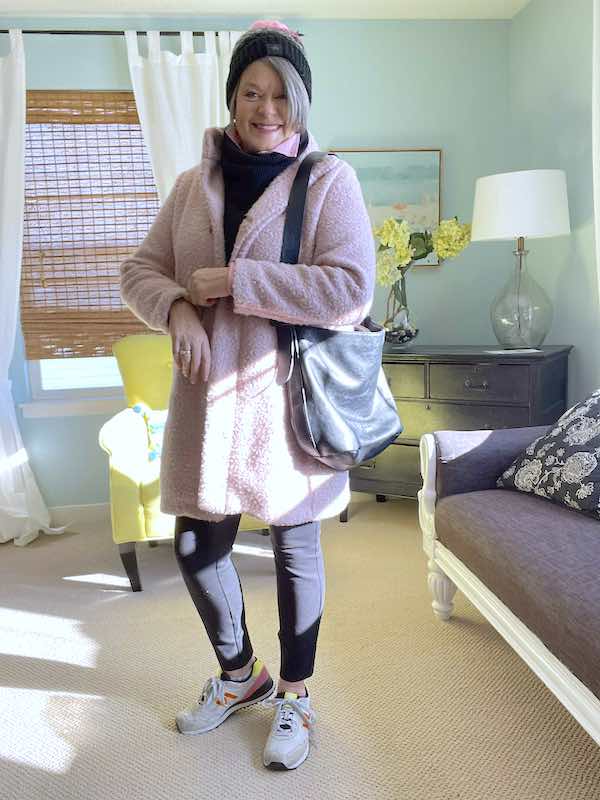 Which one of my winter outfits with coats, hats, scarf do you like best? Leave me a comment below.
Are you team snow hat or team baseball cap?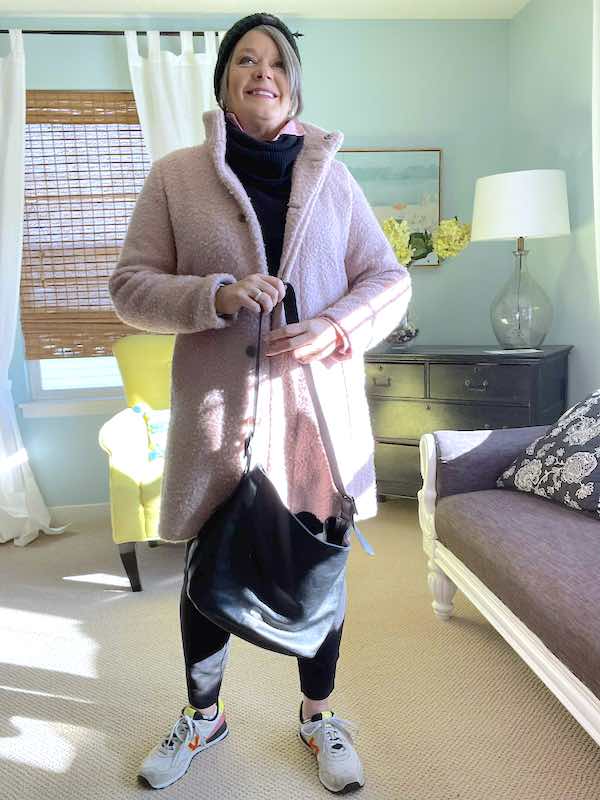 Team black coat or pink coat?
I like them both and doing my best to share color and joy wherever I go 🙂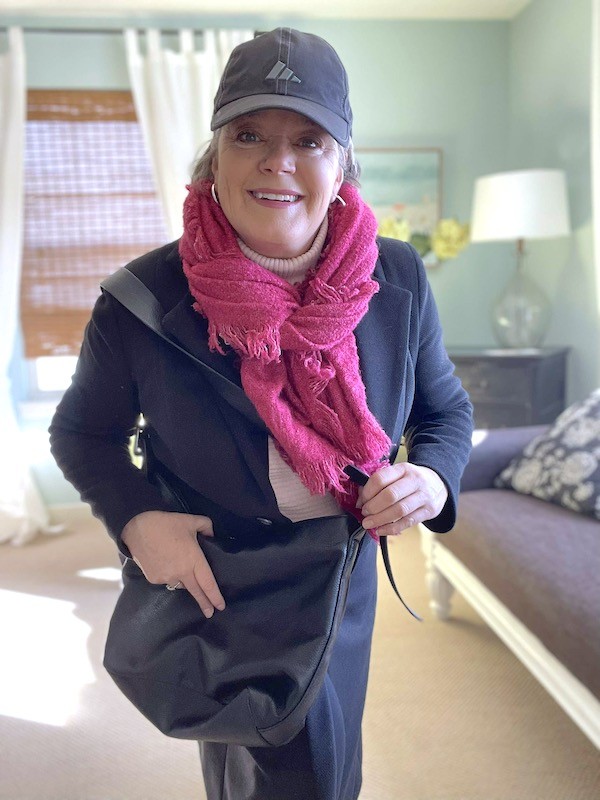 More Karins Kottage Fashion Posts
Styling a cream midi pleated skirt
Style pink turtleneck and jeans with combat boots
Shop similar clothes
These are affiliate links and if you purchase anything through these links I make a small commission at no extra cost to you. This allows me to continue to keep this blog going. I appreciate it immensely.