Mother's day is next Sunday and I am excited to show you how to set a Mother's day pretty table. Setting the table does not need to be expensive, elaborate or time consuming. You can create a pretty table using a few simple pieces.
Things like fabric napkins, pretty inexpensive goblets, flowers from the grocery and even paper placemats can make a table beautiful.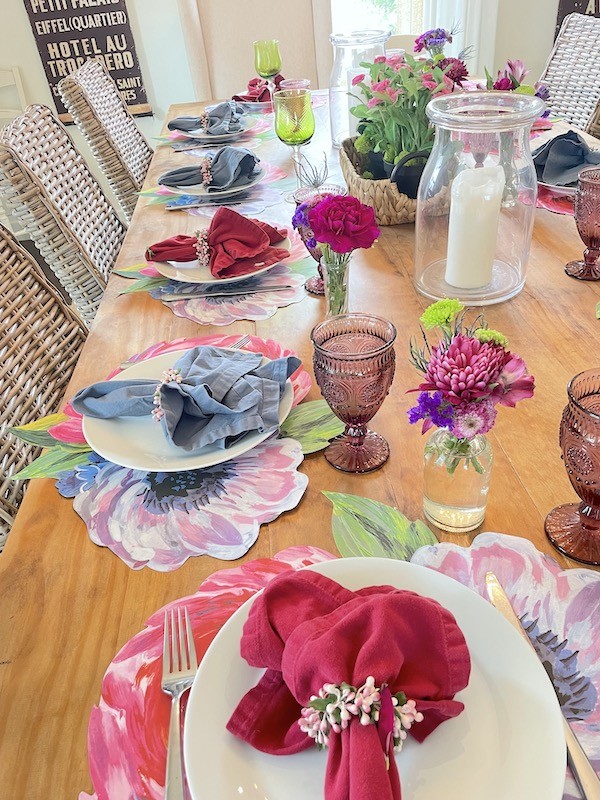 How to set the table
I like to start setting my table with a color palette. Decide on what things you want to use to set the table.
Do you want floral or white tablecloth?, colorful napkins and fun napkin rings?, placemats or flowers that could help set the tone?
For this Mother's day pretty table I started with these amazing floral paper placemats!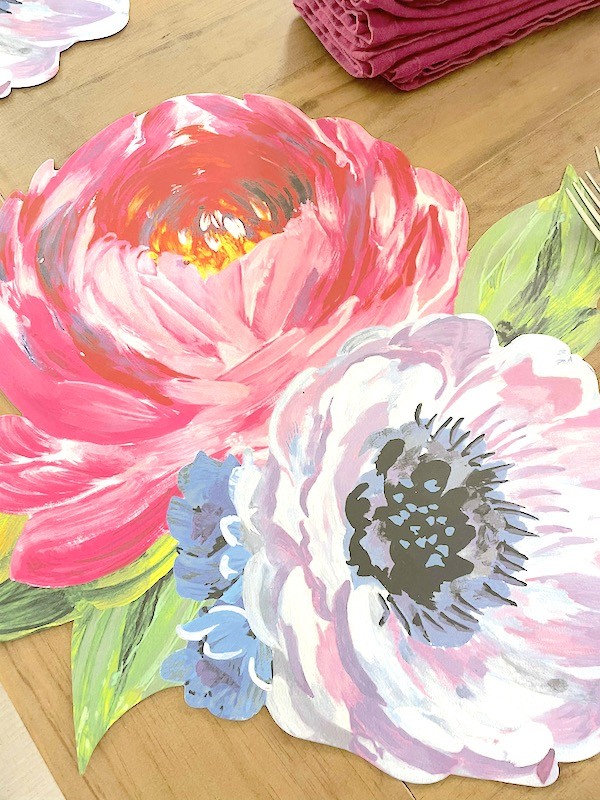 Ladies at my church put together an absolutely gorgeous Relief Society dinner for 300 ladies.
They used these placemats and after it was over a few of us got to bring some home.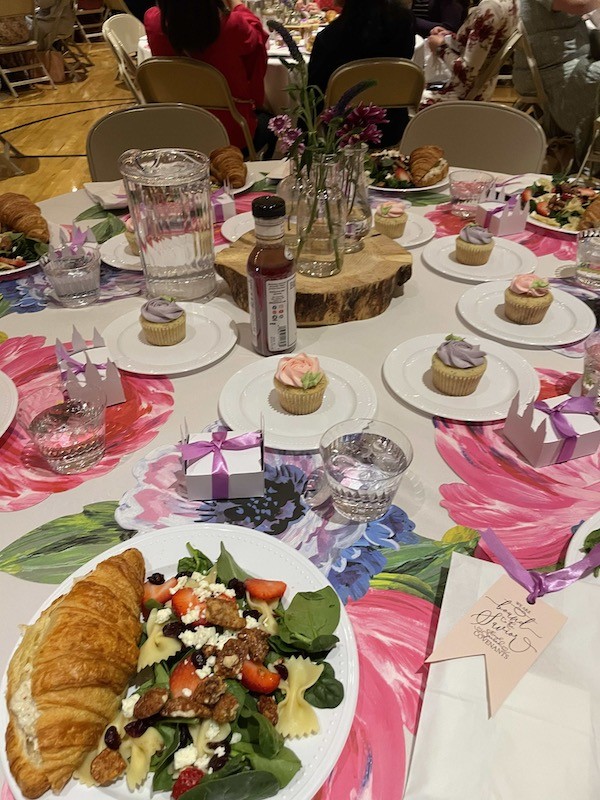 These paper placemats were purchased from Hobby Lobby but they are sold out online! I did find a couple of other options for you.
You can see the links in my SHOP at the bottom of the post.
Cloth napkins for a pretty Mother's Day table
I use cloth napkins almost everyday!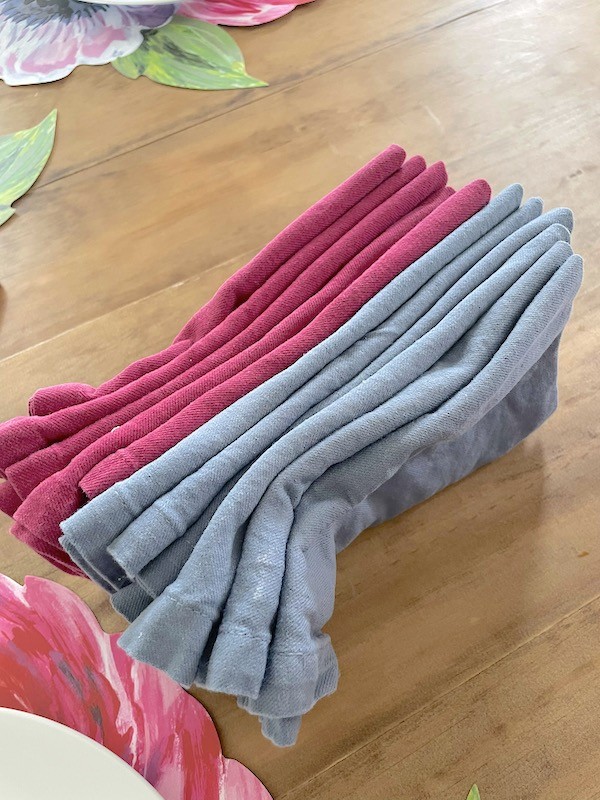 Can you believe I just happened to have pink and blue napkins that matched the paper placemats!
Total Score!
I have had these napkins for a few years.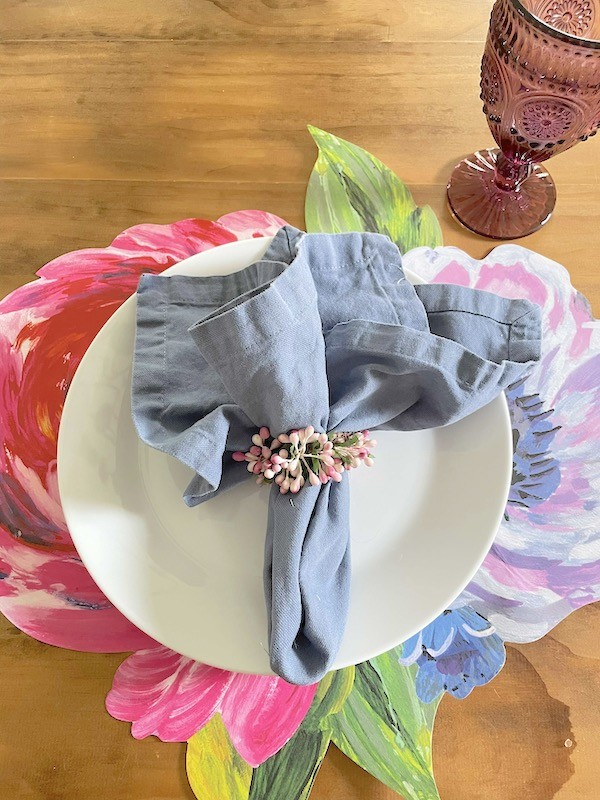 I could not believe how perfectly they matched!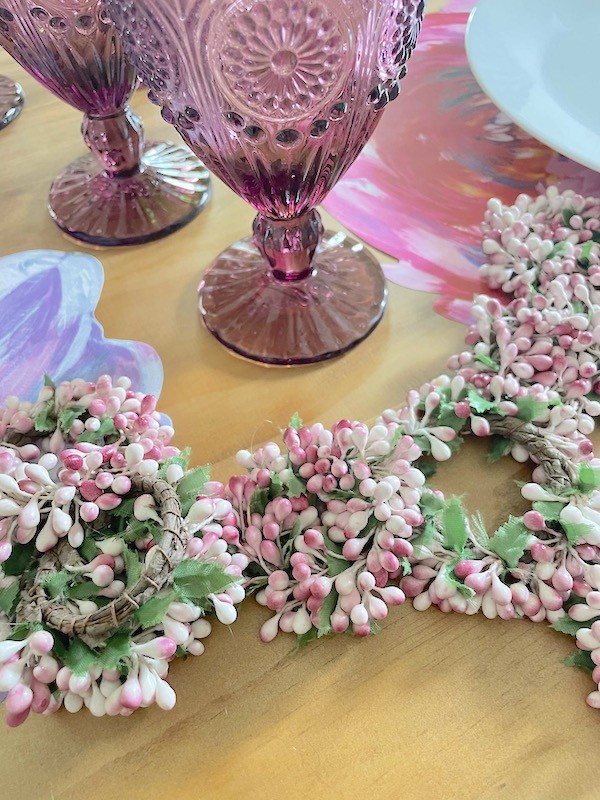 Pink and white pip berry napkin rings look springy on my napkins.
I used to sell the napkin rings here on the blog. You can see some of the colors I had here.
I only wish I could find a resource to buy them bulk again.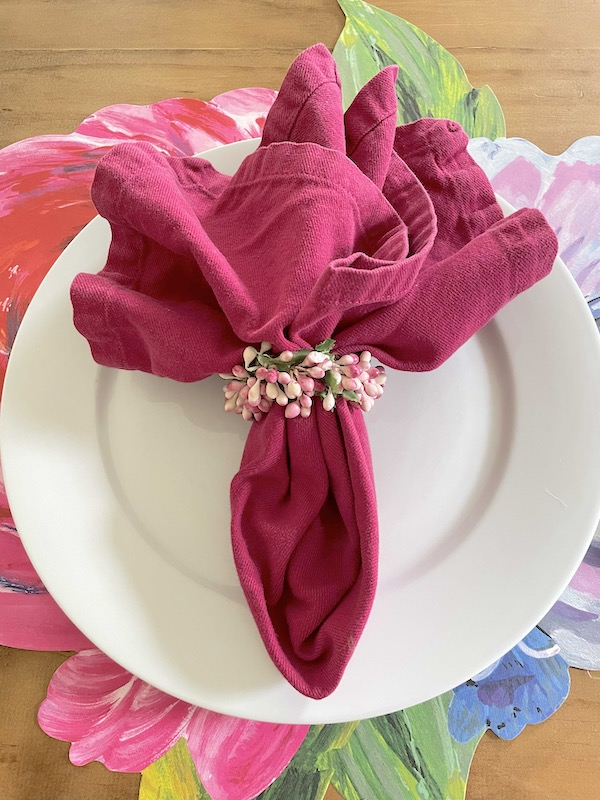 Here are a few of my favorite tablescapes using cloth napkins and the berry napkin rings.
Black and white French style tablescape.
Red white and blue tablescape with red white and blue berry napkin rings.
My favorite Pink goblets
It is time to bring out my favorite pink goblets for this Mother's day pretty table.
I absolutely adore these Pioneer Woman pink goblets. They come in a couple of different colors too.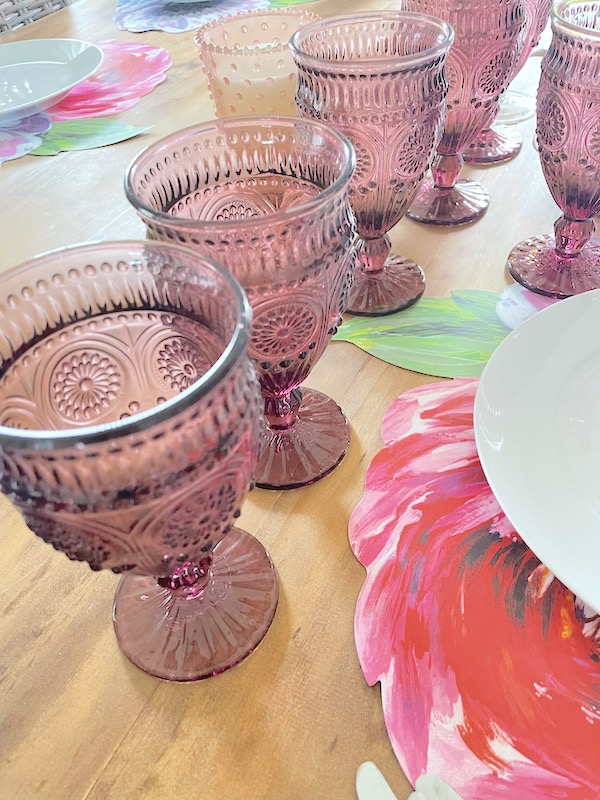 Some goblets are lightweight and feel like they might break in your hand. I have some green goblets that feel like that.
These goblets are sturdy and hold a lot. Perfect for even little kids to hold.
Placesettings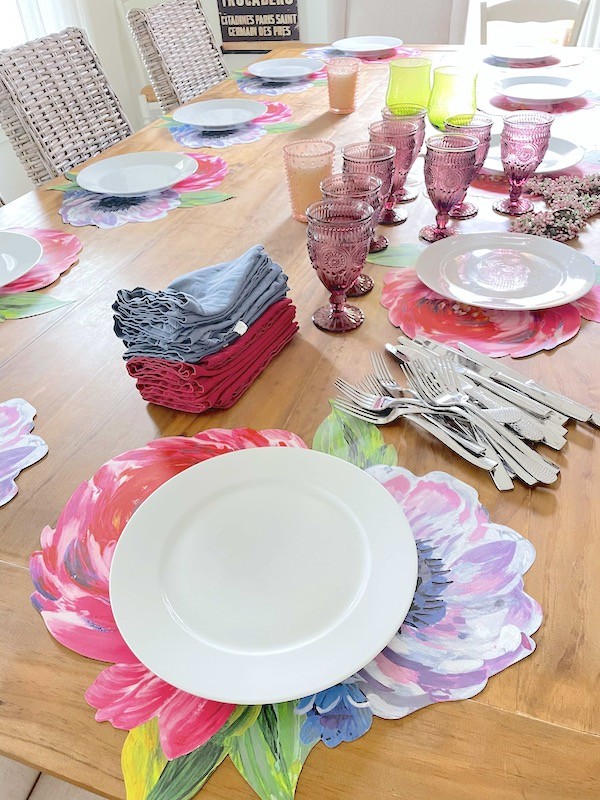 With my beautiful pink and blue peony paper placemats I am ready to place the dinner plates.
I pretty much always use white plates. They show off the food so well.
My white plates are very inexpensive from Ikea and I have about 20 of them!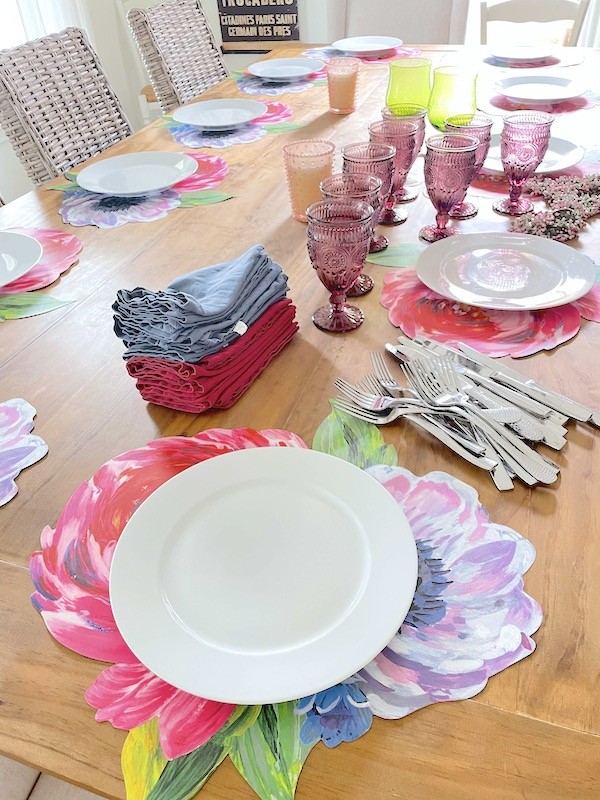 Sometimes I like to mix it up for different holidays like the 4th of July.
I use red white and blue anchor plates when I put together this dinner party in the backyard.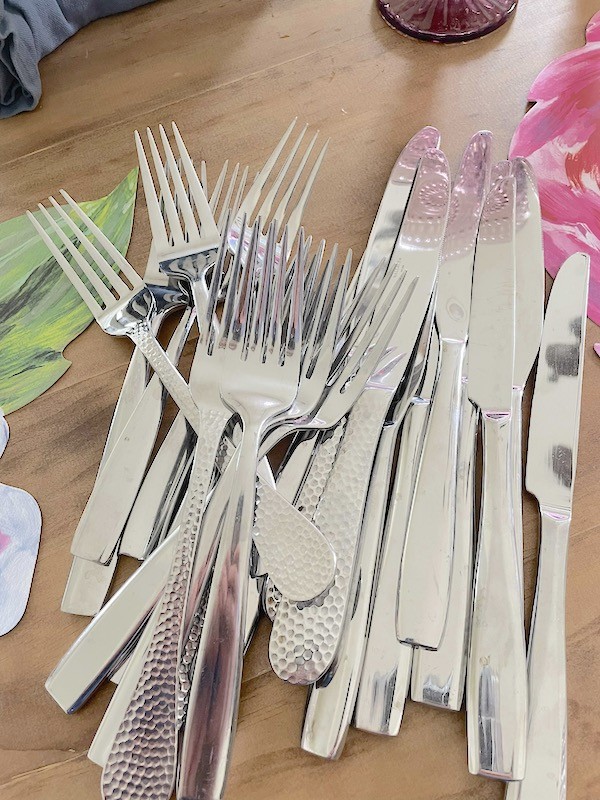 Next to the plates I am using a mix match of silverware. I don't have enough of one kind of silverware for 12 so I use a combination of hammered and plain silverware.
Pretty Flowers for Mother's Day table
I had some flowers that were on their last legs so I cut them up and put them in little vases. It is such a great way to get more out of your flowers.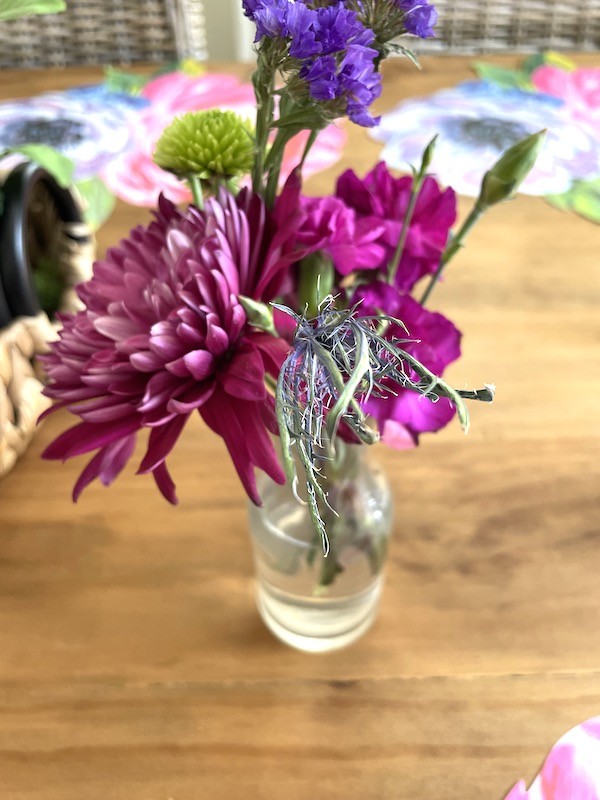 I placed a little bouquet of flower at each of my daughters place settings as well as for the future mother's (my granddaughters) 🙂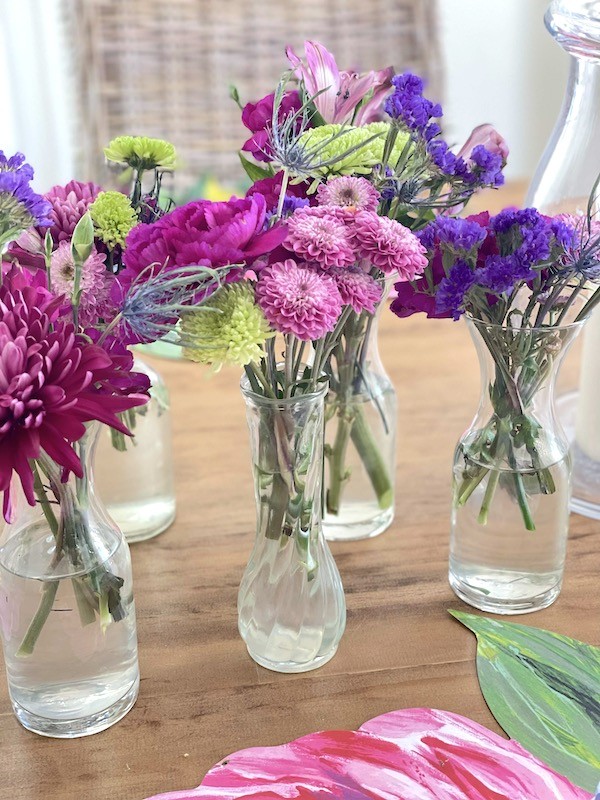 They looked so pretty on the table and added some flair. So easy and such a fabulous way to use up slightly wilted flowers that might not look so great in a big vase.
Dinner with the entire family
It was so much fun to celebrate Mother's Day early with the whole family.
We made lots of different salads including my favorite Bow tie chicken spinach salad.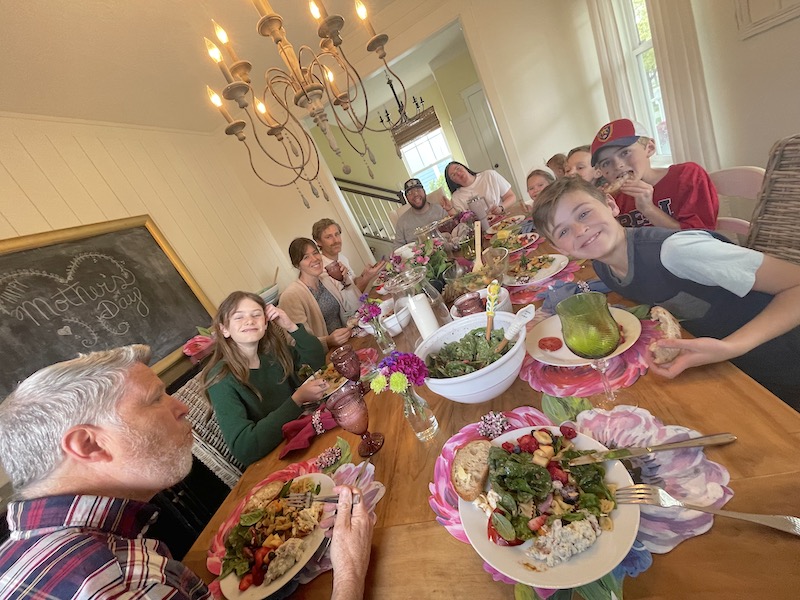 A fruit salad, another green salad and a potato salad.
I hope this How to set a Mother's Day Pretty table gives you some ideas to use for you special day.
The great thing about this tablescape is that it can be used for a spring dinner, a ladies lunch or even a bridal shower. Pinks and blues are so pretty for spring.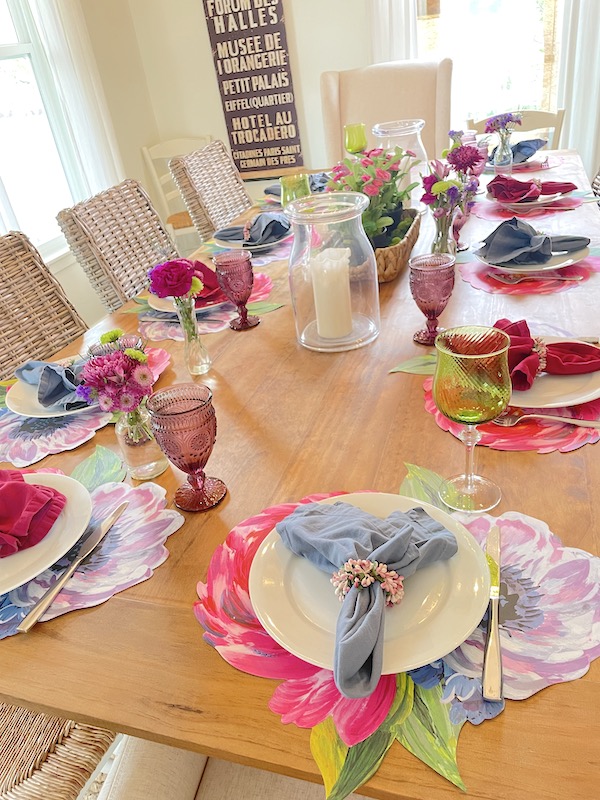 More Karins Kottage Parties
Make sure to check out lots of my other parties that I have posted about on the blog. (Click on Photo)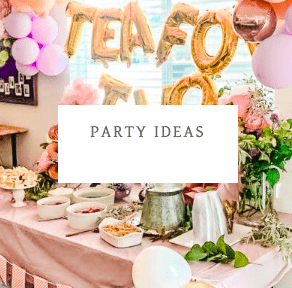 I have some fun DIY projects that you will love. (Click on photo)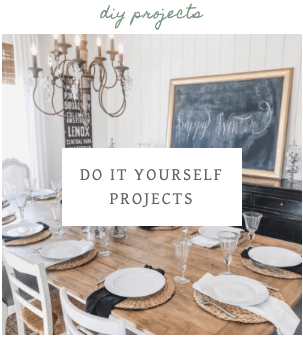 SHOP THIS POST
These are affiliate links. If you purchase something from these links I make a little commission and this helps me so much to be able to continue to write this blog and share my ideas and tips with all of you 🙂