St. Patrick's day is almost here! I am "lucky" to be able to show you how to set your St. Patrick's day table in copper and green!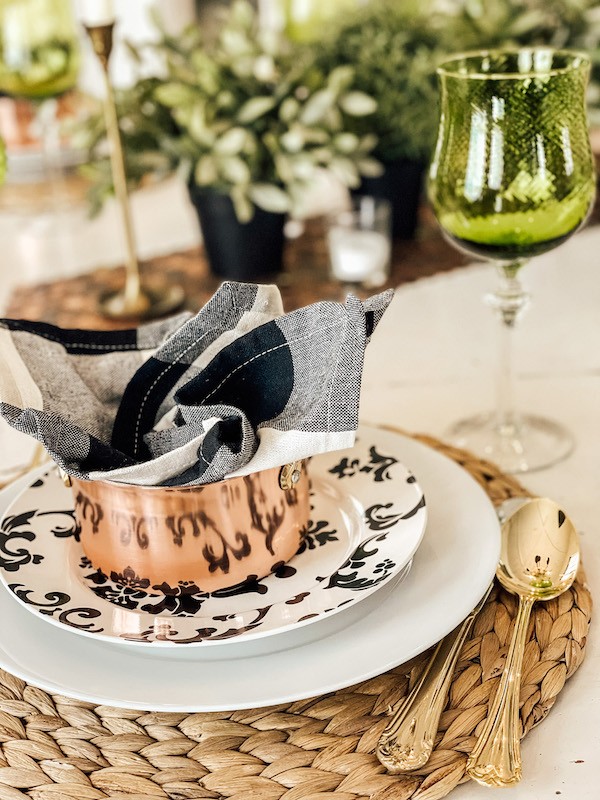 This year I have created a fun St. Patrick's day table in copper and green highlighting the lucky penny! Both my husband and I have Irish heritage so it is always fun to celebrate in unique ways.
I love the copper color of pennies and I am excited to share with you how I created this elegant Irish tablescape.
Items needed to create St. Patrick's day table
You might remember how this round table began? We bought it at a thrift store about 11 years ago! My hubby painted it and gave it an aged look by rubbing away certain spots.
I love love this table and chairs in our kitchen nook.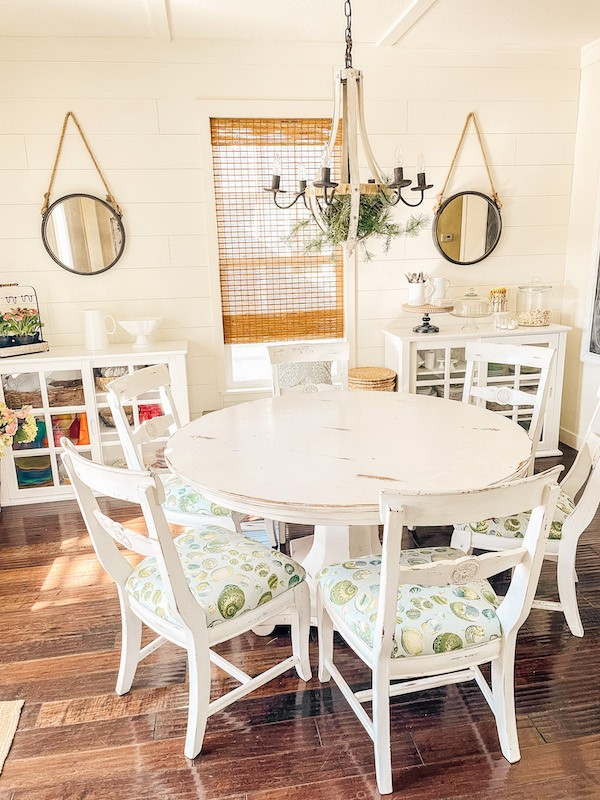 What to use to decorate for St. Patrick's day?
Of course the Irish tradition of using green is a must! My green and white checked napkins will work perfectly along with some black and white plaid napkins (not pictured)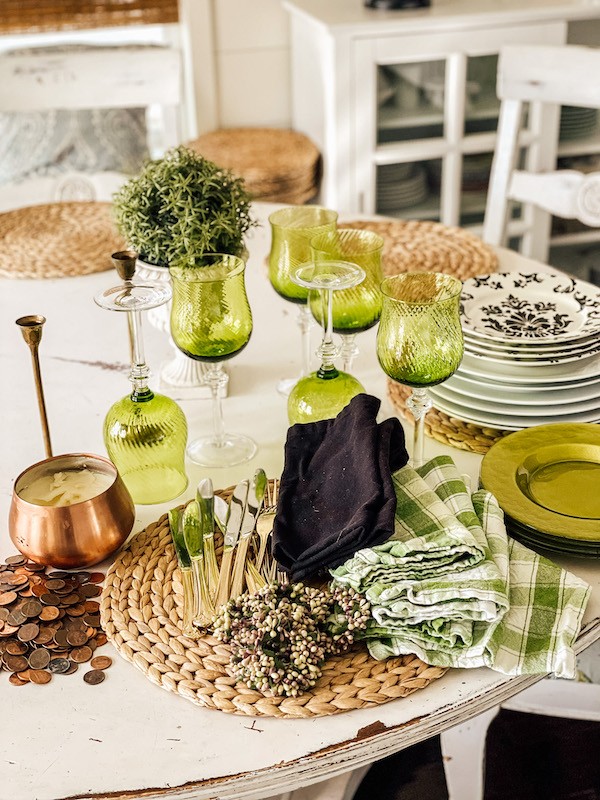 Adding some texture I am using my woven placemats.
White dinner plates, green salad plates, gold flatware, green goblets, greenery. Plus lots of pennies!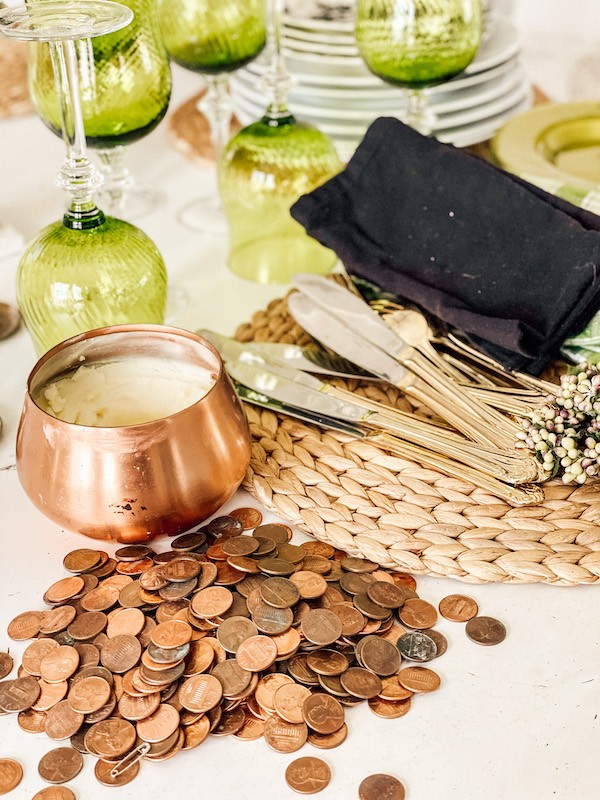 Lucky Irish penny table runner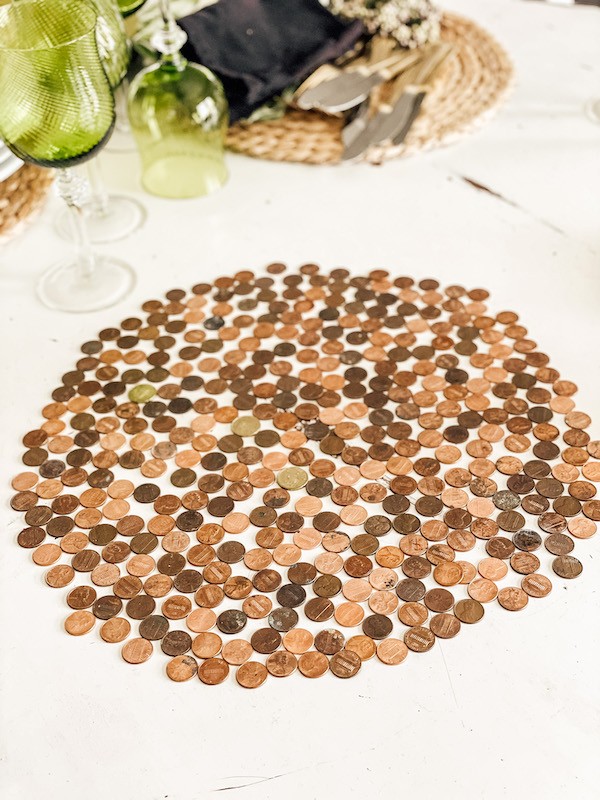 Looking for ideas on the internet I came across a table entirely covered with pennies! It looked so cool but I just don't have time to cover my entire table with pennies.
So I decided to improvise. I created a copper penny table runner!
At first I laid out the pennies and formed a circle but I wanted more of the copper pennies to show up.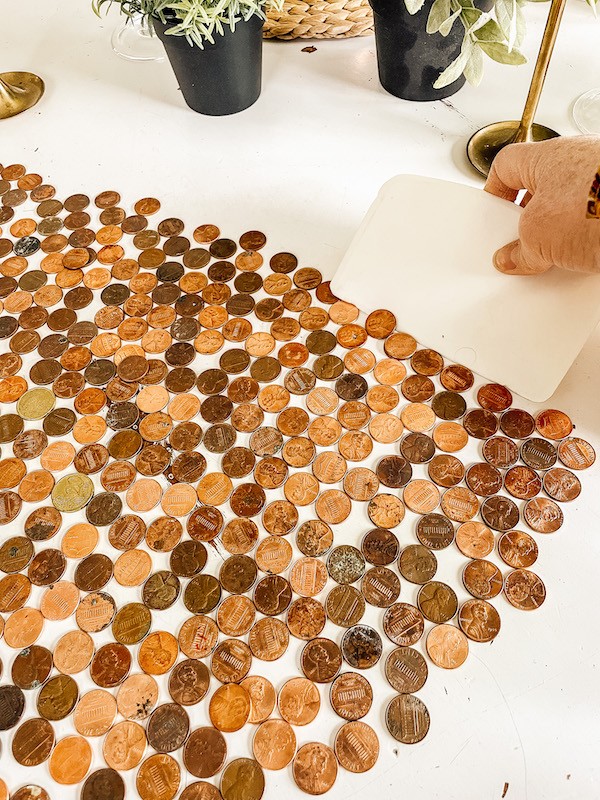 Using a plastic spatula type thing I pushed the pennies around and formed a runner!
How "lucky" is that?
It took a little time and lots of pennies but I really love how it turned out.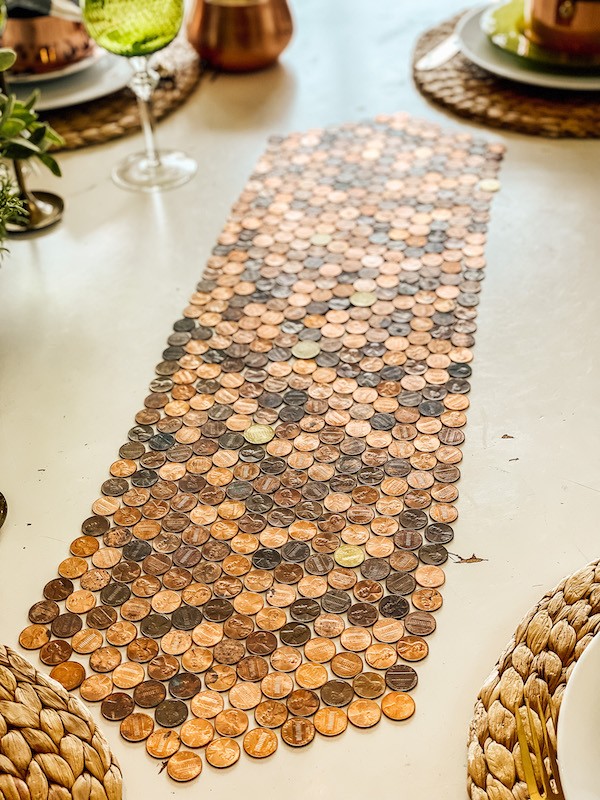 Then I added some faux greenery in little black pots along with some brass candlesticks and glass votives.
I used these same brass candlesticks on this tablescape here.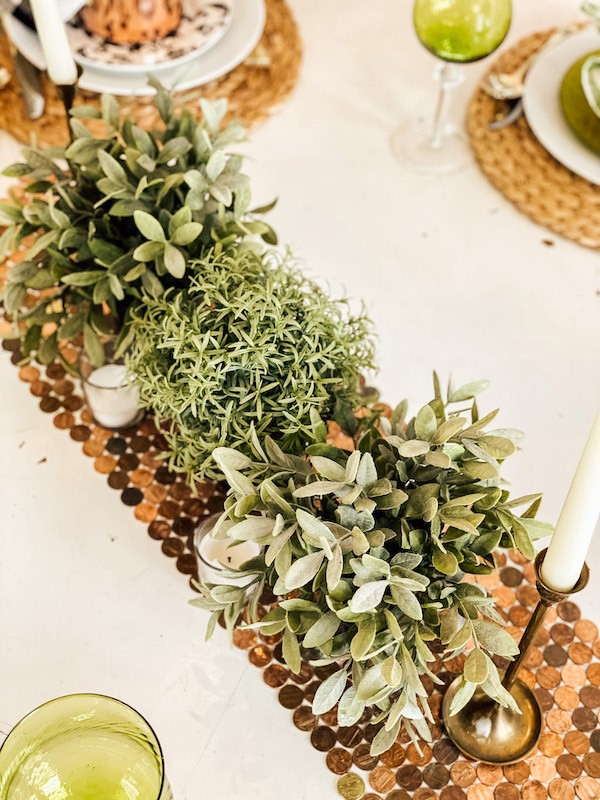 Have you heard the story behind the Irish tradition of the lucky penny?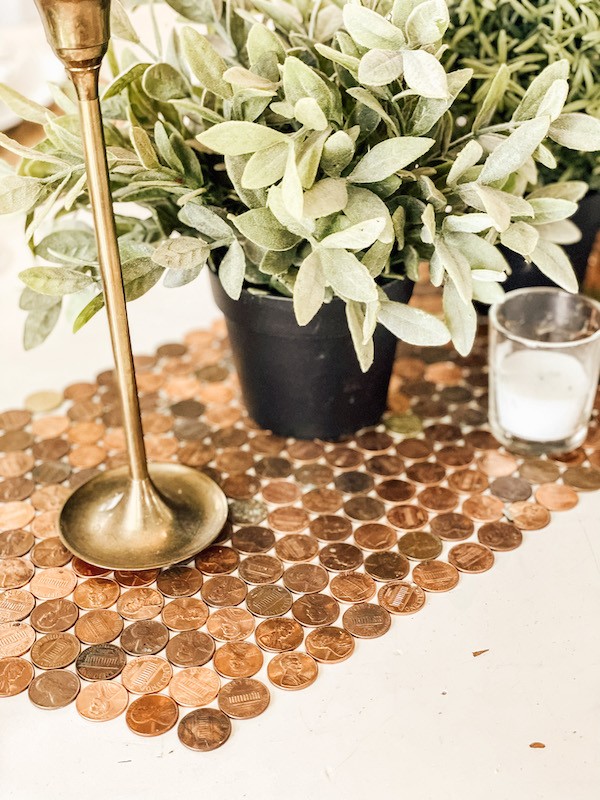 Giving a Lucky Penny is a very old Irish tradition originally associated with the buying and selling of farm animals. After the buyer and seller agree terms, the seller would then gift the buyer a sum of money for "good luck". In old Ireland this would typically have been a penny.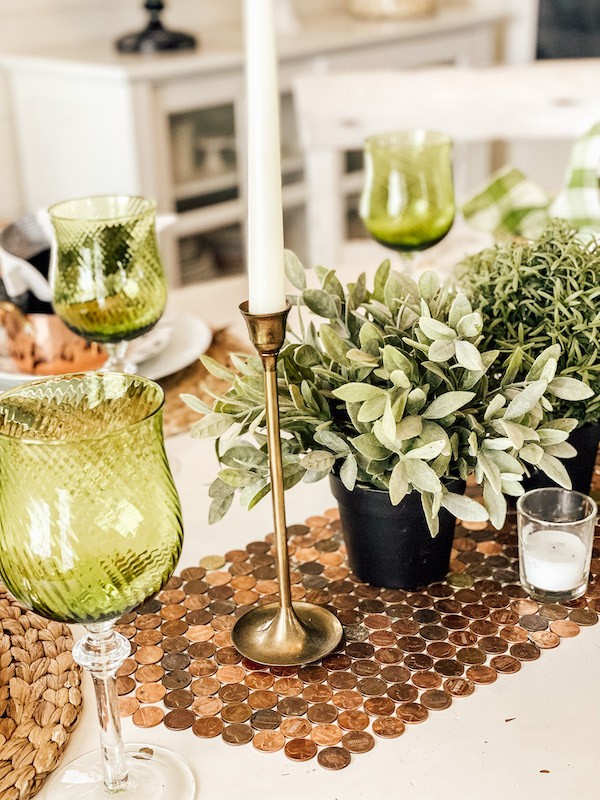 Irish green, copper and gold place settings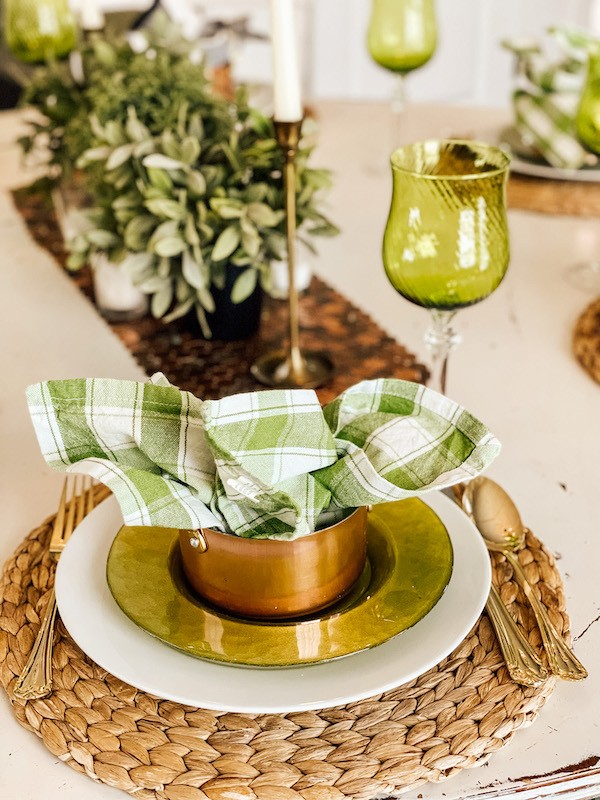 To keep with my green, white, copper and gold theme I used my white dinner plates.
I topped them with either green salad plates or black and white fleur de lis salad plates.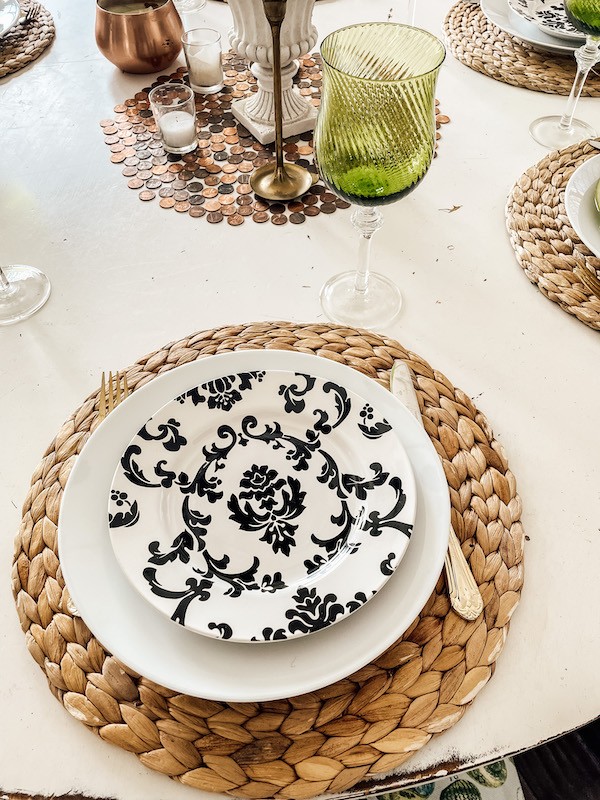 Those black and white plates are some of my favorites and I have used them in this black and white and pink table here and my Thanksgiving table here.
Mini Copper dutch ovens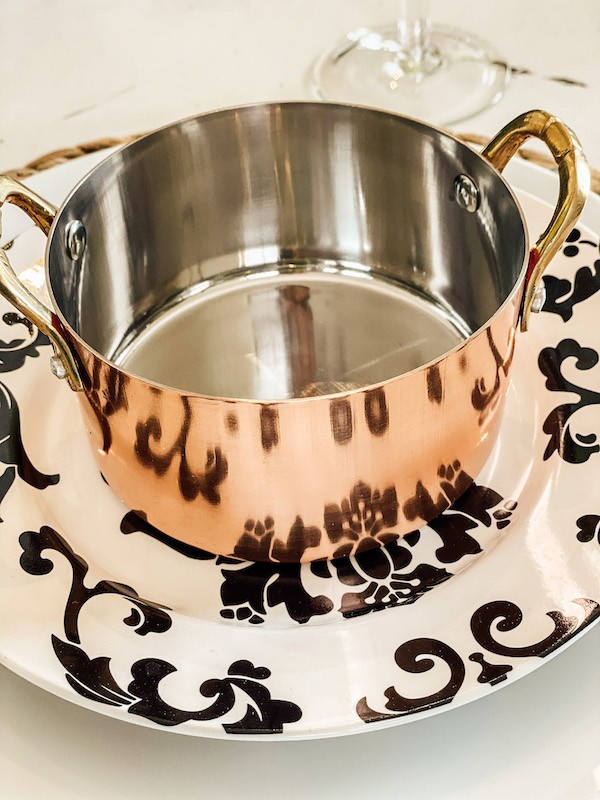 UPDATE I found better priced mini dutch ovens click on the link they are only $7.50 each! To bring in more of the copper color I found these adorable mini dutch ovens or casserole copper pots. They look so cute sitting on top of the salad plates.
I think they will be perfect to serve a little Irish stew or maybe Irish potato soup in.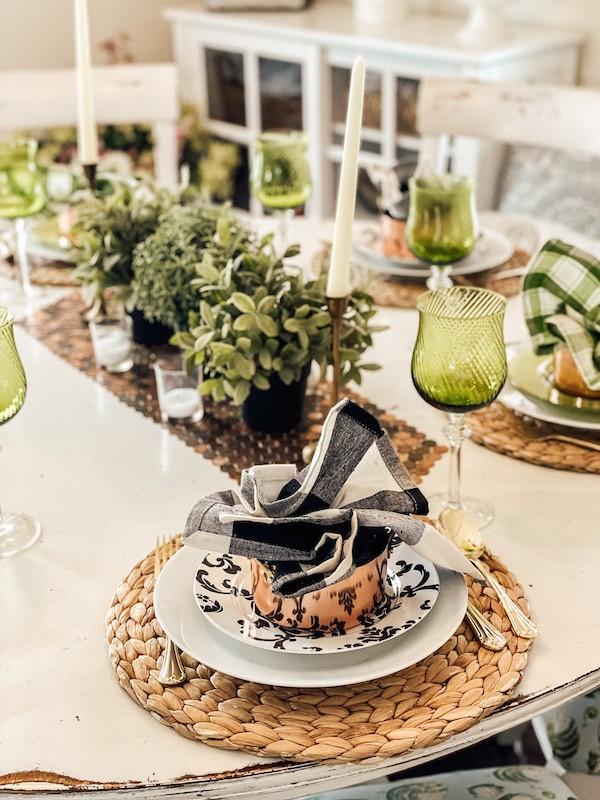 These little copper pots are the perfect thing to hold my checked napkins in.
I simply gathered them by holding them in the middle and placing the end inside the pots.
Then I fluffed them out kind of like a flower.
The green plaid or the black plaid napkins look great in them.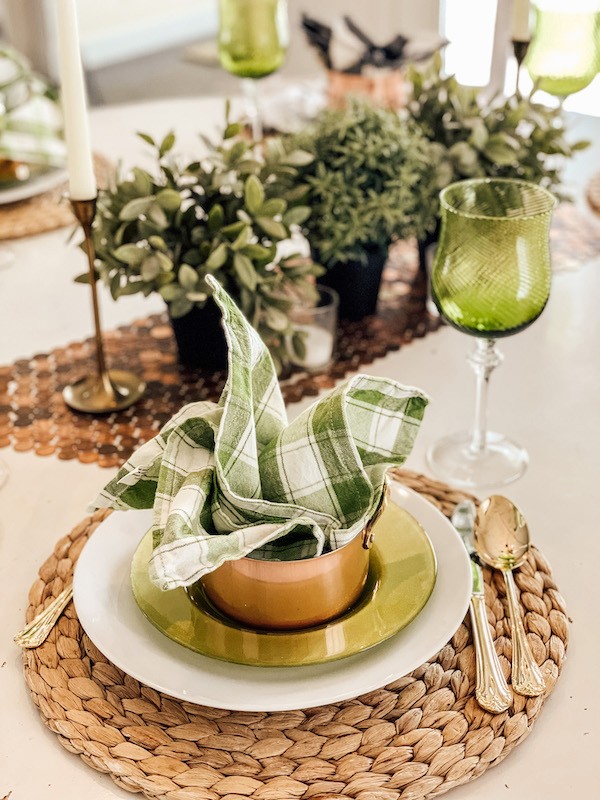 I think these mini copper pots can be used in multiple ways.
You could use them as a vase to hold small pots of flowers or even herbs in them on the table for a different look.
Closer look at the entire St. Patrick's Day table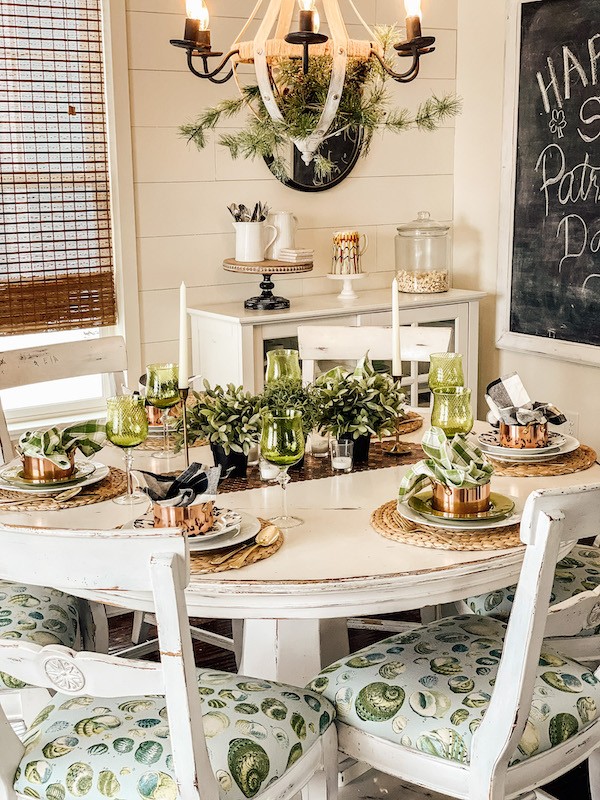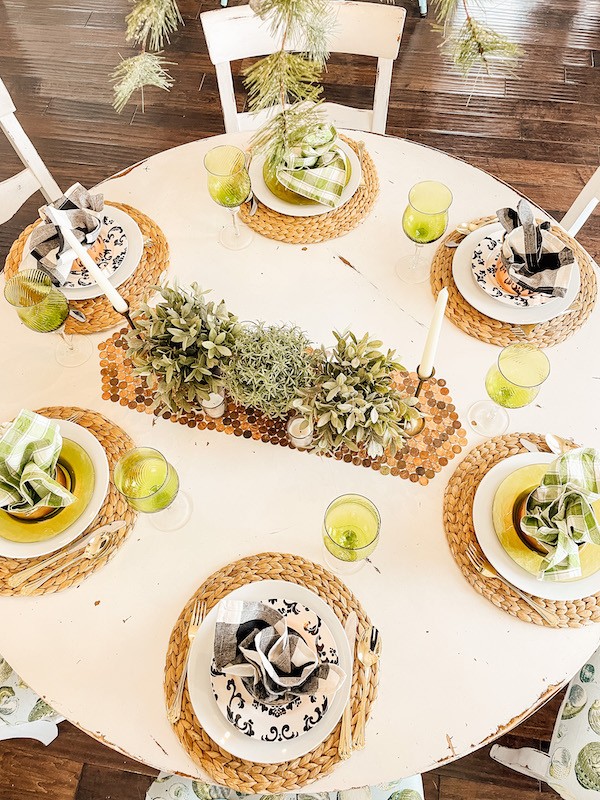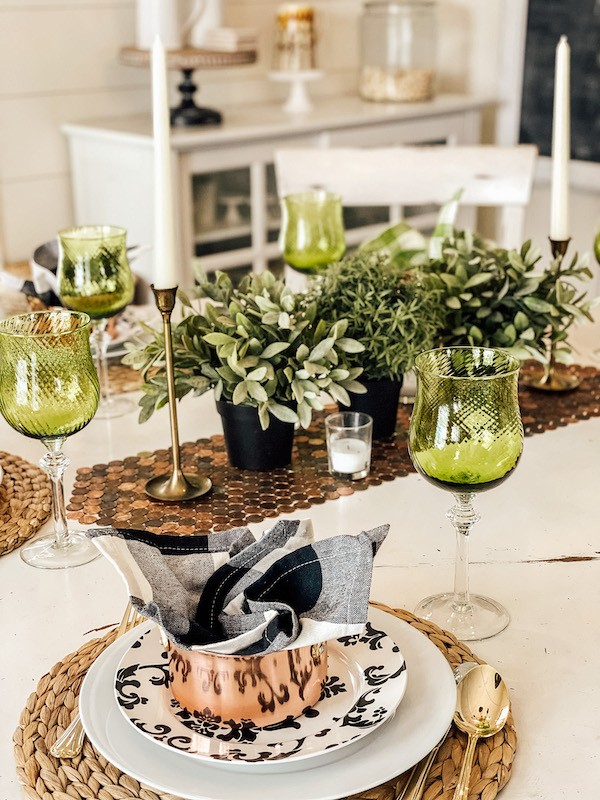 St. Patrick's Day Blog Hop
I am participating in When Irish eyes are smiling St. Patrick's Day blog hop hosted by Debbees Buzz! Make sure you visit all my friends and get inspiring ideas for your St. Patrick's day celebrations!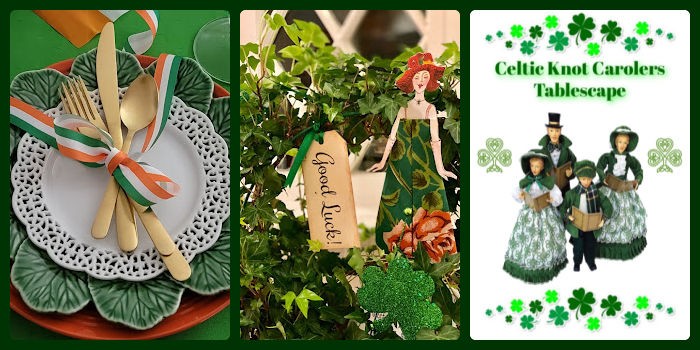 St. Patrick's Day Flying Colors Tablescape ☘ Panoply
Top of the Mornin' to You! ☘ Hyacinths for the Soul
A Table With Irish Knot Carolers ☘ Life and Linda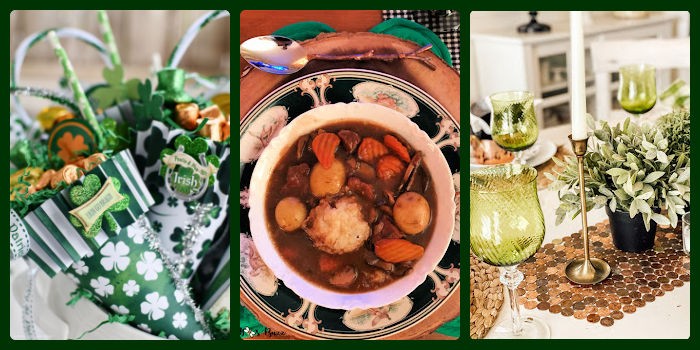 Feelin' A Wee Bit Irish ☘ Home is Where the Boat Is
Easy, Hearty Irish Stew for St. Patrick's Day ☘ Debbee's Buzz
St. Patrick's Day Copper & Green Table ☘ Karins Kottage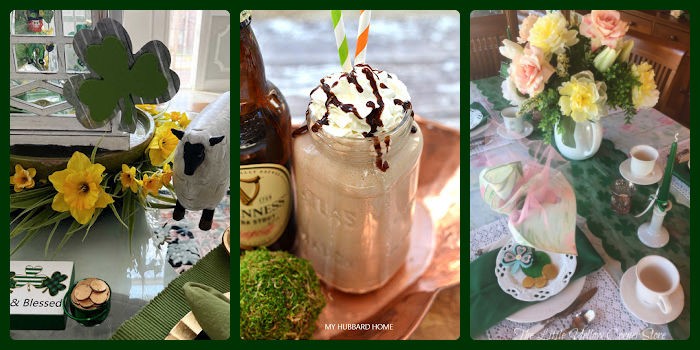 Lucky & Blessed St. Patrick's Day Table ☘ The Painted Apron
Copycat Red Robin Chocolate Guinness Shake ☘ My Hubbard Home
Putting a Spring Into My Step on St. Patrick's Day ☘ The Little Yellow Corner Store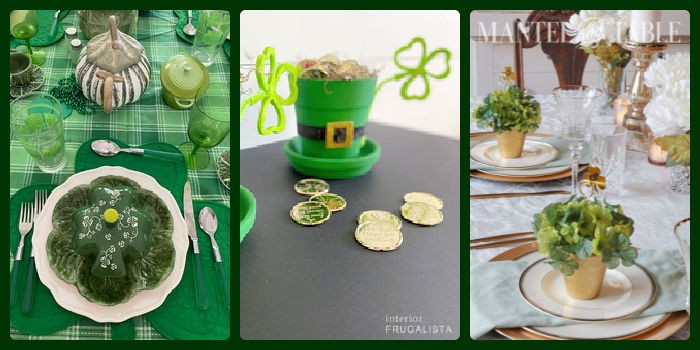 St. Patrick's Day Blessings and Tablescape ☘ Me and My Captain
Flower Pot Leprechaun Hat St. Patrick's Day Craft ☘ Interior Frugalista
How to Set an Elegantly Nonconformist St Patrick's Day Tablescape ☘ Mantel and Table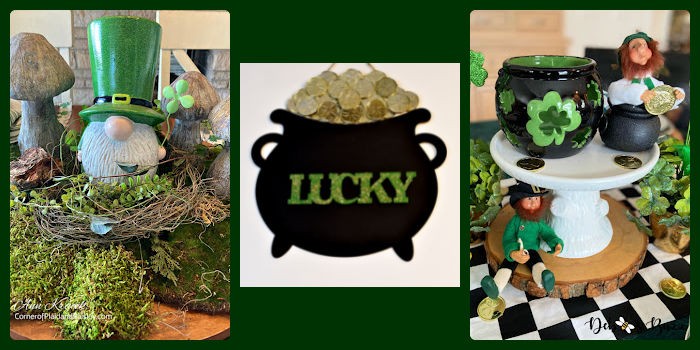 Enchanted Leprechaun Grove ☘ Corner of Plaid and Paisley
St. Patrick's Day Door Hanger Dollar Tree DIY ☘ Zucchini Sisters
Shop This Post