Yeah…we are trying to eat healthier if you can't tell by these last two posts! I really want to loose a few pounds as do my hubby and daughter. So we decided to eat more fresh foods. Pictured here is an amazing salad with fresh grilled Tuna. I love grilling Tuna it only takes 3-4 min. a side! Hello…you can't get fast food that fast!
(Oh do you see my cute white napkin ring in this picture?) They are still for sale !1.00 each!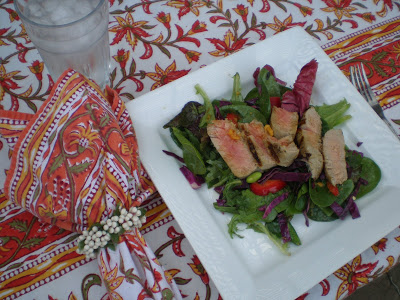 Tuna is best when it is pink in the middle. So tasty and fresh! Actually it really tastes like steak when cooked correctly. NO fishy taste at all! That is why I like it so much.
Look at the colors in this salad…it is gorgeous!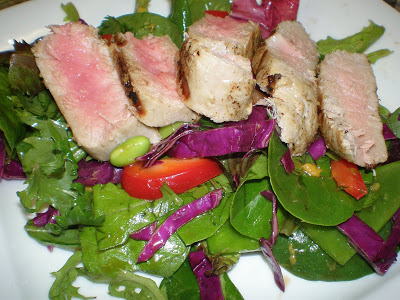 Our daughter it quite picky and does not like fish or any kind of meat except chicken or turkey. She would not eat the cabbage but she does like edamame. She had a spinach salad with Leftover sliced chicken.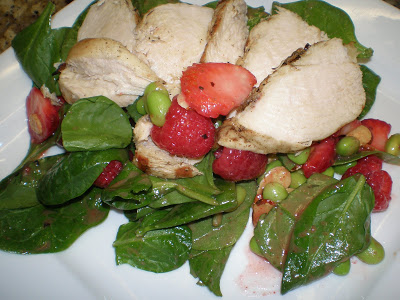 Here is the recipes
Grilled Tuna
One Tuna steak (my hub and I split it)
Olive oil rubbed on both sides
Kosher Salt
Costco's Organic No salt seasoning (we use this on everything it is the best!)
Grill for 3 – 4 minutes a side (don't overcook or it will become dry)
Edamame Cilantro Salad
4 C Mixed Salad Greens
1 C sliced snow peas
1 C Sliced red bell pepper
1/2 C shredded purple cabbage
1/2 Cup chopped cilantro
1/3 Cup thawed shelled edamame
1/4 Cup Sesame Tamari Dressing vinaigrette (recipe below) YUMMO!
This salad not only tastes good but looks gorgeous!
Sesame Tamari Vinaigrette
1/4 Cup Orange Juice
1/4 Cup Rice vinegar
2 Tbsp Soy sauce or Tamari
1 Tbsp toasted sesame oil
1 Tbsp Honey (I added just a touch more)
1 tsp finely grated fresh ginger (I used 1/4 tsp dried ginger)
Whisk orange juice, vinegar, Tamari or Soy sauce, oil, honey and ginger in small bowl until honey is incorporated.
Let me know if you try it and like it. I got this recipe from Eating Well Magazine April 2007