Glazed Grilled Carrots
I am always looking for new grilling ideas especially for vegetables. I feel like I always do the same ones…asparagus and zucchini so when I came across this recipe from New York times I decided to try it out.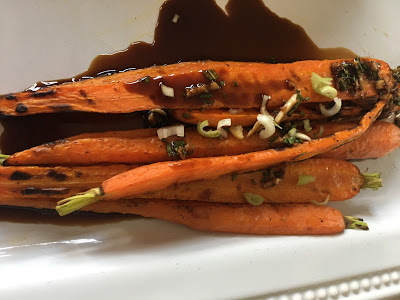 I bought skinny organic carrots with the green tops still attached and sliced them in half. Then I precooked them in the microwave with some water so I wouldn't have to grill them so long.
(I was in a hurry) Then I followed the recipe by making the glaze sauce and then grilling the carrots. I could have grilled them a little bit long because they were a little bit too crunchy but I really liked the glaze!
Glaze
2 Tbsp balsamic vinegar
1 Tbsp Soy sauce
1 Tbs brown sugar
1/2 tsp finely chopped rosemary
1/2 clove garlic , cut into paper thin slices
1 tsp freshly grated ginger
2 Tbsp vegetable, plus more the carrots
10 medium carrots, peeled, trimmed and cut in half lengthwise
Salt
1 green onion thinly sliced
Step 1 In a large bowl, whisk together vinegar, soy sauce, sugar, rosemary, garlic and ginger until combined. Whisk in 2 Tbsp oil so dressing emulsifies; set aside.
Step 2 Heat to grill low. Coat carrots with oil and season with salt. Grill carrots, covered, turning as needed to prevent burning, until nicely charred and fork tender, 20 to 25 min.
Step 3 When carrots come off the grill, toss them immediately in the prepared dressing. Once they are coated, use tongs to transfer to a serving platter and garnish with green onion. Drizzle a few spoonfuls of the remaining dressing over the top.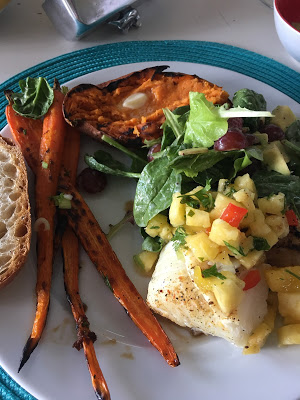 Along with the Glazed Grilled carrots I served grilled halibut, seared fresh tuna with pineapple salsa, salad greens with grapes, raspberries almonds and #Briannassaladdressing poppy seed, our favorite!, a slice of french bread and half of a yam also grilled with a little #redstoneoliveoil Maple balsamic vinegar drizzled over the top…everything tasted so good!
Hope you will give the carrots a try.
(this is not a paid advertisement only my own thoughts about these two products)