Hello My friends! here is an easy to make creamy vegetable soup that you will love!
There is nothing better than homemade soup! The aroma fills the house with goodness that is waiting to get into your belly!
Easy to make creamy vegetable soup is made with smokey bacon, carrots, potatoes, onions, celery root and garlic.
Do I have your attention yet?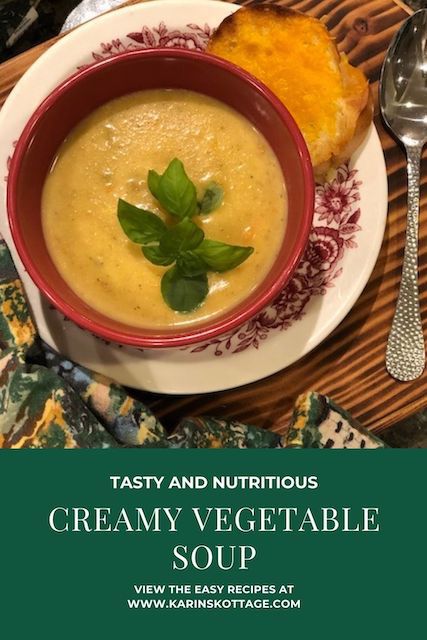 Begin to make the creamy vegetable soup
I start with frying up a few piece of bacon until it is almost cooked all the way through. The bacon flavors the vegetables with that smokey taste that you just can't get with butter or oil.
I make this crockpot Potato corn chowder with fried bacon too and it is a great soup recipe to make in the morning and have ready at the end of the day. YUM!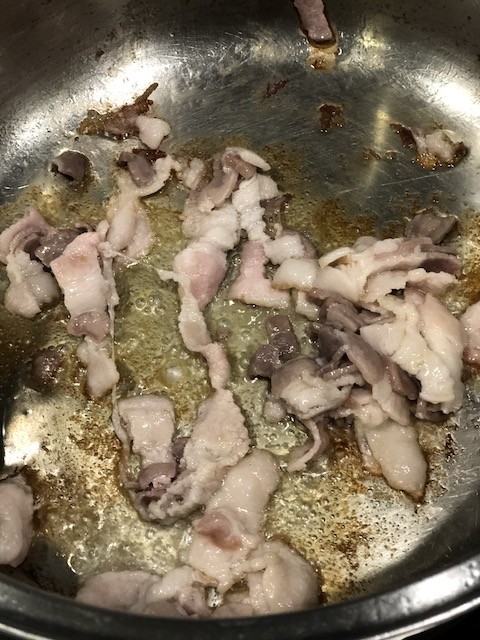 After I chop up the potatoes, carrots, onions, garlic and celery root I am ready to start sauteing them with the bacon.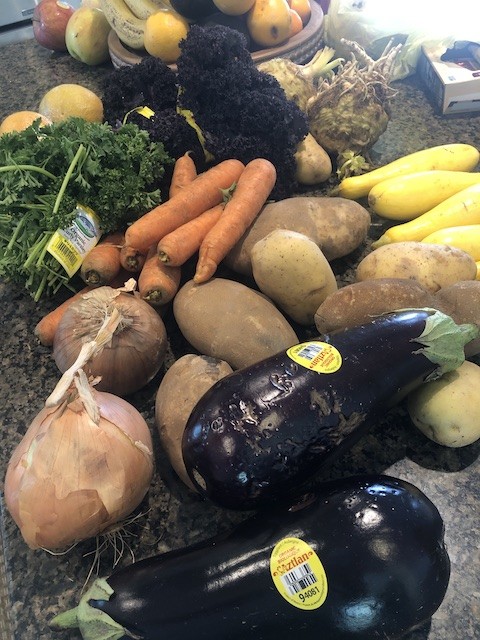 What is Celery Root?
If you are not familiar with celery root don't worry neither was I! I received it in my kit from Misfits Markets. Misfits is a company that provides misfit organic fruits and vegetables.
These are fruits and vegetables that are either too big or to small or have blemishes that grocery stores do not want but are still really good.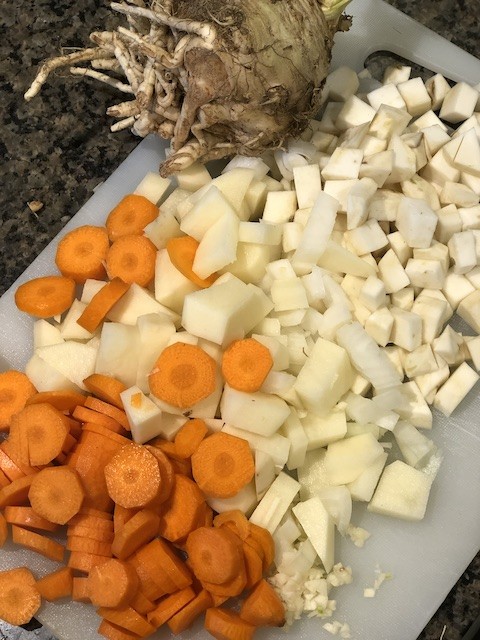 Celery root looks really ugly and you might be thinking YUCK!
I don't think I want to put this into anything I eat but it is yummy! You simply cut off the outside ugly edges which leaves a pretty white root.
Cut the root into small chunks and throw it into your pan to saute. The aroma of the celery is sooo good!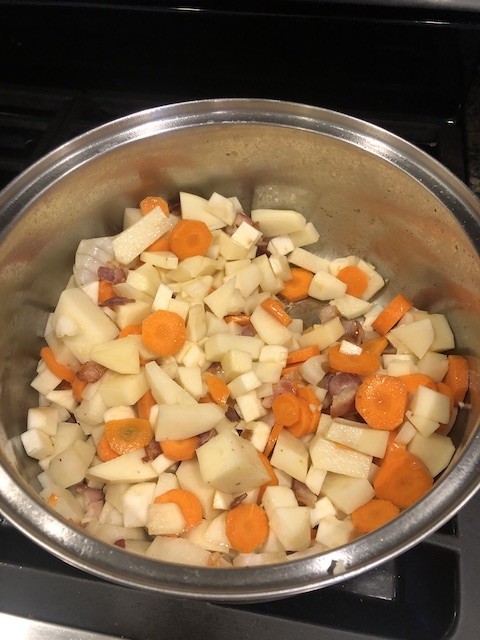 Add the vegetables to the pot
Next I add in all the chopped veggies to the pan along with salt and pepper, Weber's Beer Can chicken seasoning, and saute everything for about 10 min. or until the onions are translucent and the vegetables start to soften up.

I love to cook with vegetables! I grilled them for this romantic outdoor dinner that I did for my hubby in the backyard. Another yummy vegetable dish is my ground turkey to zucchini for a fast healthy dinner here and I love to make Mexican turkey stuffed yams with beans and corn! Topped with avocado and sour cream!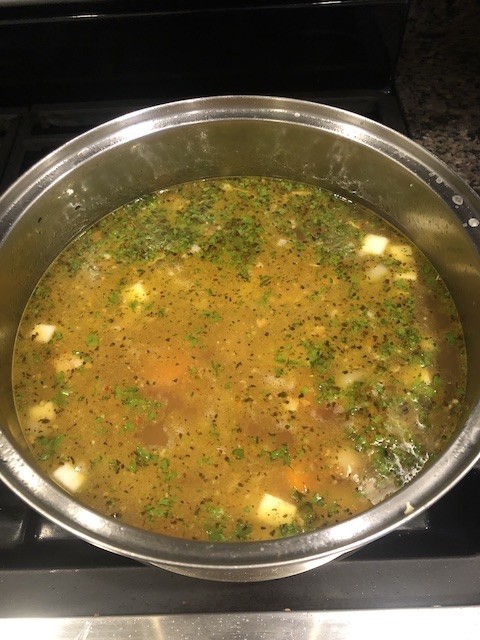 Best stock pot pan! I have had one for over 20 years!
Now it is time to add the broth.
You can use either vegetable broth or chicken broth.
I used chicken broth.
At this point I also added in some fresh chopped parsley.
Bring it to a bubbling boil.
Once it is boiling turn down the heat and let the soup simmer until the vegetable are fork tender.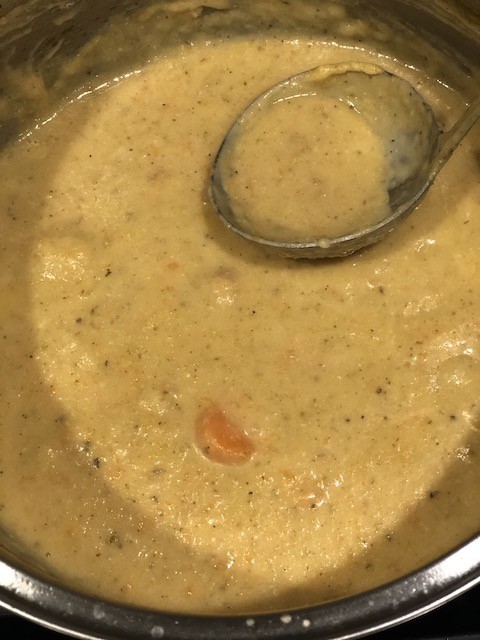 Use a hand blender
Remove about 2 cups of the cubed vegetables and set aside.
Using and blender or hand held blender whirrr up the soup in the pot until smooth.
Stir in the cubed vegetables and pour in about a 1/4 cup of cream.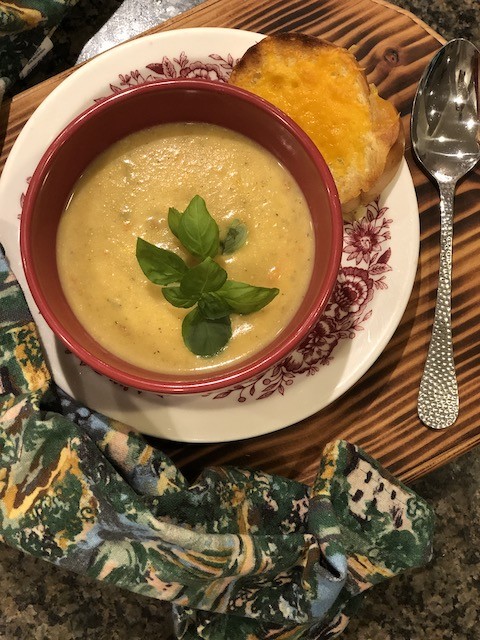 Serve with french bread topped with cheese and broiled until cheese melts. SOOOOO GOOD!!
Shop Dish Towels, Retro Plates, Hammered silverware here

Pin Recipe For Later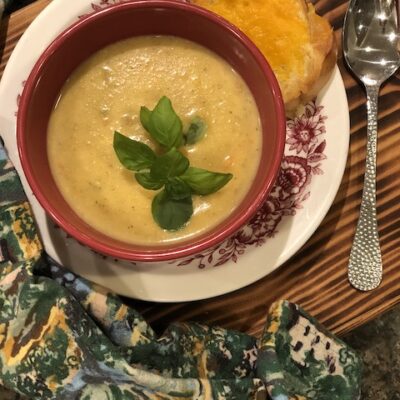 Easy to Make Creamy Vegetable Soup
This is a very flavorful creamy soup made with carrots, potatoes, celery root, garlic and bacon. It will fill your home with amazing aromas and your belly with good nutrition.
Equipment
Soup pot

Hand held blender

Ladle

knife

chopping board
Ingredients
3

Slices of bacon

chopped

2

large

Russet potatoes

chopped into 1" pieces

3

large

Carrots

sliced

1/2

large

Onion

Chopped

1

head

Celery Root

Peeled and chopped

2

cloves

Garlic

1

tbsp

Olive oil

1

tsp

Kosher salt

1

tsp

Pepper

1-2

tsp

Webers beer can chicken seasoning

1

tbsp

Fresh parsley

chopped

6

Cups

Chicken or vegetable broth

1/4

Cup

Cream
Instructions
Remove the outer edge of celery root, chop up the white flesh of the celery root into 1" chunks. Chop up the potatoes, onions, carrots and garlic.

Cut up bacon in to small pieces and saute in a soup pot until almost cooked all the way through.

Add in all the vegetables and saute in soup pot until the onion is translucent and vegetables start to become soft.

Next add in broth and bring to a boil, turn down the heat and cook until vegetables are fork tender.

Remove approx. 2 cups of vegetables from soup. Use a hand held blender and blend soup until creamy.

Add the 2 cups of vegetables back into the soup, Add in 1/4 C cream and stir.
Pin for later