I made a delicious Zucchini Turkey boat recipe using ground turkey, pasta sauce, veggies and Seeds of change microwaveable brown rice mix. It was so easy and turned out sooo yummy!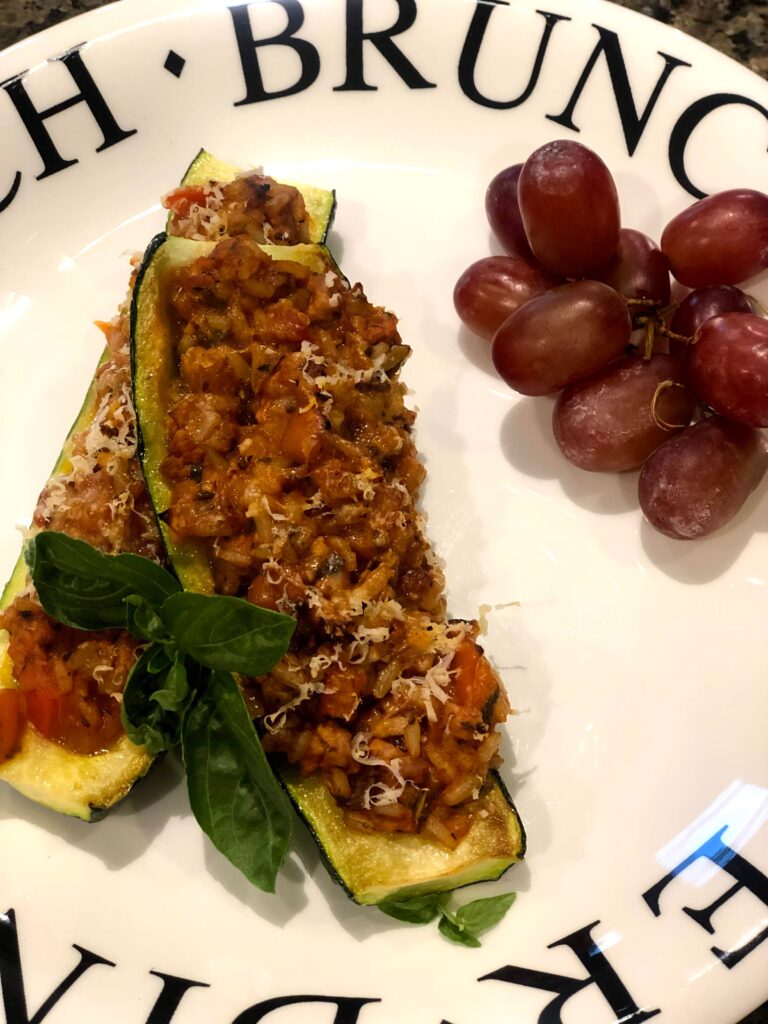 Steps to Make Zucchini Turkey Boat Recipe
The first thing to do to make these Zucchini Turkey boats is of course wash the zucchini and then cut them in half. Once they are all cut in half it is time for scooping out the pulp or seeds. I just used a spoon to scrape the pulp out. Be careful not to take too much out or they will fall apart when you fill them. I kept the flesh of each zucchini and placed that in a paper towel and squeezed out all the moisture. I use it in the filling later.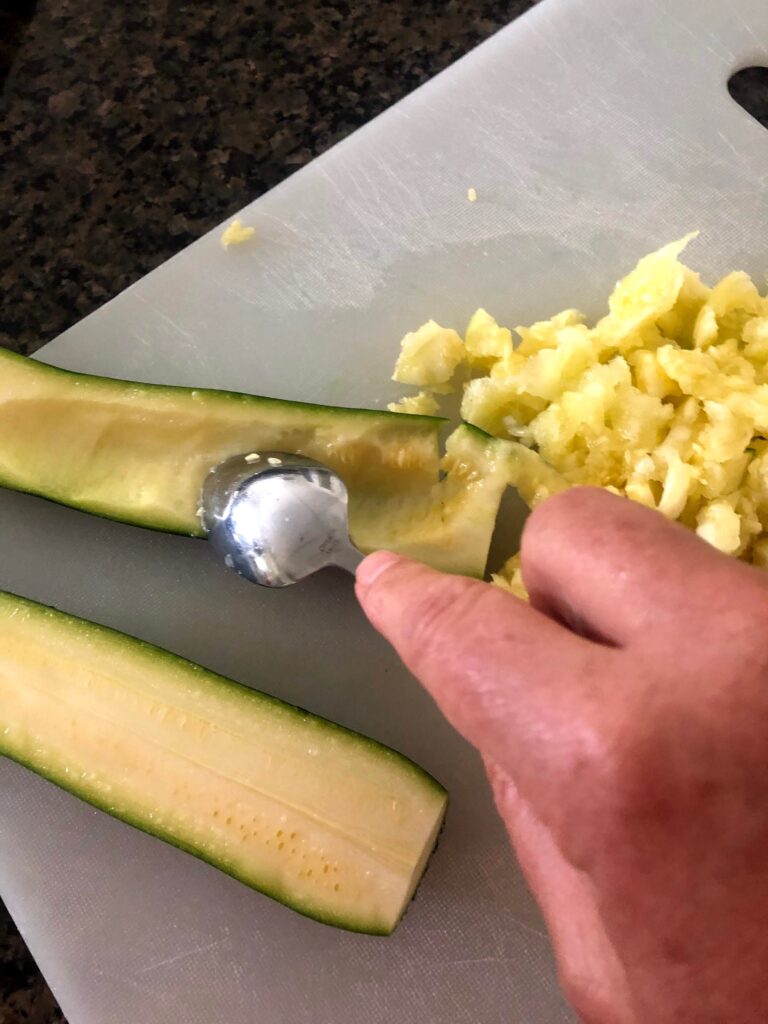 Once scooped, I use olive oil and rub it all over each piece and place them cut side down on a cookie sheet. Bake the zucchini boats at 400 degrees for about 10 minutes.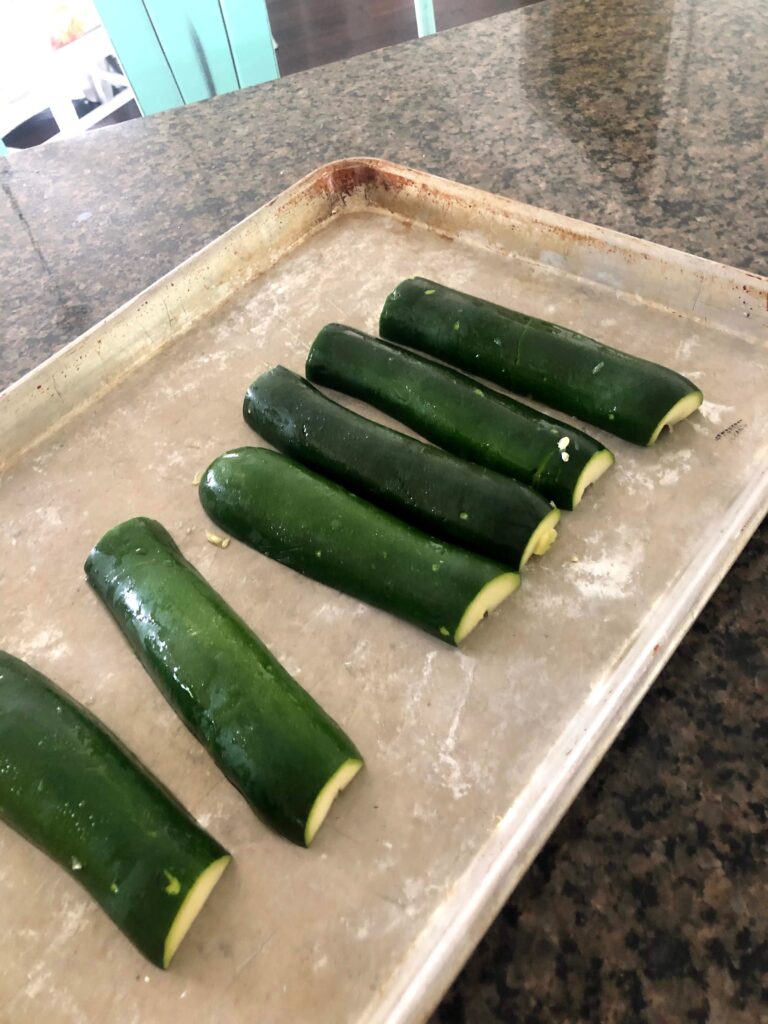 While the zucchini boats are baking I start cutting up the veggies to get them ready to sauté them in a pan along with the left over pulp from the zucchini boats. For the veggies I used a combination of onions, red peppers, garlic, green onions and fresh basil.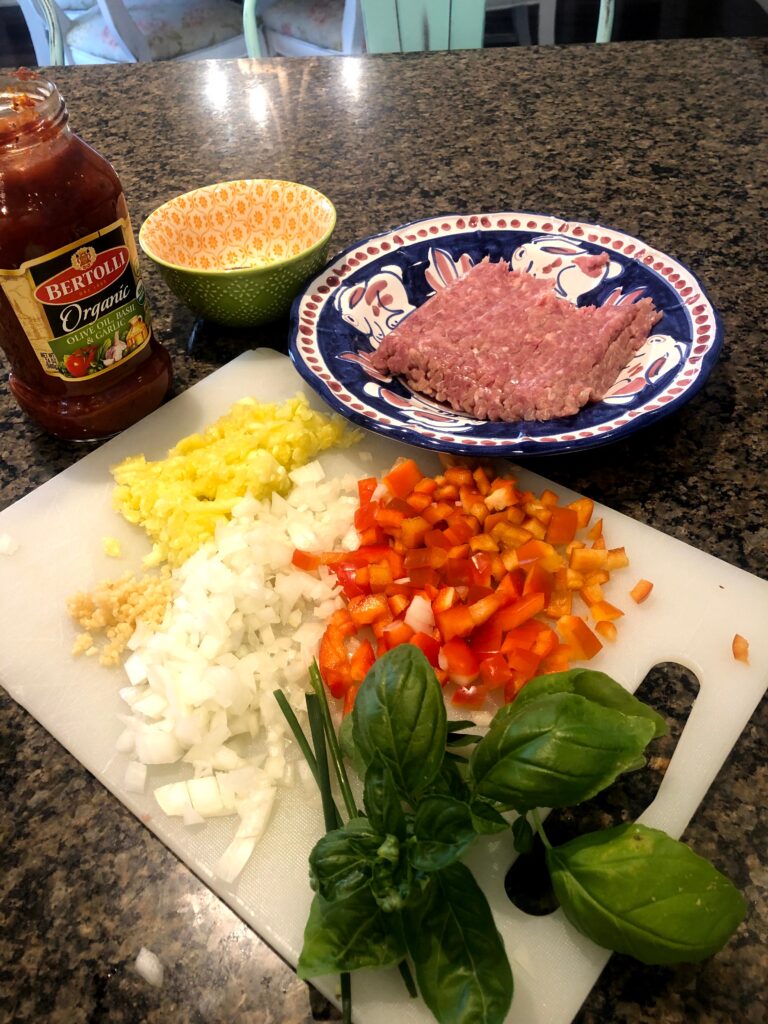 I sautéed the veggies in olive oil until the onions were almost translucent.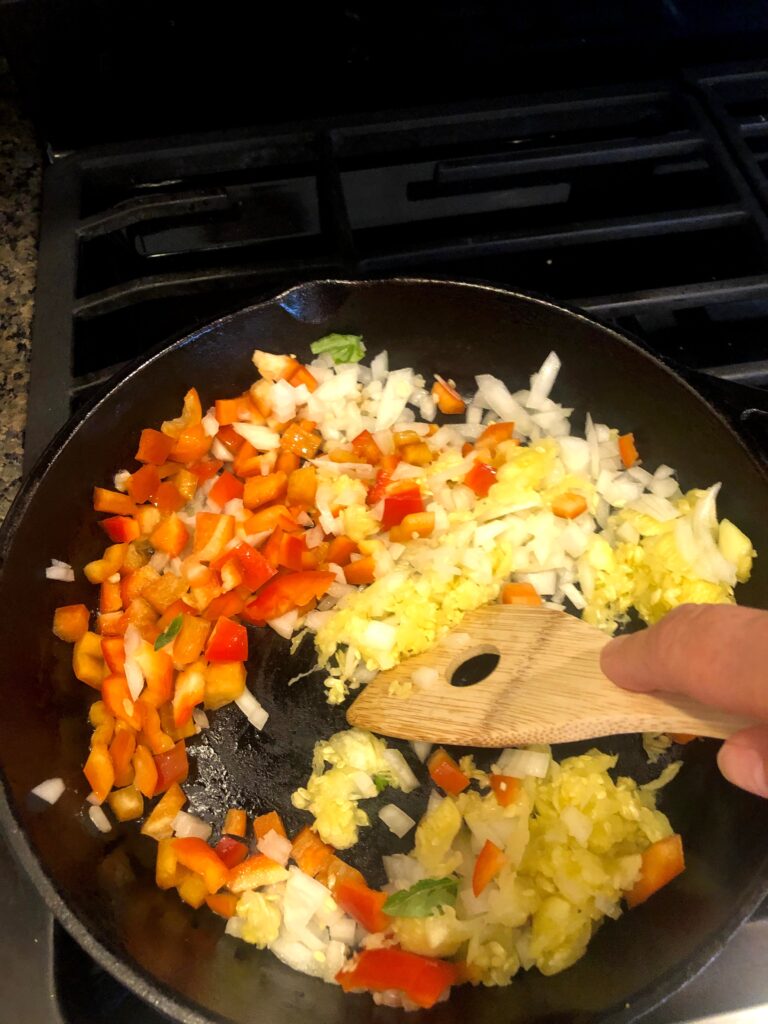 Next I added the ground turkey into the same pan as the vegetables to brown the meat. I also added in some kosher salt and Webers Beer Can Seasoning. I love this seasoning and I use often like when I make grilled chicken and caprese salad.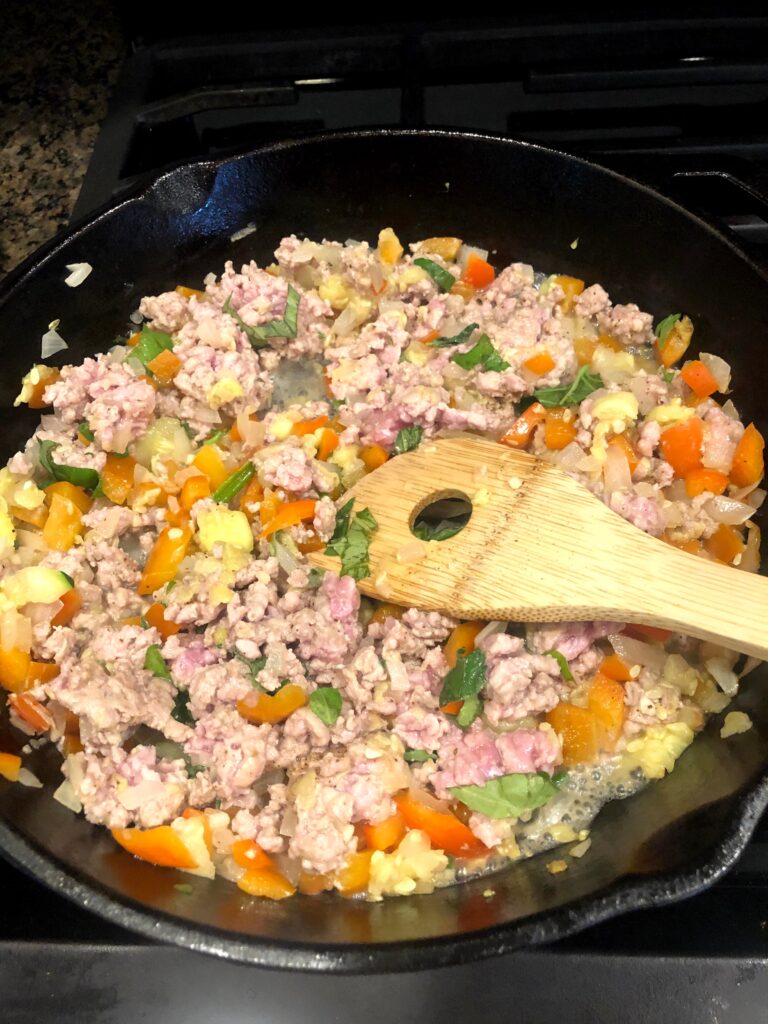 The last two things I added was the Bertoli organic olive oil and basil pasta sauce and the 90 second microwavable Seeds of change brown and red rice with chia and kale. The microwavable rice is really delicious and so easy to heat for 90 seconds! Once everything is in the pan I just heat it through!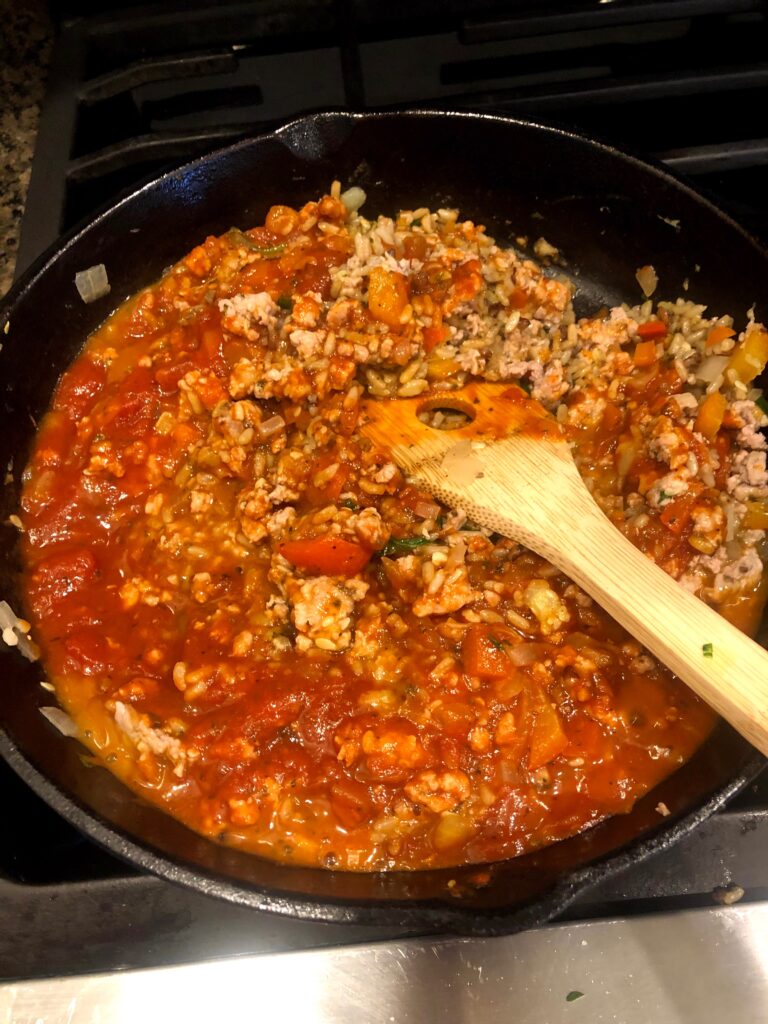 Time to fill the Zucchini boats! Simply fill each zucchini boat with the turkey and vegetable filling. Top with grated parmesan cheese and bake in the oven until heated through and cheese melts. Approximately 20 minutes. I have another favorite turkey recipe that you might enjoy Quick easy turkey Thai yams.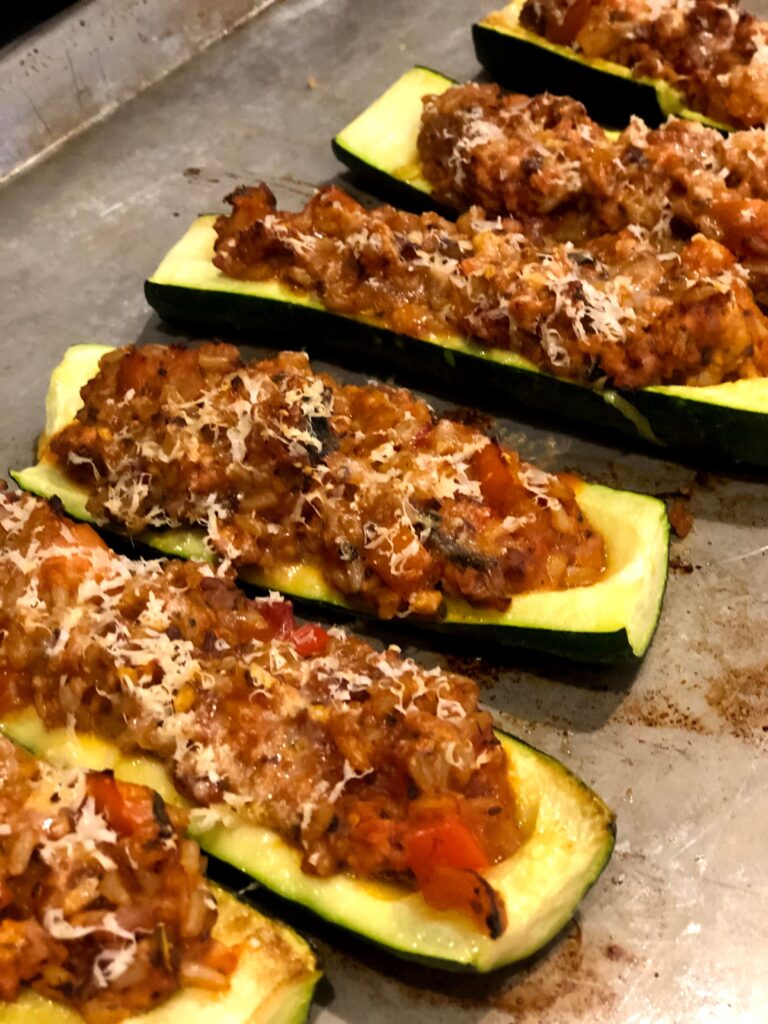 Zucchini Turkey Boat Recipe
Make these yummy turkey zucchini boats as appetizers or as a meal
Equipment
knife

cutting board

oven

skillet
Ingredients
3

Zucchini

cut in half

1

lb

ground turkey

1

bottle

Organic marinara pasta sauce

1

green onions or regular onion

finely chopped

3

small sweet red peppers or 1 large

chopped

1

tsp

garlic

finely chopped

1/2

tsp

kosher salt

1

tsp

weber beer can seasoning

fresh basil (to taste)

chopped

1

pkg

Seeds of change quinoa and brown rice

Parmesan cheese or colby jack cheese

grated
Instructions
1. Wash and cut zucchini in half.

2. Using a spoon scoop out the flesh of the zucchini. Put flesh into a paper towel and and squeeze out the moisture and put aside. If making these as appetizers cut into 2 inch pieces.

3. Using olive oil, rub each piece of zucchini and bake in 400 degree oven for 10 minutes.

4. Heat frying pan with olive oil and add chopped onion, red pepper, garlic, fresh basil and zucchini flesh and sautee in frying pan. Remove from pan and set aside.

5. Add ground turkey to the pan and add a little more olive oil and cook until browned.

6. Microwave the rice package and add into the frying pan.

7. Fill each zucchini boat with turkey and vegetable filling.

Top with your favorite grated cheese and bake in oven for 20 min or unti heated through and cheese is melted.
Shop this post