Can you spray paint your bathroom faucets? Oh yes you can and lights, door handles and shower trim!
Will it last?
I have moved from this house so I don't know how it has held up, But I think as long as you don't use abrasive cleaners on the faucets they should last a long time. I would also ask your local paint guy at Lowe's or Home Depot if there is some sort of sealer to put over them to protect them from hard water spots.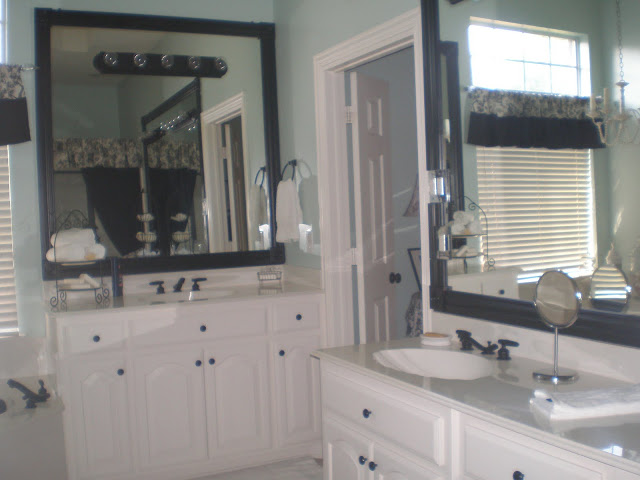 The Before of the Master Bathroom Makeover
First let's take a trip down memory lane…here is the before shot of the shower area with the lovely orange and yellow wallpaper and brass trim around the shower.
We had our work cut out for us wouldn't you say?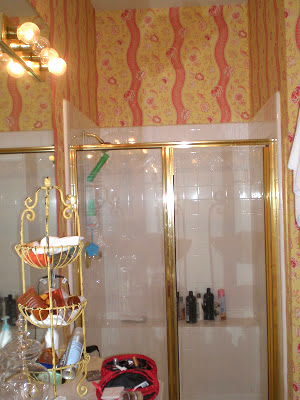 Painting The Wallpaper
We re-did so much to this master bathroom! First we painted right over the wallpaper a pretty robins egg blue. We tried removing the wallpaper but previous owners had wallpapered right over the drywall 🙁
The wallpaper started to pull the drywall off. So we glued any lifting corners of the wallpaper and opted to just paint right over the wallpaper.
It looked amazing! I wish I had taken clearer photos! But you can see the massive difference.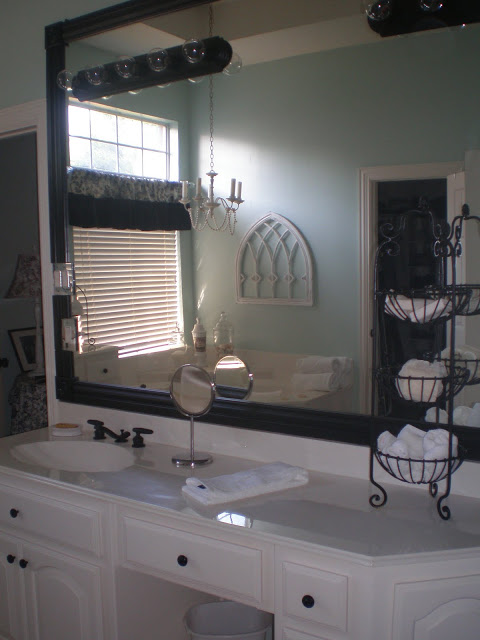 Adding Wood Trim To Mirrors
Next we added wood trim that we painted black around each of the large mirrors. That alone made a huge difference!
I also sewed a valance to go above the shower and one above the window over the tub.
Since I was going for a French look I used black and white Toile fabric that I purchased at Wal-Mart! Then I simply whipped up a basic black curtain to go underneath. I think this just made the room pop!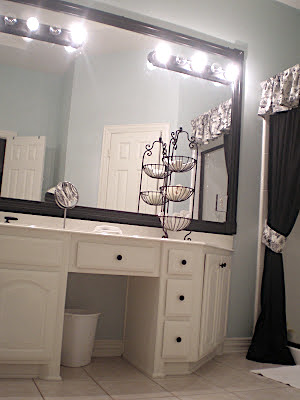 Chandelier Over The Tub
Don't you love this little chandy!! I found it at a thrift store. Since it is not electrical I used candles in place of the bulbs.
It is now safe to put above the tub…well unless the drips of hot wax hit you while you are in the tub but nonetheless it looks cute!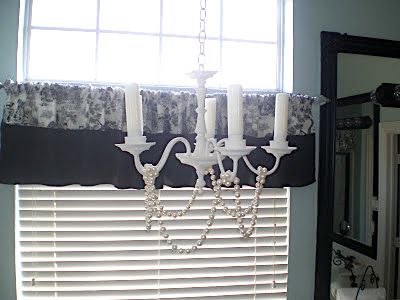 Spray Painted Knobs and Door Handles

Since I was spray painting bathroom faucets I decided to spray the yellow wire basket black that I had sitting on the bathroom counter to match the theme.
Paint makes such a huge difference whether you spray paint, chalk paint or use regular paint from a can it has a dramatic effect. Look at how my master bath in my new house looks after chalk painting the vanity! The vanity used to be dark wood and made the bathroom feel bleak.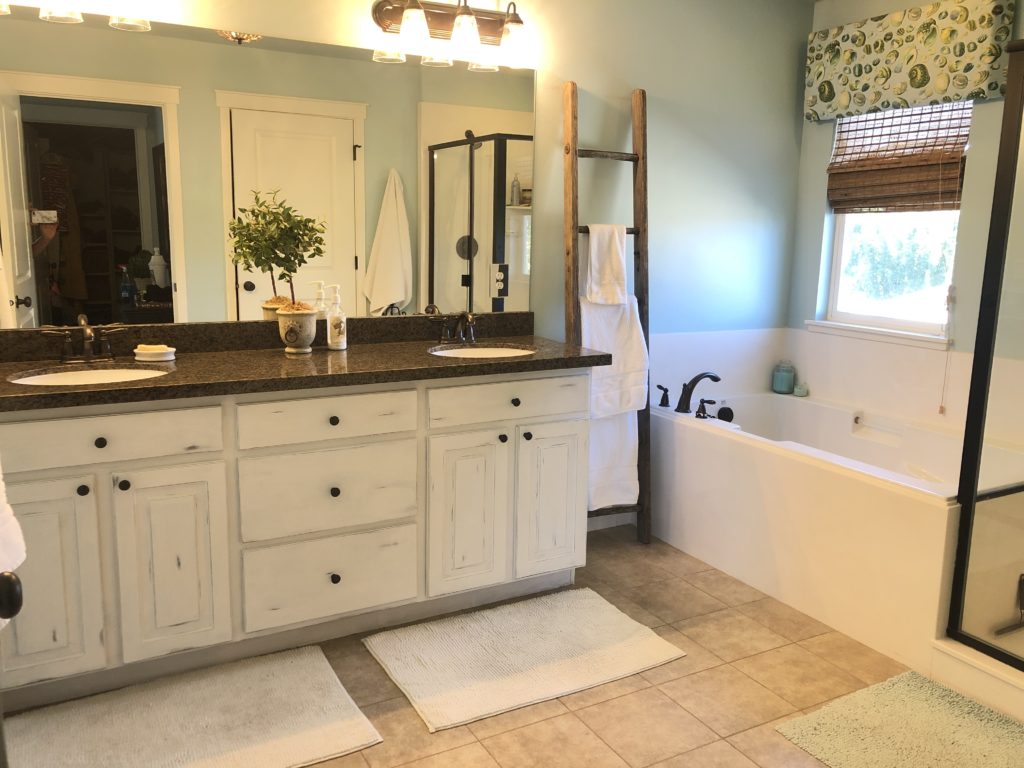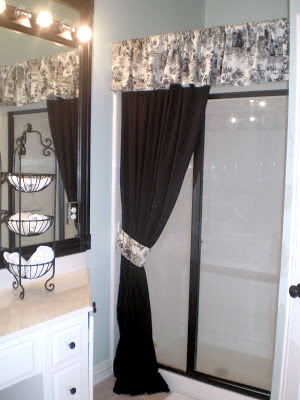 Here is the other vanity on the other side of the bathroom after we had painted the walls. At this point there were no knobs on the cabinets or drawers, no trim around the mirror and you can still see all the brass faucets, towel rack and the brass lights.
What a difference!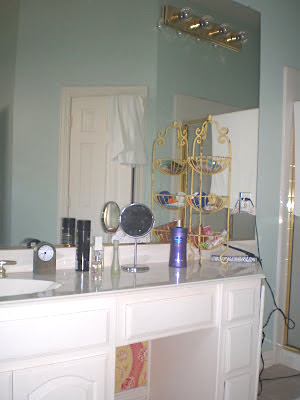 We even took the door knobs off of all the doors and sprayed them black too.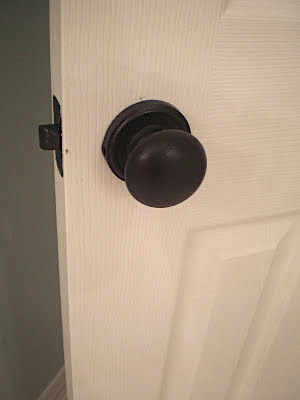 Oh my gosh I just can't tell you how much we love this bathroom now! The transformation is just huge! Ok now on to the whether or not you can spray paint bathroom faucets!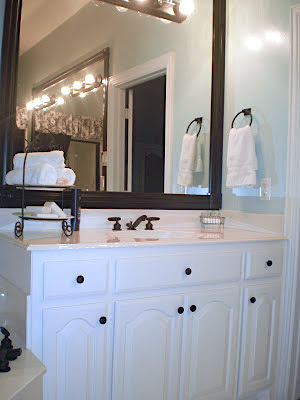 Can You Spray Paint Bathroom Faucets?
YES! You can spray paint bathroom faucets! We took the sink faucets off and lightly sanded them and then spray painted them with a textured flat black spray paint.
We used Krylon Outdoor textured finish to give it an iron look.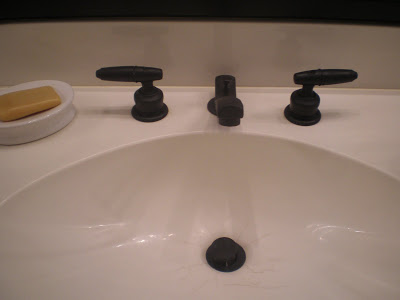 They look amazing now and have held up quite well. For anyone thinking of doing this, I would probably use a primer of some sort on the faucets before painting them just to help the paint adhere even better.
Really though they turned out so beautiful!
Can You Spray Paint Bathtub Faucets?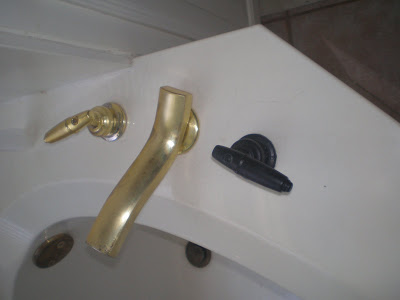 YES! You can! Here is the bath tub during the process. We could not figure out how to get the bath tub fixtures off so I had to tape all around EVERYTHING to be able to spray paint them. I used paper and tape to cover the tub, the cabinet and wall area. It was a total pain but so worth it don't you think?
To clean the newly painted faucets, I would use a Clorox wipe. I wouldn't use anything that would scratch the paint. We love love love how it all turned out! I would love to know if anyone else has tried this…let me know by leaving a comment below.
Light Fixture Mishap
There was one mishap! Do you see these lovely brass lights? Not a fan! We drove to Lowes to find something to replace them.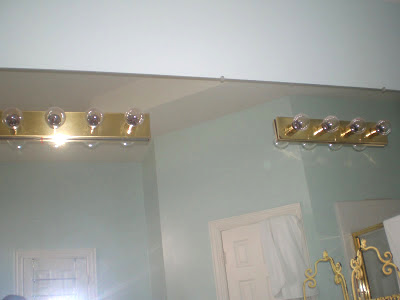 We found some that were gorgeous and seriously marked down! The new lights were silver so I immediately spray painted them black. They had white bell shaped covers that hang off of where the blue tape is.
I was so excited to get them hung up, they were going to be perfect! Well….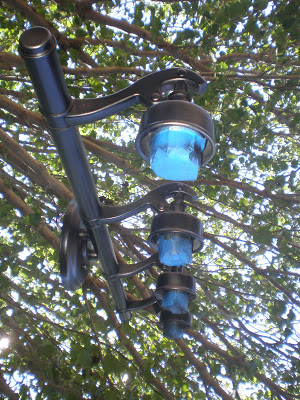 As fate would have it, once we took off the old lights, we discovered that there were 3 separate holes cut in the mirror where the old lights were attached. THREE! The new light fixtures (that I just spray painted black, only had one small base to cover up the holes with!) 🙁 NOT GOOD!
We tried all kinds of different ideas! Cutting a piece of wood for a new base or even adding more mirror to cover the holes.
In our new house we bought new bubble glass covers. It was a much easier process to install and wow they look amazing!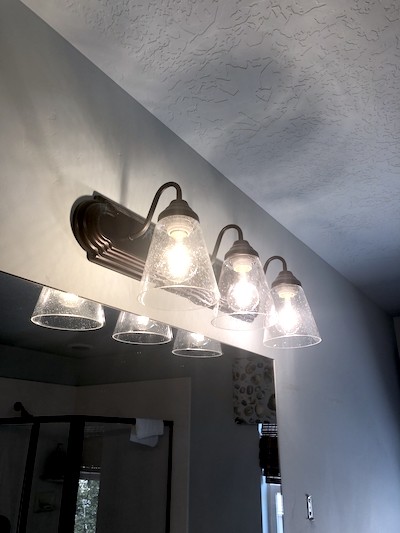 Ok back to our old house lighting situation- After running all over town trying to come up with a simple solution, we ended up having to buy another set of the not so pretty plain brass lights that we had just taken down. We decided to spray paint them black.
You may be asking why didn't we just spray paint the old ones? We had already gotten rid of them and they were long gone ugggh!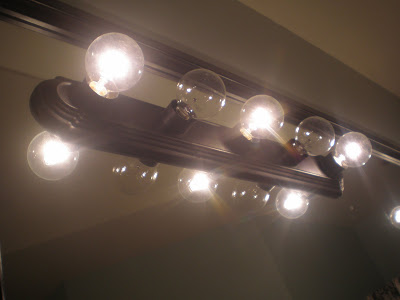 My sister got to inherit the brand new light fixtures since I couldn't return them because I had spray painted them black!
Lesson learned! When replacing light fixtures look at the base to see what type you need first.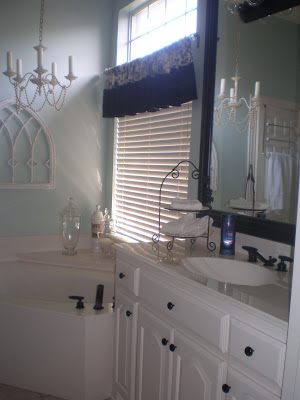 All in all it was a big project, we learned a lot and ultimately loved our new bathroom! So can you spray paint bathroom faucets? Yes you can!
Have you checked our most current master bathroom makeover in our new house? I love the beachy look and this time I used chalk paint on the cabinets!
Speaking of chalk paint check out these other two projects that I did. Chalk painted entertainment center and Chalk painted master bedroom furniture.
Other Decor Posts
Make sure to check out all my other DIY decorating posts. Below is a picture of our dining room table that we added a plank top to. My mom had this table in our house growing up and then handed it down to me. I needed it to be a little bit bigger so my hubby and son in law figured how to add a planked top to the existing table to add length and width! Click on photo to see all our projects.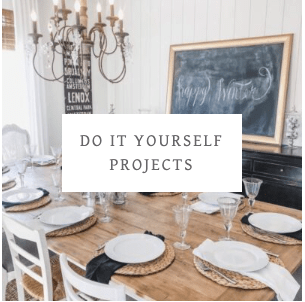 Shop Similar Items

Pin For Later