With the delightful aroma of pumpkin spice and cinnamon in the air, It is time for Harvest Elegance; Crafting a Thanksgiving tablescape. Thanksgiving is just around the corner! It's time to prepare for a feast that not only tantalizes the taste buds but also pleases the eyes. Today, I want to share with you a charming tablescape idea that will turn your Thanksgiving gathering into a visually enchanting experience.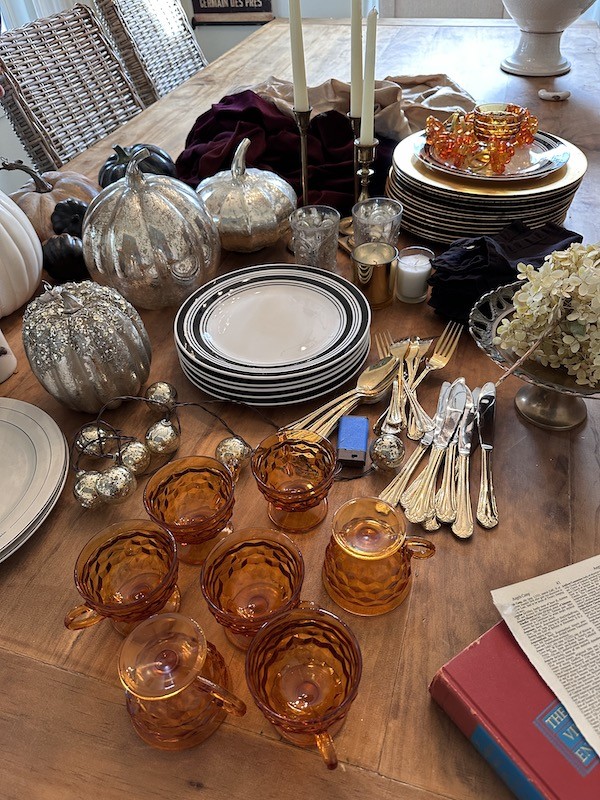 I am sharing this Thanksgiving tablescape on a fun blog hop! Thanksgiving tablescapes have been crafted for Rita over at Panopoly's blog hop! See all the entries at the bottom of this post.
Harvest Elegance: The Natural Touch
Embrace the beauty of nature by incorporating elements from your own backyard. Grab your nippers and start cutting lots of things from your garden.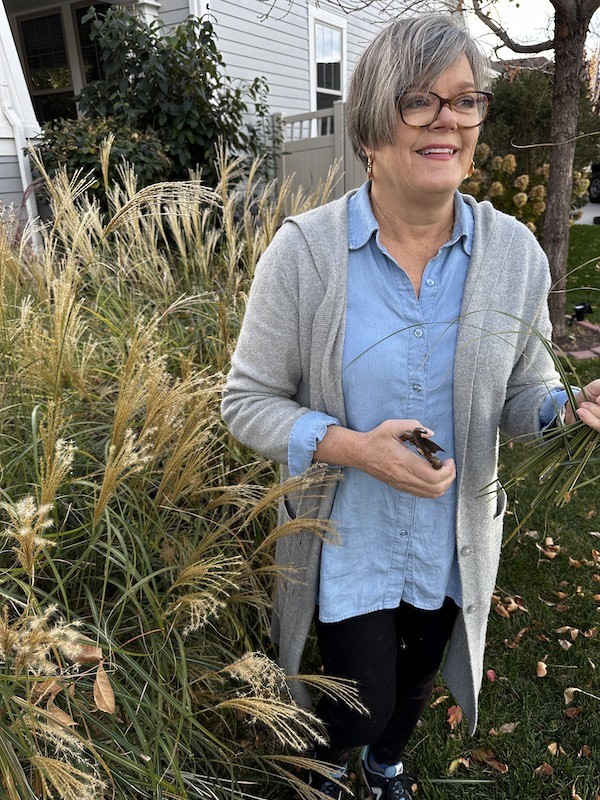 Dried hydrangea flowers, fall leaves, and natural grasses are the items I used. Arranged in a ceramic pot, create a rustic yet elegant centerpiece for your tablescape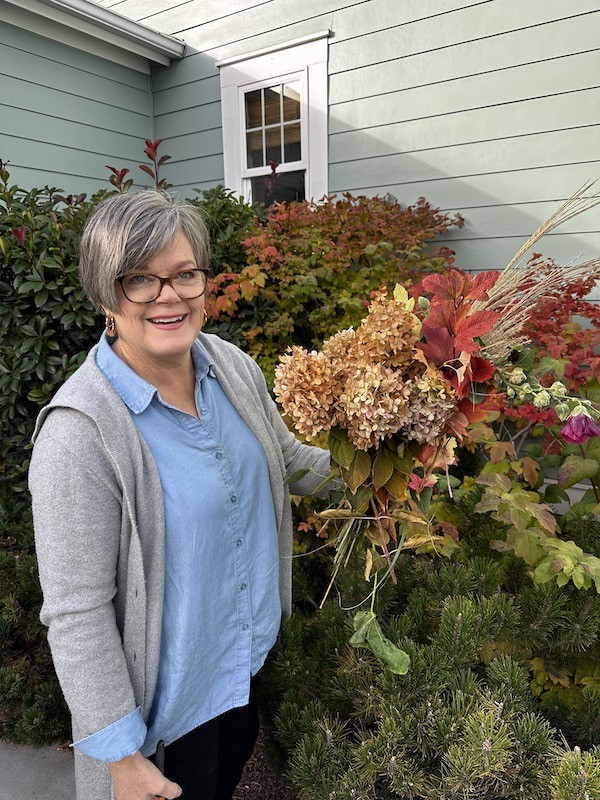 To keep the arrangement intact, a simple grid made with tape ensures that the stems stay in place.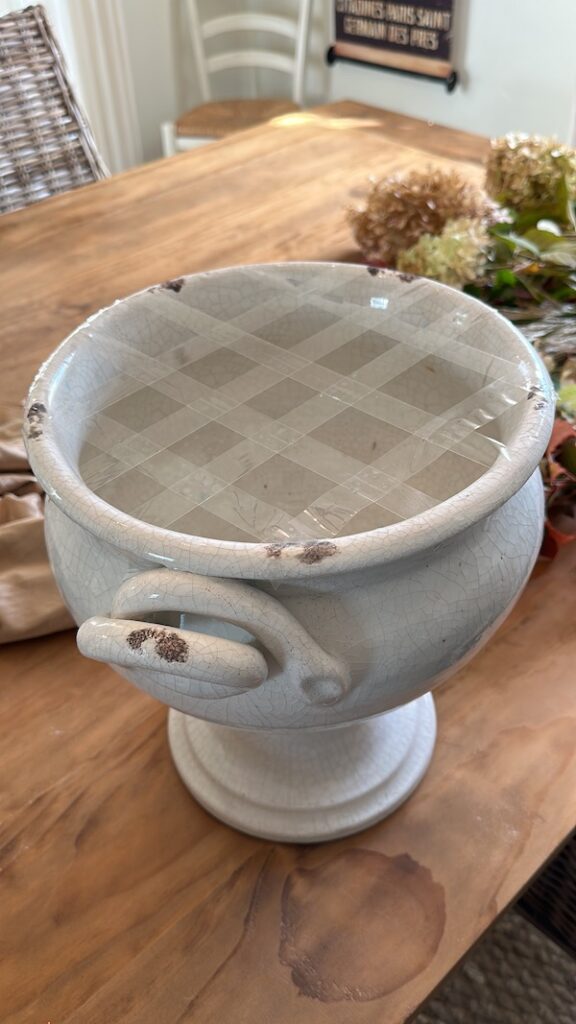 Using these natural fall elements allows your guests to admire the organic beauty without any fuss.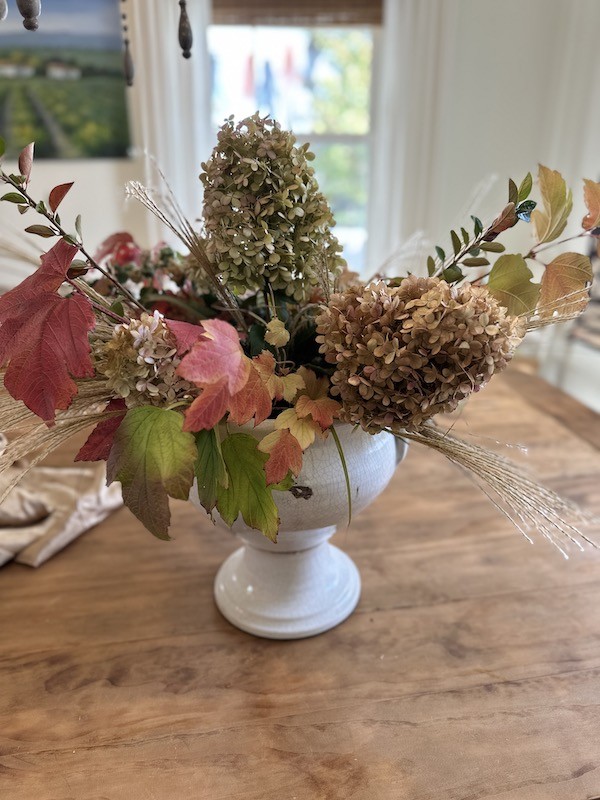 A Feast for the Senses
For the table runner, play with luxurious textures that complement the autumn palette. A mix of gold satin fabric and cranberry velvet adds a touch of opulence.
You might remember when I used the velvet fabric in this moody tablescape here.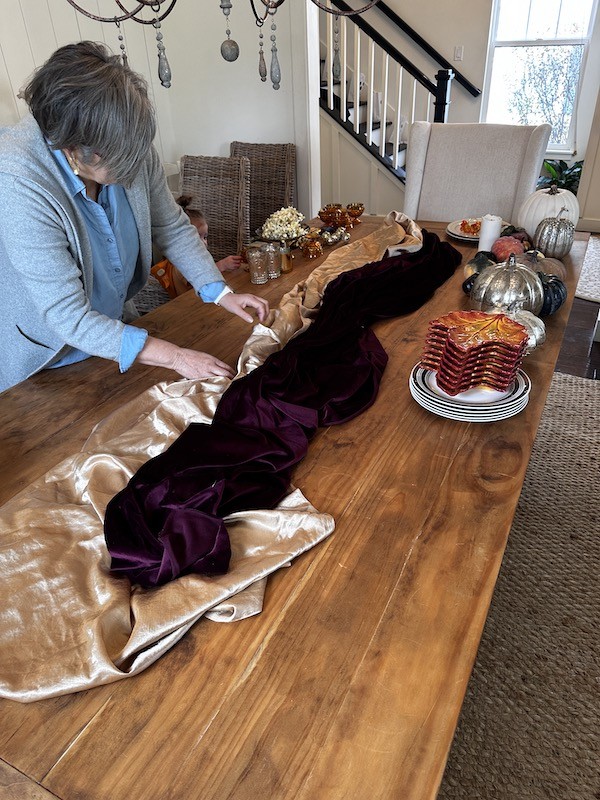 Along the runner, intersperse faux pumpkins in white, gold, and black, reminiscent of the fall harvest.
Do you remember when my hubby and son in-law added the new planked top to this table? You can see the tutorial here. I am sooo grateful they did this because we have so many dinners at this table!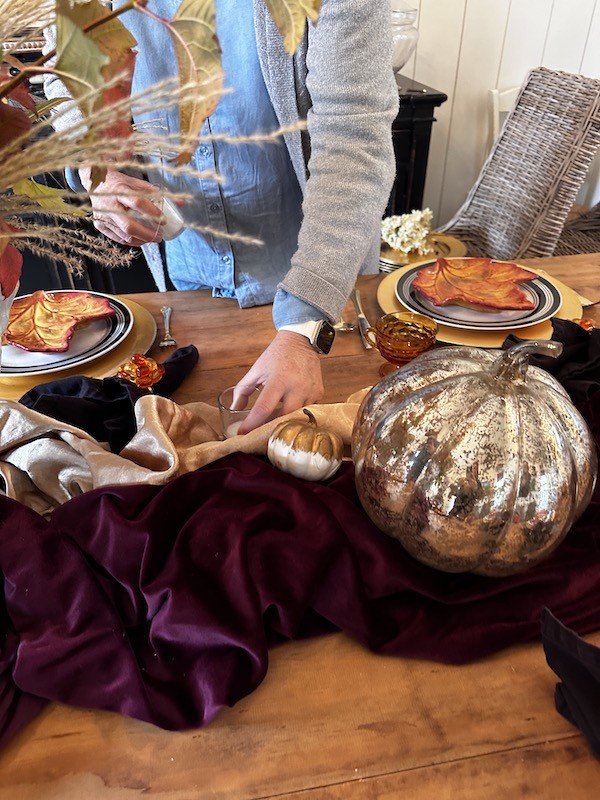 Nestled between them, let votive candles flicker and real fall leaves bring a breath of fresh air to your setting. This really brings in the Harvest Elegance Thanksgiving tablescape theme beautifully.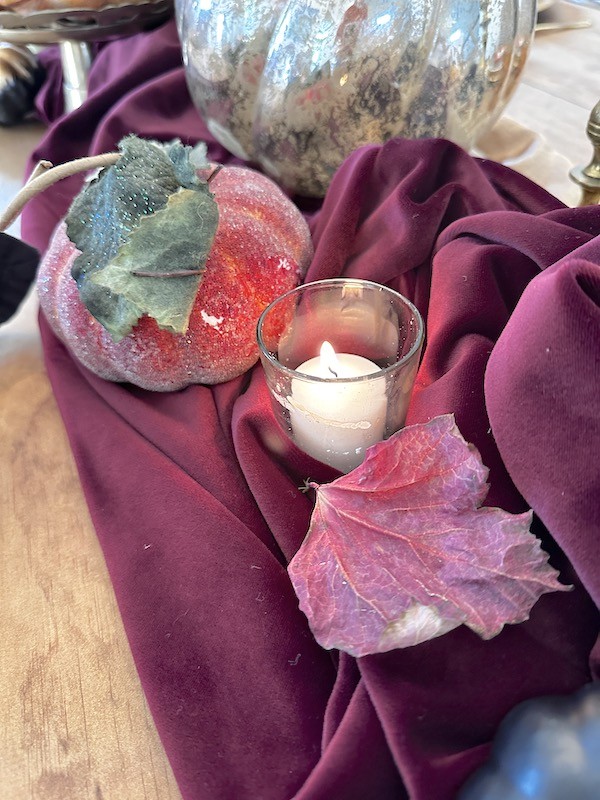 I can never have enough votive candles in our house! I love using them on my tablescapes. My favorite was my romantic tablescape in the backyard. I used a ton of them!
Place Settings that Dazzle
Every guest deserves a place setting that speaks of elegance and thoughtfulness.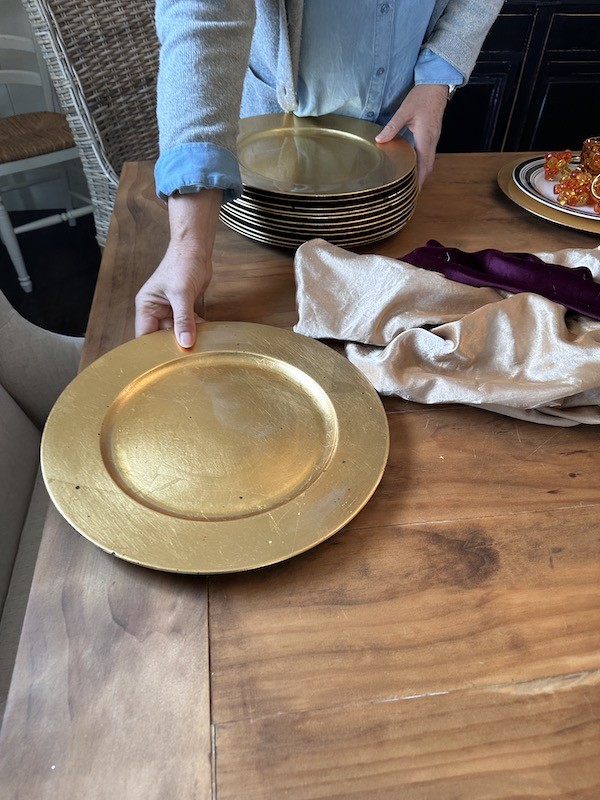 Begin with gold charger plates, setting the stage for white dinner plates adorned with chic black stripes.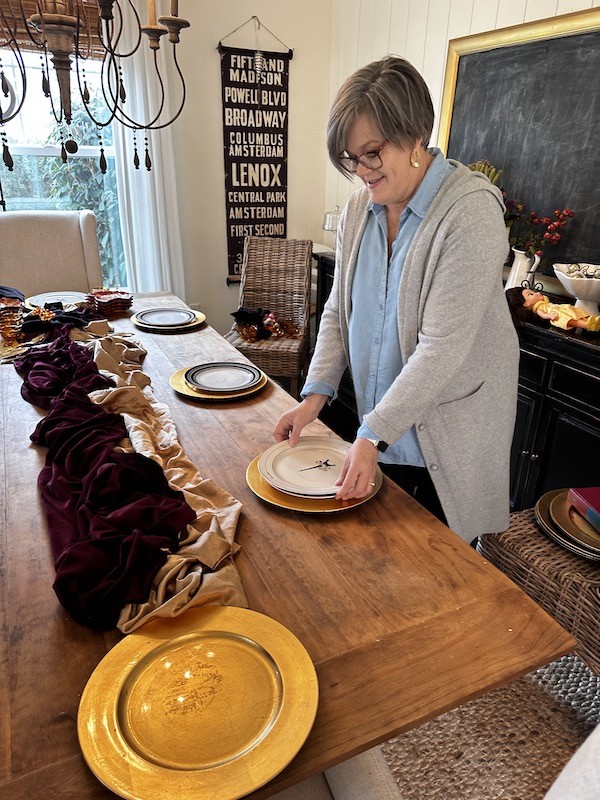 Layering on top, add a fall-colored leaf salad plate for a pop of seasonal vibrancy. I have had these fall leaf plates for many years now. I have used them here and here.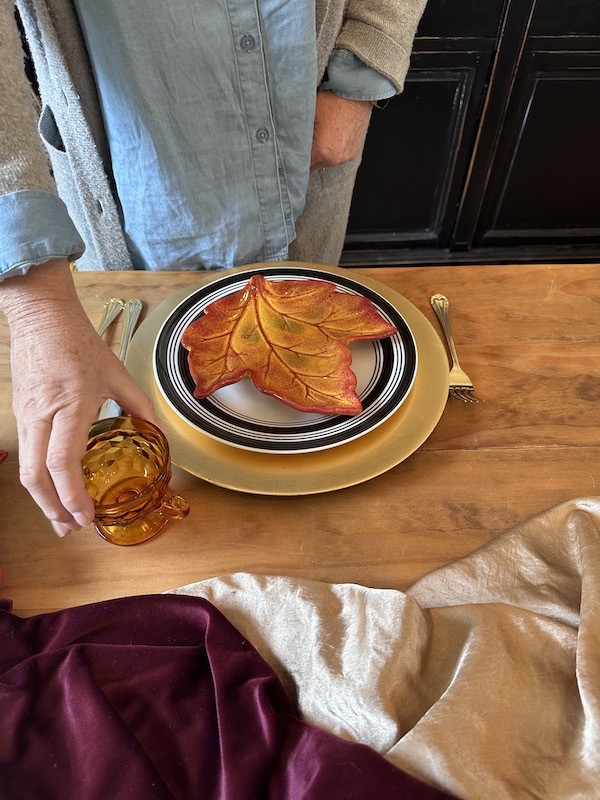 The gleam of gold flatware and the delicate cut glass handles of the cups infuse the table with a touch of sparkle. Mixing faux pumpkins in all colors and textures continues to add elegance and texture to the tablescape.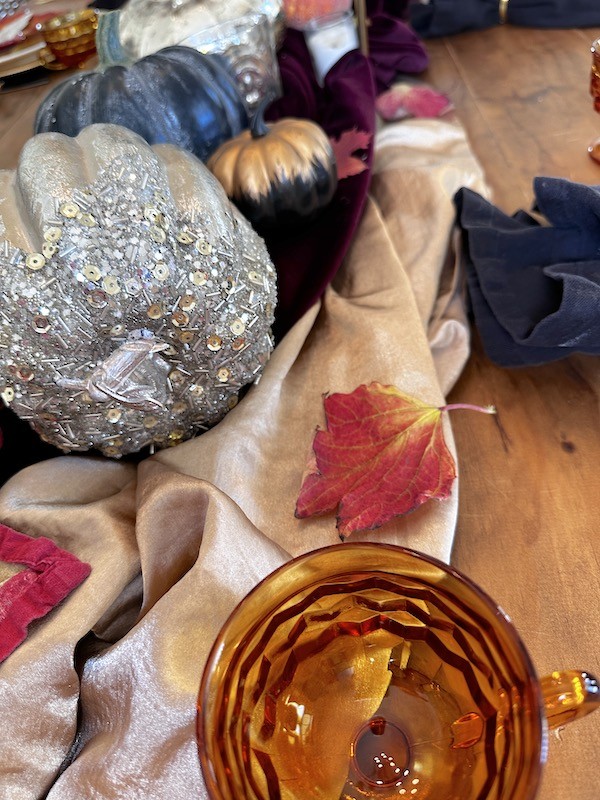 Creative Solutions
When faced with a shortage of dinner plates and napkins, get inventive! Two cream and black dinner plates, each adorned with the iconic Eiffel Tower, make a charming addition to the table.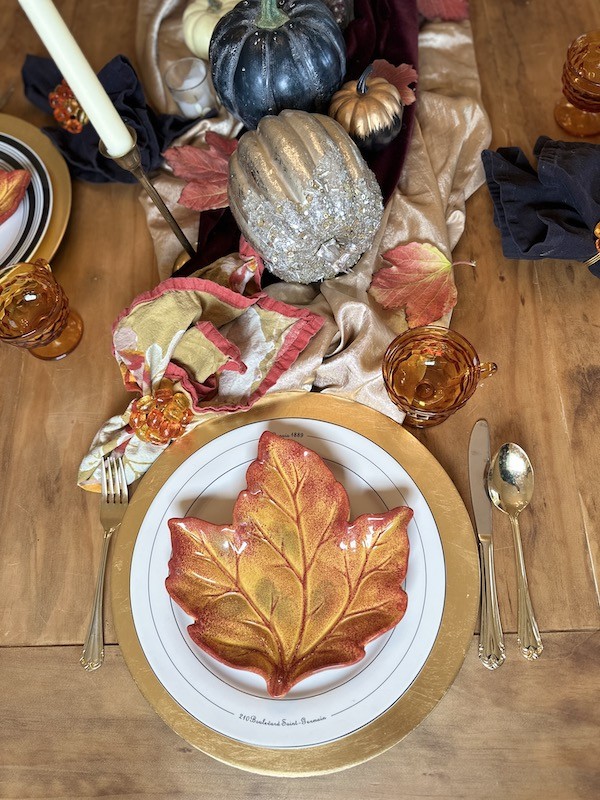 Pair them with delightful pumpkin batik napkin and an elegant bauble napkin ring. This adds a unique touch to your place settings.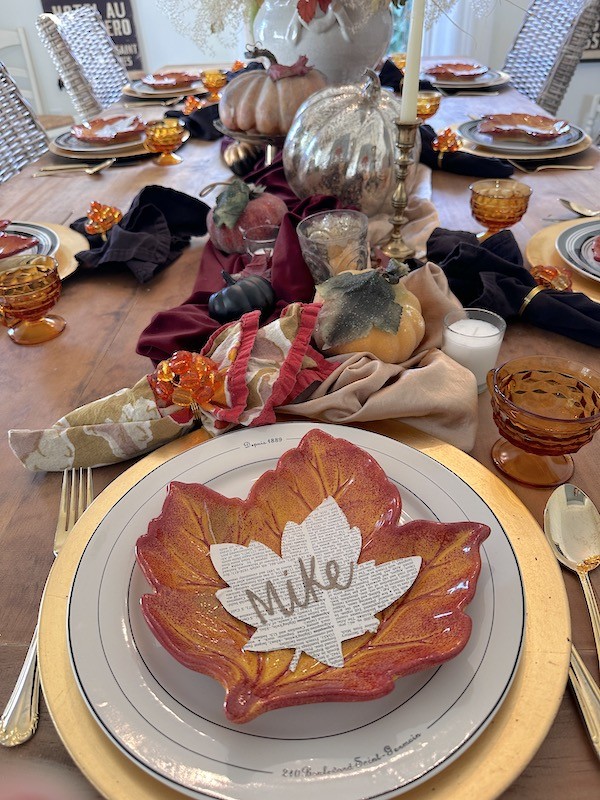 Personalized Charm
To guide your guests to their designated seats, create charming place cards from old book pages. Using your Cricut machine, cut out maple leaves and, with a touch of gold, inscribe each guest's name.
Don't forget to check out my 10 tips on creating a unique Thanksgiving table post. I share how to use old book pages as charger plates! Plus I also share how to make paper pinwheels out of old book pages to set pumpkin place cards on too.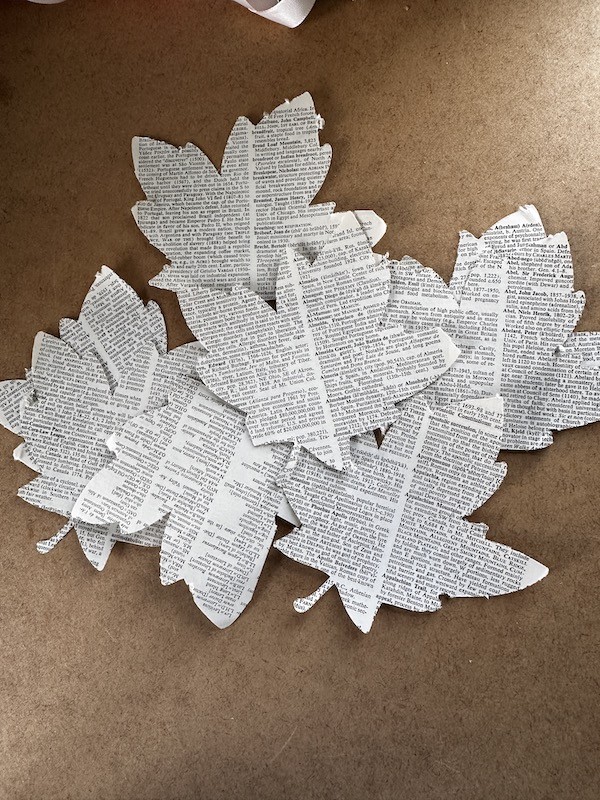 Not only does this add a personal touch, but it also serves as a wonderful keepsake for your friends and family.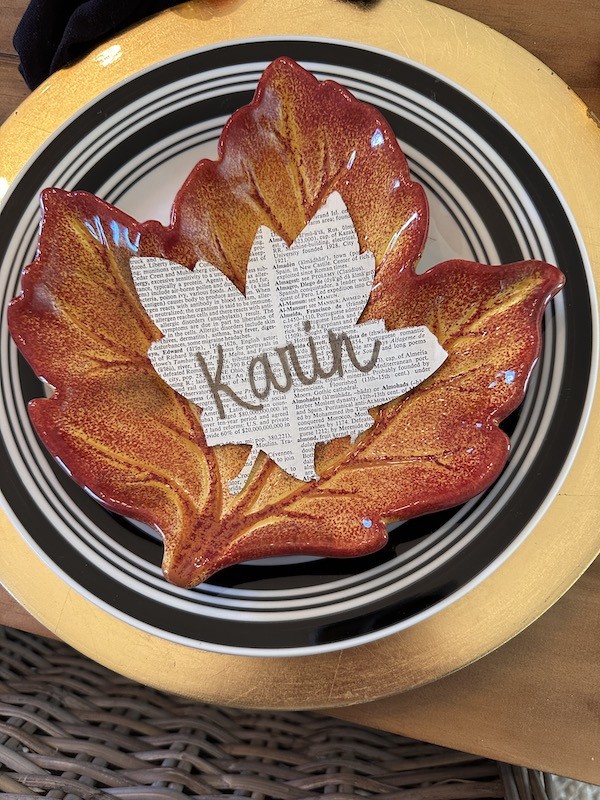 Harvest Elegance Thanksgiving Tablescape
Let your table reflect the warmth of your hospitality and the creativity of your spirit.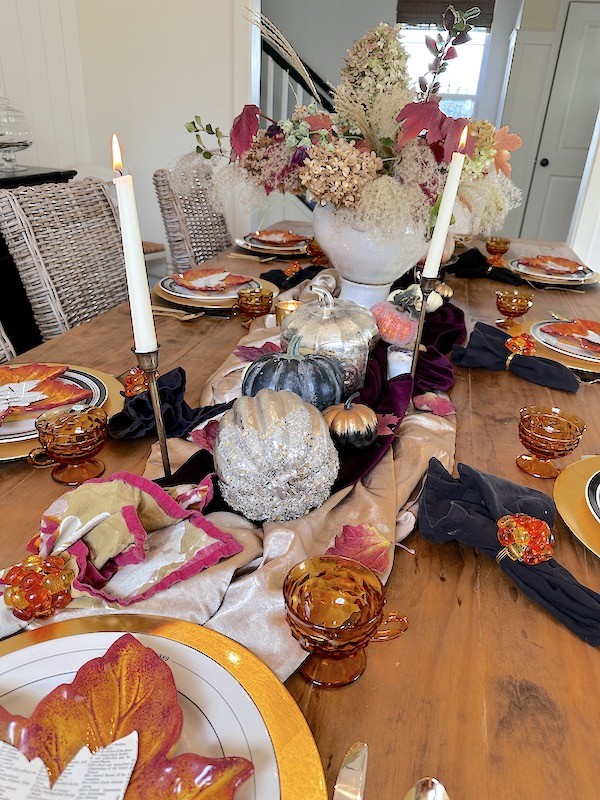 With a blend of natural elements, creative solutions, and personalized charm, you've crafted a tablescape that will leave your guests in awe.
My daughter created a very natural Thanksgiving tablescape a few years ago where she used real leaves as place cards. She wrote on them with a gold paint marker and they look amazing!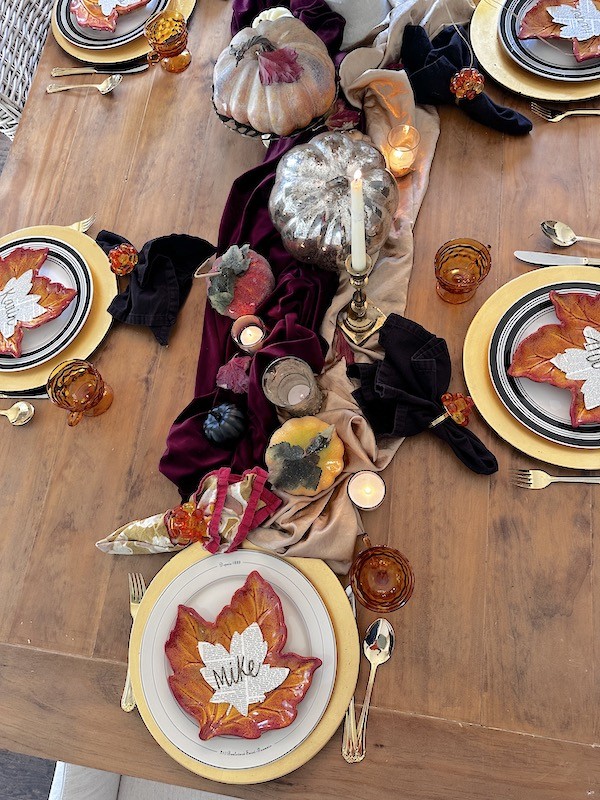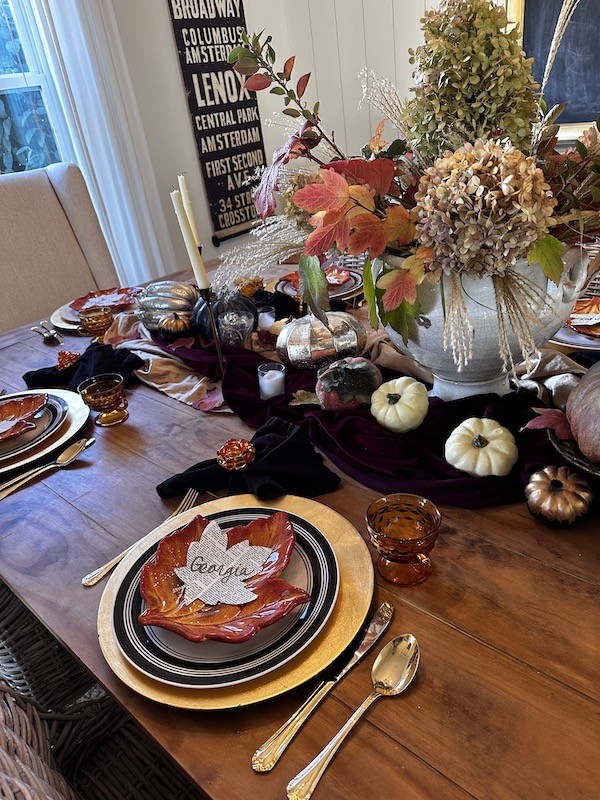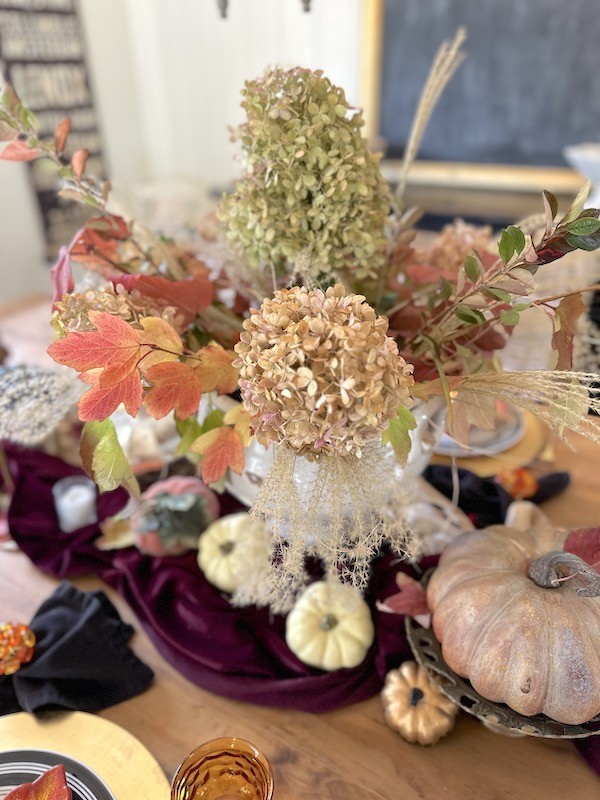 May your Thanksgiving be filled with love, laughter, and joy. Share a beautiful meal in a truly enchanting setting.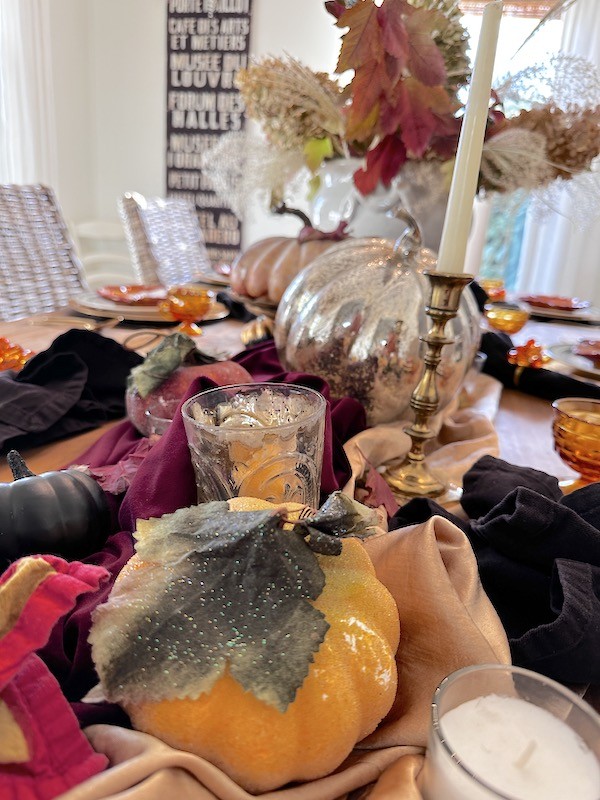 Shop Similar Thanksgiving Table Decor
These are affiliate links and I make a small commission at no extra cost to you. This helps me keep my blog up and running and I appreciate your support so much!

Thanksgiving Tablescape Blog Hop
Welcome if you are hopping over from My Carolina home! I can't wait for you to see all these fabulous ideas for your Thanksgiving table! Many thanks to Rita over at Panopoly for hosting this tablescape hop!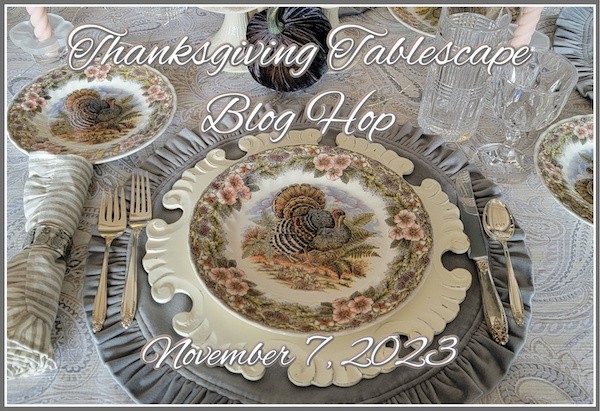 Panoply – Harvest of Thanks
Everyday Living – Gathering With Grateful Hearts
Hyacinths for the Soul – A Tribute to Tom Turkey
Home is Where the Boat Is – Giving Thanks Table with Indian Corn Arrangement
My Thrift Store Addiction – Friendsgiving Charcuterie and Wine Buffet
Me and My Captain – Thankful, Grateful
The Painted Apron – Eat, Drink & Be Thankful
Life and Linda – Autumn Leaves & Pumpkins Please
The Cat's Whiskerz – Giving Thanks Wherever You Are
Belle Bleu Interiors – Gather with a Grateful Heart
From My Carolina Home – Turkey Time Tablescape
Karins Kottage – Harvest Elegance: Crafting a Thanksgiving Tablescape
Dinner at Eight – A Modern Take on a Traditional Pattern for Thanksgiving
Corner of Plaid and Paisley – Oh, So Thankful
Red Cottage Chronicles – Almost Effortless Thanksgiving Tablescape
The Bookish Dilettante – Thanksgiving Tablescape with Vintage Linens
The Little Yellow Corner Store – A Simple Fruit and Greenery Tablescape