Yes..Fall is in the air! I love this time of year don't you? Crisp mornings and evenings and bright clear sunny days! After seeing so many of you post something about the fall season I decided to jump on the band wagon! 
Outdoor fall tablescape place settings
I love my Walmart leaf plates that I bought a few years back. These cute plates really set the tone for my simple outdoor fall tablescape with fresh apples. You might remember this other fun outdoor fall Tablescape where I also used my leaf plates. The color of the plates just pops against the white square plates. 
Layering the plates and adding a rolled white napkins with an apple and herbs is so easy! I really like to have contrast in my fall Tablescapes and I think this one really does that nicely. 
Old books folded into fun shapes
A unique centerpiece idea is using old books and folding the pages into unique shapes. Placing them randomly down the center of the table kind of reminds a little bit of a back to school theme. 
As I mentioned above I really like a strong contrast and when I placed the square white plates on the the brown placemat it made the white plate really stand out! BAM! 
Using Red Apples
The addition of these beautiful red apples and little sprigs of thyme sitting atop the folded white napkins immediately brings back memories of crisp fall apple picking days.
You could use your apples as a placard holder for your guests. Cut out a little paper leaf and write your guests name on it and tie it onto the stem of your apple.  
I filled two large glass hurricane jars with faux fall leaves and more old book pages folded into spirals mixed in with the leaves.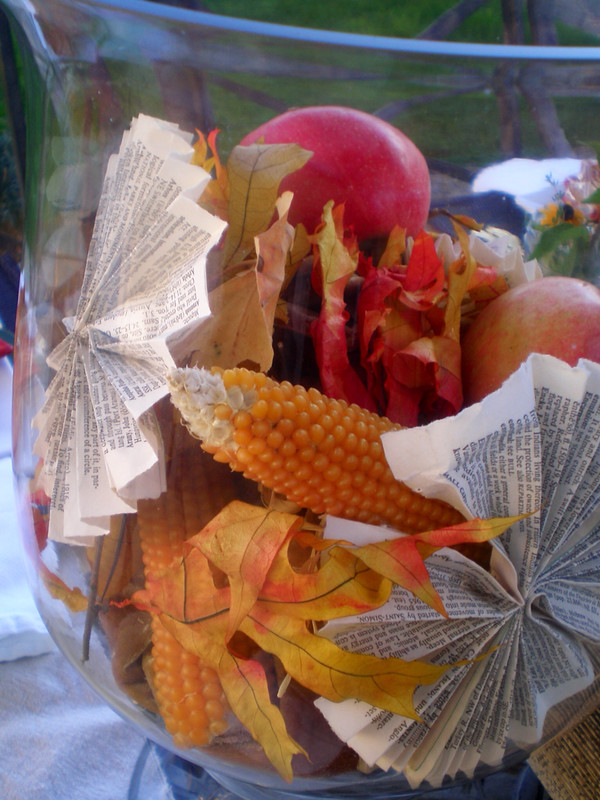 Here is the entire simple outdoor fall Tablescape with fresh apples complete with all the details.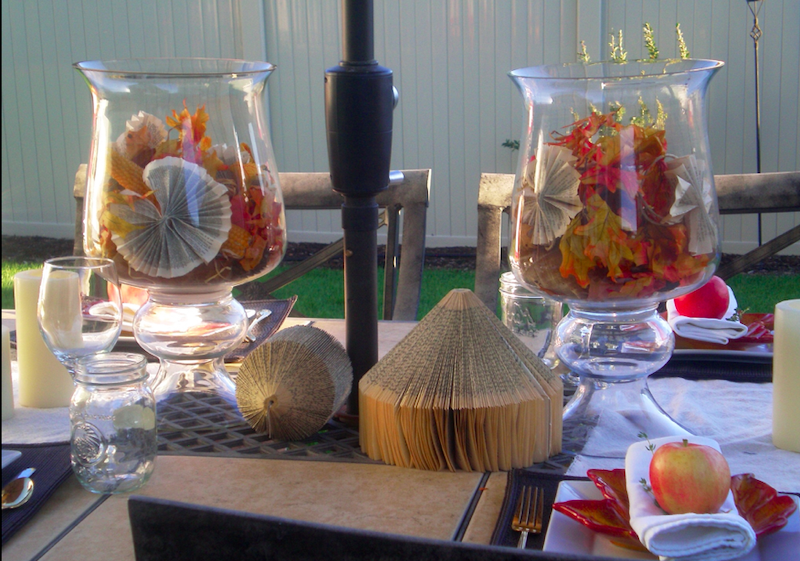 Pin For Later