Oh my friends I cannot say enough good things about visiting the Island of Capri in Italy! The island landscape is beautiful beyond compare! This is one of my top 3 Italian beaches to visit!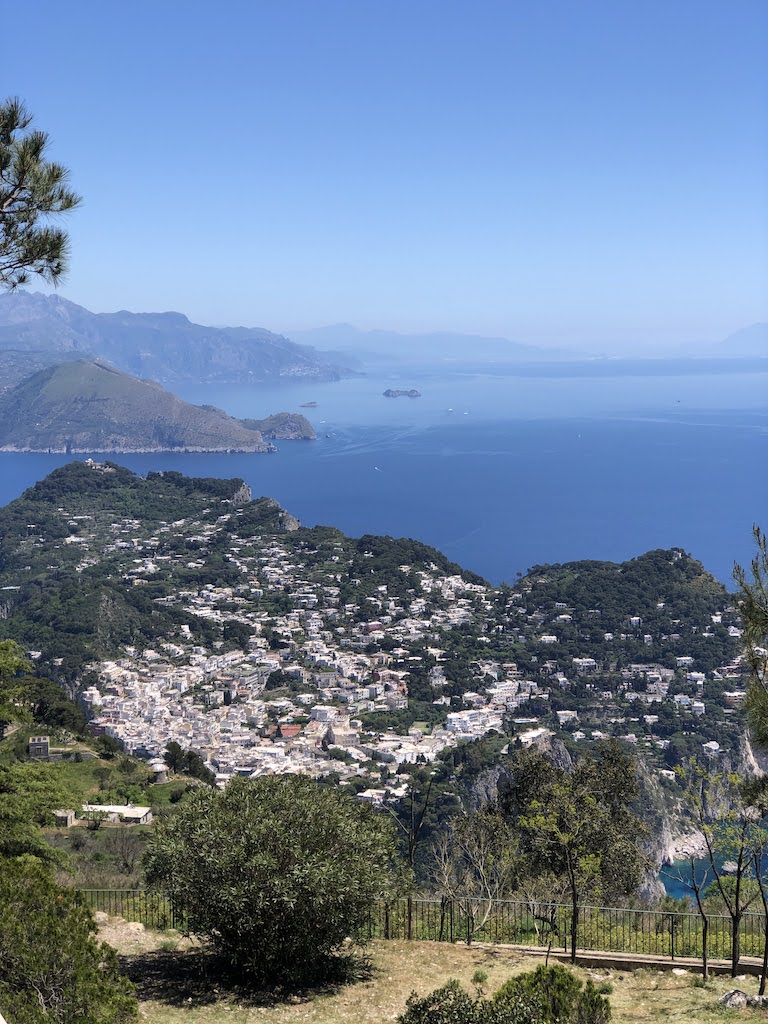 Traveling to the island of Capri
If you have been following my posts all about our trip to Italy during covid you know last we were traveling in Vasto, Italy and staying in Casoli.
To get to Capri from Casoli we drove to Naples and chartered a speed boat to take us to Capri. You could take a ferry but we decided to get a speed boat for fun with our group.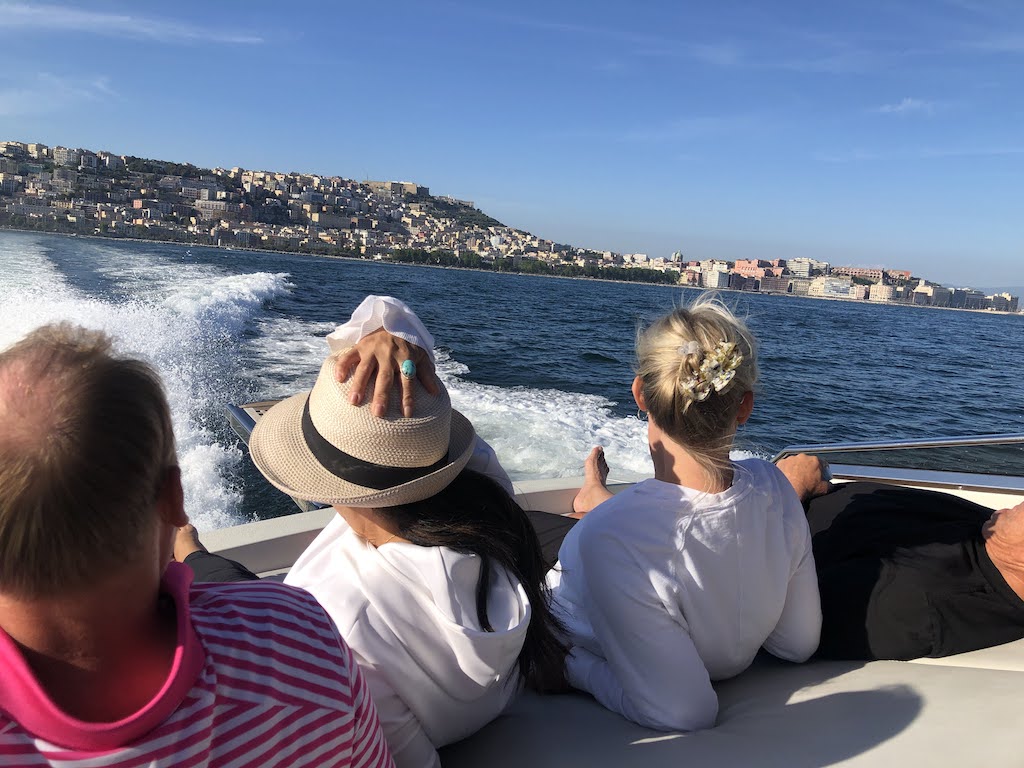 It takes about 40 minutes on the speed boat to get there and it was heaven.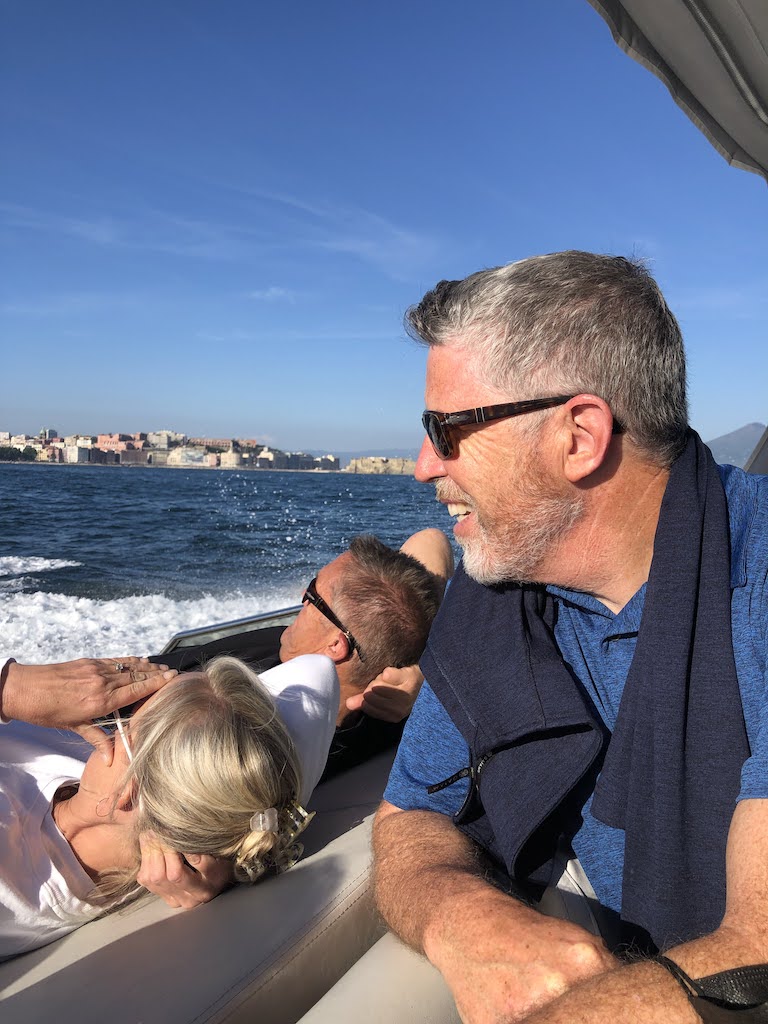 We arrived and checked into our darling boutique hotel called Capri la Dolci Vita. There was no other hotel available because of covid. The owner is a friend of a friend and he opened it up for us.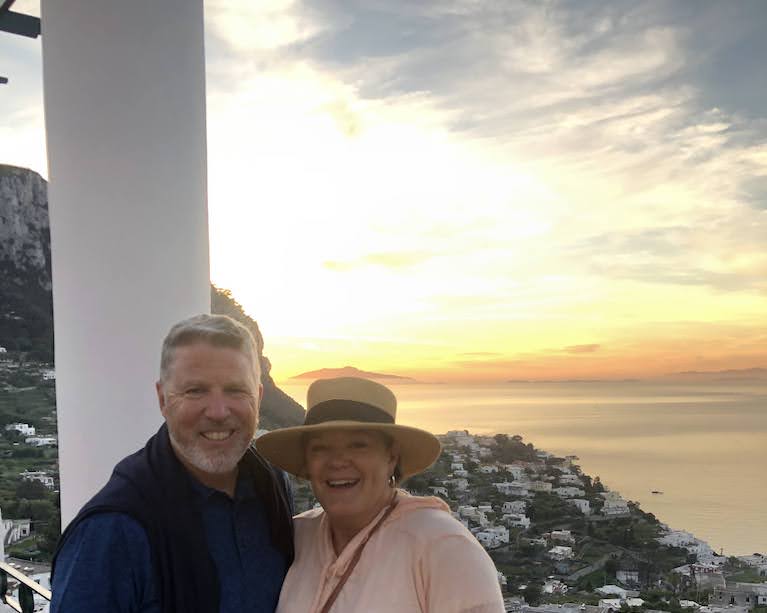 We had dinner at the wonderful restaurant Da Giorgo and we had a view of the bay of Naples.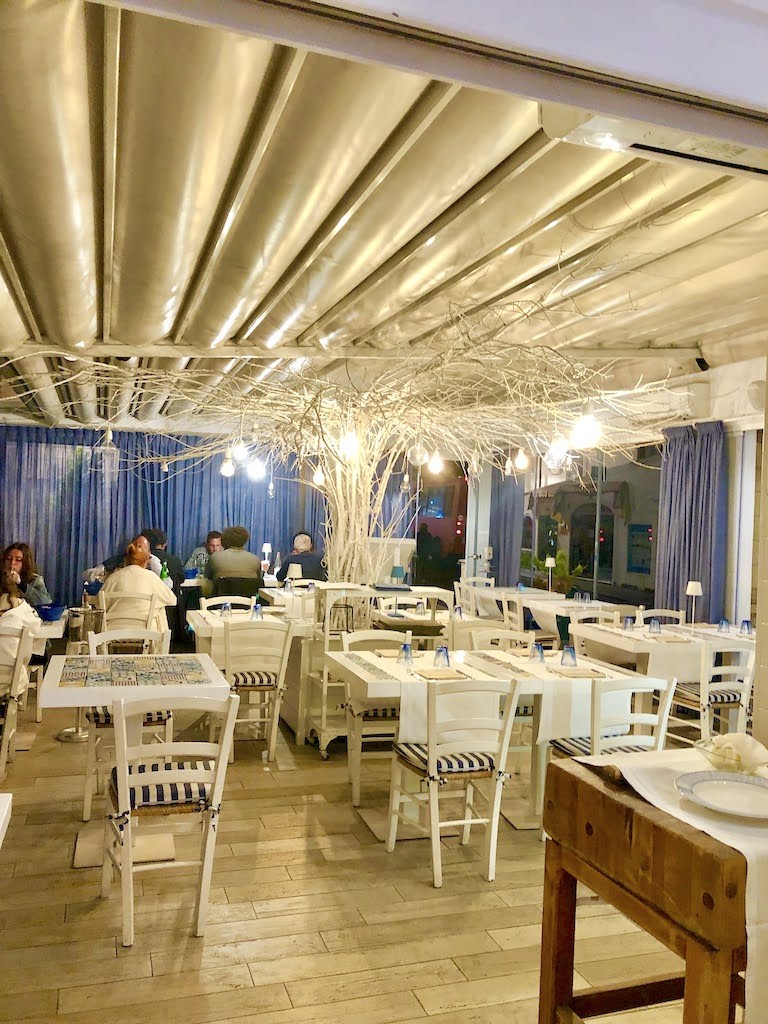 The food was amazing!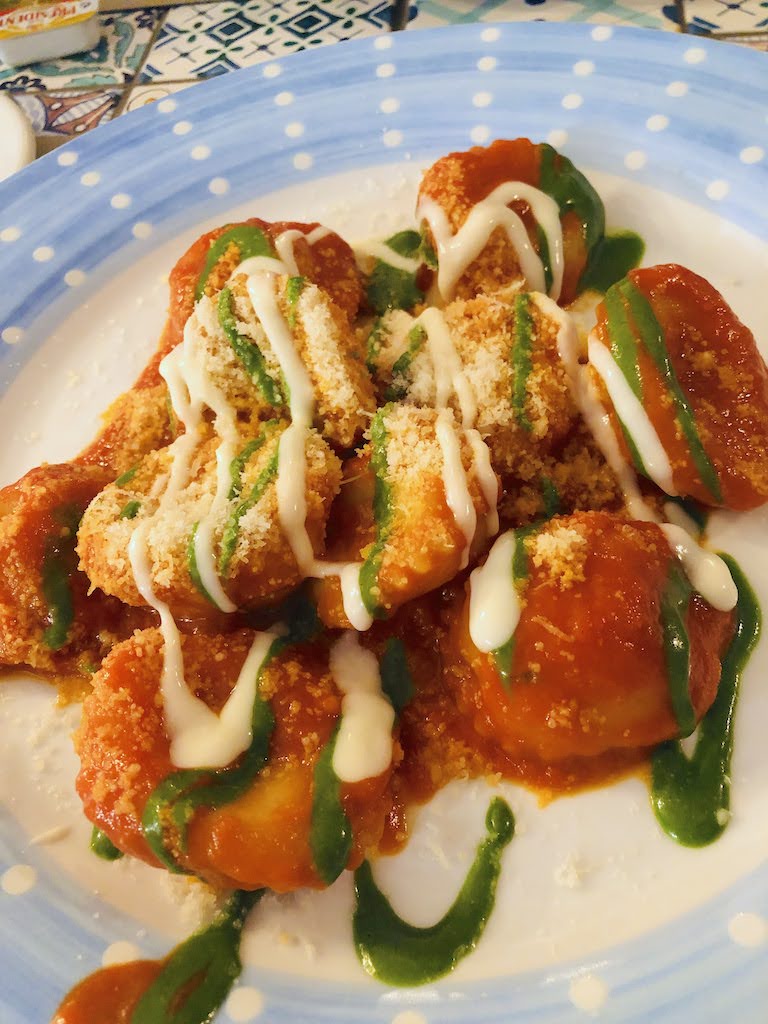 What is Capri like
Surrounded by turquoise blue water a gorgeous jagged coastline and encircled by the famous faraglioni (sea stacks), it is just stunning.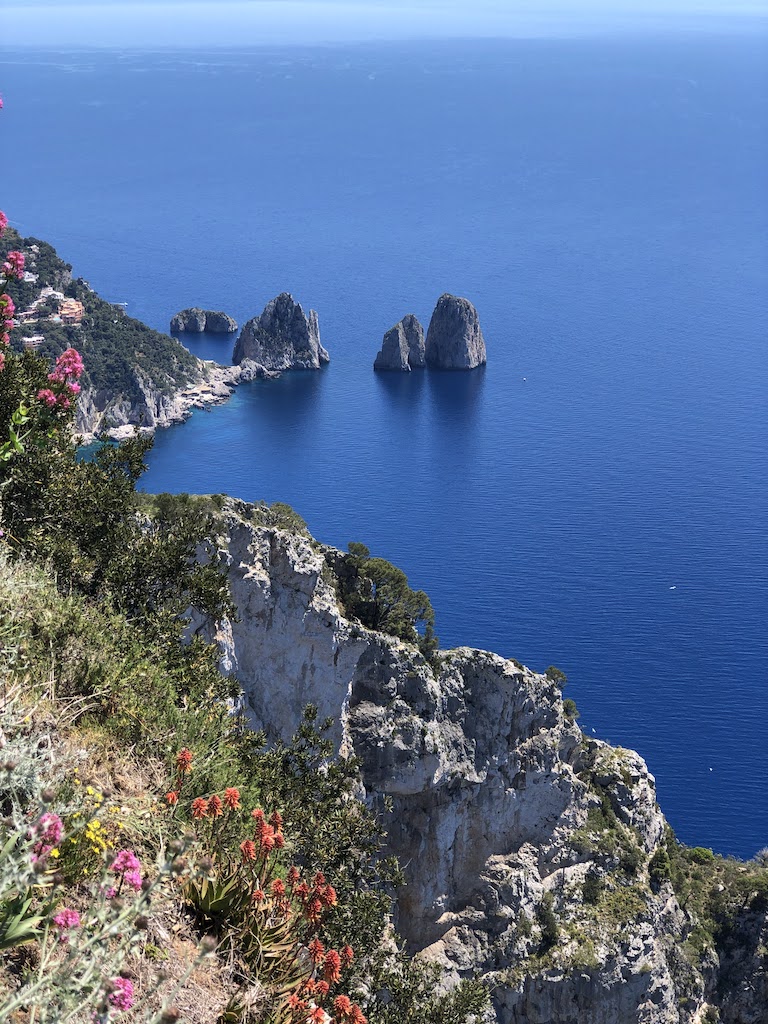 The town square area is charming with lots of boutique hotels, restaurants, bakeries, all kinds of shopping and of course gelato!
It was weird to be here when there was a curfew in place. It was empty by 10PM.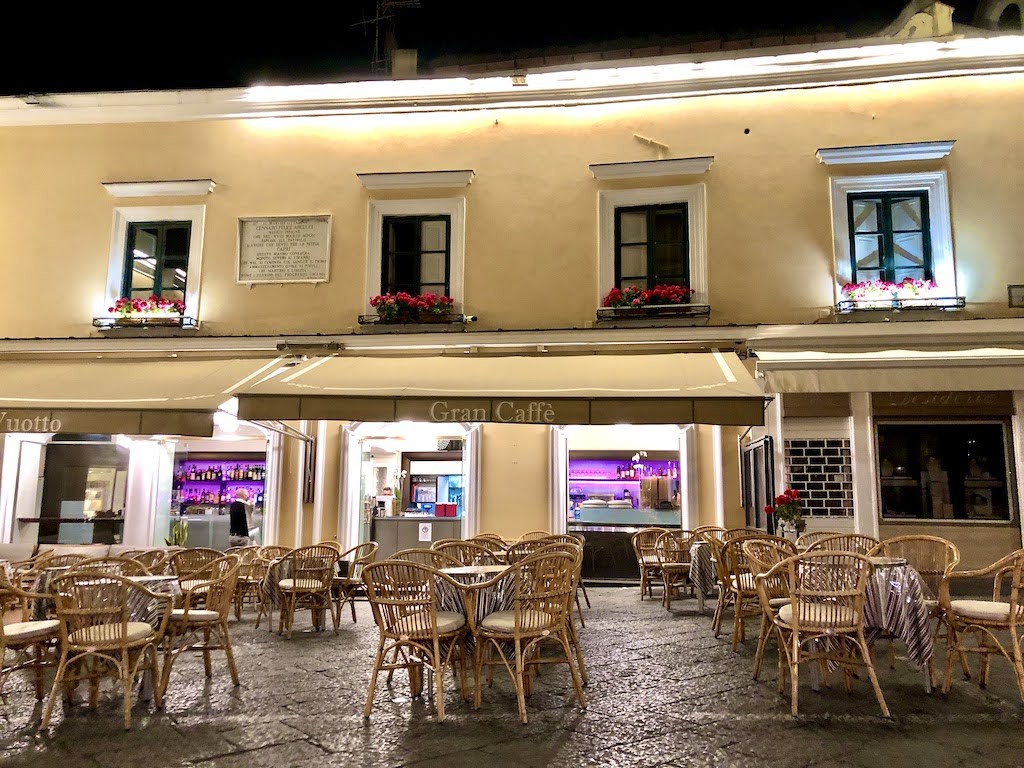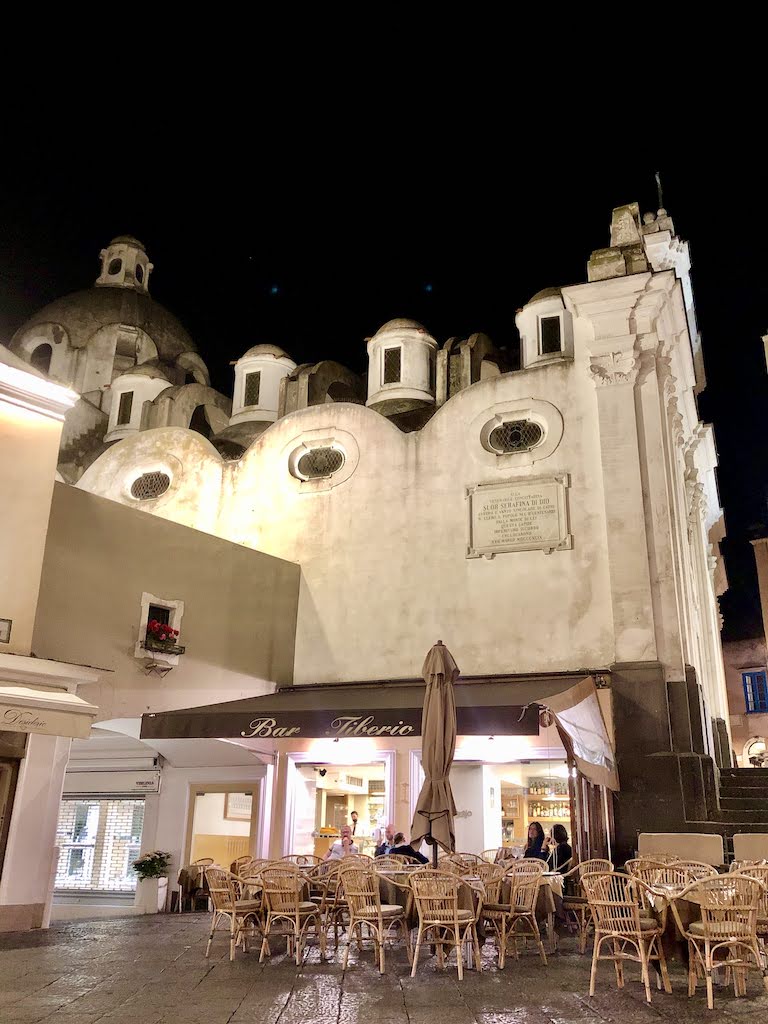 Visiting Anacapri
The next morning after a delicious pastry breakfast at a little cafe, we took a local bus to the town of Anacapri. This town reminded me a little bit of Laguna Beach with lots of little shops and art galleries.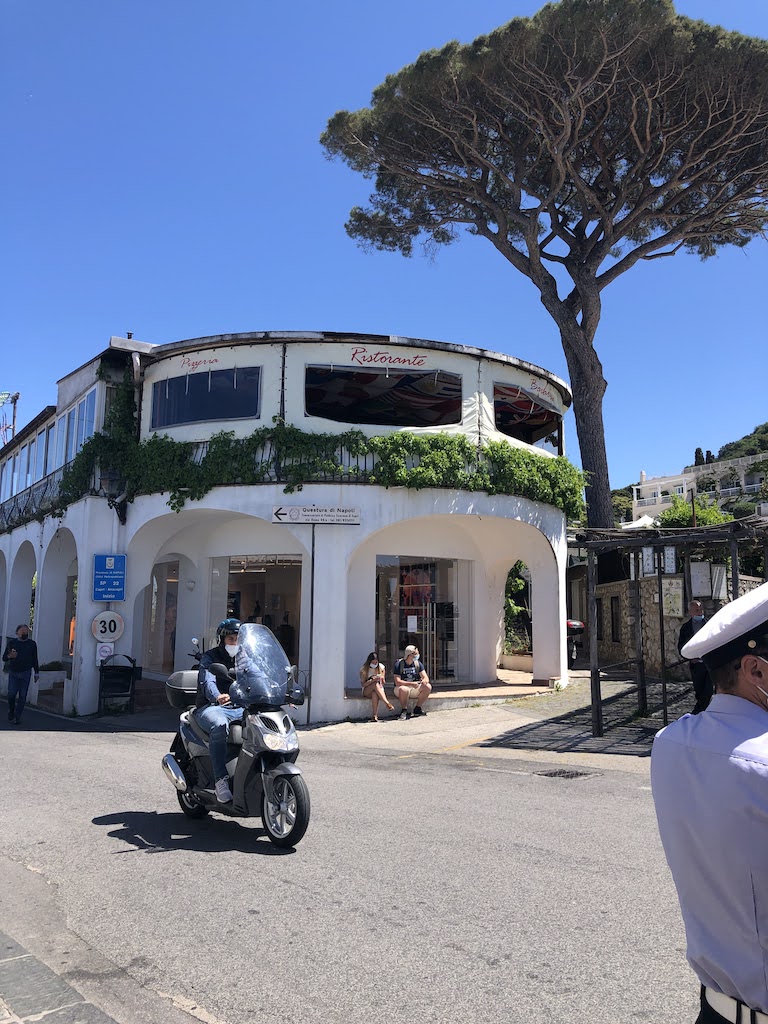 Anacapri shopping is much more affordable than the main center shops of Capri. We found lots of beautiful hand made pottery, and lots of linen clothing.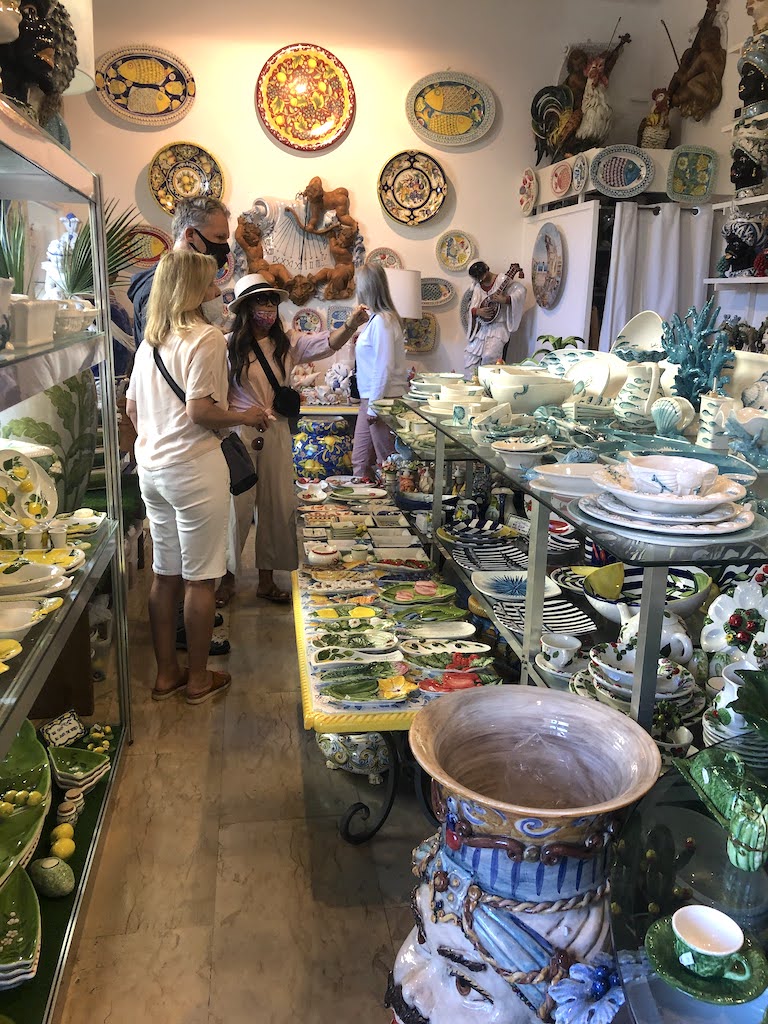 I found a beautiful long white linen tunic that I can't wait to wear! Plus cute dish towels and serving spoons that have hand painted handles.
Our two youngest granddaughters look so cute in the Capri lemon dresses! Baby Georgia's dress is handmade! They are truly Capri Island babes 🙂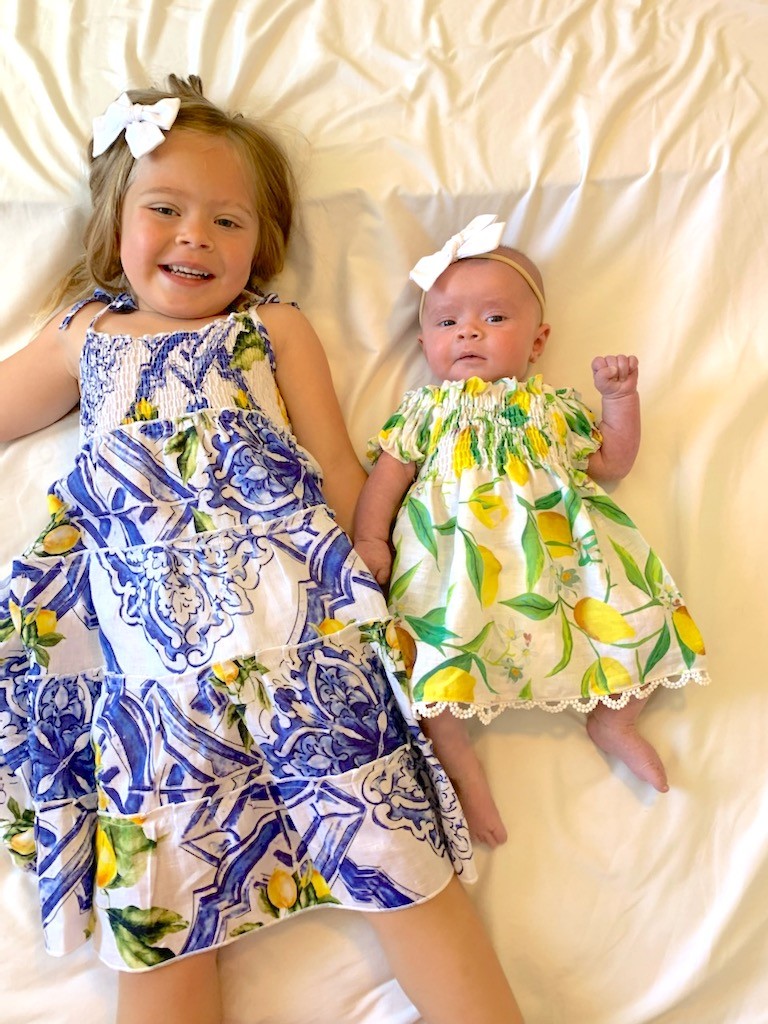 At one point we were walking down one of the streets and saw this cute man selling his wife's hand made knitted baby booties and hats. Since most of us are grandma's we couldn't pass this up.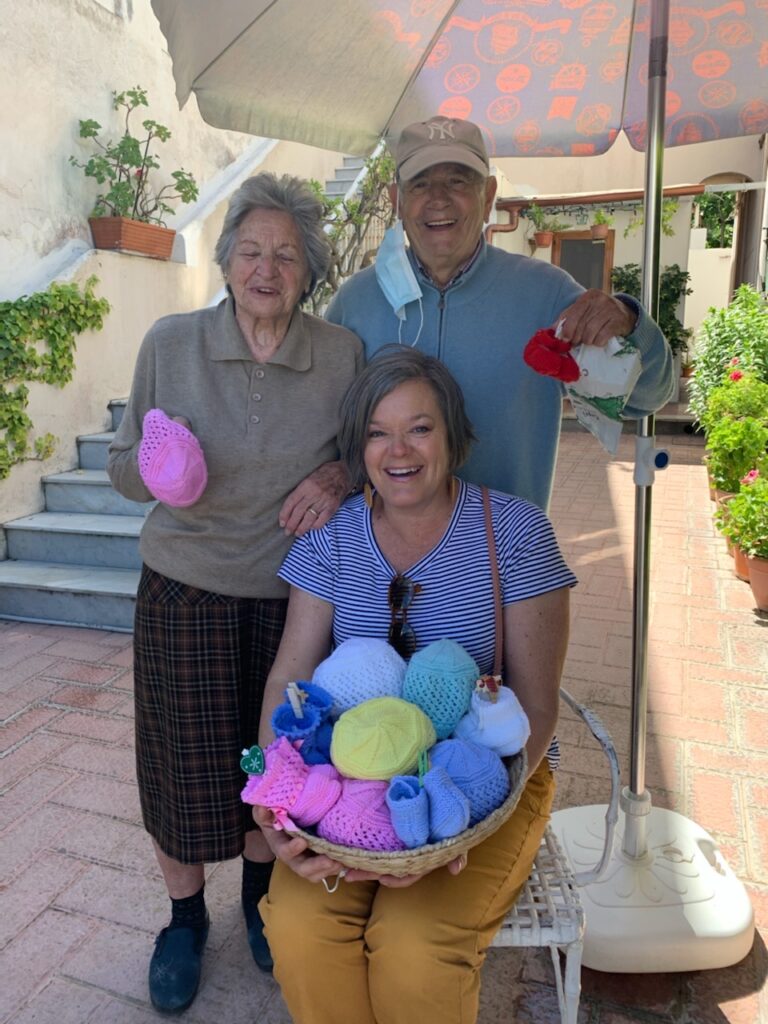 The cute lady came out of her house and we all got a photo with her. So so sweet! In fact when she heard we were taking a picture she ran back into her house to change her sweater 🙂
The chair lift in Capri
After shopping we headed to a chair lift that took us up to Monte Solaro. OH MY GOSH! Seriously this is like being on top of the world.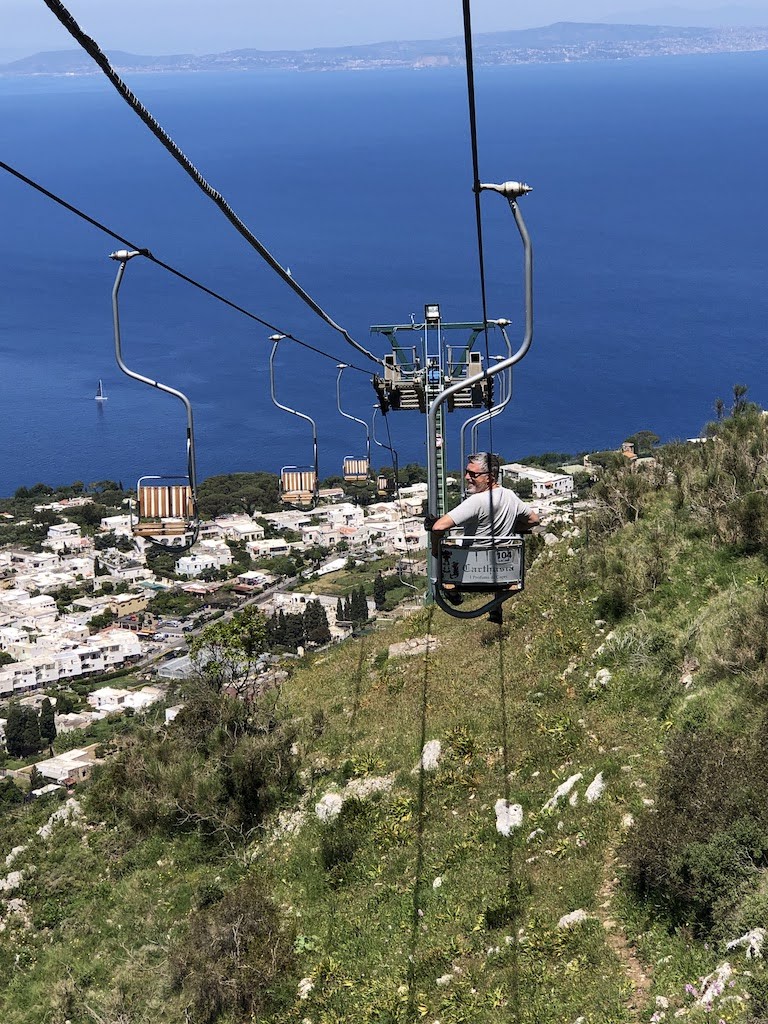 The chair lift is a one seater so you are by yourself and you keep going up up up. You have a total 360 degree view and you really feel like your are on top of the world.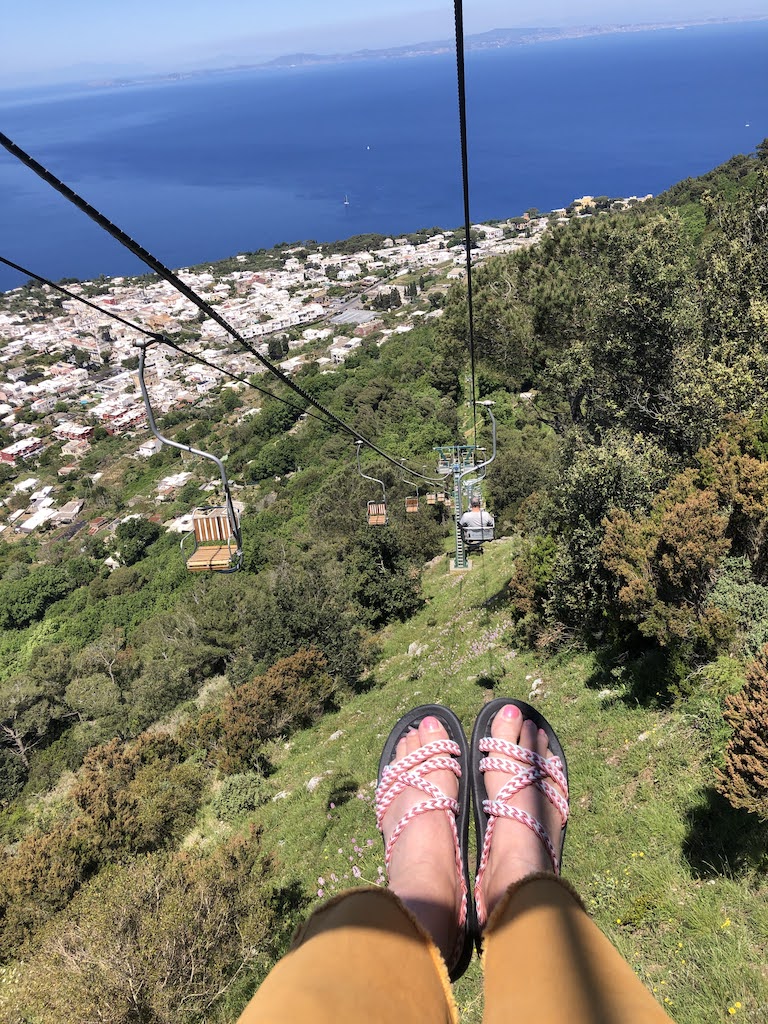 Look at these beautiful gardens that you can see from the chair lift.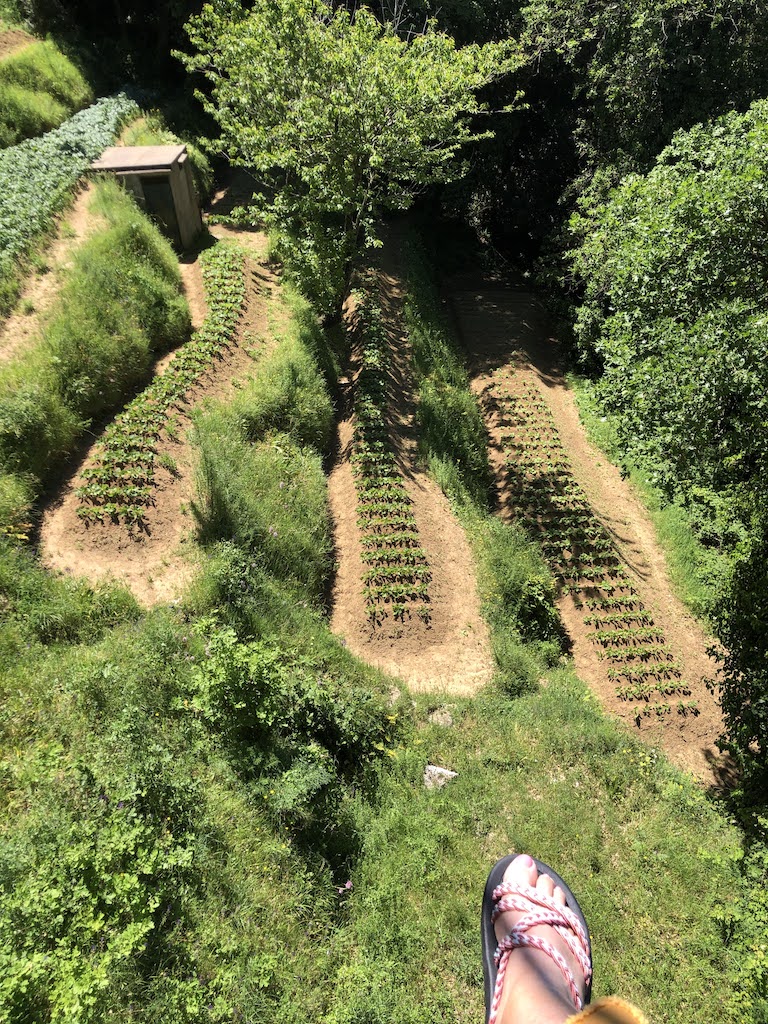 I would do this again and again because it is so spectacular. When you get to the top there is a restaurant and total views everywhere you look. You can see Naples and Mount Vesuvius in the distance.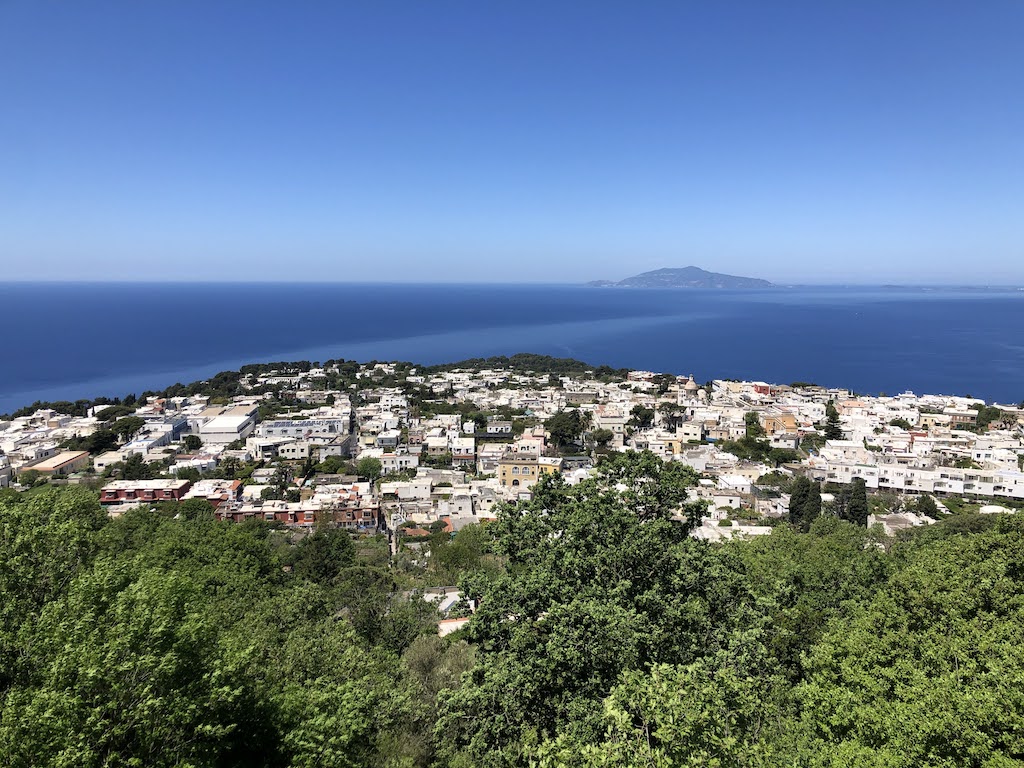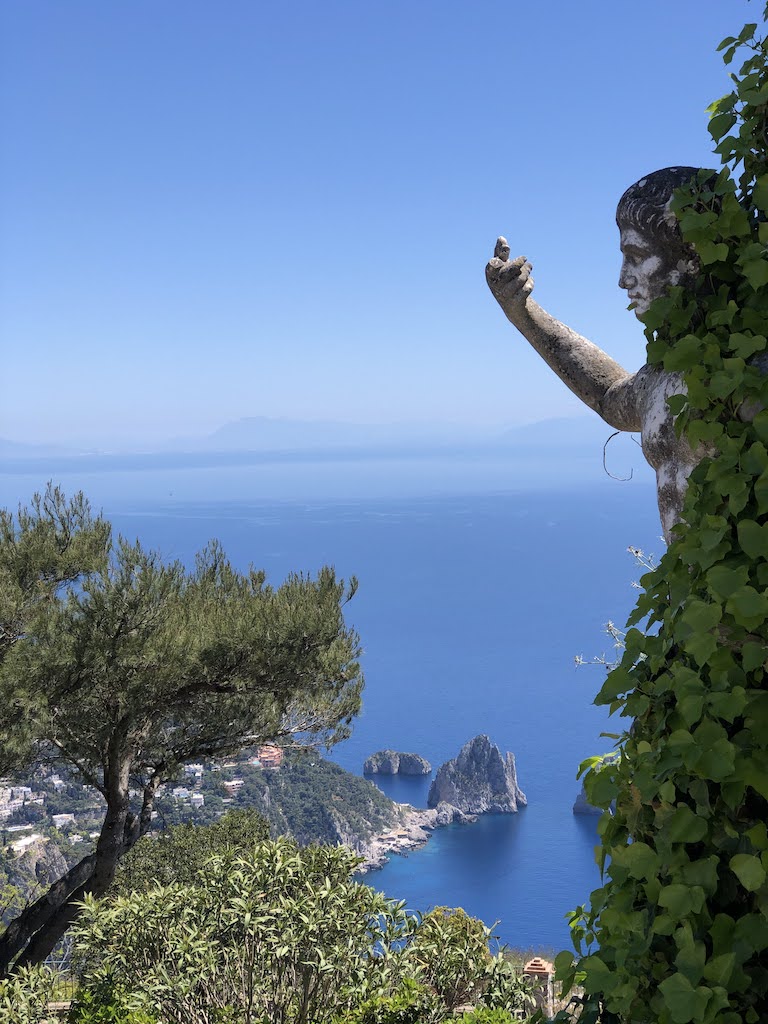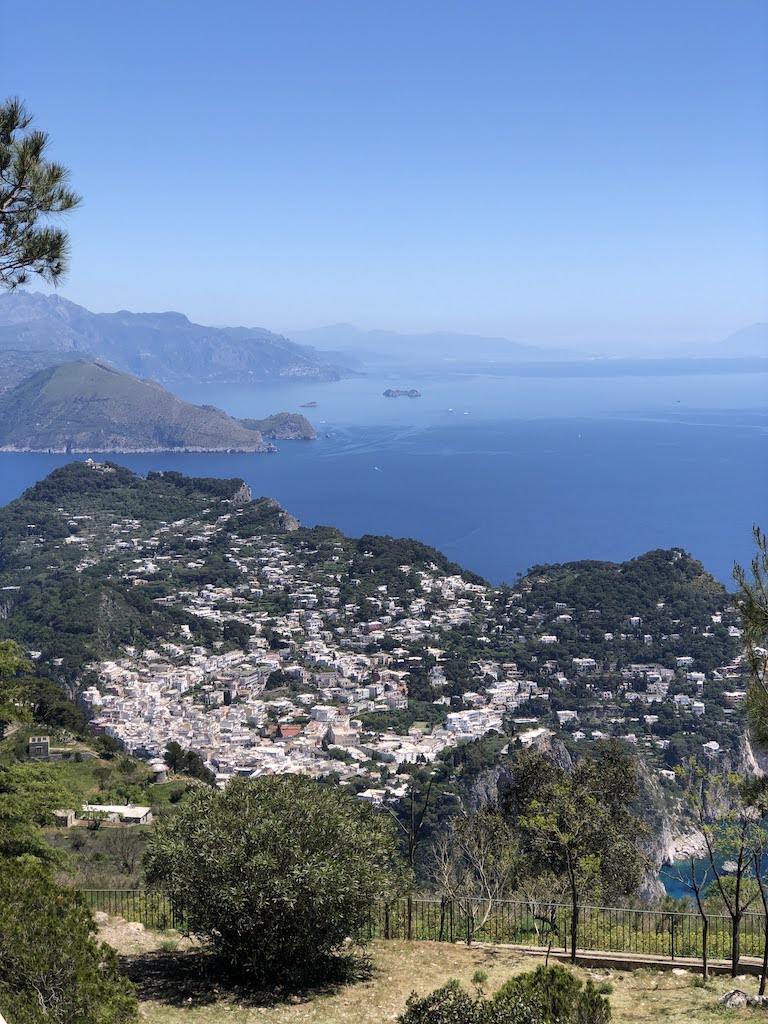 Lunch at Da Gelsomina
Okay so if you have been following my trip, you have seen that we have eaten at some amazing places. This was the Crème de la crème of restaurants!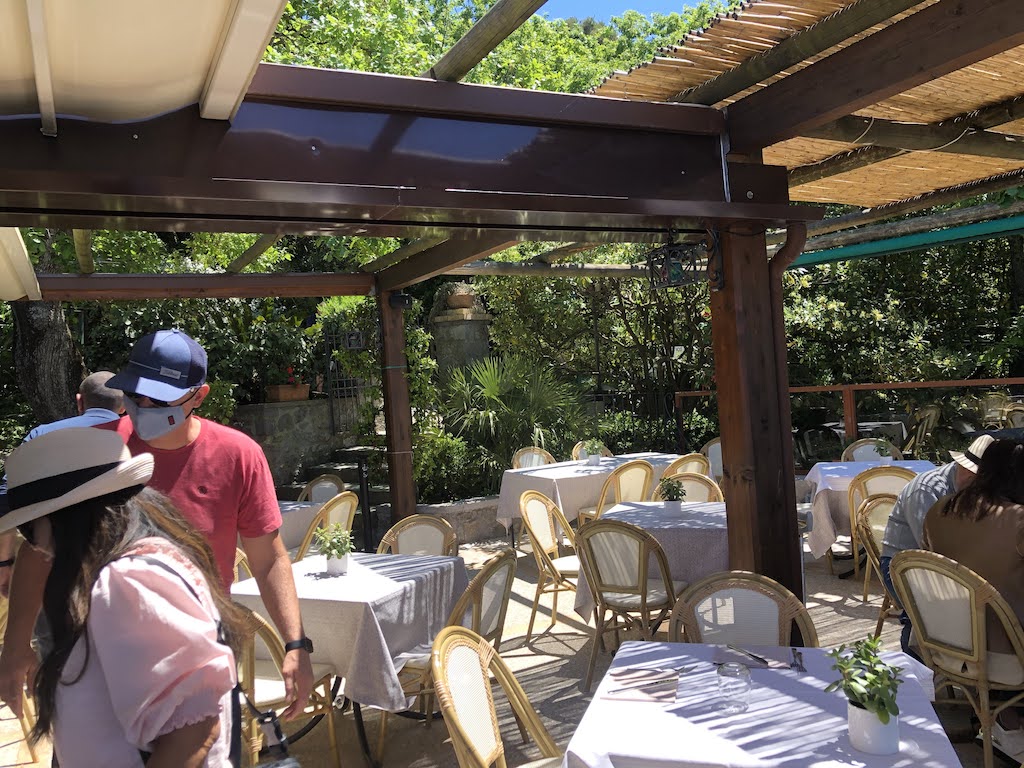 Da Gelsomina is one of Capri's landmark restaurants, where the same family has been preparing local specialties for generations. They use produce that they pick from their huge gardens.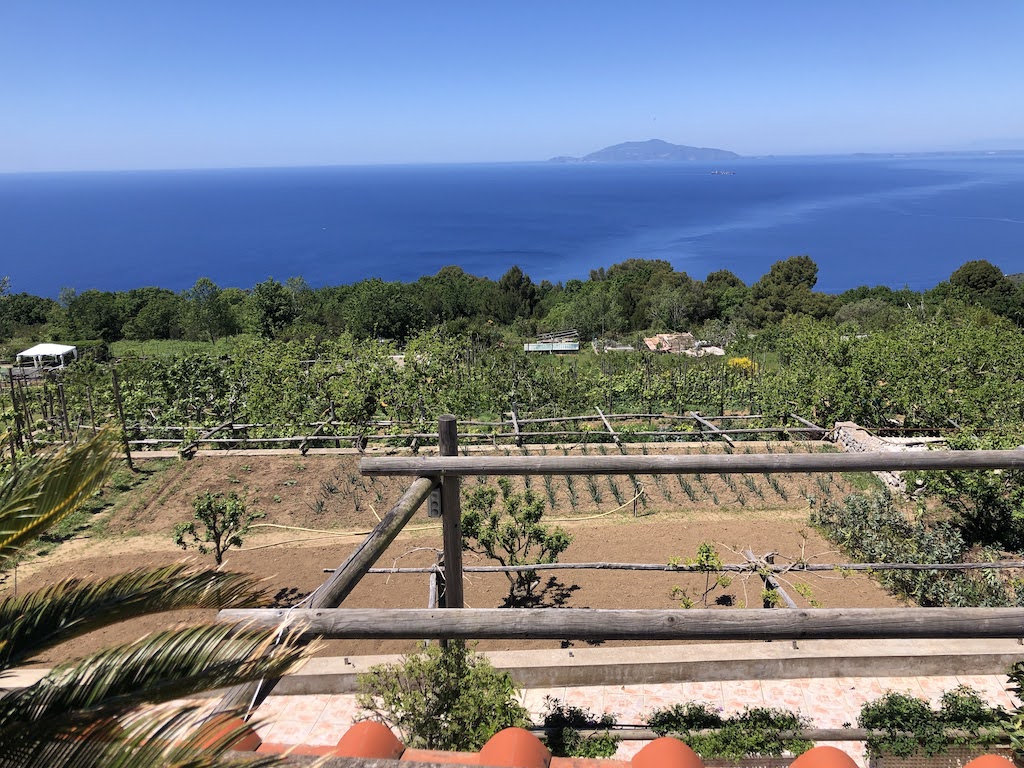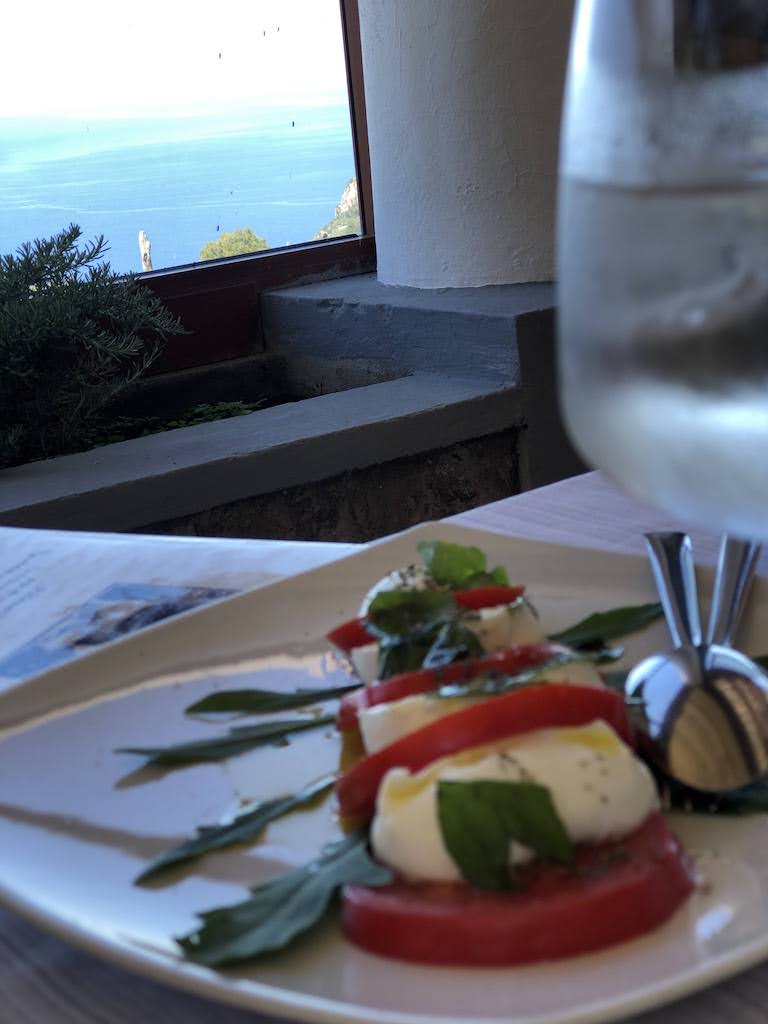 So much amazing food! It just kept coming and was so delicious! This was stuffed roasted red peppers.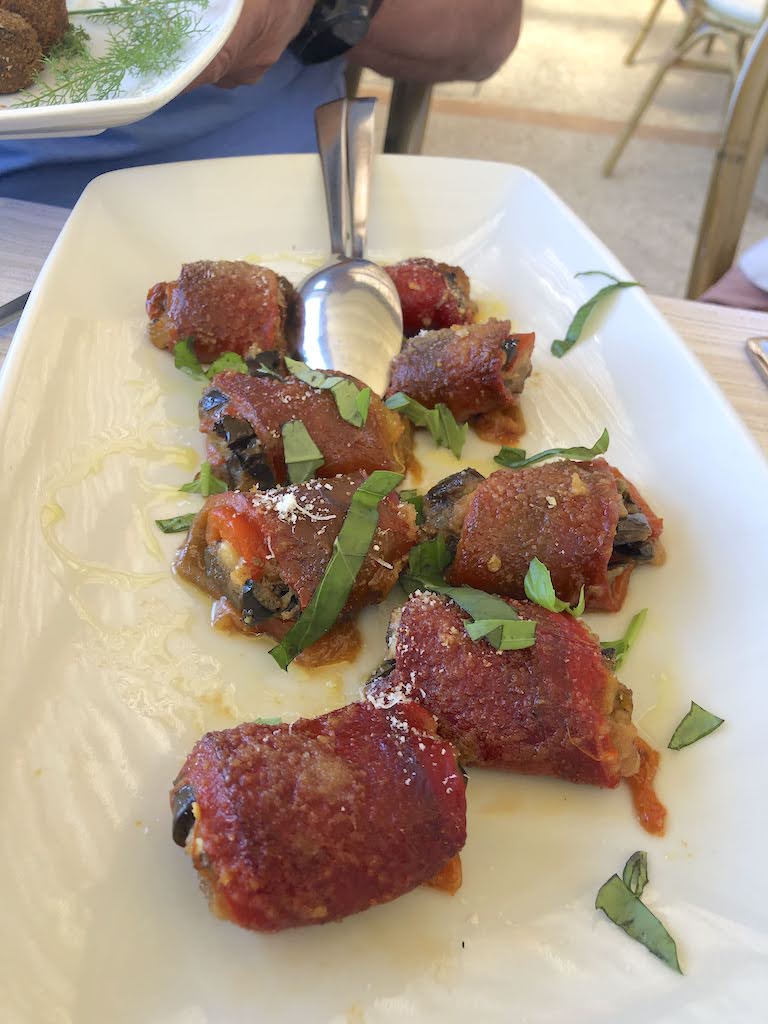 Stuffed zucchini flowers were to die for! Everyone wanted more!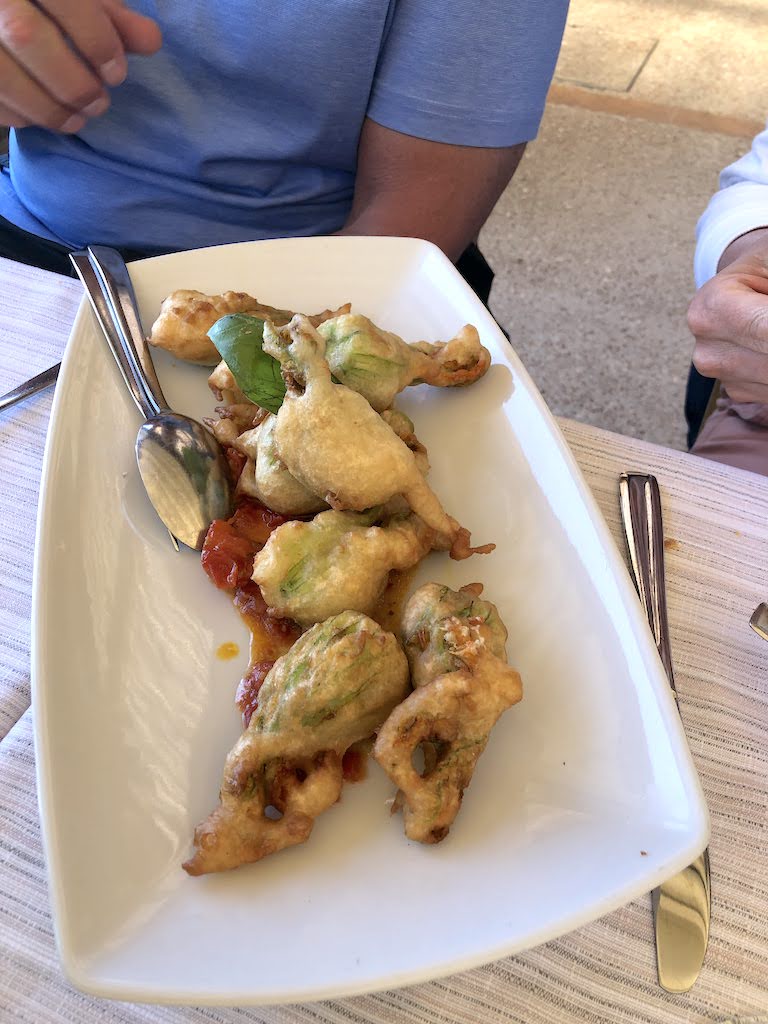 Fresh swordfish melted in your mouth!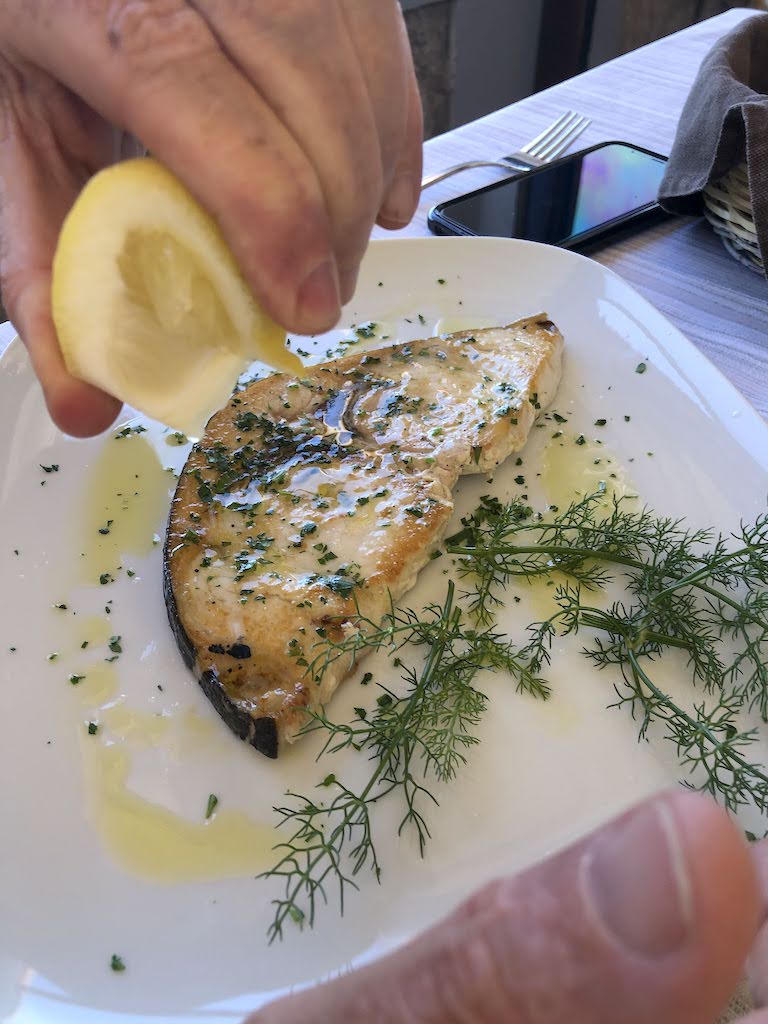 After lunch we took a little walk through the gardens to a look out point. Once again how can this get any better but it does!
The look out point is spectacular and you could just get lost looking at the blue water.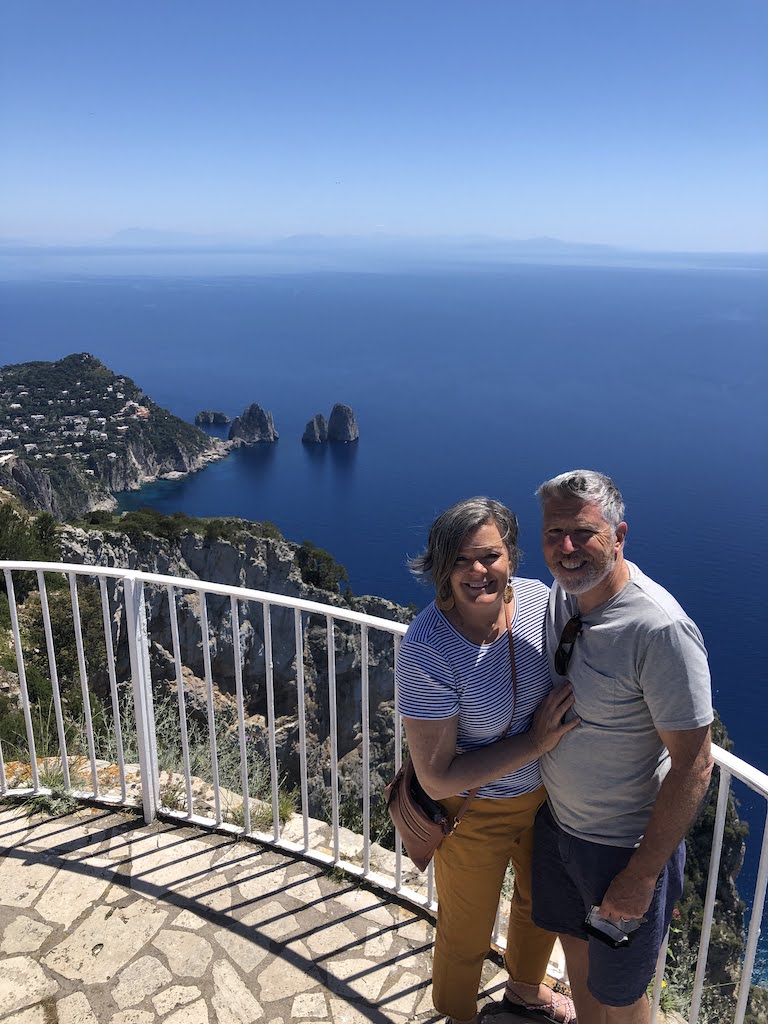 You can see through the water from way above! Isn't this amazing?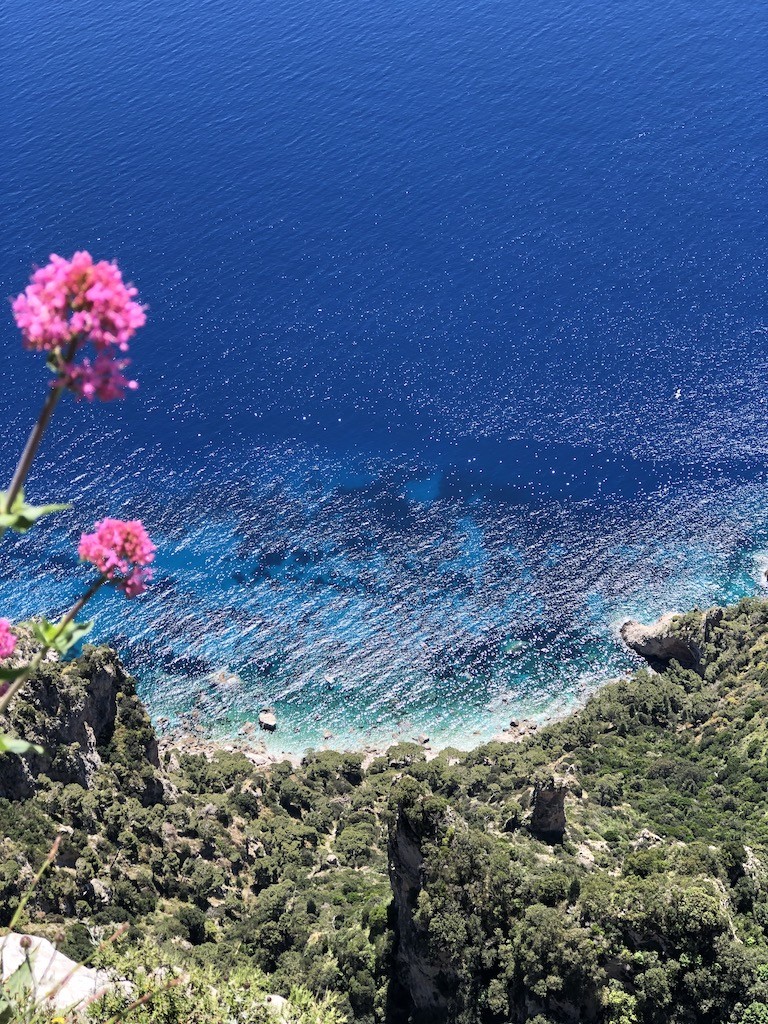 Lighthouse Beach on Capri
This is not like the beaches where I grew up in California. The beach area here at Lighthouse beach is more of a rocky bay where you can dive directly into the crystalline water.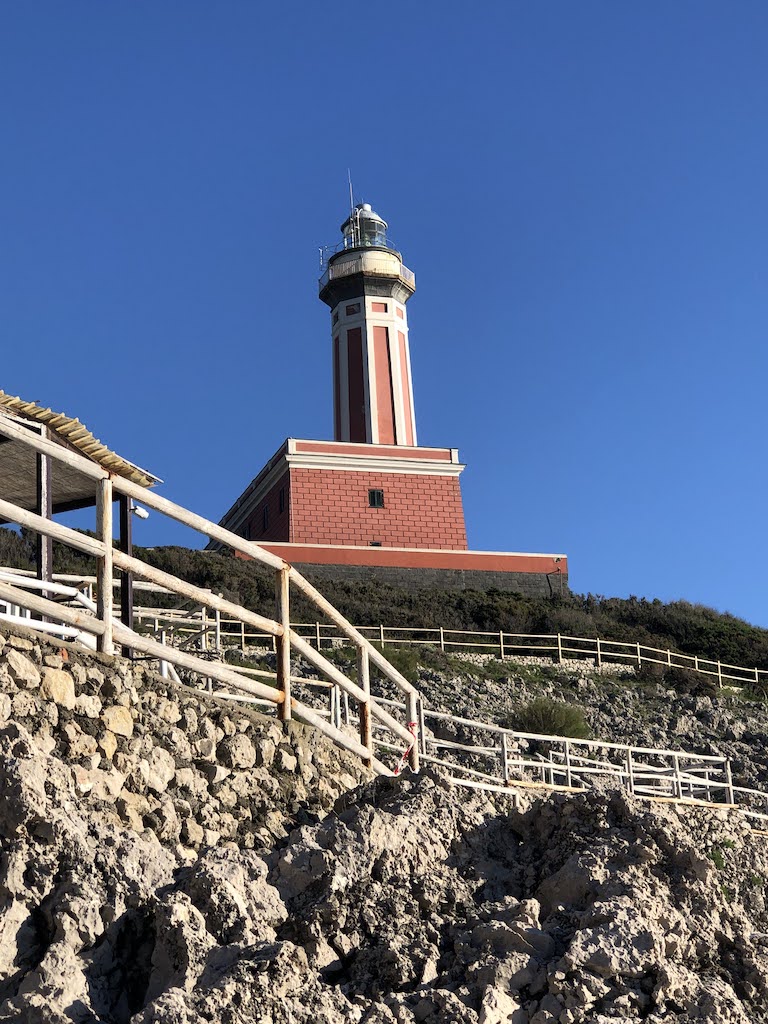 There is a snack bar, restaurant and during summer season you can rent beach chairs and umbrella's. Once again the views are magnificent.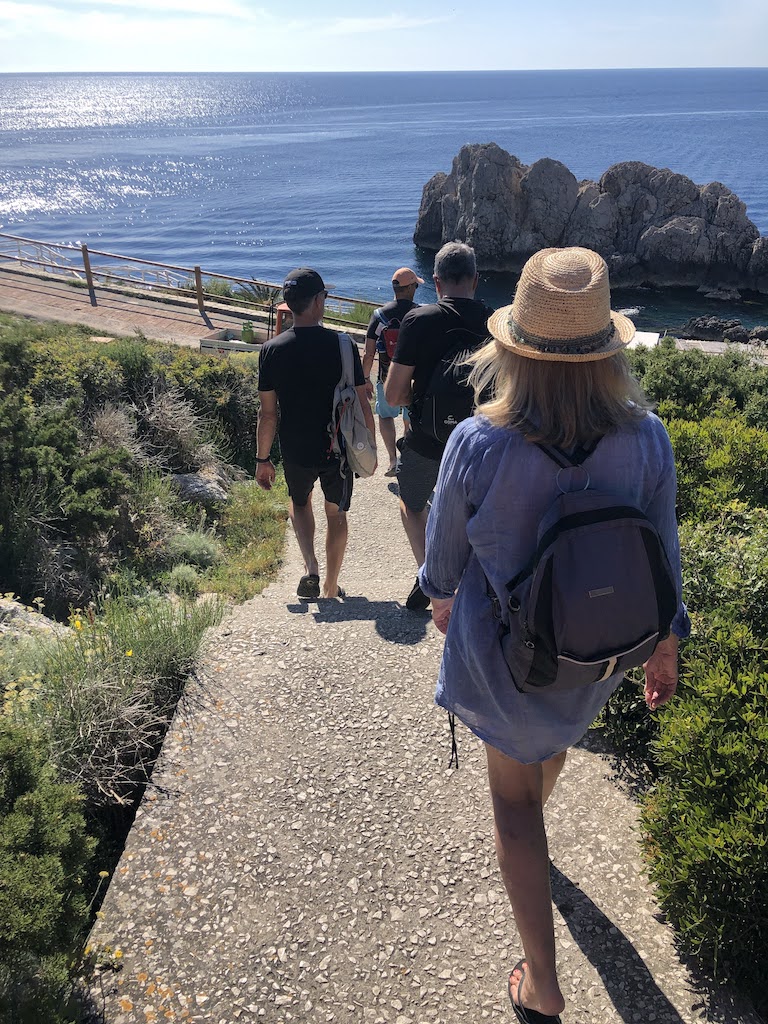 The men of our group decided to jump in the water. It was very cold! But they stayed in and swam around and tried to convince us ladies that it wasn't all that cold haha.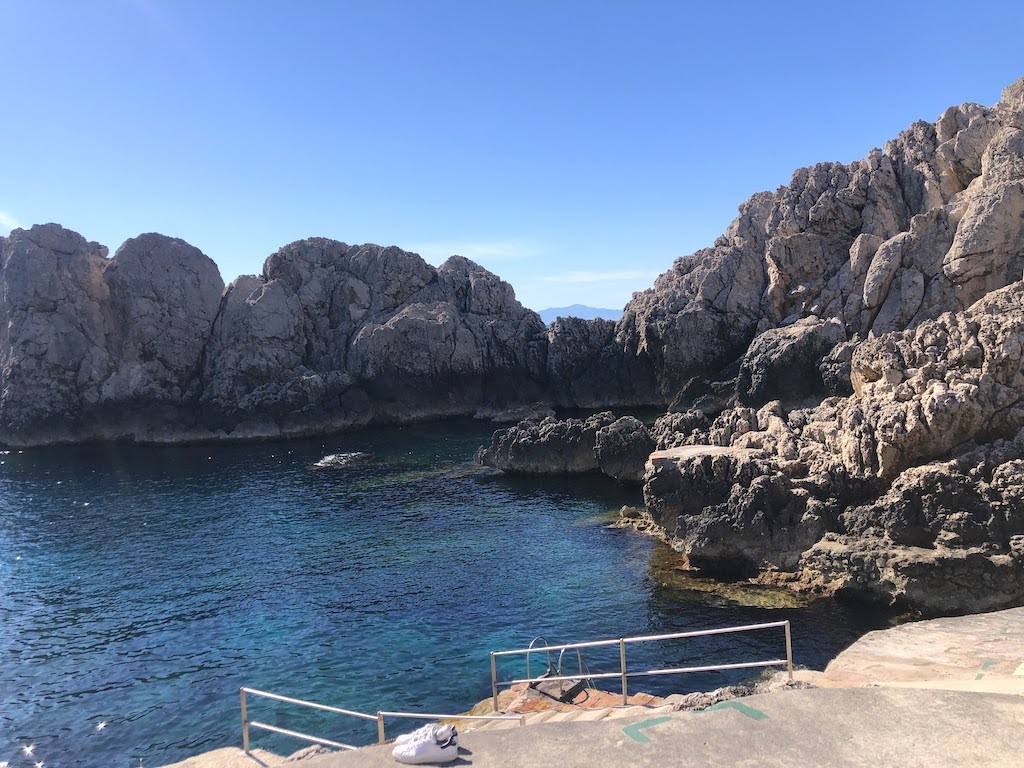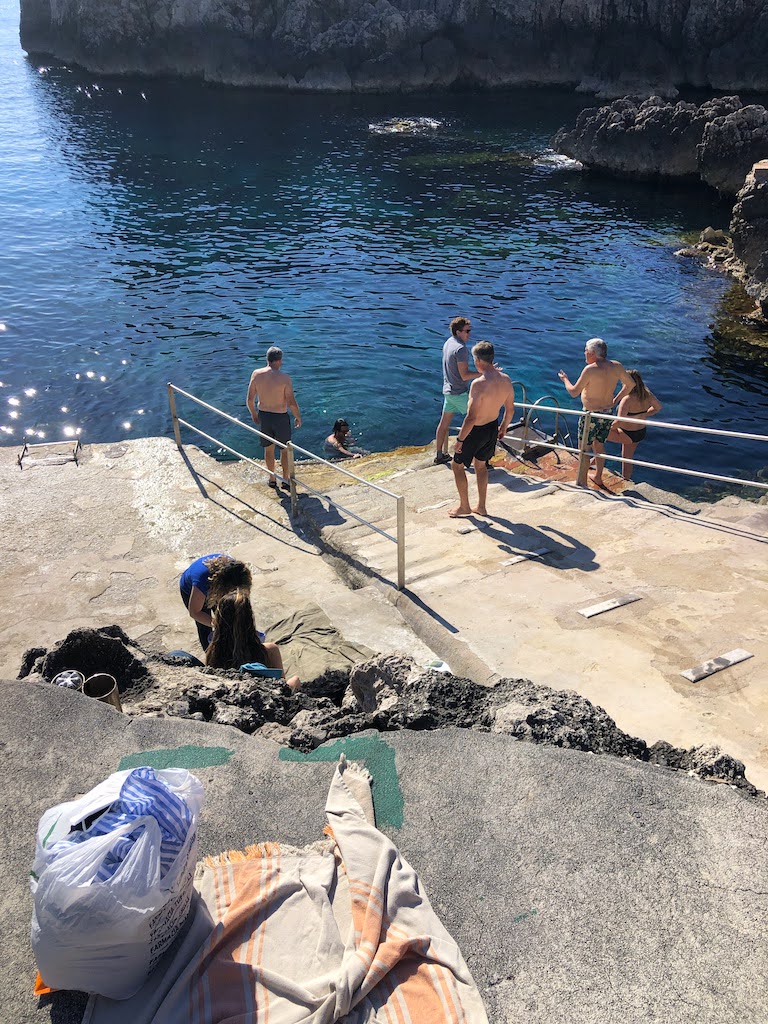 Dining in Capri
After spending the afternoon at the beach we were all pretty tired. We got back to the hotel, showered and got ready to go to dinner.
There weren't many restaurants open for dinner because of Covid so we went back to Da Giorgo the same place we ate last night. We all had pizza 🙂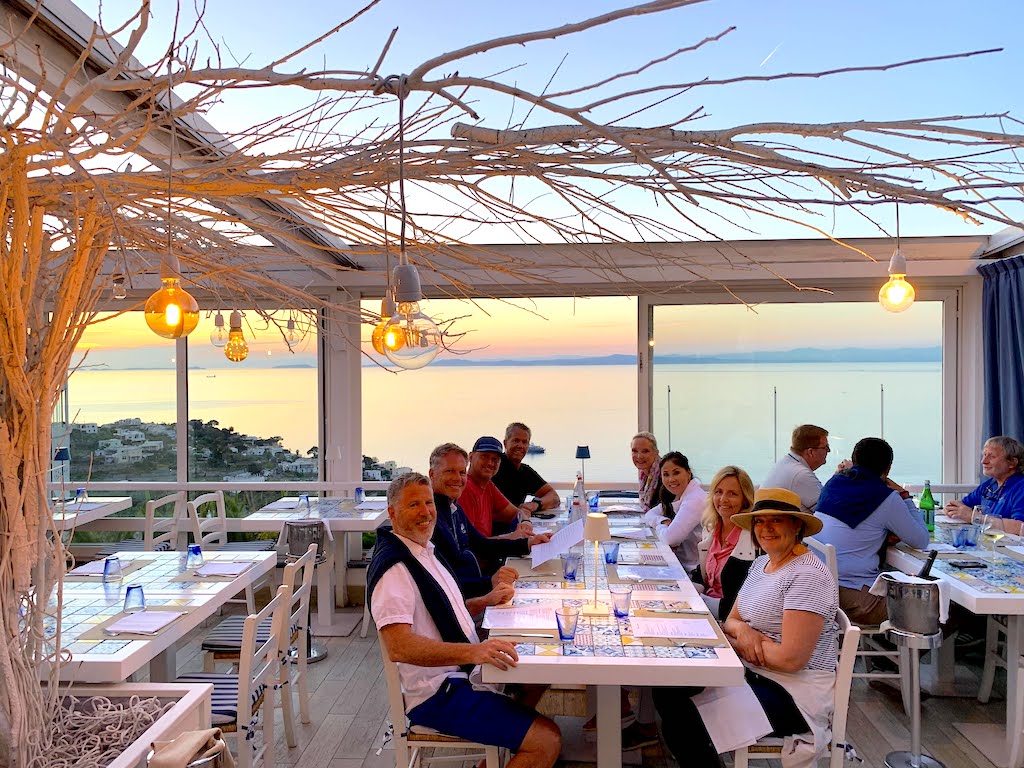 We ended the night grabbing some amazing Gelato and yummy bakery treats at Buonocore. We may have gone there every night but who is counting hahah The best gelato and pastries on Capri.
There was a curfew in place so we had to be back to our hotel by 10pm otherwise we would have stayed out all night 🙂
To learn more about our Palazzo Ricci and to come with us on our next tour go to our website.