For Easter Sunday dinner I made this new amazing spring green salad recipe from Lazy Cat Kitchen. I made just a few slight changes but really this is a fresh clean delicious new salad that you will love. The ingredients might surprise you as there is potatoes, asparagus, zucchini and peas mixed with all the greens.
The dressing also has a surprising ingredient…mint! At first I didn't think I would like the dressing with mint mixed with the greens and all the vegetables but everyone loved it as did I! I hope you will try this recipe out and tell me and Lazy Cat Kitchen what you think. It is a keeper for me!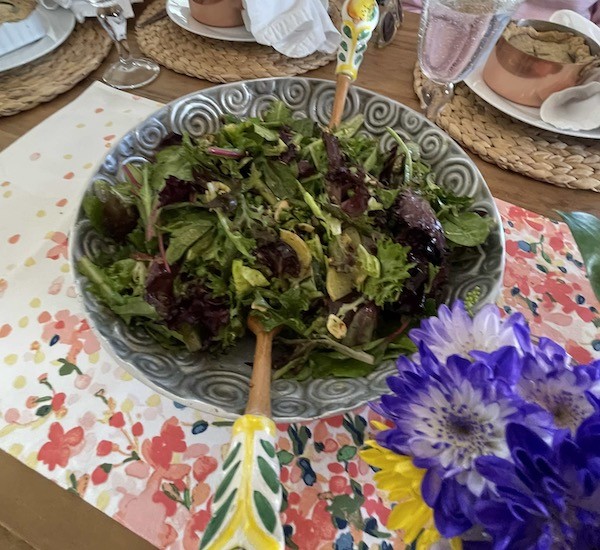 Amazing spring green salad ingredients
I made just a few adjustments to the recipe but for the most part I stayed the course with what it called for. You can check out the original recipe on Lazy Cat Kitchen.
Doubling the amount of all dressing ingredients made enough for 12 people for Easter dinner. Below are amounts for a smaller amount of dressing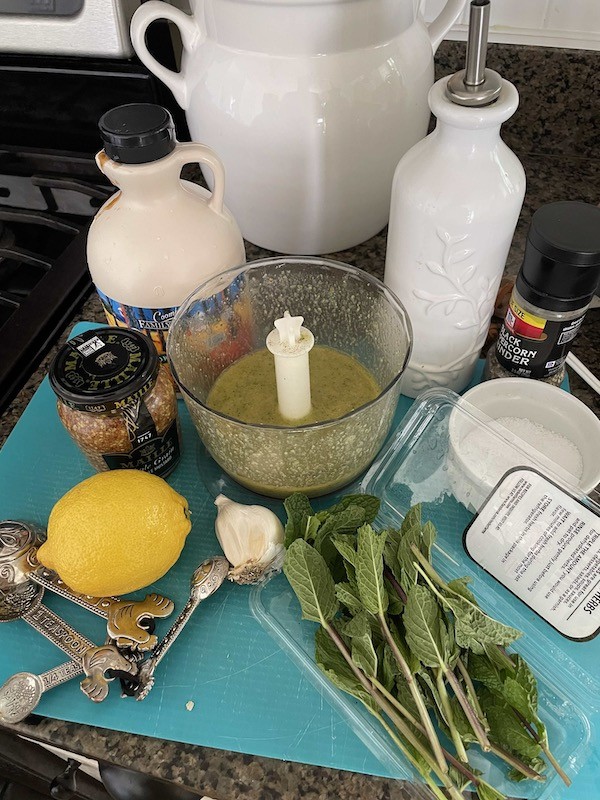 Ingredients for dressing
1/4 Cup Olive oil
2 Tbsp Lemon juice
1 small clove garlic
1/4 tsp salt
Black pepper to taste
1/2 tsp maple syrup
1 tsp whole grain mustard
handful mint (I only used 2 or 3 stems)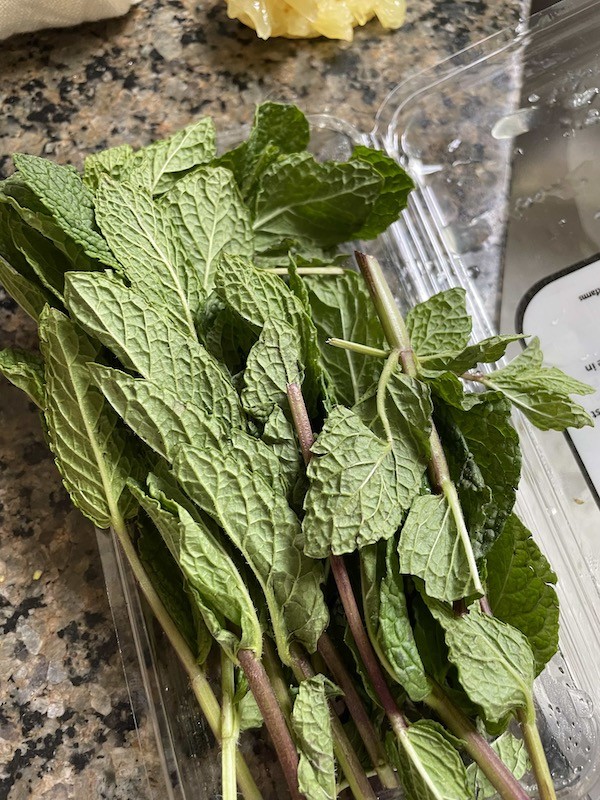 Ingredients for salad
2 golden potatoes sliced very thin
8-9 skinny asparagus
1 medium zucchini
6 large handfuls of spring mix lettuces
1/2 Cup frozen peas
2-3 Tbsp Olive oil
Slivered almonds
Salt and Pepper to taste
How to make amazing spring green salad dressing
This dressing will absolutely tantalize your tastebuds! The combination of fresh mint leaves, lemon juice, garlic, maple syrup and whole grain mustard is amazing. The original recipe calls for a handful of mint but I did not use that much. I would start with a small amount and add more to your liking.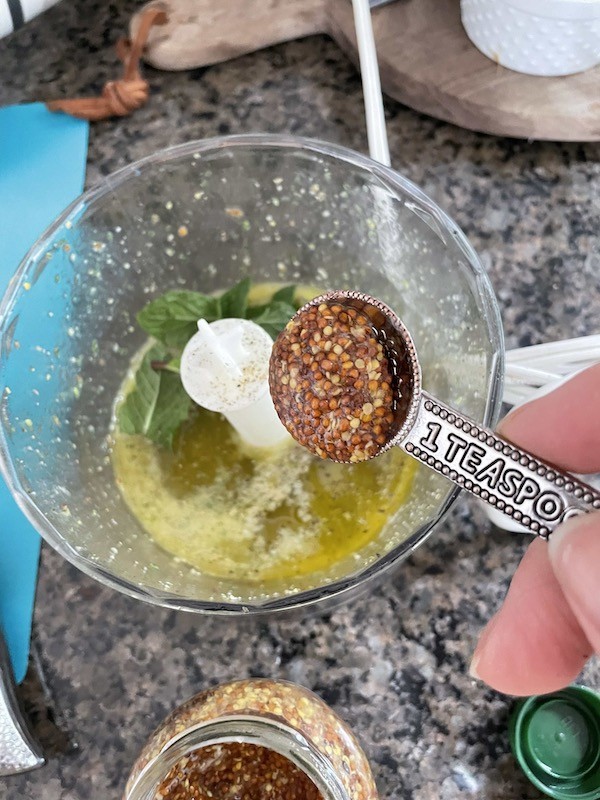 When I first made the dressing recipe I knew it would not be enough for my extra lettuce that I used. So I decided to double it since I was serving a larger amount of salad.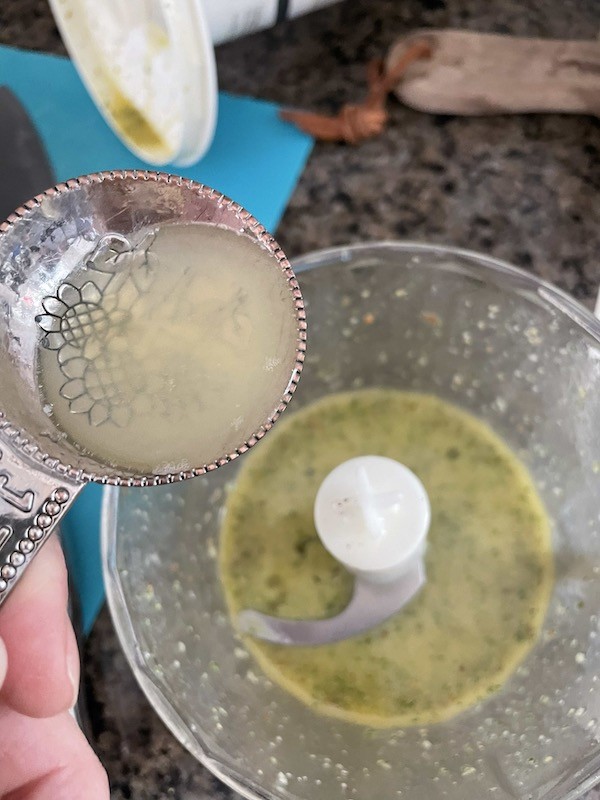 I used my mini food processor to whip up the dressing in seconds. Into the mini work bowl I added in the olive oil, lemon juice, maple syrup, whole grain mustard, salt and pepper.
Before adding in the garlic I mashed it with a knife so it would be chopped up very finely.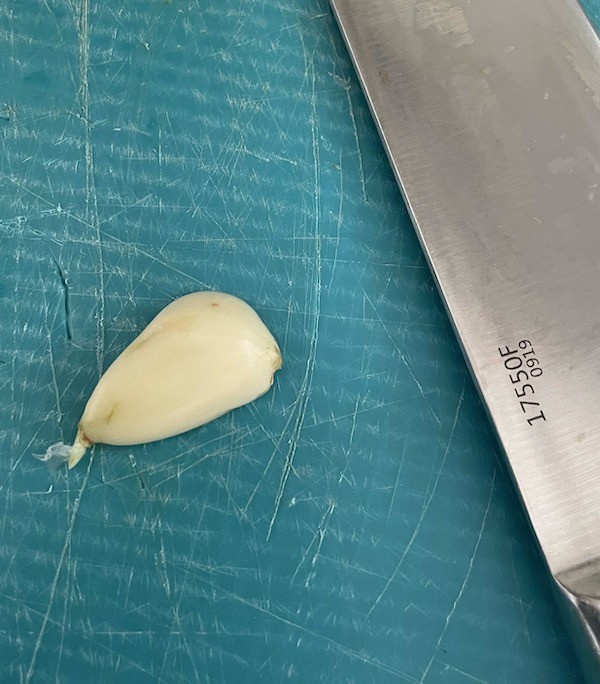 Add in mint leaves and process until completely combined.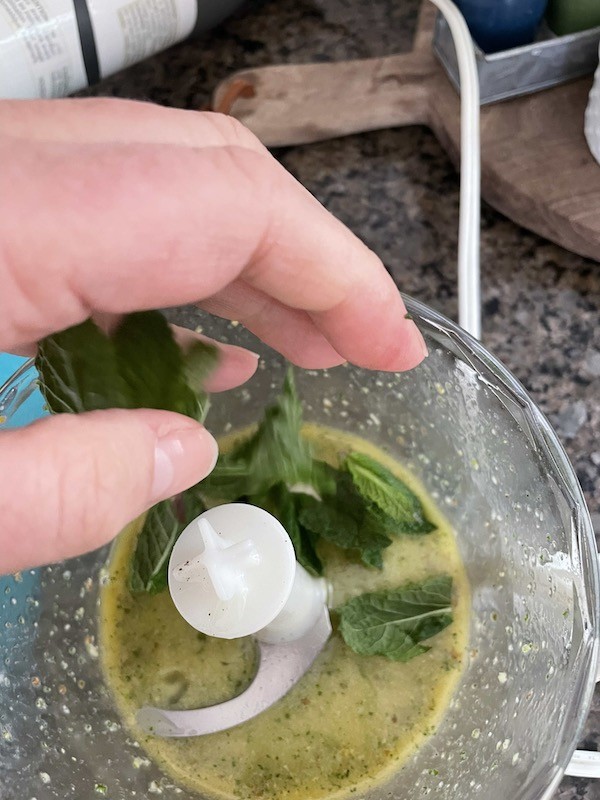 Prepare the vegetables for the spring salad
The original recipe called for tiny new potatoes but I couldn't find any so I ended up using 2 golden potatoes and sliced them very thin. I thought I would need 3 but only used two.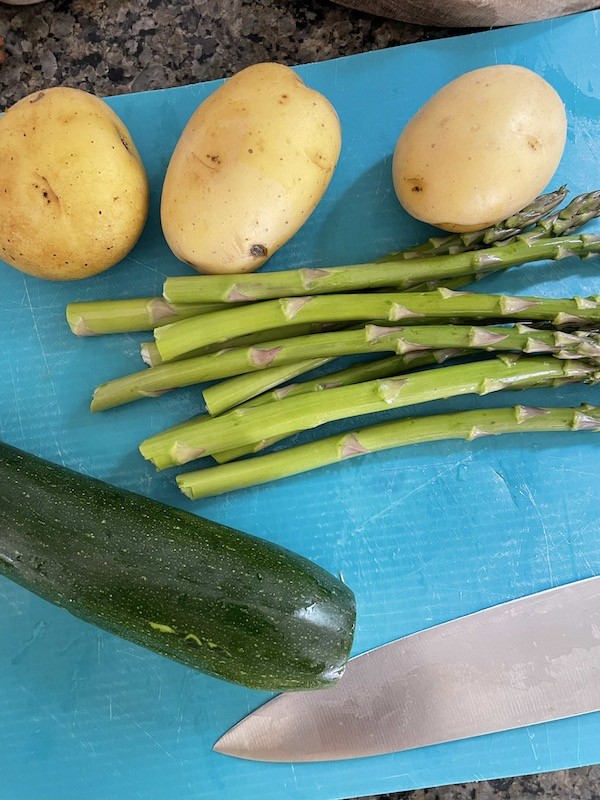 Slice the zucchini very thin as well. For the asparagus I cut off the woody stem area and then sliced the asparagus into small pieces.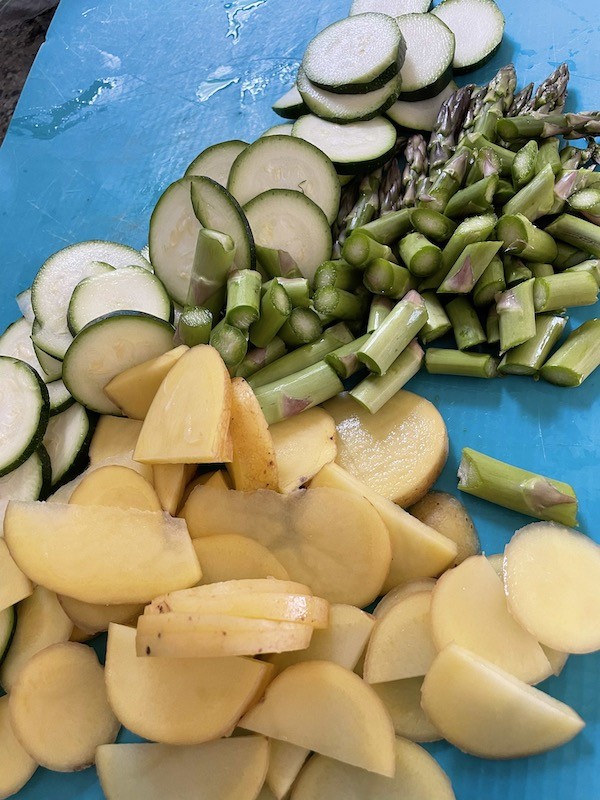 Place all the cut up vegetables onto a cookie sheet. Drizzle olive oil and salt and pepper over all and toss. Roast in the oven at 400 degrees for about 20 minutes.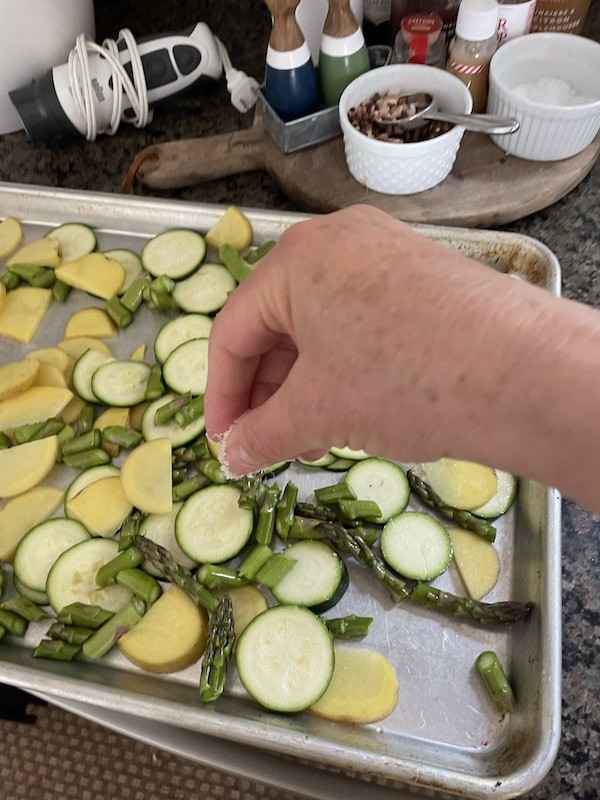 I love the flavor of roasted vegetables so I chose to do this instead of boiling the potatoes like the original recipe called for. The original recipe called for the peas to be slightly cooked but I just used them frozen because they thaw so quickly and taste better to me.
Finish the amazing spring green salad
In a large serving salad bowl add all your spring mix lettuce leaves, cooled roasted vegetables, frozen peas and slivered almonds. If your dressing has been sitting for a bit while you make the salad, give it a few quick spins in your mini food processor.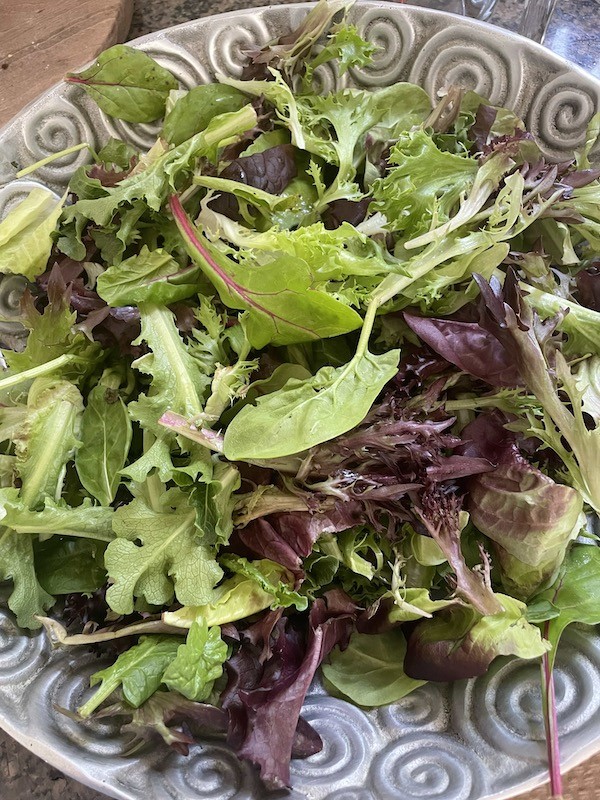 Pour the dressing over all, toss gently and serve. I could seriously eat this every night!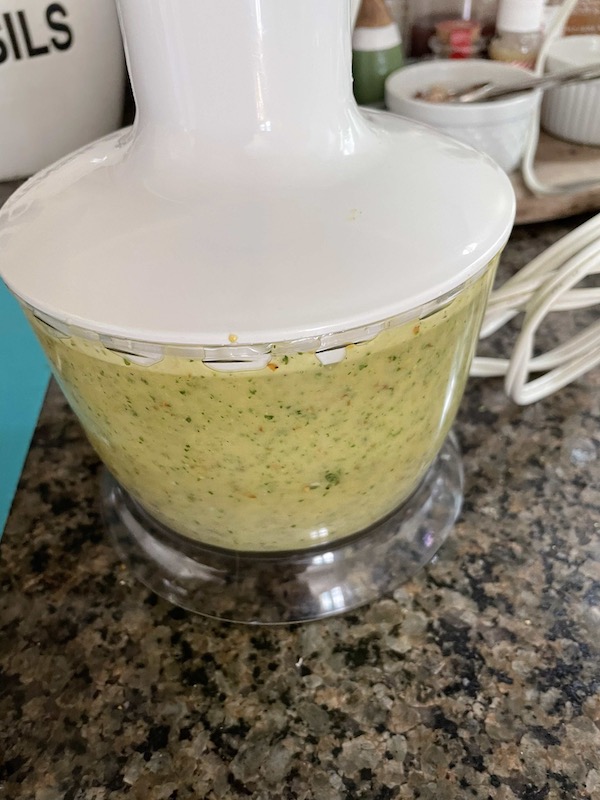 The whole family loved how fresh and clean this amazing spring green salad recipe tasted.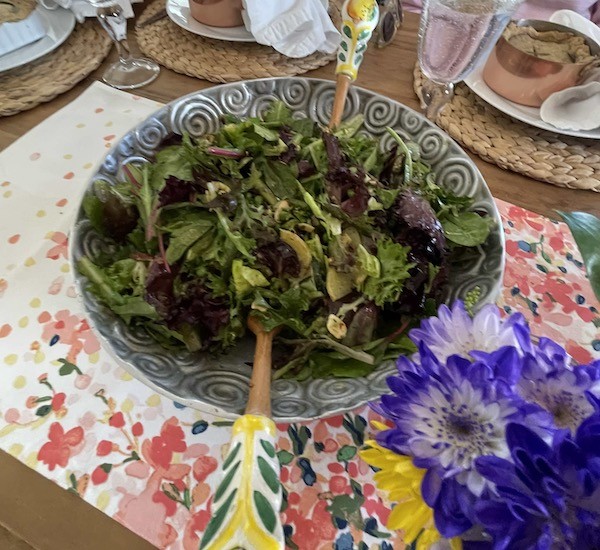 The rest of our dinner
We also enjoyed some ham and a beautiful fruit salad that my hubby made. He was very proud of his knife skills 🙂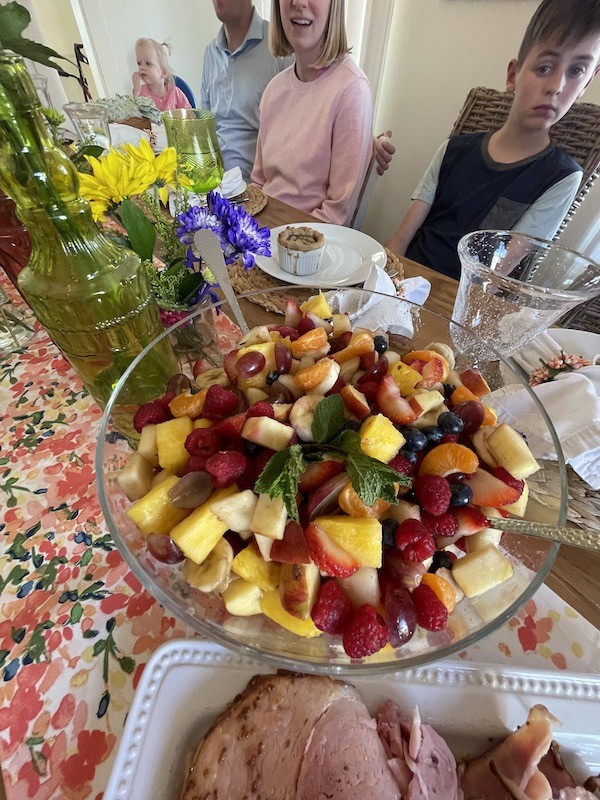 Our vegan daughter made some beautiful vegetable pot pies for each person.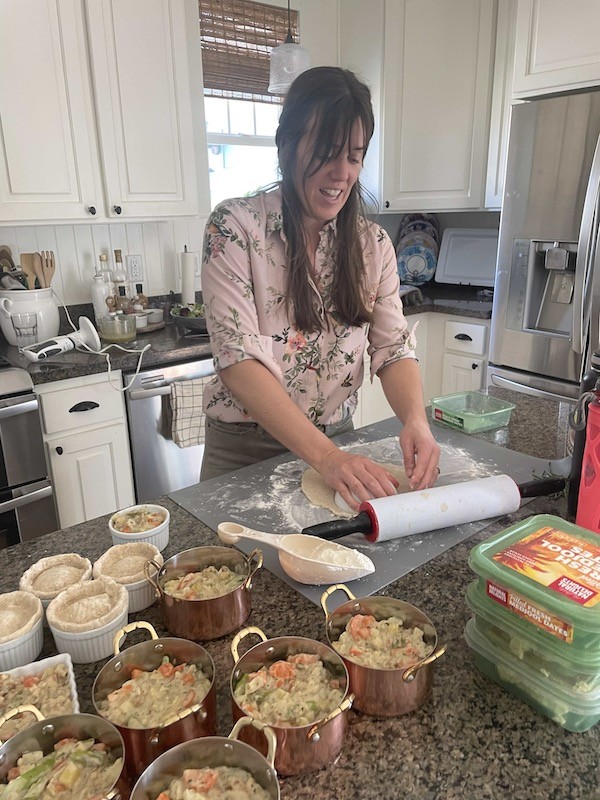 I will have to get her recipe and post about it. It is filled with vegetables and a creamy cashew filing and the crust is really yummy too!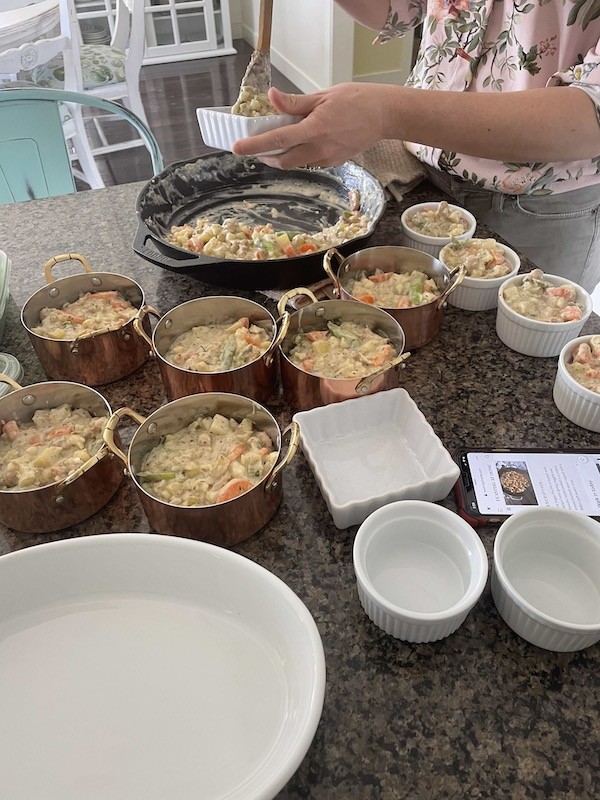 They looked so pretty with just a few pieces of chive on the top.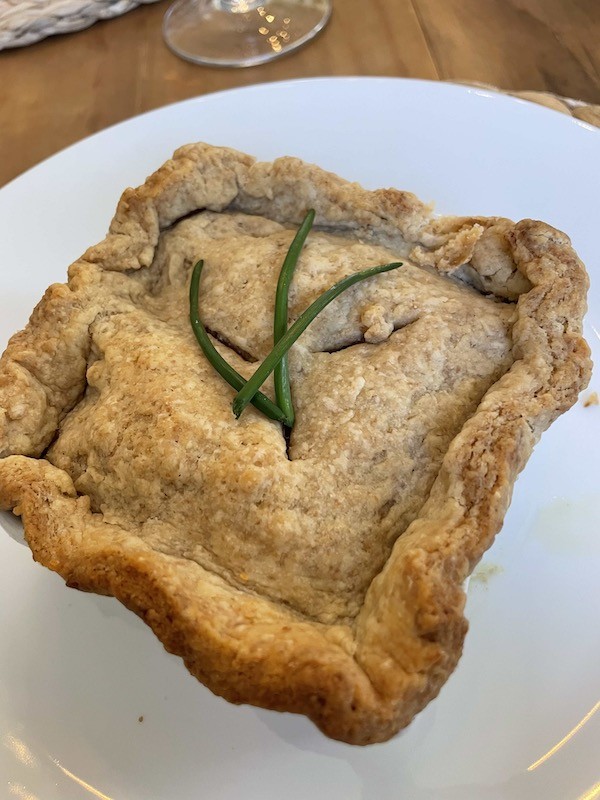 To be able to sit around a table filled with loved ones is such a blessing. Our hearts and bellies are full 🙂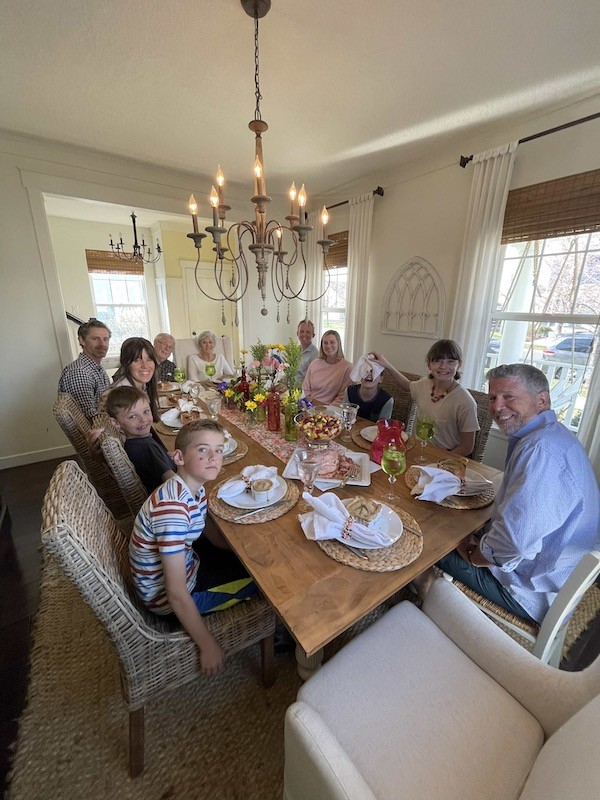 Everything was soooo good! My grandson took this picture of me eating haha.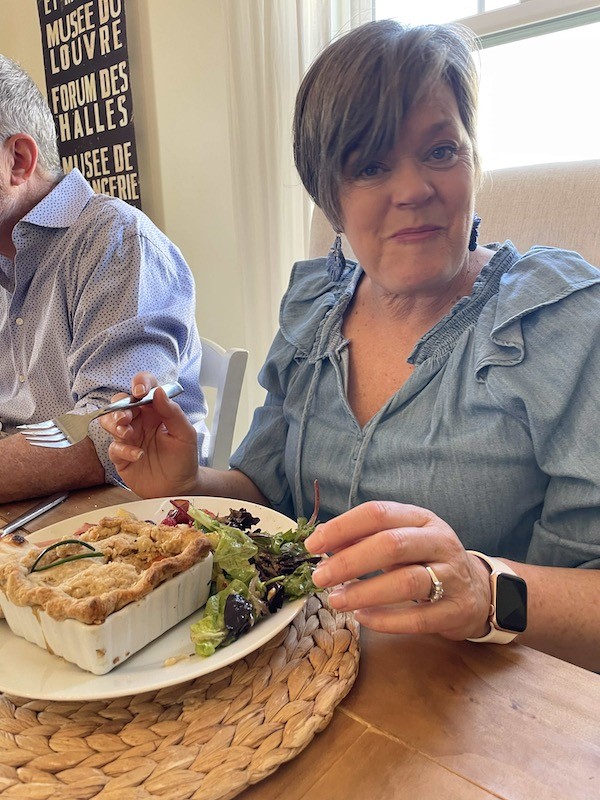 Shop for cooking items
Here is a list of cooking and table things that are similar to what I use. These are affiliate links and i make a small commission at no extra cost to you. This helps me keep this blog going and I really appreciate this.

Pin for later
Make sure to pin this to your Pinterest salad board. This is going to be one salad I will be making a lot this spring and summer!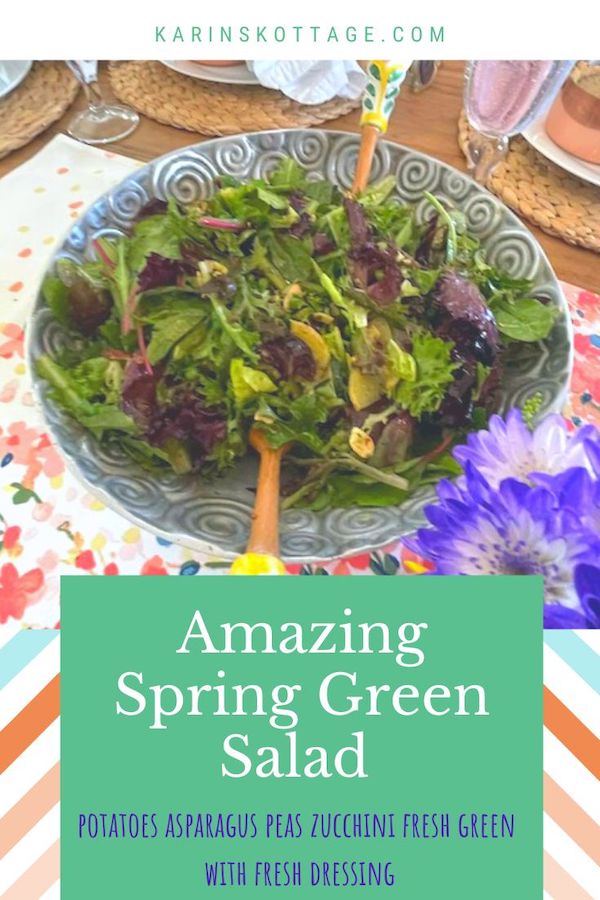 More Recipes
If you liked this recipe you will love these too