Two of our grandkids have birthdays in February and they decided they wanted a pirate themed birthday dinner party. It is funny because one is a girl turning 14 and the other is a boy turning 10 but they both love Pirates of the Caribbean movies. I decided to go for the Pirate treasure chest feeling in my dining room.
It is so much fun to put together these family birthday parties here at the Kottage. A few years ago I did another more simple Pirate party for our now 10 year old grandson. I made a fun Pirate ship cake for it. For our granddaughter last year or maybe it was the year before, she wanted a French Ratatouille themed birthday dinner party with the family. That one turned out really really cute! We have done so many fun birthday parties you can see most of them here.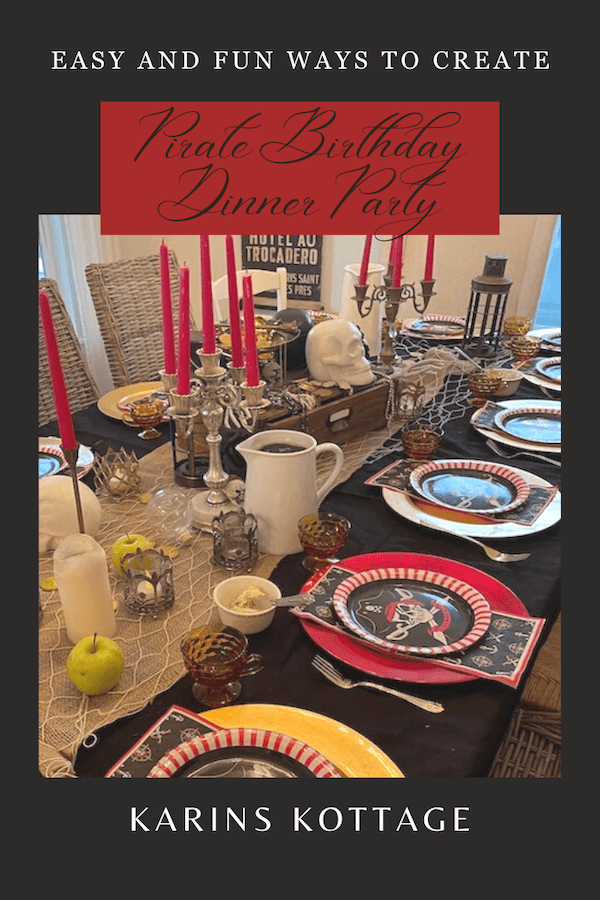 Setting up the pirate themed birthday tablescape
I started to create the pirate themed birthday party table with a large piece of black fabric as the tablecloth. I topped it with a piece of burlap as the runner. Then to bring in more of the sea shanty feel I bought some netting and laid that over the burlap.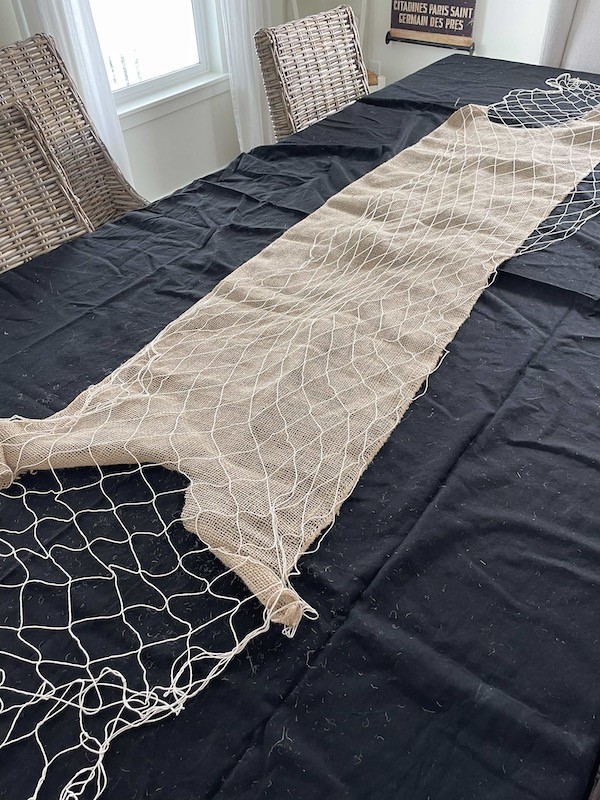 Treasure chest centerpiece
I brought out this wooden box from my craft room and used it to create a treasure chest. Luckily I have lots of old jewelry and bits and pieces and I laid them all over the top and some spilling out of the drawer.
I dug through my Halloween decor and found a few black and white skulls to put on the treasure chest.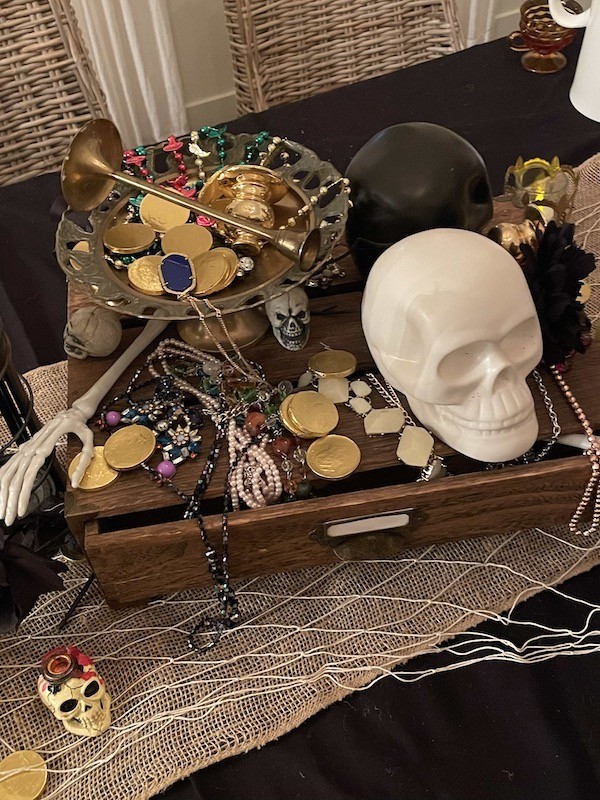 Plastic skeleton hands are placed in and around the treasure chest to bring in more of that Pirate's of the Caribbean Disney ride look.
A fun idea for a Pirate party is to have a photo booth. I show you how to make a simple Pirate photo booth using scraps of fabric here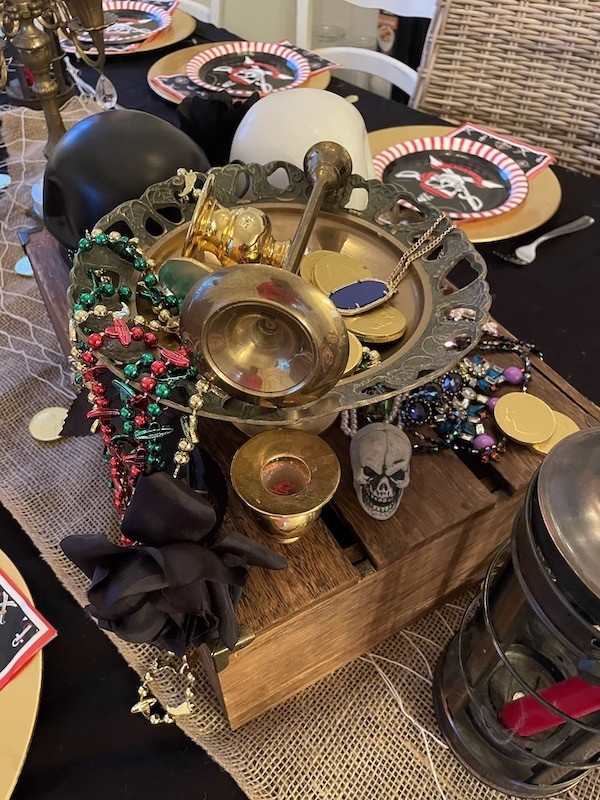 A thrifted brass footed stand was perfect to hold more jewelry, gold covered chocolate coins and a brass candlestick laid on its side.
More Pirate goodies on the table
I used some gold and silver votive candle holders and spread them out down the middle of the table. Two candelabras that I found at thrift stores hold red candles for an eery look. Mini skulls and black roses are mixed in here and there.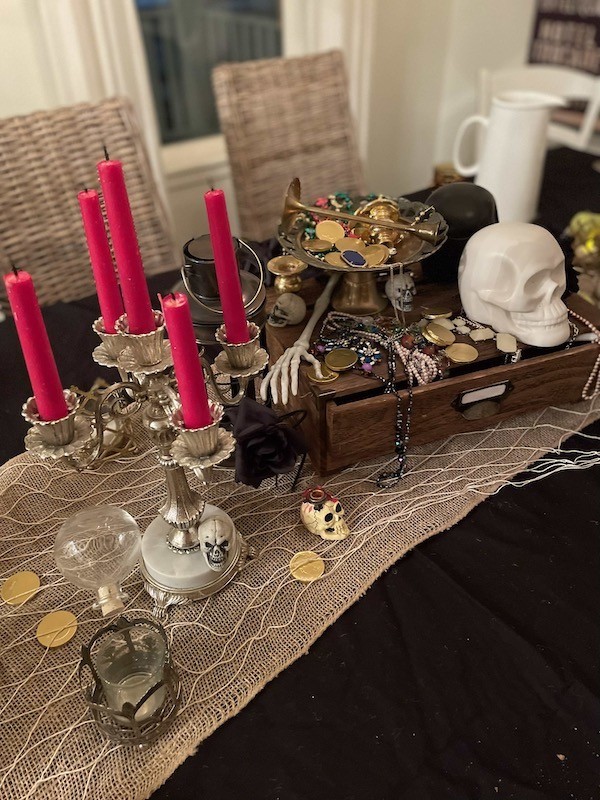 Sideboard and Chalkboard decoration
Over on my sideboard I have three wooden food serving stands. These are great to lift the food and make it stand out a bit. A mix of glass apothecary jars hold antique silverware and candies.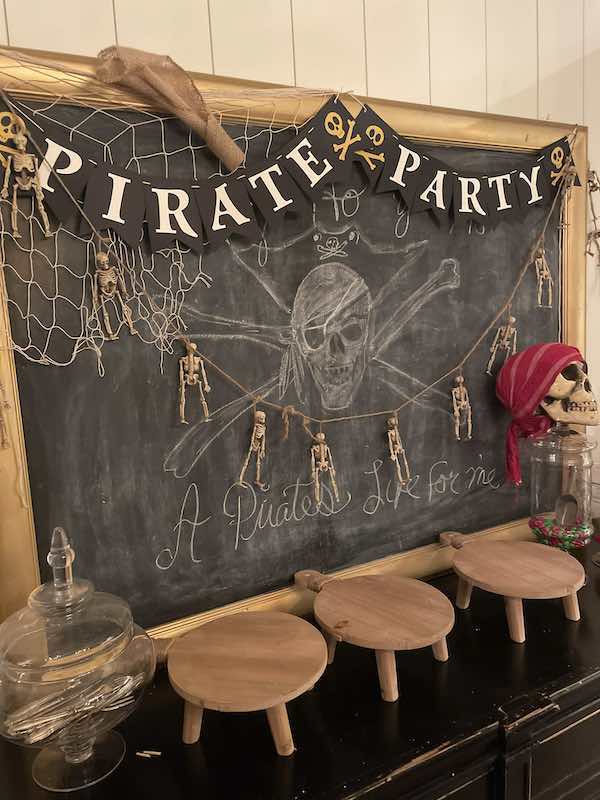 My daughter Emily created the pirate party banner using her Cricut machine and it looked amazing! We hung it over some of the leftover netting and a piece of burlap. Little bits here and there make for great decor. The mini skeleton banner and pirate skull with red scarf I borrowed from my daughter Madeline was the finishing touch!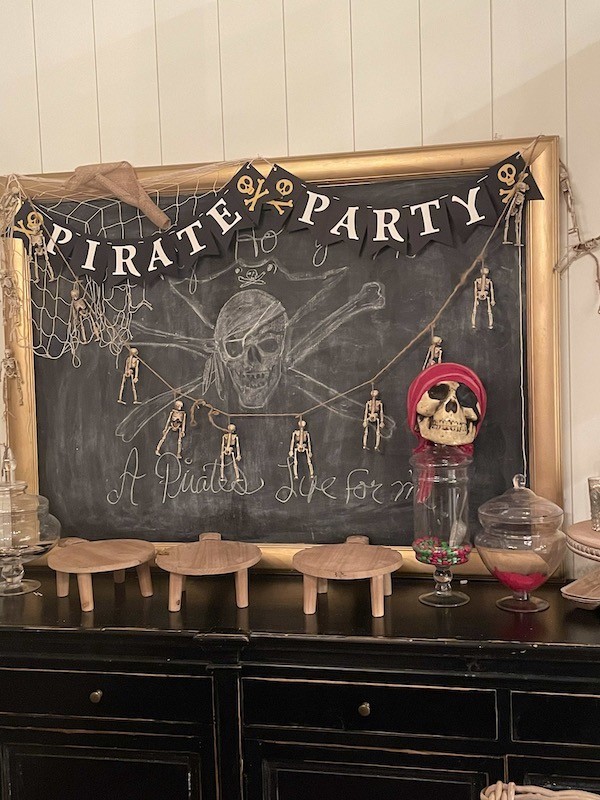 I drew the skeleton on the chalkboard to match the pirate face on the paper plates.
Pirate place settings
For each place setting I ordered pirate paper plates and napkins. They are so cute!
I placed a folded napkin underneath each plate and layered it on top of either a gold or red charger plate.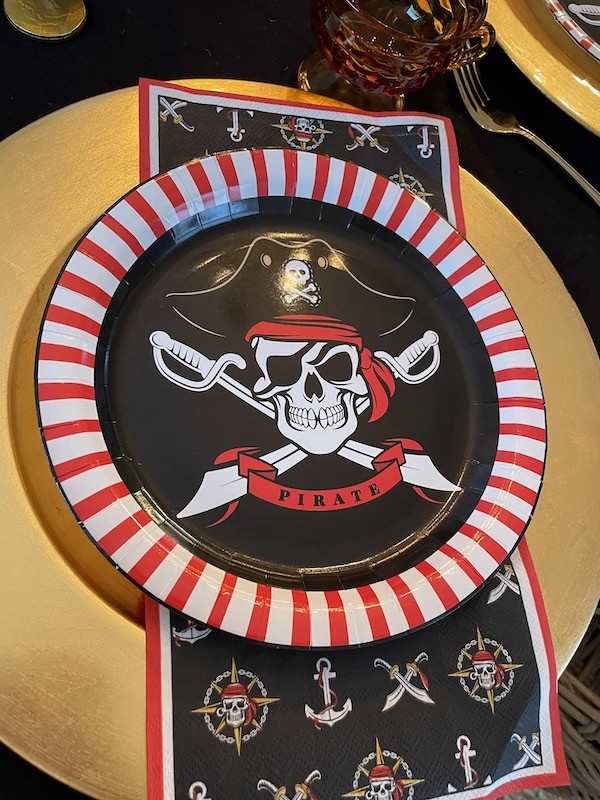 My sister had these amazing gold cups. They were perfect for serving grog (root beer) in.
The kids thought these were so cool to drink their root beer.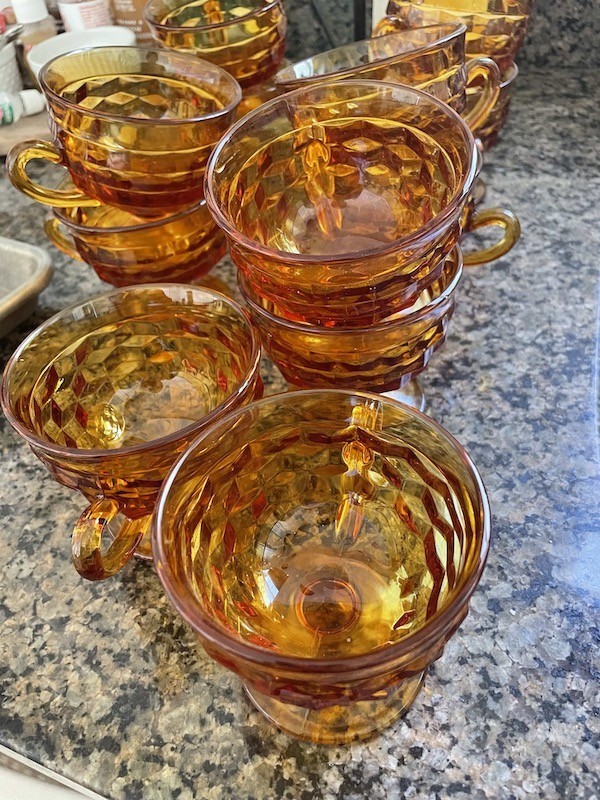 The table really turned out better than I thought it would just using things I had around the house. The only things I bought new were the paper plates, napkins, netting and some plastic pirate men to go on the cake.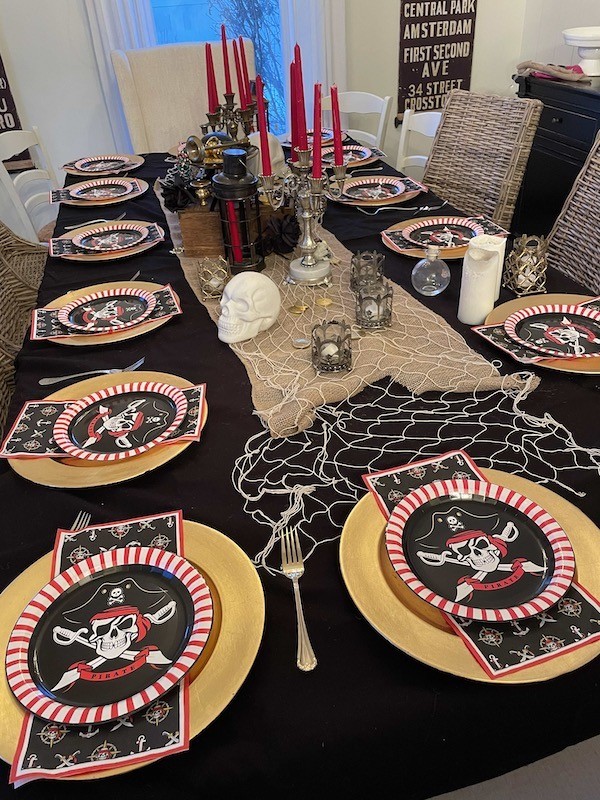 At the last minute I added green apples to the table. Do you remember the scene from Pirate's of the Caribbean when Captain Barbosa is trying to eat a crisp green apple. Barbossa and his crew suffered a living death, feeling and tasting nothing: "…drink would not satisfy; food turned to ash in our mouths."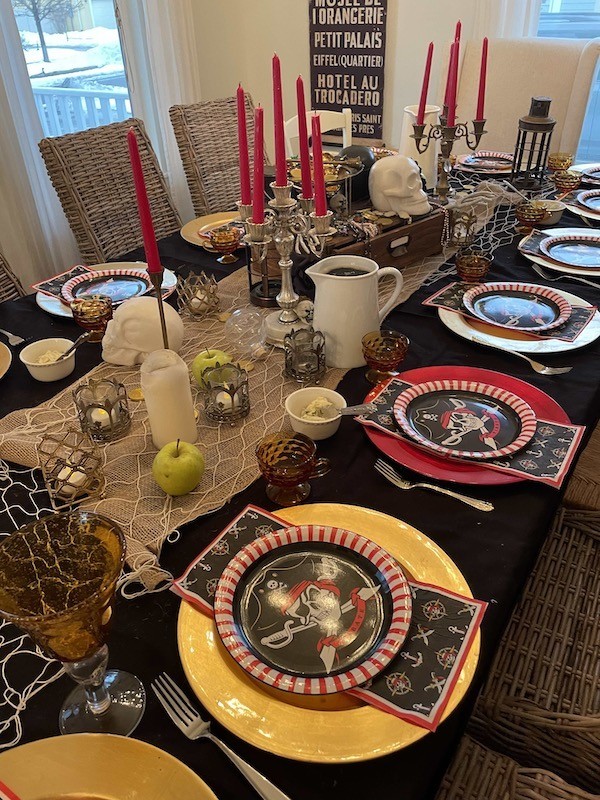 Pirate cake
Louis wanted a pirate ship cake surrounded by water with sea creatures attacking it. Plus he wanted some pirates on the top of the cake.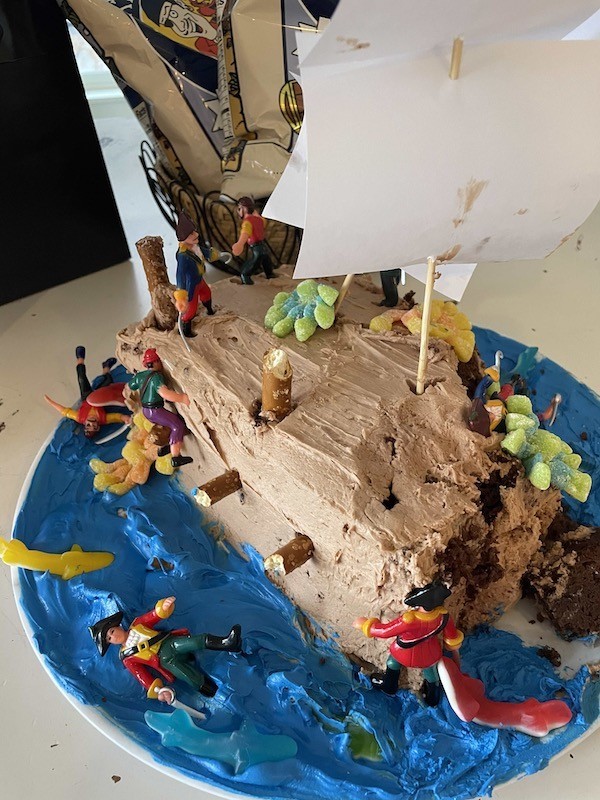 My son in law made the cake but one of his dogs got a little hungry and took a bit out of it! hahah So it is a pirate ship that was blasted on one end.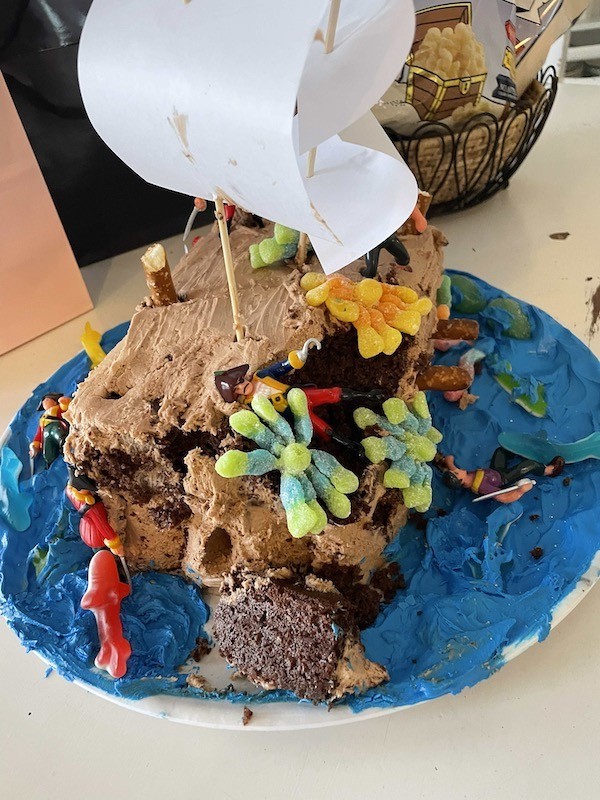 Shop Pirate Items
These are affiliate links and if you purchase any of these items I make a small commission at no extra cost to you. This really helps me keep this blog going and I appreciate it so much!