Easy directions on how to make a snowy mason jar candle holder
Here is the quickest way to make a pretty Christmas centerpiece. These snowy mason jar candle holders are so easy to make using Mod Podge for the holiday season. The snowy frosted look is made with kosher salt! I know how inexpensive can you get creating a DIY Christmas candle holder?
I am not only going to use them as my Christmas centerpiece but I am also going to put them outside on the porch leading up to the front door as luminaries! Cute huh! The mason jar can withstand freezing temperatures as well as hot temps from the candles so it is a win win!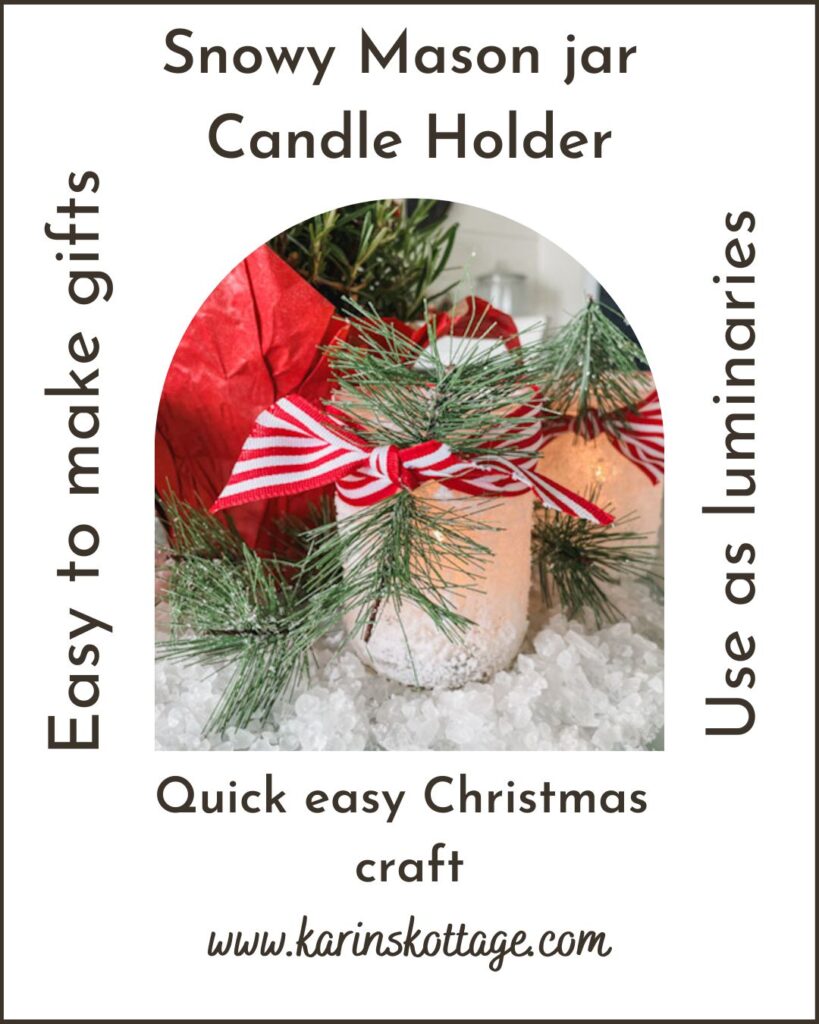 Items needed to make snowy mason jars
The basic supplies needed to make these are things you may already have laying around the house! I was able to repurpose my wide mouth mason jars that I used for the 4th of July. You can see how cute they looked here. I think if you don't have Mod Podge laying around you could probably use Elmers glue. Your kids can have fun making these too to give as gifts!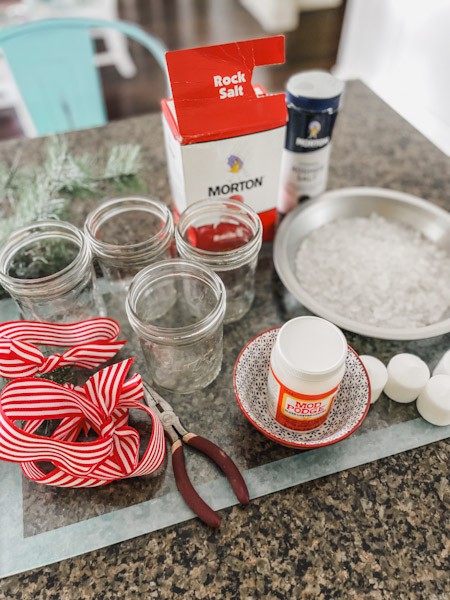 Wide mouth mason glass jar or multiple jars depending on how many you want to make.
Mod Podge
Rock salt
Kosher salt or Epsom salt
Faux or real greenery
Red and white striped ribbon or your choice of ribbon
Real votive candle or tea lights
Quick simple steps
You know I love an easy craft project and this one literally took me all of about 20 minutes to make including clean up! You are going to love these DIY Christmas candle holders!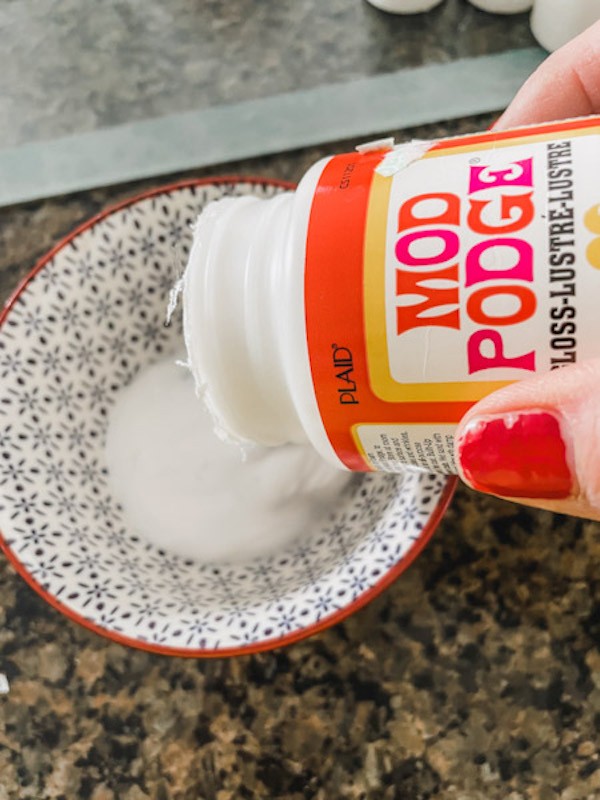 Because I did not have a paint brush handy I used a little rag to wipe the Mod Podge all over the outside of the glass jar including the rim of the jars. After the first jar I just used my hand to wipe the glue all over the mason jar.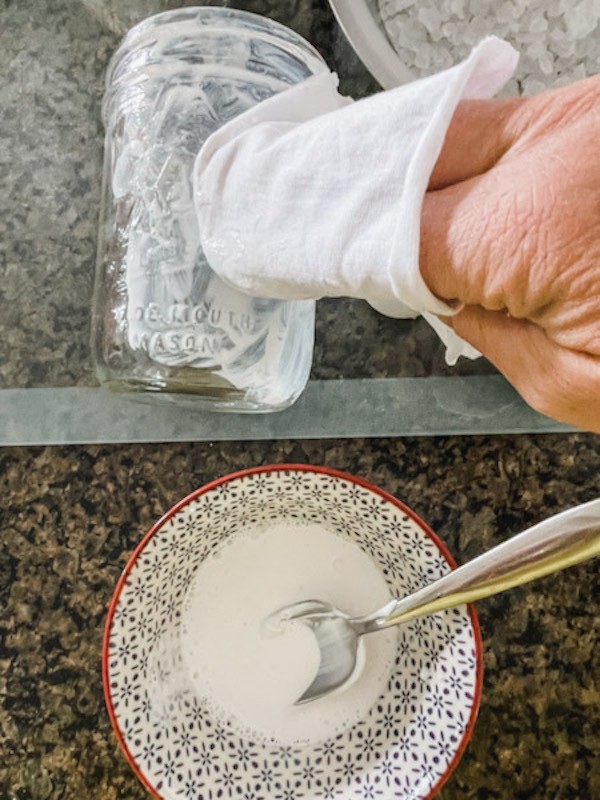 It made me feel like I was back in grade school getting my hands all dirty haha. I started with a thin layer but decided a thick layer worked much better to help adhere the rock salt.
How to add the salt
Next I rolled the glued up mason jar into a pie pan filled with rock salt. The rock salt is really just a bit too big to adhere. I thought about running some of the salt in my food processor but I was pressed for time so I didn't try it.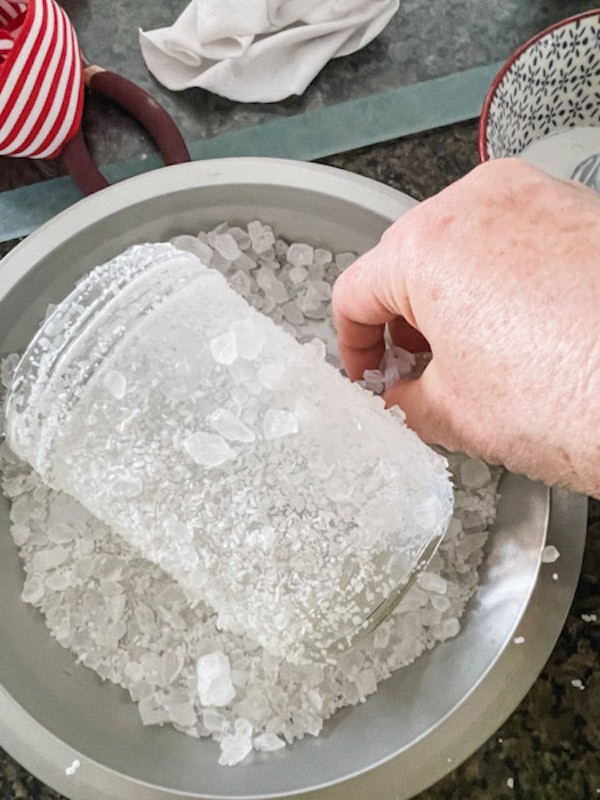 Thicker pieces of salt would make them look extra special but in the end the kosher salt worked the best. I have heard of others using epsom salt and that works great too.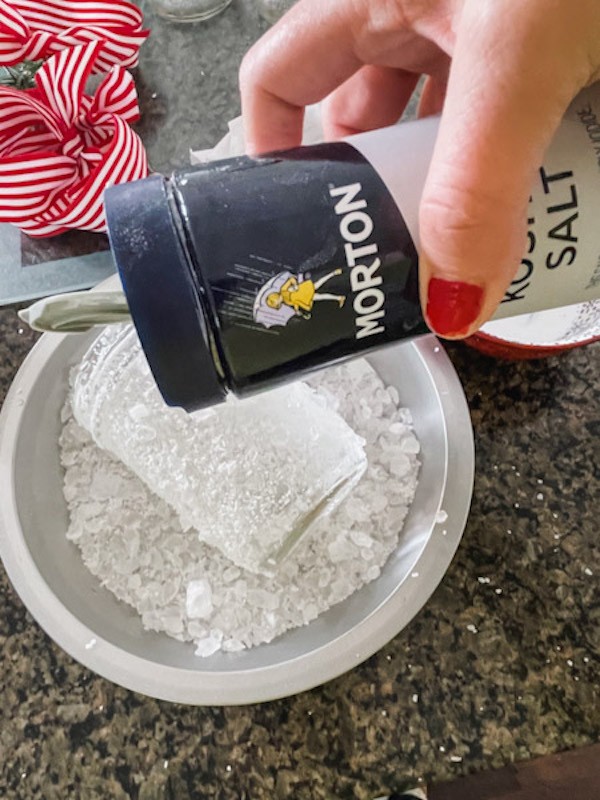 Simply sprinkling the kosher salt all over the jars all the way to the top of the jar worked the best. You don't have to worry about covering any of the inside of the jar just he outside. After they are done you could put some rock salt in the bottom of the jars to hold the votive or tea lights in place better.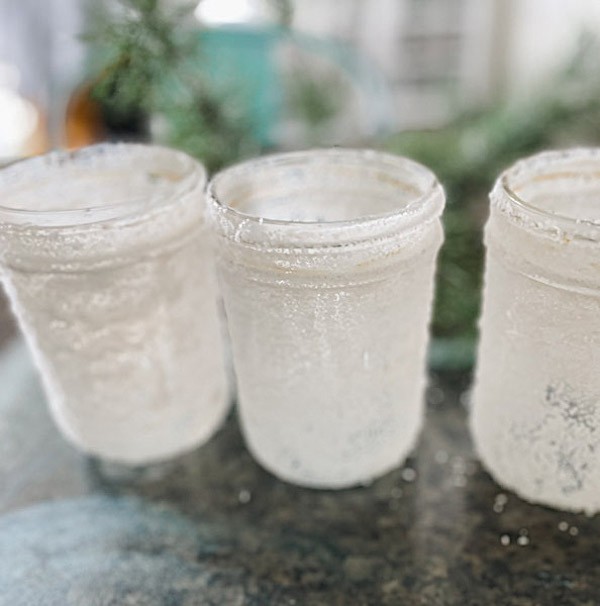 Let the glue with with the salt on the mason jars dry. It did not take very long at all. In fact they may have still been a wee bit wet before I added the ribbon on. I was in a hurry.
Decorating the outside of the snowy mason jar candle holder
Preferably once they are dry add some Christmas ribbon to the outside of the jar. I simply tied my red and white striped ribbon in a knot.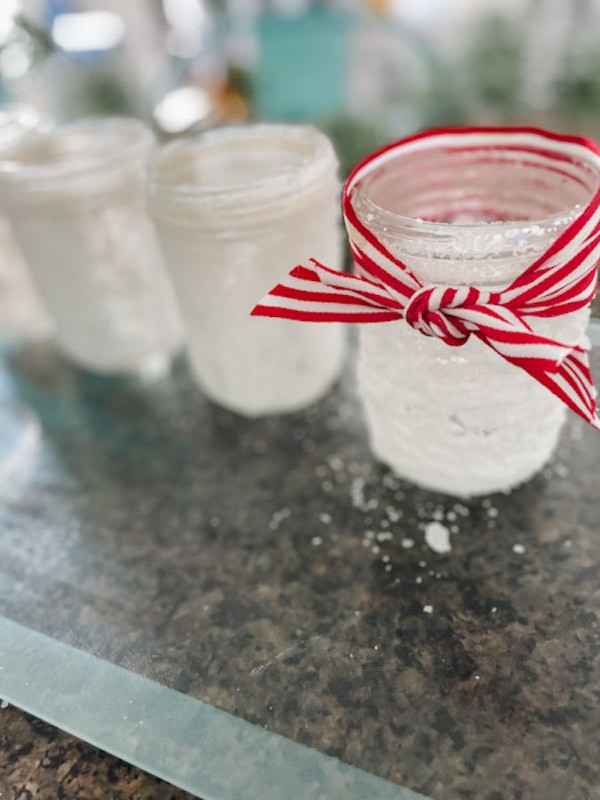 Then I added in some faux greens using some hot glue. I used two sprigs on two fo the candles and one glued at the top of the other two mason jars. It looks like mini Christmas trees on top of the ribbon when done like that.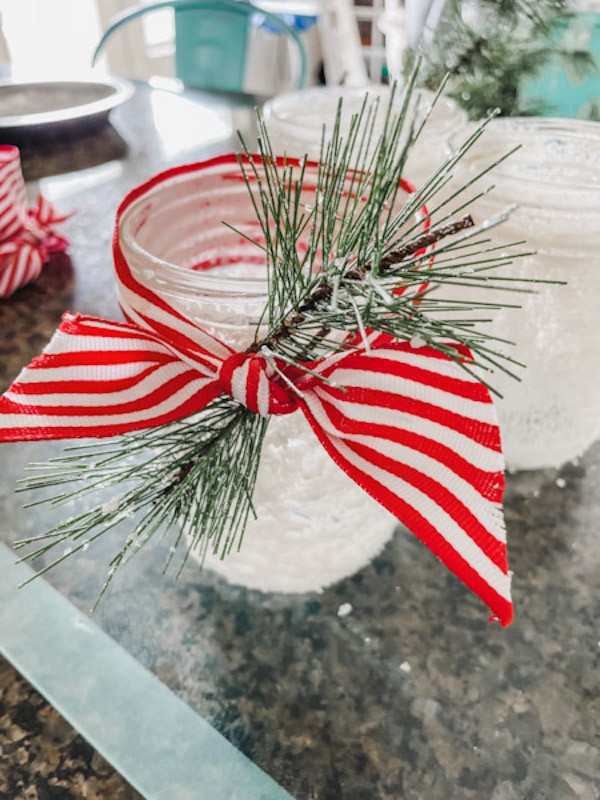 A fun way to bring in some Christmas smells would be to cut a few snippets from your live Christmas tree and glue them to the ribbon. The heat from the candles would bring in the pine aroma!
Creating Christmas centerpiece
Here is how I created the centerpiece. I used a glass cutting board and sprinkled the rock salt all around the snowy mason jar candle holders. It really looks like snow!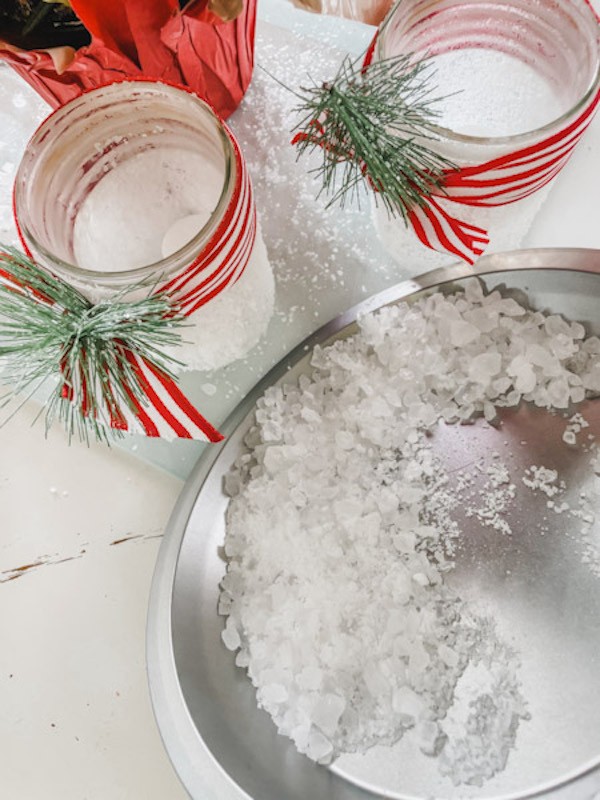 Then I added my potted rosemary plant in the middle. The faux greens I cut off of a sprig I had and laid them all around to create a winter scene.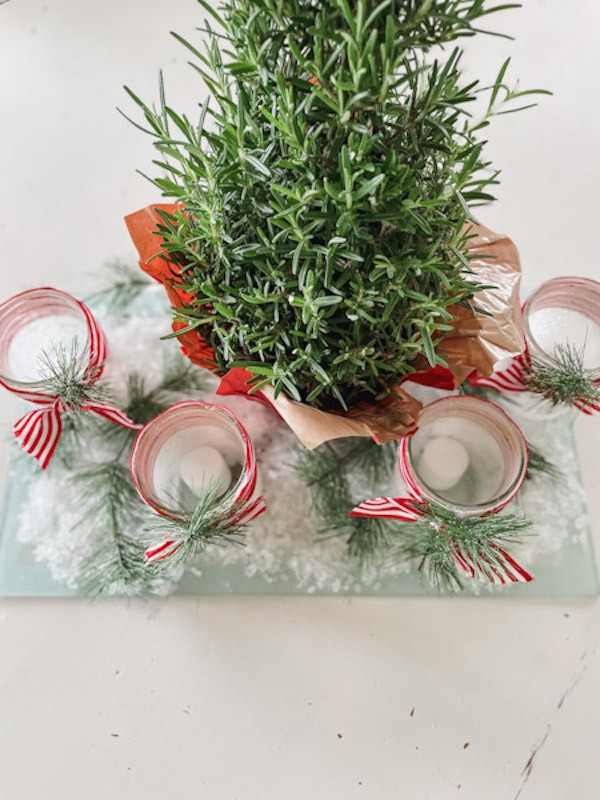 Creating Decor is fun
I just love creating Christmas decor especially when it is quick, easy and inexpensive. For this Christmas season I am decorating more simplistically. In fact I still have lots out in my garage that I haven't even brought in this year! I am enjoying going a little lighter this year and enjoying spending more time with the family.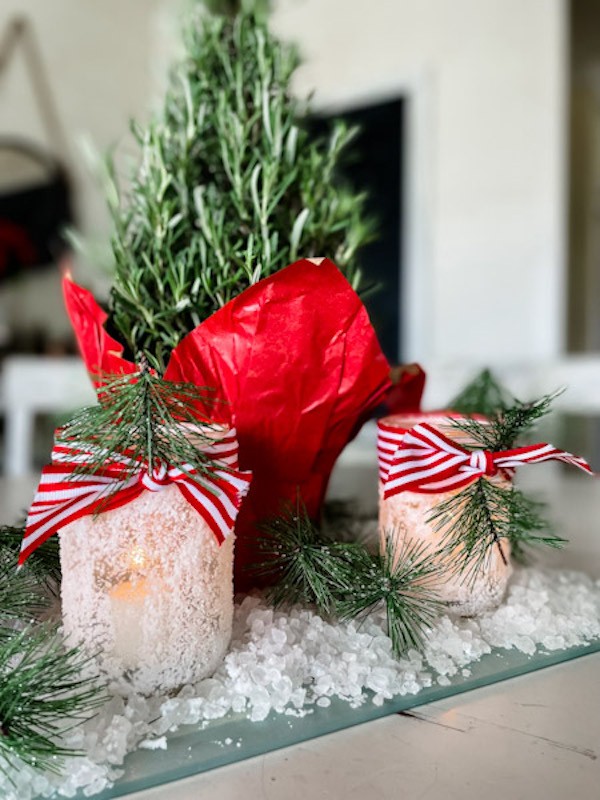 Lighting my real candles just made them all glow. I can't wait to see what they look like when the sun goes down. On Christmas eve when the family comes over I will put them outside on the steps coming into the house to make it feel even more special 🙂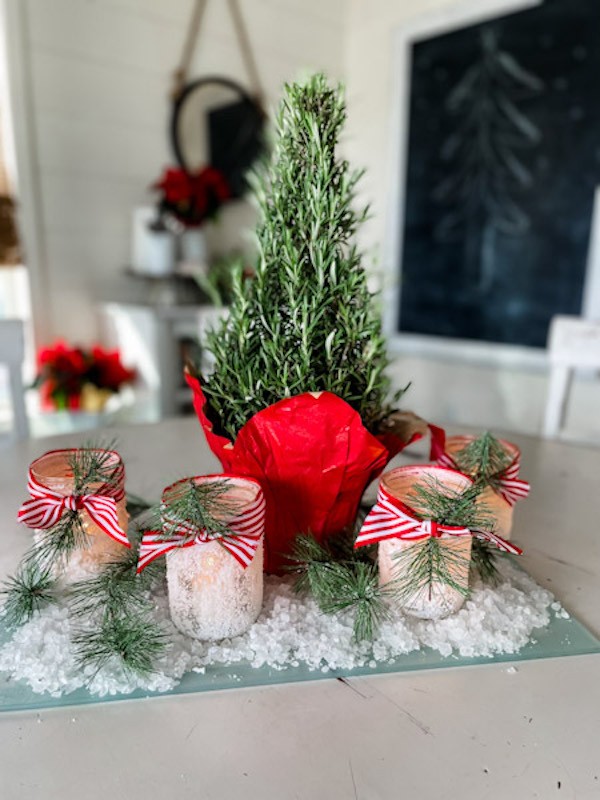 More Christmas posts
Fluffy anthropology knock off yarn wreath
How to put together a simple Hot chocolate bar
Karins Kottage Christmas Home Tour
Shop Christmas Things