I have seen so many cute ideas for how to create a DIY Hot Chocolate Bar. I decided to share how I created my own DIY hot chocolate bar that is one of my favorite things to do at Christmas. My hot chocolate bar ideas are perfect for holiday parties and super easy to create.
My 3 tier metal cake stand is the star of the show. It is perfect to fill with all kinds of goodies.
I love the idea of elevating the hot chocolate cocoa toppings to make it look and feel special. Tucking in live greens underneath the 3-tier cake stand brings in a little more Christmas feel and smell.
Create a hot chocolate bar with yummy toppings
Your guests will love all the different options in this hot chocolate bar set up for a winter day. Using fun toppings like, mini candy canes, M & M's, chocolate kisses, snowflake sprinkles and a little shaker of cinnamon is a great way to add in some yumminess to a cup of hot cocoa.
You will need a hot chocolate recipe that you can make and keep warm. Here is one of my favorite Hot chocolate recipes that your whole family will love.
Tips for marshmallows
Tip- Keeping mini marshmallows in a small white bowl with a lid will help to keep them fresh.
If you don't keep them in a bowl with a lid they dry out and become hard as rocks! You could even make some homemade marshmallows. Martha Stewart has a great recipe for making some here.
Serving your sweet treats
My black and white polka dot plates are perfect to hold cookies or donuts or any other of your favorite sweet treats!
Speaking of donuts you will love my Snowman punch bowl and donut topped bottles that I created!
I used melted chocolate to create the face on the punch bowl! Kids will love this! Something else that goes perfect with a hot chocolate bar is a big batch of hot chocolate chip cookies!
I have a scrumptious chocolate chip recipe here that you must try! There is a secret ingredient in them that you would never think of using but it really makes a big difference.
Using a 3-tier stand set up a hot chocolate bar
I filled the middle tray with a strand of green garland to nestle my little red and white striped bowls filled with some of the different toppings.
Here is a great idea- Just by adding in red beaded garland in the cake stand, allowed the bowls to stand still and not slip and slide. Adding in Christmas cupcake toppers to the little bowls filled with Hershey's kisses is the easiest way to bring in holiday cheer to your hot cocoa bar.
For the top area of the 3-tier stand I used a tiny vase to hold larger candy canes and a few red and green M&M's plus a few red Christmas ball decorations.. A fun ideas is to add in a faux mini Christmas tree.
More Hot chocolate bar ideas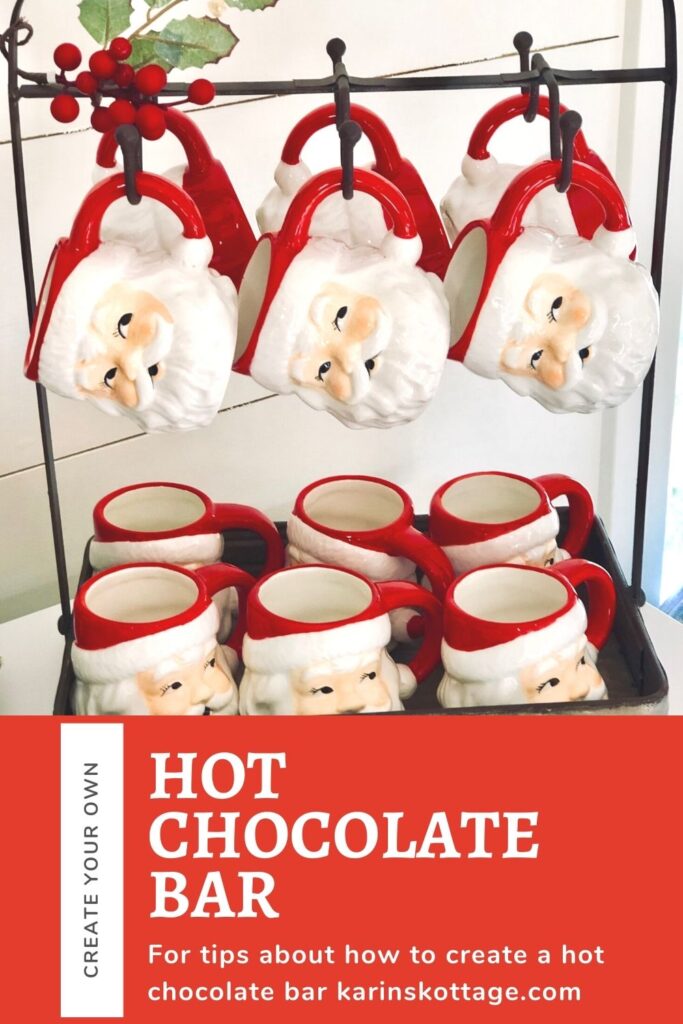 I created the ultimate Hot chocolate bar using retro looking Santa Mugs that really turned out cute.
Creating your own hot cocoa bar with whipped cream is the best way I know of on how to beat the winter blues. Don't you agree?
If you are having a big Christmas party I would opt to use some disposable paper cups. Make it easy on yourself by not having to do lots of dishes.
Hot cocoa bar labels
These darling "cup of cheer" labels are a free download from the blog Yellow Bliss Road Blog . 
Such a cute addition to your hot cocoa mugs! Use them to tie around your mugs with some bakers twine for a cute look.
Using bakers twine to wrap up food gifts for my neighbors is one of my favorite thing to do. I made these herb butters and tied them with the bakers twine to give as neighbor gifts!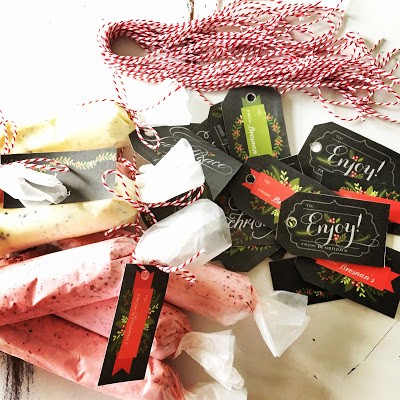 I also used bakers twine when I made the best ever pumpkin chocolate chip bread for Thanksgiving. Bakers twine is perfect to use on your Christmas packages too. It just adds a little nostalgic feel to your gifts.
I love this time of year sitting by the fire drinking a nice cup of hot cocoa. Christmas eve or Christmas parties are the best time to have some dear friends over to share your favorite hot chocolate mix recipe with.
There is nothing quite as satisfying as a delicious cup of hot cocoa at this time of year. I hope these ideas will inspire you to create your own DIY Hot chocolate bar in your home. I would love to see some pictures of your hot cocoa bars. You can post your pictures on my Facebook group called Seasonal tablescapes. Sharing ideas on how to create Hot cocoa bars is so much fun.
There are so many different ways to create a hot chocolate bar so why not share your ideas.
Cheers!
Karin
Shop This Post