What do you do with leftover pieces of ribbon? Today I am showing you how to make a patriotic red white and blue ribbon wand! They are so fun to to use for decoration as well as a fun non lit firecracker! I made some peach, pink and white wedding ribbon wands for my daughters wedding reception that you can see here.
I made this ribbon wand for my granddaughter who is almost 4. Whenever we do sparklers during the summer the youngest grandchild is always nervous holding a sparkler. You know how the little sparks tend to hit your hand? It kind of freaks them out. I wanted her to be able to be part of the fun without having to worry about holding a lit sparkler. A ribbon wand is the perfect answer!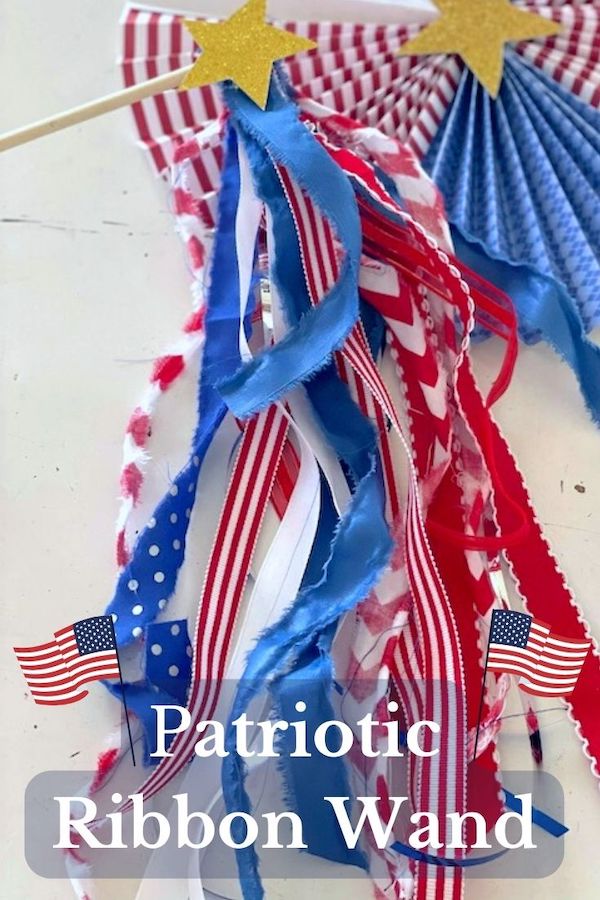 Items needed to make the ribbon wand
Lots of red, white and blue ribbons of all kinds. (Most of my ribbons were leftover pieces) 
I used all different types of thicknesses and textures of ribbon including sparkly blue cellophane type ribbon. It kind of represents flickers of light.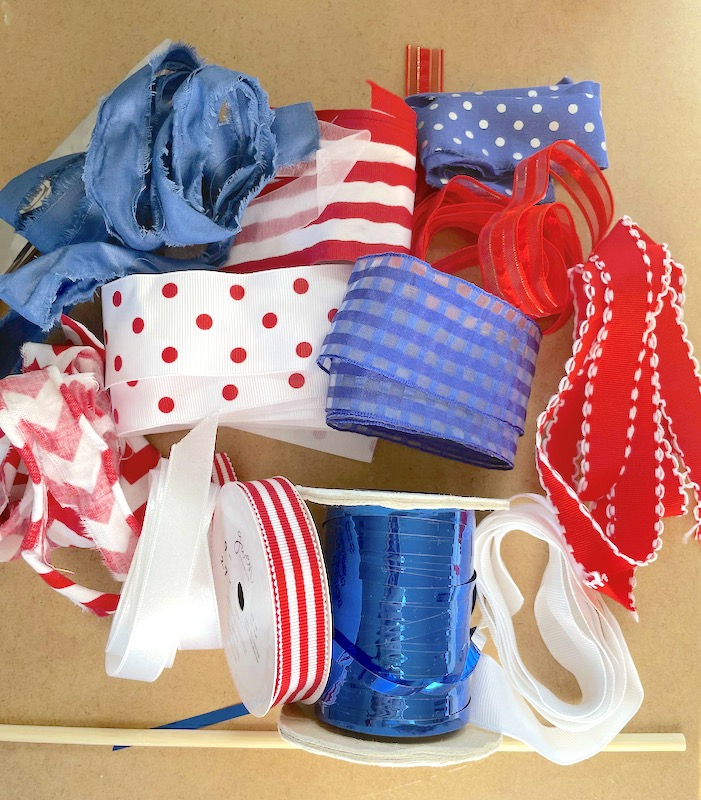 Scraps of blue fabric (torn into skinny strips)
Scraps of red and white fabric (torn into skinny strips) I just clipped the fabric and then tore it so the edges are rough.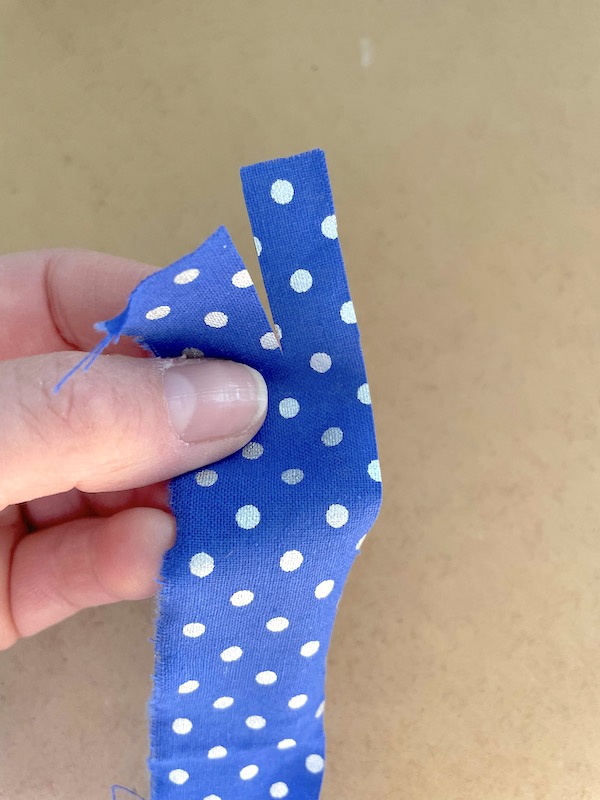 Skinny dowel
Hot glue gun and glue sticks
Gold sparkly scrapbook paper
Cutting Ribbons to make patriotic ribbon wand
Cut ribbons to the lengths you want. I cut mine into multiple lengths.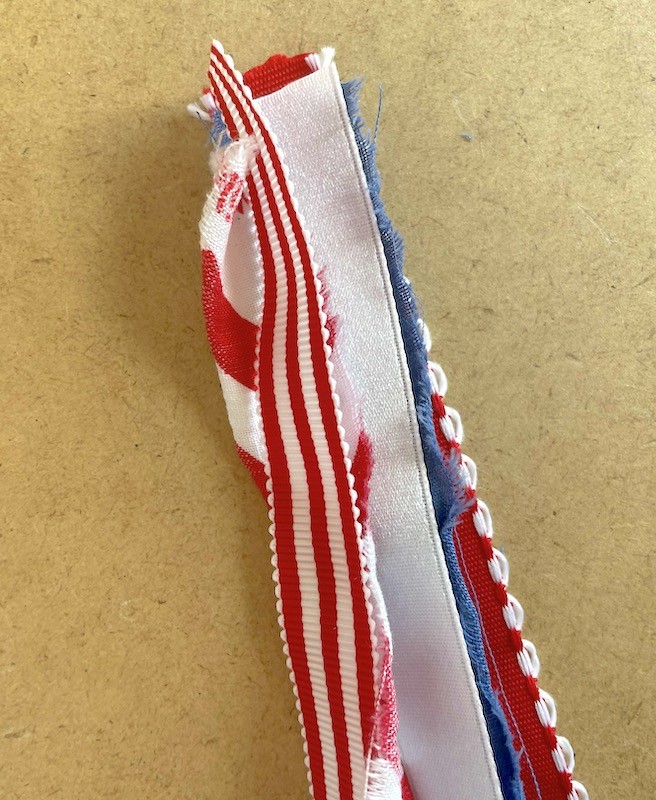 The longest lengths were cut around 14"-16' in length. I cut shorter ones around 6"-12" in length.
Having different lengths makes it more fluffy rather than having them all the same length..
How to connect the ribbons together
I decided to stitch bundles of ribbon together using my sewing machine.
Hot glue could also be used.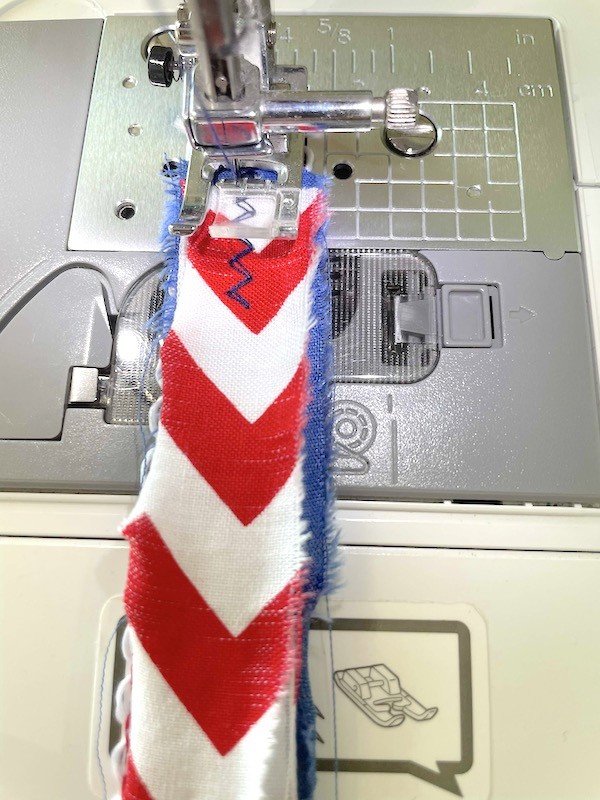 I placed 5-6 ribbon strips on top of each other but offset of each other so it would not be so thick.
Then I just zig zagged down the middle about 1 1/2"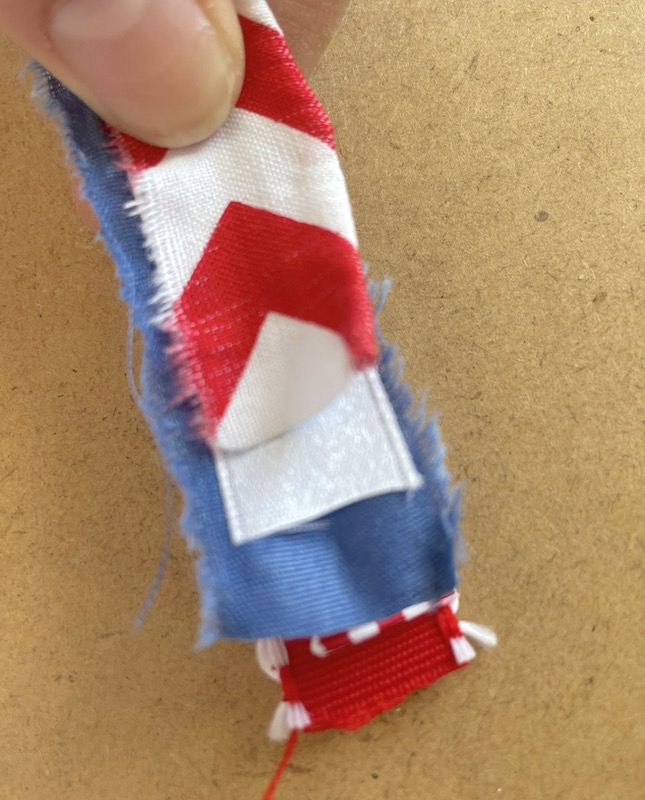 I made 3 different bundles using different red white and blue ribbons and strips of skinny fabric.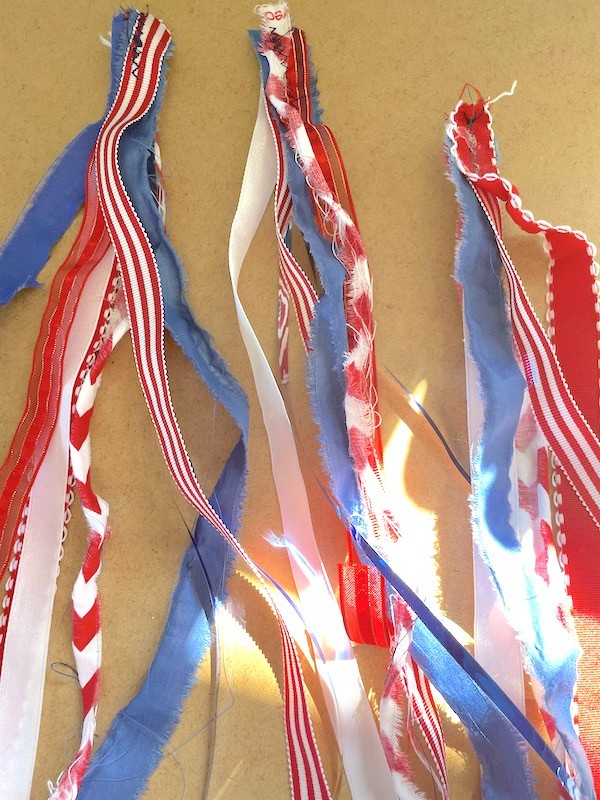 To create one bigger bundle, I zig zagged all three bundles together.
I know it looks messy but we will cover it up.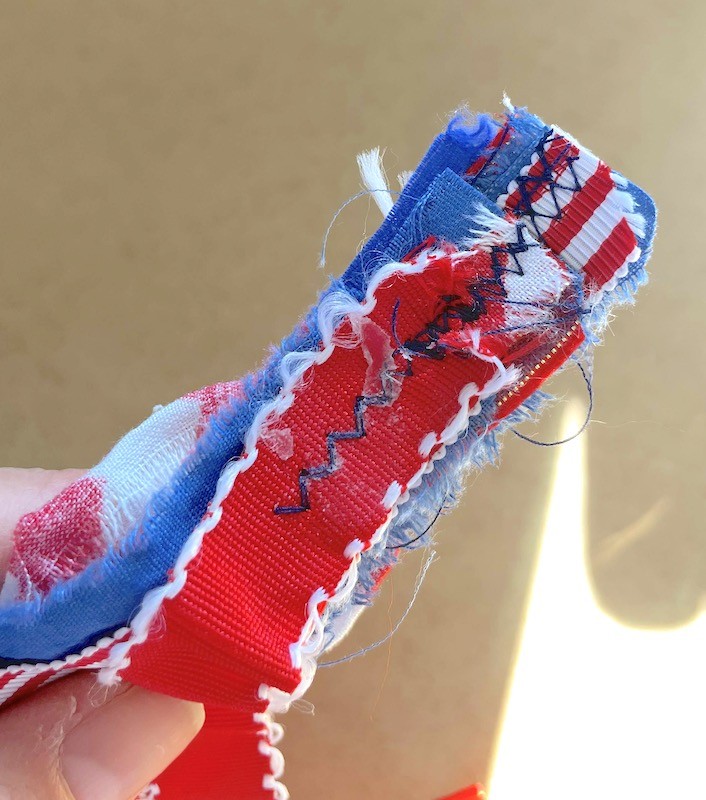 Attaching ribbon bundles to dowel
To finish the Patriotic red white and blue ribbon wand it is time to hot glue it onto the dowel.
I added hot glue all around the top of the dowel and wrapped the bundle of ribbon around the hot glue.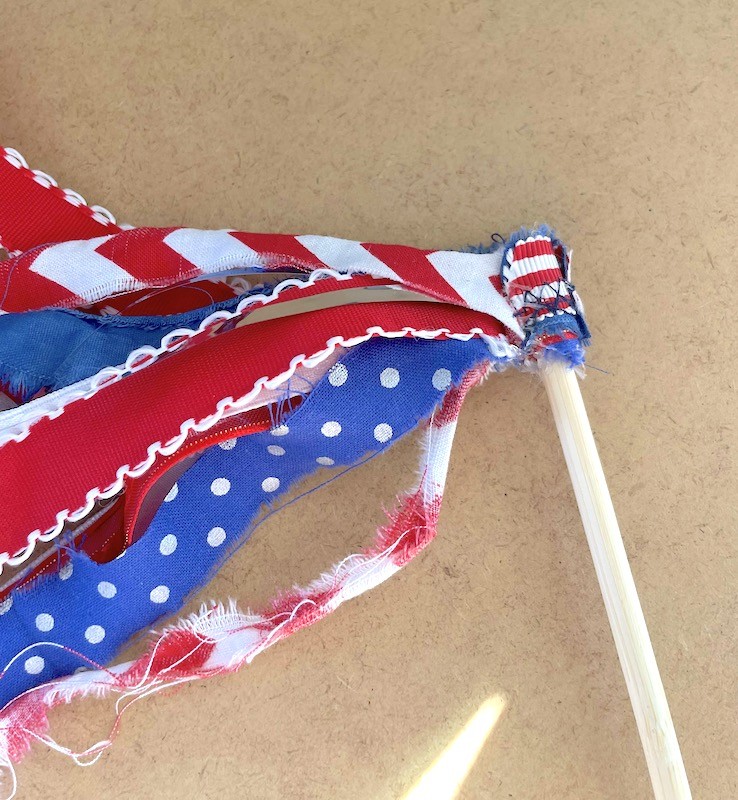 It looked a little messy so I added one short strip of blue fabric around it to make it have more of a finished look.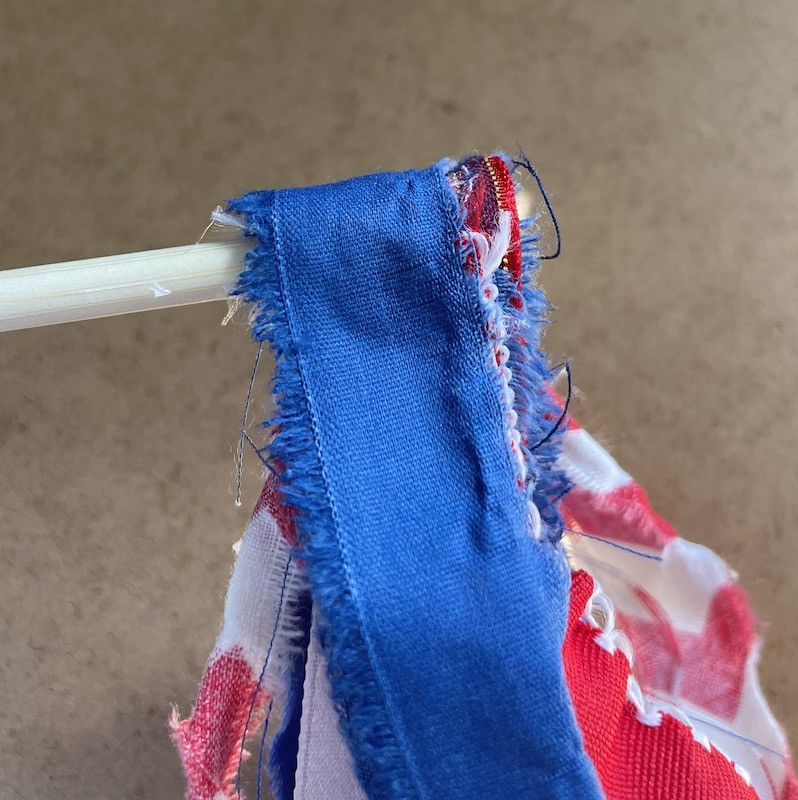 (You know…like my 4 year old granddaughter would notice haha) 
Adding a star
I cut a star out of some gold sparkly scrapbook paper.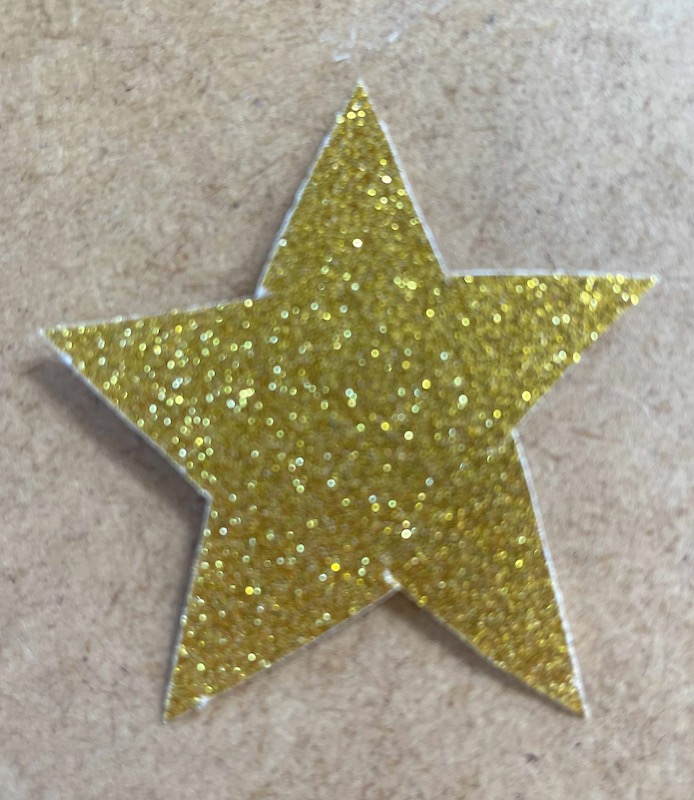 Add a dab of hot glue to the star and attach it to the blue strip. 
The finished patriotic red white and blue ribbon wand
I think my little granddaughter is going to love this fun ribbon wand.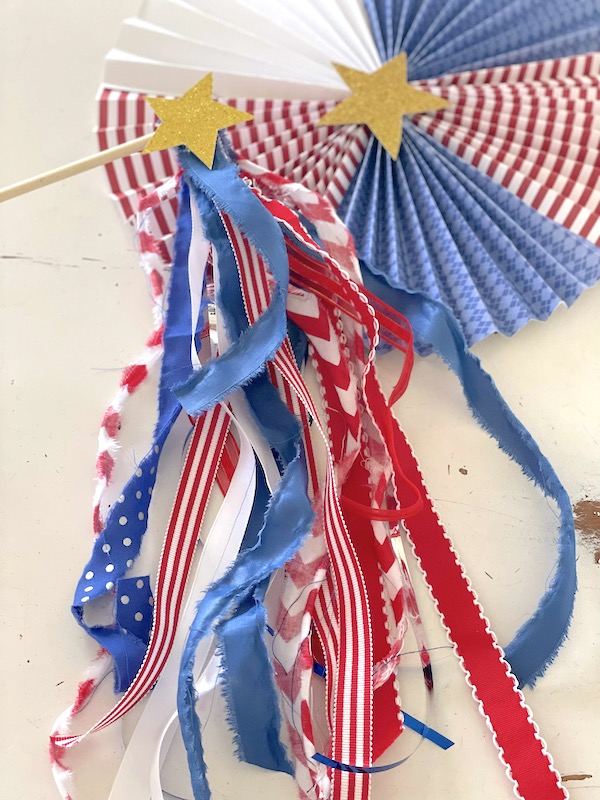 No more worrying about hot sparks hitting her hand.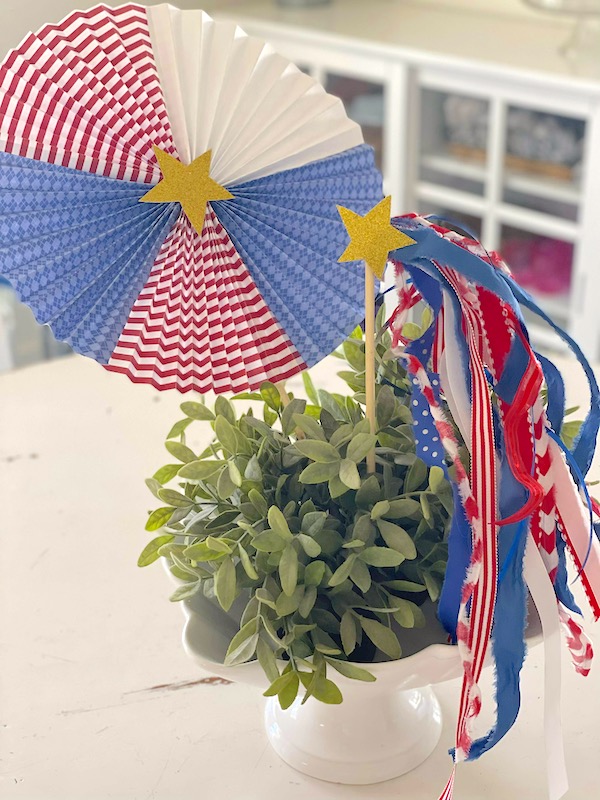 More red white and blue patriotic posts
Red white and blue old fashioned chip bags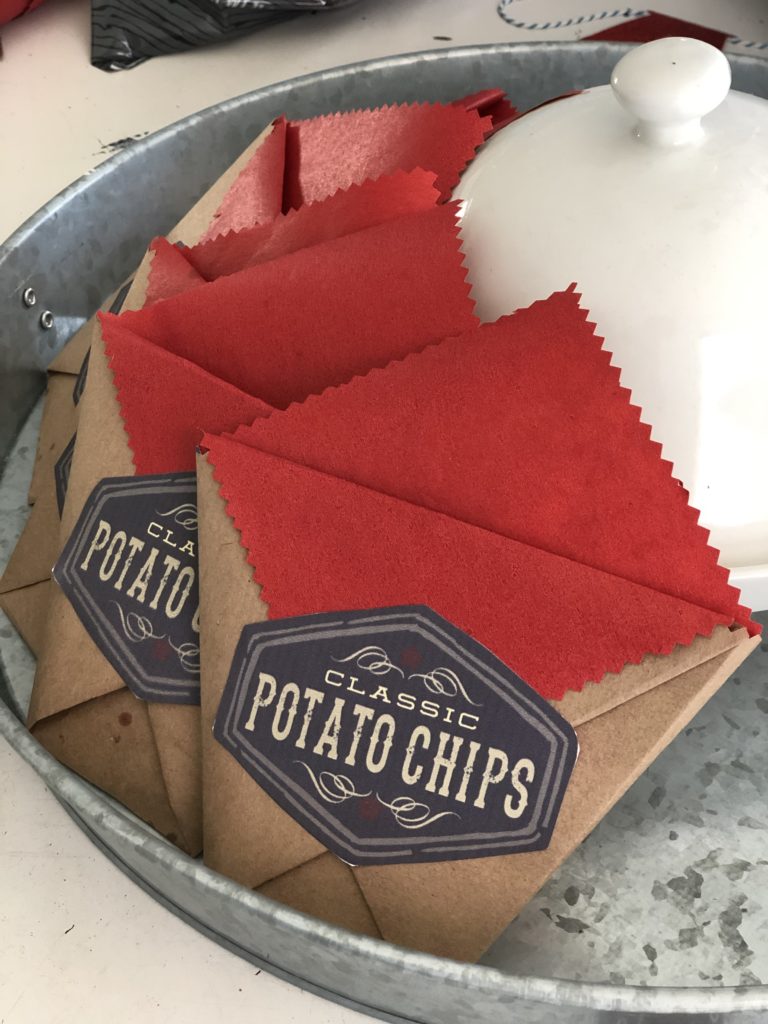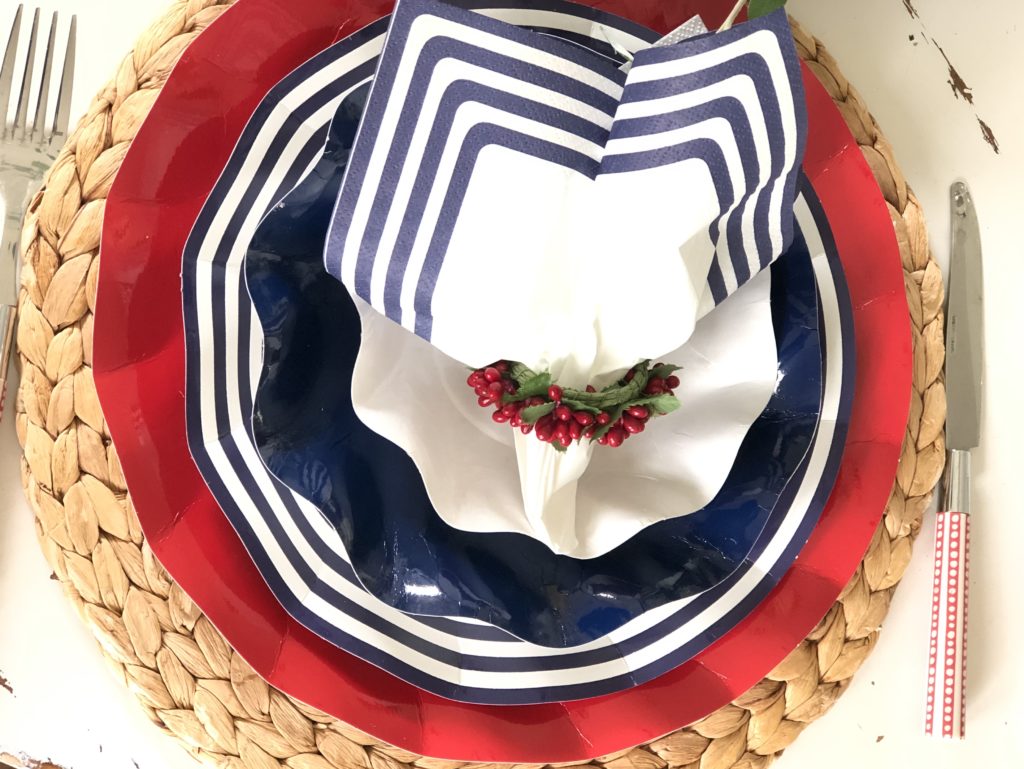 My favorite red white and blue things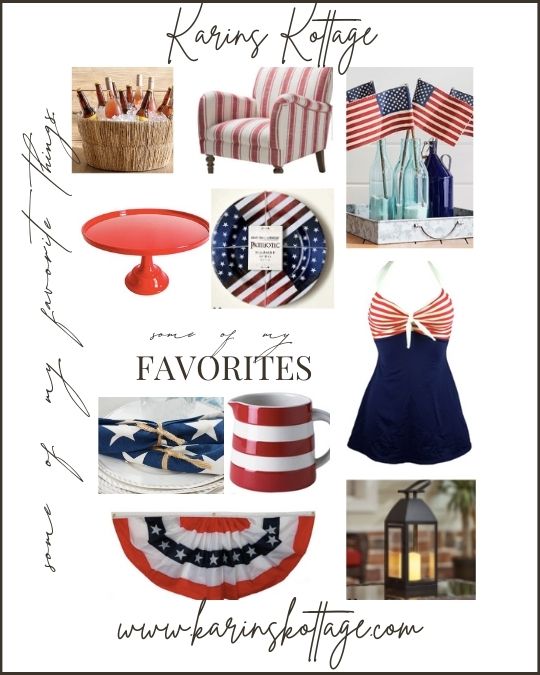 Layered lemon cake with strawberries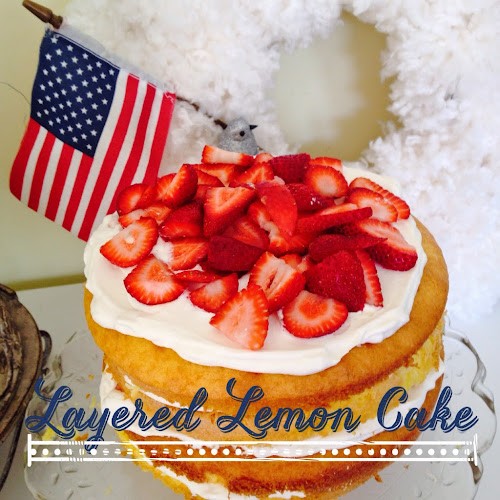 Follow Me
Follow my 4th of July Pinterest board
Stay up to to day with me on Instagram for daily posts
Shop