Making a patriotic paper pinwheel fan is such a simple fun paper craft that is perfect this time of year. You can make them smaller or large. You could make a bunch of smaller ones and create a wreath like this one from Craft warehouse. Either way the great thing is that they always add a nice pop for your Memorial day or 4th of July festivities.
Today I am going to show you how to make a patriotic paper pinwheel fan with some scrapbook paper I had leftover in my stash.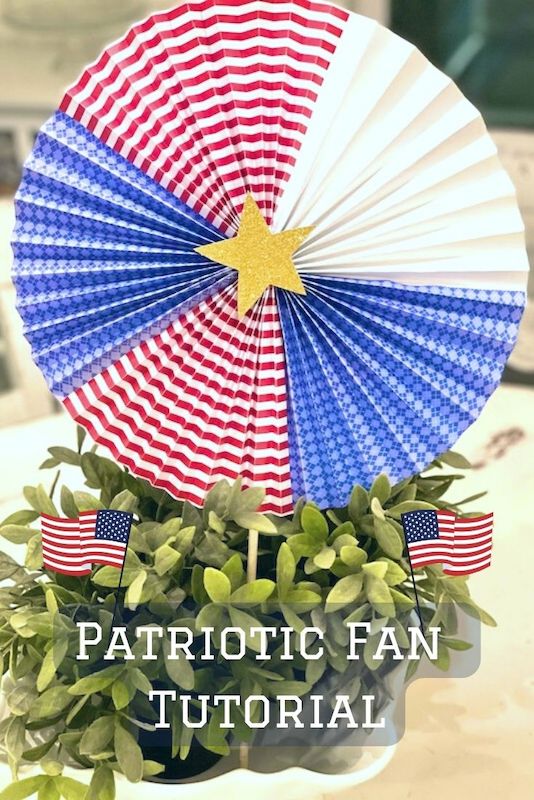 Items needed to make paper rosette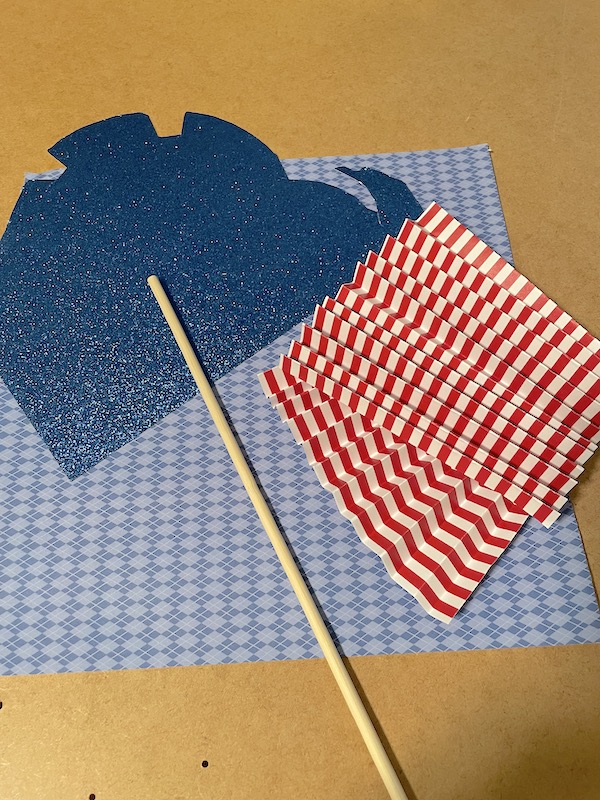 3 sheets of Scrapbook paper in red white and blue colors
Gold or blue glitter scrapbook paper
hot glue sticks
Skinny dowel (optional)
Easy directions for patriotic pinwheel fan
To get the correct sizes, start with a 12″ x 12″ piece of scrapbook paper.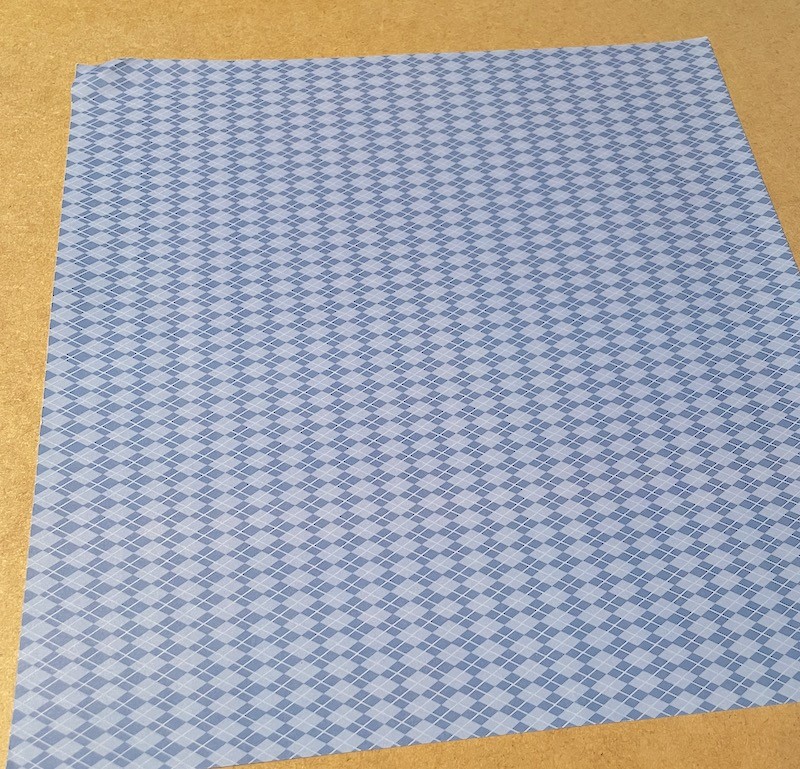 Next fold it in half.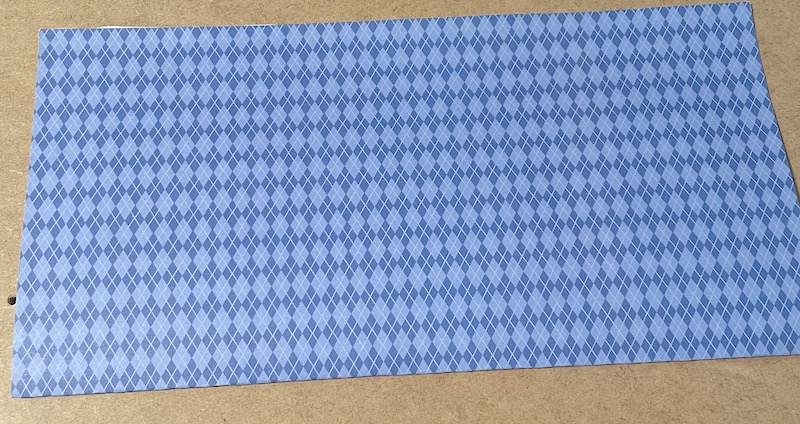 Then you need to cut this in half so that you have two pieces.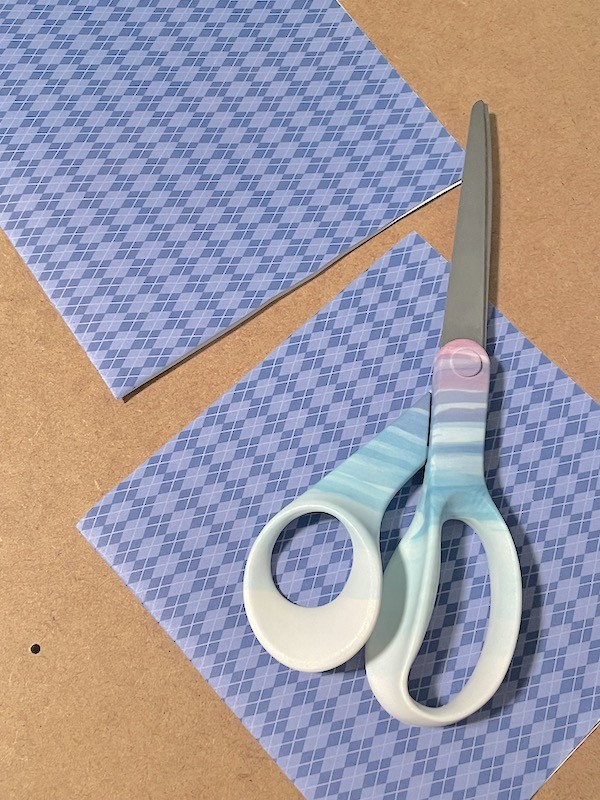 You will have two 6″ x 12″ pieces.
Starting on the short end begin folding the paper accordion style. Approximately 1″ folds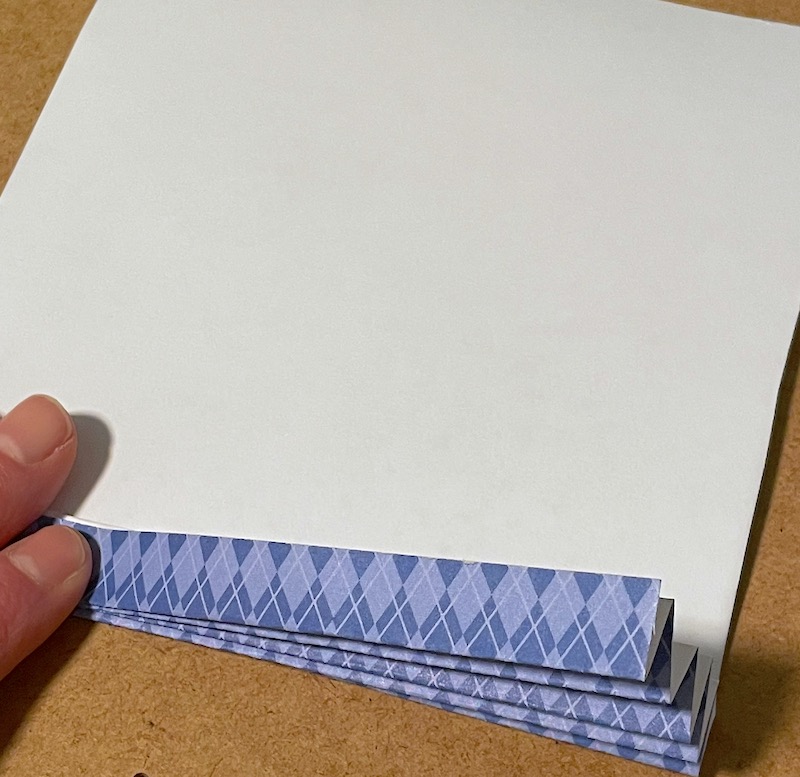 I used two pieces of blue patterned scrapbook paper, two pieces of red and white striped scrapbook paper and one of just plain white scrapbook paper.
You will need 5 folded pieces.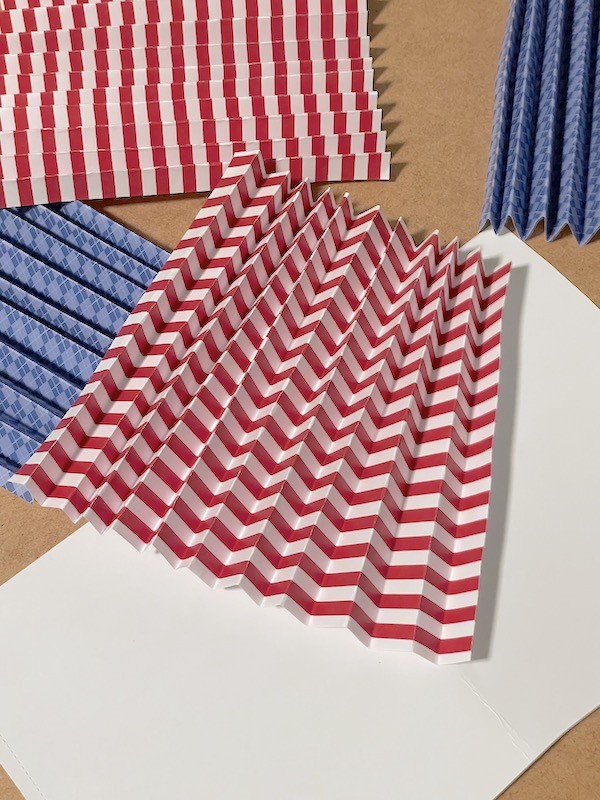 Decide which way you want your colors to be. I wanted just one white area and alternate the red and blue areas.
I love red white and blue decorations and crafts. Here is a cute old fashioned red white and blue little chip bag you can make. My red white and blue ribbon wand is perfect for little kids to wave around. I created this for my 4 yr old granddaughter who does not like to hold real sparklers. It allows her to feel like she is still part of the big kids sparkler group 😉 Plus it can be used and decorations too!
Now it's time to attach them all together. You are going to attach all 5 pieces together using your hot glue gun. Put a little hot glue on one edge and interlock it into the next piece.
You can see how I did it in the video below. It should all be connected and creating a circle.
Pulling it all together
If your paper is really stiff it takes a little minute to get it into the rosette shape. Gather together all the pleats to have a small circle in the center and make it lay flat.
Tip- It might be helpful to have another helping hand but I was able to do it by myself.
Hold the rosette in place and hot glue in the circle to glue the entire piece together.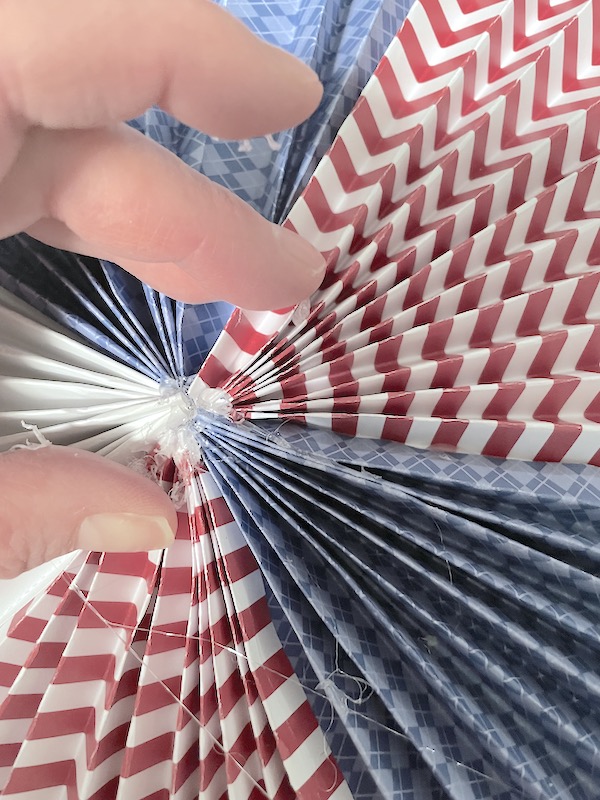 I also used some hot glue in between the folds to give it more stability.
You could staple some of the pleats together.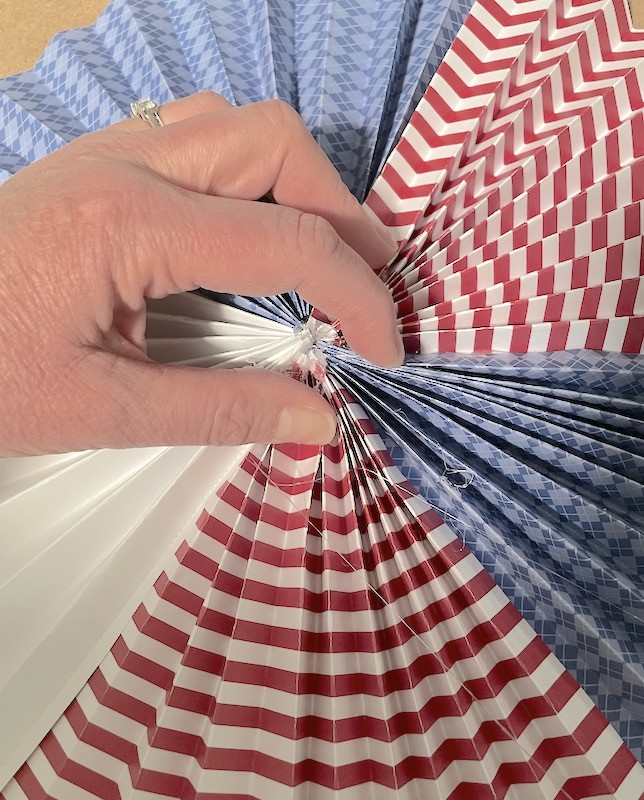 You are almost finished! To cover up the holes I cut two stars out of gold and blue glitter scrapbook paper.
I attached them with hot glue.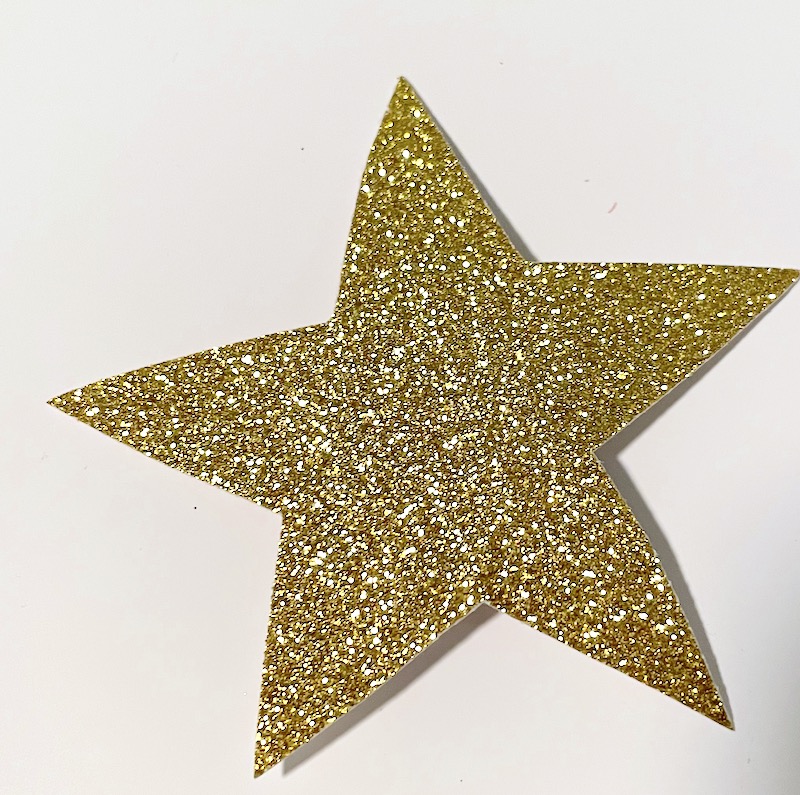 Attaching skinny wooden dowel
To finish off making your patriotic rosette fan, add in the skinny dowel by hot glueing in between a fold and laying in the dowel.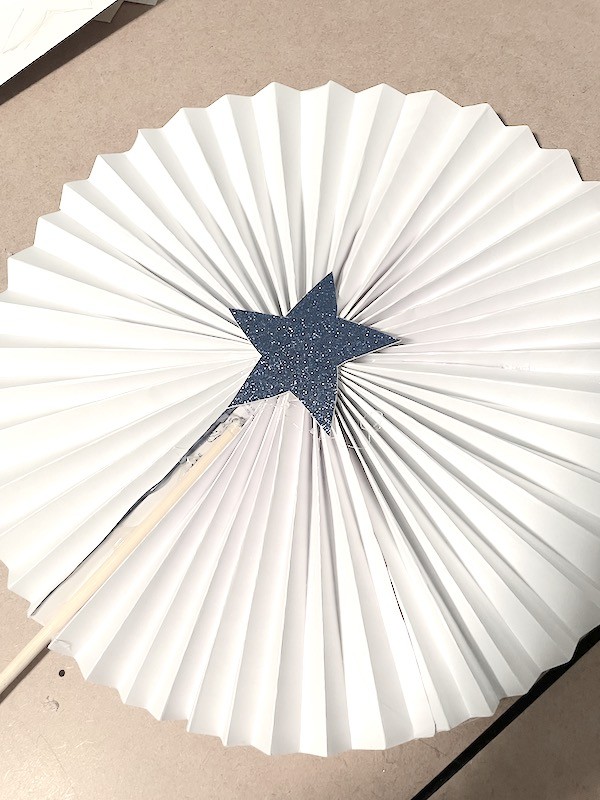 Now you are ready to display it! These look great in a flower pot in your yard or in the house.
Another fun idea would be to make a few of them in different sizes and create a collage on a wall in your home.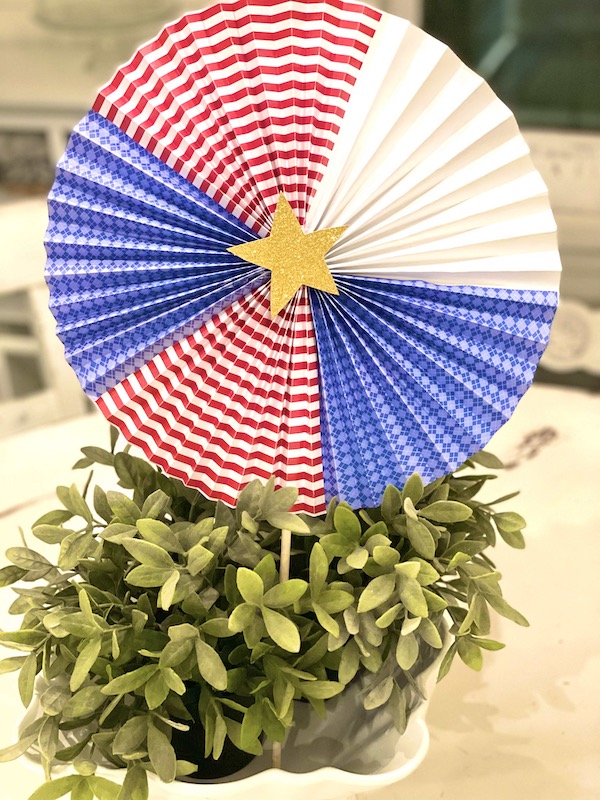 More patriotic posts
I have lots of fun tablescapes, crafts and backyard decor and games for any patriotic celebration.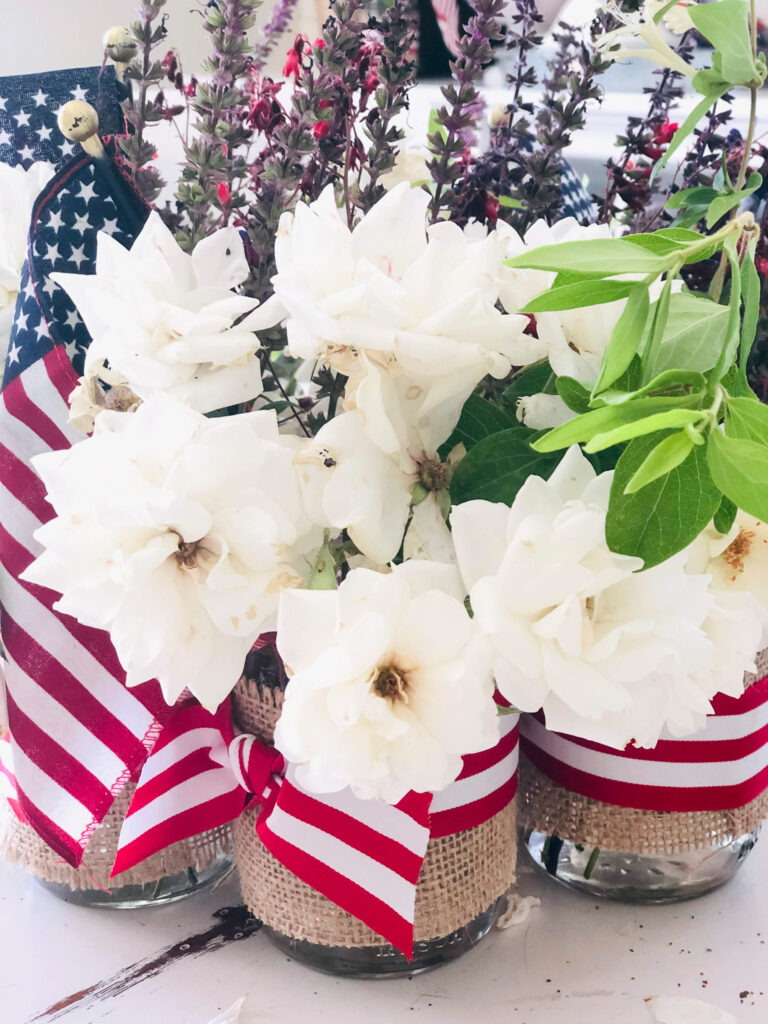 Easy Red white blue mason jar centerpiece
Tricycle centerpiece for the 4th
Red white blue backyard decor and games
Karins Kottage Party Posts
Make sure to pop over to see all my party post ideas! Everything from outdoor parties to kids birthday parties to Baby and bridal showers. You will love all these fun ideas.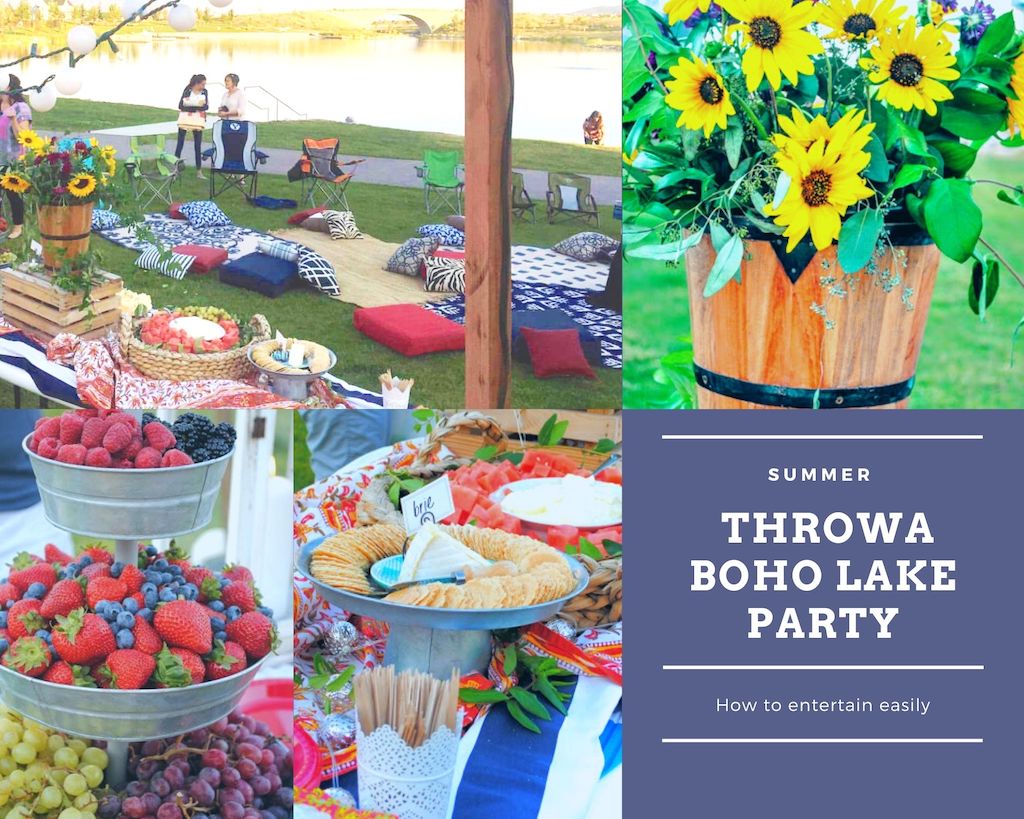 Shop