It's time to get the mantel ready for fall!
I pulled out my fall decor and played around with it today to create my fall mantle-scape! Is that even a word? he he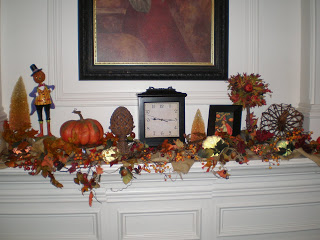 In my fall box I found the cute pumpkin man from last year and the orange bottle brush trees as well.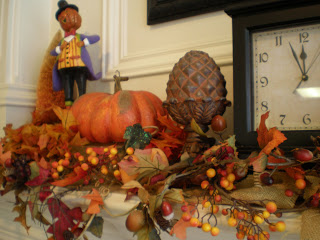 I had the garlands from last year, plus extra leaves all mishmashed in a box in the garage and just kept adding and adding…a little more here and there.
I had a little black frame and put in a retro looking fun Halloween postcard and placed it on a small black easel. I also used my grapevine pumpkin, my old fall topiary, my old sparkly pumpkins and more fake fall leaves.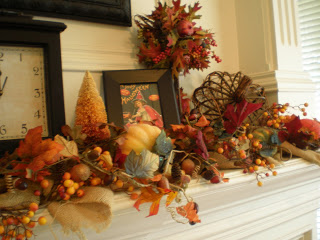 To show you how I started…..First I took everything off the mantle to start with a fresh clean palette and then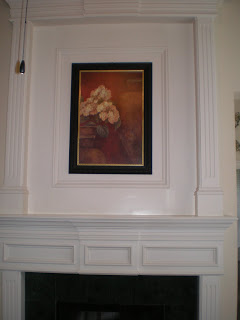 I placed a couple of pieces of burlap fabric with a few small boxes underneath in different areas to give some elevation to things I would be placing on here. I know you can't see any elevation in this pic but they are there.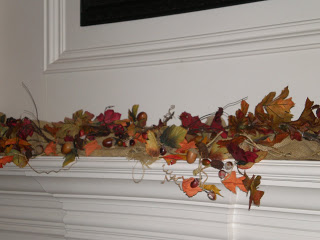 I then added some of the fall garlands and just tucked them in and around. (I cut them up to I could have more flexibility) I added little sprigs of grapes, other fall leaves and odds and ends to make it appear fuller. Then I started placing the largest pieces in first and worked in the other smaller items unti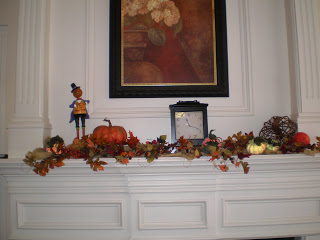 l I liked how it looked.
Here is a another closeup of the goodies!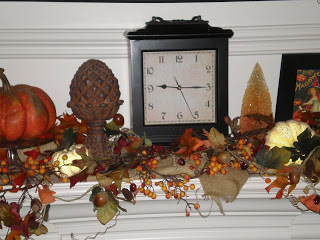 What are you putting on your mantel this fall?